本文由 Mayslits Kassif Roytman Architects 授权mooool发表,欢迎转发,禁止以mooool编辑版本转载。
Thanks Mayslits Kassif Roytman Architects for authorizing the publication of the project on mooool, Text description provided by Mayslits Kassif Roytman Architects.
MKR Architects:2014年,阿什克伦市委托MKR为该市整个长达12公里、十分美丽但未得到充分利用的海岸线制定了一项战略计划。这次总体规划旨在将海岸改造成一个具有各种不同强度节点的丰富空间,向市政当局提供一套干预措施和行动建议,将城市居民与其主要的自然资源连接起来。
MKR Architects:In 2014, the Ashkelon Municipality commissioned a strategic plan by MKR for the entire coastal strip of the city, a 12 km continuous stretch of beautiful, yet underused waterfront. The comprehensive plan reinvents the coast as a rich space with nodes of varying intensity, connecting the city's residents to its prime natural resource by offering the municipality a set of recommended interventions and actions.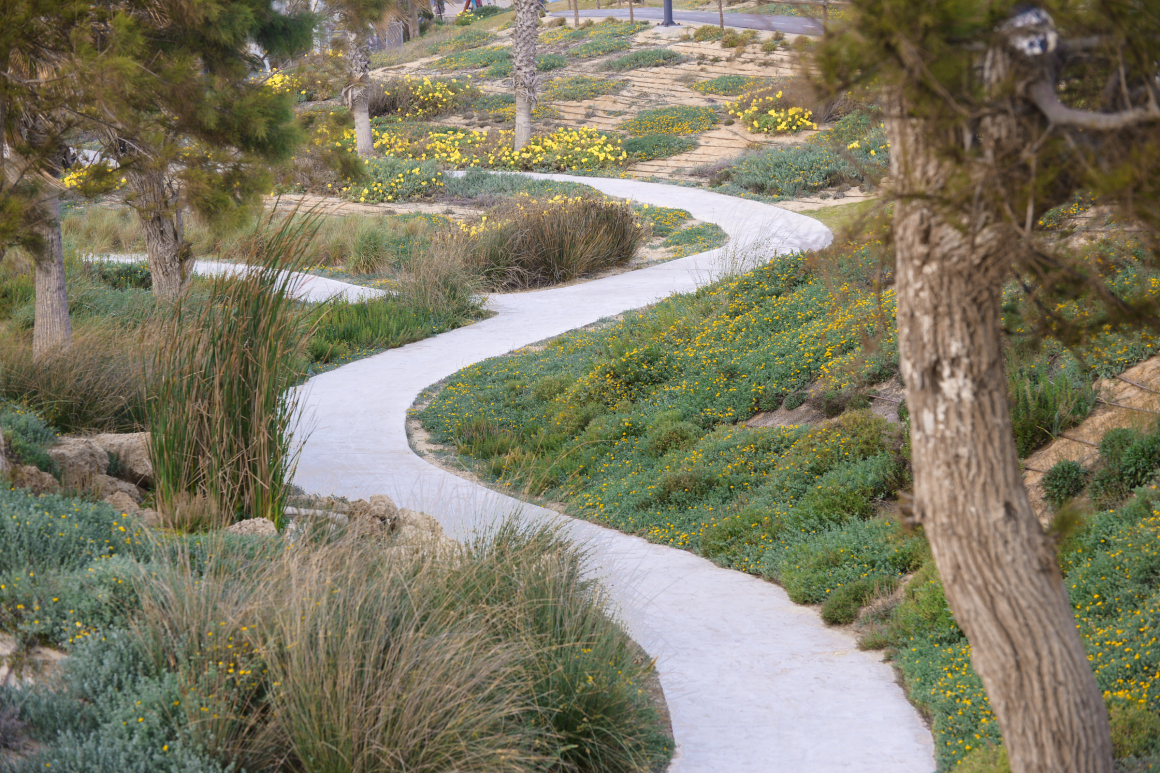 海洋公园是此次阿什克伦海岸更新的中心地带。这座5公顷的海岸公园,有许多条贯穿而过的步行道和自行车道,人们可以从城市的各个部分进入,其地形随着步道的延伸、场地的条件不同和各种空间的交织而千变万化。游客们可以舒适地从一个空间移动到另一个空间,体验景观和动态的海陆关系。
Sea Park is at the heart of Ashkelon's coastal re-visioning. This 5-hectare coastal park, accessible from all parts of the city, is crossed by walking and cycling trails, while the terrain changes according to the visitor's movement, conditions of the site and diverse programs woven throughout. Visitors move comfortably from space to space, experiencing the landscape and the dynamic sea-land relationship.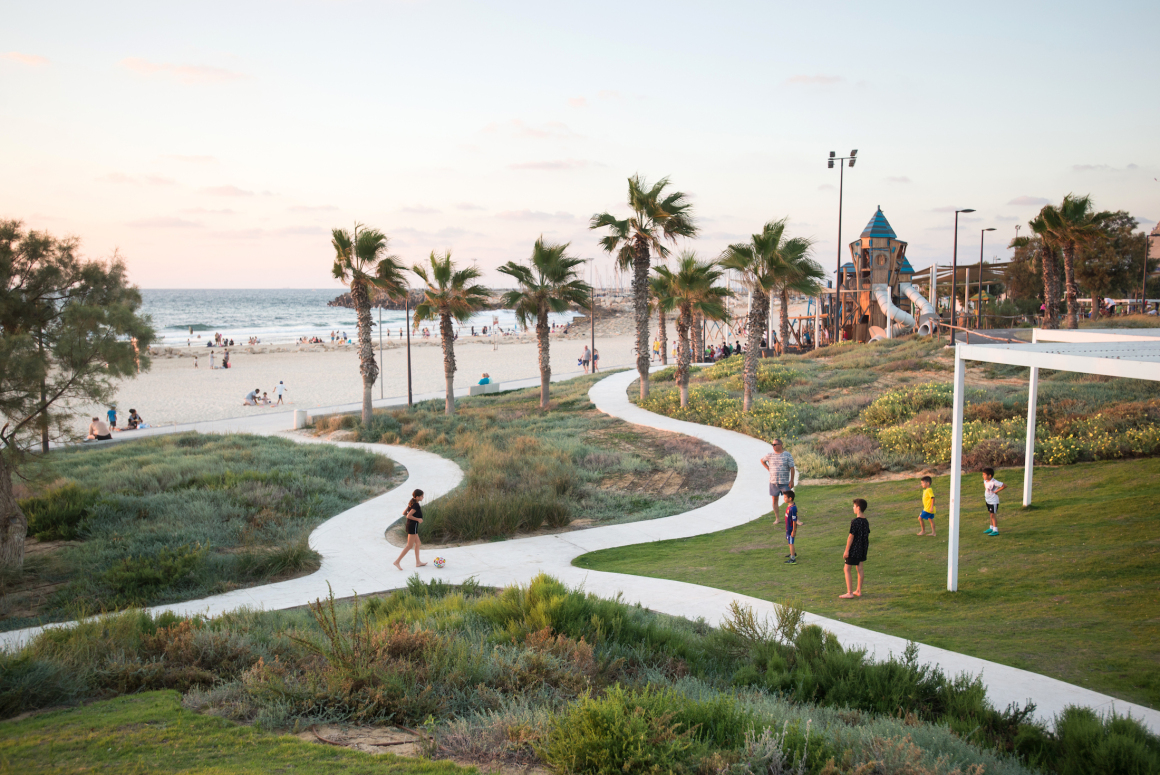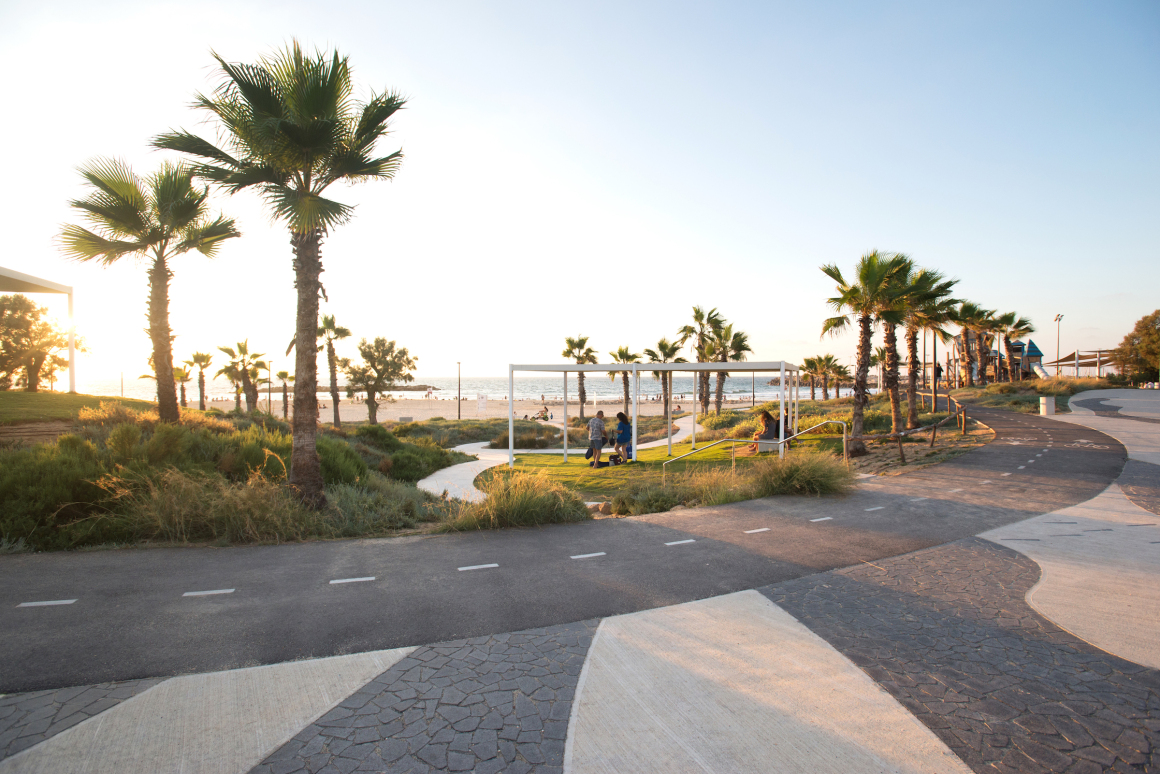 公园的设计同样受到了周围自然环境的启发。城市南部是一片郁郁葱葱、未被开发的天然海岸,其间遍布沙丘和洼地。尽管这些洼地离海岸很近,但却生长出了充满活力的壮观植被,有从冬季到春季盛开的绿色,还有夏季到秋季的细腻灰色。受到这种效果的启发,公园的岩石斜坡上也收集、播种、发芽并生长出了许多当地植物品种,成为了沿海生境修复的一部分。它们连同从拆除区域移栽过来的大树一起,结合散布其间的蜿蜒小路,支撑着人造沙丘。
The park's design borrows from its neighboring natural environment. South of Tel Ashkelon lies a lush, untouched natural coast, filled with sand dunes and depressions between them. Vivid and spectacular vegetation has developed in these depressions despite their proximity to the shore, evolving from blooming green in winter and spring to exquisite grey in summer and autumn. Inspired by this effect, seeds of local plant varieties were collected, sown, germinated and planted along the slopes of the park, as part of a rehabilitation of the coastal habitat. These, together with giant trees recovered from areas of demolition, buttress the artificial sand dunes, with paths spreading between them.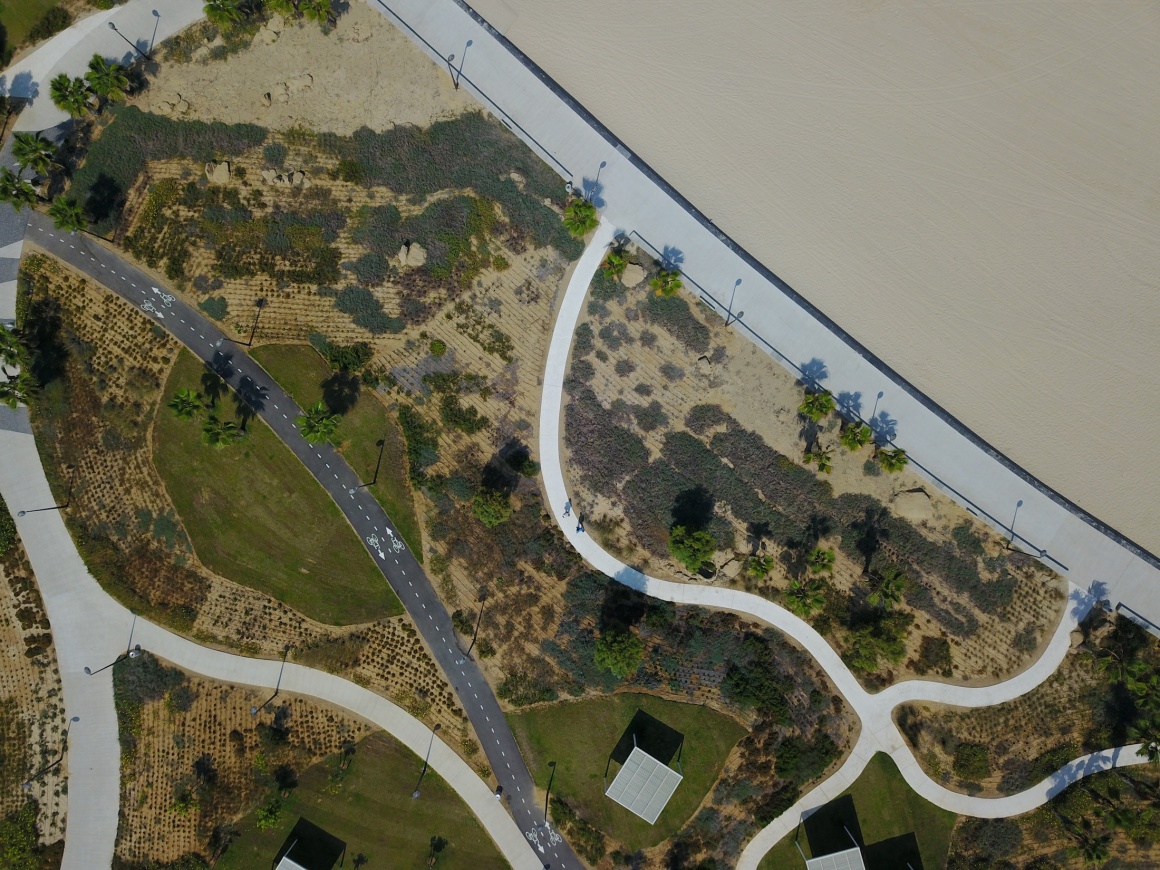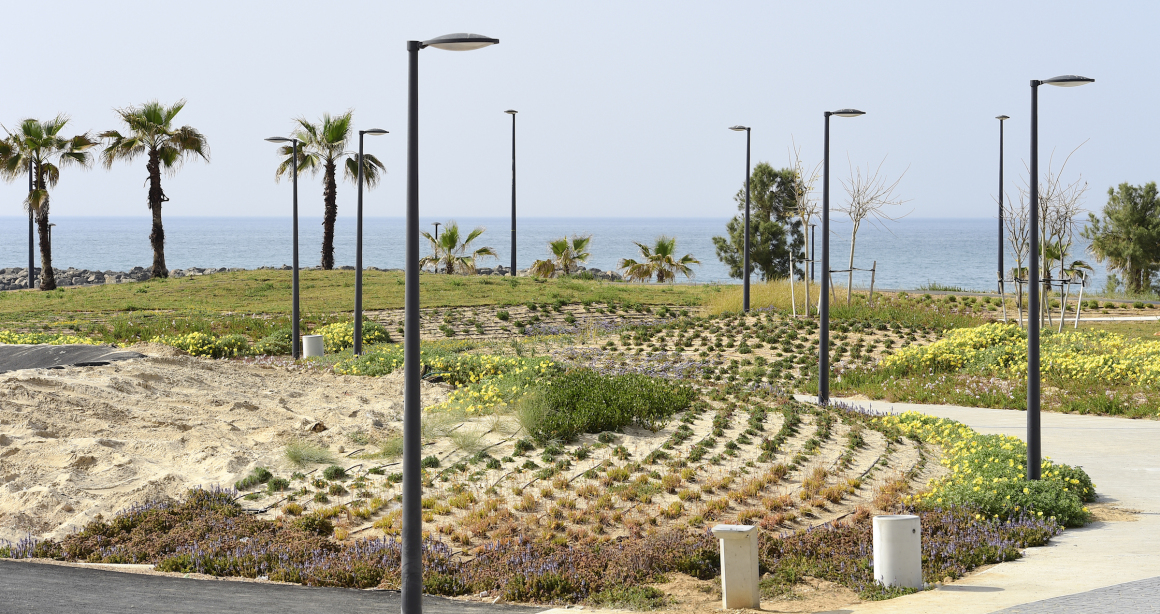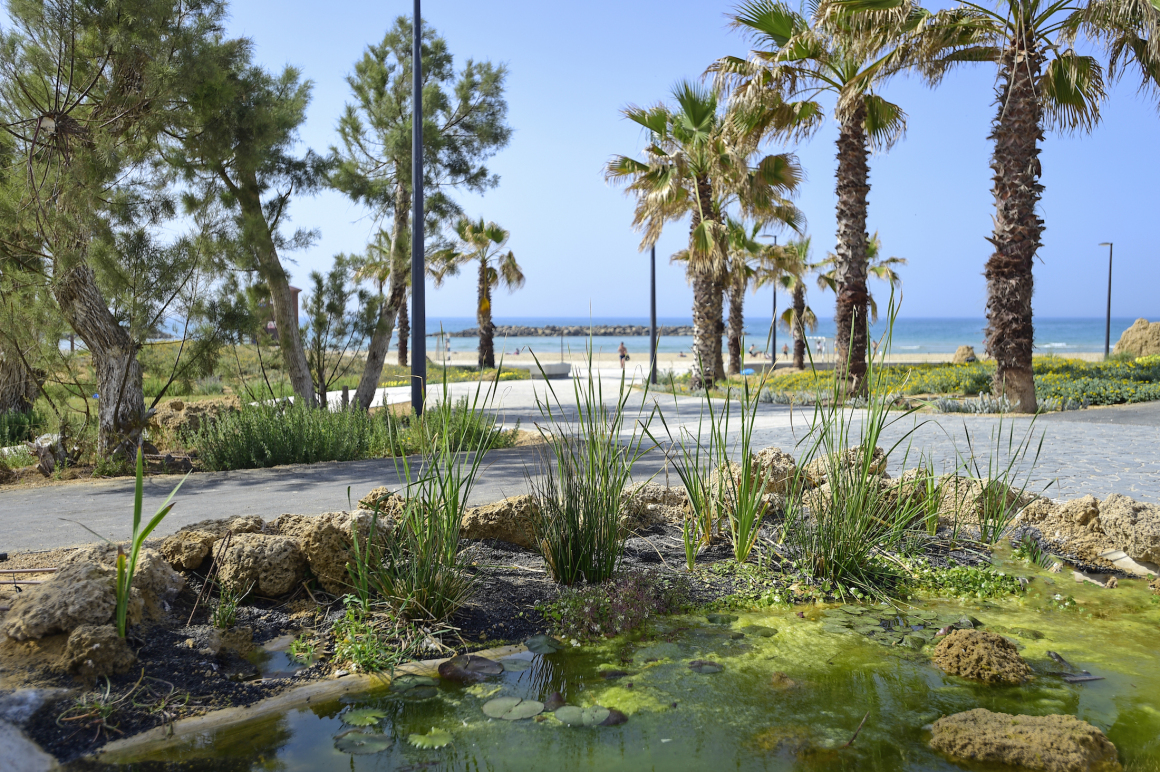 公园中与自然环境相辅相成的特色景观活动空间,包括世界上第一个煤类复合材料铺装活动空间、自行车道、攀岩墙和天然木质操场设施。这座城市的主要海滩——黛利拉海滩(Delilah beach)坐落在拉斯维加斯大道的中央,每年都会吸引成千上万的游泳者来此。
Unique activity features complement the natural surroundings, including the first Carver surfing compound of its kind in the world, bicycle pump tracks, climbing walls, and natural wood playground facilities. The city's main bathing beach — 'Delilah Beach,' which attracts hundreds of thousands of bathers each year — sits in the middle of the strip.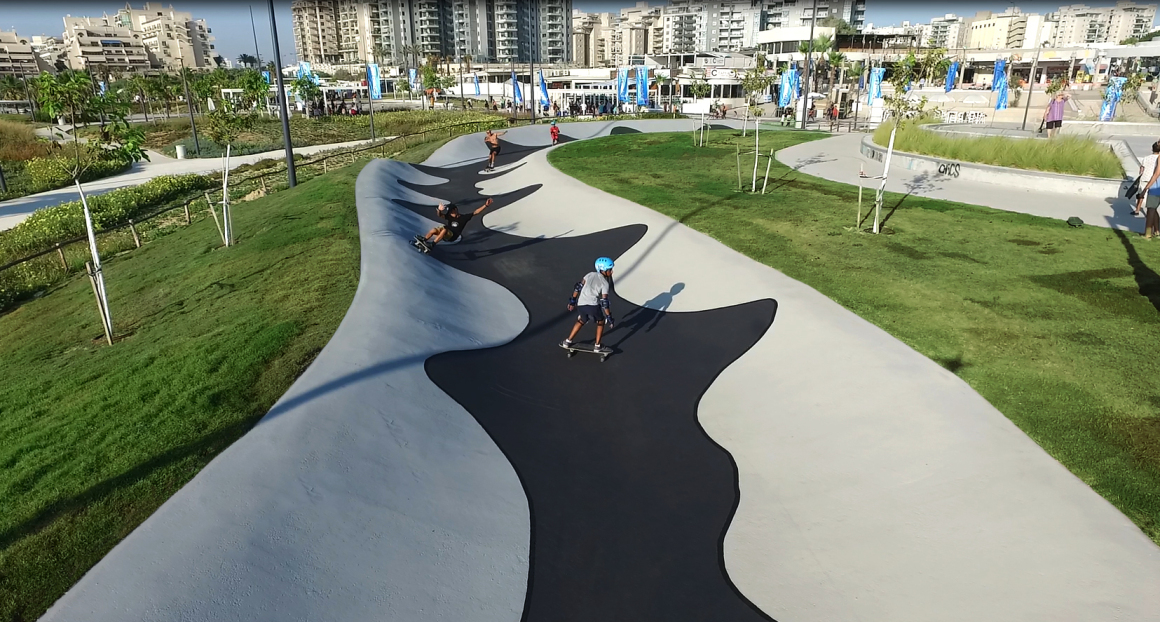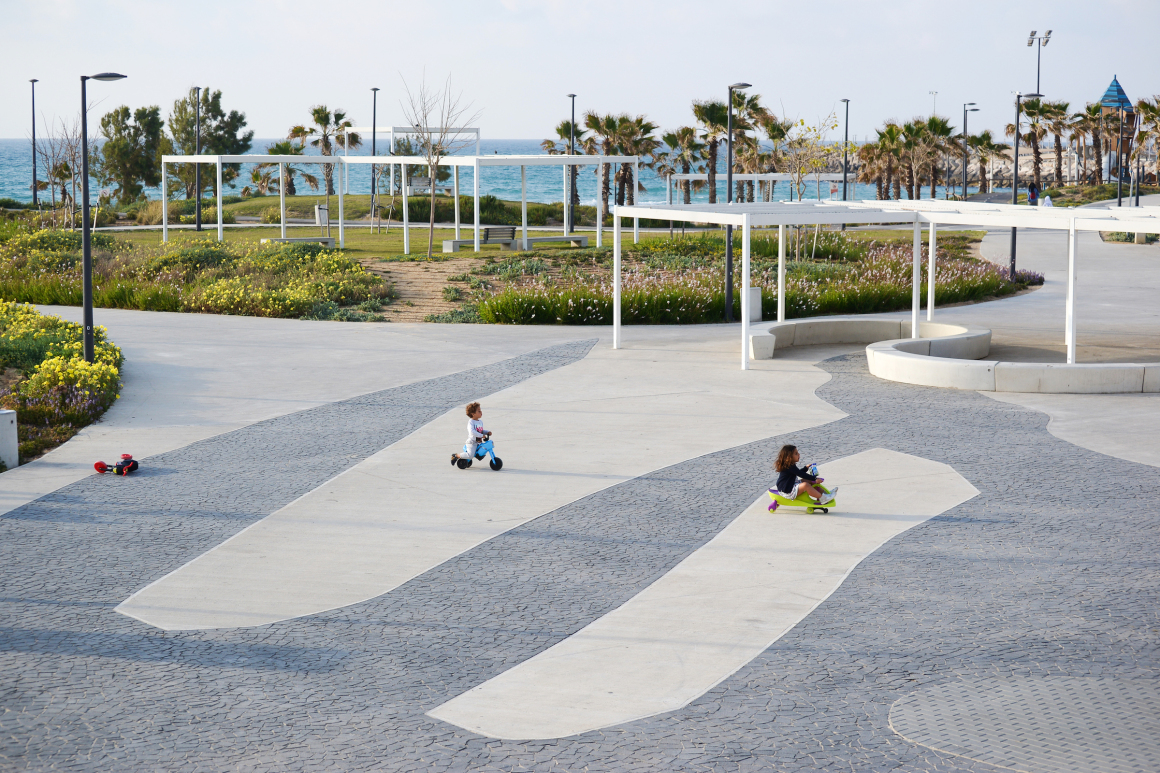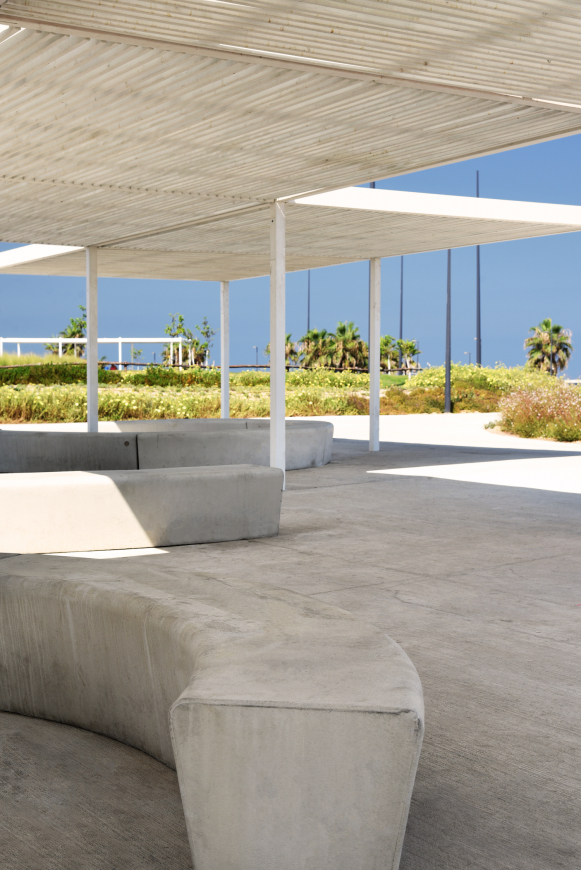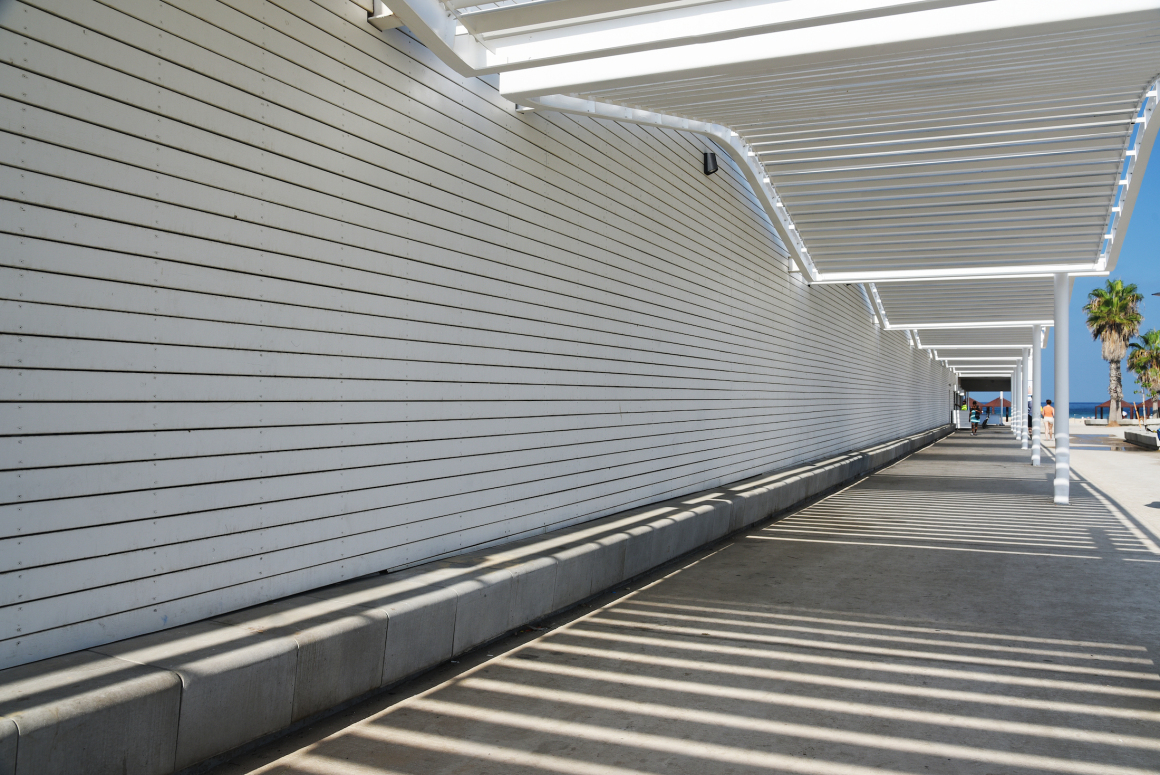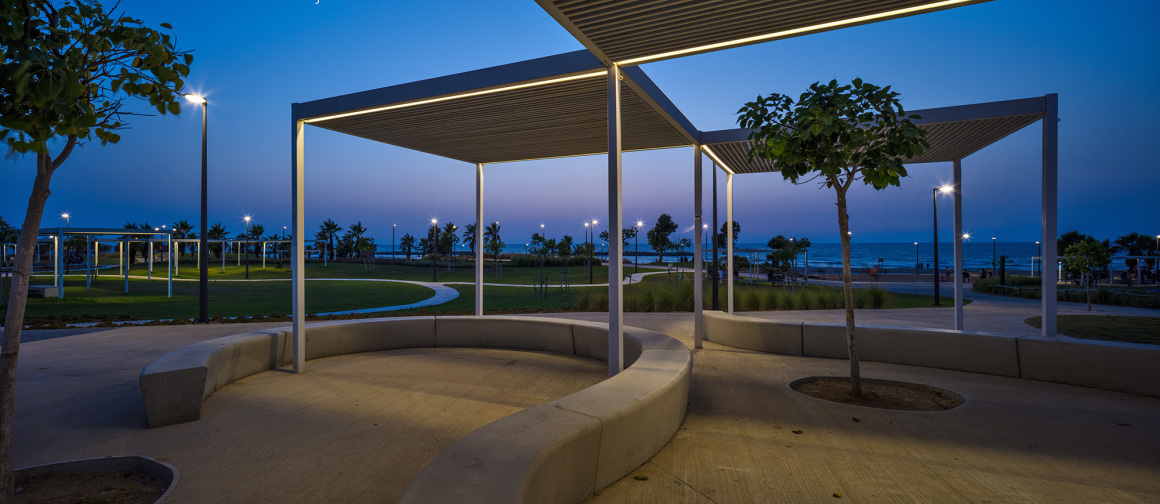 在公园小径上散步或游泳或冲浪的人们,仿佛沿着海岸小径开启了一次短途旅行。人与自然的丰富多彩使这个曾经被忽视的阿什克伦海滨中心变成了当地居民和各地游客的十分热衷前往目的地。它也为新型的城市公园开创了先例,向人们展示丰富的娱乐活动与修复后的自然公园和美丽的白色沙滩可以和谐共存。
As park trails are filled with a mix of people strolling or passing through on their way to swim or surf, the path along the coast has become an excursion in and of itself. The rich tapestry of people and nature turn this central, formerly neglected beachfront of Ashkelon into a highly popular destination for local residents and visitors from throughout the region. It also serves as a precedent for a new type of urban park, in which a rich array of recreation activities exist together with a rehabilitated nature park and beautiful white sandy beaches.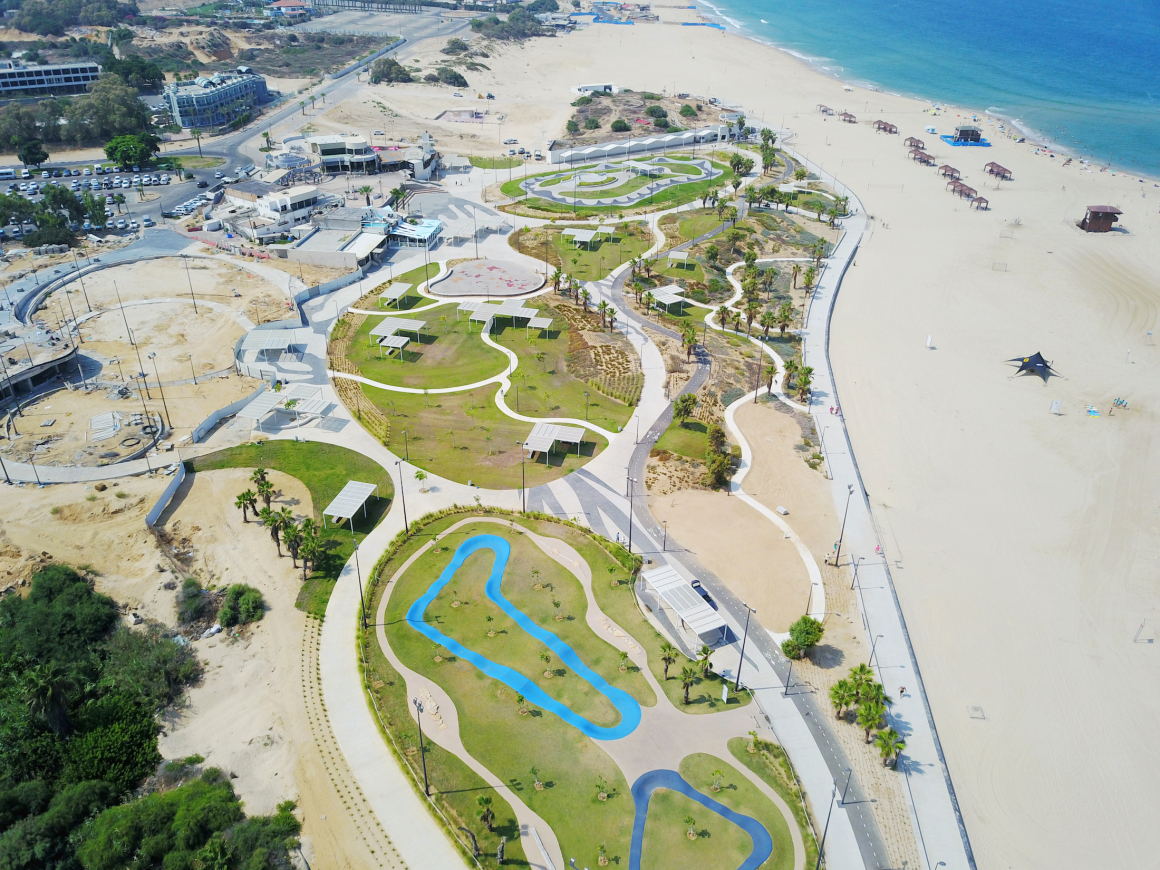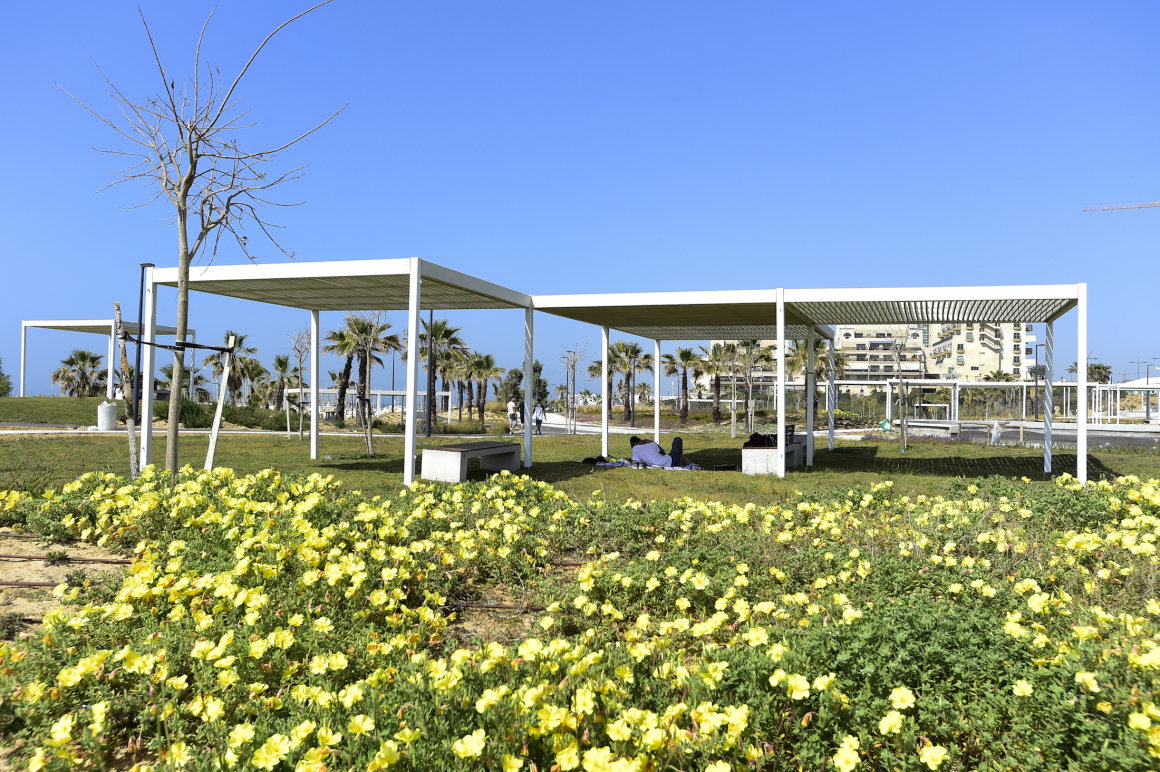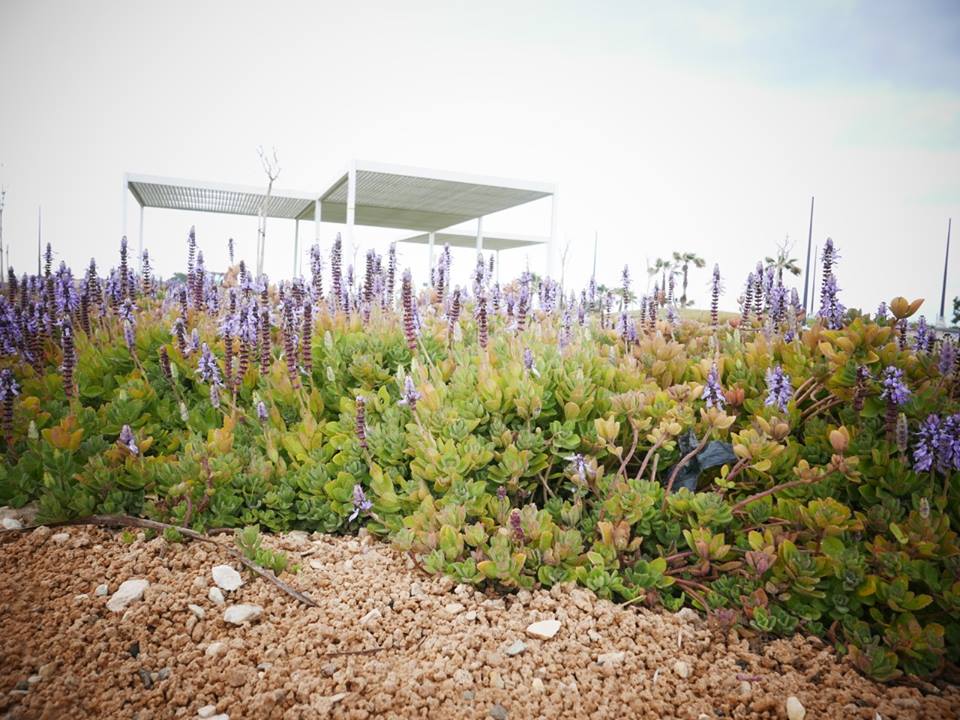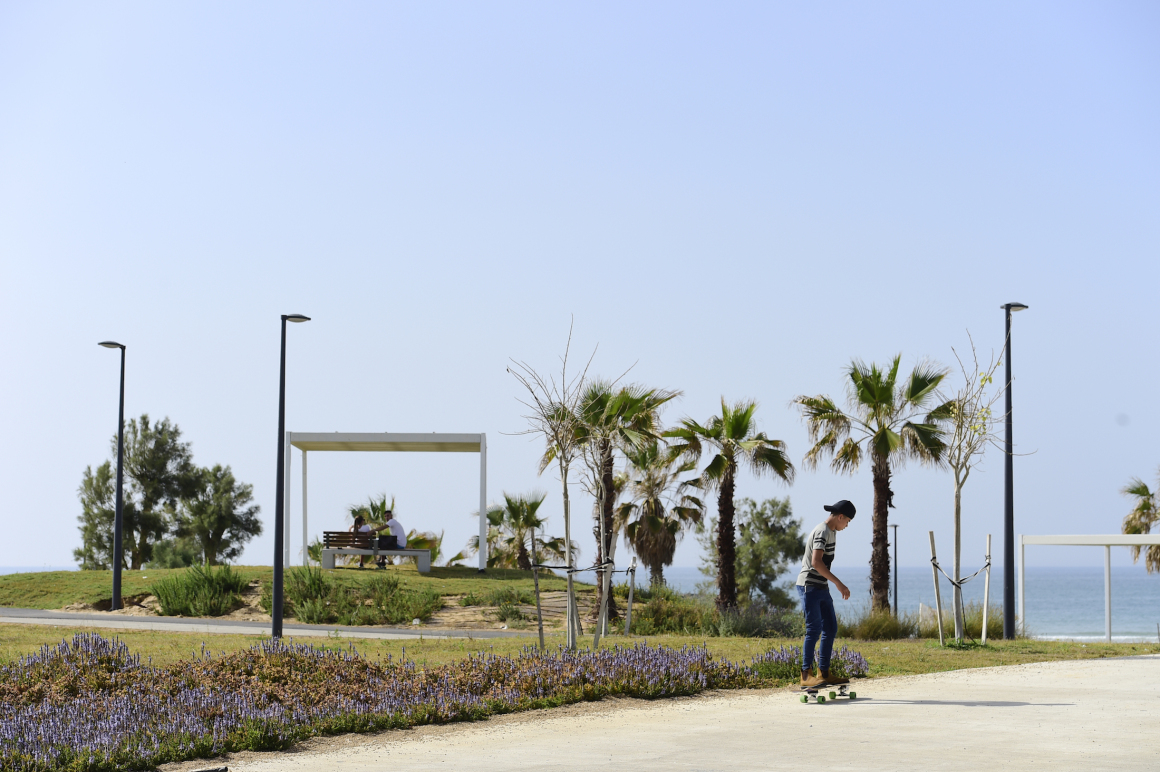 ▼施工过程图 Construction Process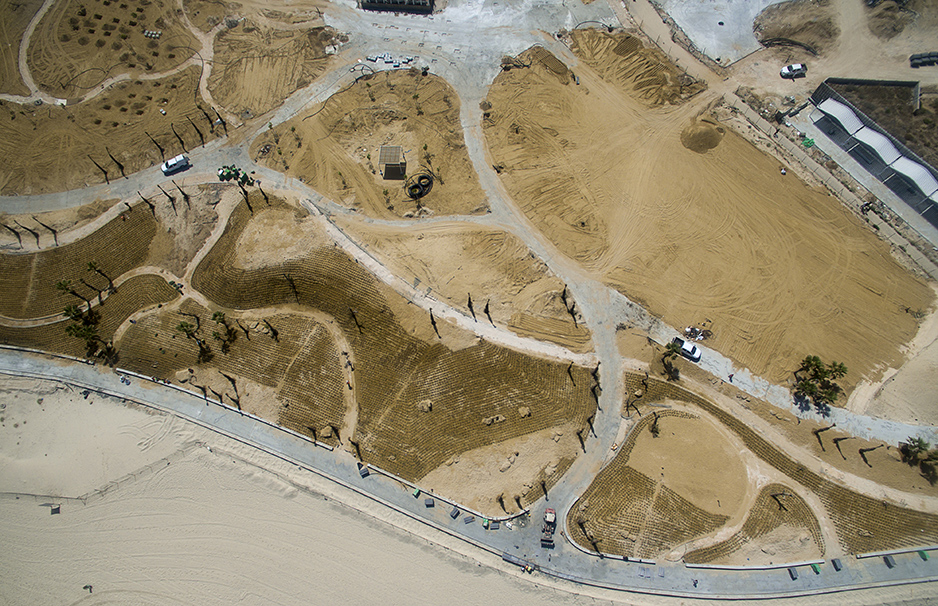 项目名称:阿什克伦海洋公园
完成:2017年
总建筑面积:50,000平方米
项目地点:以色列阿什克伦
设计公司:Mayslits Kassif Roytman Architects
公司网址:mkarchitects.com
联系邮箱:info@mkarchitects.com
公司地点:特拉维夫
首席建筑师:MKR Partners
首席建筑师联系邮箱:Udi@mkarchitects.com
客户:阿什克伦市-阿什克伦经济公司
合作方:Liav Shalem -植物与生态咨询
Project Name: Sea Park Ashkelon
Completion Year: 2017
Gross Built Area: 50,000 sqm
Project location: Ashkelon, Israel
Architecture Firm: Mayslits Kassif Roytman Architects
Website: mkarchitects.com
Contact e-mail: info@mkarchitects.com
Firm Location: Tel Aviv
Lead Architects: MKR Partners
Lead Architects e-mail: Udi@mkarchitects.com
Clients: Ashkelon municipality via The Ashkelon Economic Corporation
Collaborators: Liav Shalem – botanic and ecology consultation
更多 Read more about: Mayslits Kassif Roytman Architects