本文由柯路建筑设计授权mooool发表,欢迎转发,禁止以mooool编辑版本转载。
Thanks CLOU architects for authorizing the publication of the project on mooool, Text description provided by CLOU architects.
CLOU:该项目位于被称作北京新门户的大兴区的中心地带,也是迄今为止该地区发展中的一个关键部分和最大的建筑综合体。其三角形的建筑顶端是一个拥有舒适户外座位区的空中花园。CLOU认为,户外办公空间就是办公室文化演变中合乎逻辑的下一步。
CLOU:Beijing's Daxing area has been envisioned as a new gateway to the city. Located in the heart of Daxing district, the project operates as a key piece and the largest building complex within the regional development so far. The triangular tips of the floor plates become sky-garden balconies whose terraces provide a comfortable outdoor seating area. CLOU sees the outdoor workspace as a logical next step in the evolution of office culture.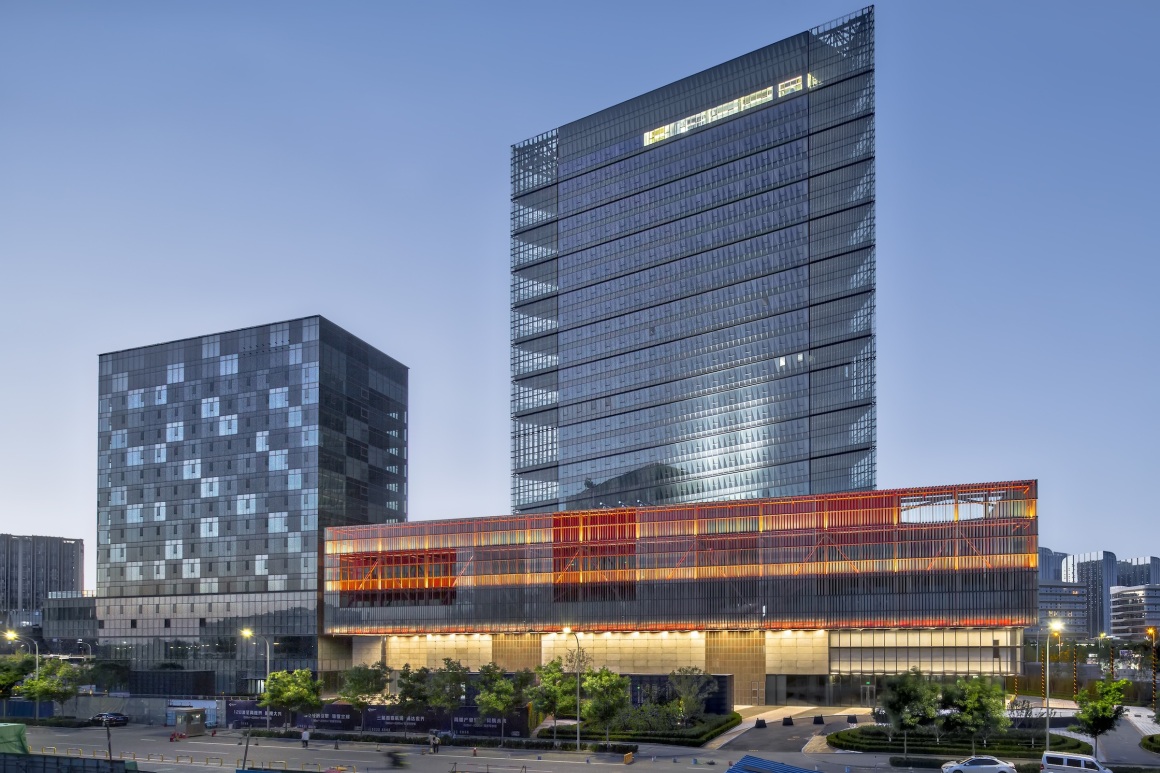 三角形设计策略 Triangular Floors Design Strategies
首开万科中心是一个占地13.2万平方米的综合开发项目,由2.6平方米的购物中心、124米高的写字楼和酒店组成。
办公大楼呈三角形,在主要十字路口给人一种强烈的存在感,但它从某些角度看起来却显得优雅而纤细。采用三角形的设计是我们经过深思熟虑和一系列务实决策的结果,包括最大化对新建公园的视野,以及将两层高空中花园阳台整合到楼层的顶端。花园露台上设有舒适的户外座位区,可以欣赏邻近公园的壮丽景色。
Shoukai Vanke Centre is a 132,000 sqm mixed-use development which is composed of a 26,000 sqm shopping mall, a 124-meter-tall office tower as well as a hotel.
The office tower has a triangular shape which creates a strong presence at the main intersection yet appears elegant and slim from other points. The triangular shape is the result of a series of pragmatic decisions which include maximizing views towards the newly built park and integrating double-height sky-garden balconies into the tips of the floorplates. The terraces provide comfortable outdoor seating areas with spectacular views over the adjacent park.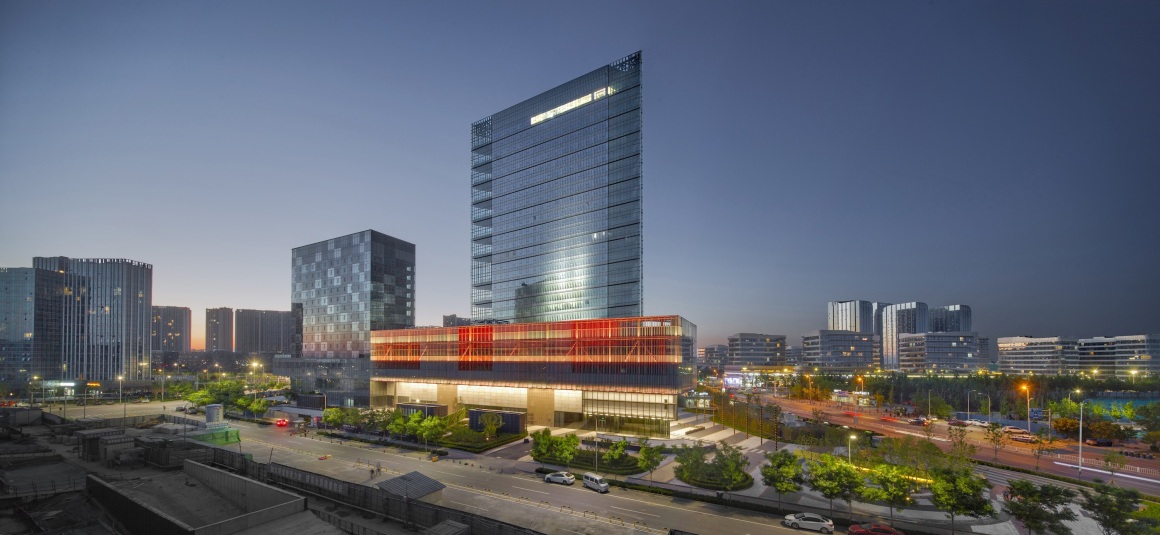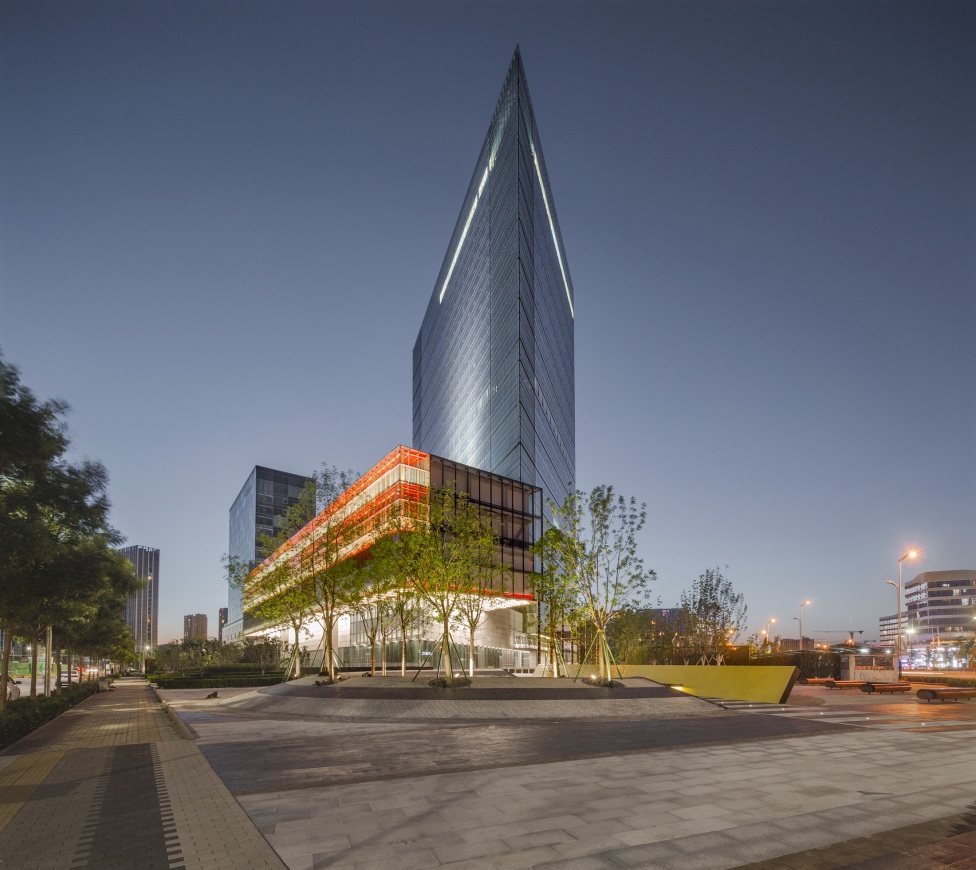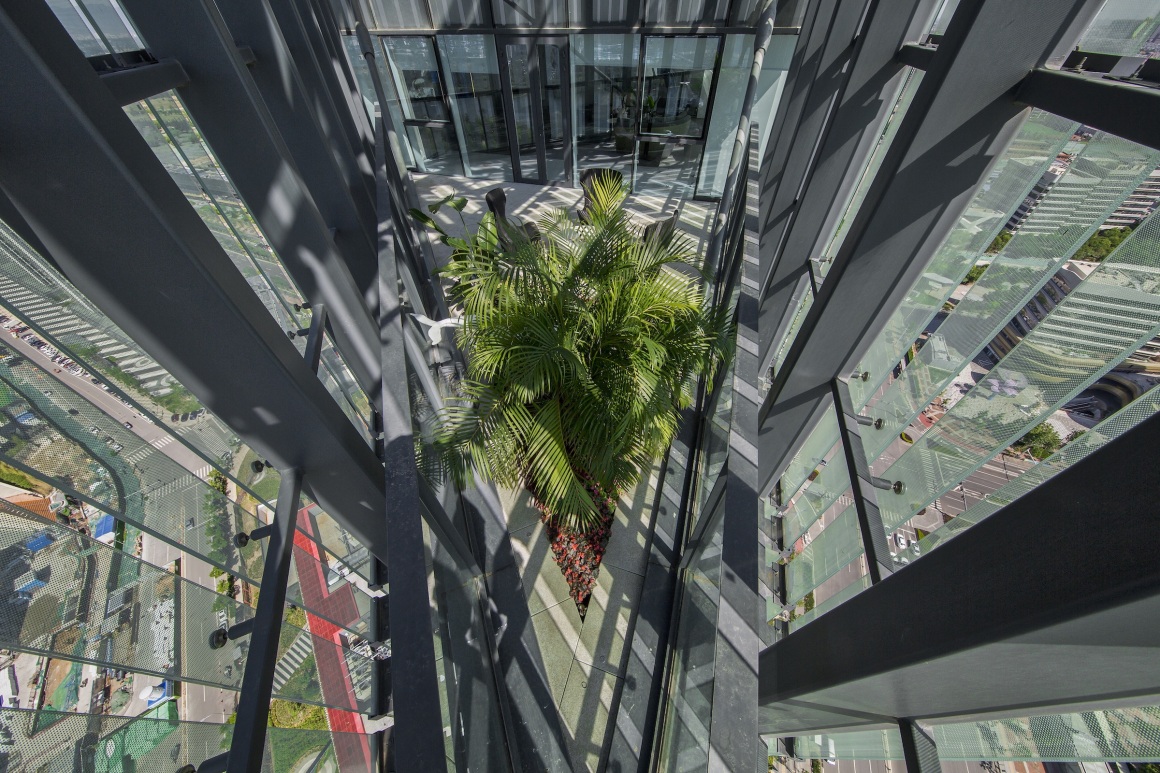 空中花园 Sky Gardens
办公大楼的空中花园阳台横跨两层楼,提供了一个舒适的室外座位区,可以欣赏邻近公园的壮丽景色。屋顶花园明亮的颜色、生动的形式和BAM设计的景观,旨在吸引游客并创造身体活动和娱乐的空间。
The sky gardens balconies in the office towers across two floors provide a comfortable outdoor seating area with spectacular views over the adjacent park. While the design of the rooftop garden employs bright colors, lively forms, and landscape by BAM to engage visitors and promote opportunities for physical activities and playfulness.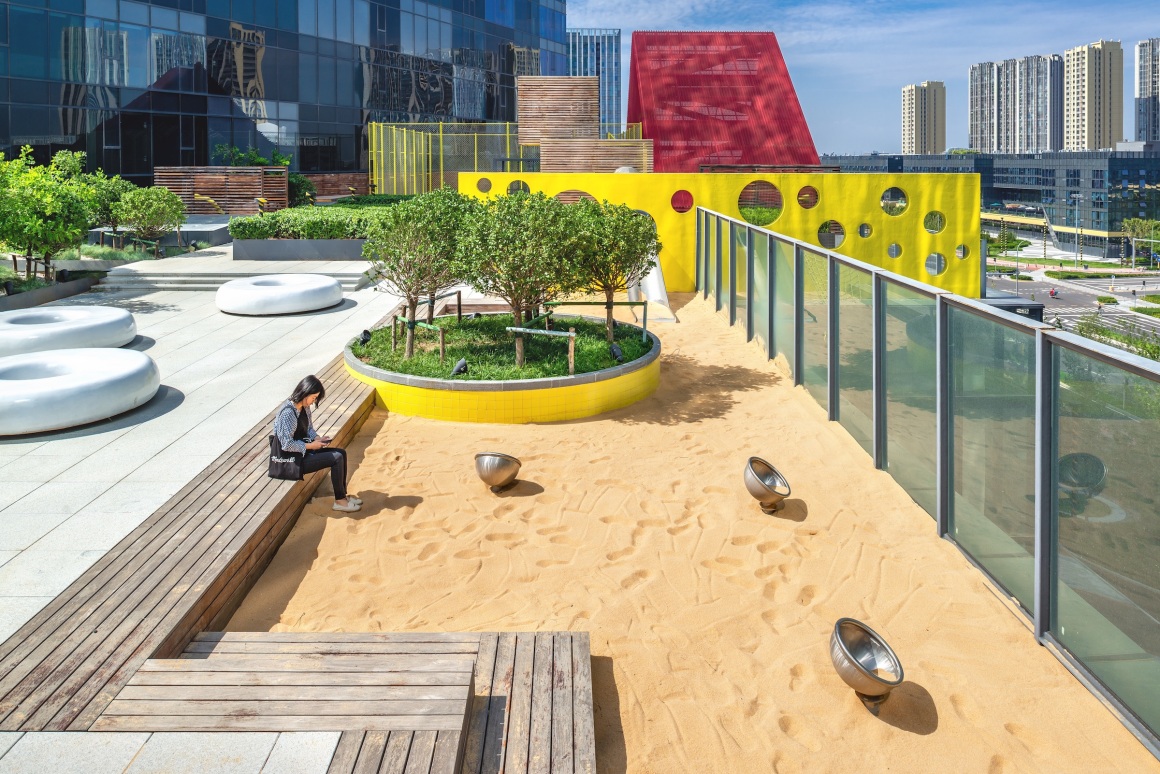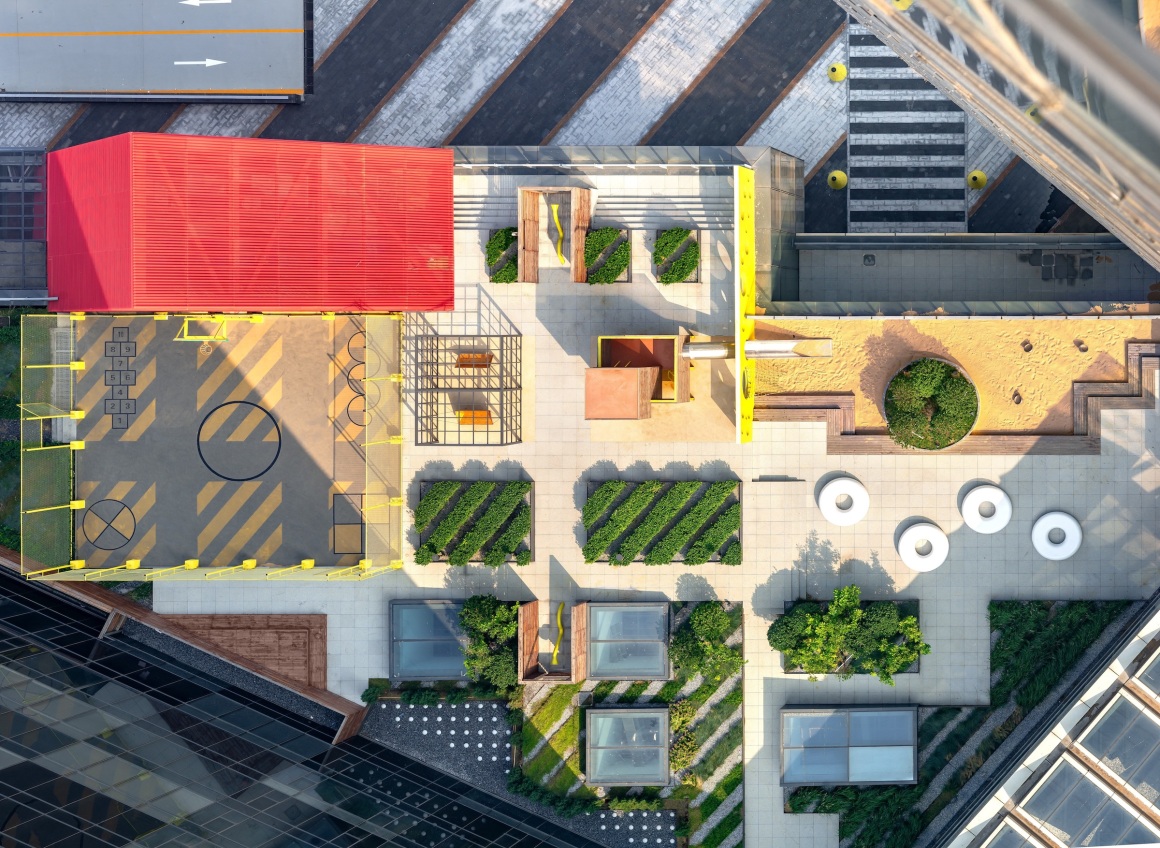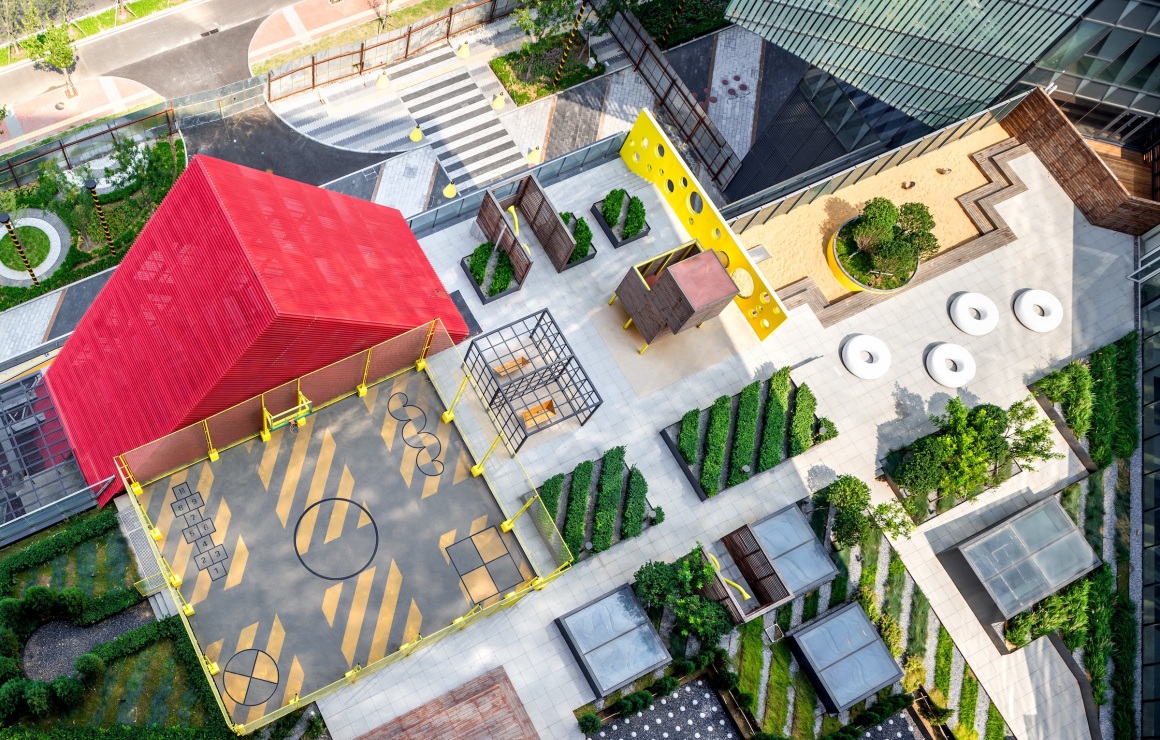 购物中心室内设计 Interior Design of Shopping Mall
该商业综合体将主要提供餐饮零售,创造非传统餐饮体验。利用这个项目,CLOU创建了一个大型平台网络,并通过战略性地设置这些平台,作为店面的延伸。高架自动扶梯和人行道与相邻的平台相连,编织成3D城市步行网络,创造了一个拥有重叠平面和交错视线的中心空间。露台具有各种灵活性的功能空间,从临时摊位、开放酒吧到用餐座位,甚至是休闲放松区,应有尽有。
The commercial complex will offer primarily F&B retail which provides the opportunity to create unconventional dining experiences. Utilizing this program, CLOU created a network of large terraces that are strategically placed and act as an extension of the shopfront. Elevated escalators and walkways connect to the adjacent terraces and weave the development into the 3D urban pedestrian network. This creates a central space that offers a view of overlapping planes and interlacing lines. The terraces have the flexibility for varying functions ranging from temporary booths, open bars, seating for dining, or even casual relaxation zones.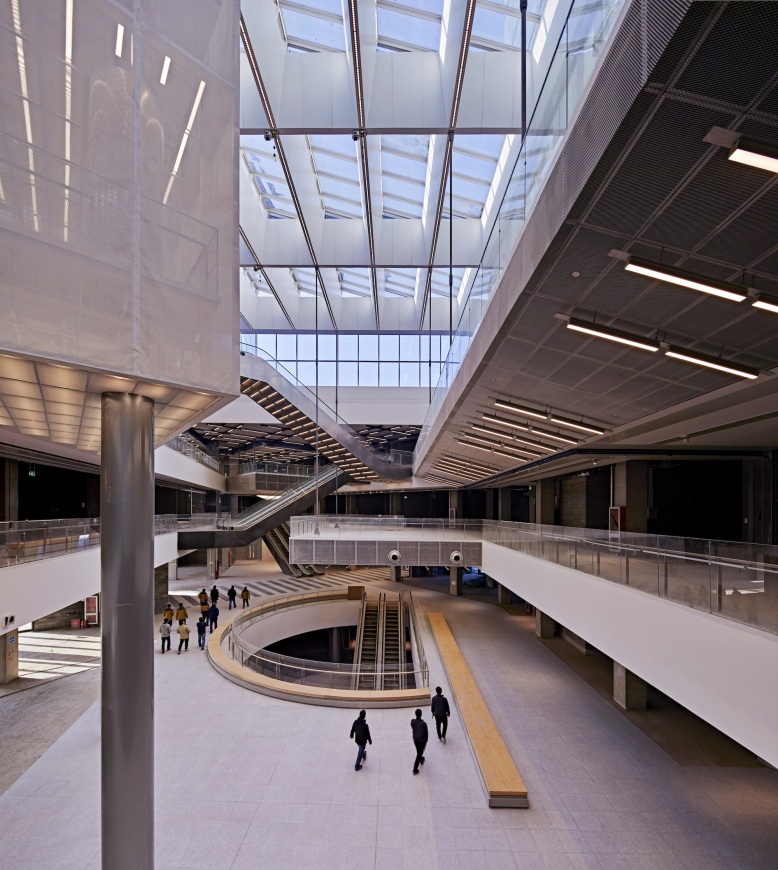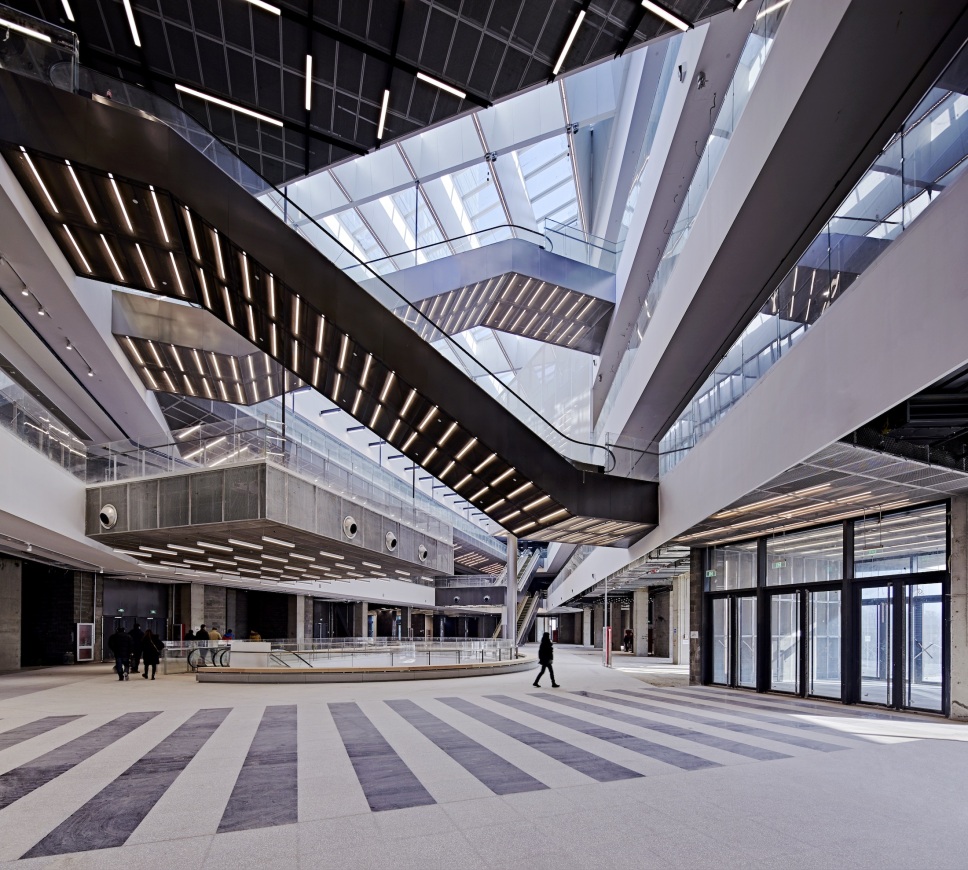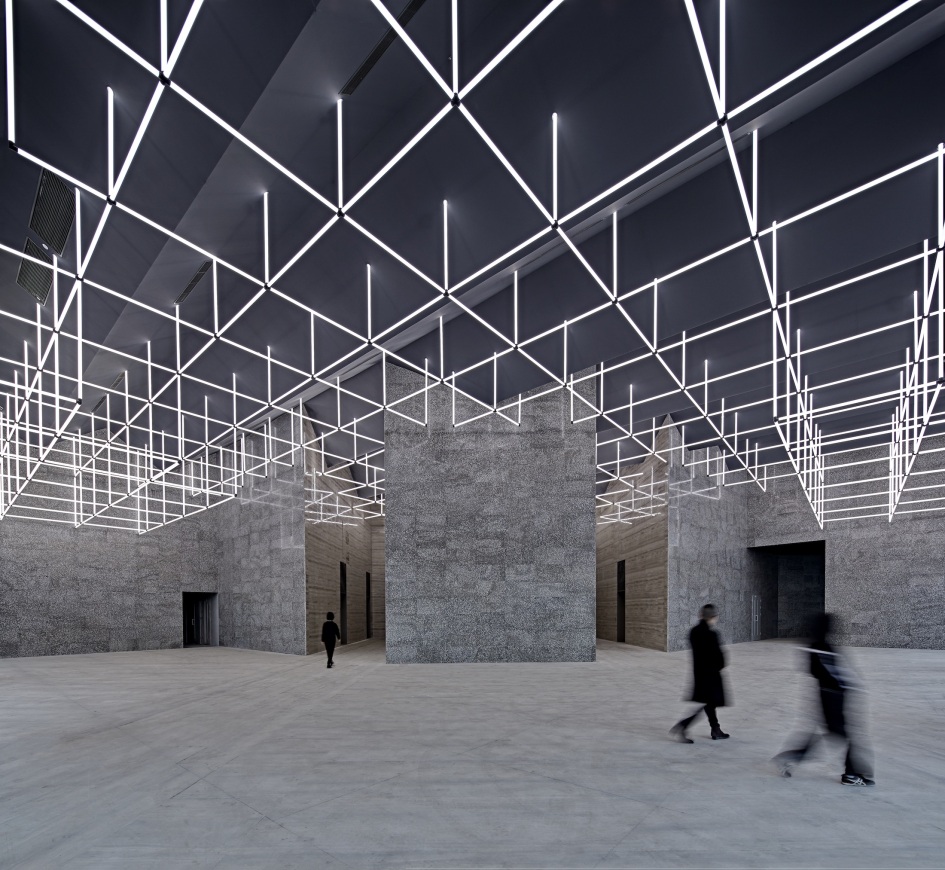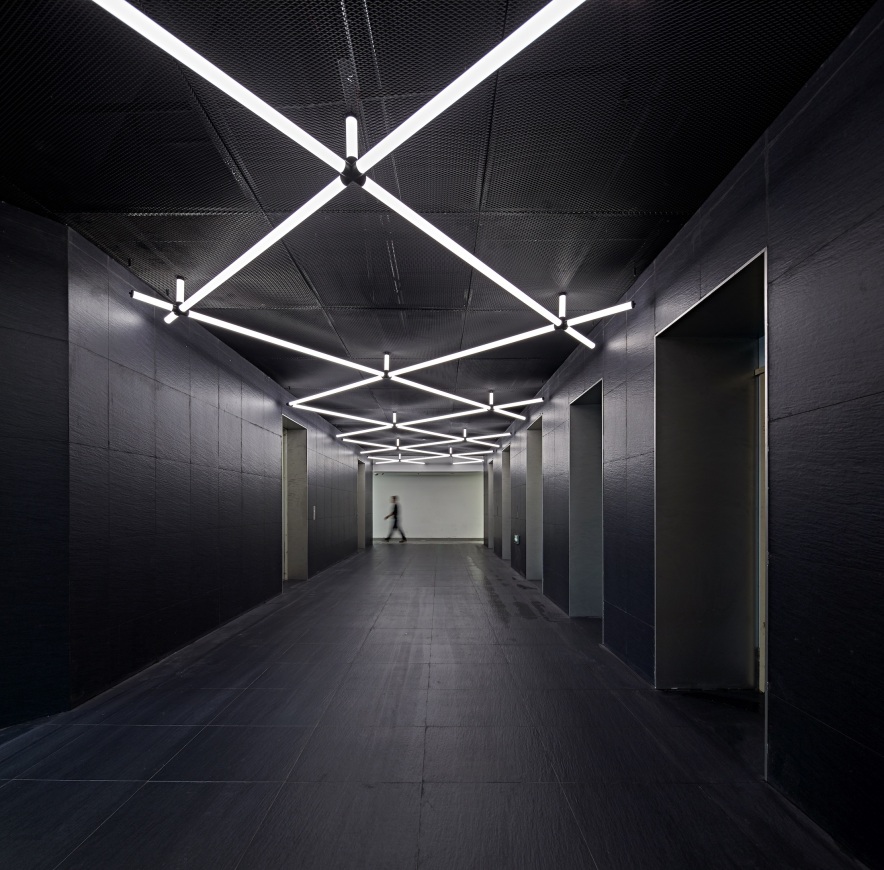 ▼项目一层平面图 Plan Level 01
▼建筑剖面图 Section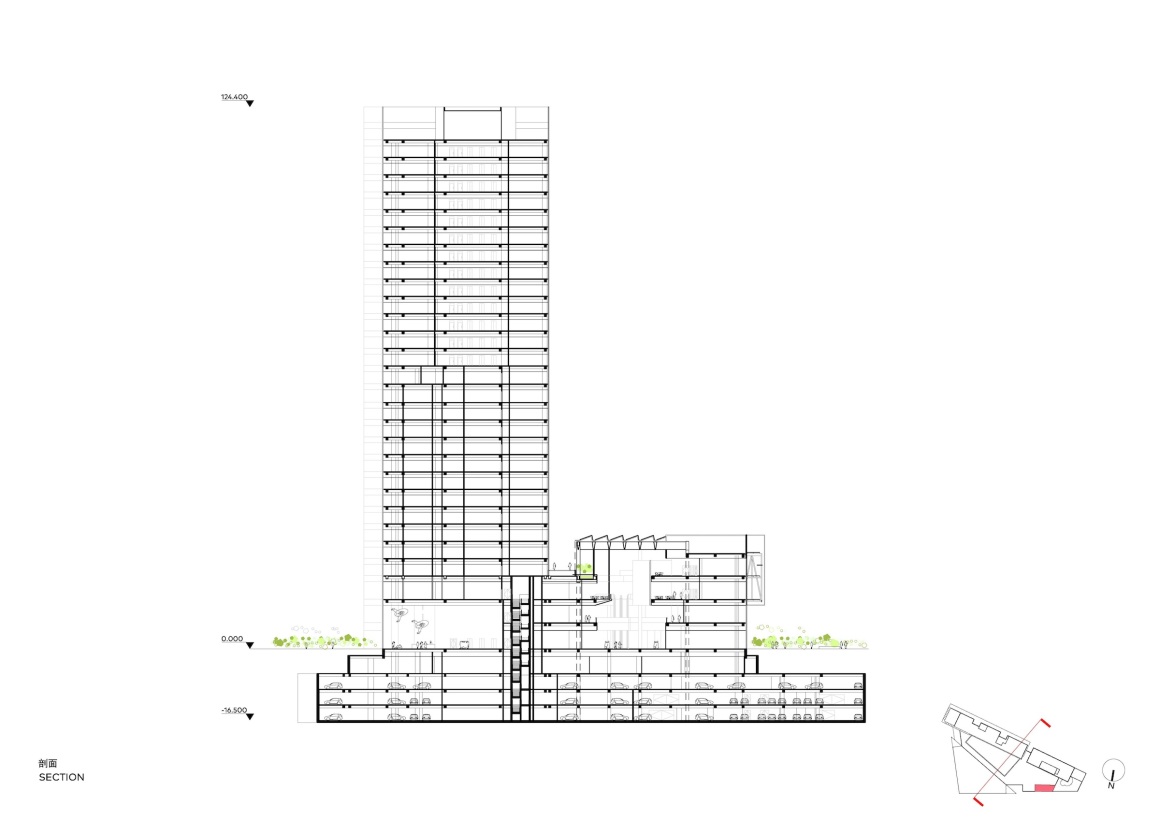 ▼办公室里面阳台详图 Office Facade Balcony Detail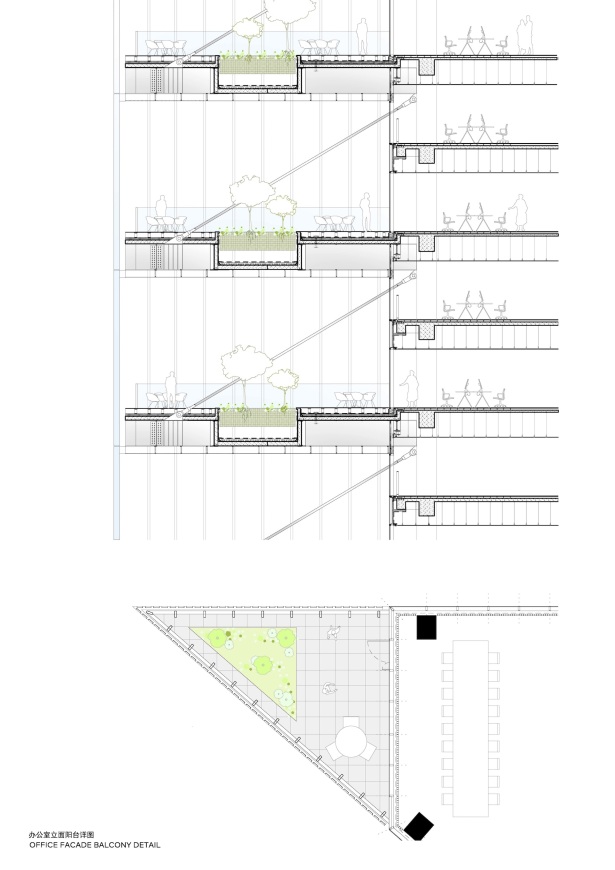 项目名称:北京首开万科中心
类型:购物中心、办公室、酒店
客户:首开,万科
地点:中国北京
建筑面积:地上84000平方米,地下48000平方米
建筑/室内/景观设计:CLOU architects
设计总监:Jan F. Clostermann
设计团队:Christian Taeubert, Hua Ye, Karl Nyqvist, Ben de Lange, Ali Yildrim, Duarte Nuno Silva, Katarzyna Irzyk, Huan Wang, Nuno Cardoso Dias, Elaine Kwong, Dominic Black, Bing Han, Ma Wenlei
施工图设计:Sunlay Design Group
景观顾问:BAM
MEP/结构顾问:CABR Technology
立面顾问:Inhabit Group
照明顾问:LDPi
标识设计:TRYCOOL
摄影:Shuhe, Amey Kandalgaonkar, BAM
Project Name: Shoukai Vanke Centre Beijing
Type: Shopping Mall, Office, Hotel
Client: Shokai, Vanke
Location: Beijing, China
Construction Area: 84,000 m2 Above Ground, 48,000 m2 Below Ground
Architecture/Interior/Landscape Design: CLOU architects
Design Director: Jan F. Clostermann
Design Team: Christian Taeubert, Hua Ye, Karl Nyqvist, Ben de Lange, Ali Yildrim, Duarte Nuno Silva, Katarzyna Irzyk, Huan Wang, Nuno Cardoso Dias, Elaine Kwong, Dominic Black, Bing Han, Ma Wenlei
Construction Drawings: Sunlay Design Group
Landscape Consultant: BAM
MEP/Structure Consultant: CABR Technology
Façade Consultant: Inhabit Group
Lighting Consultant: LDPi
Signage Design: TRYCOOL
Photography: Shuhe, Amey Kandalgaonkar, BAM
更多 Read more about: CLOU architects