本文由LANDPROCESS授权mooool发表,欢迎转发,禁止以mooool编辑版本转载。
Thanks LANDPROCESS for authorizing the publication of the project on mooool, Text description provided by LANDPROCESS.
LANDPROCESS :暹罗绿色天空是泰国第一个也是最大的绿色屋顶。这个城市农业和农业学习中心回收了浪费的混凝土屋顶空间,用于生产景观,并将城市农业引入曼谷的商业中心。
LANDPROCESS :Siam Green Sky is the first and largest green roof of its kind in Thailand. This urban farming and agricultural learning center reclaims wasted concrete roof space for a productive landscape and introduces urban agriculture to the commercial heart of Bangkok.
绿色屋顶借鉴了泰国农业的智慧,使用梯级梯田的模式,唤起了传统的梯田。景观分为草本花园、菜园、稻田,从场地入口向外辐射。
The green roof references Thai agricultural wisdom, using a stepped terrace pattern that evokes traditional rice terraces. The landscape is divided into sections—herb garden, vegetable garden, rice field—radiating out from the site entry point.
这个项目通过它自己的设计教育参观者关于废物和能源回收的知识:农场从下面建筑的餐厅回收有机废物成为植物的肥料,太阳能电池是种植区域边缘的地方。把基础设施变成艺术,并邀请泰国涂鸦艺术家在基地周围画壁画。
The project educates visitors about waste and energy recycling through its own design: the farm recycles organic waste from restaurants in the building below to become fertilizer for plants, and solar cells are places at the edges of planting areas. Turning infrastructure into art, Landprocess invited Thai graffiti artists to paint murals around the site.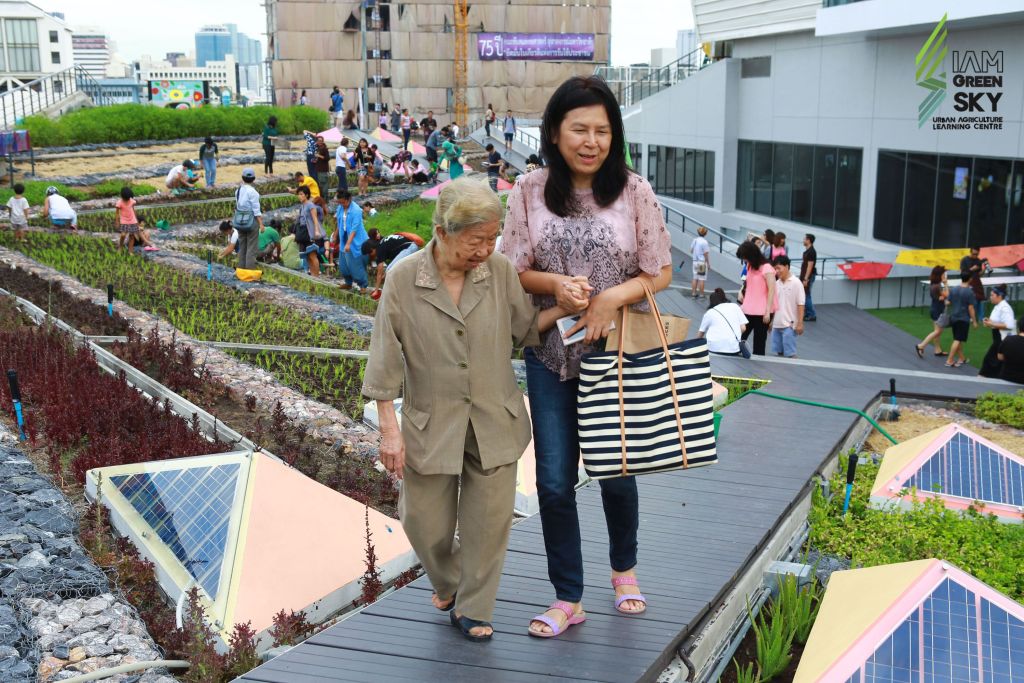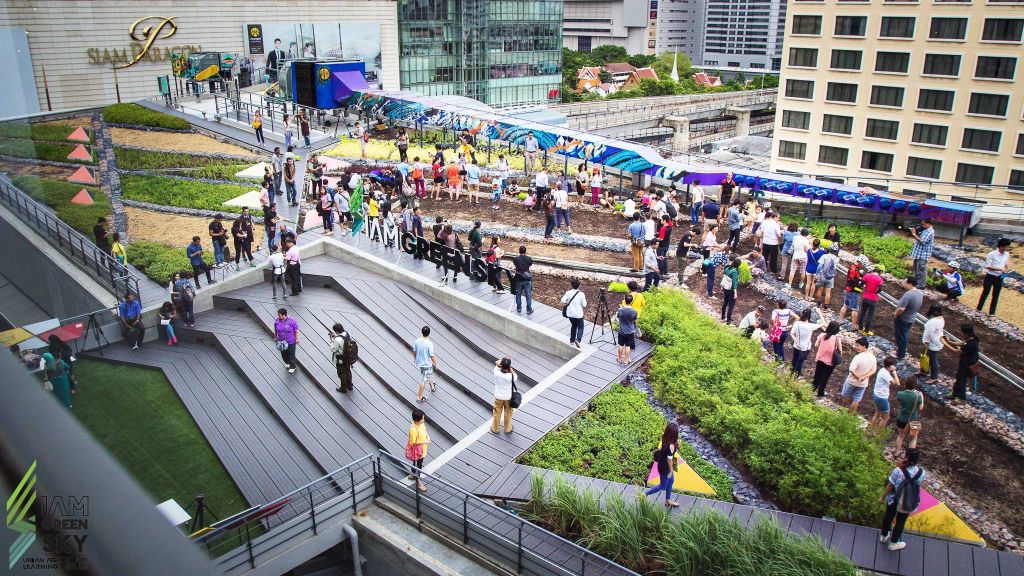 设计的每个部分都重新考虑了通常被浪费的空间:屋顶变成花园,墙壁变成画布。 屋顶花园通过场地产生共鸣:更新和再生。
Every component of the design rethinks what is normally a wasted space: a rooftop into a garden, a wall into a canvas. The message of Siam Green Sky resonates through the site: renewal and regeneration.
种植活动让更多家庭,学生和社区成员参与实践农业。
Planting activities allow more families, students and community members to participate in the practice of agriculture.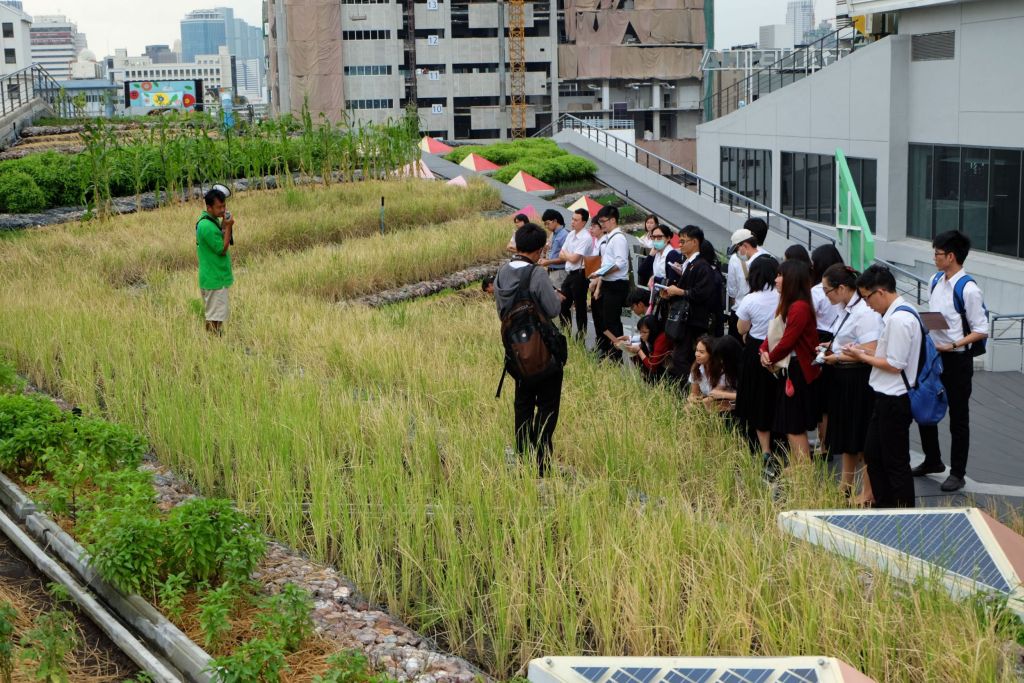 项目:暹罗绿色的天空
客户:朱拉隆功大学的财产
景观建筑设计:LANDPROCESS
建筑设计:曼谷建筑有限公司办公室(OBA)
室内设计:曼谷设计有限公司办公室(OBD)
结构工程:职位有限公司。
机电工程:计划工程有限公司
平面设计:图形49有限公司(G49)
总承包商:电力线路工程公众有限公司
施工经理:P.P.S.N.有限公司
Project :Siam Green Sky
Client:Chulalongkorn University Property
Landscape Architectural Design:LANDPROCESS
Architectural Design :The Office of Bangkok Architects Co.,Ltd. (OBA)
Interior Design :The Office of Bangkok Designer Co.,Ltd. (OBD)
Structural Engineering :POST Co.,Ltd.
MEP Engineering :PLAN ENGINEERING Co.,Ltd.
Graphic Design :GRAPHIC 49 Co.,Ltd. (G49)
Main Contractor :POWER LINE ENGINEERING Public Co.,Ltd.
Construction Manager :P.P.S.N. CO.,LTD
更多:LANDPROCESS