本文由 Renzo Piano Building Workshop 授权mooool发表,欢迎转发,禁止以mooool编辑版本转载。
Thanks Renzo Piano Building Workshop for authorizing the publication of the project on mooool, Text description provided by Renzo Piano Building Workshop.
RPBW:Stavros Niarchos文化中心位于雅典市中心以南4公里的Kallithea。该文化中心是雅典市重要的文化和教育项目,由希腊国家图书馆和希腊国家歌剧院组成,占地17万平方米。项目场地是2004年奥运会遗留下来的一个停车场,该项目设计修复了该地区与城市和大海之间的联系。
RPBW:The Stavros Niarchos Cultural Centre is constructed in Kallithea, 4 km south of central Athens. An important cultural and educational project, the site comprises the National Library of Greece and the Greek National Opera in a 170,000 sq m landscaped park. Formerly a parking lot left over from the 2004 Olympic Games, the project has restored the site's lost connections with the city and the sea.
▼从城市上空看 View from the city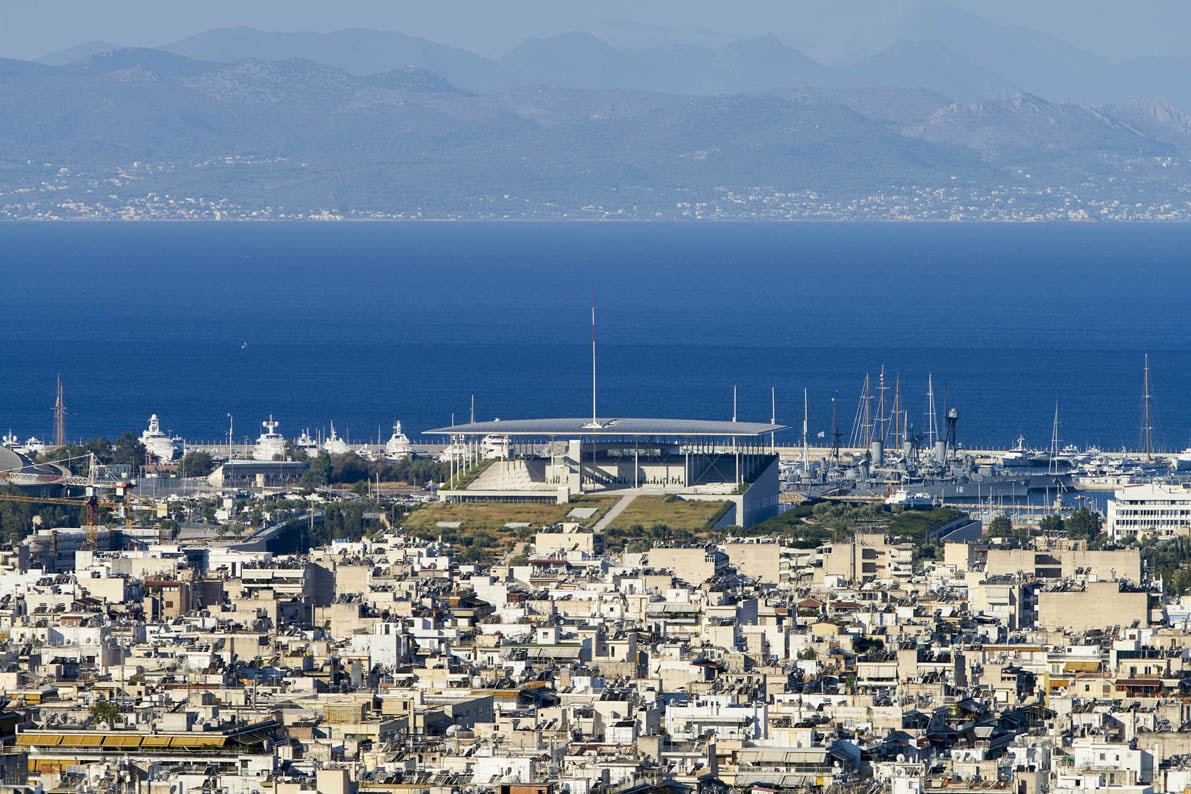 作为雅典法里罗湾最早的海港之一,Kallithea一直与水有着密切的联系,然而,在施工之前,尽管它们之间的距离很近,但在现场却看不到任何海景,为了改变这一现状,我们在该场地南侧(向海面)建造了一座人工山体,文化中心大楼位于倾斜坡地公园的最高处,享有壮观的海景。
As one of Athens' earliest seaports on Faliro Bay, Kallithea has always had a strong relationship with the water. At present, however, despite its proximity, there is no view of the sea from the site. To restore this, an artificial hill is being created at the south (seaward) end of the site. The sloping park culminate in the cultural center building, giving it spectacular views towards the sea.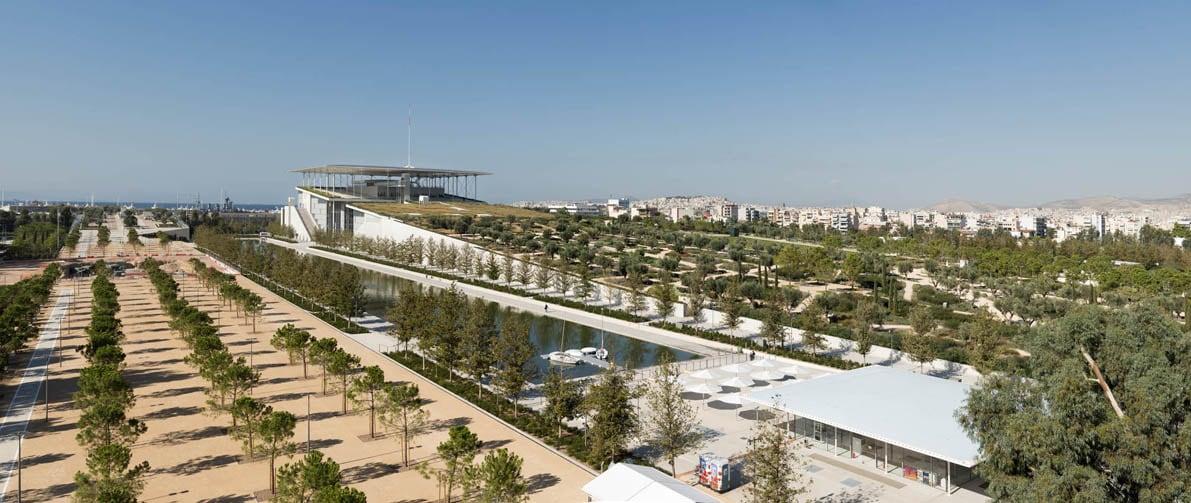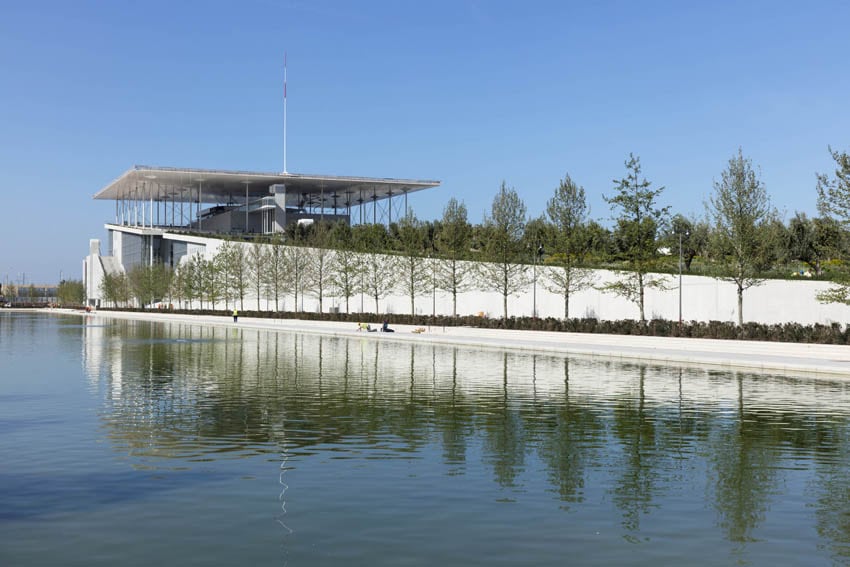 ▼行走在坡地公园 Walk in the slope park

歌剧和图书馆都被整合在一栋建筑中,中间名为Agora的公共空间,为这两个主要设施提供的通道和连接。歌剧厅由两个礼堂组成,一个(含1400个座位)专门用于古典芭蕾、交响乐和传统歌剧,另一个(含450个座位)则用于更多的实验表演。图书馆不仅是一个学习和保存文化知识的地方,也是一个真正可以分享和享受文化的公共资源空间,其全玻璃幕墙的图书馆阅览室就位于屋顶下方的建筑顶部,如一个方形水平透明的盒子,享有雅典和大海的360度全景。
Both opera and library are combined in one building, with a public space, known as the Agora, providing access and connections between the two main facilities. The opera wing is composed of two auditoria, one (1,400 seats) dedicated to classic ballets, symphonic music and traditional operas and the other (450 seats) for more experimental performances, ballet, opera for children, theatre, music. The library is intended as not only a place for learning and preserving culture, but also as a public resource, a space where culture is truly accessible to share and enjoy. The entirely glass-walled library reading room sits on top of the building just underneath the canopy roof. A square horizontal transparent box, it enjoys 360-degree views of Athens and the sea.
▼歌剧厅内部 Opera House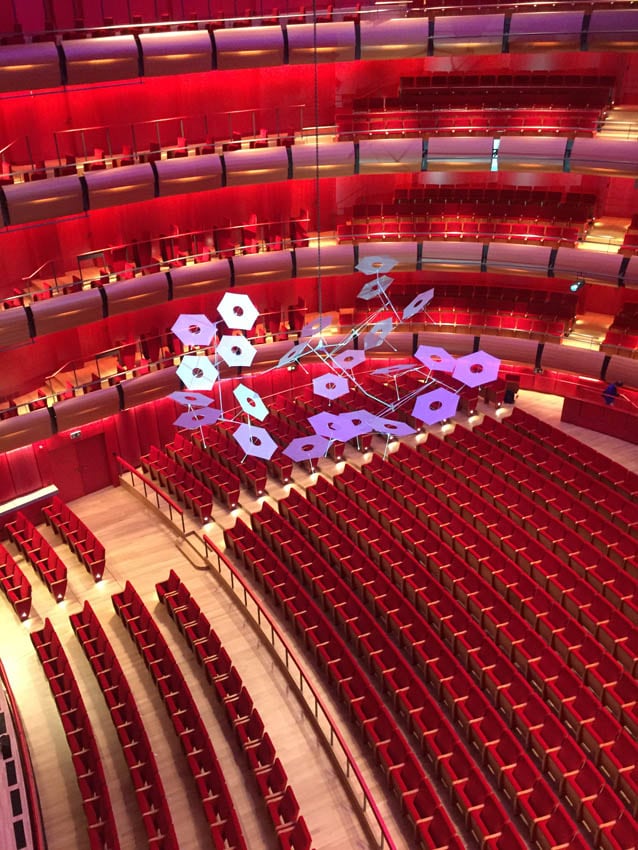 ▼图书馆内部 Inside the library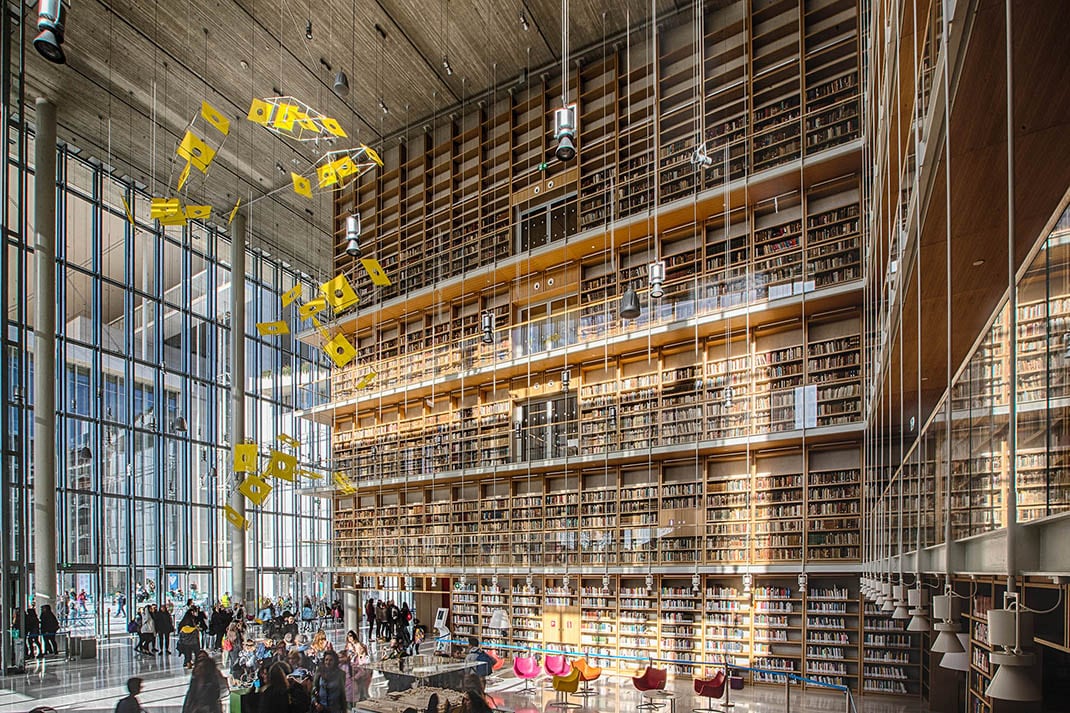 ▼连接歌剧厅和图书馆的Agora Agora connecting opera hall and library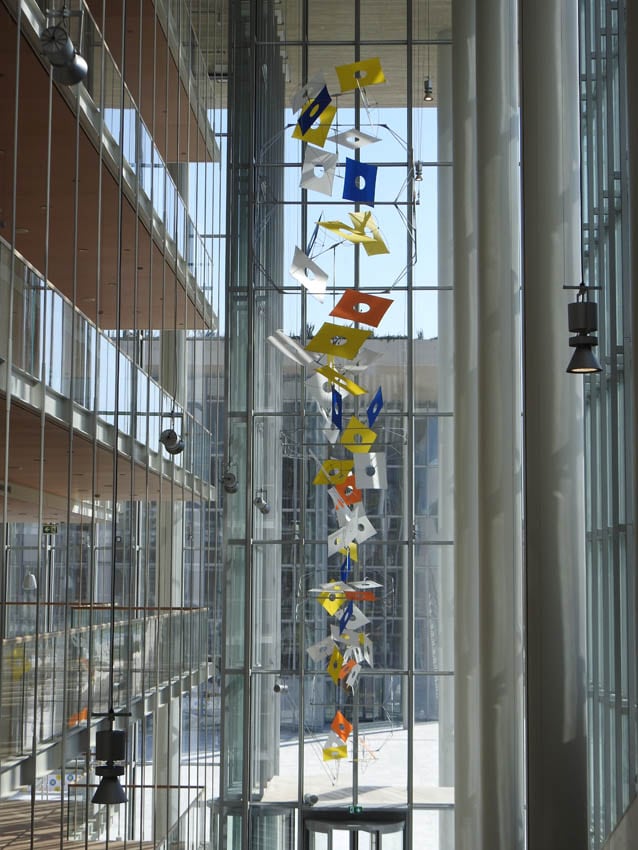 场地与水的视觉和物理联系继续在公园中延续,一条新运河沿着南北向的主要步行轴线——滨海大道(Esplanade)延伸。雨棚屋顶为建筑提供了必要的遮阳,屋顶上安装的10,000平方米的光伏电池,足够为图书馆和歌剧院提供1.5兆瓦的电力。在正常营业开放时间内,这个区域的电池可保证建筑在能源方面自给自足。整个建筑尽可能的采用自然通风设计。该综合体已于2016年10月获得LEED白金认证。
The site's visual and physical connection with water continues in the park with a new canal that runs along a north–south, main pedestrian axis, the Esplanade. The canopy roof provides essential shade and has been topped with 10.000 sq m of photovoltaic cells, enough to generate 1.5 megawatt of power for the library and opera house. This field of cells should allow the building to be self-sufficient in energy terms during normal opening hours. Wherever possible, natural ventilation has been used. The complex obtained the LEED platinum certification in October 2016.
▼运河南北向轴线 The north-south axis of the canal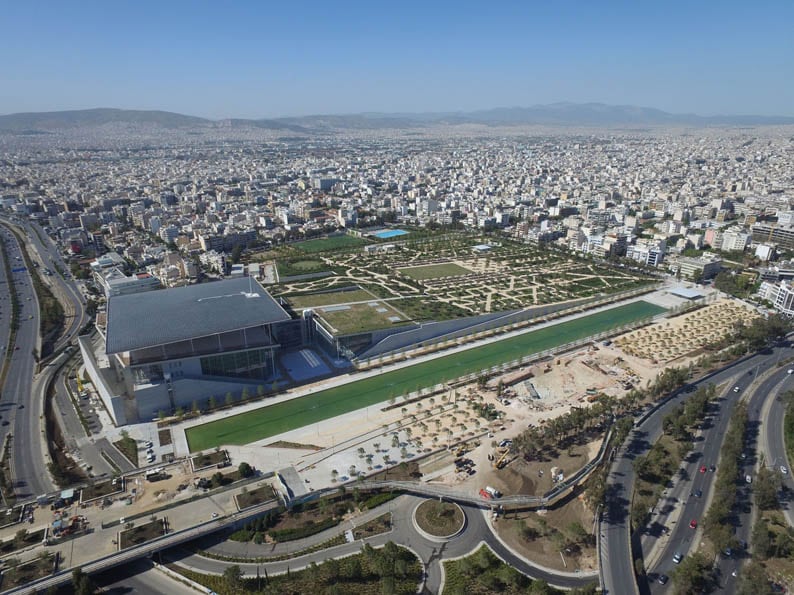 ▼自给自足的太阳能源 Self-sufficient solar energy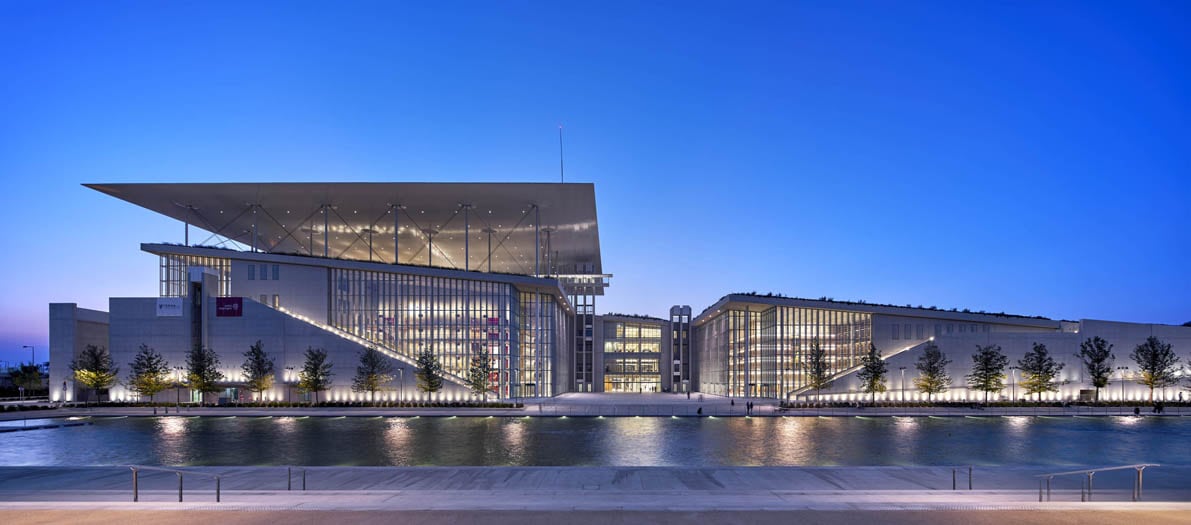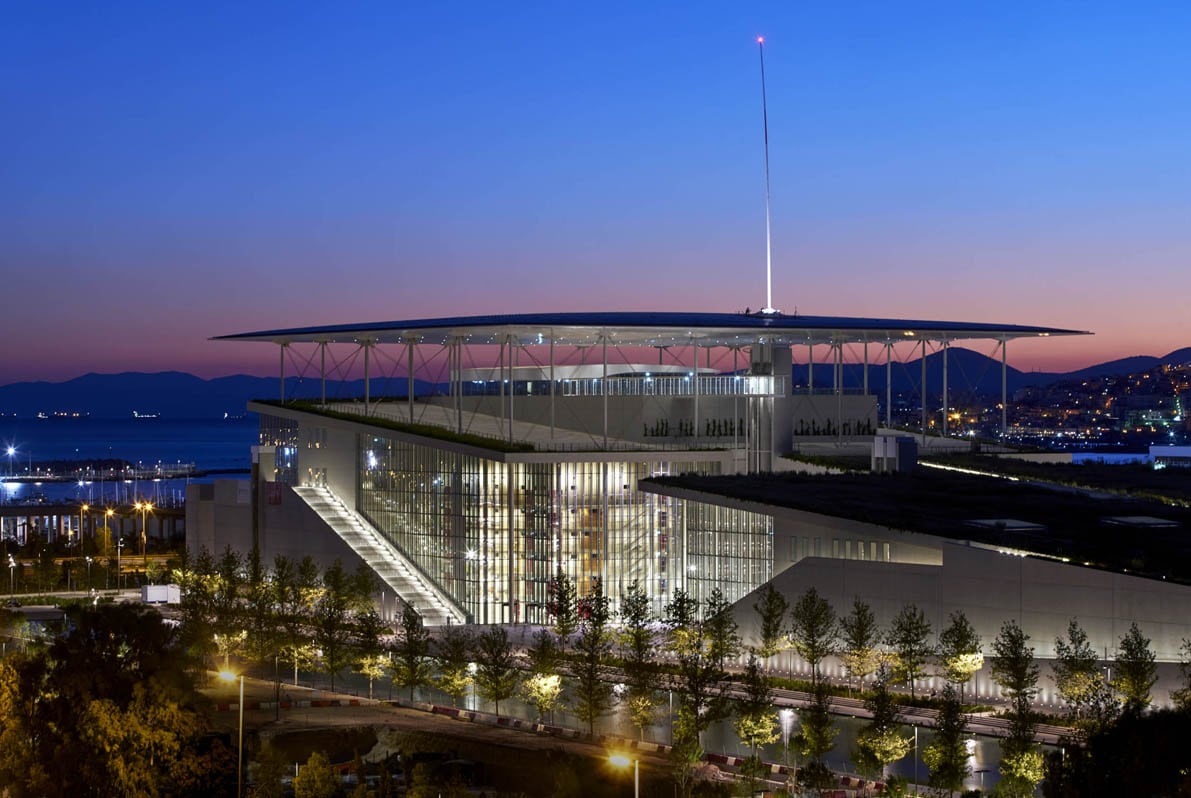 ▼雨棚屋顶 The canopy roof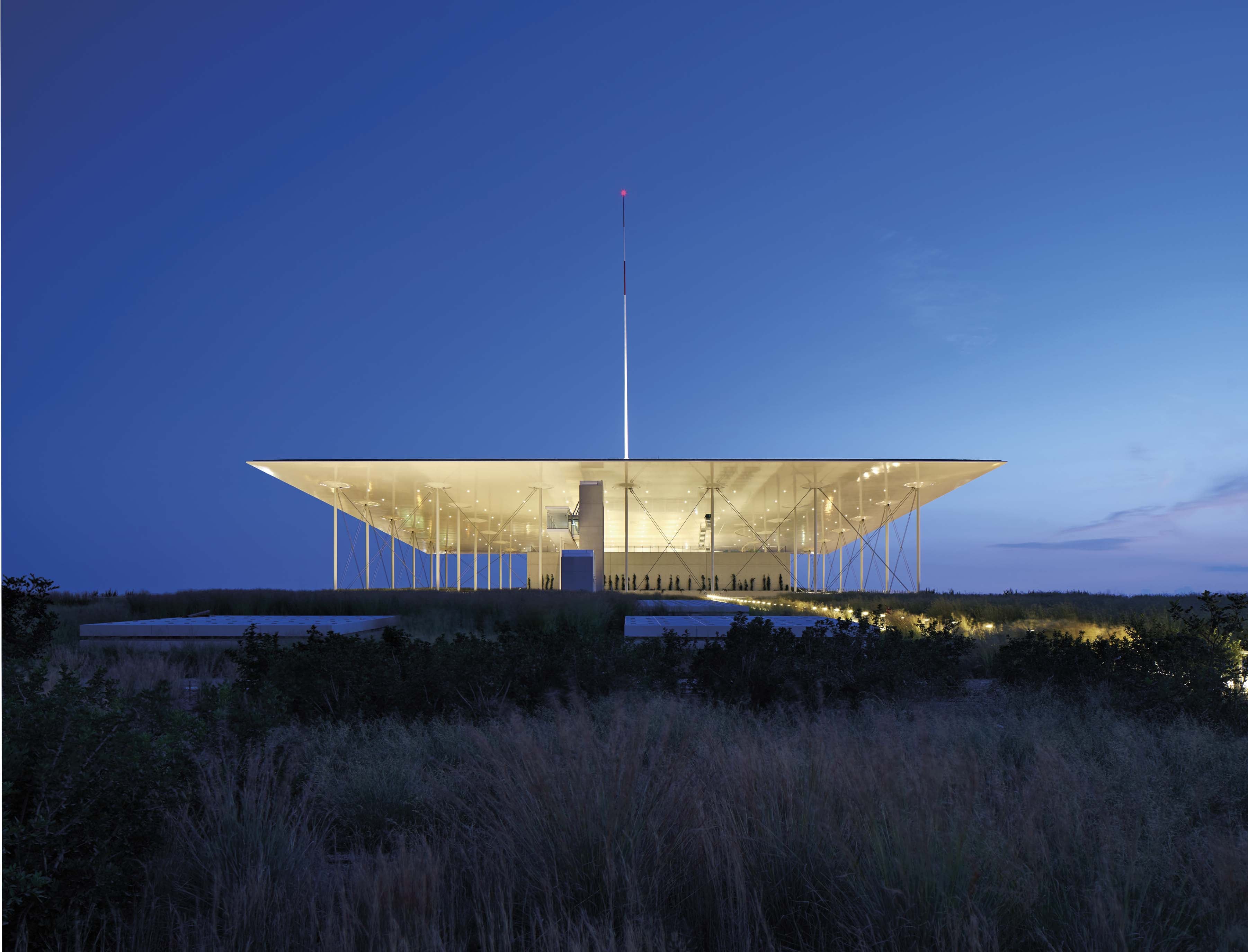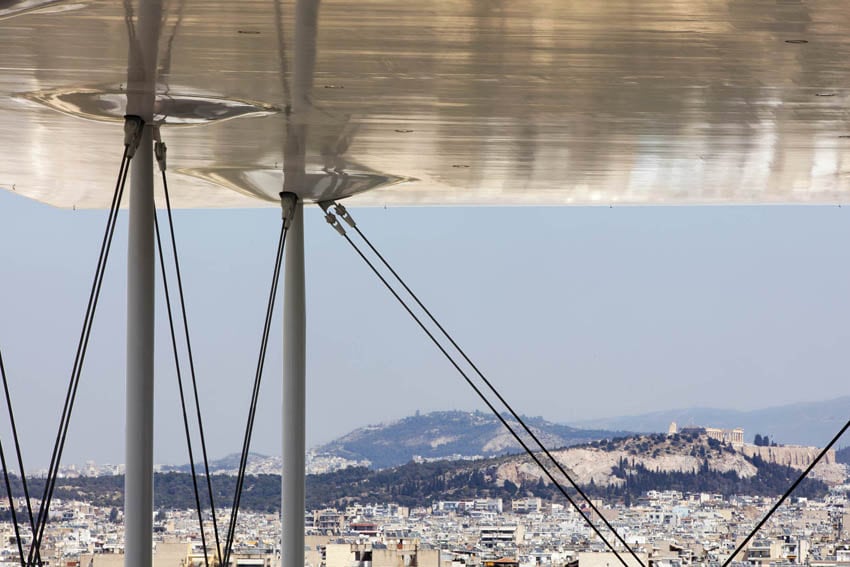 ▼雨棚屋顶细节设计 Detail design of canopy
▼Google +景观 Google Plus Landscape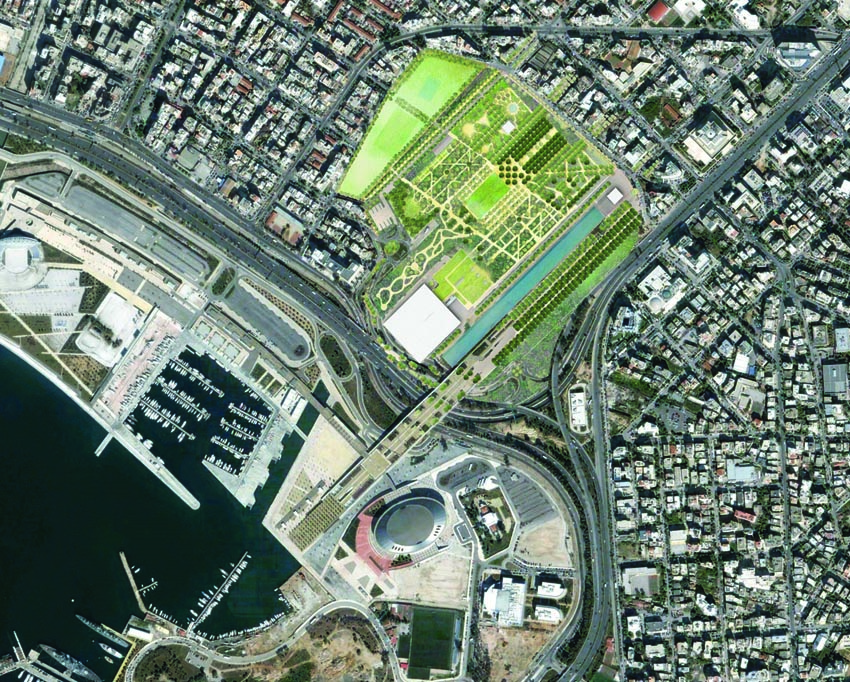 ▼项目总平面图 Site plan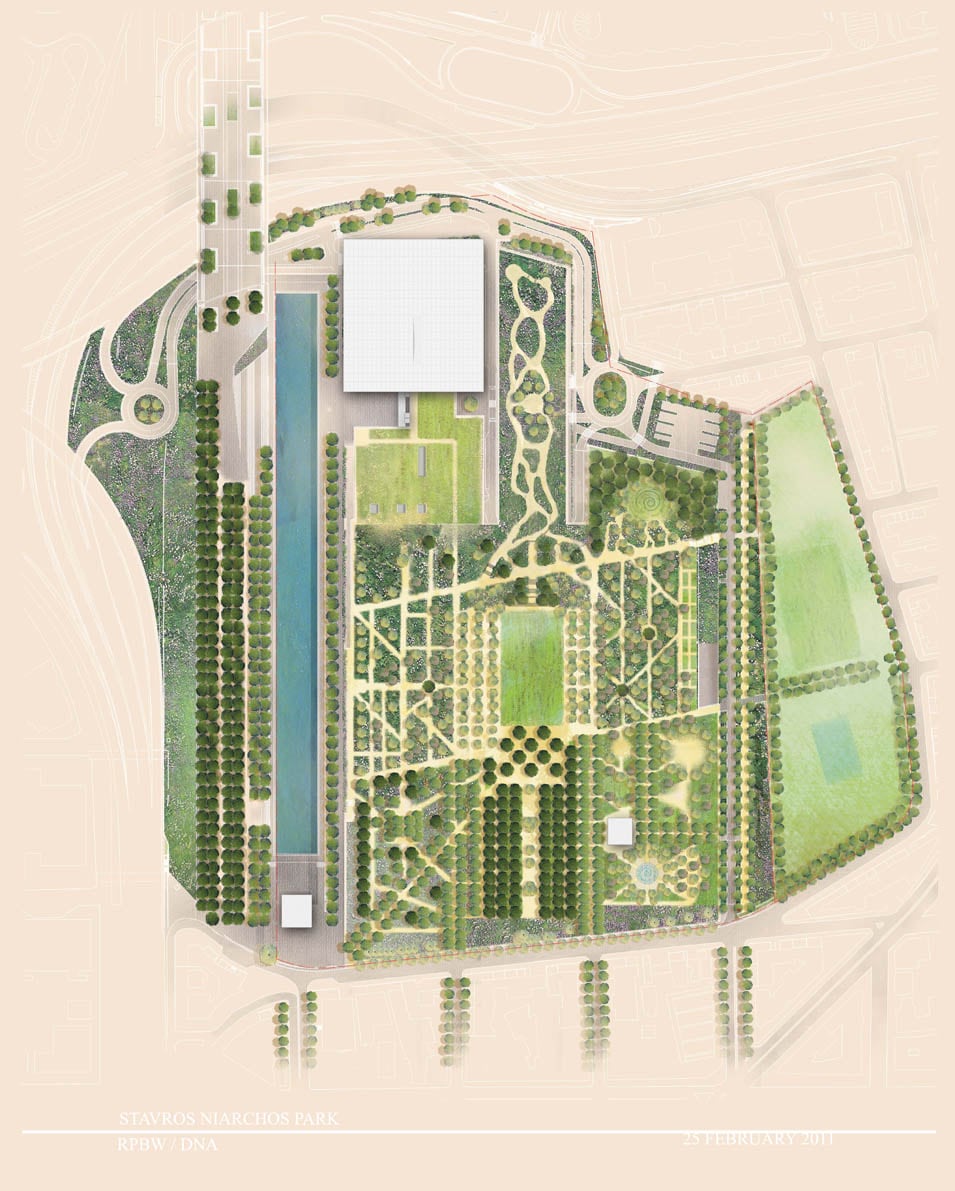 ▼场地模型 General Model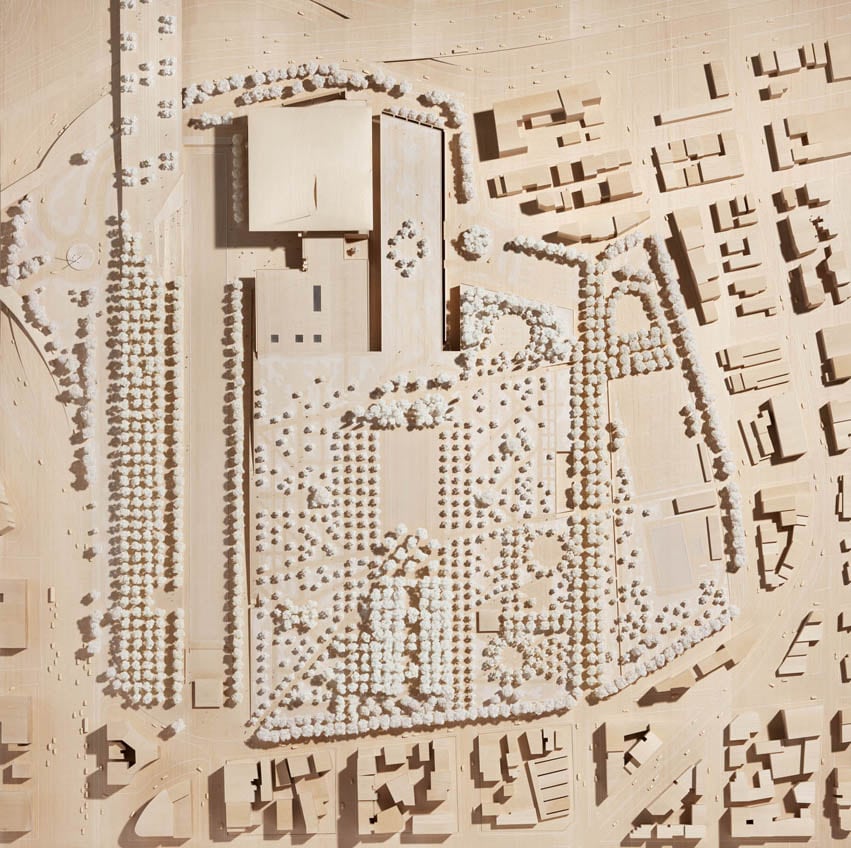 项目名称:斯塔弗洛斯尼阿科斯基金会文化中心
设计:Renzo Piano Building Workshop
客户:斯塔夫罗斯·尼亚科斯基金会
项目:2008 – 2011
建设:2012 – 2016
场地面积:187.800平方米
建筑面积:88.000平方米
绿色屋顶:17.000 m²植物(1.440,300.000)
高度:35,50米(桅杆83米)
地下楼层:8 + 2
获奖情况:Leed
设计团队:G.Bianchi, V.Laffineur (合伙人兼负责人), S.Doerflinger, H.Houplain, A.Gallissian with A.Bercier, A.Boldrini, K.Doerr, S.Drouin, G.Dubreux, S.Giorgio-Marrano, C.Grispello, M.A.Maillard, E.Ntourlias, S.Pauletto, L.Piazza, M.Pimmel, L.Puech and B.Brady, C.Cavo, A. Kellyie, C.Menas Porras, C.Owens, R.Richardson; S.Moreau; O.Aubert, C.Colson and Y.Kyrkos (模型)
顾问:Expedition Engineering/OMETE (结构); Arup/LDK Consultants (MEP、可持续发展、声学、照明、安全、IT); Theater Project Consultants (剧场设备); Front (立面工程); Deborah Nevins & Associates/H.Pangalou (景观美化); C&G Partners, M.Harlé/J.Cottencin (标牌); Faithful+Gould (项目及成本管理)
远征工程/ OMETE(结构); Arup / LDK顾问(环境保护部,可持续性,声学,照明,安全,IT); 剧院项目顾问(剧院设备); 正面(立面工程); Deborah Nevins&Associates / H.Pangalou(景观美化); C&G Partners,M.Harlé/ J.Cottencin(标牌); 忠实+古尔德(项目和成本管理); AMA Alexi Marmot Associates(图书馆和学习空间)
Project Name: Stavros Niarchos Foundation Cultural Centre
Design: Renzo Piano Building Workshop
Client: The Stavros Niarchos Foundation
Project Year: 2008-2011
Construction: 2012-2016
Site area: 187.800 m2
Building area: 88.000 m2
Green roof: 17.000 m² (1.440 trees, 300.000 plants)
Height: 35,50 m (mast 83 m)
Floors: 8+2 underground
prizes and awards: Leed
Design team: G.Bianchi, V.Laffineur (partner and associate in charge), S.Doerflinger, H.Houplain, A.Gallissian with A.Bercier, A.Boldrini, K.Doerr, S.Drouin, G.Dubreux, S.Giorgio-Marrano, C.Grispello, M.A.Maillard, E.Ntourlias, S.Pauletto, L.Piazza, M.Pimmel, L.Puech and B.Brady, C.Cavo, A. Kellyie, C.Menas Porras, C.Owens, R.Richardson; S.Moreau; O.Aubert, C.Colson and Y.Kyrkos (models)
Consultants: Expedition Engineering/OMETE (structure); Arup/LDK Consultants (MEP, sustainability, acoustics, lighting, security, IT); Theater Project Consultants (theater equipment); Front (facade engineering); Deborah Nevins & Associates/H.Pangalou (landscaping); C&G Partners, M.Harlé/J.Cottencin (signage); Faithful+Gould (project and cost management)
更多 Read more about: Renzo Piano Building Workshop