本文由 Zaha Hadid Architects 授权mooool发表,欢迎转发,禁止以mooool编辑版本转载。
Thanks Zaha Hadid Architects for authorizing the publication of the project on mooool, Text description provided by Zaha Hadid Architects.
ZHA:ETH的建筑师、Block Research Group的工程师与扎哈·哈迪德建筑事务所和其他业内伙伴合作,利用3D打印技术,在意大利威尼斯建造了世界首座3D打印无加固混凝土桥Striatus,不需要钢筋或砂浆,材料使用显著减少。这座16×12米高的步行桥在威尼斯建筑双年展Giardini della Marinaressa展出,直到2021年11月。
ZHA: 3D printing can be used to build load-bearing concrete structures that require significantly less material and no steel reinforcement or mortar. ETH architects and engineers from the Block Research Group in collaboration with Zaha Hadid Architects and other partners from industry showed how this works with a footbridge in Venice. Striatus is an arched, unreinforced masonry footbridge composed of 3D-printed concrete blocks assembled without mortar. Exhibited at the Giardini della Marinaressa during the Venice Architecture Biennale until November 2021, the 16×12-metre footbridge is the first of its kind, combining traditional techniques of master builders with advanced computational design, engineering and robotic manufacturing technologies.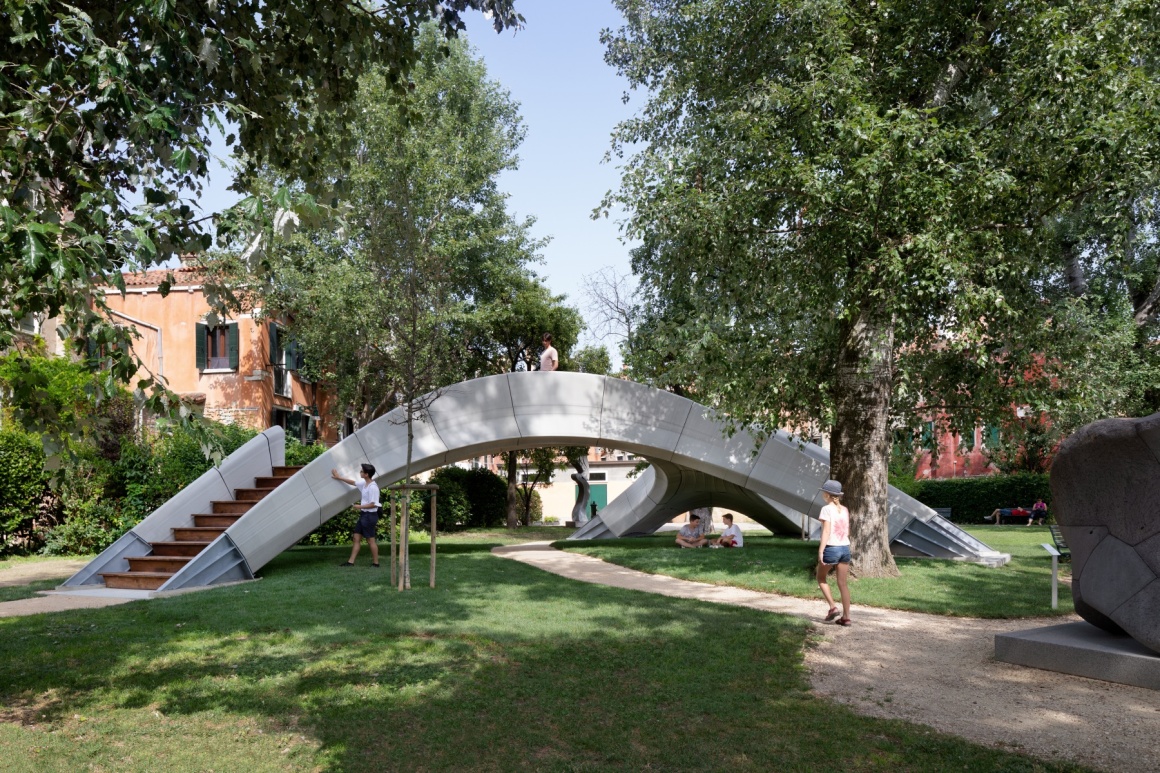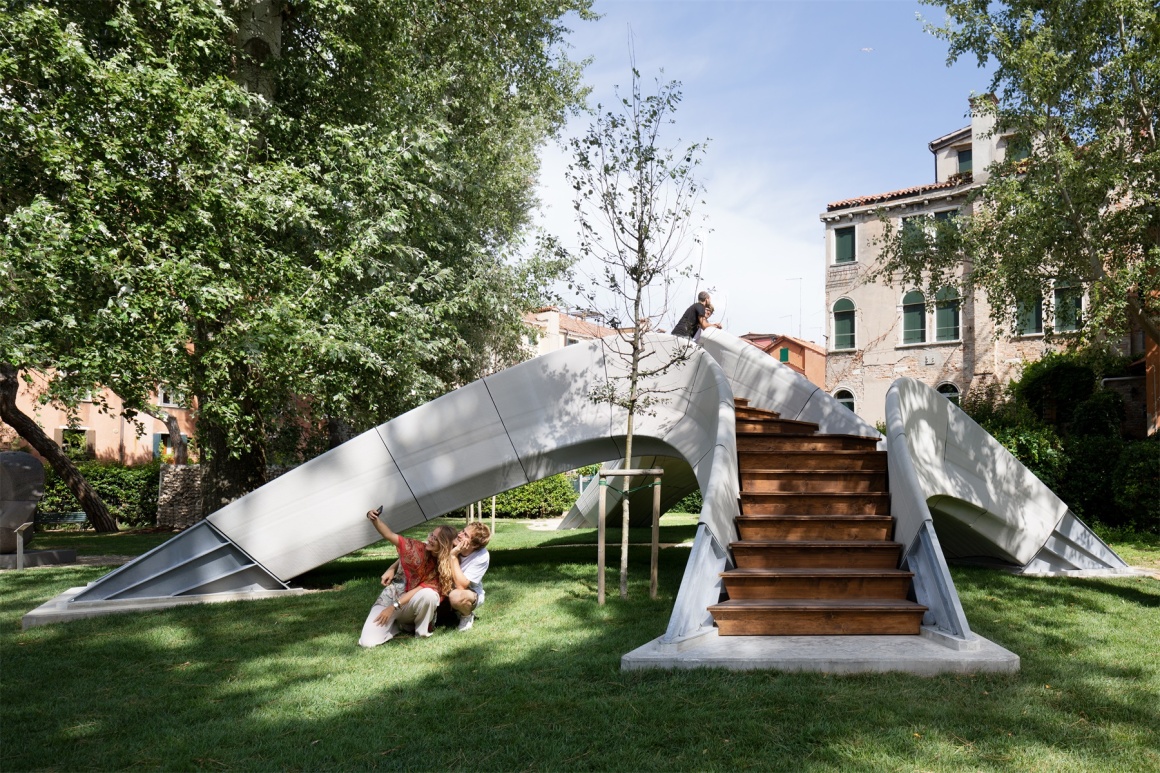 ▼项目视频 Video
Striatus混凝土拱桥采用了加成工艺,外观很像传统的石砌桥。这种仅受压的结构使力能够通过与地面相连的部位传递到地基上。这个纯组装结构是通过巧妙的几何形状获得稳定性的。混凝土类似于一种人造石头,抗压能力强。在拱形或穹顶结构中,如果材料可以精确放置,那么压力就可以逐节传递到与支座相连的地基。桥的强度是通过几何形状来实现的,而不是像传统的混凝土梁和平面楼板那样只是低效的材料堆积。这大大减少了大幅度跨越空间的结构的材料需求,也为低强度、低污染的替代建筑提供了可能性。
Using an additive process, the construction dubbed "Striatus" was built with concrete blocks that form an arch much like traditional masonry bridges. This compression-only structure allows the forces to travel to the footings, which are tied together on the ground. The dry-assembled construction is stable due to its geometry only. Striatus is an unreinforced concrete structure that achieves strength through geometry. Concrete can be considered an artificial stone that performs best in compression. In arched and vaulted structures, material can be placed precisely so that forces can travel to the supports in pure compression. Strength is created through geometry, rather than an inefficient accumulation of materials as in conventional concrete beams and flat floor slabs. This presents opportunities to significantly reduce the amount of material needed to span space as well as the possibility to build with lower-strength, less-polluting alternatives.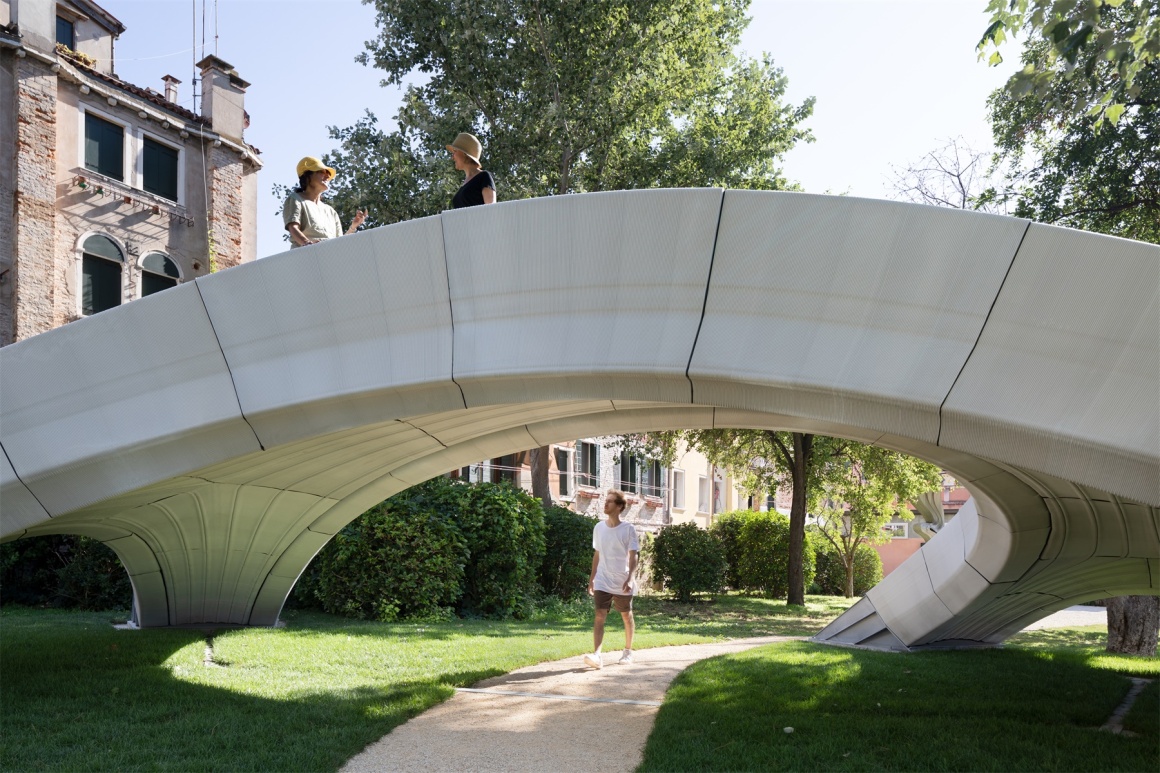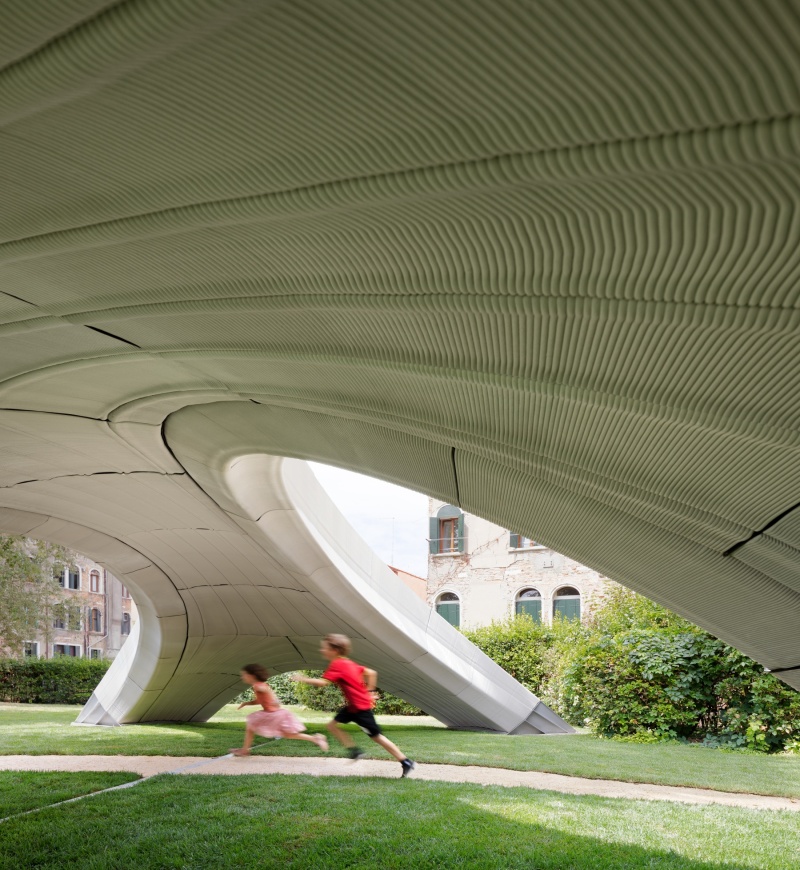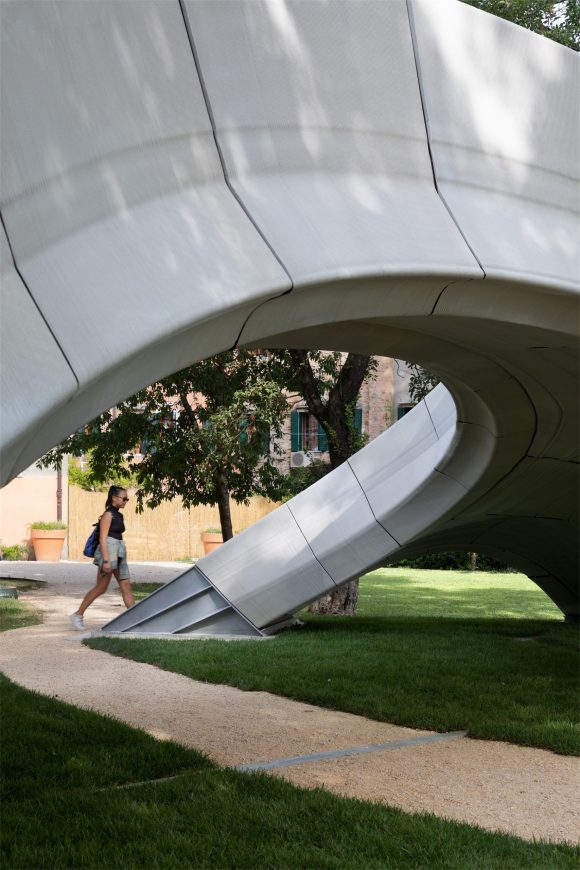 研究人员与Incremental3D公司共同开发的3d打印混凝土是一种全新的材料。混凝土不再是水平分布,而是以特定的角度,与压力成正交方向。这使每一层混凝土完美地挤压在一起,而不需要加强或后张。3D打印机专用的混凝土材料是由豪瑞公司开发的。
What is completely new is the type of 3D-printed concrete, which the researchers developed together with the company Incremental3D. The concrete is not applied horizontally in the usual way but instead at specific angles such that they are orthogonal to the flow of compressive forces. This keeps the printed layers in the blocks nicely pressed together, without the need for reinforcement or post-tensioning. The special concrete ink for the 3D printer was developed by the company Holcim precisely for this purpose.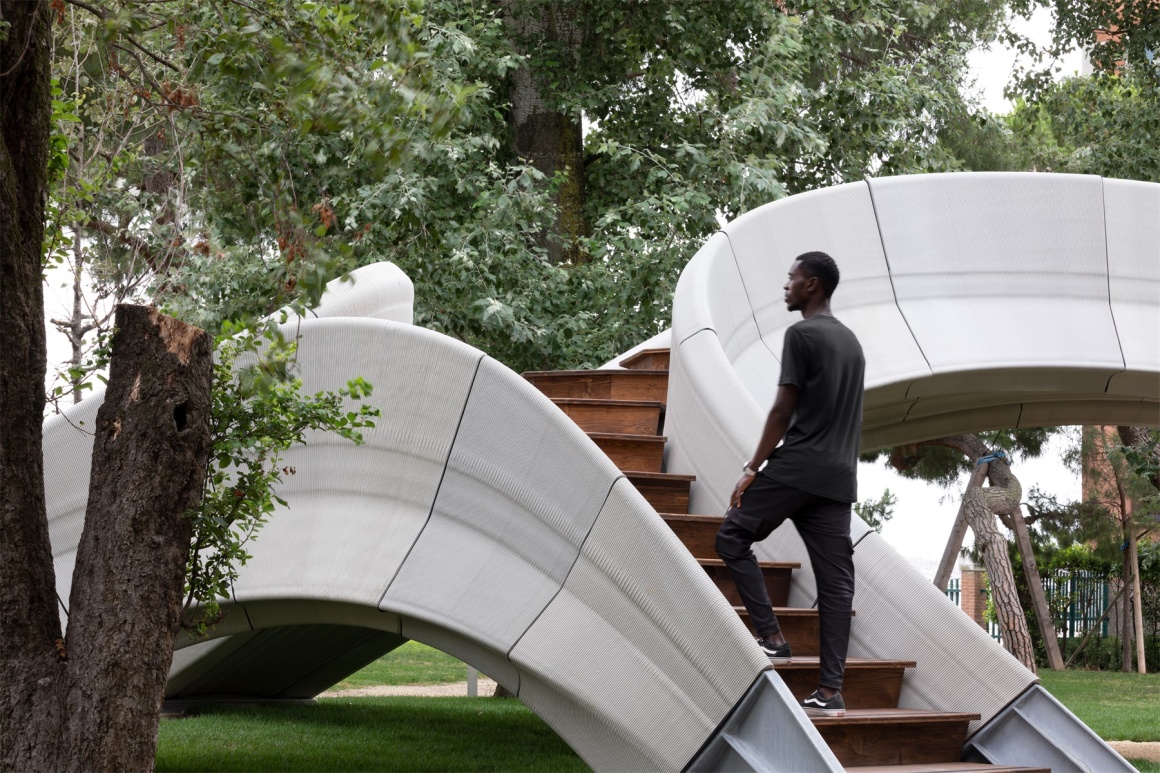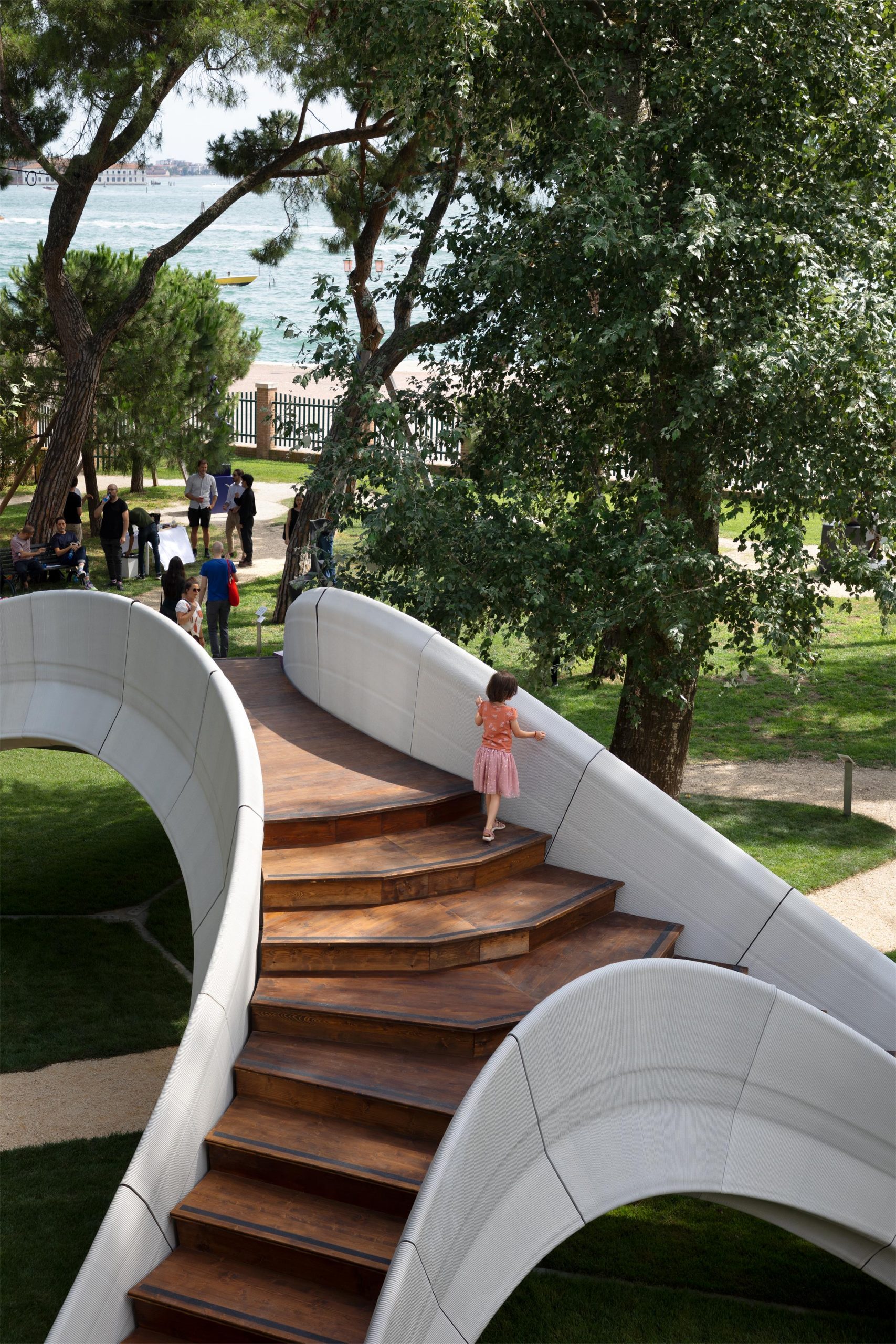 ▼3D打印 Printing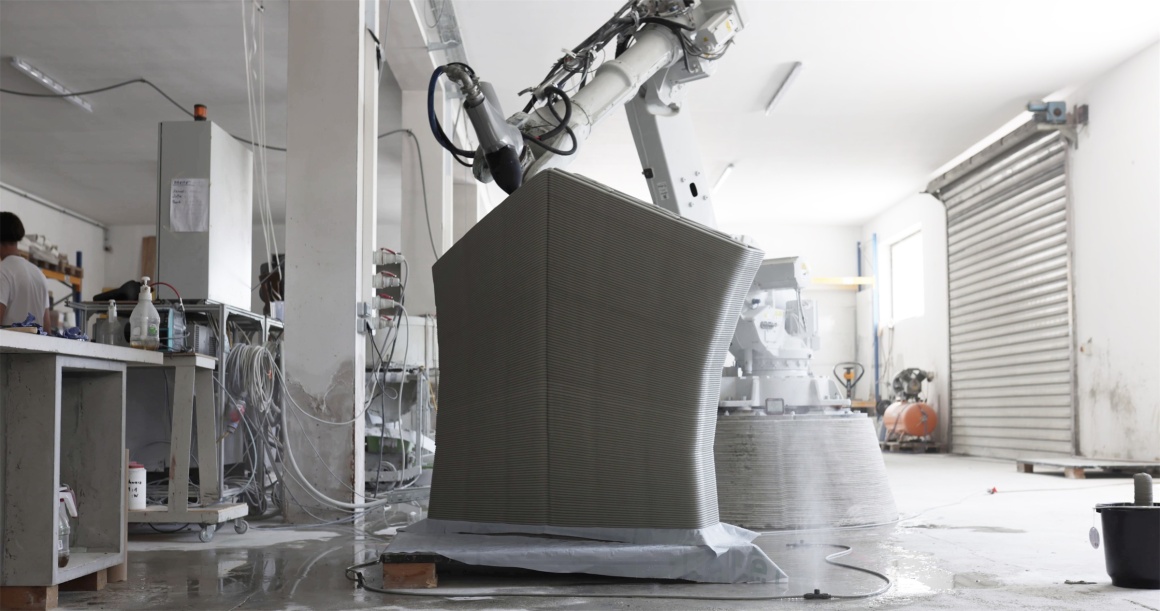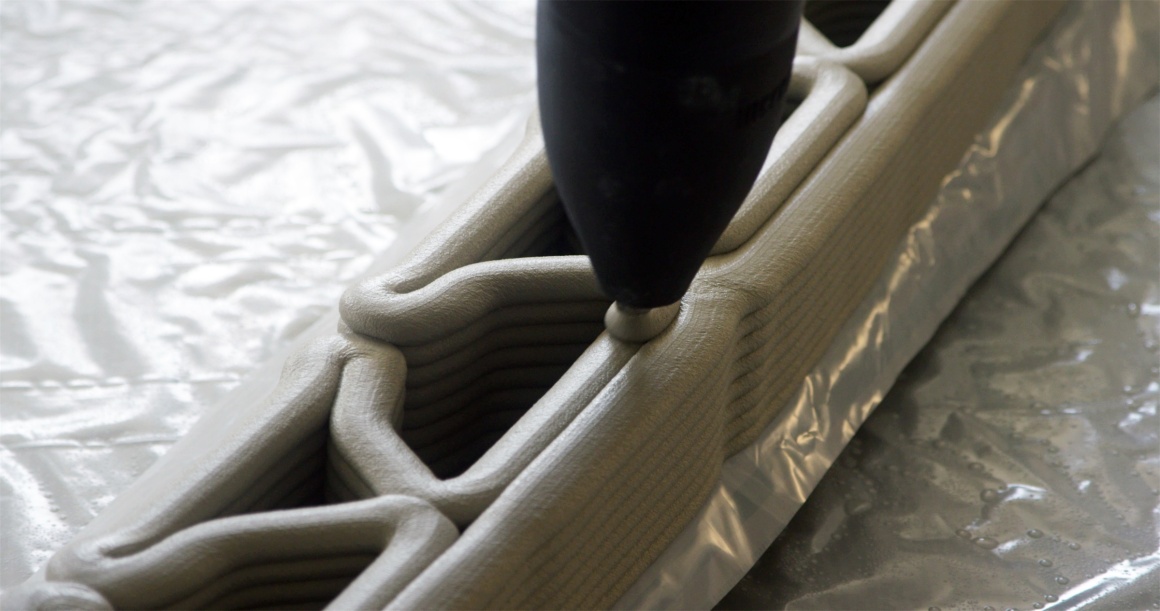 ETH教授Philippe Block说:"这种精确的3D混凝土打印方法使我们能够将传统拱形建筑的原理与数字混凝土制造相结合,只在结构需要的地方使用材料,而不会产生浪费。" 由于结构不需要砂浆粘连,砌块可以随时拆除,然后在不同的位置重新组装。如果不再需要,材料还可以简单地分离和回收。
ETH professor Philippe Block said: "This precise method of 3D concrete printing allows us to combine the principles of traditional vaulted construction with digital concrete fabrication to use material only where it is structurally necessary without producing waste." Because the construction does not need mortar, the blocks can be dismantled, and the bridge reassembled again at a different location. If the construction is no longer needed, the materials can simply be separated and recycled.
▼建造过程 Construction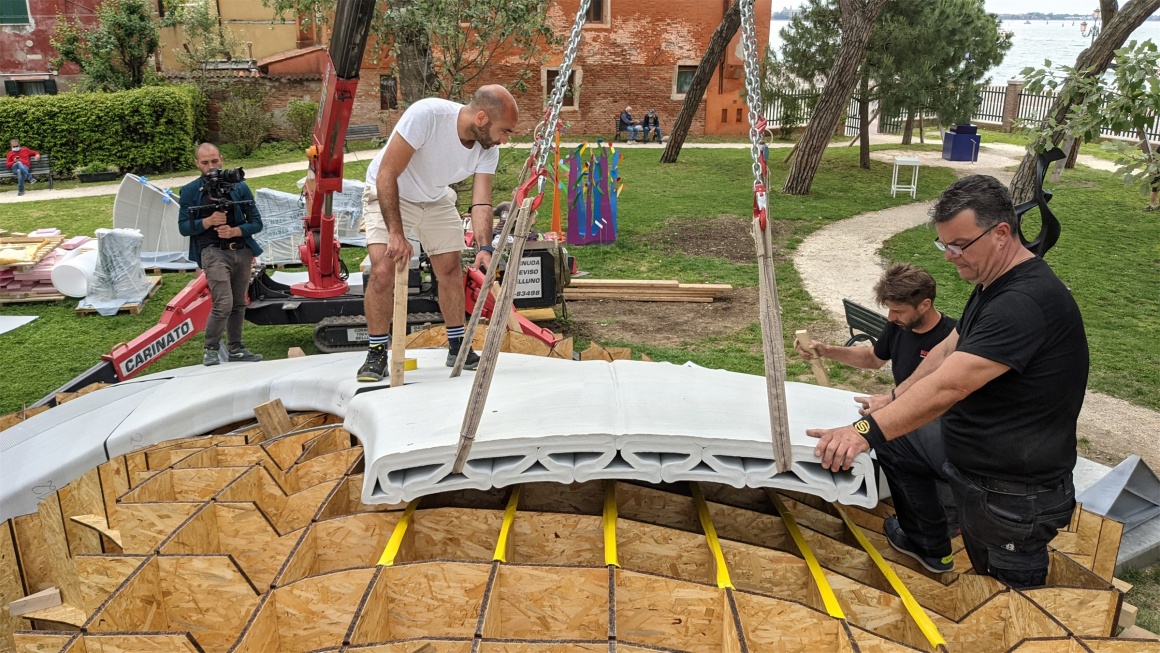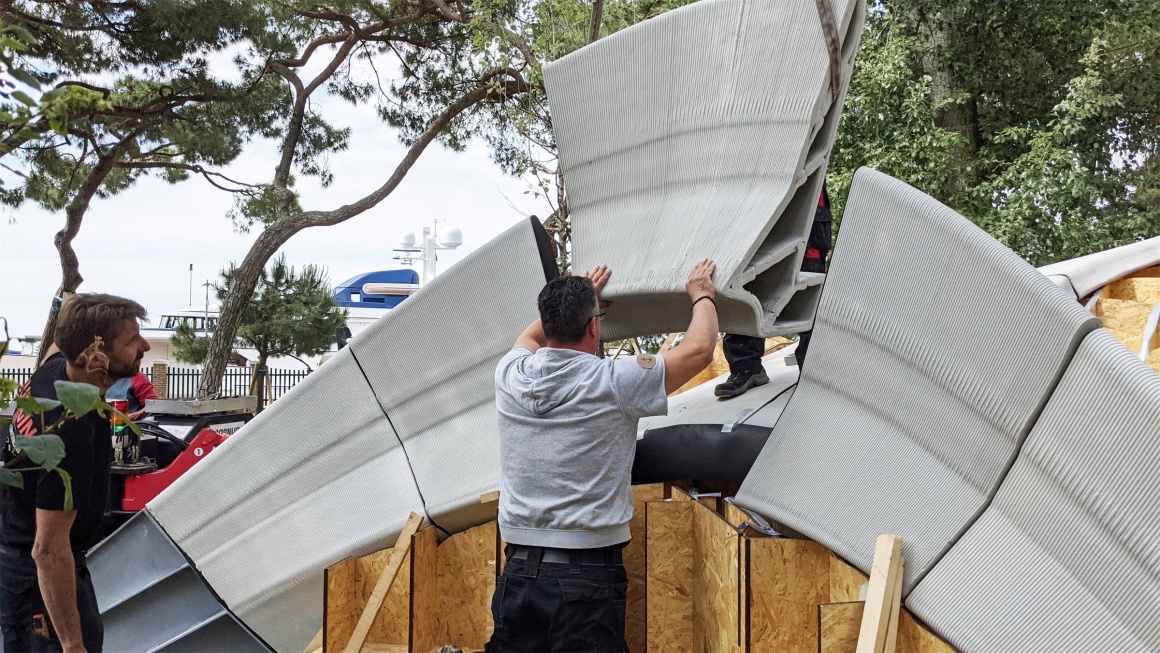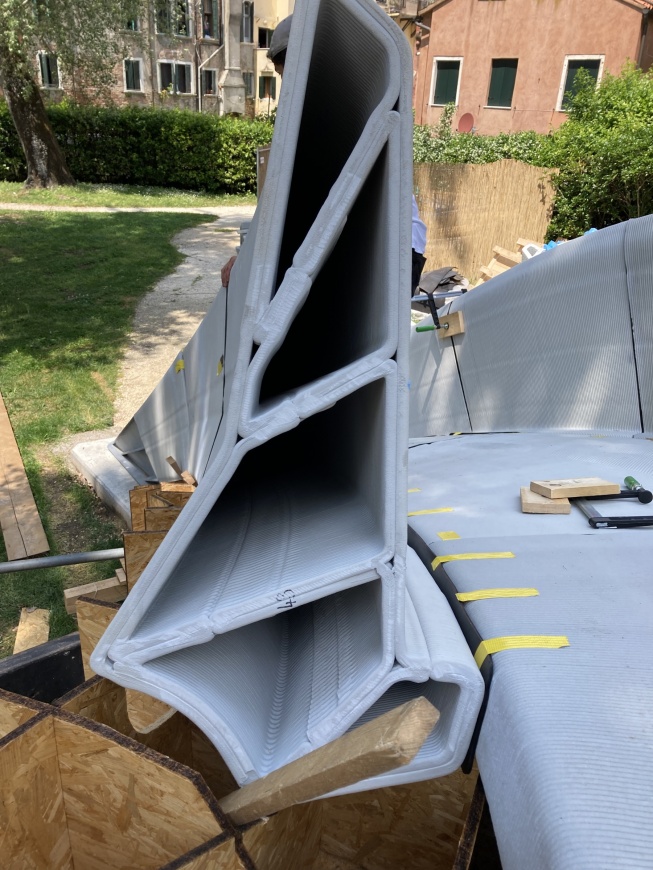 ▼平面图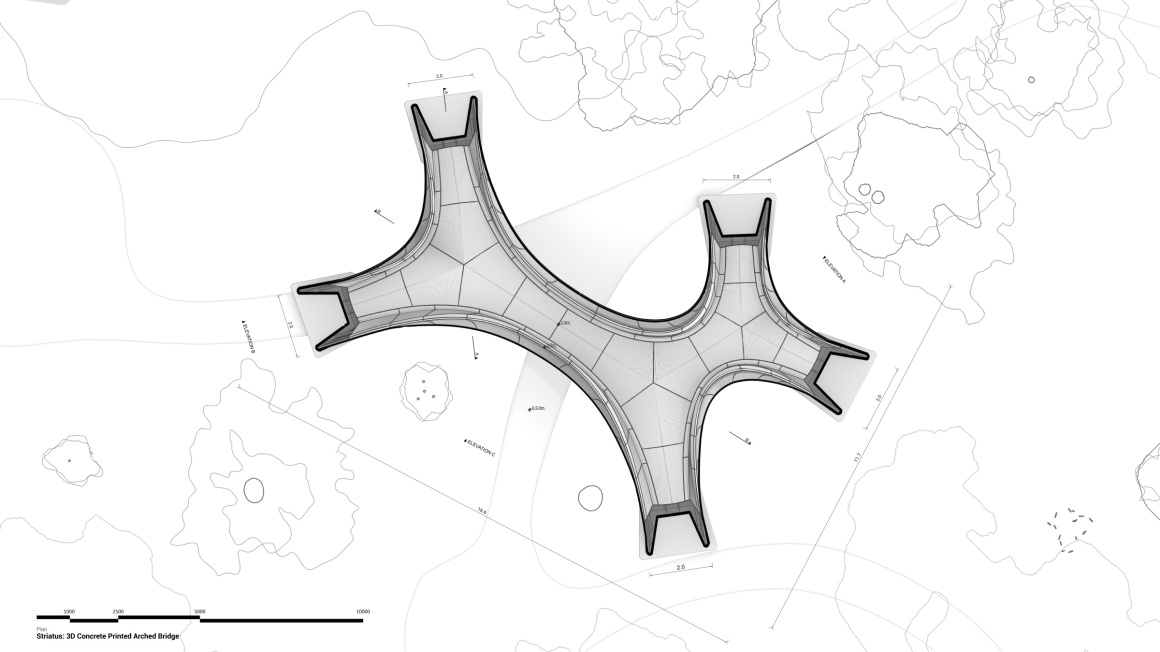 ▼立面图 Evaluation
▼剖面图 Section
项目参数 | Project fact
最高点(Maximum height) = 3.5 m
桥底最高点(Minimum head height) = 2.2 m
总表面积(Total surface area) = 216 m2
总覆盖面积(Total covered area) = 50 m2
最长跨度(Longest span) = 15.10 m
最短跨度(Shortest span) = 4.95 m
3d打印混凝土的材料密度(Material density of 3D-printed concrete) = ~2350 kg/m³
混凝土块重量(3DCP blocks) = 24.5 ton
基座和拉力带重量(footings, tension ties) = 5.2 ton
块体数量(Number of voussoirs) = 53
块体厚度(Thicknesses of voussoirs) = 0.05m – 0.35 m
块体体积(Volume (solid) of voussoirs) = 19.18 m³
3D打印每个块体路径长度(3D-printing path lengths (per block)) = 602 m – 1754 m
3D打印总长度(3D-printing total path length (all blocks)) = 58 km
3D打印耗时(3D-printing total print time (all blocks) )= 84 hours (incl. pre-print and post-print procedures)
3D打印每层高度(3D-printing layer heights) = 4.46 mm – 11.98 mm
3D打印每个块体净重(3D-printed mass per block) = 217 kg – 783 kg
平台块体宽度(Deck Blocks width) = 25 mm – 50 mm
栏杆块体宽度(Balustrade Blocks width) = 40 mm
项目团队 | Project team
设计(Design): ZHACODE(Jianfei Chu, Vishu Bhooshan, Henry David Louth, Shajay Bhooshan, Patrik Schumacher), ETH BRG(Tom Van Mele, Alessandro Dell'Endice, Philippe Block)
结构工程(Structural engineering): ETH BRG (Tom Van Mele, Alessandro Dell'Endice, Sam Bouten, Philippe Block)
装配设计(Fabrication design): ETH BRG (Shajay Bhooshan, Alessandro Dell'Endice, Sam Bouten, Chaoyu Du, Tom Van Mele), ZHACODE (Vishu Bhooshan, Philip Singer, Tommaso Casucci)
3D混凝土打印(3D concrete printing): In3D (Johannes Megens, Georg Grasser, Sandro Sanin, Nikolas Janitsch, Janos Mohacsi)
混凝土材料研究(Concrete material development): Holcim (Christian Blachier, Marjorie Chantin-Coquard, Helene Lombois-Burger, Francis Steiner), LafargeHolcim Spain (Benito Carrion, Jose Manuel Arnau)
施工组装(Assembly & Construction): Bürgin Creations (Theo Bürgin, Semir Mächler, Calvin Graf), ETH BRG (Alessandro Dell'Endice, Tom Van Mele)
后勤(Logistics): ETH BRG (Alessandro Dell'Endice, Tom Van Mele), Holcim Switzerland & Italy (Michele Alverdi), LafargeHolcim Spain (Ricardo de Pablos, José Luis Romero)
其他合作伙伴(Additional partners): Ackermann GmbH [CNC timber formwork], L2F Architettura [site measurements], Pletscher [steel supports], ZB Laser [lasercutting neoprene]
记录(Documentation): ZHACODE (Jianfei Chu, Cesar Fragachan, Vishu Bhooshan, Philip Singer, Edward Meyers, Shajay Bhooshan), ETH BRG (Tom Van Mele, Alessandro Dell'Endice, Philippe Block), In3D (Alexander Gugitscher, Sandro Sanin, Nikolas Janitsch), naaro, LBS Fotografia
地址:意大利,威尼斯
编辑:寿江燕
Location: Giardino della Marinaressa, Venice, Italy
Editor: Jiangyan Shou
更多 Read more about: Zaha Hadid Architects + Block Research Group