本文由 Mold architects – Iliana Kerestetzi 授权mooool发表,欢迎转发,禁止以mooool编辑版本转载。
Thanks Mold architects – Iliana Kerestetzi for authorizing the publication of the project on mooool, Text description provided by HMold architects – Iliana Kerestetzi.
Mold architects – Iliana Kerestetzi:The Creek 避暑别墅占地面积约380平方米,位于距离帕罗斯港口20分钟车程的地方。
Mold architects – Iliana Kerestetzi: The Creek is a summer residence of approximately 380 m2, located 20 minute drive from Paros' port.
项目所处的环境是一个种植着小麦和黑麦的农业区。
因此,在夏季的几个月里,别墅周围的主要景观是"一张金色的地毯"——一片平坦连续耕作的小麦地。但这片连续的景观被一串线性的岩石打断,使地块的中心陡然增高。这组高大的岩石被茂密的植被所包围,被用作别墅开发设计的核心。
Τhe environment we were called to design in, is an agricultural area in which wheat and rye are cultivated.
Thus, in the summer months the dominant image of the landscape is this of a golden carpet – a flat continuous expanse of plowed wheat. The homogeneity of this landscape is interrupted by a linear cluster of rocks that creates an abrupt change of level in the centre of the plots. This cluster of high rocks, surrounded by dense vegetation, is used as the centrepiece of the design around which the residence is developed.
别墅整体的正交体量在自然岩层前交替出现,从而产生了混合的空间,如形成别墅入口的内部庭院,以及户外功能区域(餐饮区、休息室、烧烤等)。
Orthogonal volumes are alternating position in front of the natural rocky formation, thus generating hybrid spaces, such as the main protected inner courtyard from which the entrance to the residence is formed as well as areas for outdoor functions (dining, lounge, bbq etc).
一条线性的水元素——小溪,环绕着整个岩石群,突出了其粗糙的几何形状。水与密集的种植相结合,在干燥的田野后面创造了凉爽的小气候——绿洲。
A linear element of water – a creek – circumscribes this rocky complex – bordering it along its entire length – and emphasising its rough geometry. The water combined with the intense planting, creates a microclimate of coolness – an oasis – behind the dry field.
岩石群、建筑体量和庭院被木材和芦苇组成的轻质结构所遮蔽,创造了随太阳东升西落这一运动而交替变化的阴影图案。这种结构的几何形状在视觉上和功能上统一了别墅的空间,而芦苇的选择和放置方式,是对该地区典型农村特征——小麦种植区的引用,并有助于新建筑与景观的和谐相融。
The cluster of rocks, the building volumes and the courtyards are sheltered by a lightweight structure of wood and reed infill which creates shadow patterns that alternate with the movement of the sun from East to West. The geometry of this structure unifies the spaces of the residence – visually and functionally – while the choice of reed and the way which it is placed, is a clear reference to the rural character of the area – with the wheat cultivation areas – and aids the harmonic integration of the new construction into the landscape.
▽GIF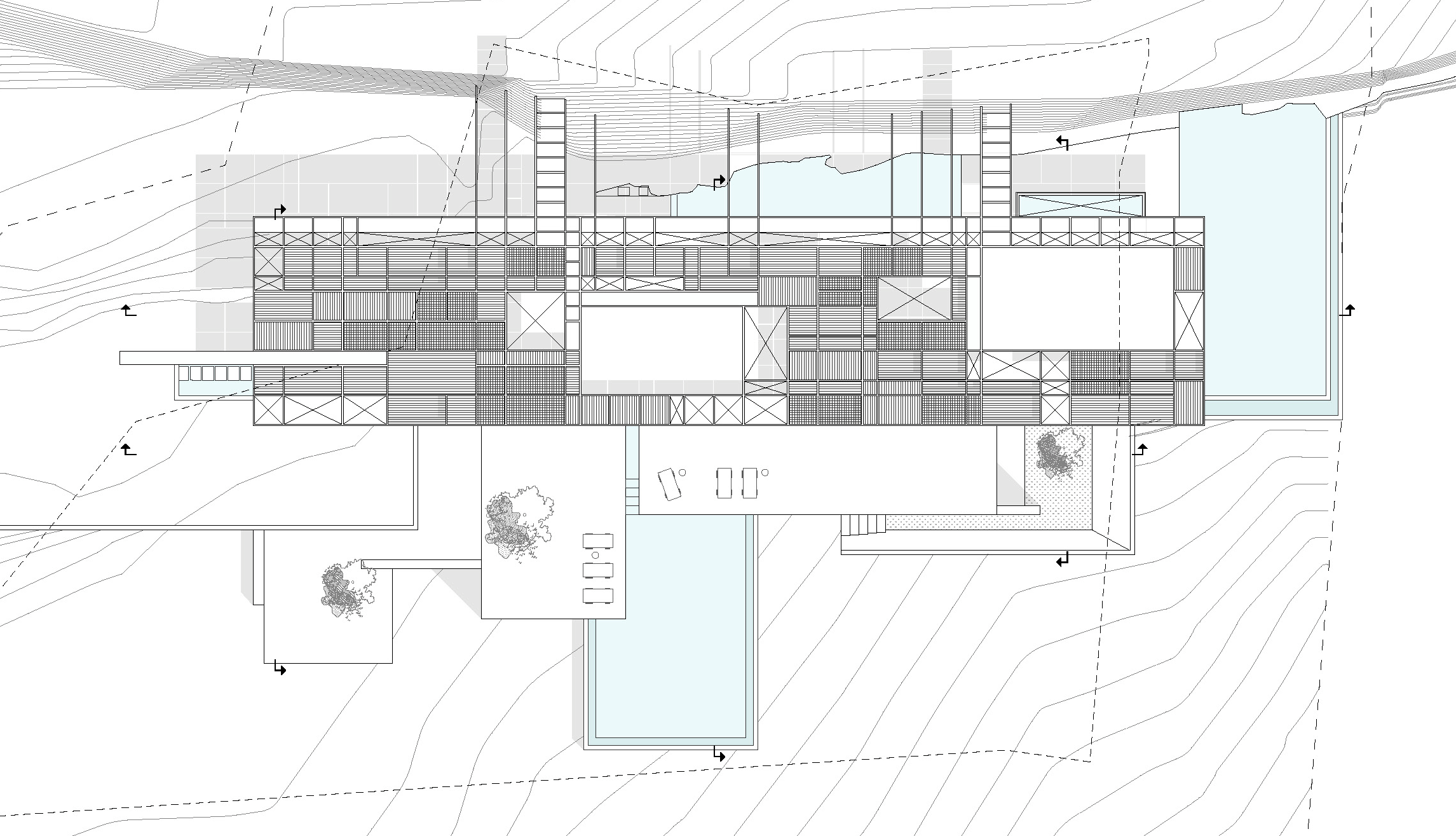 ▽平面图纸 Plan
▽立面图纸 Elevation
▽剖面图纸 Section
项目名称:The Creek
地点:希腊 帕罗斯岛 伊斯特尔尼
类型:住宅
竣工年份:2022年
建筑面积:380平方米
场地面积:8000平方米
建筑设计:Mold Architects – Iliana Kerestetzi
设计团队:Iliana Kerestetzi
可视化:BlackCatRedDot, Harry Gkerekos
Project Name: The Creek
Location: Isterni, Paros Island, Greece
Type: Residence
Year of completion: 2022
Gross area: 380m2
Site area: 8.000m2
Architectural Design: Mold Architects – Iliana Kerestetzi
Design Team: Iliana Kerestetzi
Visualization: BlackCatRedDot, Harry Gkerekos
---
" 一片平坦绵延的麦田景观里的一座避暑别墅。"
审稿编辑:SIM
更多 Read more about:Mold Architects – Iliana Kerestetzi