PURE 33璞岸,是一处极目青黛,宁静致远的绝佳度假地。我们以生态环境为背景,通过融合于自然的手法,将现代的景观设计融入原生自然环境中,同时体现居住生活的自然价值、艺术价值和生活价值。基地原本的自然特征和居者生活追求的岛屿作为设计的母体,结合张弛有度的线条构成,共同构筑出岛居的理想与品质的度假生活空间。
Pure 33 is a resort residential area of quiet environment and fantastic views of mountains. The surrounding environment of the project, which is composed by mountains, lakes and streams, is in contrast with noisy and crowded urban space. Designers combine modern landscape design with the local ecological environment to enhance the nature value, art value and living value of modern life. The inspiration of the design is the natural features of the site and the pursuit of island living. Lines of variable changes are the basic elements to create the residential area.
深圳东部的大鹏新区,是一个被规划定义为世界级滨海生态度假区的区域。项目坐落之处,四周连绵青山环拥,放眼望去,满目葱茏,一脉青黛,可观山林湖泊,亦可观林溪飘带,与喧闹拥挤的城市空间形成极大的对比,压力烦恼随之挥去,心随目境,悠然自得。
Dapeng new district, in the east of shenzhen, is a planned and defined area as a world-class coastal eco-resort. Project is located, continuous to castle peak surrounded around, look, there are green, a pulse of indigo naturalis, significant mountain lakes, also considerable Lin Xi ribbon, with crowded and noisy city space form great contrast, then waved to pressure trouble, mesh with heart, carefree.
住宅区高层区域的建筑以点状的"岛屿"形态布置,伫立在景观平台上,而别墅区则以更加集中的形式,形成了独立的岛状空间。设计师将景观空间与实际生活的活动巧妙融合,在营造景观美景的同时,给予良好的体验感,直接呈现了项目的品质和基调。海的时尚艺术时空廊(入口空间)、生态滨水休闲公园(会所景观)与海滩岛居艺术花园(私享住宅),三大主题区共同架构起了璞岸的景观脉络。
The high-rise buildings in the residential area are arranged in the form of dotted "island", standing on the landscape platform, while the villa area is formed into independent island space in a more concentrated form. The designer skillfully integrates the activities of landscape space and real life. While creating the beautiful landscape, the designer gives a good sense of experience and directly presents the quality and tone of the project.Modern Sea Art Corridor, Ecological waterfronts Park and Beach & Island Art Garden are the three theme landscape areas of the project.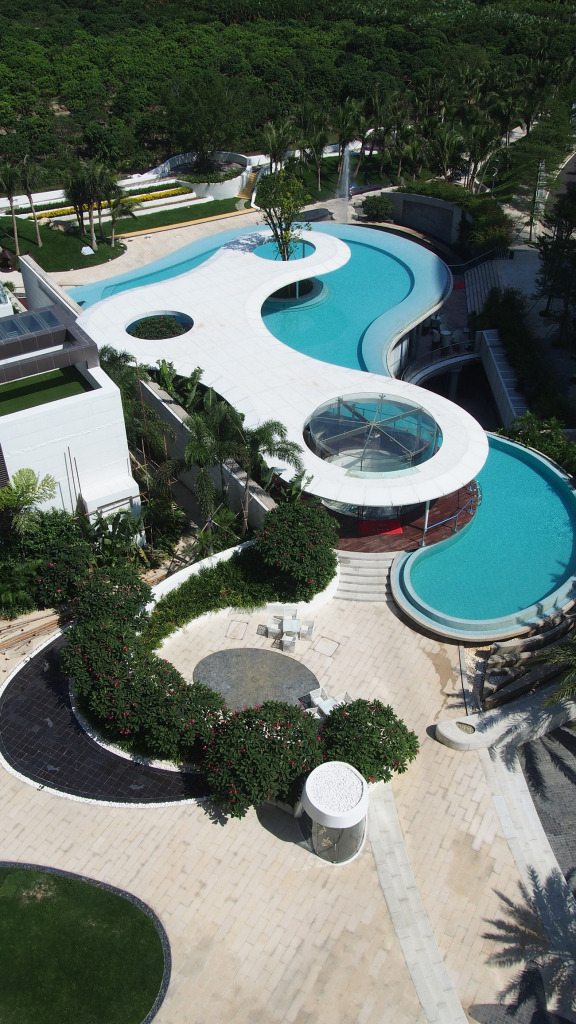 自然资源——山海、镜湖、森林河;Natural Resources –Mountain and sea, Mirror Lake, and Forest Creek;
在熙熙攘攘的都市中,纯33作为一个理想的目的地,欢迎您的到来。大自然永远是你的一面。山与海之间的植被,明亮的阳光,湛蓝的天空,洁白的沙滩,清澈的小溪,宁静的湖水,郁郁葱葱的草木,还有向天空延伸的大海,一定会让你眼前一亮。与其他自然和神圣的度假胜地一样,Pure 33赋予了我们内心的平和与宁静。
Pure 33 greets you as an ideal destination escape of concrete buildings in hustle metropolitan. Nature is always be your side. Vegetated woods between mountains and the sea, bright sunshine, azure sky, white sand, clear and winding creek, serene lake, greenery lush and the extending sea to the sky must impress you at the first sight. Similar to other natural and holy resorts, Pure 33 endows us inner peace and tranquility.
海的时尚艺术时空廊作为项目与外空间的联系与过渡性空间,起于浪与帆的时尚艺术空间节点,并在海滩广场与其它两个主题空间汇合。与传统概念中的旅游度假项目不同的是,我们摒弃了纯生态的自然处理手法。帆与海浪、水与绿岛、海底丛林、光与影,多种元素在这个空间里汇聚,构成了一幅幅美妙的空间场景。海的蓝色、沙滩的白色、森林的绿色,艺术活跃的生命力带来激情与憧憬,伴随人们一同步入岛居休闲生活,在时间的旅程中穿梭着,漫步着,体验别样的海岛艺术之旅。
The Modern Sea Art Corridor is a space that connects and transits the project with the outside space. It starts at a joint decorated by "waves" and "sails" and converges to two other theme areas at Beach Plaza. Designers have given up only ecological methods to design the space, which is different with the traditional resort projects. Elements of waves and sails, water and islands, submarine jungle, light and shade are converged in the space to create a series of scenes. The blue of the sea, the white of the beach and the green of the jungle bring passion and expectation. People may wandering in a travel of sea art to enjoy a lifestyle of island living.
项目名称:璞岸
项目地址:广东省深圳市
建成时间:2014年
面积:40000㎡
业主:深圳市嘉福房地产开发有限公司
景观设计:深圳市阿特森景观规划设计有限公司
Project Name: Bank
Project address: Shenzhen, Guangdong Province,China
Built in: 2014
Area: 40000m2
Owner: Shenzhen Jiafu Real Estate Development Co., Ltd.
Landscape Design: ASL
更多:ASL