本文由 Ixora Design Limited 授权mooool发表,欢迎转发,禁止以mooool编辑版本转载。
Thanks Ixora Design Limited for authorizing the publication of the project on mooool, Text description provided by Ixora Design Limited.
Ixora Design:该景观空间位于曼谷中央商务区,周围环绕着各大机构的高层建筑及项目中的现代轻奢风建筑。因此,Esse Asoke以"绿色优雅的奢华空间"为景观设计理念,将建筑优雅的外观和花园简单而精致的设计相结合。
Ixora Design:Located in Bangkok's central business zone, surrounded by leading organizations' high-rise buildings, and placed with the project's modern and extravagant architecture. The Esse Asoke's landscape concept is accordingly "Green Elegance & Luxury Space" which is a combination between the buildings' elegant exterior and simple yet sophisticated design of the gardens.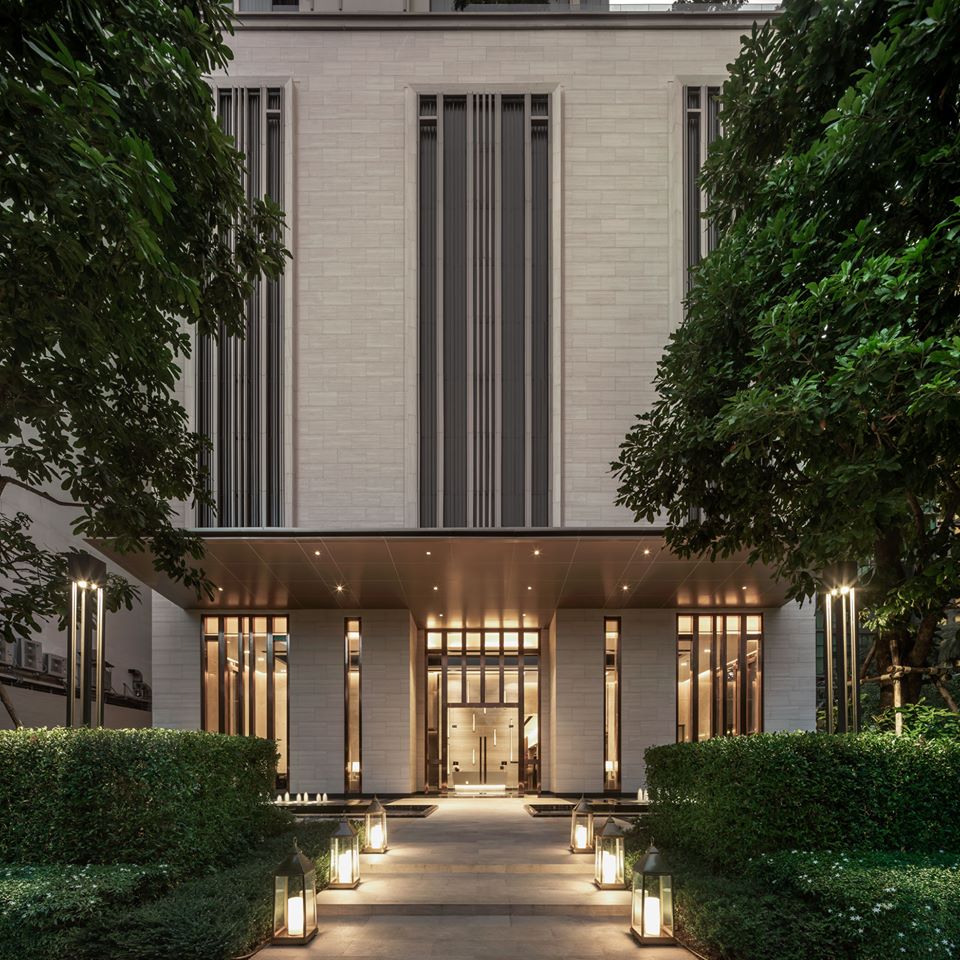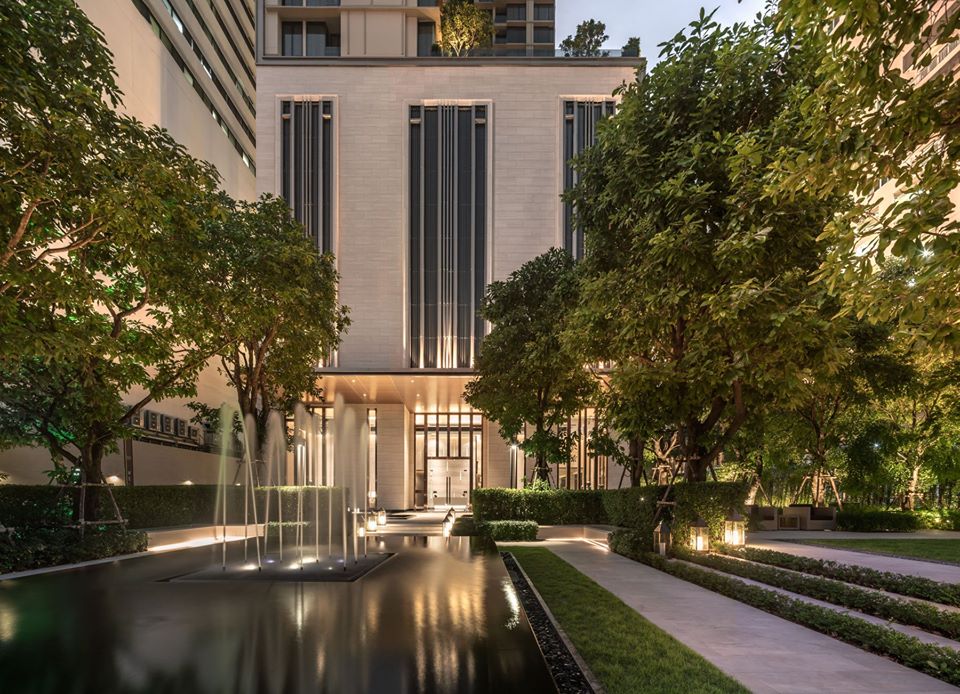 项目入口处的树阵,屏蔽了游客在进入区域前视觉隐私,穿过树阵便来到高于公共人行道的喷泉迎宾庭院。该庭院作为强调建筑的连续轴线,四周茂密成荫的树木和各种植被,营造出了一种宁静清新的空间氛围,再加上附近的户外庭院,完全可以满足居住者对隐私和舒适的需求。
The tree row in the entrance of the project is used for screening visual privacy before entering the area. The visitors will be welcomed with a fountain court, whose level is elevated to be higher than the public pavement. The court acts as the continual axis to emphasize the building, surrounded by shady trees and a variety of vegetation to create the serene and refreshing atmosphere, including the nearby outdoor court that can support the dwellers' need for privacy and comfort.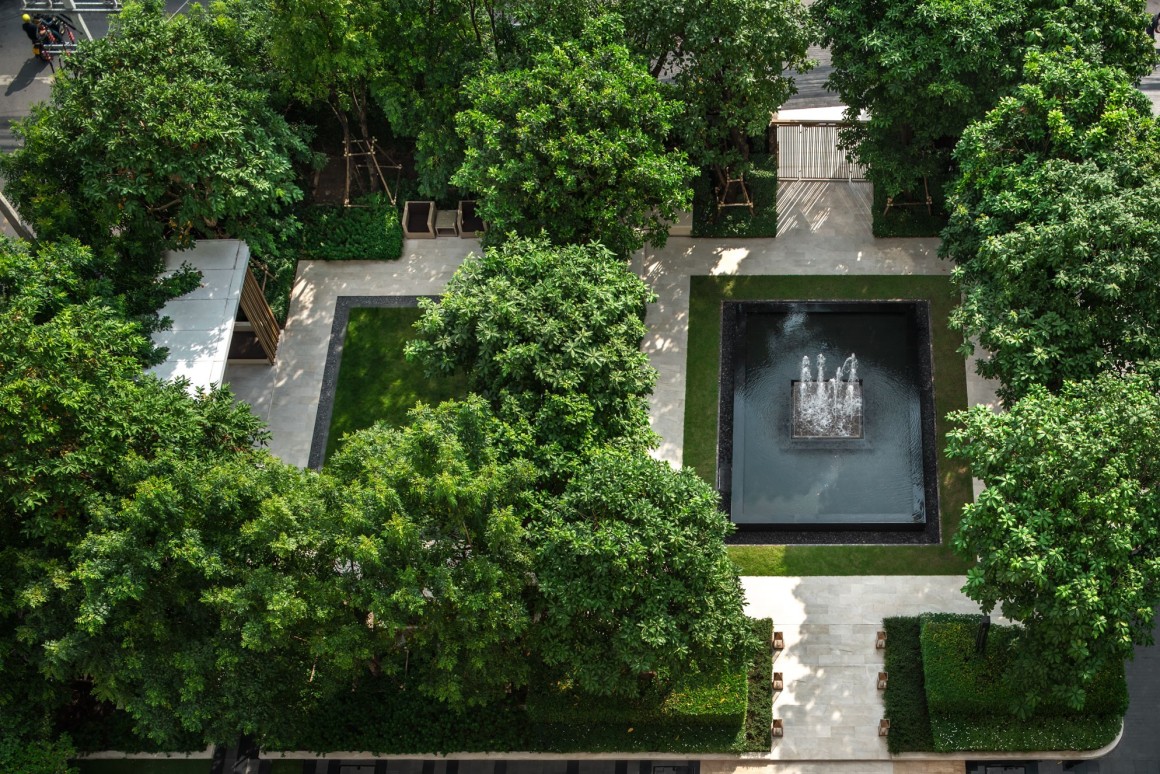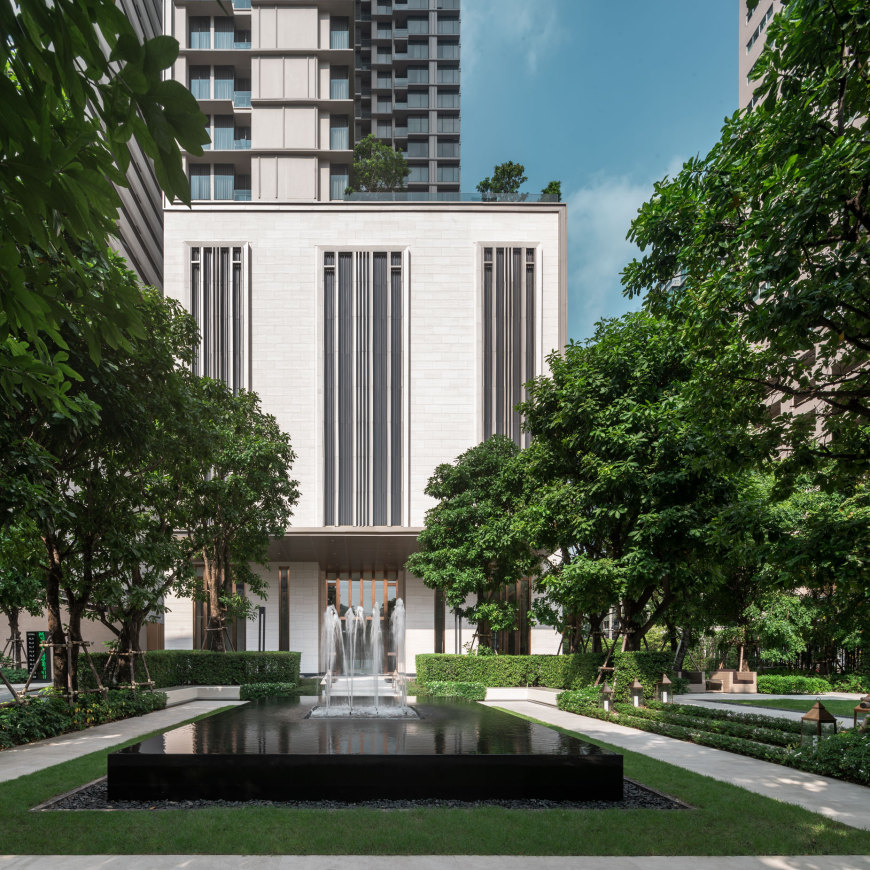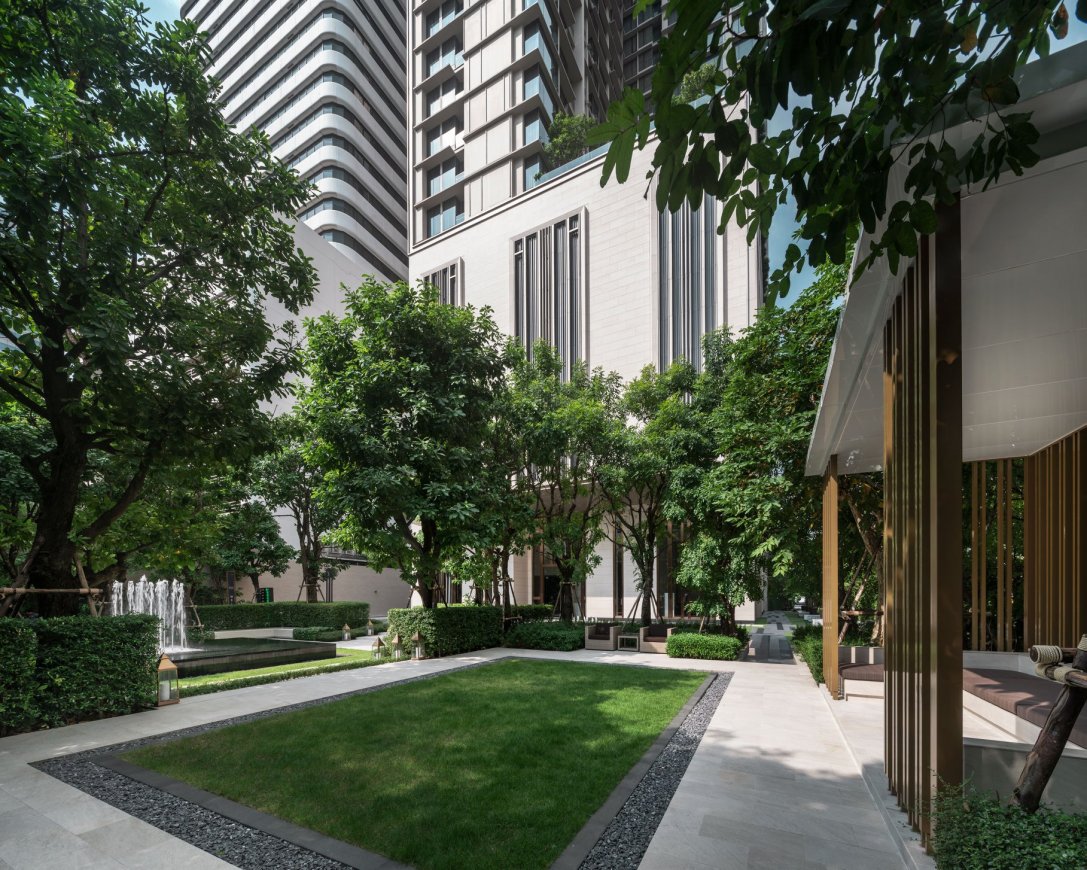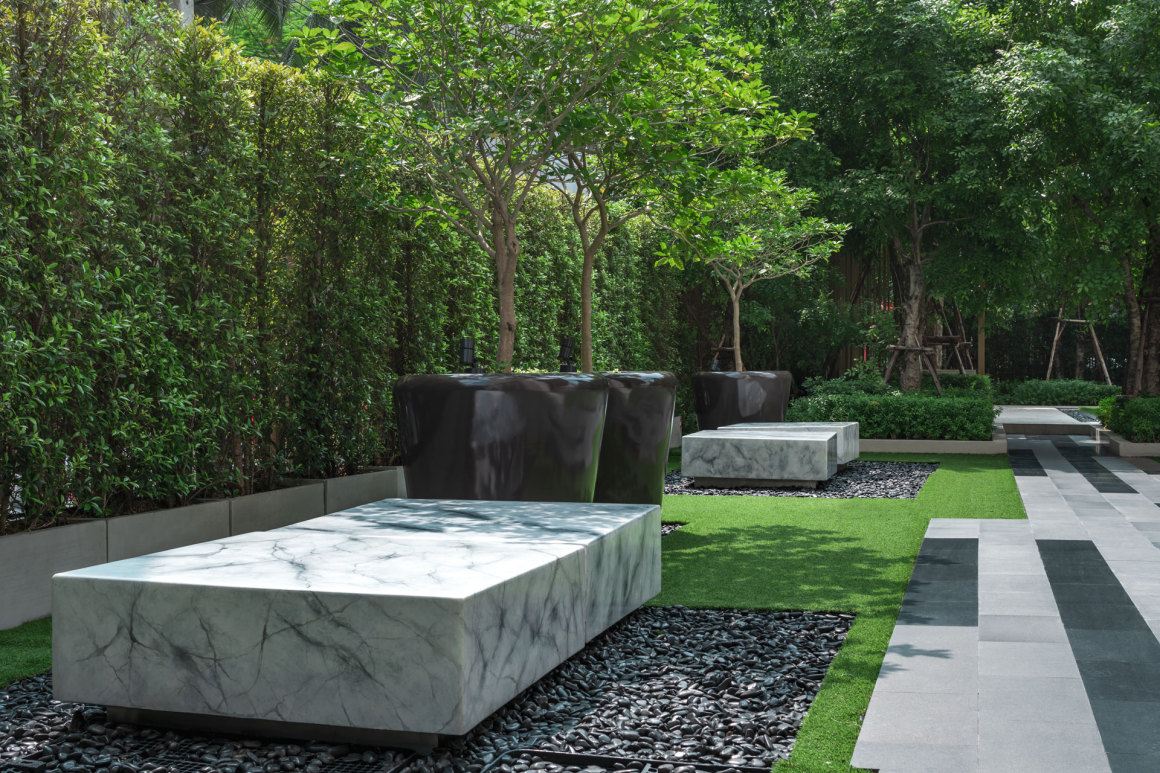 10层:静谧庭院  Serene Court: 10th Floor
我们有意将10楼的大面积绿地设计成一个下沉的庭院,将台阶植物、瀑布和小溪融合在一起,营造出独特的后院花园景观感。
The 10th floor's large green area is deliberately designed as a sunken court, blending the step plantings, waterfalls and small streams together, giving the sense of the backyard garden and providing unique views.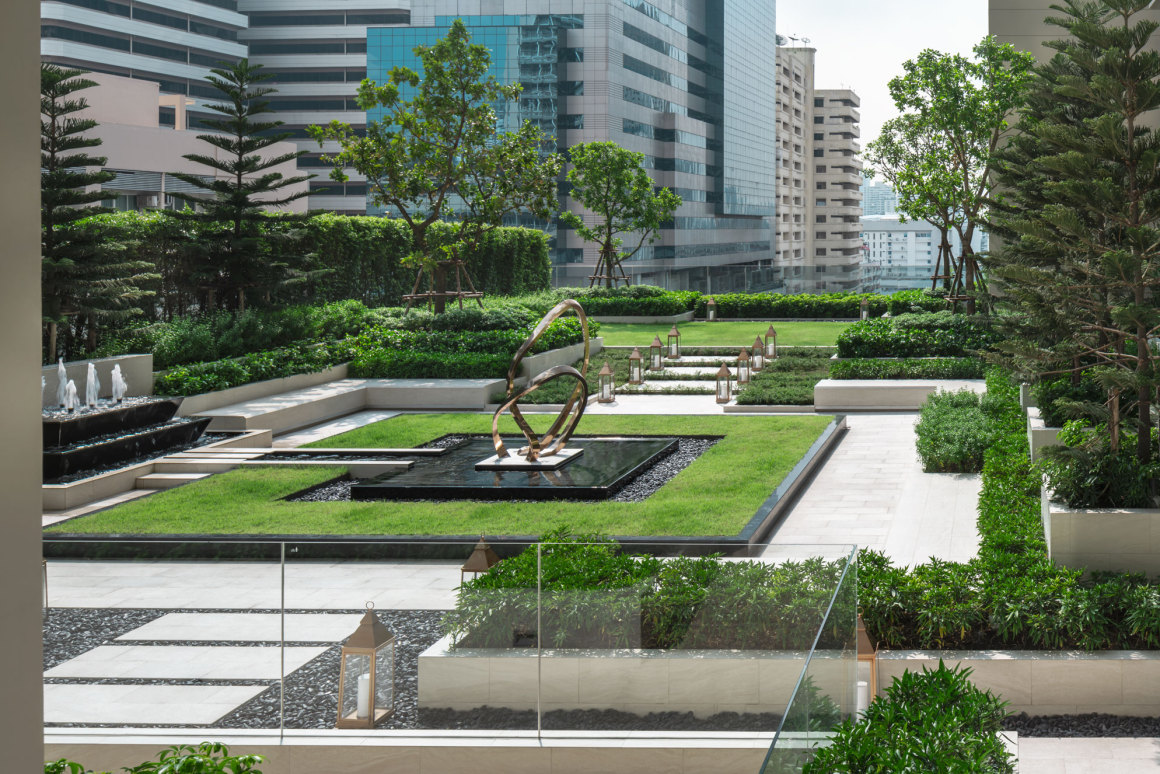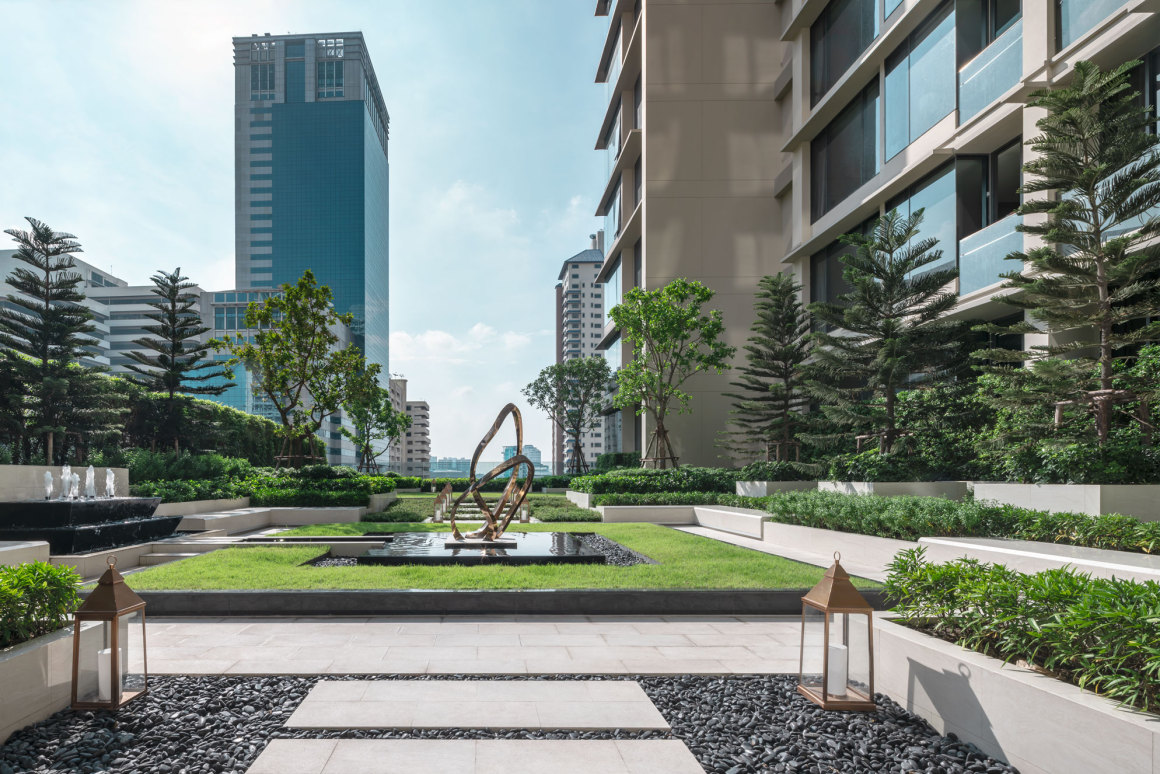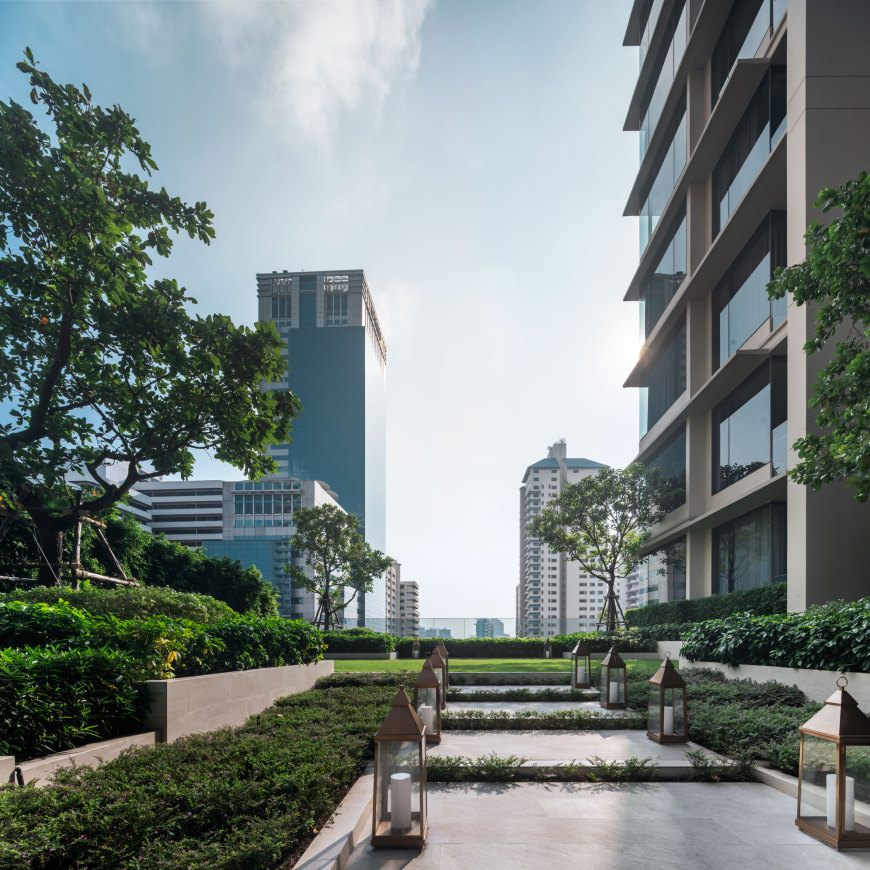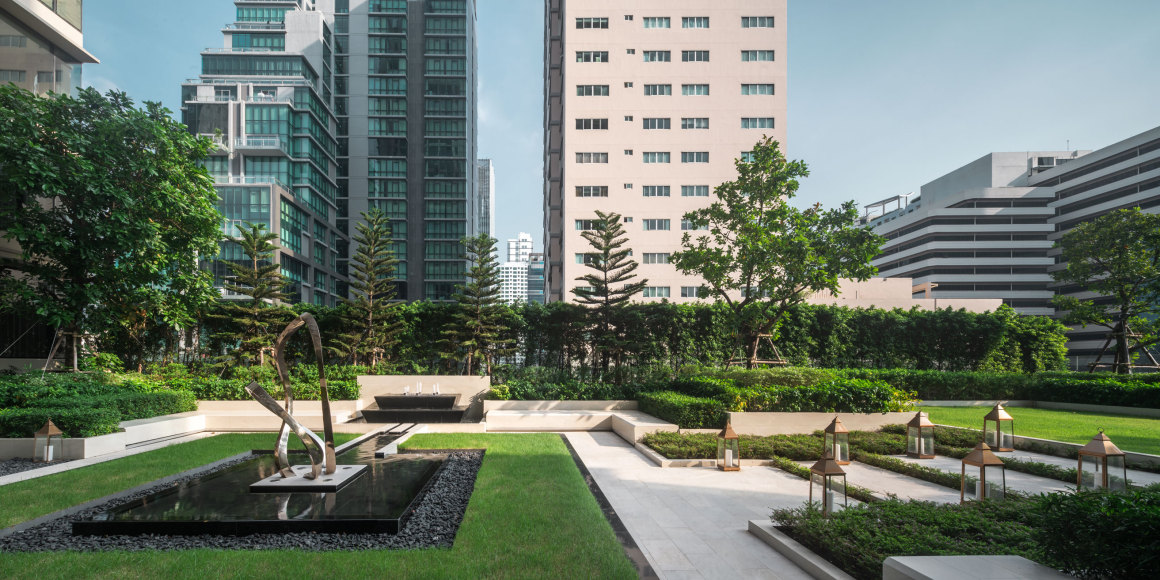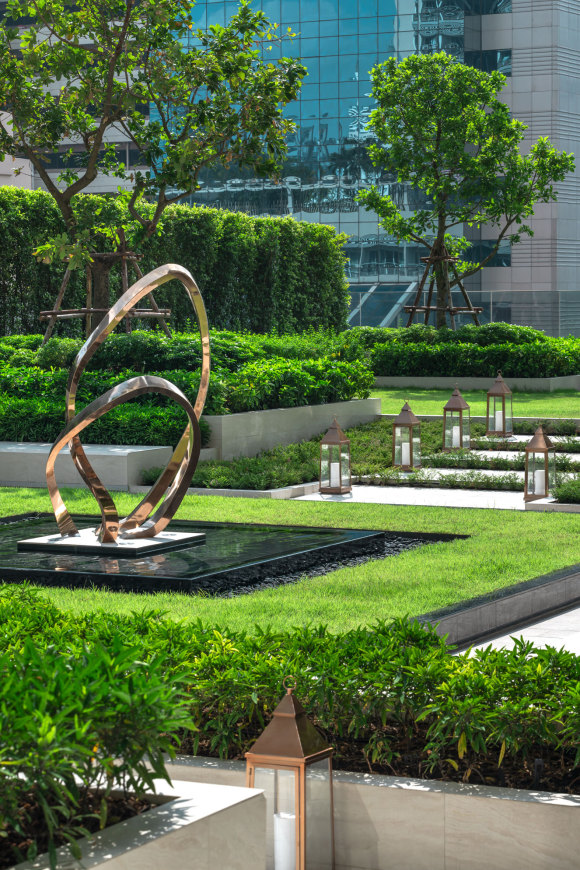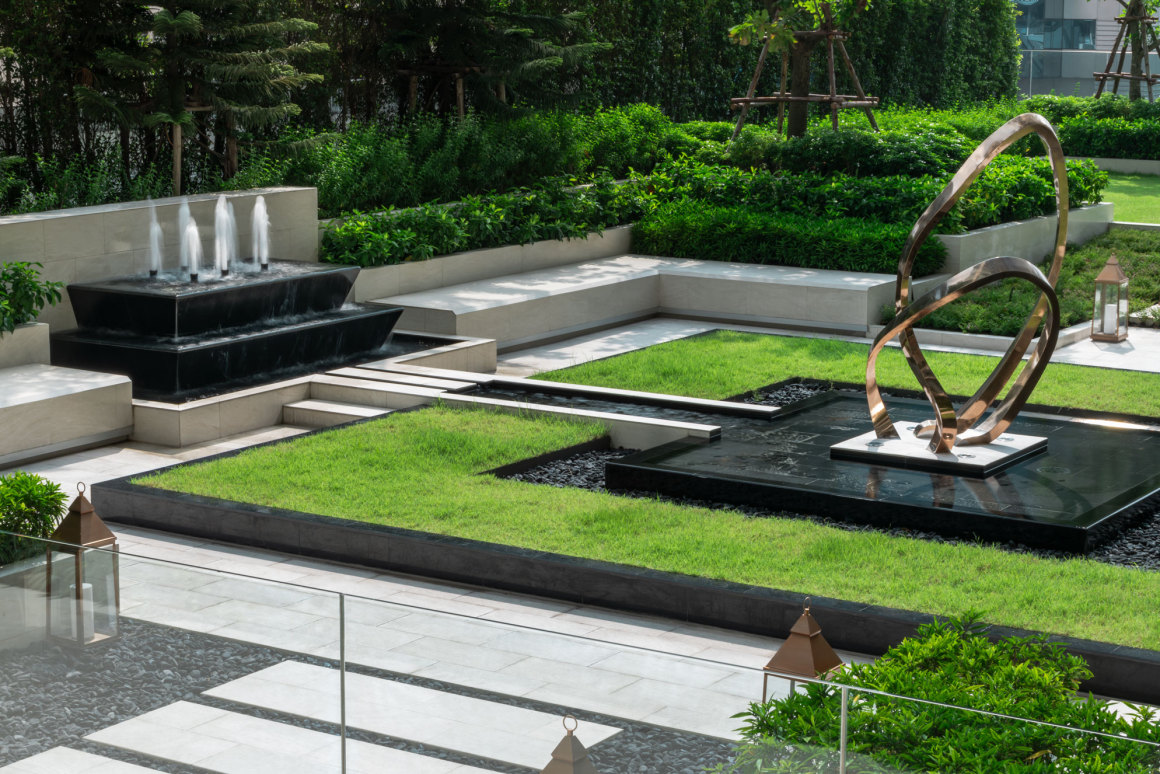 33层:空中无边界泳池和单圈泳池 Sky Infinity Edge Pool & Lap Pool: 33rd Floor
位于33楼的大型空中泳池(28米 x 12米)内有多种设施。包括半室内/室外泳池,用户可以在天花板超高的浅水池或儿童池中放松休闲。
The large 28.00 m. x 12.00 m. sky pool on 33rd floor is filled with several facilities. For example, semi indoor/ outdoor pool that the users can relax in the shallow pool or kids' pavilion pool under the canopy of the high ceiling.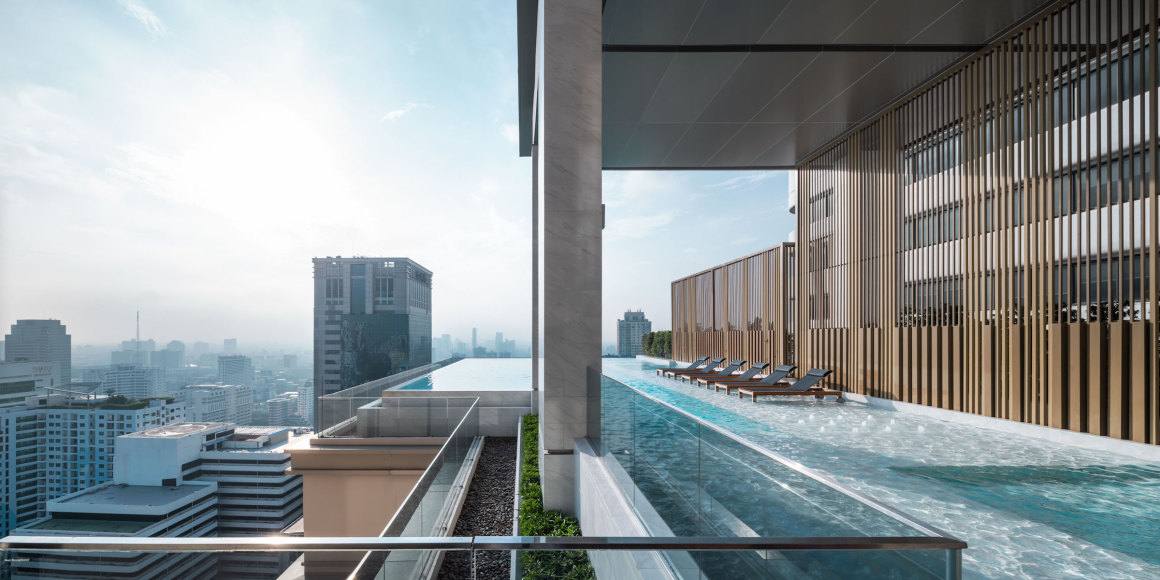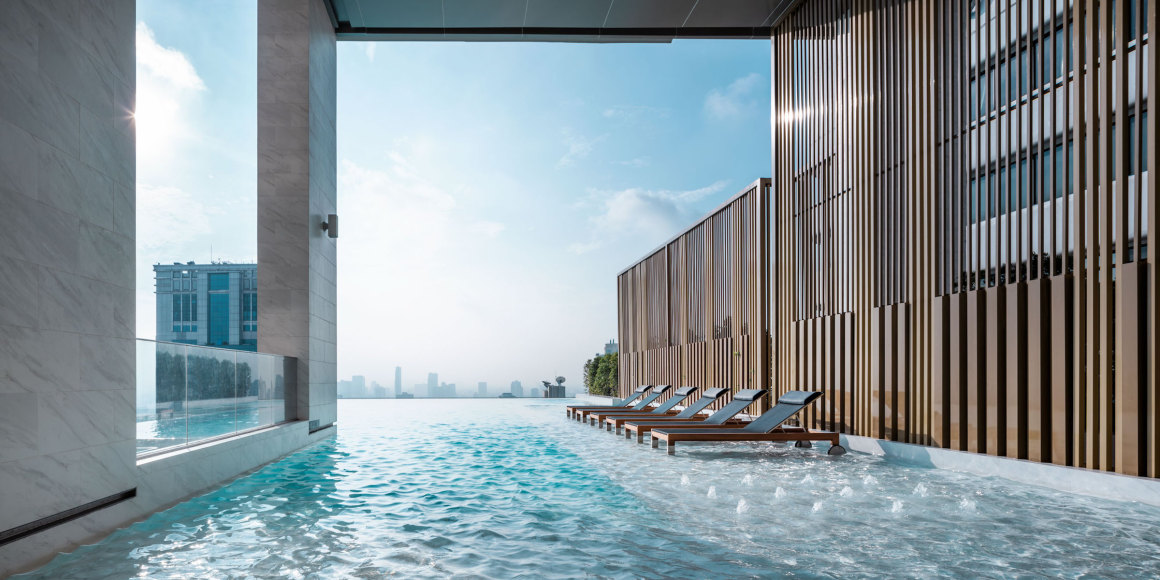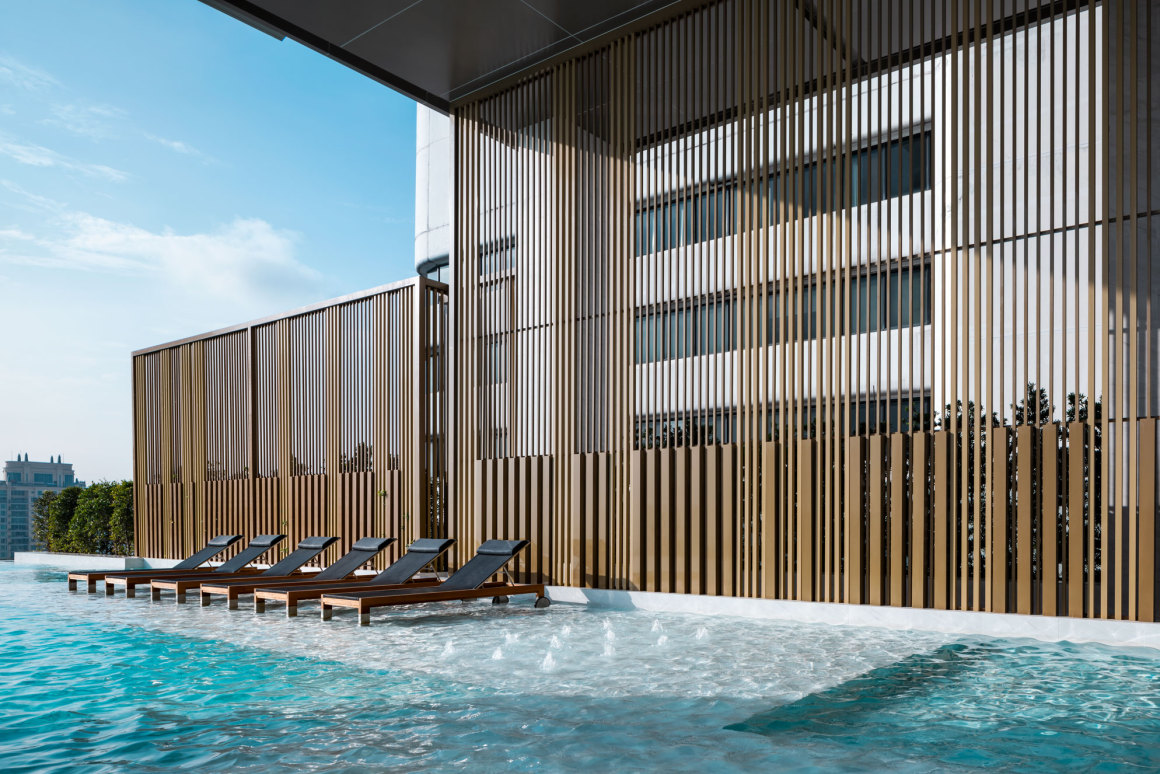 泳池上的躺椅为用户提供了坐下来放松,或在流动的水面上阅读的空间。另外,配有按摩浴缸和可俯瞰城市景观的无边界单圈泳池则是逆流游泳者的最佳选择。
The lounge chair gives users a moment to sit back, relax, or to read above with running water. A lap pool is perfect to swim against the current, with a Jacuzzi and an infinity edge to observe the striking city view.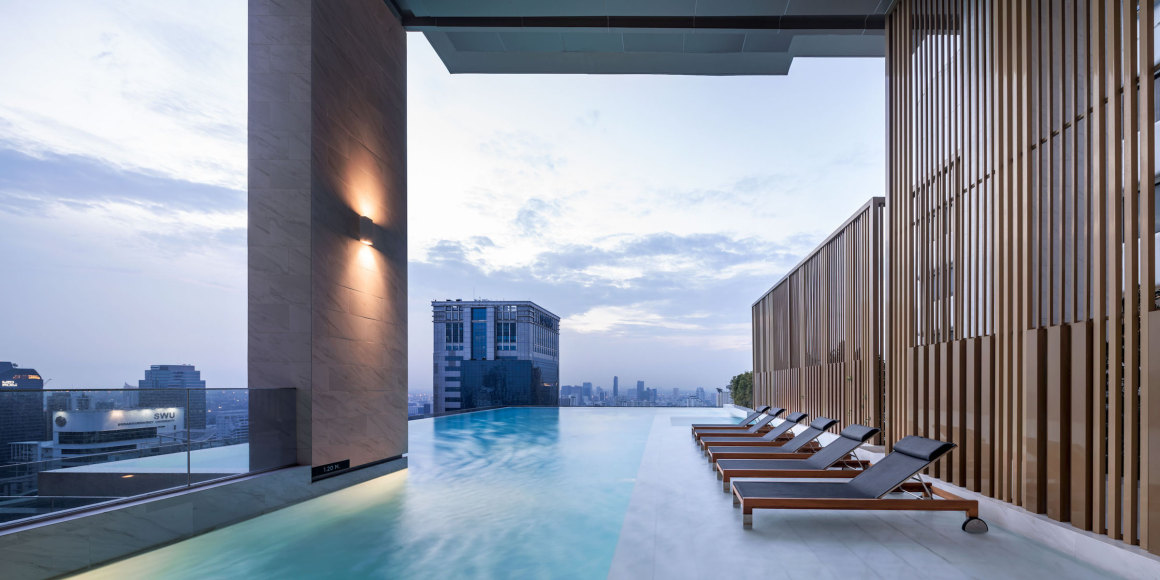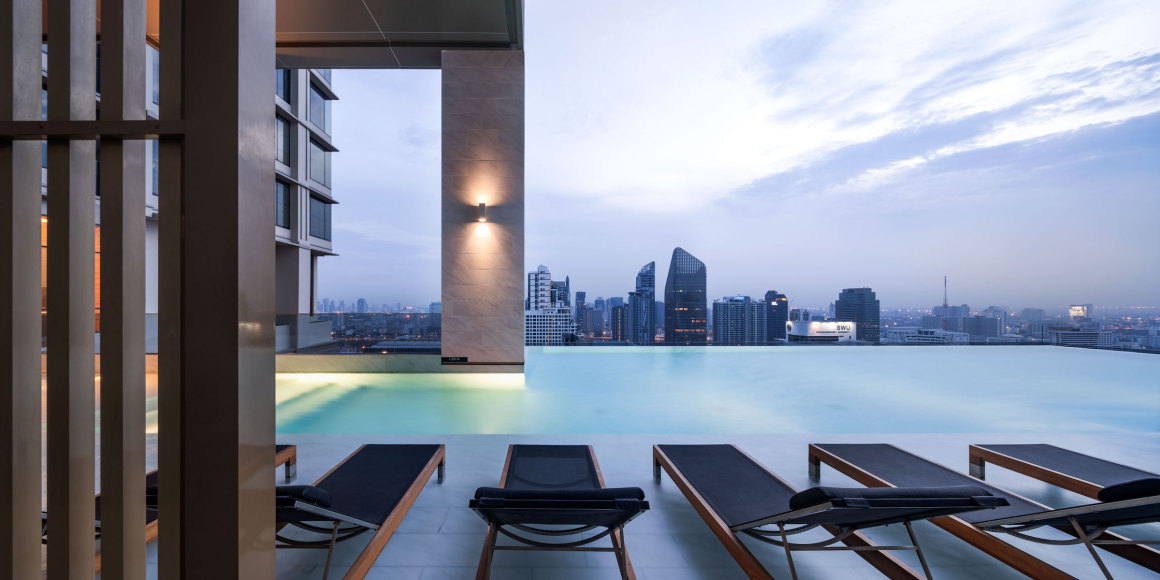 空中花园及庭院 Sky Garden & Courtyard
43层的观光庭院由一个亭子和一个户外瑜伽平台组成,用户可以在这儿享受城市夜景,旁边的烧烤花园,可作为家人和朋友的聚会空间。
The sightseeing court of 43rd floor is comprised of a pavilion and an outdoor yoga deck that the users can enjoy the cityscape during the night, including a BBQ garden used as a gathering space for family and friends. The detail design also follows the concept of "Green Elegance and Luxury" to obtain the sense of belonging to the users.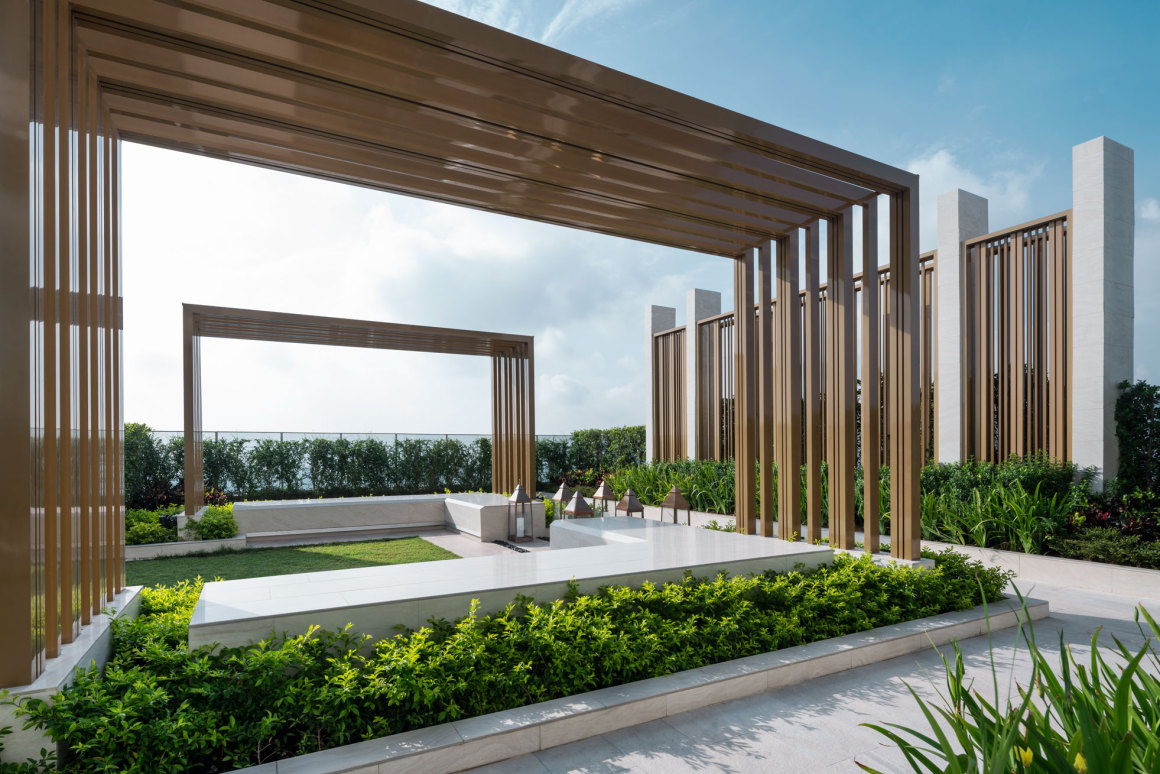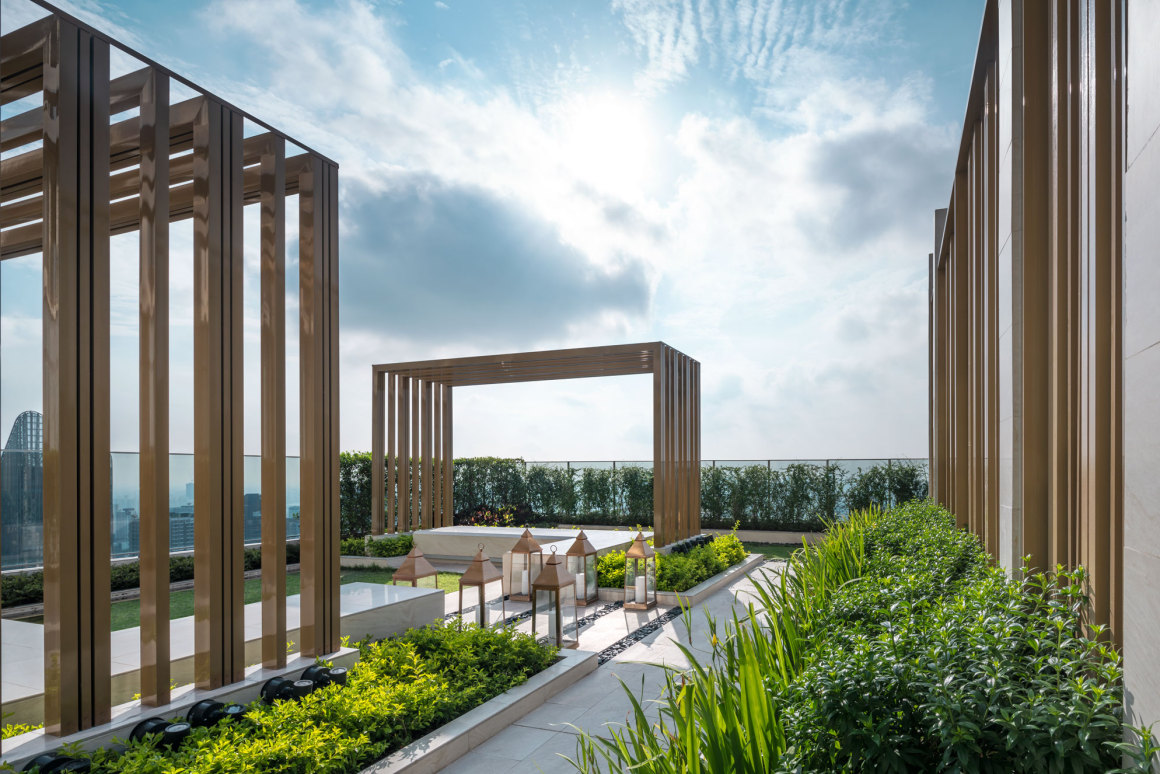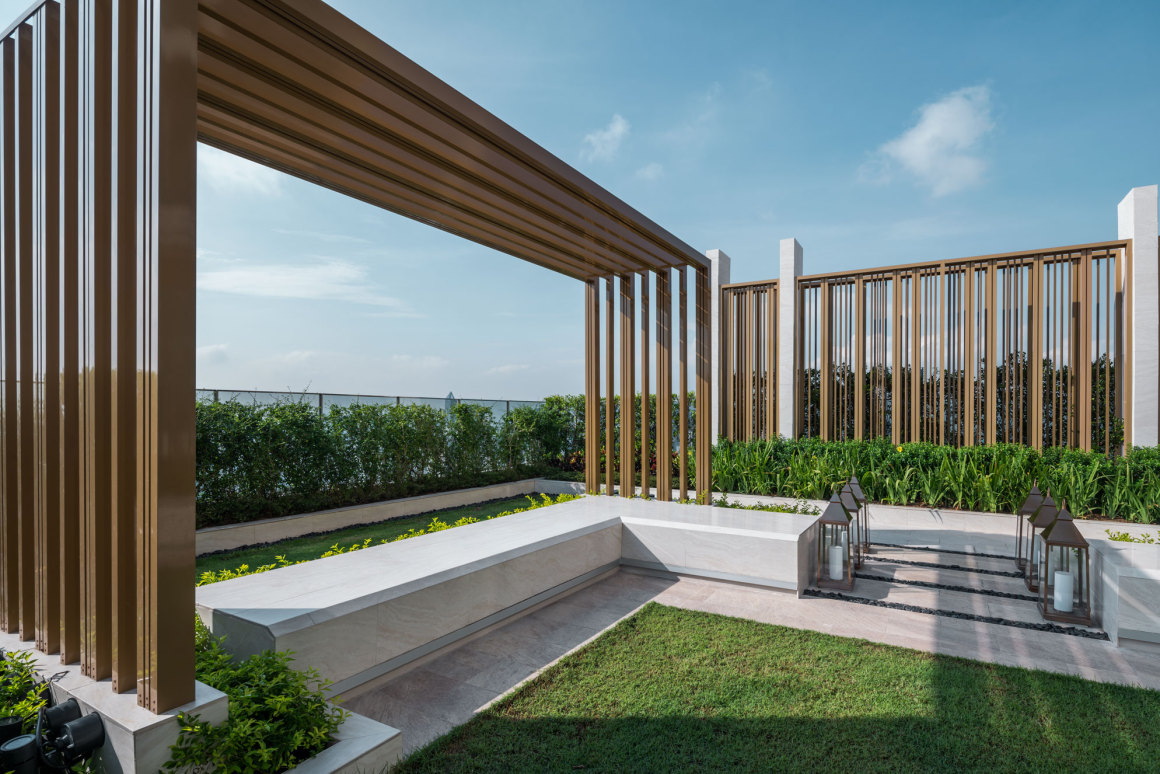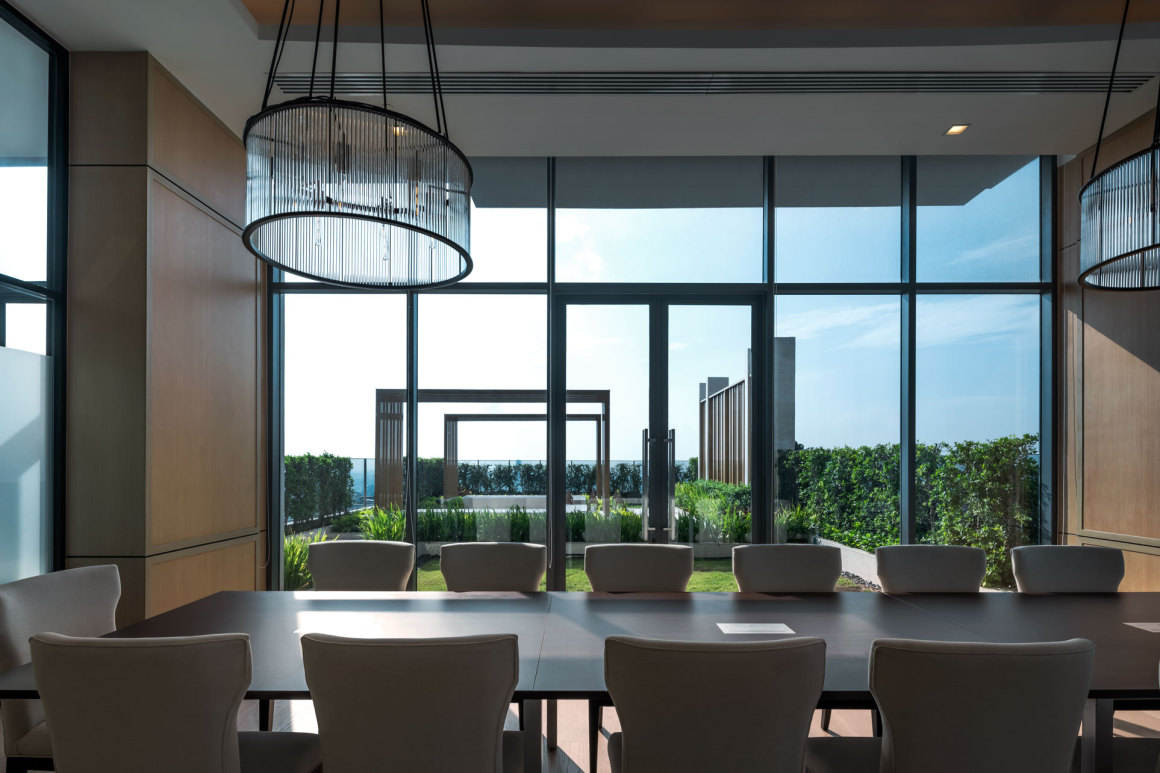 项目名称:The Esse Asoke by Singha Estate
完成:2018年
项目地点:泰国曼谷
景观公司:Ixora Design Limited
联系邮箱:ixora@ixoradesign.com
首席建筑师:Palmer,Turner(泰国)
设计团队:Chanchai Jarungruangkiat, Settawut Uangudom, Monchai Chareonporn
客户:Singha Estate
室内设计:Leo Design Group
M&E:Palmer, Turner
灯光设计:With Light
顾问:Plan Consultants
摄影:W Workspace
Project name: The Esse Asoke by Singha Estate
Completion Year: 2018
Project location: Bangkok, Thailand
Landscape/Architecture Firm: Ixora Design Limited
Contact e-mail: ixora@ixoradesign.com
Lead Architects: Palmer and Turner Thailand
Design Team: Chanchai Jarungruangkiat, Settawut Uangudom, Monchai Chareonporn
Clients: Singha Estate
Interior: Leo Design Group
M&E : Palmer and Turner Thailand
Lighting Design : With Light
Consultant : Plan Consultants
Photo credits: W Workspace
更多 Read more about: Ixora Design Limited