本文由 Ginggaanbai 授权mooool发表,欢迎转发,禁止以mooool编辑版本转载。
Thanks Ginggaanbai for authorizing the publication of the project on mooool, Text description provided by Ginggaanbai.
Ginggaanbai:设计师将这个闲置空间改造成了一个绿意盎然,又极少需要维护的户外生活区。
Ginggaanbai:Yearning for some green space yet little maintenance comes the transformation of this space into an outdoor living area.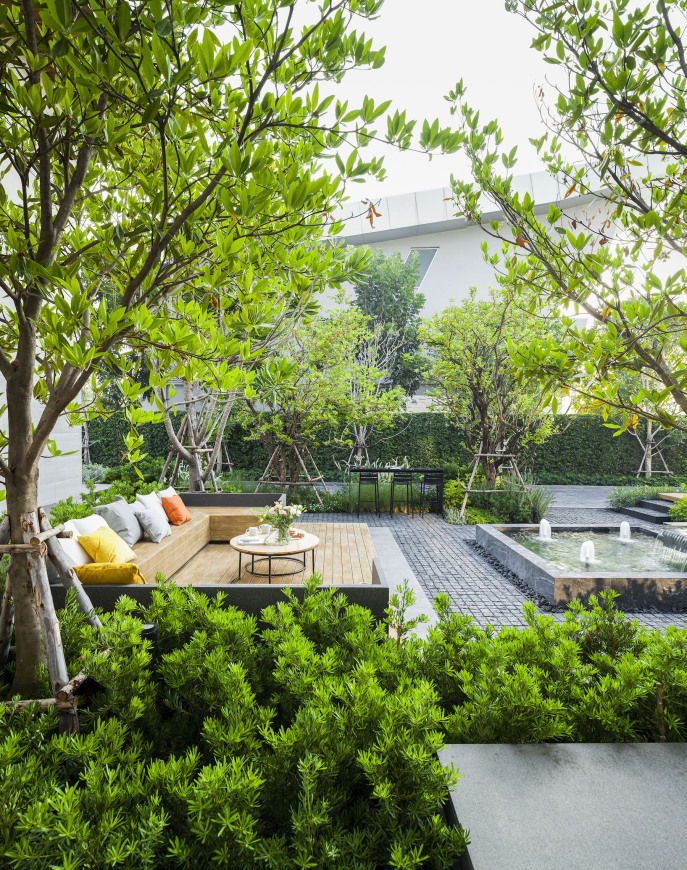 规划了大约60%的硬质空间后,未来这个花园将看起来更加干净和整洁。鹅卵石路面和灰色大理石水景与绿树和植物形成对比,使空间变得柔和,给人以亲切如归的感觉。
By using approximately 60% of the hard space, this garden would look clean and tidy all the time. Cobblestone pavement along with the grey marble water feature in contrast to the green tree and plant soften the space and make it feels welcoming.
Ging Gaan Bai的标志性木制秋千正对着水池周围固定的U形木长凳,不仅在花园中提供了一个放松的区域,也为整个空间中创造了一种连接感。而其它所有杂乱的系统都隐藏在高架木平台下面,用精致的花草包围,软化整个空间的意境。
Ging Gaan Bai's wooden signature swing opposite the fixed wooden u-shape bench around the pond does not only provide a relaxing area in the garden but also creates a sense of connectedness within this space. All messy system work is hidden under the elevated wooden deck. The mood of the whole space is softening by using delicate flowers and plants.
花园布局以及软硬景观的结合,让这个曾经闲置的空间变成了理想的家庭户外生活区。
The layout as well as the combination between hardscape and soft scape has turned this once unused space into a desirable outdoor living area for the whole family.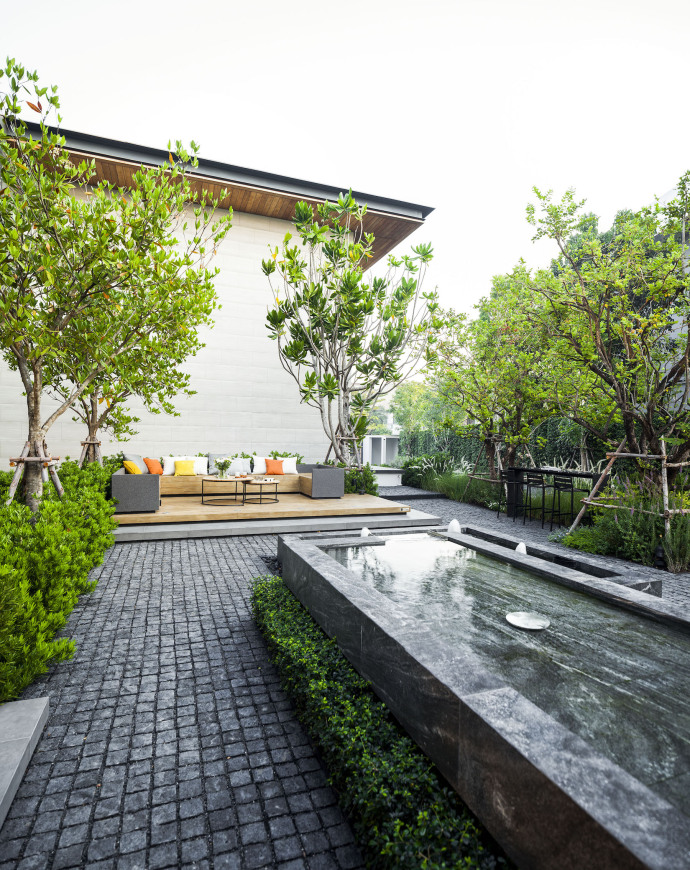 项目名称:The Gold Shadow (#gingsite1021)
完成:2019年
面积:280平方米
项目地点:泰国 曼谷
景观设计事务所:Ginggaanbai
公司网址:www.ginggaanbai.com
联系邮箱:gingoffice@gmail.com
主创建筑师:Mr.Tawatchai Sakdikul, Miss Ploytabtim Suksang
设计团队:Mr.Tawatchai Sakdikul, Miss Ploytabtim Suksang
客户:Mr.Sarit Patanatmarueng
图片:Mr. Sitthisak Namkham
Facebook: 4TO2.8
Project name: The Gold Shadow (#gingsite1021)
Completion Year: 2019
Size: 280 Sqm.
Project location: Blue lagoon ,Dok mai, Prawet, Bangkok
Landscape Architecture Firm: Ginggaanbai
Website: www.ginggaanbai.com
Contact e-mail: gingoffice@gmail.com
Lead Architects: Mr.Tawatchai Sakdikul, Miss Ploytabtim Suksang
Design Team: Mr.Tawatchai Sakdikul, Miss Ploytabtim Suksang
Clients: Mr.Sarit Patanatmarueng
Photo credits: Mr. Sitthisak Namkham
Facebook: 4TO2.8
更多 Read more about: Ginggaanbai