本文由 Rush Wright Associates 授权mooool发表,欢迎转发,禁止以mooool编辑版本转载。
Thanks Rush Wright Associates for authorizing the publication of the project on mooool, Text description provided by Rush Wright Associates.
Rush Wright Associates:该战争纪念馆位于墨尔本中央商务区商业轴线的南端的国王领地公园内。
Rush Wright Associates:The Shrine's prominent location at the southern terminus of the Melbourne CBD commercial axis, and location within the Kings Domain parklands.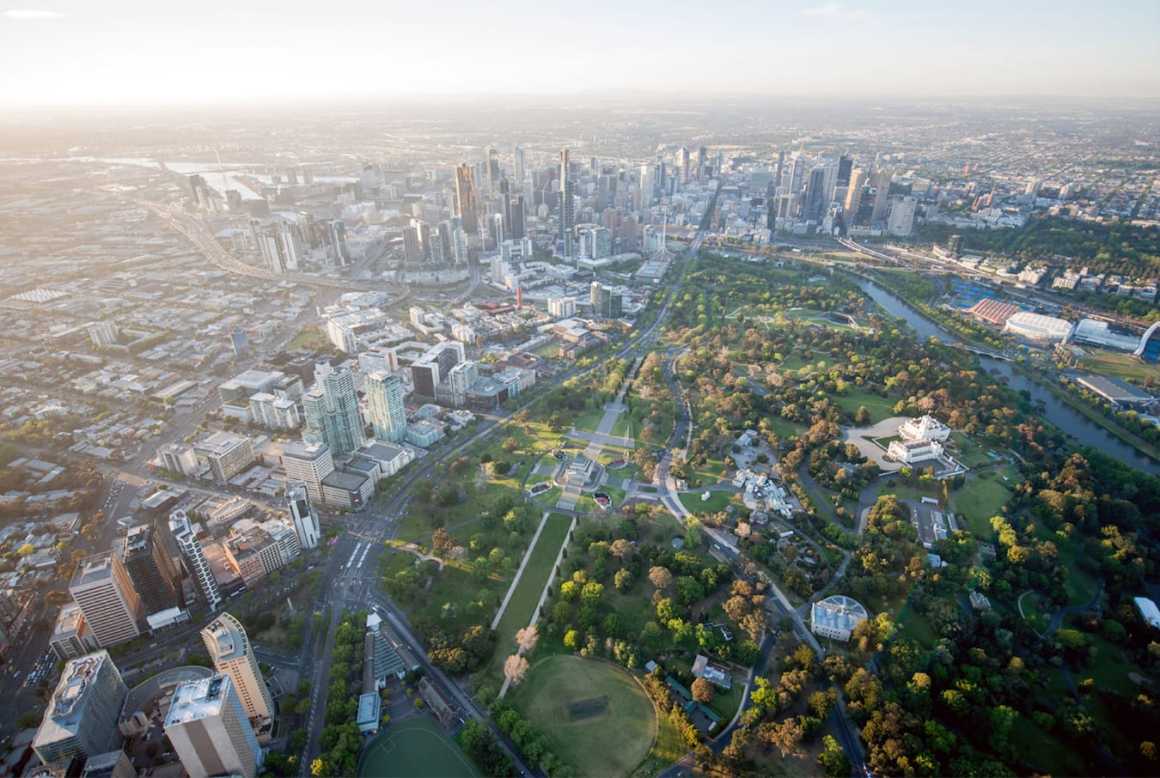 ▼基地平面 Site Plan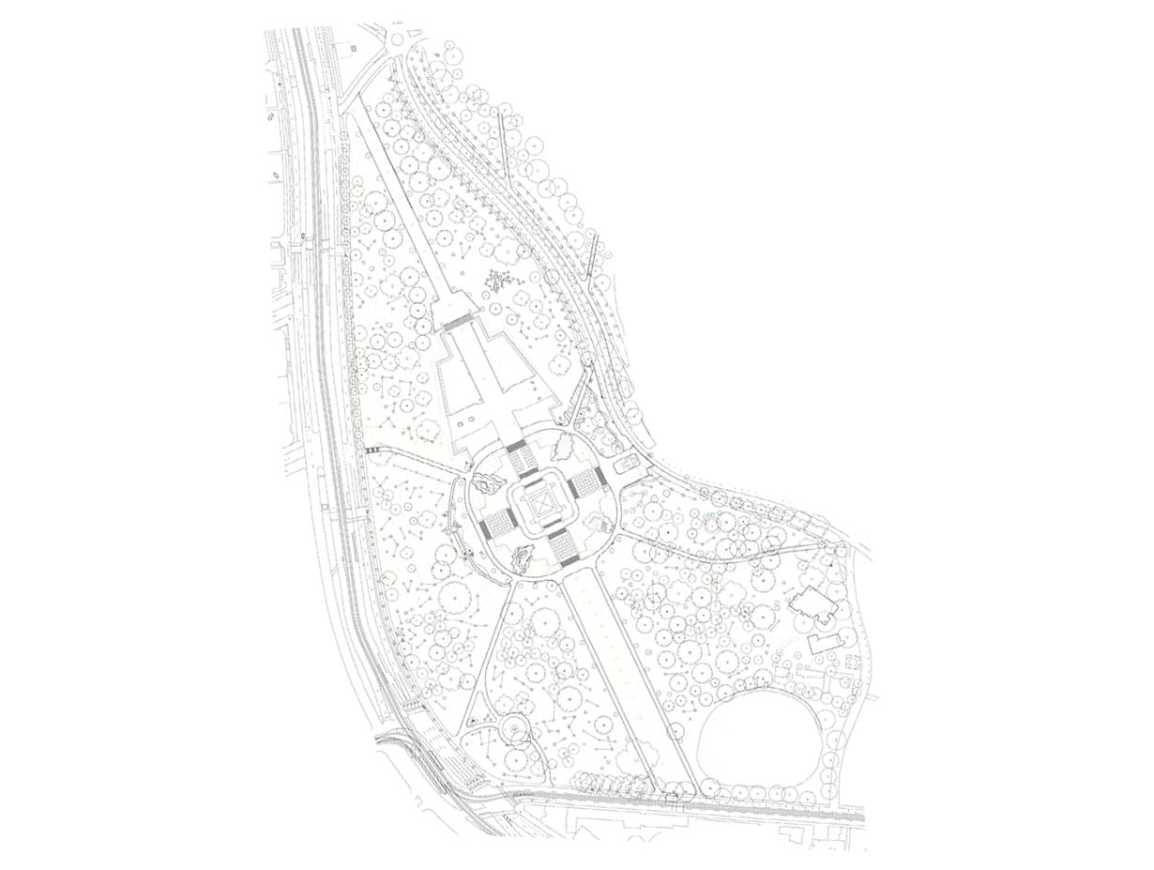 庭院是墨尔本战争纪念馆新项目的核心部分,也是一种绝佳的景观模式。每一个庭院都有不同的功能和设计特点,具有特定的叙事和设计美学。该图展示了庭院与纪念馆人工露台的连接形式。每个庭院都有对应的对角线行人通道。庭院平面几何象征着二战期间曾占据保护区的狭长掩体的形式。
The courtyards are central to the parti of the new project at the Shrine of Remembrance, and are landscape schemas par excellence. Each has a different function and design character, with a particular narrative and design aesthetic. The plan illustrates the courtyard insertions into the Shrine's artificial terrace. Each court addresses the diagonal pedestrian approaches. The courtyard plan geometry reflects the forms of the slit bunkers which once occupied the reserve during World War 2.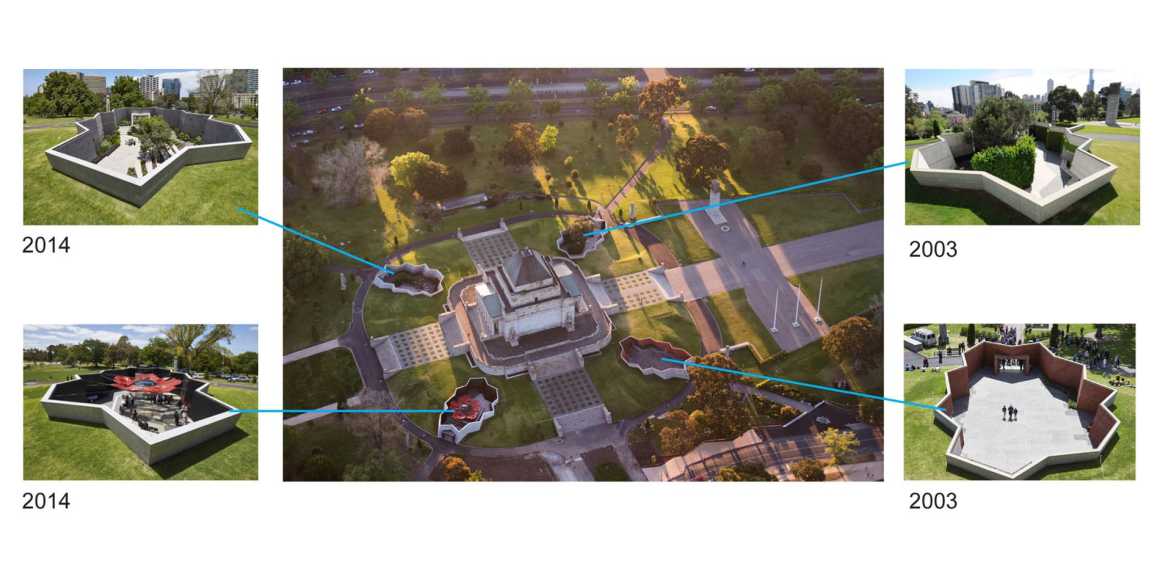 项目进行的第一项准备是在庭院围墙完工之前,移植场地"遗留"的橄榄树。
The first move was the transplant preparation and installation of the "legacy" Olive tree, prior to completion of the courtyard walls.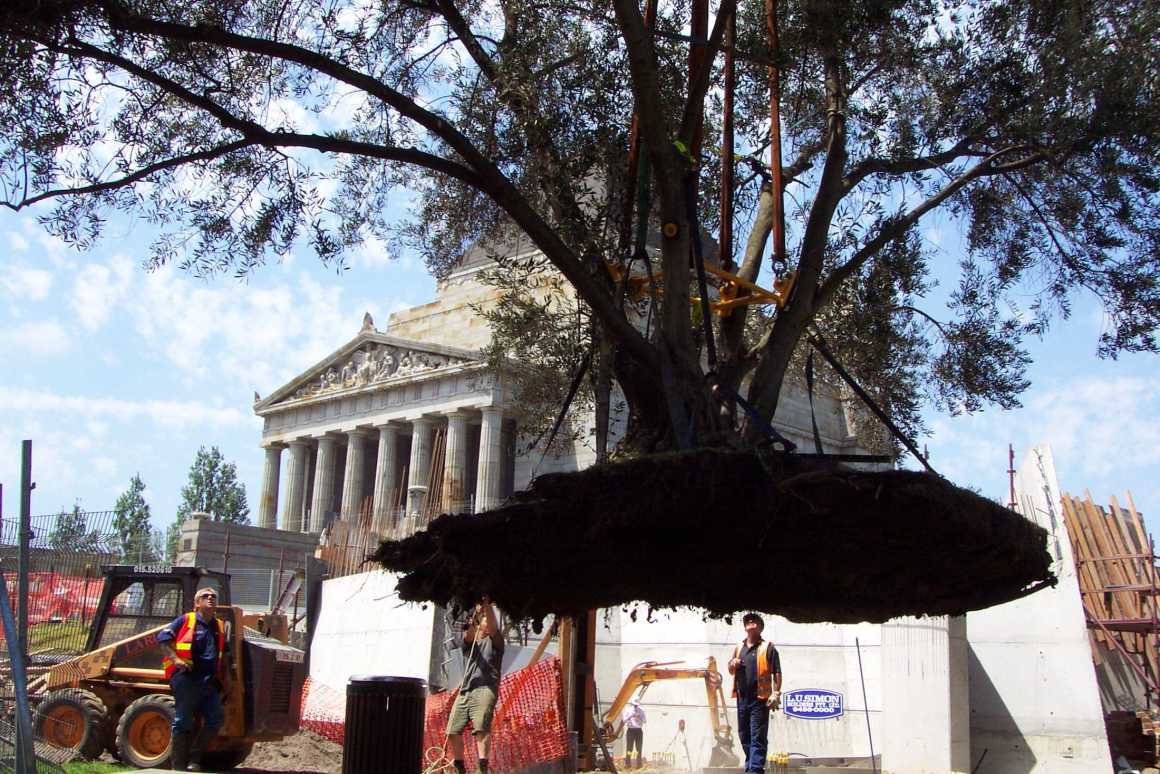 变形的现浇混凝土座位墙与城垛的轮廓相呼应。在重大纪念活动中,它们可以作为个人敬献花圈之地。
Insitu off-form concrete seat walls echo battlement profiles. They become places for personal wreath laying during major commemorative events.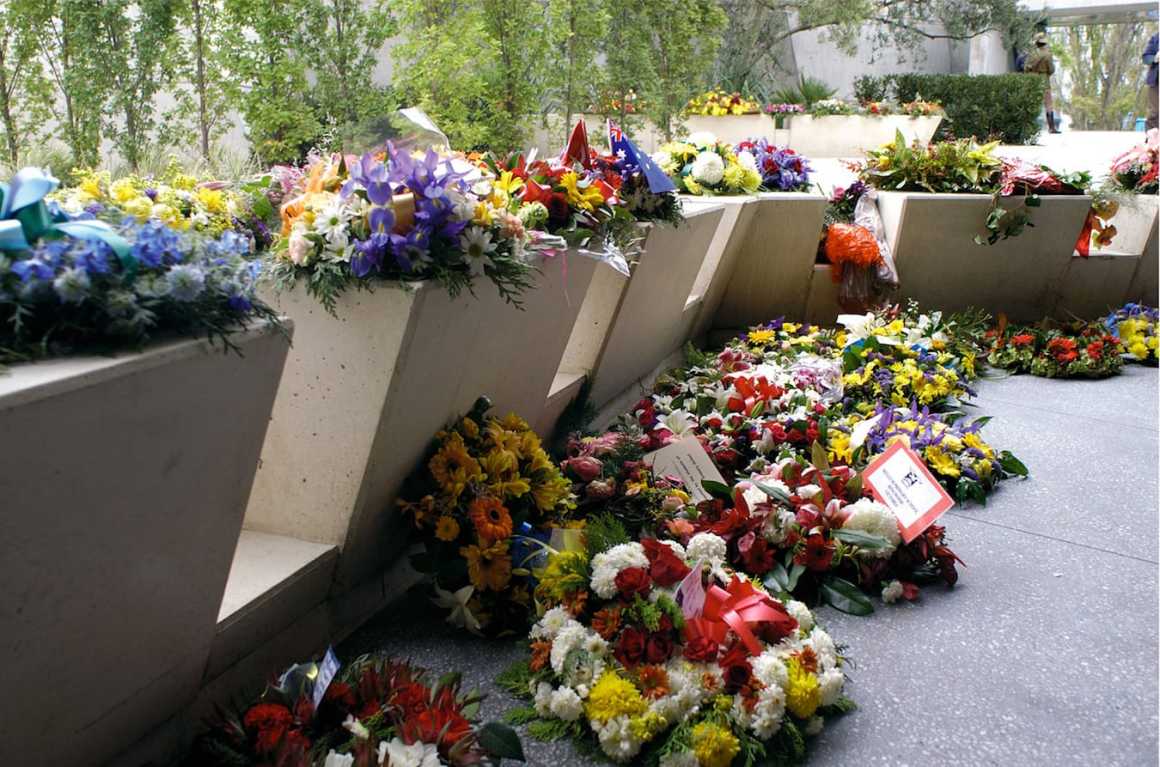 每年11月11日的第11个小时,也就是"休战纪念日",庭院墙壁投射出的阴影线与插在庭院地面上的之字形巴尔莫勒尔绿色花岗岩线条一致。
The shadow-line cast by the courtyard wall at the 11th hour of the 11th day of November each year, Armistice Day, aligns with the zig zag Balmoral Green granite line inserted in the courtyard floor.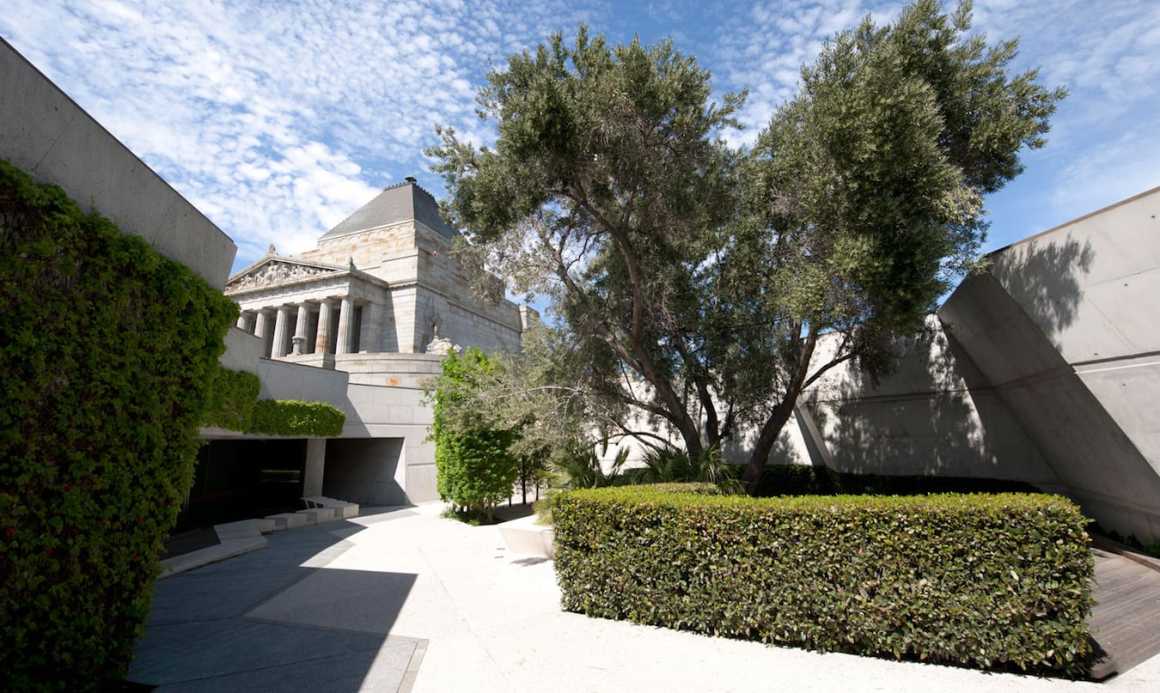 橡树、橄榄、月桂和无花果等传统"寺庙"植物展示了植物在不同文化中代表和平、长寿、力量、英雄主义和纪念的救赎力量。
Traditional "temple" plantings of Oak, Olive, Bay Laurel and Fig illustrate the redemptive power of plants to represent peace, longevity, strength, heroism, and remembrance across different cultures.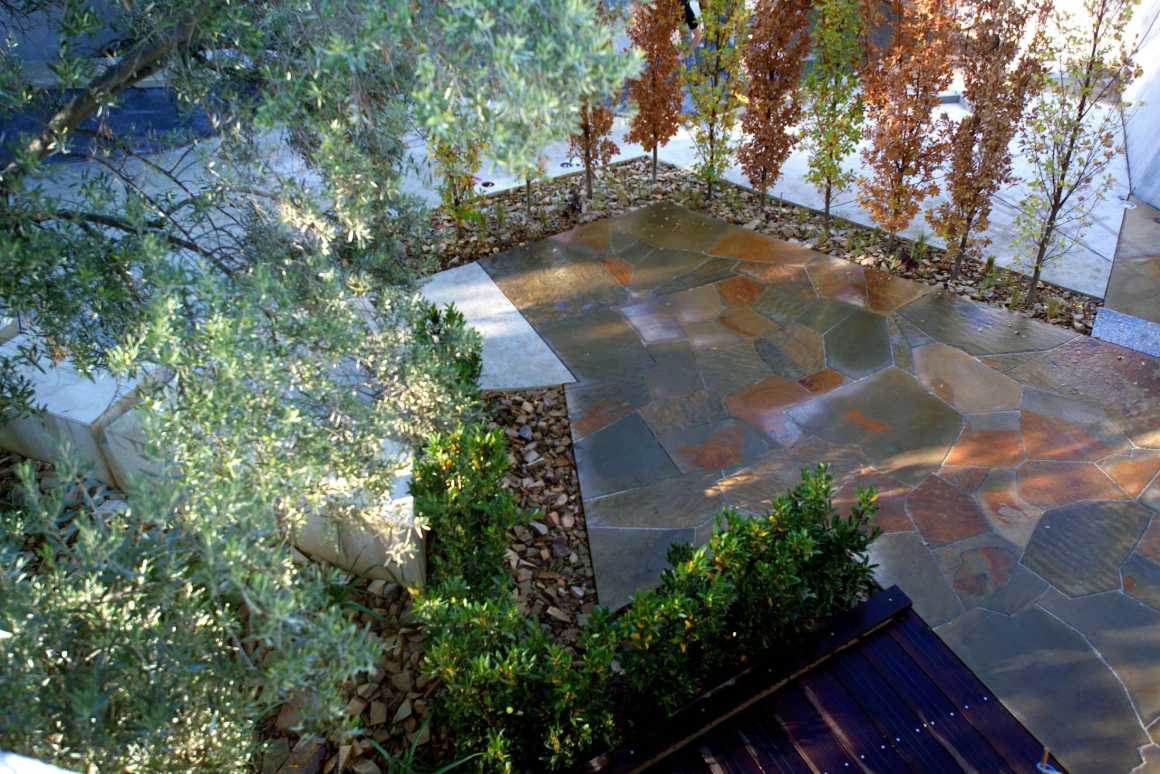 庭院是围绕移植的橄榄树进行设计的,所有的形式、颜色和纹理都充分尊重橄榄树作为设计构图焦点而存在。
The Courtyard has been designed around the transplanted Olive Tree, and all forms, colours and textures pay due deference to the presence of the tree as the focal point of the design composition.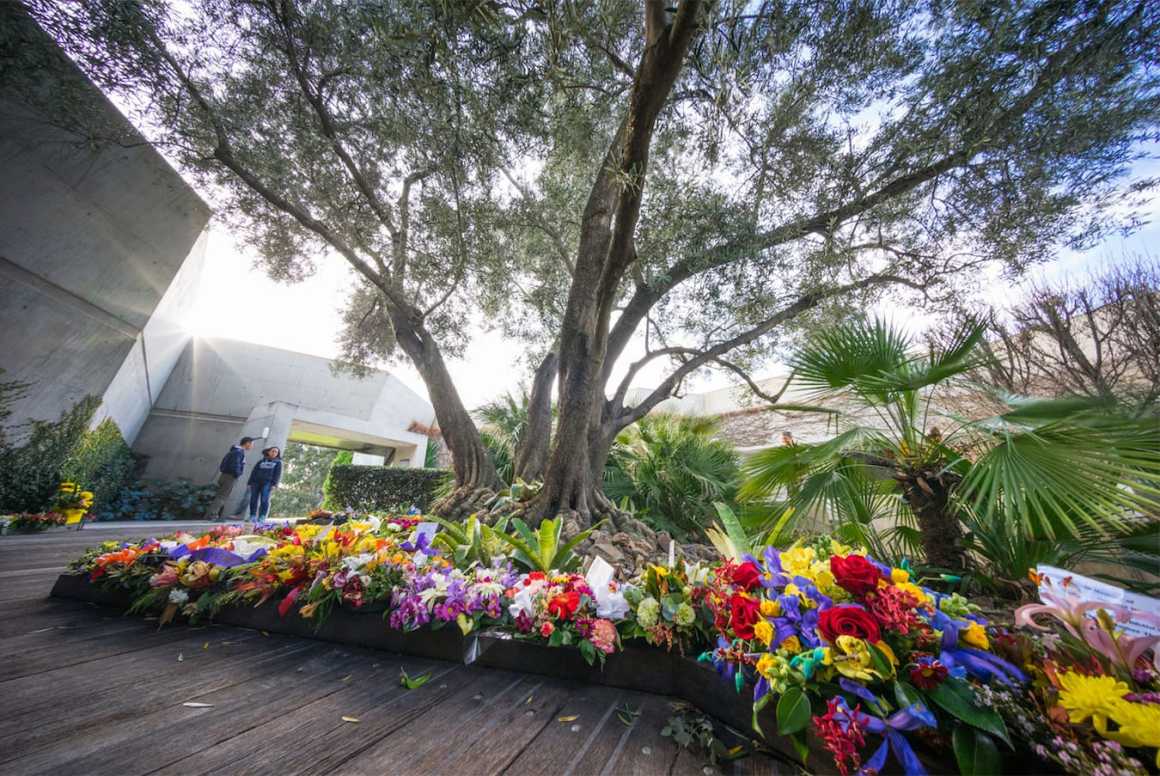 丛林碉堡——粗糙的现浇混凝土墙、露台和铺装材料,映衬着繁茂的热带植被。再利用锈蚀的铁路轨道作为种植和座椅底座的边缘。
The Jungle Bunker – rough cast insitu concrete walls, terraces and paving set against the luxuriant forms of encroaching tropical vegetation. Rusted railway line profiles form edges to planting and seat bases.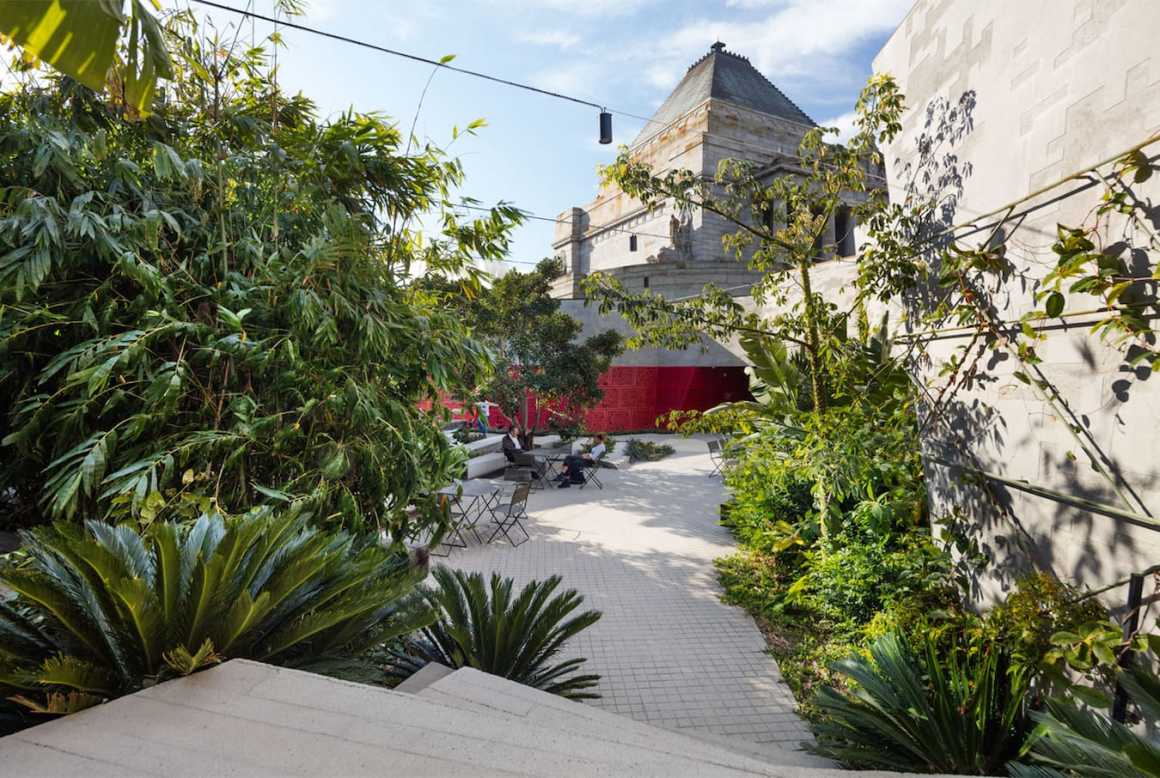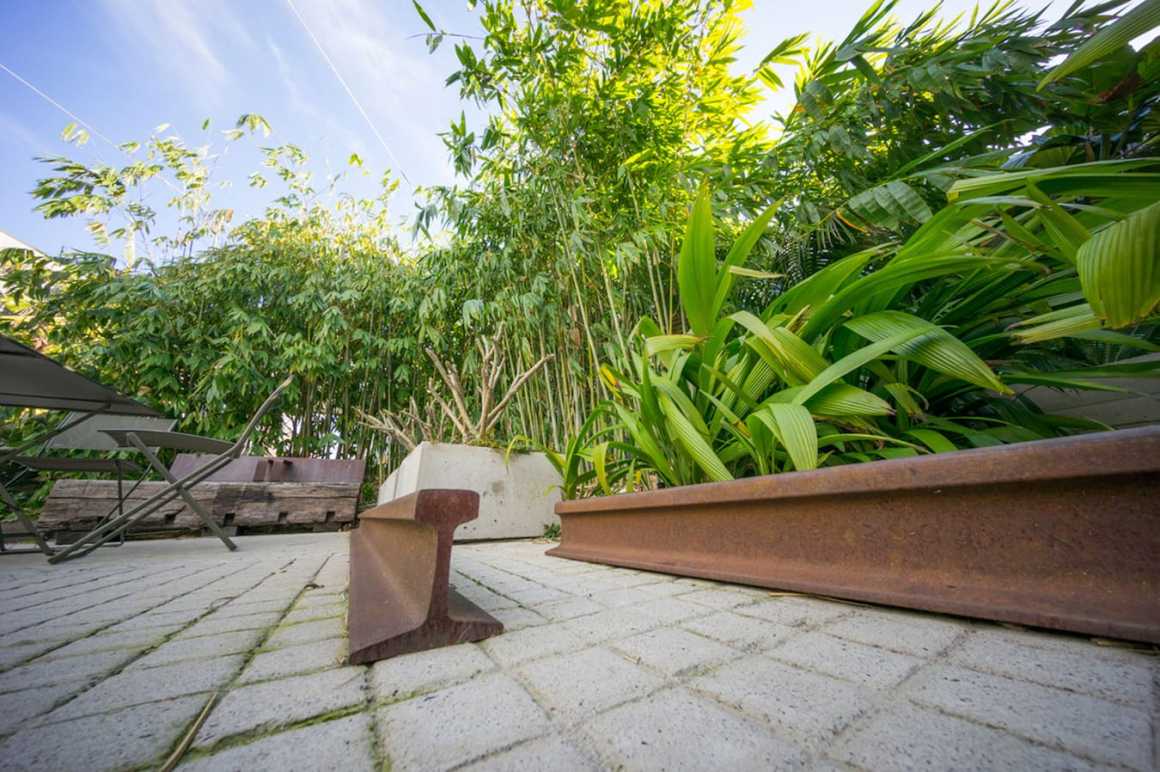 地基上覆盖了爬行植物,并种植了苏铁,创造了一个非正式的座位空间。
The plinths are recolonised by creeping ground cover, cycad and provide informal seating spaces.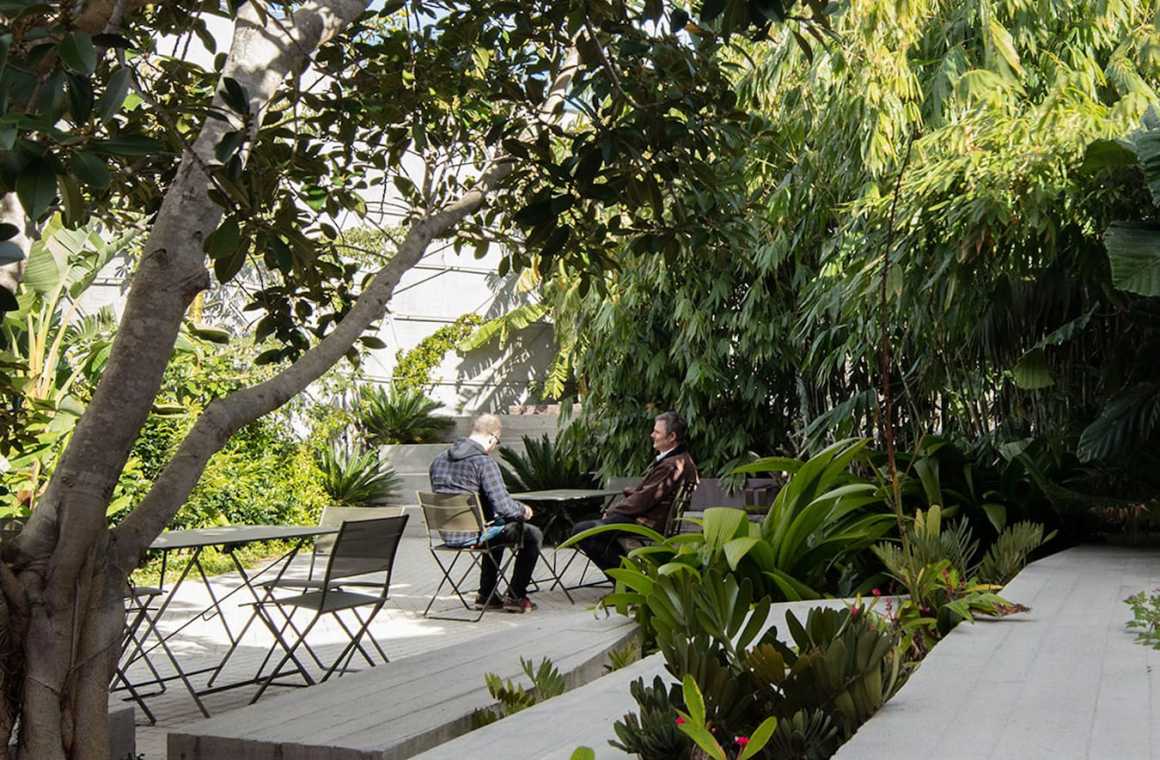 高地面包树,一种来自新几内亚的无花果树和茄果兰(圣杯藤)挂在墙上的攀援架上。
Ficus dammaropsis (Highland Breadfruit), a fig from New Guinea, with Solandra maxima (Chalice Vine) holding to the wall trellis.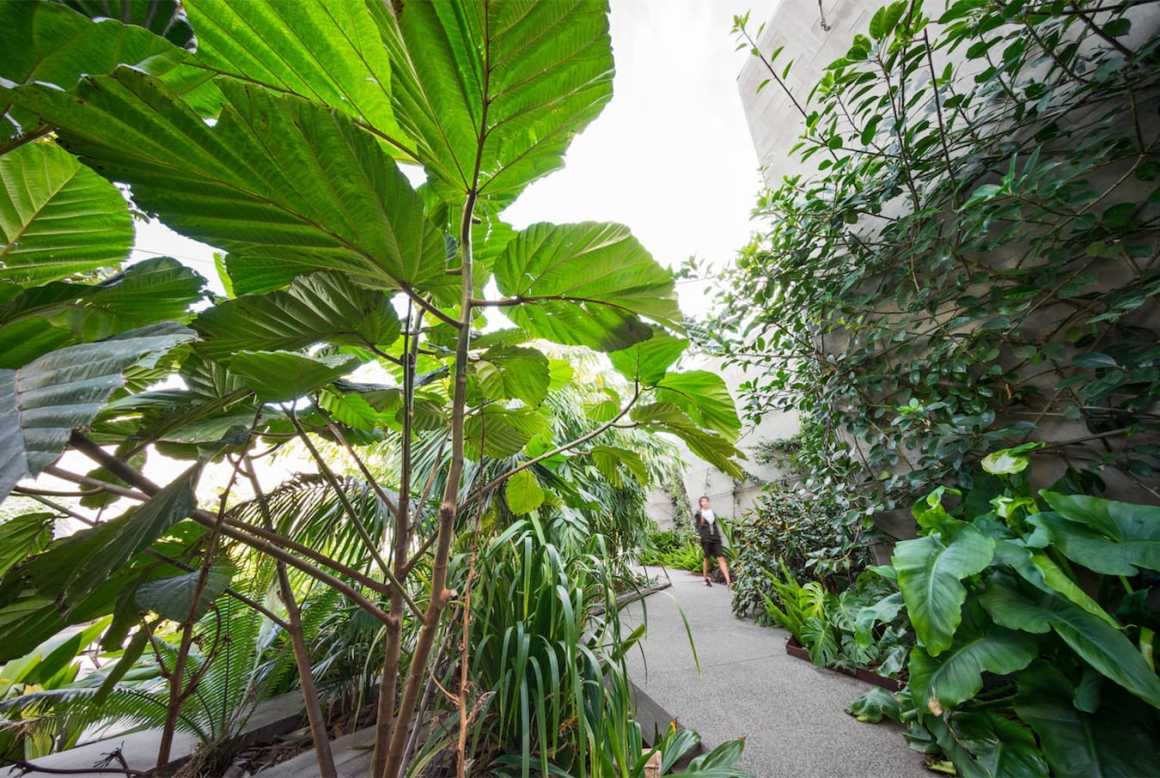 从上往下看学校东南入口的庭院。巨大的红色罂粟花悬挂在庭院上方,在地面上投射出动态的阴影。该庭院的大门上设置了一个庭院导游指南。"罂粟浮棚"为活动、游客和学校团体定向活动以及户外教育提供了阴凉的遮蔽空间。
Looking down into the courtyard from the grass terraces above. The giant red poppy is suspended and casts shifting shadows across the courtyard floor. The School courtyard gate with one of the Shrine Guides. The "poppy canopy" provides shaded space for events, visitor and school group orientation activities and outdoor education.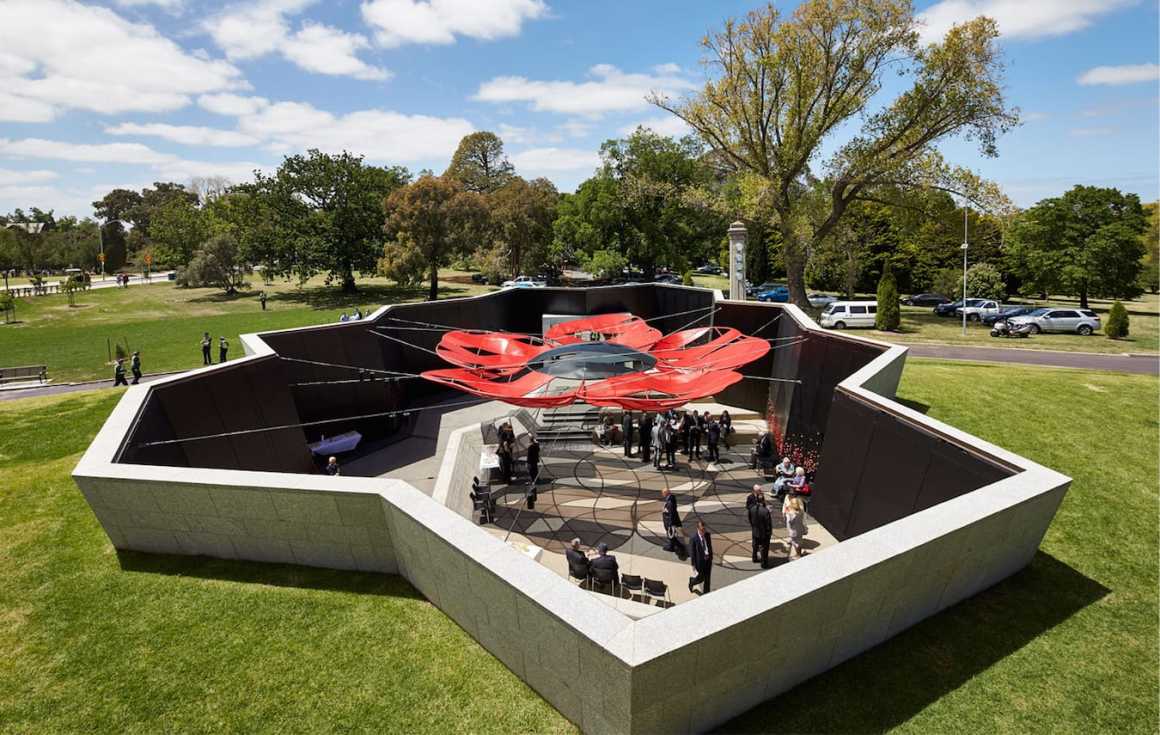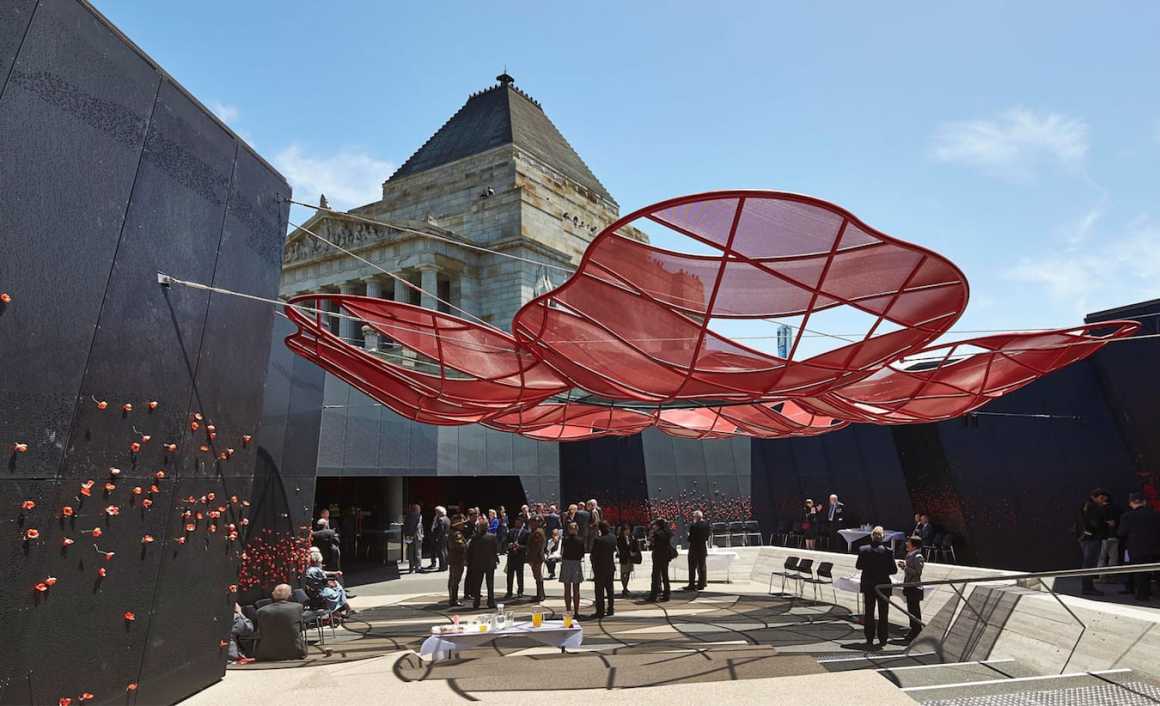 项目名称:澳大利亚墨尔本战争纪念馆
设计年份及竣工年份:2001-2015年
景观设计:Rush Wright Associates
项目地点:澳大利亚维多利亚州墨尔本
合作伙伴:Ashton Raggatt McDougall (ARM)
委托人:The Shrine of Rembrance Trusttees.
Project name: The Shrine of Remembrance Melbourne Australia
Design year & Completion Year: 2001-2015 ongoing
Landscape Design: Rush Wright Associates
Project location: Melbourne, Victoria, Australia
Partners: Ashton Raggatt McDougall (ARM)
Clients: The Shrine of Rembrance Trusttees.
更多 Read more about: Rush Wright Associates