本文由佰筑建筑授权mooool发表,欢迎转发,禁止以mooool编辑版本转载。
Thanks 100architects for authorizing the publication of the project on mooool, Text description provided by 100architects.
100architects:"水晶球"项目一项位于是上海市中心著名的获奖零售街上海新天地的公共空间干预设计,是新天地2017年圣诞节活动的核心部分,也是2017年上海Lumières灯光艺术节的一部分。设计旨在促进社会互动、吸引顾客,并且增强人们在公共领域的圣诞节体验。
100architects: The Snow Globe is a public space intervention on the renowned award-winning Retail Street of Shanghai Xintiandi, in downtown Shanghai, as central piece of their Christmas 2017 campaign, and also part of festival Lumières Shanghai 2017, designed to foster social interactions, attract customers and enhance the Christmas experience in the public realm.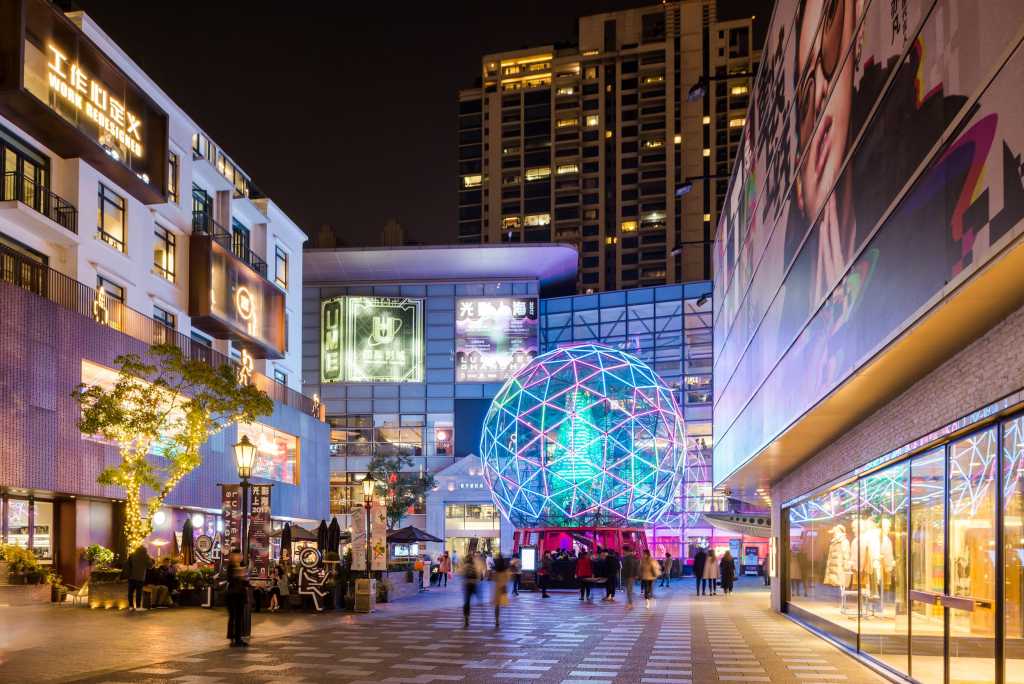 中国新天地是瑞安房地产旗下的子公司,作为中国内地高档商业地产的投资者和运营商,一直以来致力于发展充满活力的社区和繁荣的商业区,打造"生活、工作和娱乐"一体的理念。中国新天地在整个房地产开发过程中也一直追求"为生活打造空间,为空间带来活力"的使命,不仅为购物、娱乐、休闲和生活创造地标,也为艺术展示创造地标。
China Xintiandi, a subsidiary of Shui On Land, is an investor, operator and manager of premium commercial properties in the Chinese Mainland, nurturing vibrant communities and commercially thriving districts built around the idea of 'live, work and play'. China Xintiandi pursues the mission of 'bring places to life, and life to places' throughout their real estate developments, creating landmarks not only for shopping, entertaining, leisure and lifestyle, but also for art display.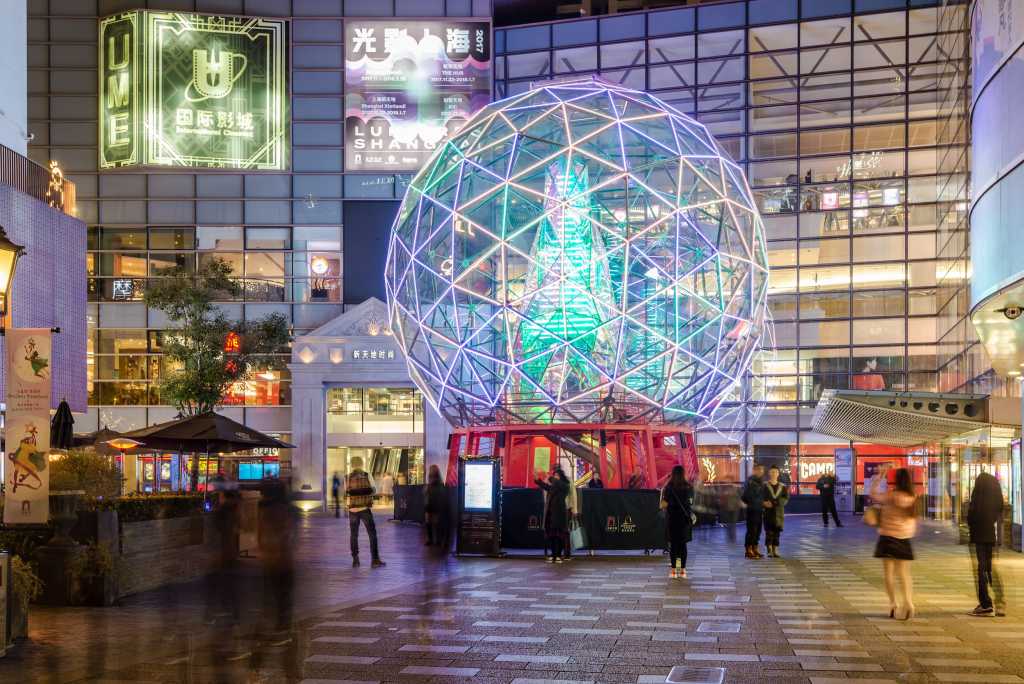 首先,我们认为这个装置应该以圣诞节精神为主题,但也要不同于以往那些典型的圣诞树型装饰装置。不仅要引起孩子的注意,也要引起成年人的注意,让人们去使用并体验它,而不仅仅只是是驻足观看。
The installation should be themed within the Christmas spirit beyond any typical Christmas Tree-type decorative installation, calling the attention of not only kids but adults alike, to use it and experience it rather than just passing by and observing it.
因此,我们的提案的设计理念希望去创造一个"空间"而不是"物体",去创造一个围绕在人身边,而不是被人包围的装置。给人们提供一种沉浸式体验,在这种体验中,游客将成为装置的一部分。
Our proposal arose from the idea of creating a "space" rather than an "object", from the intention of creating something that surrounds people, instead of something to be surrounded by people, offering an immersive experience in which the visitor would be part of the installation's narrative.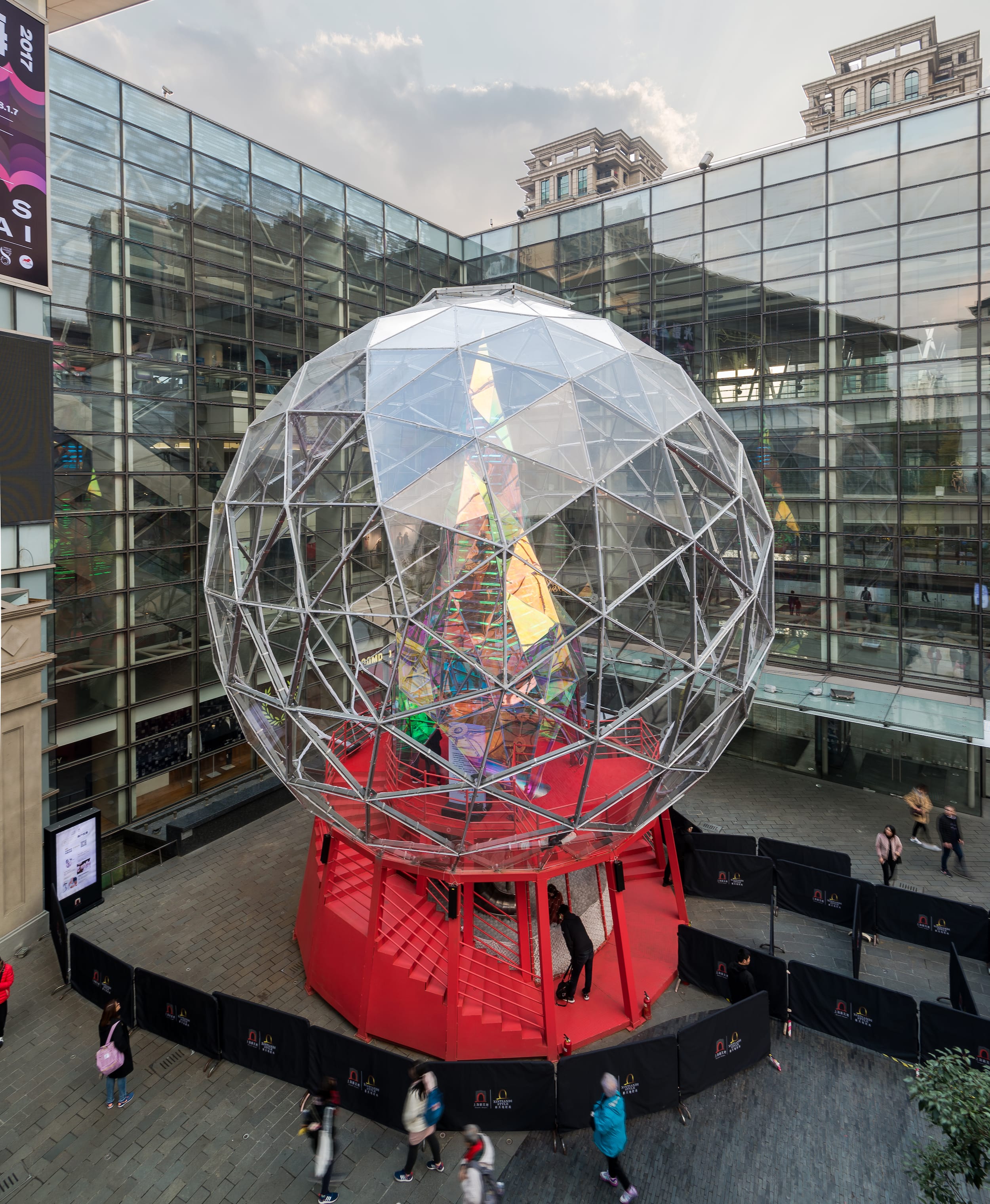 最终,这样一个巨型水晶球的构想完成了。它拥有一个直径12米的网格状球顶,由不锈钢结构组成,表面覆盖透明的丙烯塑料板来封闭空间,给人营造出一种玻璃雪球的感觉。这个3米高的基座还包括2个楼梯,可以进入2楼的雪球内部,其中设有一个非常有趣的球洞,游客可以通过球洞从2楼螺旋滑梯滑落下来。
That's how the giant Snow Globe was conceived, a 12 m. diameter geodesic dome performed by a stainless steel structure covered with transparent acrylic panels to enclose the space and give the feeling of a glass snow globe. The 3-meter-tall base incorporates 2 staircases to access to the interior of the globe on the 2nd floor, and also hosts a playful ball pit where visitors land when sliding down the spiral slide that goes down from the 2nd floor.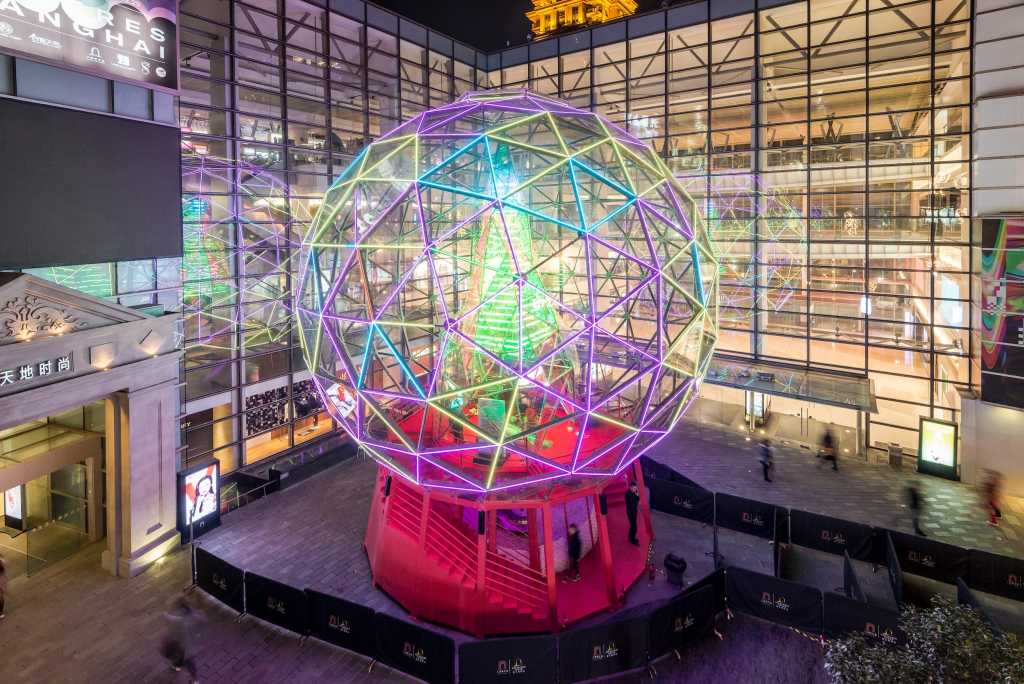 水晶球内部的圆顶里面还放置了一棵圣诞树,整体是低多边形结构,用二向色丙烯酸树脂装饰,可以在白天和晚上都能展示壮观的景象。由于白天的灯光几乎没什么吸引作用,所以树的外观设计必须做到非常吸引人眼球。而二色性丙烯酸是一种特殊的彩虹色丙烯酸,它能够达到一种微妙的镜面光洁效果,并且在移动时从不同的视角能够变换颜色。同时,它还是透明的,所以当夜晚来临时,人们可以透过它清晰地看到neon flex LED互动灯光结构,因此非常适合晚上进行灯光表演。
As snow globes do, the dome would contain a Christmas Tree inside, a low-poly structure finished with dichroic acrylic in order to offer a spectacular look during both, the day and the night. During the daylights would barely be appreciated, reason why the look of the tree should be interesting enough by itself. The use of dichroic acrylic, a special rainbow-colored iridescent acrylic, provides a subtle mirror-like finish and changes color while moving, from different viewing angles. At the same time, it is transparent, so at night it allows the neon flex LED interactive light structure to be seen clearly on the other side. Perfect for performing light shows at night.
但是,隐藏在树内的交互式照明结构并不是唯一照明特色。在整个网格状球顶三角立面的每一个边缘都配备了霓虹灯变换的LED灯,为整个灯光展示和交流互动创造一个球形画布。
But the interactive lighting structure hidden within the tree is not the only lighting feature of the installation. The entire geodesic dome is equipped with neon flex LED lights in every single edge of the triangulated façade, creating a spherical canvas for lighting shows and interactive purposes.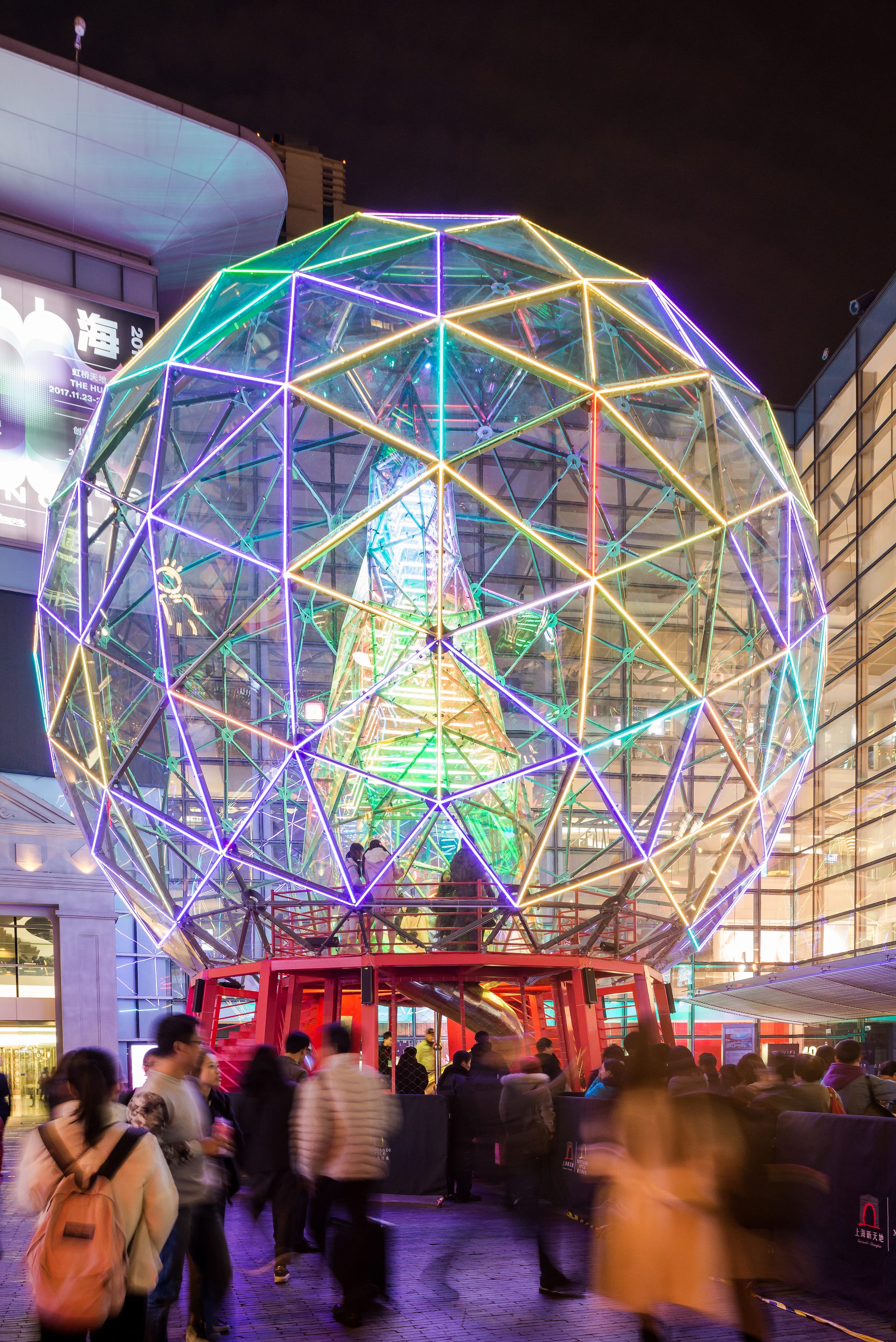 项目名称: 水晶球
建筑设计: 100architects (上海)
光声交互设计: Dogma Lab (Shanghai) + Anyways, Here's the Thing (NYC)
工程: Squiggle Labs(上海)
建筑:  EMCC (上海)
设计团队: Marcial Jesus, Javier Gonzalez
客户: 中国新天地(水上乐园)
地点: 中国上海市黄埔区马当路上海新天地
建筑面积: 200平方米
高: 15米
完成日期: 2017年11月
摄影师: Amey Kandalgaonkar
Project name: The Snow Globe
Architecture Design: 100architects (Shanghai)
Light & Sound Interaction Design: Dogma Lab (Shanghai) + Anyways, Here's the Thing (NYC)
Engineering: Squiggle Labs (Shanghai)
Construction: EMCC (Shanghai)
Design team: Marcial Jesus, Javier Gonzalez
Client: China Xintiandi (Shui On Land)
Location: Shanghai Xintiandi, Madang Road, Huangpu District, Shanghai, China
Built area: 200m2
Height: 15mts
Completion: November 2017
Photographer: Amey Kandalgaonkar