本文由 KSh Design Bureau 授权mooool发表,欢迎转发,禁止以mooool编辑版本转载。
Thanks KSh Design Bureau for authorizing the publication of the project on mooool, Text description provided by KSh Design Bureau.
KSh Design:我们此次设计的主要目标是创建一个既能像甜品店(有孩子的家庭会来),又能像晚上的鸡尾酒吧(有喧闹的泳池派对)的娱乐空间。
KSh Design:The main task that confronted us was to make an institution that would work like a dessert in the afternoon (where families with children would come), and a cocktail bar at night (with noisy pool parties).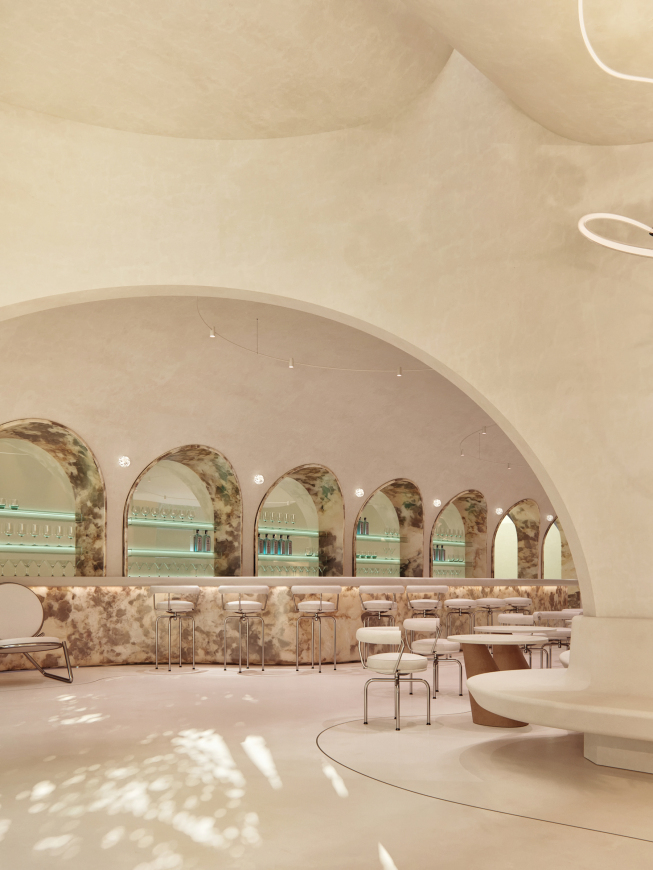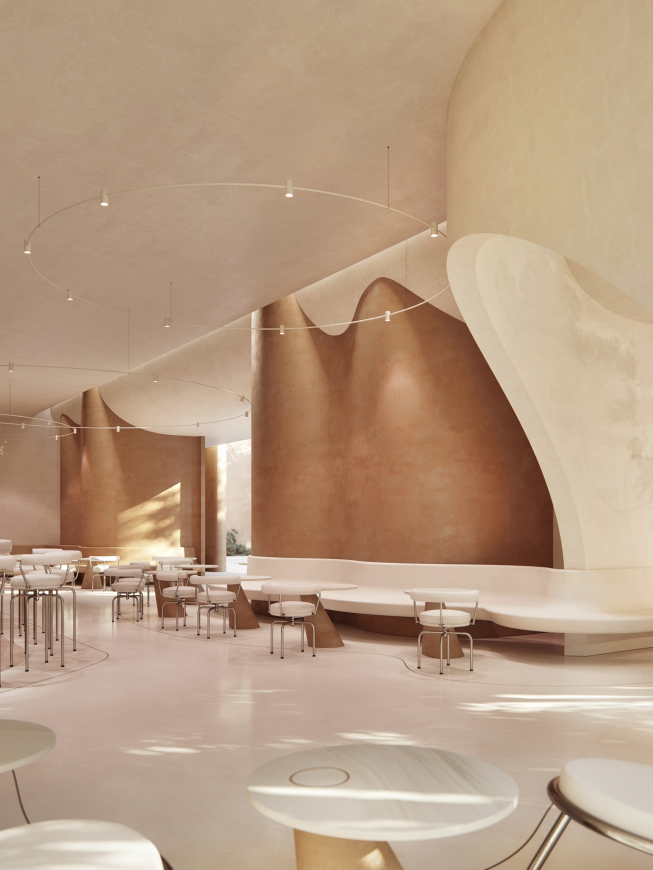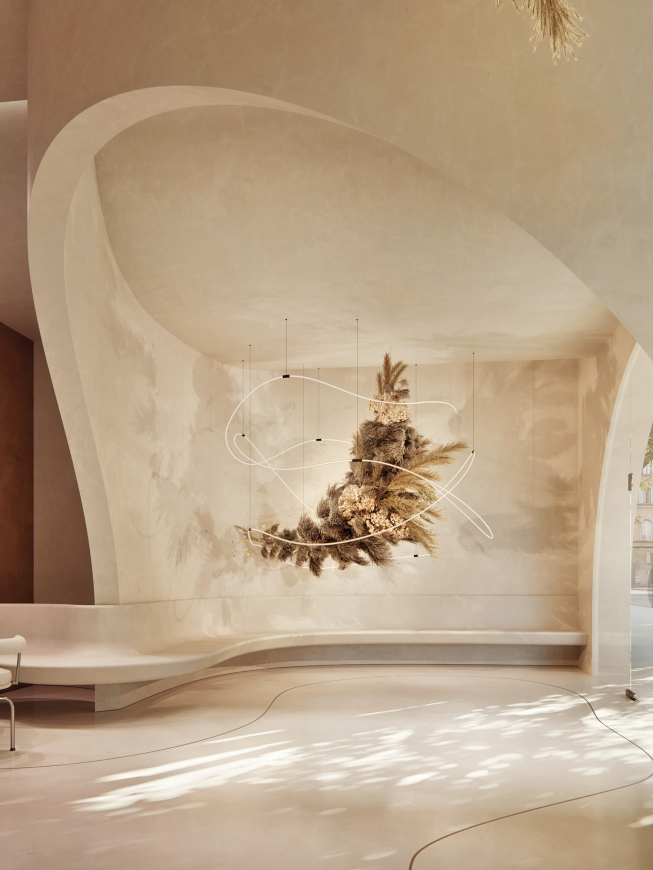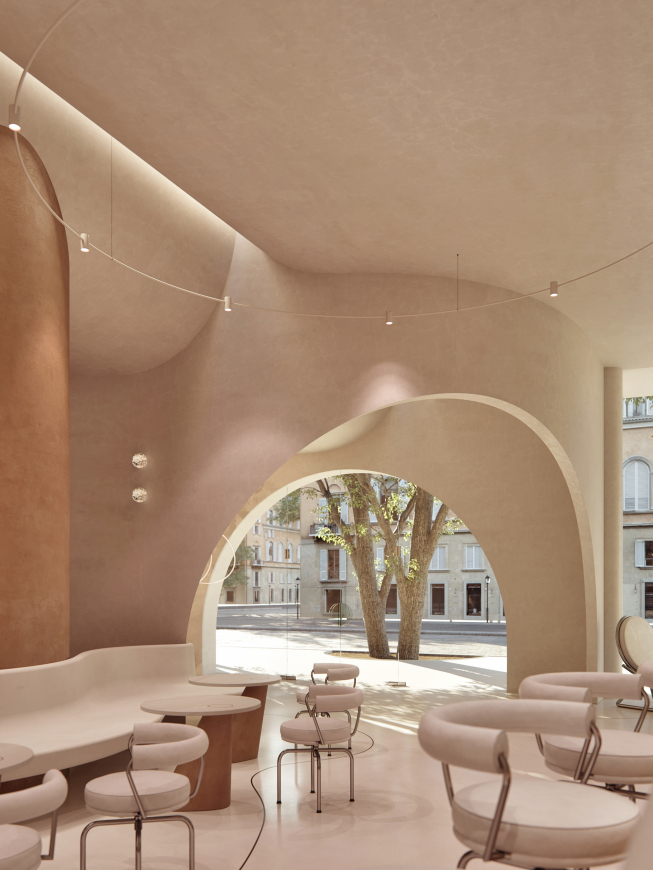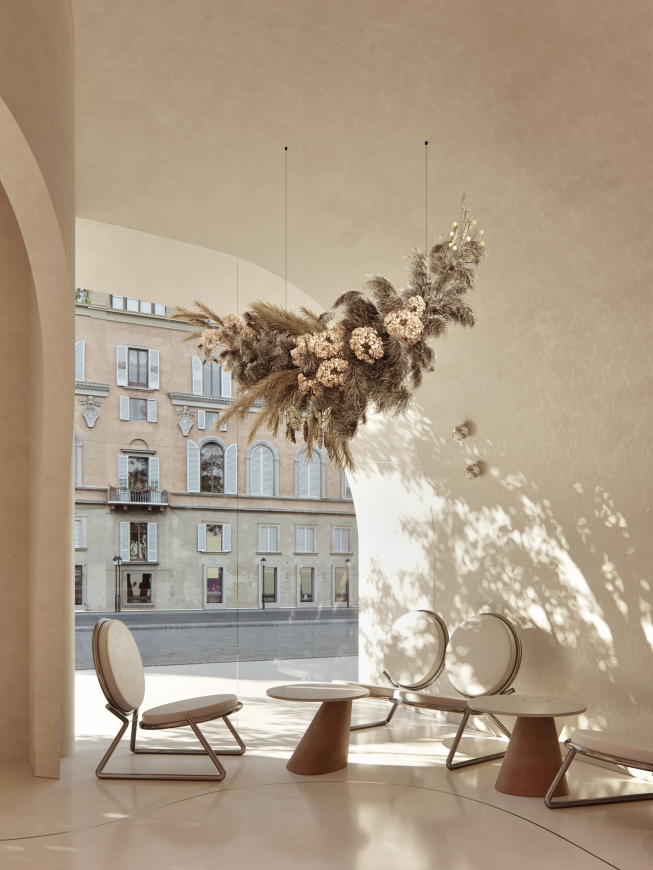 ▼项目全景图片 The panoramic view.
因此,我们将这两种空间结合了一个共同的主题来设计,这个主题就是"甜蜜"。我们在室内的每个细节设计和氛围营造都体现出了这一特点。从形式到材料、质地、颜色,再到灯光和装饰,一切都与甜辣的甜点(太妃糖、冰激凌、焦糖、肉桂等)联系在一起。
To do this, we have combined these two tasks with a common feature, which has become sweetness. We tried to convey this trait in the mood and atmosphere of the interior. Starting from forms, turning into materials, textures, colors and ending with lighting and decor, everything is subject to association with a sweet and spicy dessert, (toffee, ice cream, caramel, cinnamon, etc.)
▼项目全景图片 The panoramic view.
所有空间都位于一层,连通着一个带有大型游泳池和植被的私人庭院。
The whole space is located on the ground floor and has access to a private courtyard with a large swimming pool and vegetation.
▼项目全景图片 The panoramic view.
设计:KSh Design Bureau
地点:阿拉伯联合酋长国 阿布扎比
建筑面积:280平方米
图片:效果图
使用工具:3Dsmax Corona Render
项目名称:甜鸡尾酒吧
主创设计师:Konstantin Sharlykov
设计团队:Konstantin Sharlykov, Kay Lu
设计:2020年
完成:2020年
照明:artisanal
效果:KSh Design Bureau
阶段:概念设计
Architecture firm: KSh Design Bureau
Location: Abu Dhabi, United Arab Emirates
Built area: 280m2
Photography: visualization
Tools used: 3Dsmax Corona Render
Project name: THE Sweet Cocktail Bar
Principal architect: Konstantin Sharlykov
Design team: Konstantin Sharlykov, Kay Lu
Design year: 2020
Completion year:2020
Lighting: artisanal
Visualization: KSh Design Bureau
Status: design concept
更多 Read more about: KSh Design Bureau