本文由 英斯佛朗 授权mooool发表,欢迎转发,禁止以mooool编辑版本转载。
Thanks MBDI for authorizing the publication of the project on mooool, Text description provided by MBDI.
英斯佛朗:  在原有砖墙的形式,运用设计手法增加凹凸感,增强光影感受,运用灯光效果,使砖墙不再乏味。
MBDI:  Corresponding to the various spaces of the project.In the form of the original brick wall, design techniques are used to increase the unevenness. Enhance light and shadow feeling. Use light effects. Make the brick wall no longer boring.
故里寻踪Hometown
传承原有生活的土地,当人漫步这条街道时,总要情不自禁地寻觅历史的踪迹,体会一下古味、中国味、天津味和文化味,而且非寻不能出情趣。红砖墙装饰艺术,工艺精湛,寓意丰富,装饰手法丰富,极具艺术价值。
The land that inherits the original life, when people stroll this street, they can't help but search for the traces of history, experience the ancient flavor, Chinese flavor, Tianjin flavor and cultural flavor. Red brick wall decoration art, superb craftsmanship, rich meaning, rich decoration techniques, and great artistic value.
▼"故里寻踪"HOMETOWN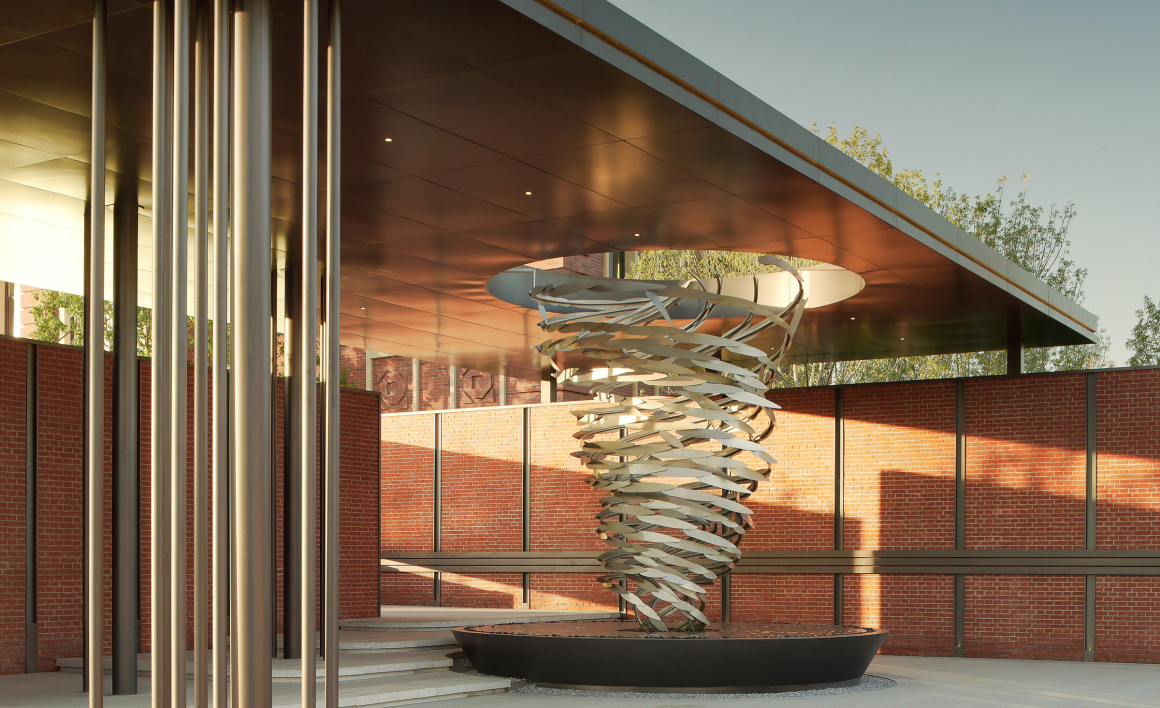 沽水流霞The realm of water
流水闪烁的波光灯影的美,流动不息的美。若明若暗的各色灯光,倒映在河中,波光灯影、流光溢彩、辉煌华丽。
The beauty of the flashing lights of the flowing water, the beauty of the endless flow. The bright and dark lights of various colors are reflected in the river.
▼"沽水流霞"THE REALM OF WATER
沽水之上飞舞的流霞,红砖与之金属碰撞交互形成规律秩序的几何关系,一动一静,交相呼应,表现出丰富的质感与阴影,使空间更富情感。
The main sculpture resembles the flying clouds, the red bricks collide with the metal to form a geometric relationship of regular order, moving and static, echoing each other, showing a rich texture and shadow, making the space more emotional.
▼细节部分details
海门古塞The weight of the door
幽美的自然景观延伸了人们的生活空间,丰富的人文景观使人们在亲近自然的同时也拉近了彼此之间的距离。和谐而自然,演泽着淡妆浓抹总相宜。清晨,当第一缕阳光射进窗口,来到缭绕的石径小道上活动。
The beautiful natural landscape extends people's living space, and the rich cultural landscape makes people draw closer to each other while getting close to nature. Thick green, harmonious and natural, it is always suitable to play with light makeup and thick makeup. In the early morning, when the first ray of sunlight entered the window, it came to the active disc bone on the winding stone path, beside it was green flowers and grass.
▼"海门古塞"THE WEIGHT OF THE DOOR
双城醉月Moonlight
通过设计表达的是将古今相结合。以现代的设计手法对场地的升华打造,在保留当地原有的文化传承的同时,追寻地缘文化,传承历史积淀,引入现代风尚,以经典建筑为型,以时尚气质为魂,打造一个极具震撼力的都市样板。
What is expressed by design is the combination of ancient and modern. The sublimation of the site is created with modern design techniques. While retaining the original cultural heritage of the local area, it pursues geoculture, inherits historical accumulation, introduces modern fashion, takes classic architecture as the model, and takes fashion temperament as the soul to create a unique A stunning urban model.
▼"双城醉月"MOONLIGHT
项目名称:  天津北宸正荣府
开发商:  正荣地产
甲方团队:  程奕搏、李云龙、薛崇升、王志威、王超
施工单位:  常州苏锐园林绿化有限公司
建筑设计:  上海尤安建筑设计股份有限公司
景观设计:  MBDI英斯佛朗
摄影师:  徐喆
Project Name:  Tianjin Beichen Zhengrong Mansion
Developer:  Zhengrong Real Estate
Party A team:  Cheng Yibo, Li Yunlong, Xue Chongsheng, Wang Zhiwei, Wang Chao
Construction unit:  Changzhou Surui Landscaping Co., Ltd.
Architectural design:  Shanghai Youan Architectural Design Co., Ltd.
Landscape design:  MBDI
Photographer:  Xu Zhe
更多read more about:  MBDI英斯佛朗