本文由 篆山营造 授权mooool发表,欢迎转发,禁止以mooool编辑版本转载。
Thanks ZSYZ Studio for authorizing the publication of the project on mooool. Photos provided by ZSYZ Studio.
篆山营造:龙吉古村位于琼北火山岩古村带,依山就势,五条巷弄为火山岩喷薄而成,村南边的"通德堂"为明清建筑,坐北朝南,四合院落,抬梁木石结构。前堂石匾"通德堂"三字为海南清代进士张岳松所题。两个老祠堂基本上已没有屋顶,只剩下一些残墙,在小楼林立、罗马柱防盗窗琳琅满目的新村里,显然已失去了庄严的地位。
ZSYZ Studio: Longji Village is one of the volcanic stone villages in the north of Hainan. Located along the hill, Tongde Hall and Jiangxing Ancestral Hall were built in the Ming and Qing Dynasty in the form of Shiheyuan, featuring the lifting beam structure of timber and volcanic stone. The plaque on the front gate of Tongde Hall was inscribed by Zhang Yuesong, the advanced scholar called "Jinshi" in the Qing Dynasty.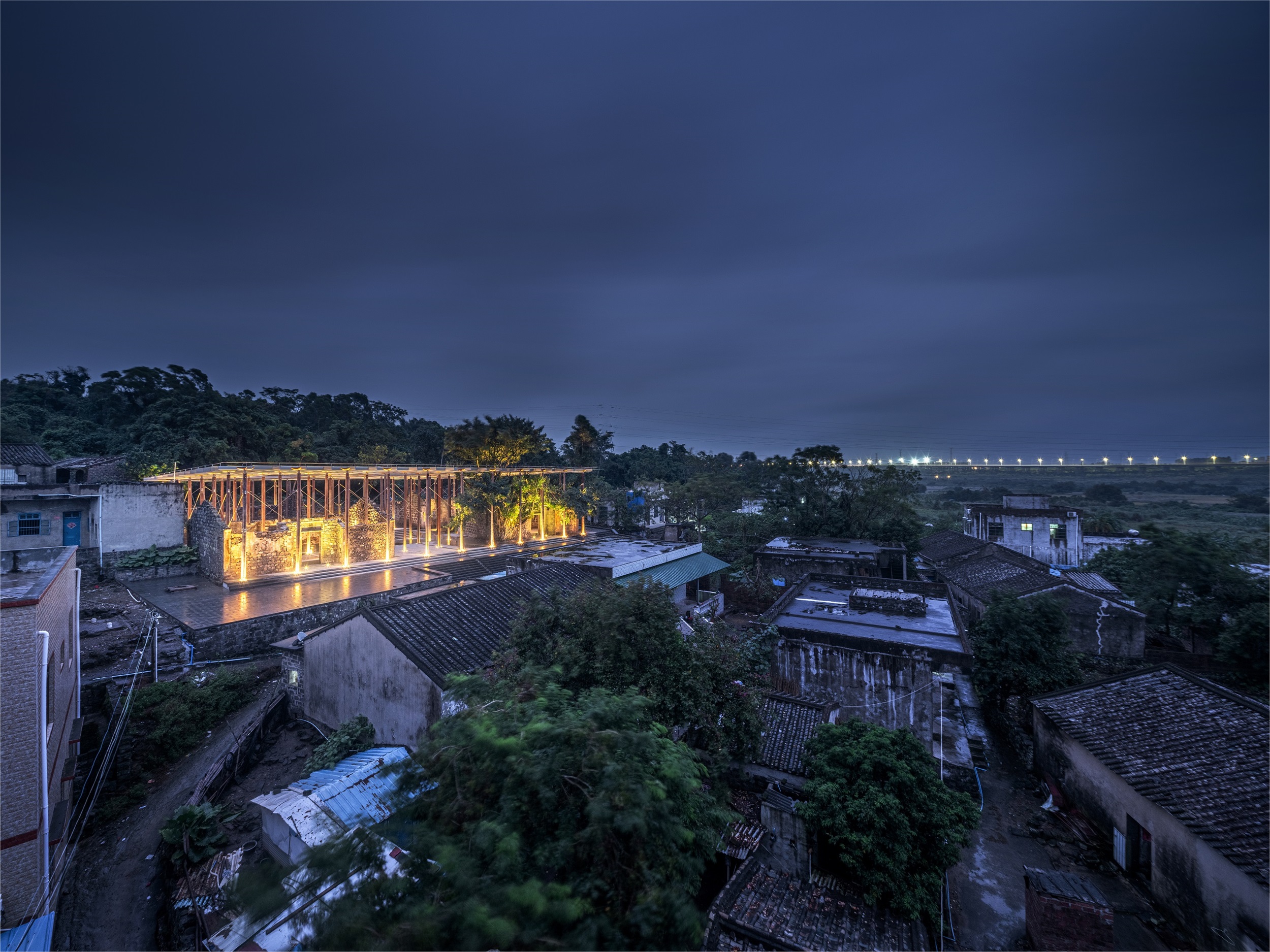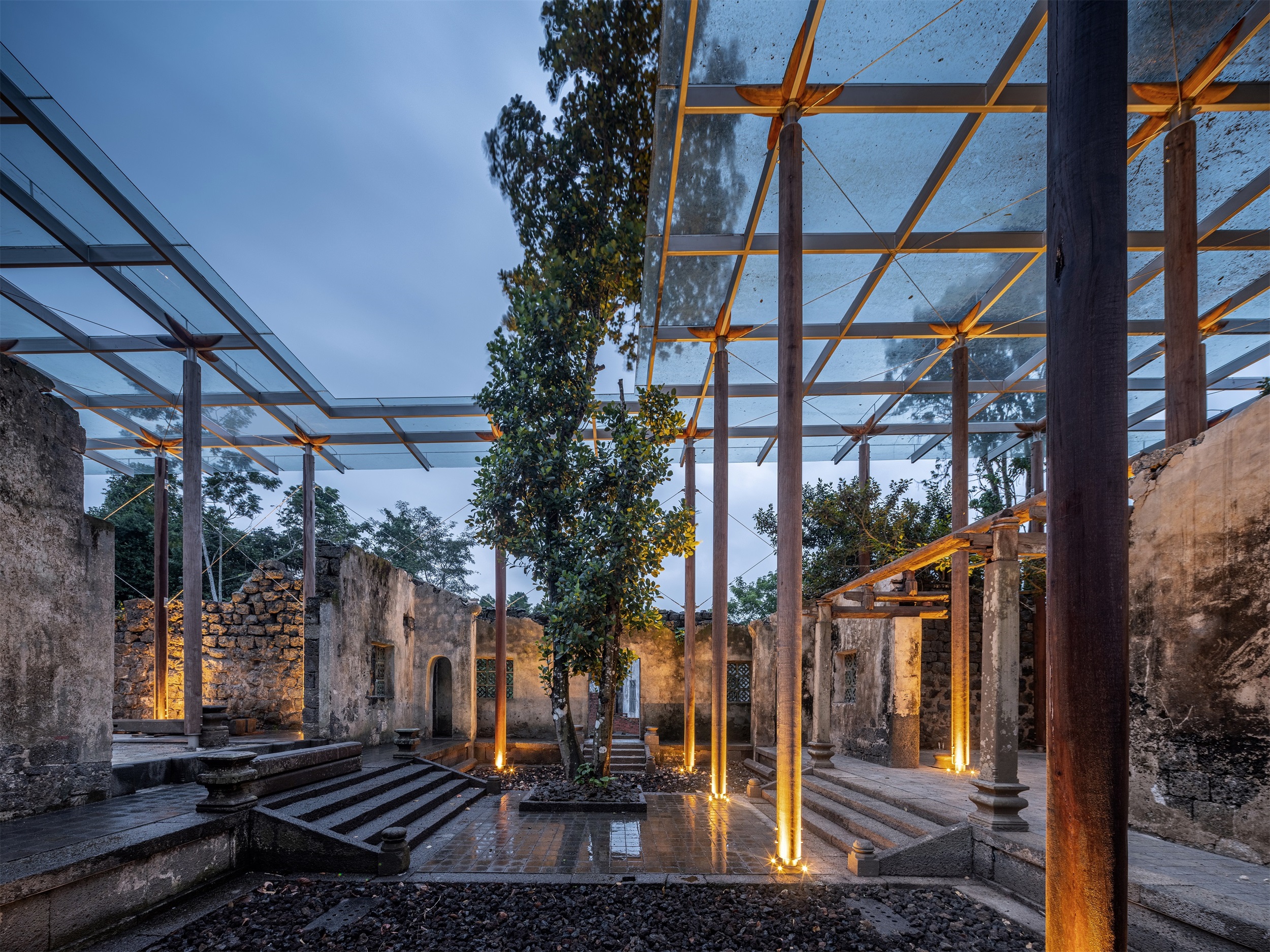 废墟式保护  "Umbrella" for the Ruins
我们也曾耗时耗力通过高精度测绘、工艺考证、三维模型复原等手段,试图采用"修旧如初"的策略。 复原模型呈现了汉族祖先刚到海南时,用本土材料奋力拼搏营造屋舍的状态,但因为砌体结构难以开窗洞,火山石处理费工,整个屋内呈现粗粝而晦暗的氛围,效果差强人意。如果就这样修旧如初,是否真的适合这个已经步入城镇化潮流的新村?十分有限的时间与经费是否能够真正做到修旧如初?与其修缮的仓促粗糙,何不保留这沧桑的精美?我们何不避免修护式破坏,将老祠堂封存起来的策略-废墟式保护,可能更适合这个项目。
Only a little more than a ruin, the two separate ancestral halls have nearly no roof above and only some broken walls left. They have obviously lost the high-status dignity submerged in the crowded concrete houses.
We have tried to repair it as old as before, and spent a lot of time and energy on high-accuracy mapping, crafts verifying and 3D restoration modeling, but the results are not as expected. From the 3D restoration model,  we can see the inner space was coarse and gloomy due to the limited technique of processing big thick lava stones and making openings on the envelope of the masonry structure, despite the hard efforts of the ancestors on constructing with local materials when they just arrived on the island. If it is repaired as old as before , will it adapt to the new village that has developed rapidly in urbanization? Can the limited time and budget meet up the demands? Why not retaining the beauty of vicissitudes rather than hasty and rough repairing that may produce artificial irreversible damages to it? The strategy of building a protection for the ruins may be more appropriate for this project.
▼原状 Site Conditions
▼废墟式保护 "Umbrella" for the Ruins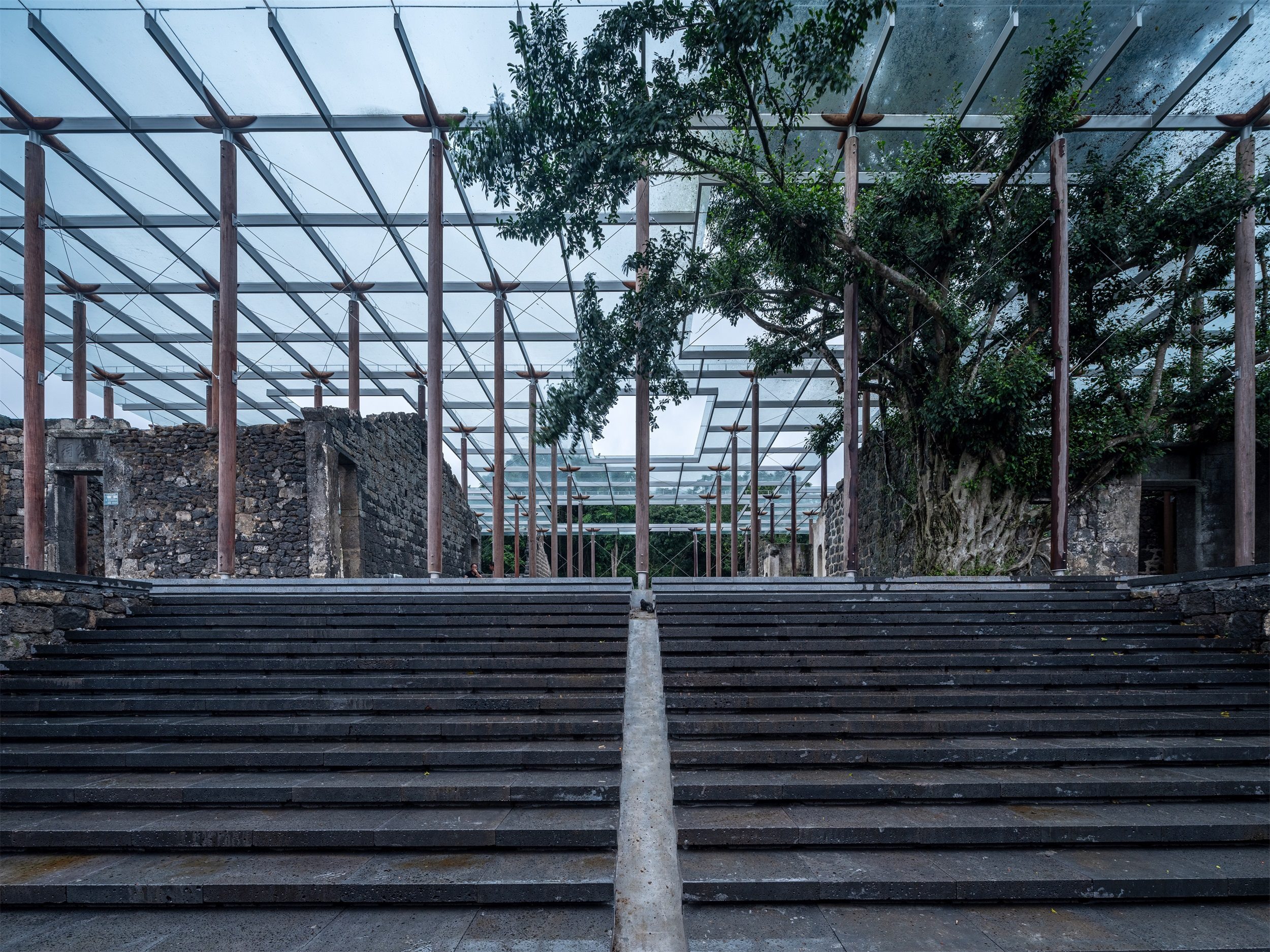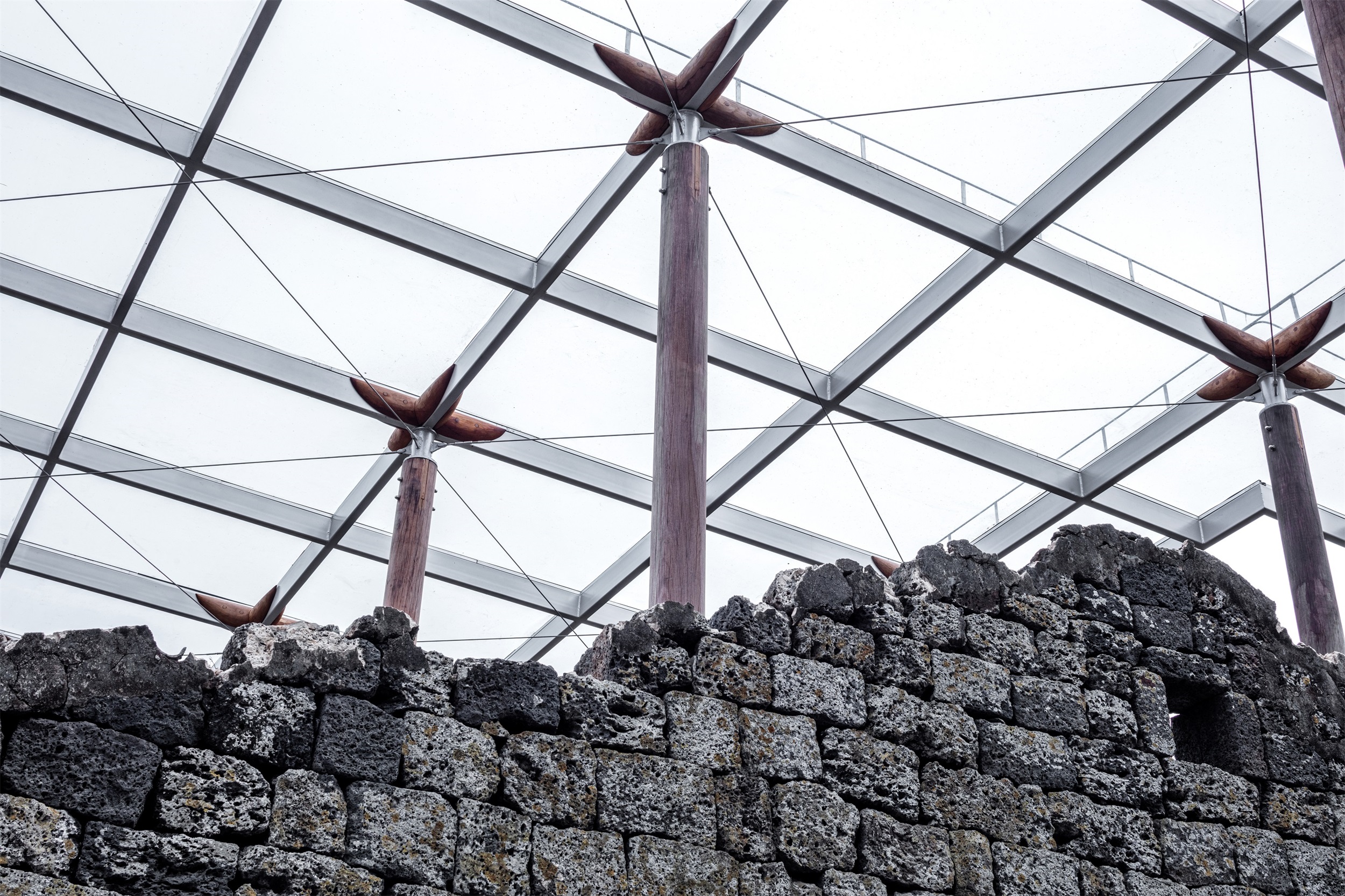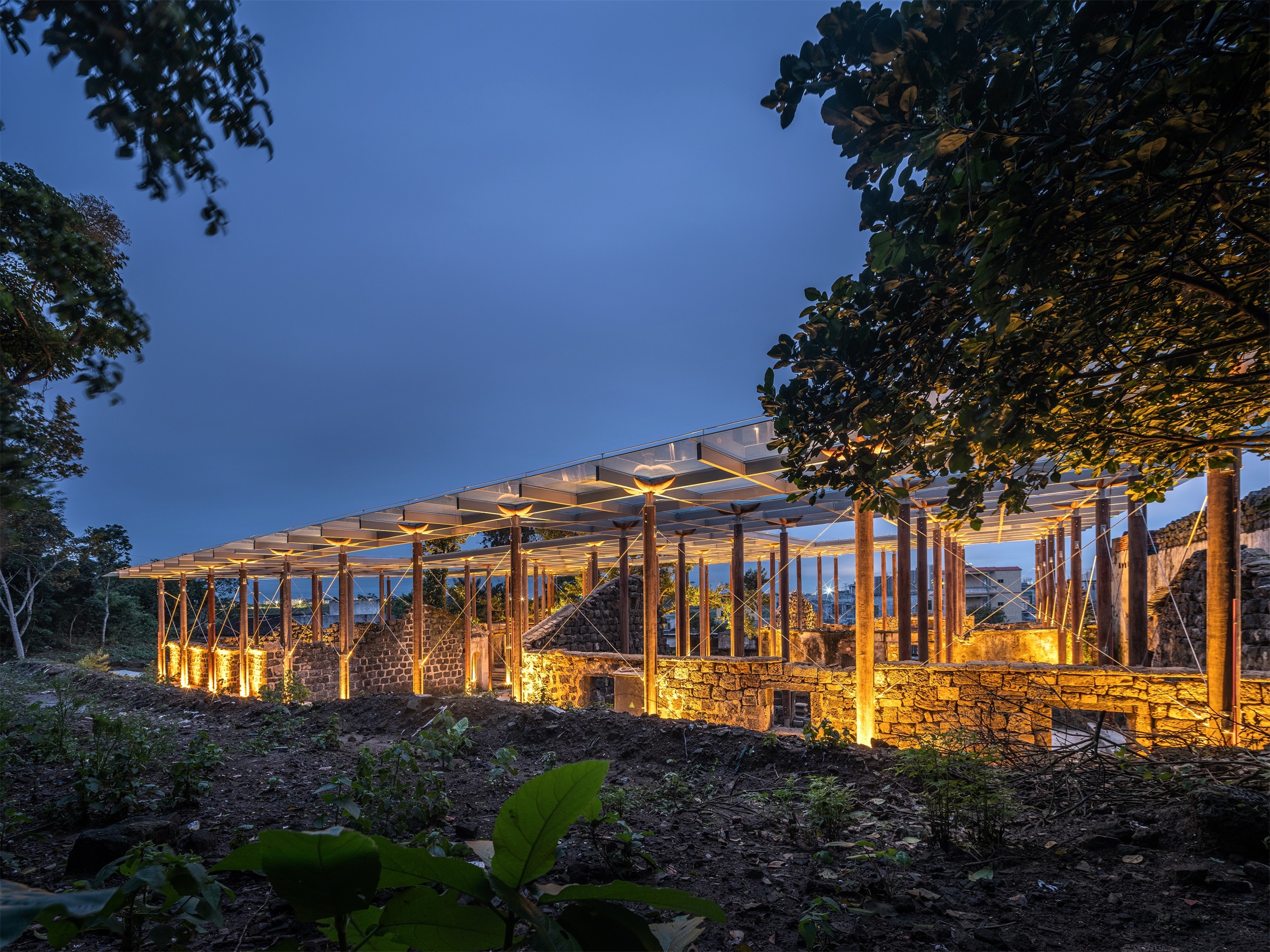 为"族长"加冕   To Crown the "Emeer"
以"为老祠堂加冕"为核心思想,该项目引入柔性拉索支撑的钢木框架体系,为"通德堂"、"将兴公祠"两个破落的祠堂遗址建造了一个保护性构筑物,使"族长"一般的老祠堂成为整个村里体量最大的建筑,恢复往日的荣光。保留了原来祠堂遗址中的参天榕树,用以遮阳,在斑驳的火山岩石墙上投出婆娑的树影。新增的965平方米玻璃顶,仿佛一把大伞,为遗址遮避雨水。
We are committed to the regain of the former glory of the ancient ancestral halls, the "Emeer" of the village. To crown them again as the prominent landmark in the village, an innovative cable-suspended steel-timber frame system with tall wood columns and a 965㎡ glass roof are structured to connect the two relics as one. 78 wood columns form a matrix integrated with a flexible but stable steel cable structure to protect the ancestral halls, and it holds up a giant umbrella to save the relics from the rain. The towering banyan trees inside the courtyard are carefully reserved climbing outside the roof, and their dreamlike reflections on the wall dance tranquilly in the sunshine.
▼965平方米玻璃顶 A 965㎡ glass roof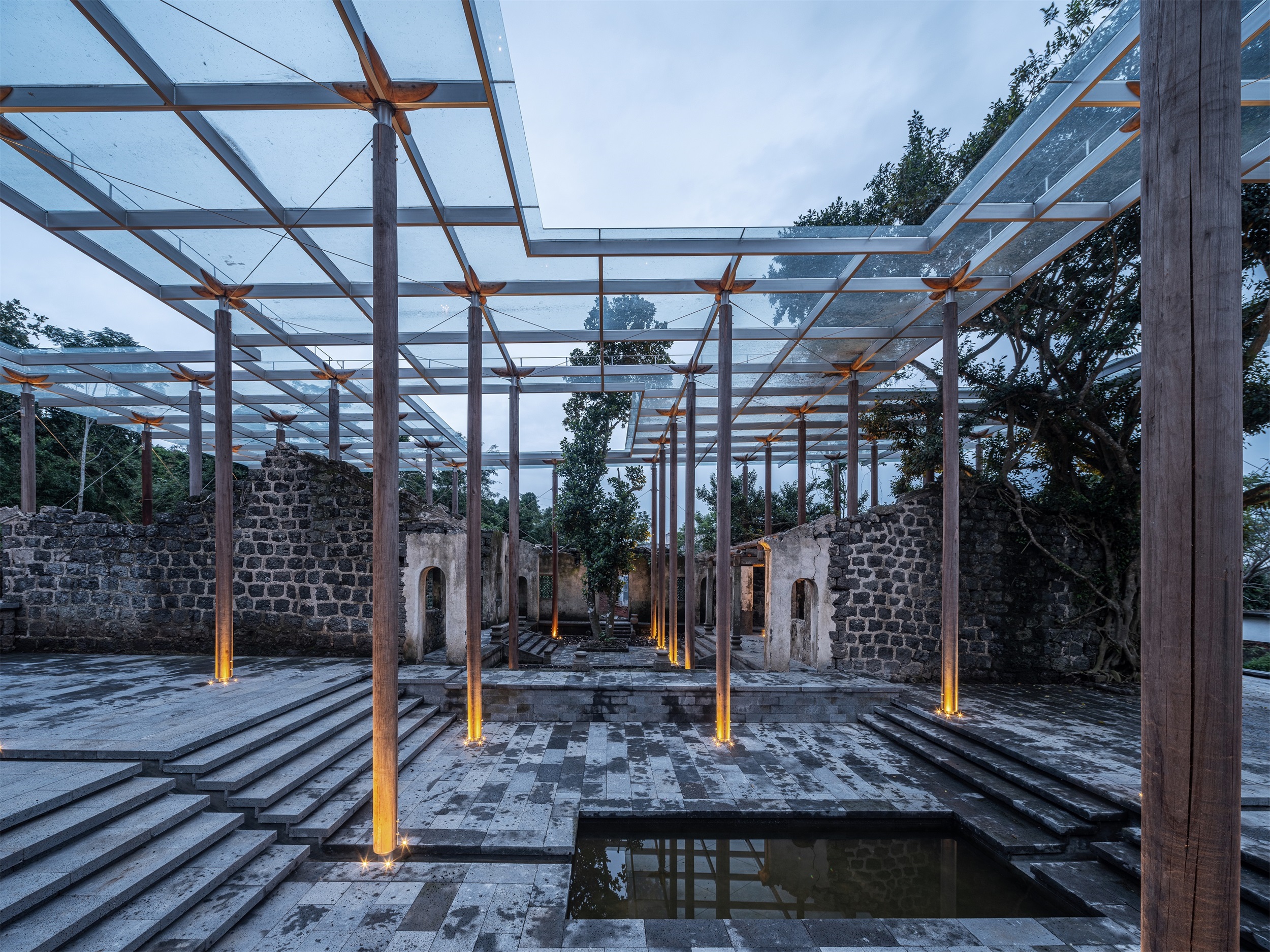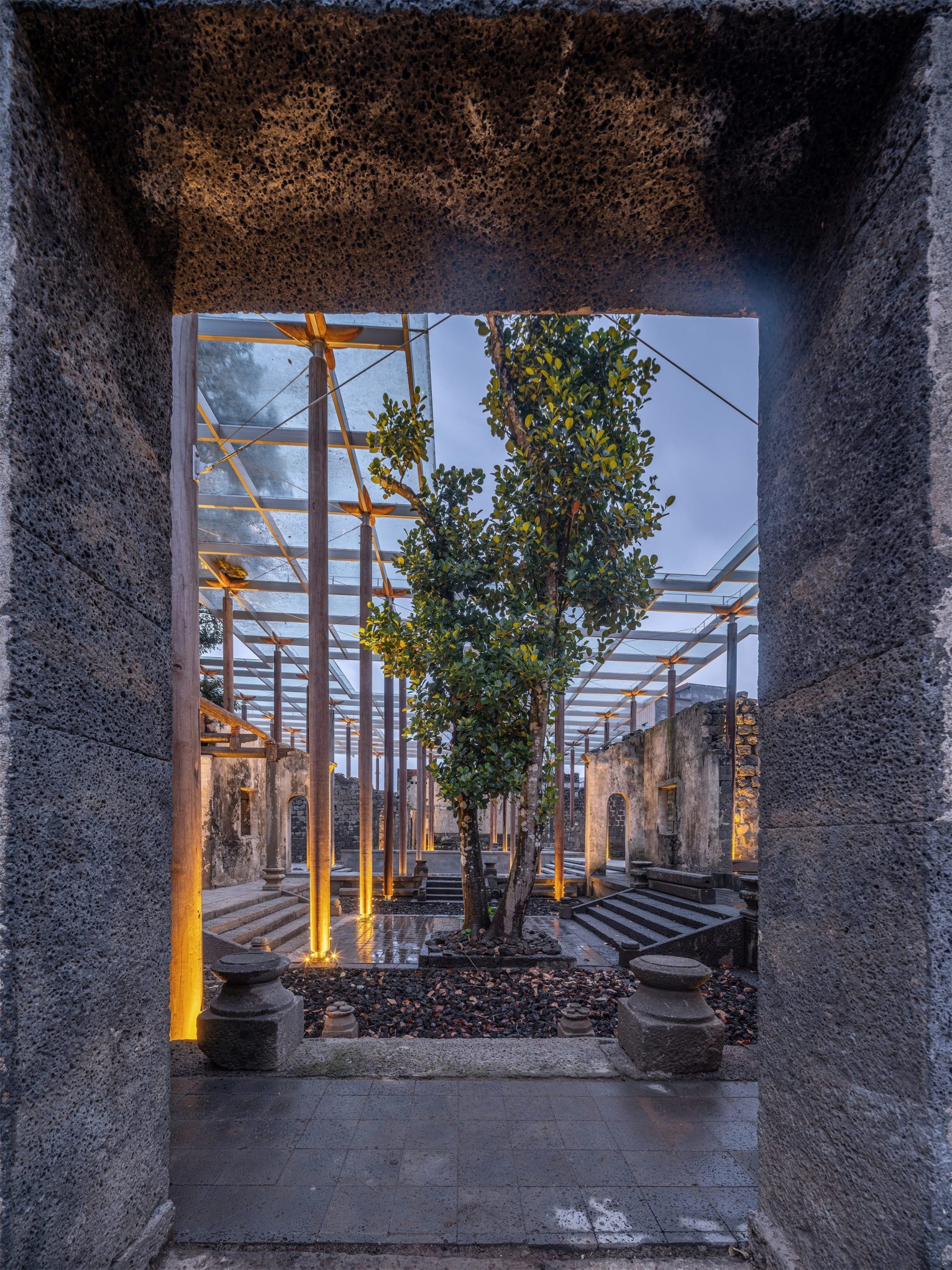 78根海南第一名木"坡垒",形成柱阵,由钢索拉结为一个柔性而稳定的结构体系,可在海岛台风之中守护老祠堂的周全。该项目实现了在较短的周期内,以较低的成本,为等级不是特别高的遗址建筑提供了一种活化再生的设计思路。原址的火山岩砌体结构与其上的钢木张拉结构形成鲜明的对比,是海南国际自由贸易岛建设时期的文化对撞期的建筑化表达。
The design worked out a way of rebirth for low level historic relics in limited time and with  limited cost. The strong contrast between the old volcanic stone walls and the newly-built steel and wood tensile space structure represents the civilization collision of Hainan, which is developing from a traditional island to the international free trade port.
▼78根海南第一名木"坡垒"形成的柱阵 78 wood columns form a matrix integrated with a flexible but stable steel cable structure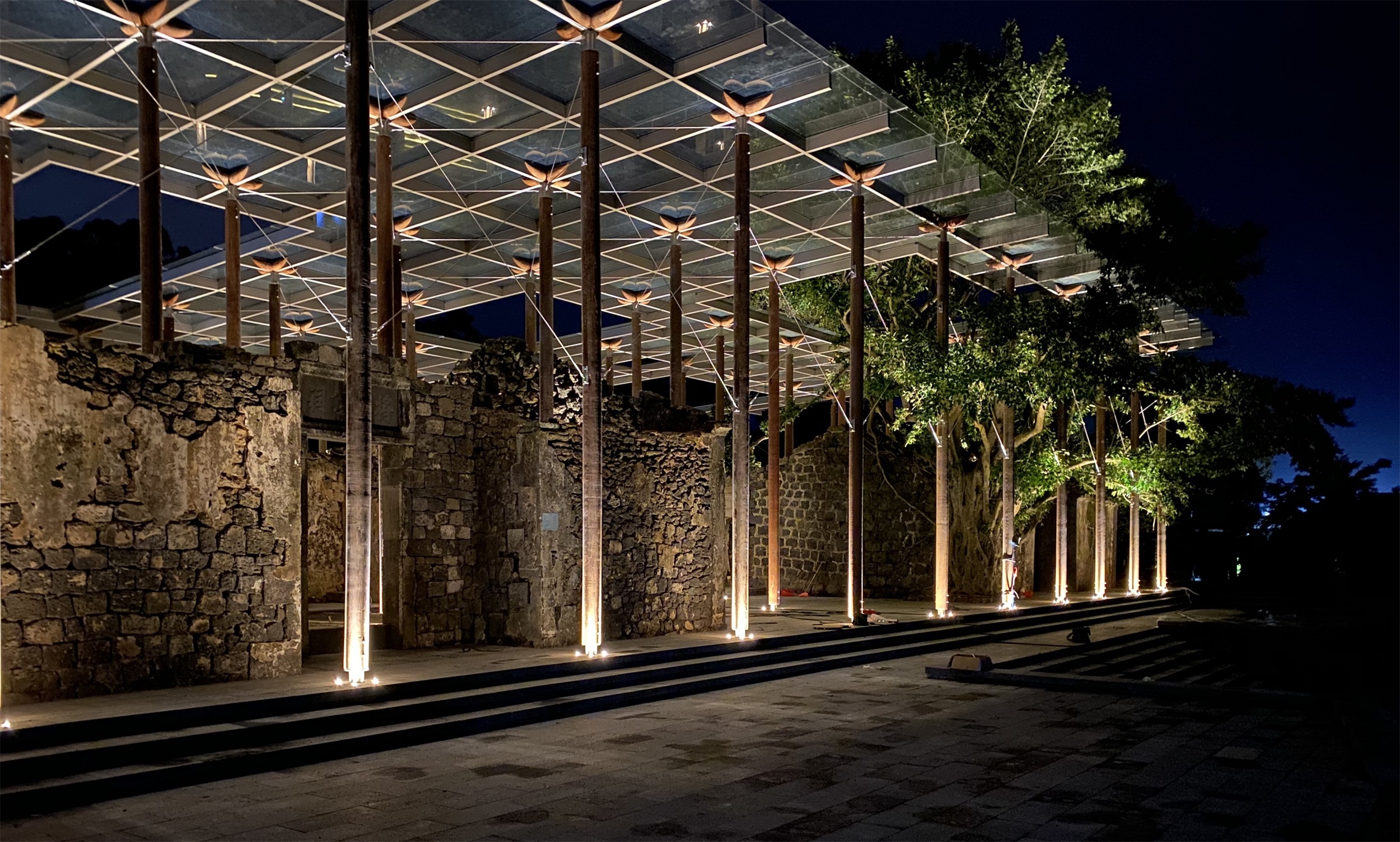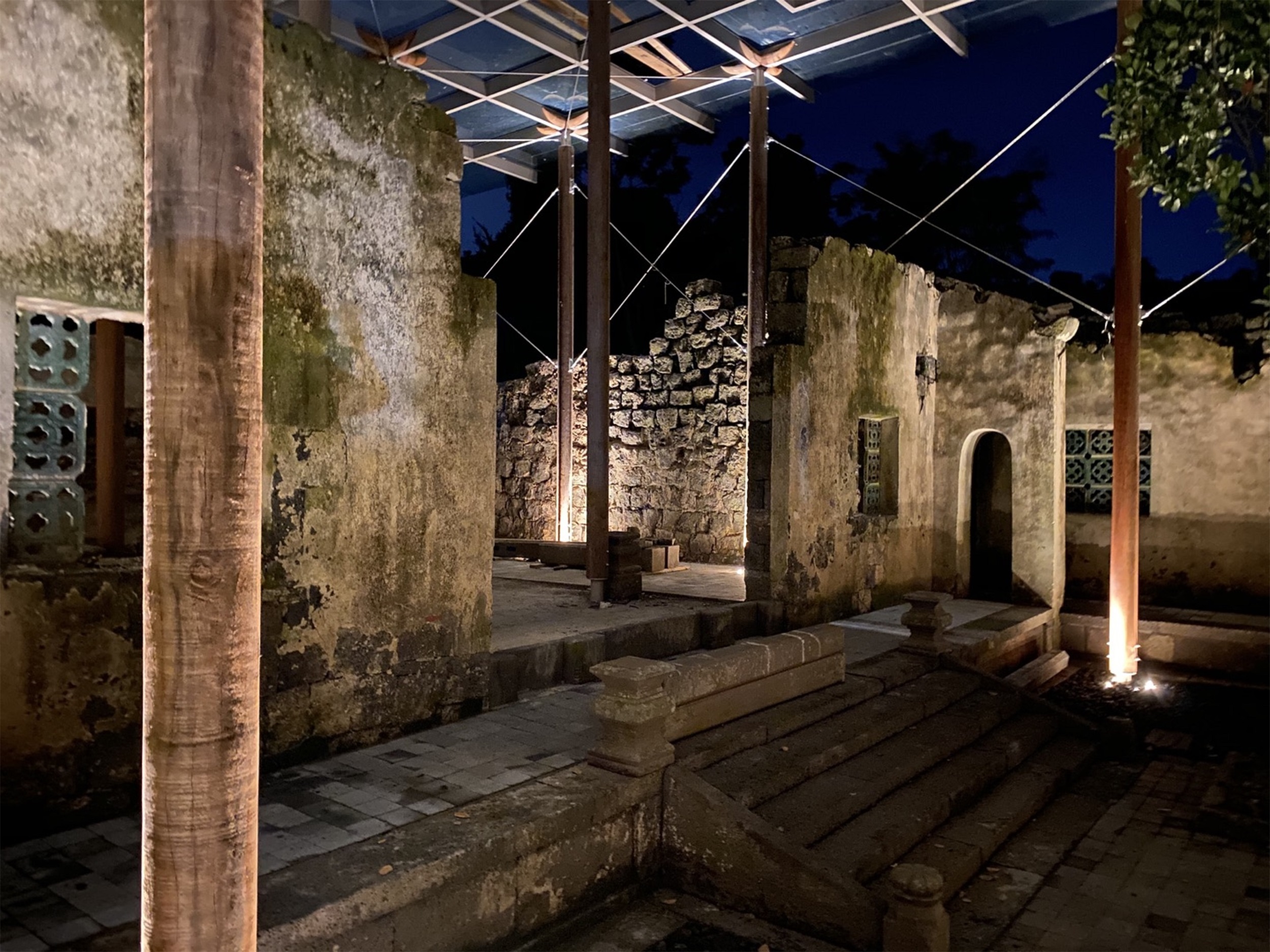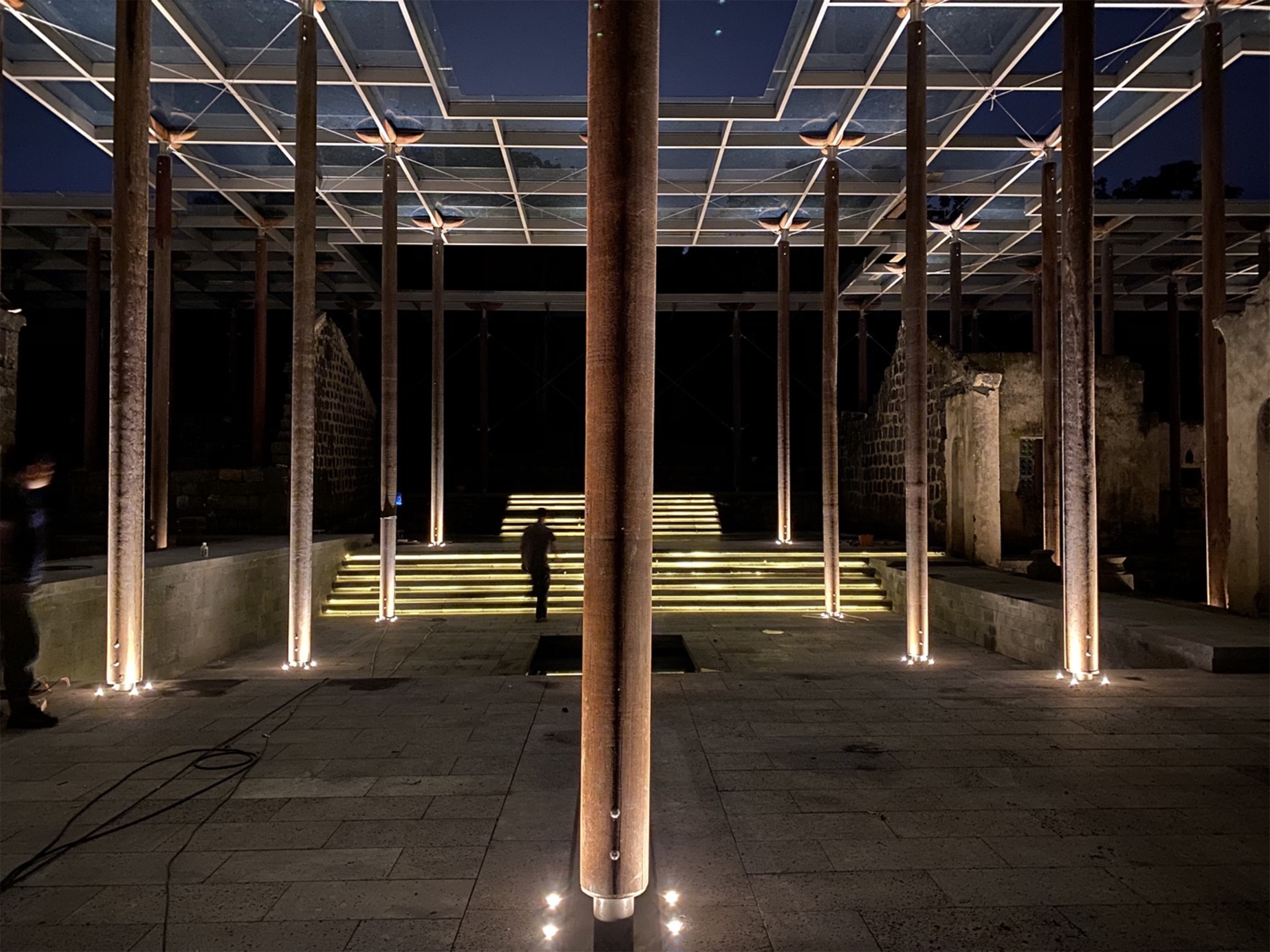 ▼效果图 Renderings
▼总平面图 Project plan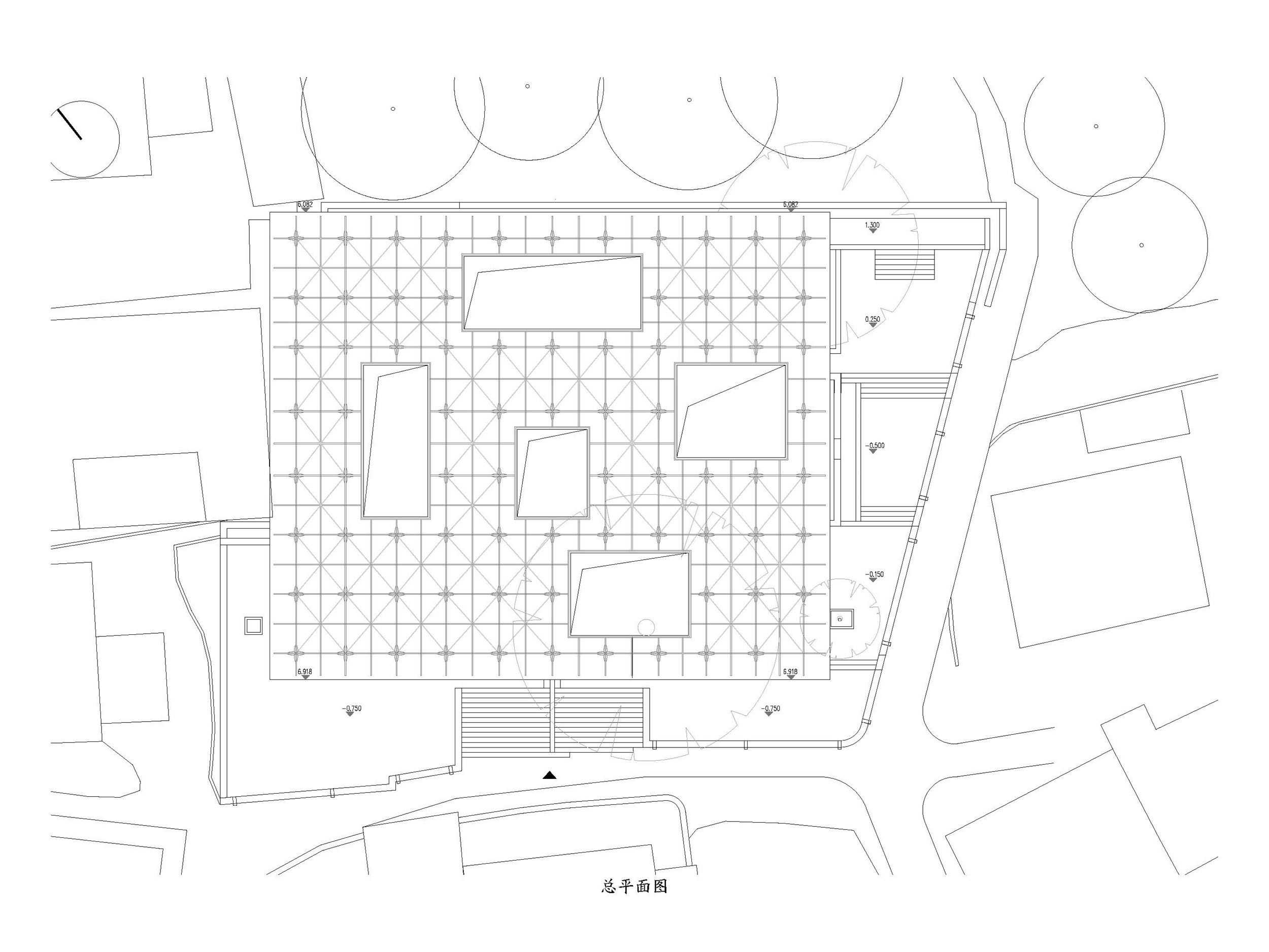 ▼一层平面图 Ground floor plan
▼立面图/正立面图 Elevation
▼剖面图 Section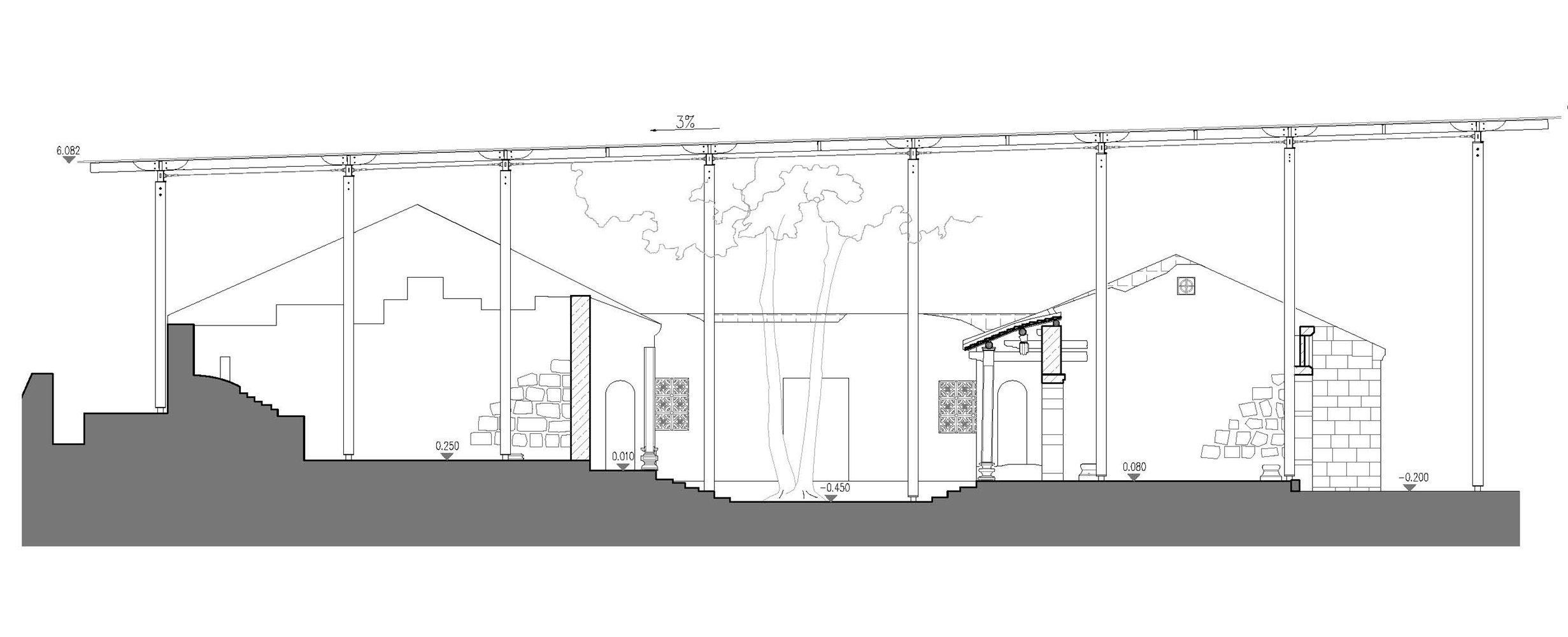 ▼柱式爆炸图/柱式轴侧图 Exploded drawing/Axonometric
项目名称:通德公祠
完成年份:2020
项目面积:953平方米
项目地点:海南省澄迈县白莲镇龙吉村
建筑设计:篆山营造
联系邮箱:elaine.zhang@civil-nova.com
主创设计师:叶曼
建筑设计:万朋朋 高一明 谷依琪 黄刚 等
结构设计:付维舟 邢笑天 等
机电设计:袁剑南 邓明超 等
施工管理:章宁 曾飞洪 侯敏劲 刘志军 等
木构营造:徐诗意 马启明 汪洪根 钱东平 徐兆元 等
钢构幕墙:胡伟 白华军 等
客户/开发商:澄迈县老城镇人民政府
摄影师:陈铭 叶曼
Project Name: Tongde Hall
Completion: 2020
Project Area: 953 square meters
Project Location: Longji Village, Laocheng Town, Chengmai County, Hainan Province
Architectural Design: ZSYZ Studio
Contact Email: elaine.zhang@civil-nova.com
Lead Designer: Ye Man
Architectural Design Team: Wan Pengpeng, Gao Yiming, Gu Yiqi, Huang Gang, etc
Structural Design Team: Fu Weizhou, Xing Xiaotian, etc
M&E Design Team: Yuan Jiannan, Deng Mingchao, etc
Construction Management: Zhang Ning, Zeng Feihong, Hou Minjin, Liu Zhijun, etc
Wood Construction: Xu Shiyi, Ma Qiming, Wang Honggen, Qian Dongping, Xu Zhaoyuan, etc
Steel Curtain Wall: Hu Wei, Bai Huajun, etc
Client/Developer: Chengmai County Old Town People's Government
Photographer: Chen Ming, Ye Man
更多 Read more about:篆山营造 ZSYZ Studio