Henningsen : 项目位于纽库尔恩航运运河的东北桥头堡的宽敞开阔空间,通过三层楼梯进入酒店。因此,地势较低的地区可以免受邻近街道上的噪音和交通的影响。由橡木制成的大型座椅元素,以及楼梯脚下有喷水装置的区域,都会让你流连忘返。在中间平台上种了三个观赏平台。在一个有树的大沙地上,孩子们可以玩耍,啤酒园的游客可以在那里搭起躺椅。
Henningsen : The generous open space at the northeastern bridgehead of the Neukölln shipping canal opposite the Hotel Estrel is accessed via three staircases. The low-lying area is thus shielded against noise and traffic on the adjacent streets.Large seating elements made of oakwood and an area with water jets at the foot of the stairs invite you to linger. Three ornamental apples were planted on the intermediate platforms. On a large sandy area with trees next to it, children can play and beer garden visitors set up deckchairs.
路径连接和照明概念
木质的平台,场地表面是浅灰色均匀颗粒水洗石。运河岸边的人行散步道是一条米色的小路。楼梯和扶手、地板和壁灯的照明扶手确保了晚上的安全。运河岸边的路上安装了桅杆灯。
Path connection and lighting concept
The podium and path surfaces in the plant are executed in light gray Granitkleinpflaster. The parent promenade on the canal bank runs as a cream-colored path.Illuminated handrails of the staircases and railings, floor and wall luminaires ensure evening safety. The way on the canal bank was equipped with mast lights.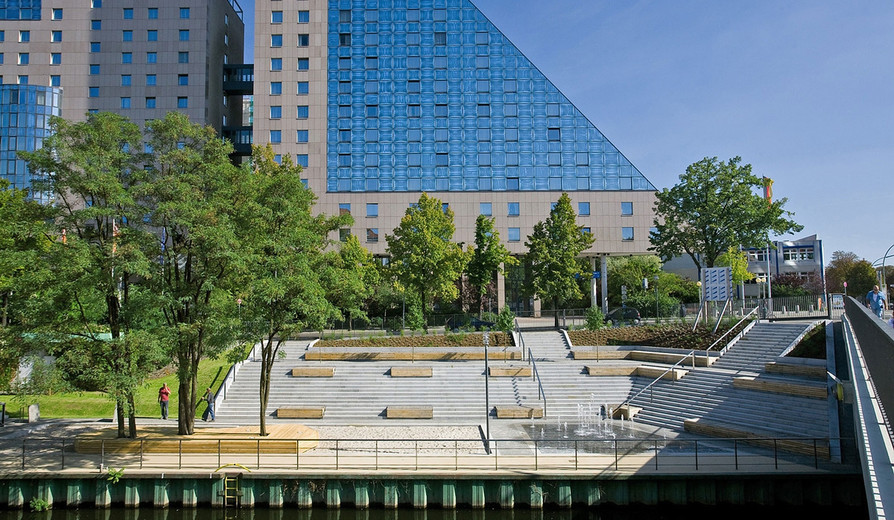 项目平面图 Project plan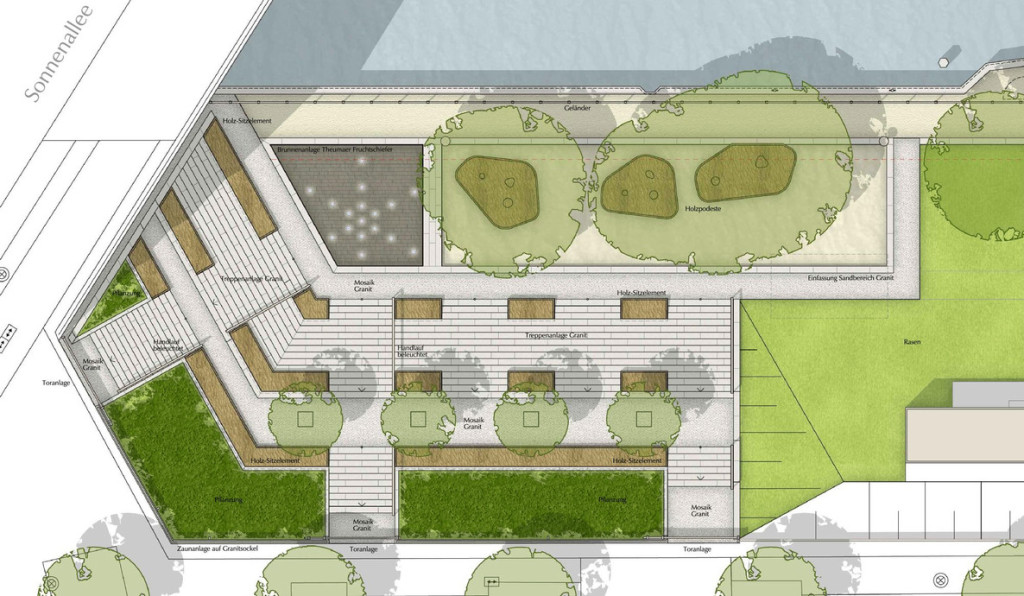 客户:Neukölln地区办公室,规划,建筑法规和测量办公室
完成时间:2009年 – 2016年
建设成本:130万欧元
面积:2,000平方米
CLIENT:District Office Neukölln, Office for Planning, Building Regulations and Surveying
POWER TIME:2009 – 2016
Construction cost:1.3 million euros
AREA:2,000 sqm
更多:Henningsen