本文由 Landscape Tectonix Limited 授权mooool发表,欢迎转发,禁止以mooool编辑版本转载。
Thank Landscape Tectonix Limited for authorizing the publication of the project on mooool, Text description provided by Landscape Tectonix Limited.
Landscape Tectonix Limited:VALA Huahin Nu Chapter 是一座小型的豪华酒店,位于世界著名的度假小镇华欣附近,距离曼谷约两个半小时的车程。其设计完美体现了简约主义的精髓,景观和建筑与基地场所精神产生微妙共鸣。
Landscape Tectonix Limited:Located near the world-renowned resort town of Huahin, two and a half hours drive from Bangkok. VALA Huahin Nu Chapter Hotels: a member of small luxury hotels of the world defines the essence of simplicity where landscape and architecture subtly resonates the spirit of place.
设计概念 Concept
2018年,Landscape Tectonix Limited被委托负责这家即将开业的精品酒店的景观设计后,便对场地文脉进行了深入的研究,通过分析场地条件和所需设计项目,根据其原生景观的独特性,确定了"过渡之旅"的项目概念。于是,从高山上从未被破坏的葱郁绿色植物、水晶般清澈透明的大型淡水泻湖,到开满鲜花的草甸草地,再到耐寒的海滨景观,都成为了运用到场地中创造这个特色景观的元素。
Appointed as a landscape architect for this upcoming boutique hotel in 2018, Landscape Tectonix Limited intensively researched in site context, analyzed site conditions and design programs then brought into the project concept "The journey of transition" from the appreciation in the uniqueness in landscape: from the unspoiled lush greenery in the high mountain, the large crystal-clear fresh water lagoon, the flowering meadow grassland to the hardy beachside landscape creating the unique landscape settings throughout the site.
通过对"过渡之旅"概念的进一步诠释,衍生出了其狭长裸露海滩场地的物理规划解决方案、现有景观元素(如现有树木)的管理,以及从酒店的需求中总结出的设计方案。
The interpretation of the project concept defines the solution in physical planning of long linear with narrow beach exposure site, the management of the existing landscape elements such as existing trees, the summary of designed programs from hotel's requirements.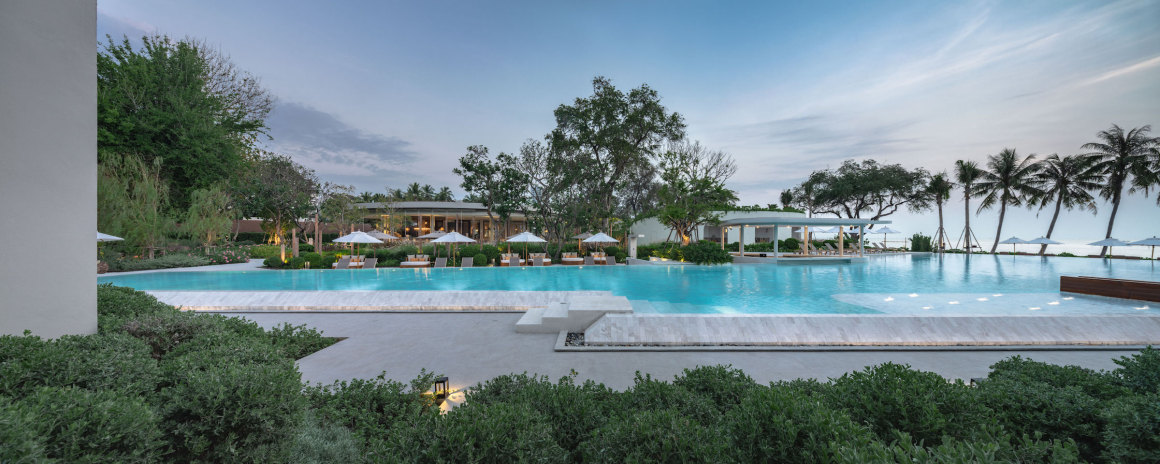 生态策略 Ecological strategy
场地上现有成熟树木的数量以及酒店的可持续发展理念给景观设计师留下了深刻印象,于是有意设法保护并在设计方案中突出展现其自然遗产。因此,景观设计师在现场对树木进行了考察,并使用编号系统确定树木的精确位置来生成基础平面图和支持数据。
Impressed by the number of existing mature trees at site as well as the hotel's philosophy in sustainability, landscape architect intentionally managed to preserve and enhance the natural heritage with the proposed design. Therefore tree observation was rendered at site by landscape architect for the accurate positions with the numbering system to generate the base plan and supported data.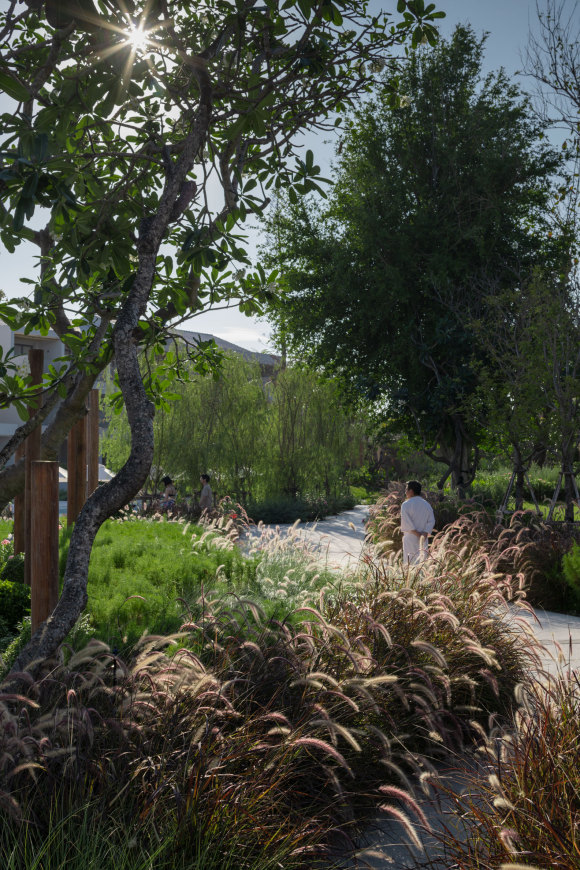 设计策略 Design strategy
为了加强现有地形和方案设计之间的关系,设计师策略性地改变了高差,最后不仅提升了客人的体验感,也赋予空间更多的层次。
The level changes is strategically created to enhance the relationship between the existing topography and the proposed design. The result is to enhance the guest's experience as well as define the hierarchy of space.
标志性泳池 Signature pool
场地左侧,精心打造的标志性泳池,如水晶般清澈透明,又被战略性地延伸成长直线,大面积暴露在外,为游客提供海滨全景,也为大多数客房创造了壮丽的景观视野,包括令人流连忘返的游泳体验。
Meticulously crafted as a crystal-clear signature pool, the swimming pool is strategically stretched in long linear and widely exposed to take the full beachfront view creating the impact to most of the guest rooms including the swimming experiences.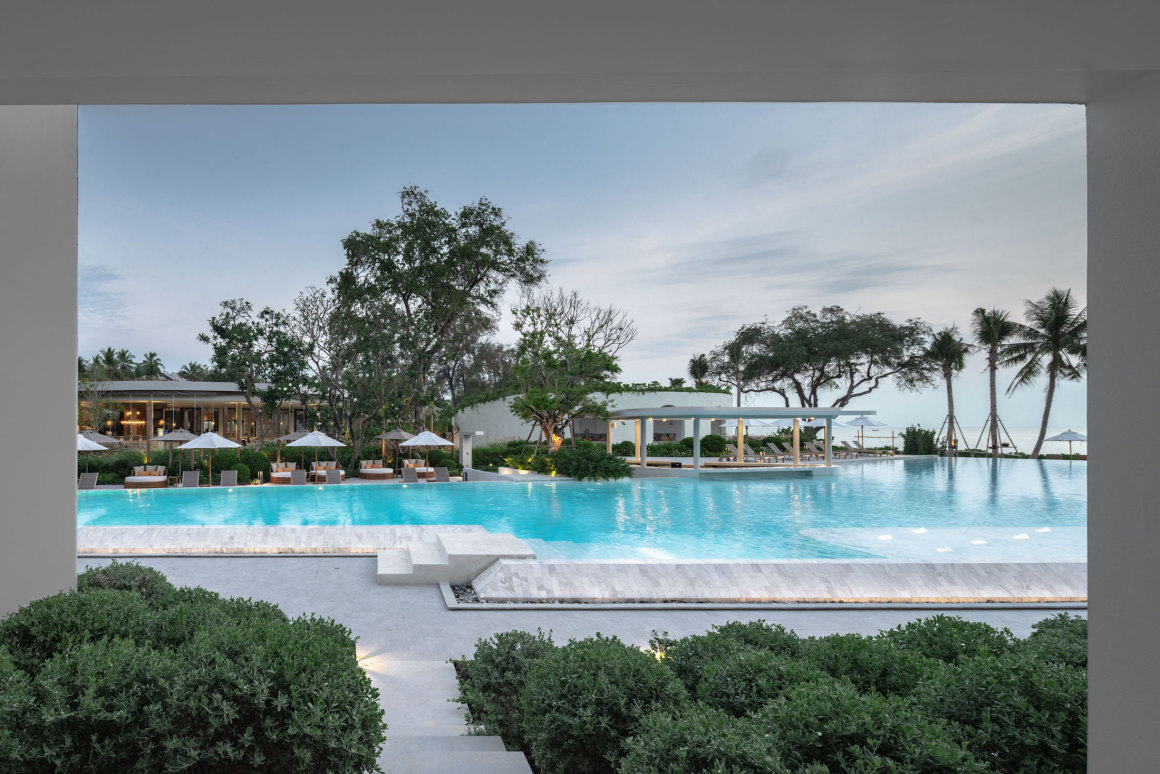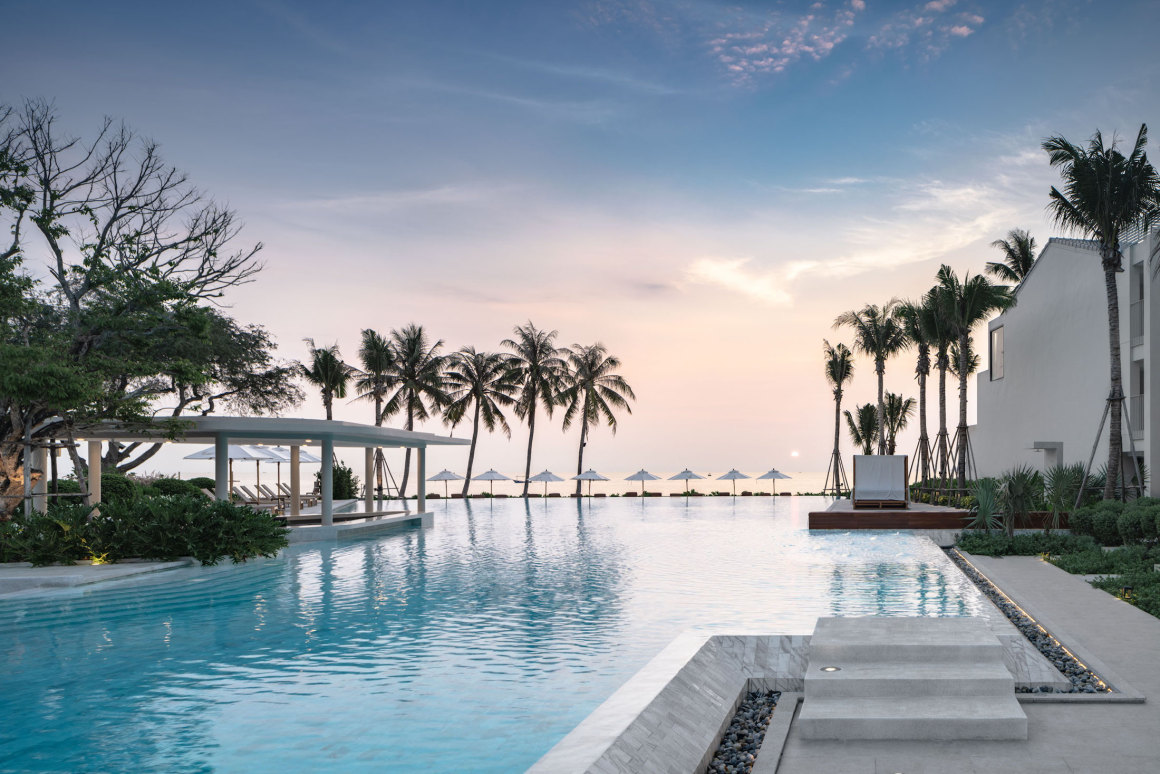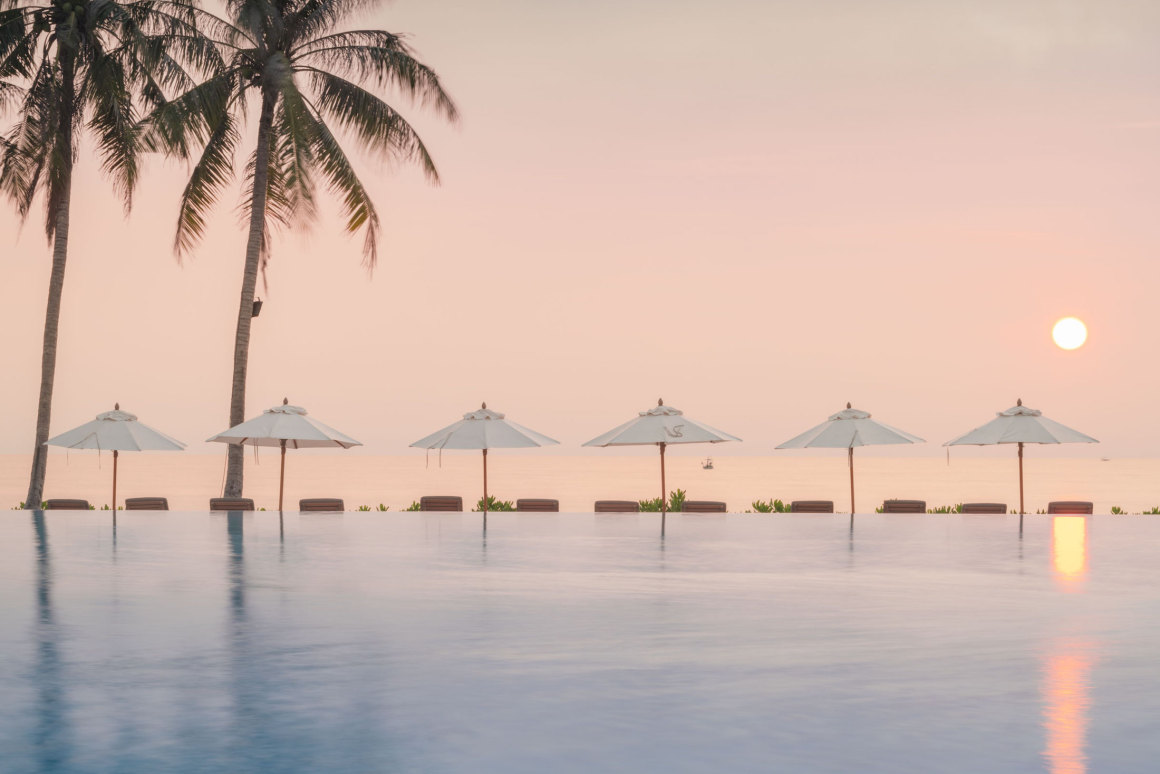 ▼泳池旁边的休闲区 Recreation pavilion next to the pool.
泳池被有意抬高至客房的高度,主要是为了提供直接的入口和宜人的视野,与此同时,对面的公共泳池露台低于泳池的高度,则是为了保持客房的私密性。
Pool is intentionally raised up as close as the guest room's level to dominantly provide the direct access and pleasant view. Meanwhile, the public pool terraces at the opposite is lower than pool level to keep the privacy of the guest rooms.
光影对比 Light and shadow
景观设计利用场地东西向的优势,通过景观元素增强对自然光影的视觉感知。在这里,自然光线创造处的迷人视觉效果在任何时候都占据着主导地位。
The landscape design takes the advantage of the site orientation to the east-west by enhancing the visual perception of natural light, shade and shadow with the landscape elements. The mesmerizing visual effects created by natural light are dominantly created at all time.
▼项目平面图 Plan.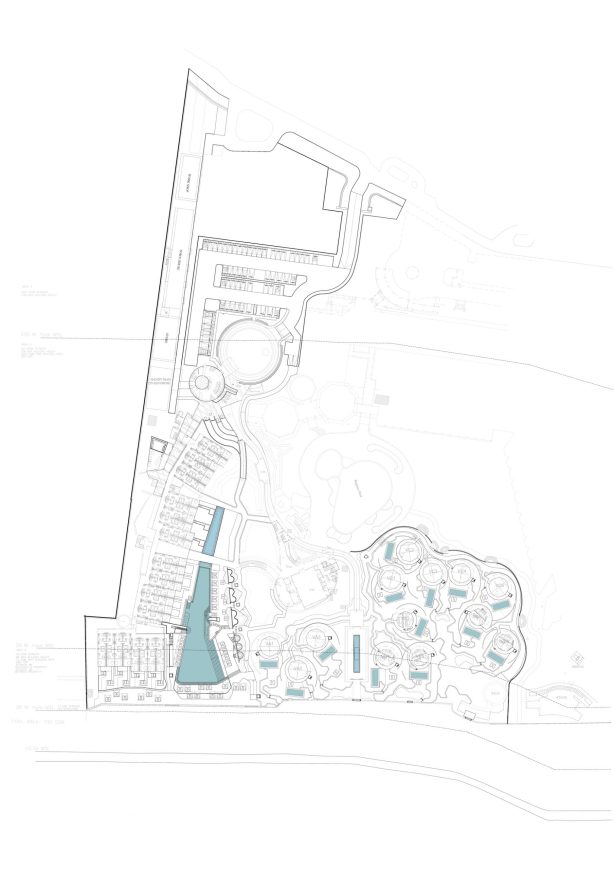 项目节点详情 Details of Featured Area 
▼入口广场落客区 Drop-off area of entrance square.
▼广场夜景 Night view of entrance square.
▼入口大堂 The lobby.
▼独立客房区入口 Entrance of independent guest room area.
▼独立客房区路间郁郁葱葱,幽静安宁 The roads in the independent guest room area are lush and quiet.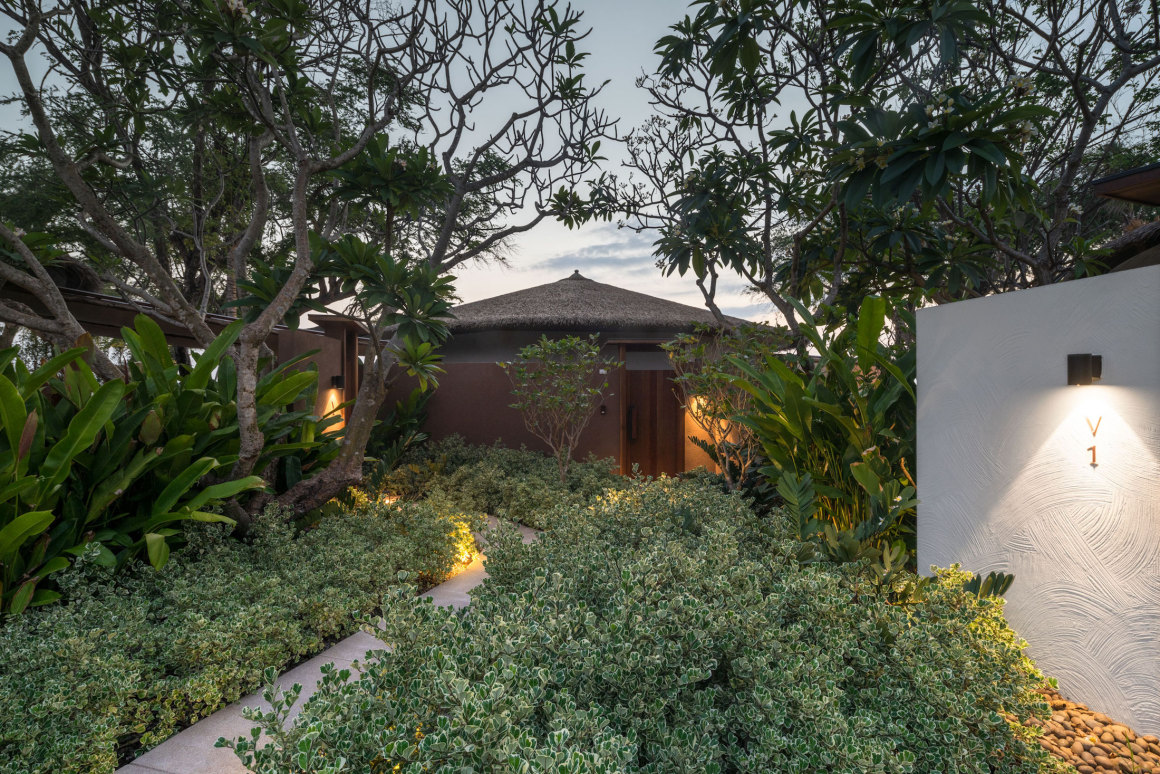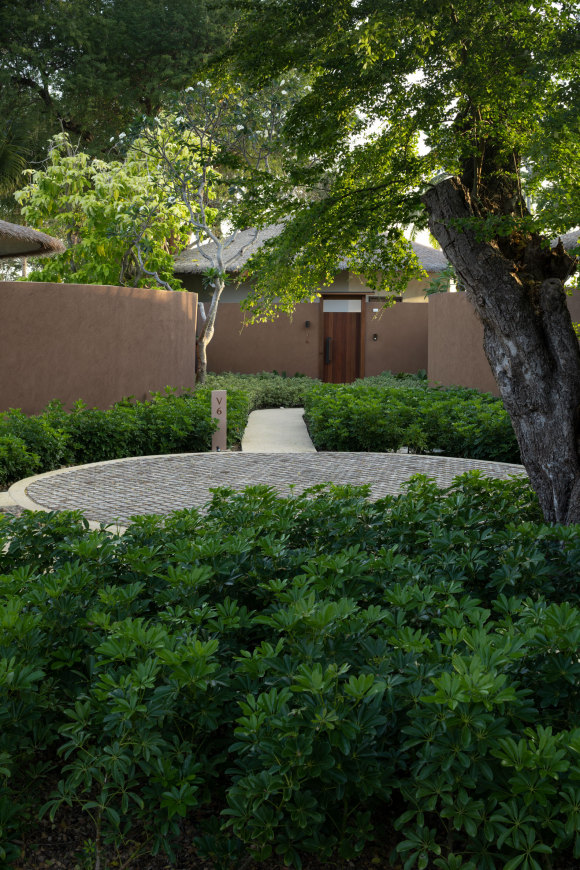 ▼客房庭院景观 The Courtyard Landscape Design of Guest Room.
▼客房室内设计 The Guest Room Interior.
项目名称:VALA Huahin – Nu Chapter Hotels
项目类别:小型豪华酒店
地点:泰国 华欣 普拉楚阿布-基里坎
完成年份:2020年
景观设计:Landscape Tectonix Limited
公司网址:www.landscape-tectonix.com (www.facebook.com/landscapetectonix)
联系邮箱:info@landscapetectonix.com
联系电话:+ 66 22665898
客户:丽晶集团
建筑设计:OBA The Office of Bangkok Architects; Begray Bangkok
摄影师:W Workspace
Project's name: VALA Huahin – Nu Chapter Hotels
Project category: Small luxury hotel
Location: Huahin, Prachuab-kirikan, Thailand
Year of completion: 2020
Landscape: Landscape Tectonix Limited
Website: www.landscape-tectonix.com (www.facebook.com/landscapetectonix)
Email: info@landscapetectonix.com
Contact: +66 22665898
Client: Regent group
Architect: OBA The Office of Bangkok Architects; Begray Bangkok
Photographer: W Workspace
更多 Read more about: Landscape Tectonix Limited