本文由LANDAU朗道国际设计授权mooool发表,欢迎转发,禁止以mooool编辑版本转载。
Thanks LANDAU for authorizing the publication of the project on mooool, Text description provided by LANDAU.
朗道国际:TOD新城位于温州大道与龙永路交汇处S1轻轨科技城站旁,目前周边开发强度较小,城市配套尚未完善。场地被内部通向轻轨的商业街分成南北两个部分,本次设计的启动区位于西北侧。根据本案特殊的区域位置和现场状况,我们将场地分为面向轻轨和外部城市路的前场、商业内街以及联通基地与轻轨的屋顶花园三个部分。我们希望赋予方案更多城市公共空间的属性,在提升城市局部环境品质和功能的同时,吸引周边的人群来到这里,提高场地的人气。
LANDAU:TOD New City is located near to S1 Light Rail Science and Technology City Station at the junction of Wenzhou Avenue and Longyong Road. At present, the development intensity of the surrounding area is relatively small, and the supporting facilities of the city are not yet perfect. The site is divided into two parts, the north and the south, by the commercial street that leads to the light rail. The start-up area of this design is located on the Northwest side. According to the special regional location and site conditions of the case, we divided the site into three parts: the front field facing the light rail and the external urban road, the commercial inner street, and the roof garden of the Unicom base and the light rail. We hope to give the scheme more attributes of urban public space, while improving the quality and function of the local environment of the city, attract the surrounding crowd to come here, and improve the popularity of the site.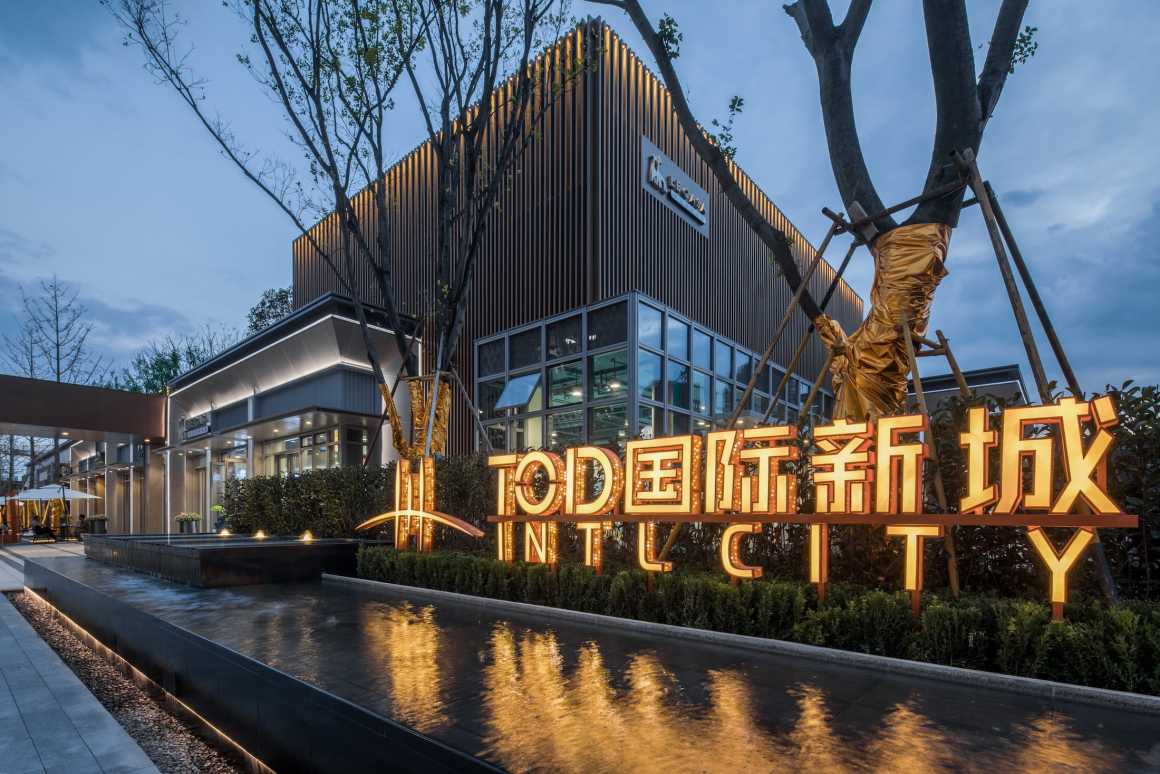 ▼售楼部至样板房过街天桥 Pedestrian overpass from sales office to sample house
空间与形式–线性艺术生活公园  Space and form-life park with linear art
TOD模式下的街道是容纳活动空间和社会空间的重叠领域,街道不仅使得不同的交通方式共存,同样使不同功能的社会活动共存,我们意图在设计景观的同时也创造一个富有场所精神的公共空间。由于项目地处温州科技板块,且场地属性决定其内部多种功能动线的穿插叠加,线性的空间是不错的选择,如此复杂的动线需要简洁、清楚的形式,毕竟形式由功能而来。
The street in TOD pattern is the overlapping field of activity space and social space. Streets not only make different traffic modes coexist, but also make social activities of different functions coexist. We intend to create a public space rich in the spirit of place while designing the landscape. For the project locates in the technical plate of Wenzhou and the site property has decided the cross and overlay of internal multiple functional generatix, the liner space is a better choice. Such complex generatrix needs for simple and clear forms, as the form comes from the function.
▼儿童活动场地 Children's playground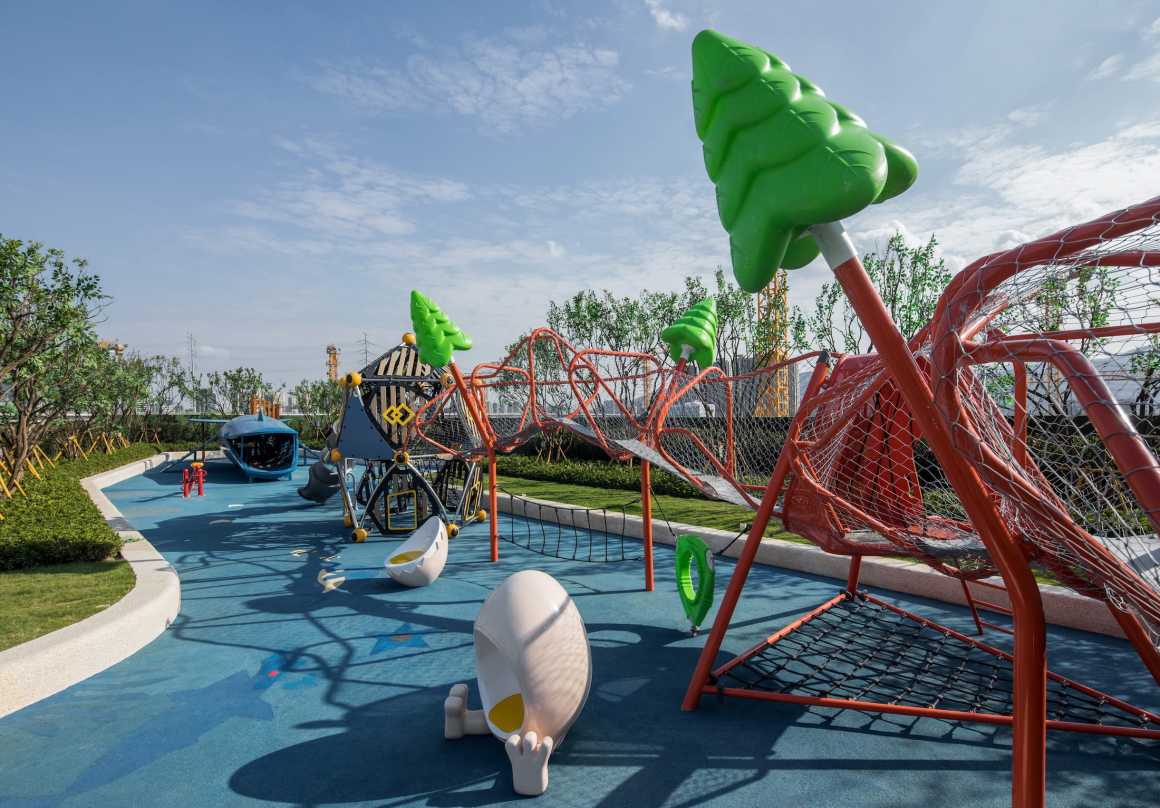 结语
 Conclusion
生活在这里,楼下即是繁华,可以舒心工作、生活、休闲,减少对汽车的依赖,打破城市时空边界,进可出世,退可入室。在便利的同时又不拘生活于一方,东南西北,和世界、城市更近。
Living here, the downstairs is the prosperity. Comfortable work, life and leisure can reduce the rely on cars and break out the boundary between time and space in the city. Entrance is the world and exit is the room. Being convenient and do not stick life to one side any more. Everywhere is at hand, for you are more close to the whole world and cities.
项目名称:万科 · TOD国际新城
项目地址:温州大道与龙永路交汇处
设计时间:2018年5月-10月
建成时间:2018年10月
售楼处建筑设计:NAN Architects
商业街建筑设计:岭界建筑设计咨询(上海)有限公司
室内设计:LSDCASA
幕墙设计:中南幕墙
景观施工:易道景观
开发商:万科、碧桂园、金茂联合开发
Project name: Vanke – TOD International New City
Project address: Wenzhou, Zhejiang province, China
Design time: May-October, 2018
Completion date: October 2018
Architectural design for sales office: NAN Architects
Architectural design for business street: VVS Architect
Interior design: LSDCASA
Curtain Wall design: Zhongnan Curtain Wall
Construction of landscape: Yidao Landscape
Developer: Vanke, Country Garden, China Jinmao
更多 Read more about:LANDAU朗道国际