本文由 L49 授权mooool发表,欢迎转发,禁止以mooool编辑版本转载。
Thanks L49 for authorizing the publication of the project on mooool, Text description provided by L49.
L49:Wan Vayla Huahin-Khaotao是华欣的一个低层住宅项目,其设计主要围绕场地原始树木,为人们创造提供阴凉和放松的空间。
L49:Wan Vayla Huahin-Khaotao is a low-rise residential project at Hua Hin. Focusing on the importance of the original trees which provides shade as well as relaxation areas.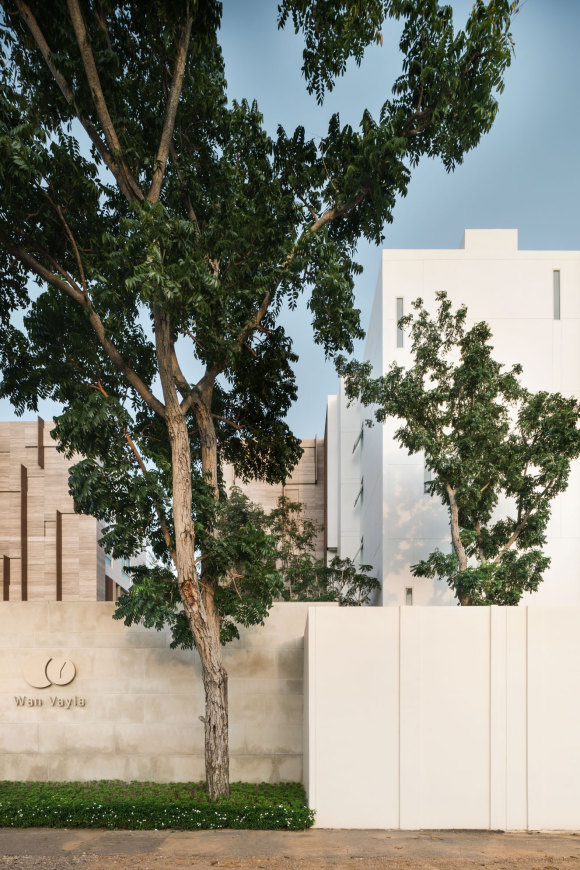 景观设计师一开始看到场地时,便意识到这些现有树木的价值意义非凡,于是,在加入设计和项目业主团队,设计建筑布局时,就采取措施着重避开了这些原始树木,甚至通过减少部分建筑面积来保留原有树木。
Landscape architects had the opportunity to see the area from the beginning and realized the value of the existing trees in these areas. Joined team of designers and project owners designed layout of the building to avoid these existing trees, including reducing some building areas to maintain the original trees.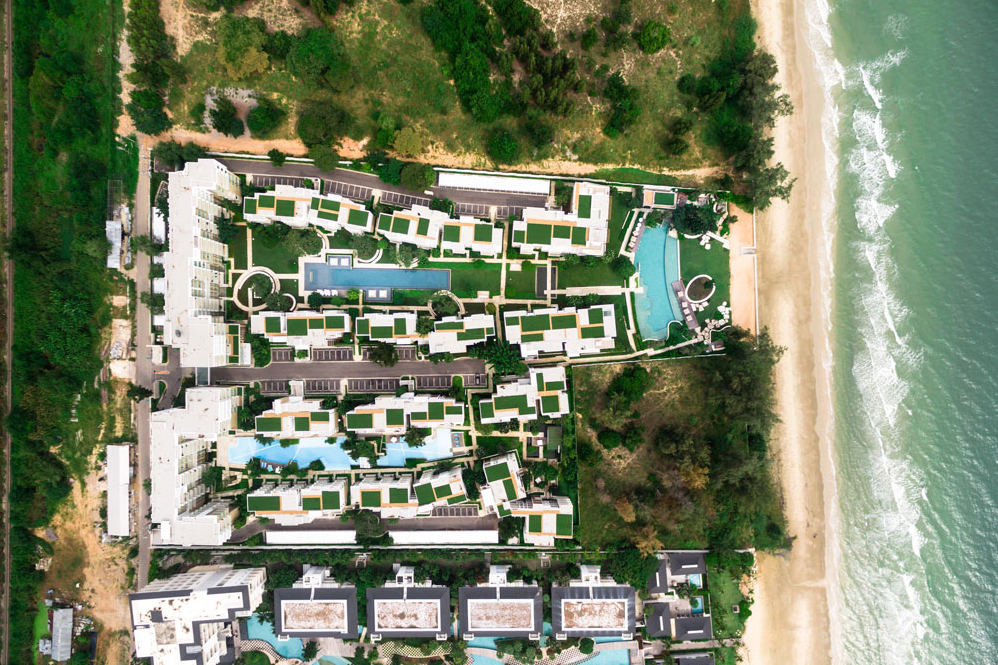 项目设计原则如下:
开放空间:打造优越的生活品质。通过节奏强调区域的连续性、顺畅的流线设计,影响用户感受各部分的差异。
视线设计:每个区域都有美丽的景观视角和其他特定区域的视线序列。
景观元素:强调与自然联系的简单线条,使用长期和低维护的材料。
植物设计:根据每个区域的不同概念,利用本地植物结合新植的树木创造更多的绿化空间。
The design principles are as follows:
Open space: are designed to provide superior living standards. Emphasize on the continuity of the area by the rhythm. The circulation is smoothly designed to influence users to feel the differences of each part.
Design view: Each area is designed to have beautiful point of views and a visual sequence to other particular areas.
Landscape elements: emphasis on simple lines with connections to nature. Long-term and low-maintenance materials are used.
The plants: using some of local plants in combination with extra trees provide more greenery, and to conform to different concept of each area.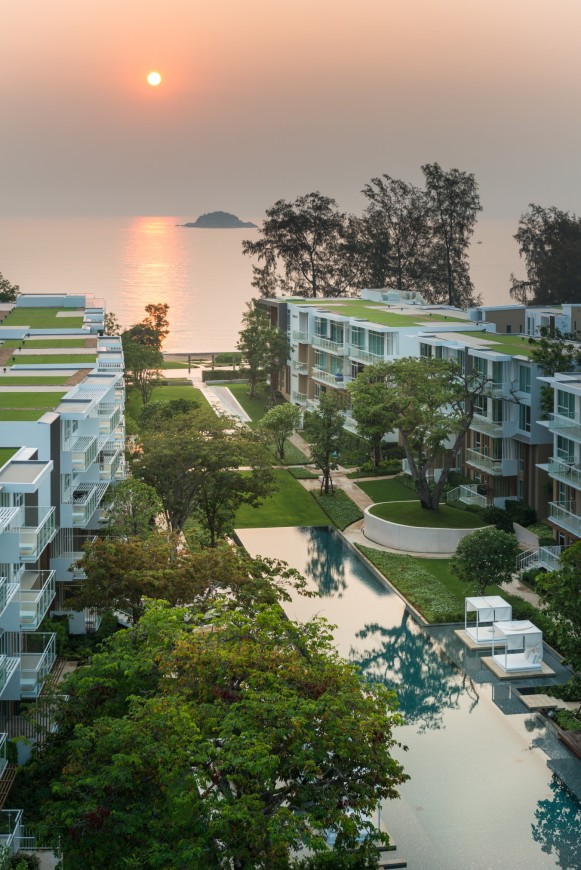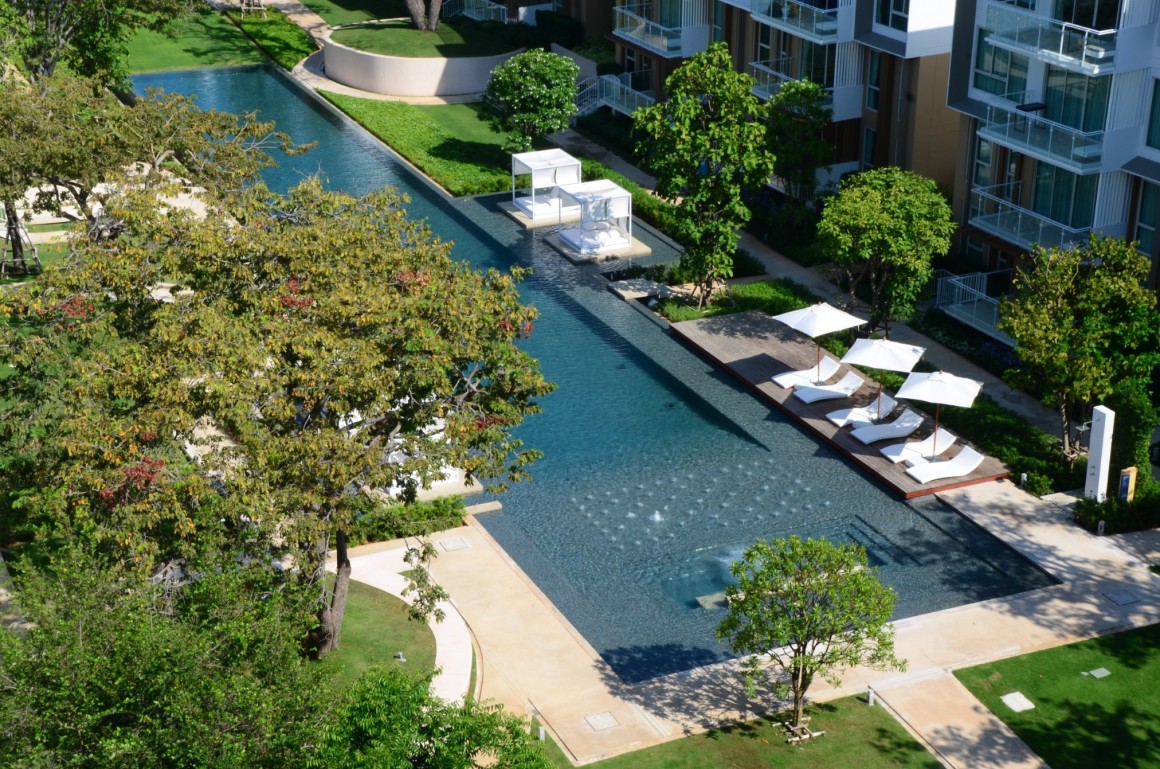 每个区域的设计概念都根据各自的物理特性和氛围进行划分:全景视野区、公共休闲区、泳池娱乐区、静谧花园区。
Design concepts for each area are divided by the physical characteristics and atmospheres of each project: Activities areas with panoramic touch, Public areas with gentle touch, Swimming areas with amusement touch, Garden areas with serene touch.
1. 全景感
设计希望提供开阔的海景,打造无障碍的全景视野。活动区设在左右两边树下的阴凉处,后面是一个大游泳池。这个部分的设计是尽量不改变景观轮廓,保留原有树木,增加耐盐植物。
1. Panoramic Touch
The design aims to provide an open view of the sea and create unobstructed panoramic views. Activities areas is in the shade under the trees on both left and right side, and a large pool at the back. The design of this area is to alter the landscape contours as little as possible, to maintain the original trees, and added salt-tolerant plants.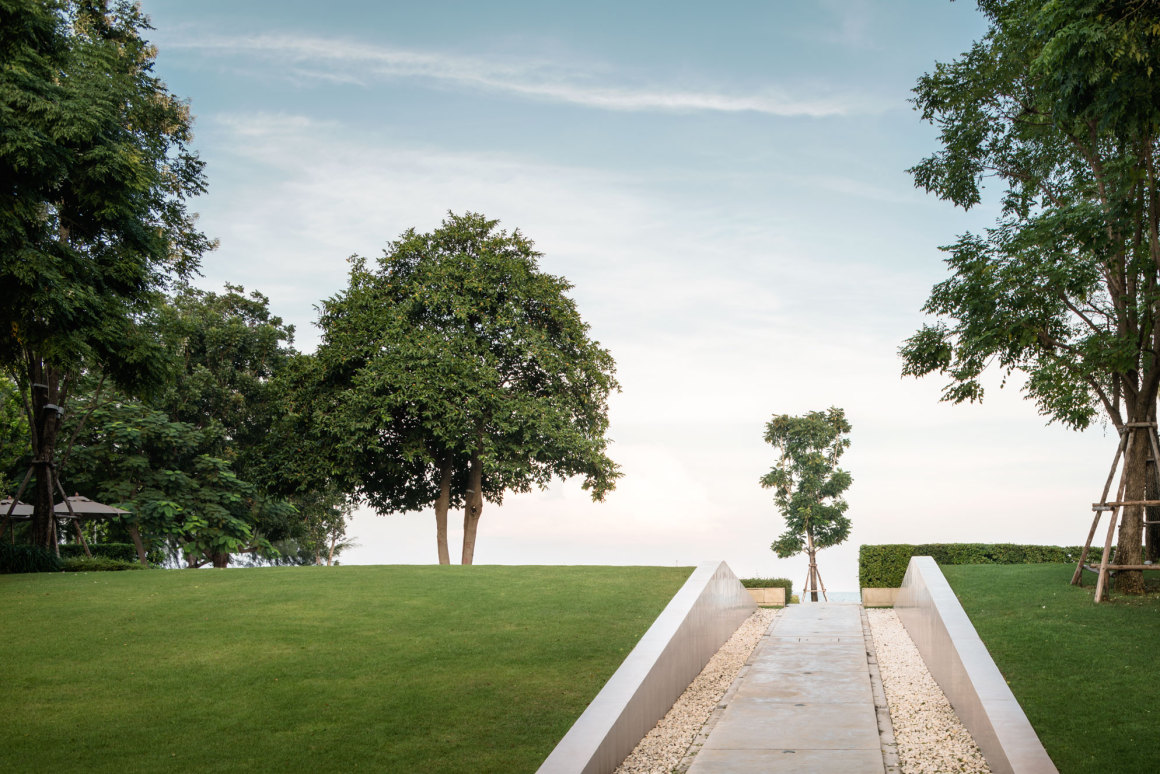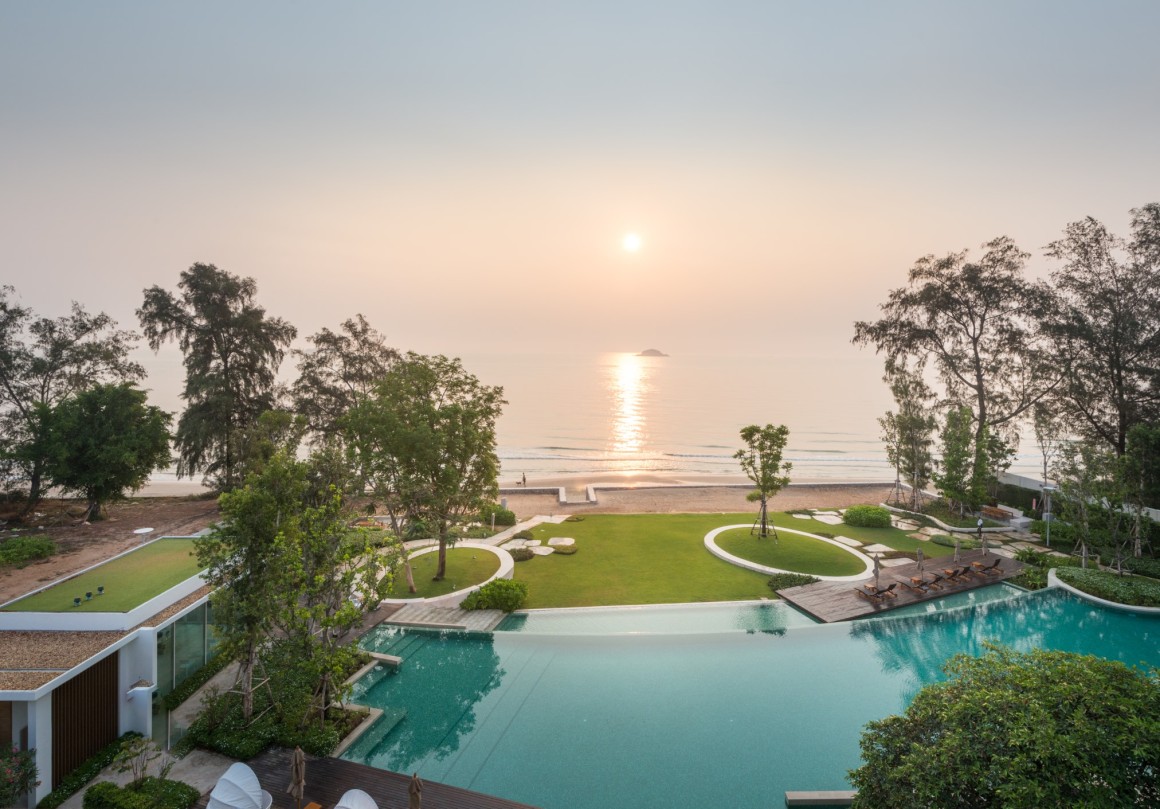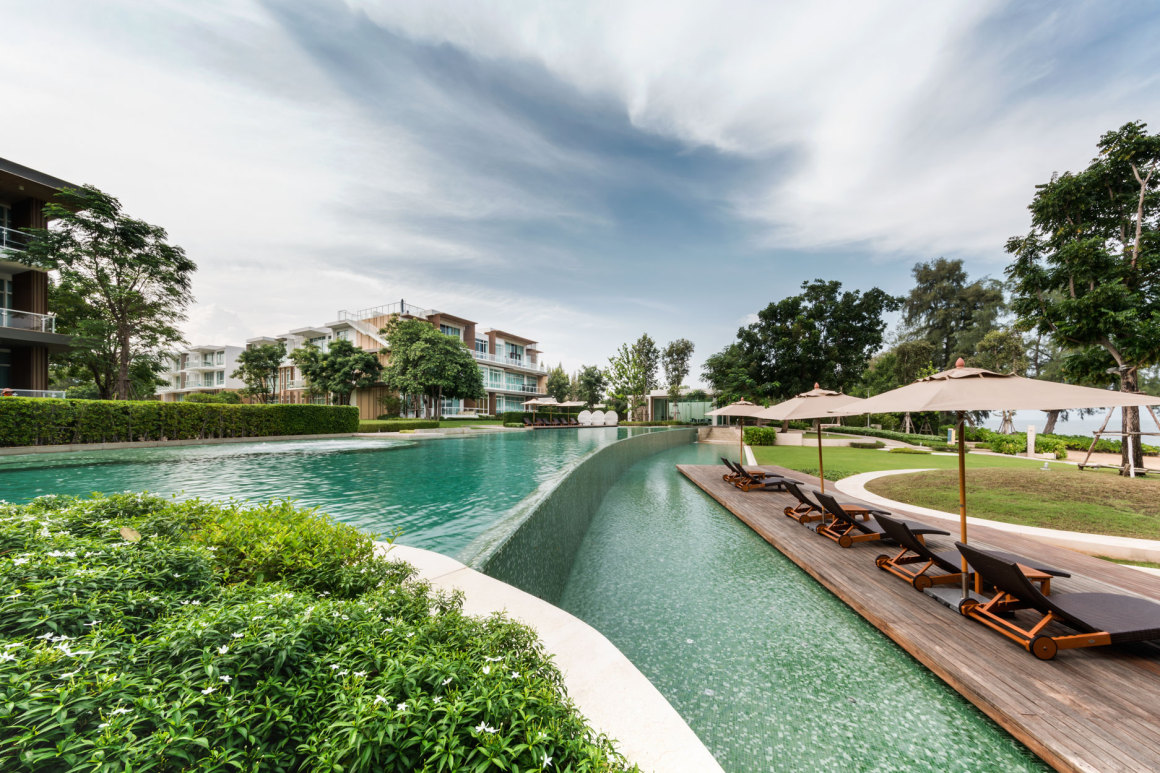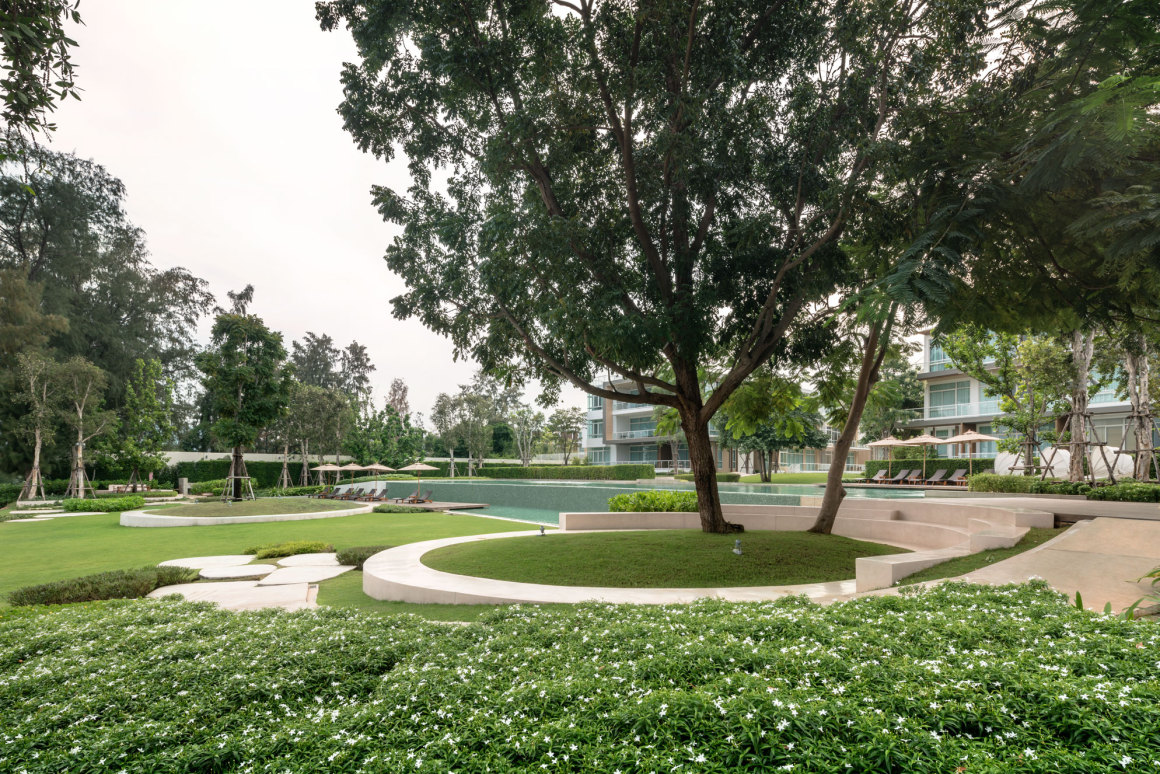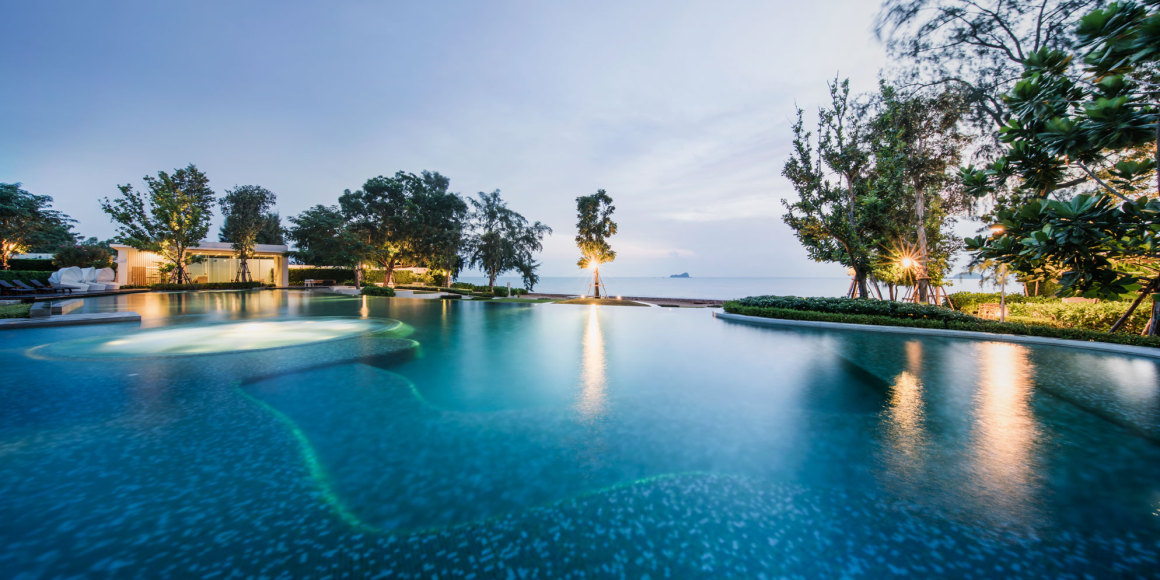 2. 静谧感
为了营造一种平静、放松的氛围,泳池和公共区域的设计都尽量避免了对一楼房间的干扰。
2. Gentle Touch
To create a calm, relaxing atmosphere, pool and public areas in are designed to avoid disturbance to rooms on the 1st floor.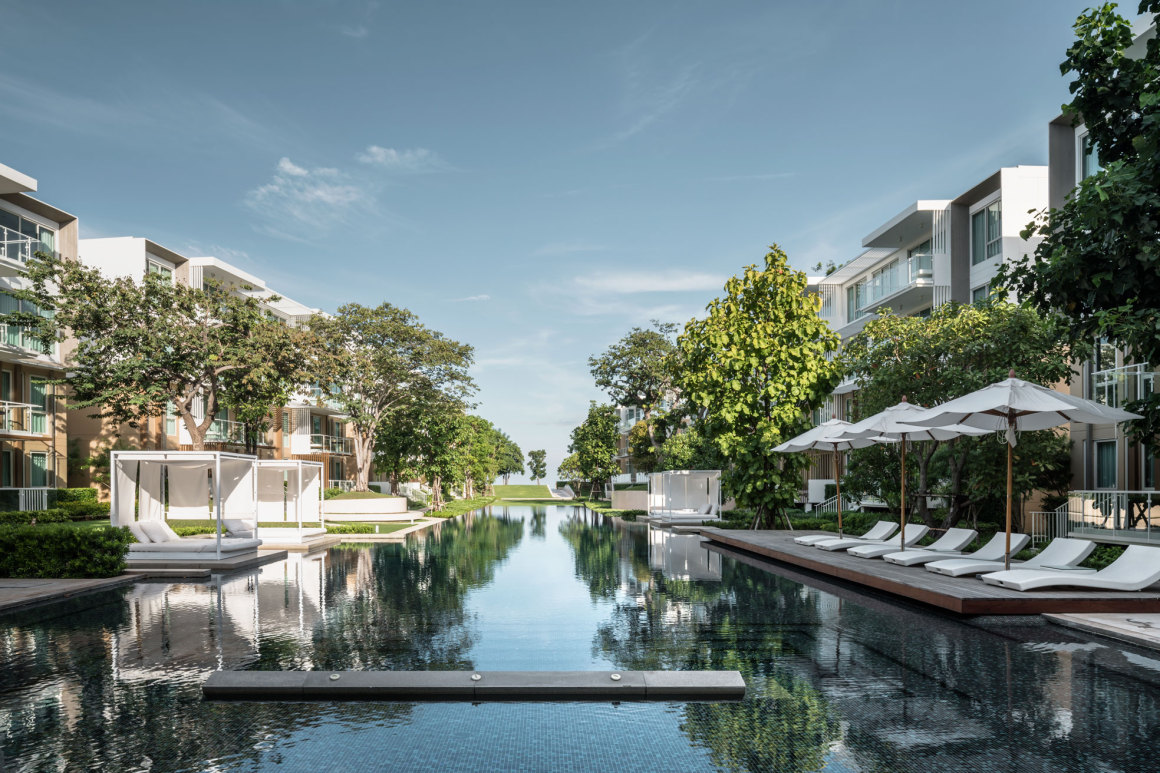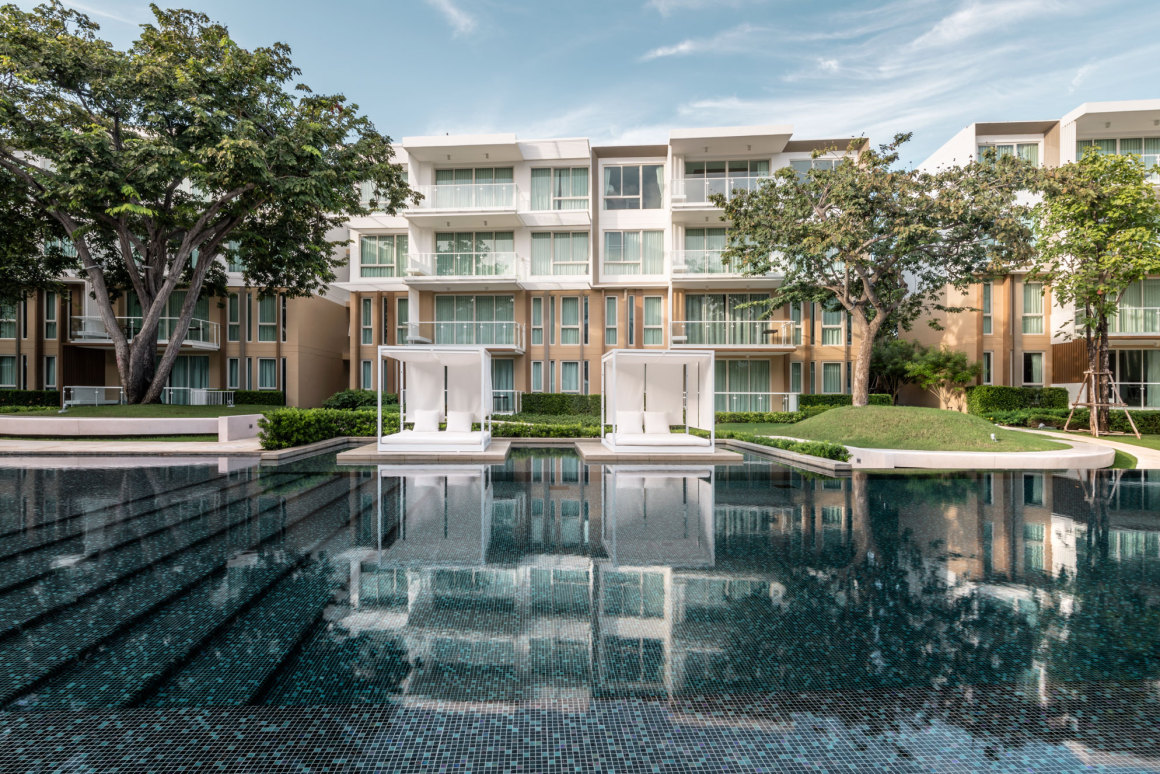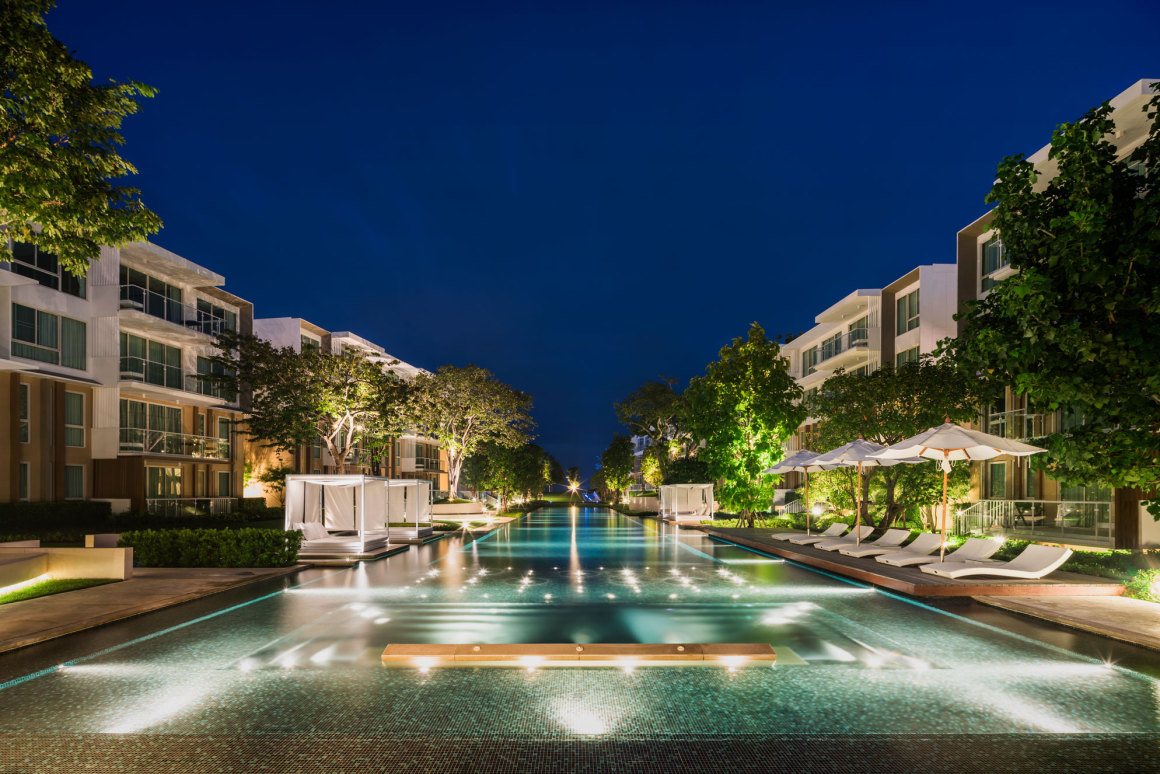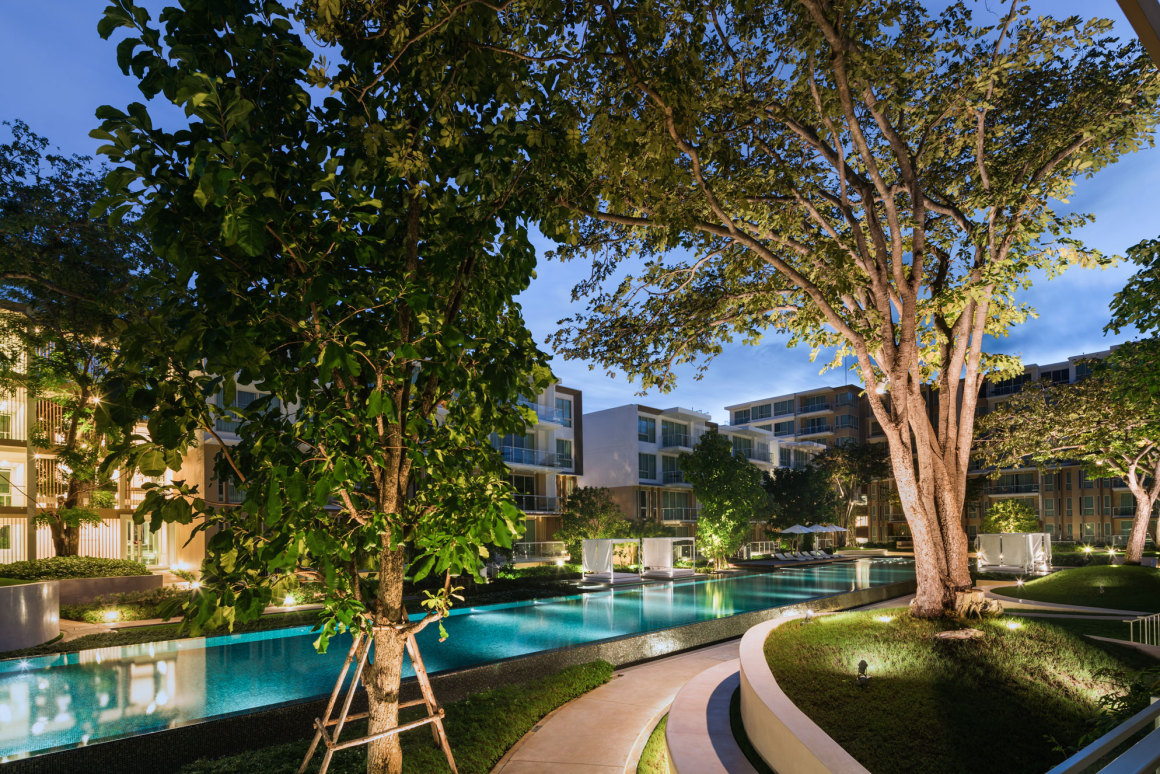 3.趣味感
这个区域在创建隐私的方法上与前面的区域相似。由于场地中间有原生大树,因此游泳池采用了锯齿状的设计来避开树木,有树木的区域因此变成了一个个虚拟岛屿,而且,游泳池还有各种水景,为用户提供丰富多样的体验。
3. Amusement Touch
This area is similar to the previous area in terms of the method used to create privacy. Since this area has large trees in the middle, therefore, swimming pool has a zigzag style to avoid the trees. Some trees areas became a virtual island. In addition, the pool has a variety of water features to provide users with a rich and diverse experiences.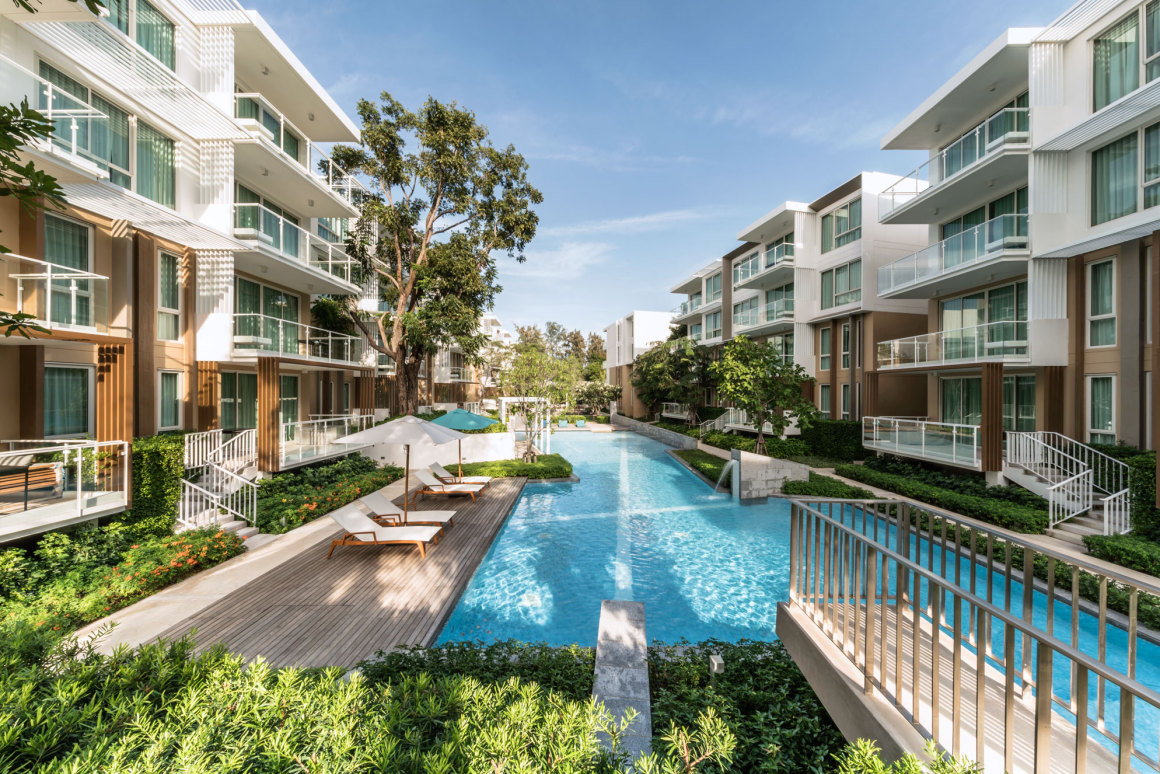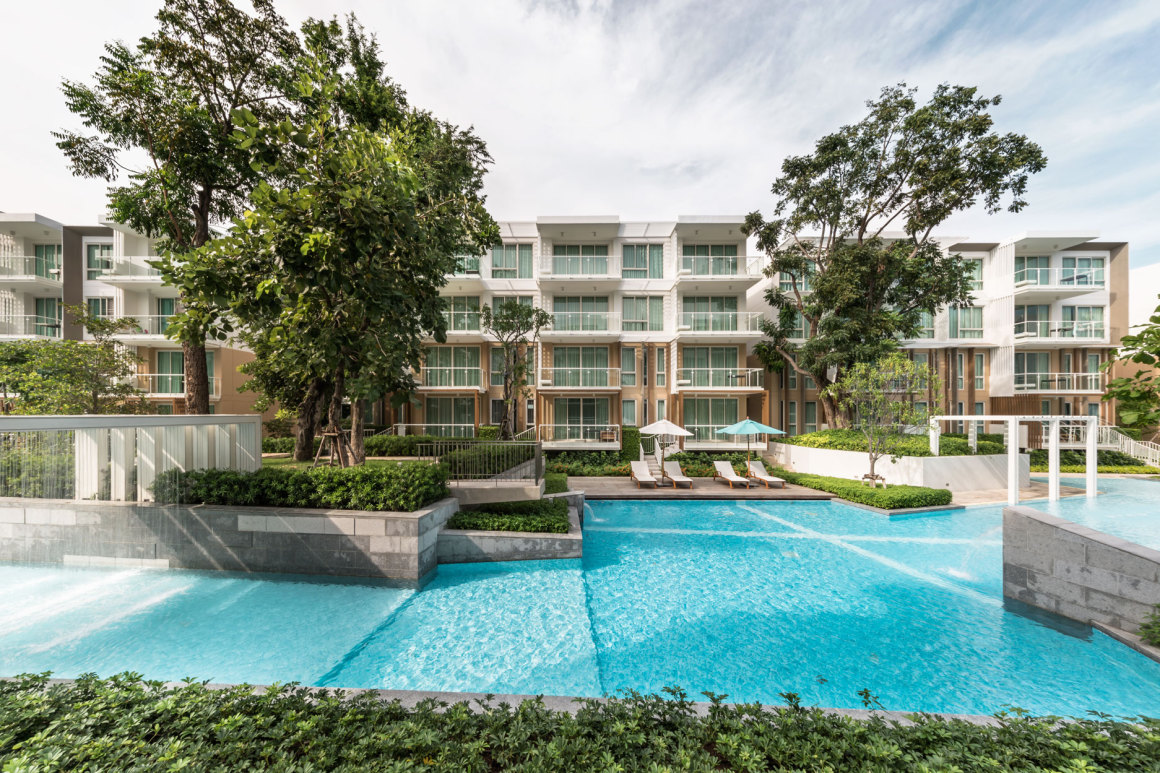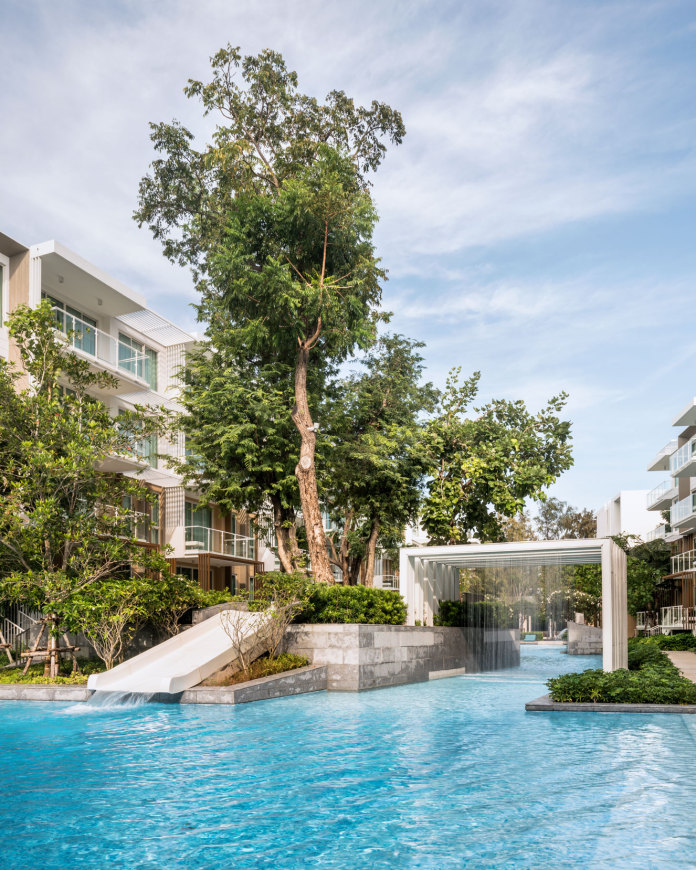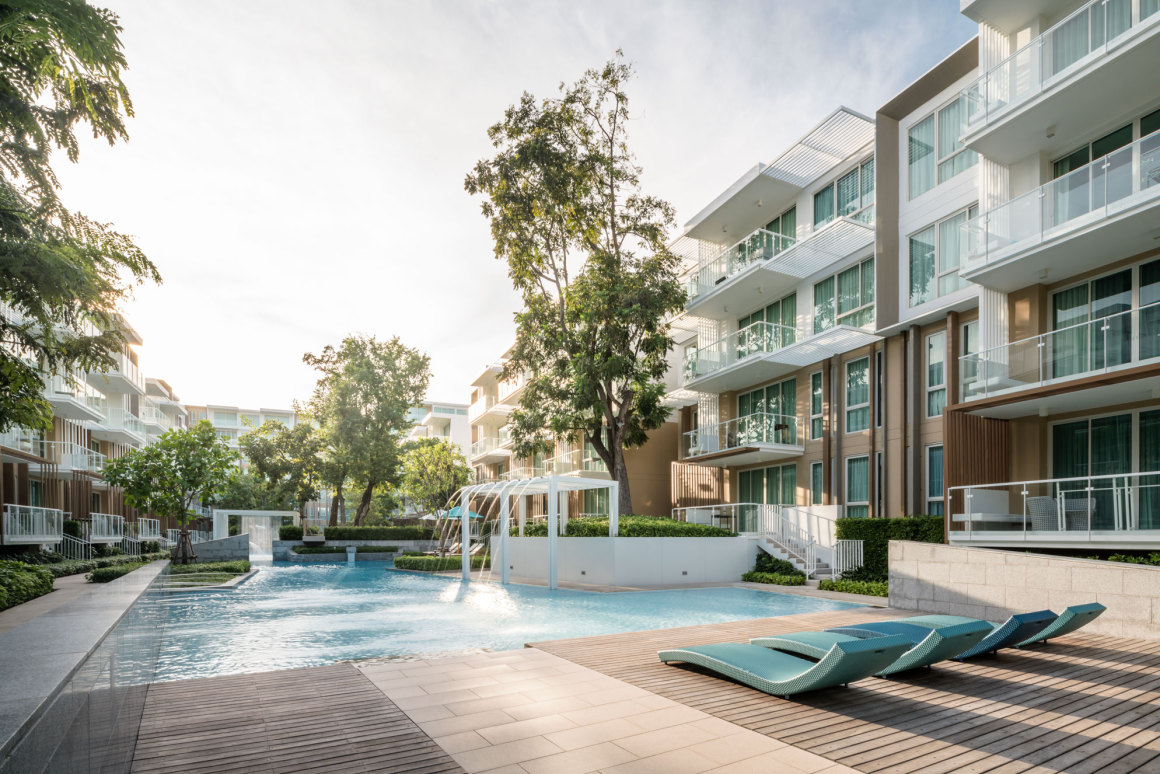 4. 沉静感
由于这个区域比其他区域的位置要低,而且也毗邻许多其他区域,因此,设计师选择利用这个空间来打造一个安静的花园,方便用户在此放松、阅读或相互交谈。周围的挡土墙主要用于稳固沿途的树木。
4. Serene Touch
This area is located lower than the rest and is also adjacent to many other areas. Consequently, landscape architects chose to use this space as a peaceful garden for relaxing, reading or talking with each other. Retaining wall is used to stabilize the trees along it.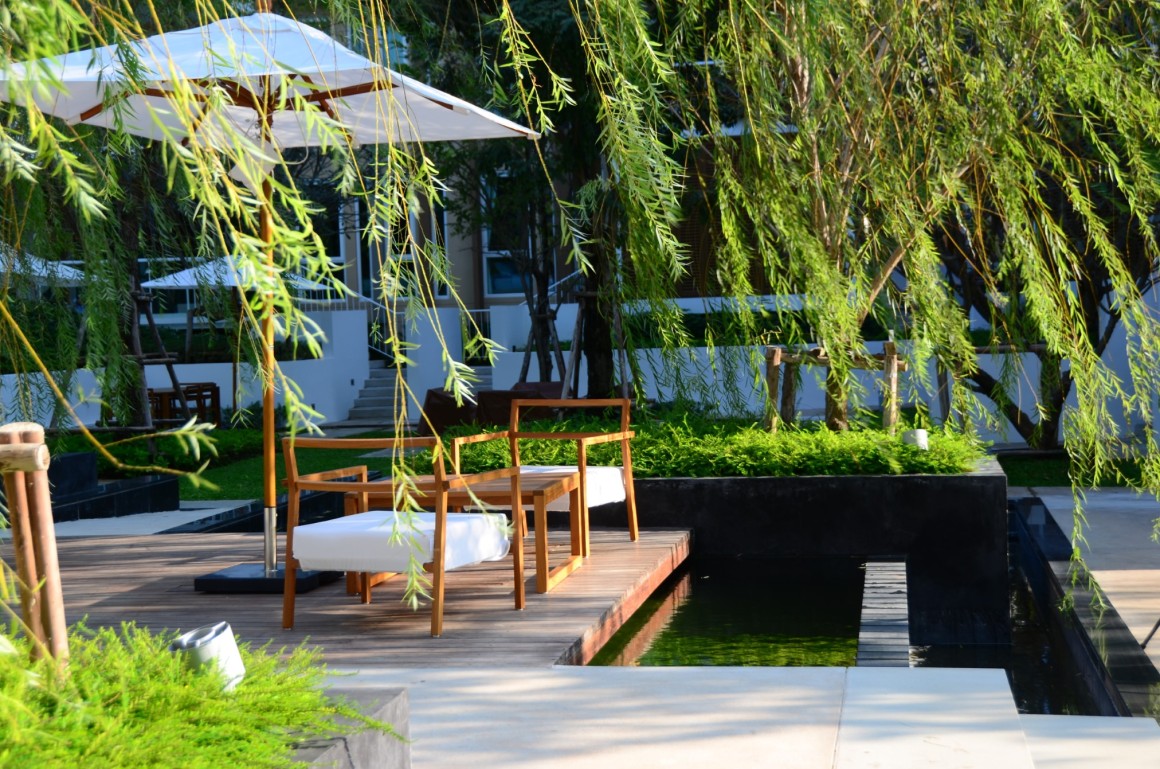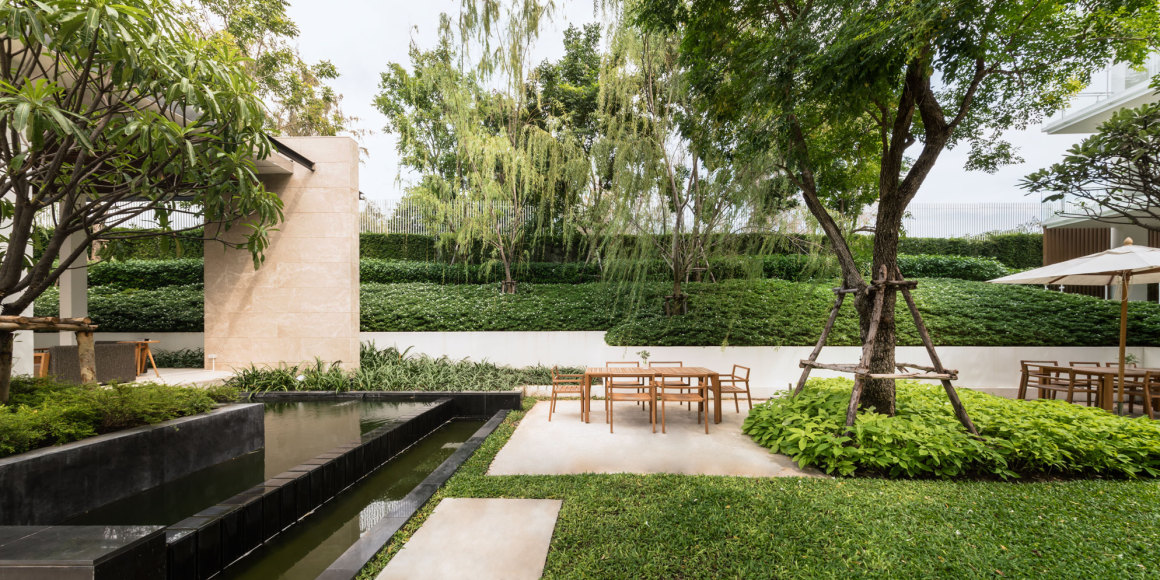 ▼住宅总平面 Master Plan
▼设计过程示意 Diagram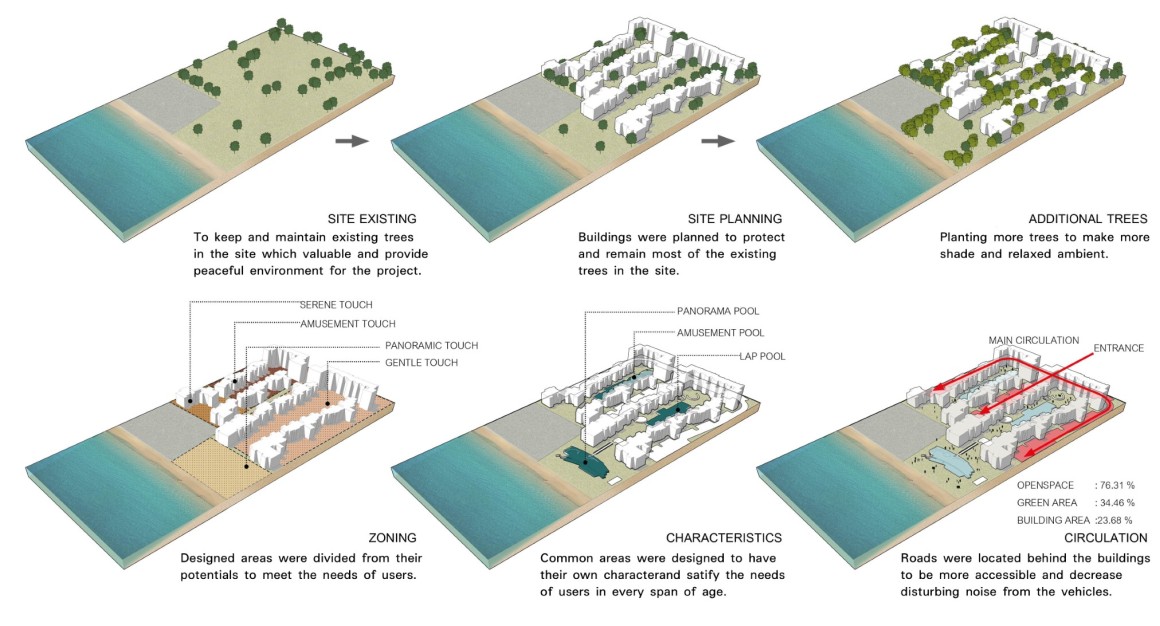 项目名称:Wan Vayla Huahin-Khaotao
完成:2015年
设计面积:24,280平方米(景观区)
项目地点:泰国 华欣
景观事务所:Landscape Architects 49 Limited
网址:www.L49.co.th
联系邮箱:L49@L49.co.th
首席景观设计师:Arrak Ouiyamaphan
设计团队:Suttida Tharanatham , Witsarut Ditpae
客户:Land and Houses Public Company Limited
建筑事务所:The Office of Bangkok Architects(OBA)
室内设计:Bananey
结构工程:Ritta Co.Ltd.
机电工程:Bewcon Co.Ltd
图片来源:W Workspace Co., Ltd. / Rungkit Charoenwat / L49
Project name: Wan Vayla Huahin-Khaotao
Completion Year: 2015
Design Area: 24,280 sq. m. (Landscape Area)
Project location: Huahin 101, Prachuap Khiri Khan, Thailand
Landscape Firm: Landscape Architects 49 Limited
Website: www.L49.co.th
Contact e-mail: L49@L49.co.th
Lead Landscape Architects: Arrak Ouiyamaphan
Design Team: Suttida Tharanatham , Witsarut Ditpae
Clients: Land and Houses Public Company Limited
Architect: The Office of Bangkok Architects (OBA)
Interior Design: Bananey
Structure Engineering: Ritta Co.Ltd.
M&E Engineering: Bewcon Co.Ltd
Photo credits: W Workspace Co., Ltd. / Rungkit Charoenwat / L49
更多 Read more about: Landscape Architects 49 Limited