LandLAB_ :Westhaven Marina的空间战略将其"绿色"和"蓝色"空间结合起来,指导未来发展和整合提议的码头基础设施,发展潜力,公共通道和步行/骑自行车将码头转变为多功能目的地。
LandLAB_ :The spatial strategy for Westhaven Marina integrates its 'green' and 'blue' spaces to guide future development and integration of the proposed marina infrastructure, development potential, public access and walking/cycling transforms the marina into a multi-functional destination.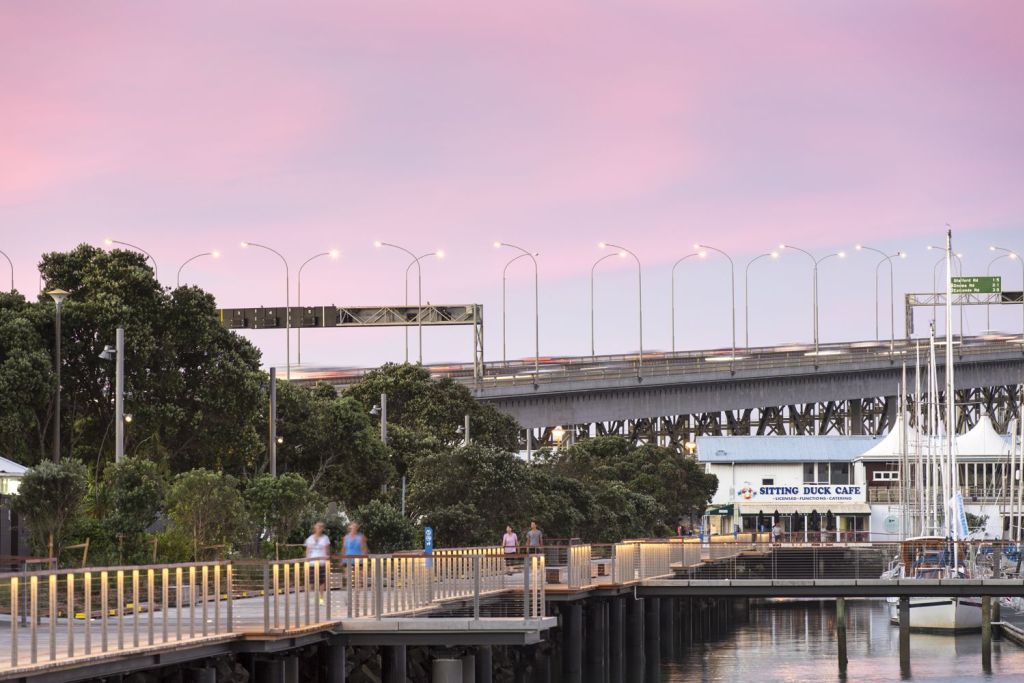 一个2公里长的"共同使用"水边散步道和相关的公共休憩用地,结合了复杂而动态的海滨环境。
该项目沿Wynyard Quarter和奥克兰海港大桥之间的Westhaven前滩提供连续的"共享路径",包括新水域边缘开放空间,码头基础设施以及码头,观察平台,观察平台和沿海生态增强等新沿海建筑。边缘区域。
该项目已经成功地将现有的工作码头,陆基活动以及公众进入以前难以接近的水域边缘合并在一起。散步道融合了慷慨的木地板,定制座椅和照明。
A 2km long 'shared use' waters edge promenade and associated public open spaces integrated ithin a complex and dynamic working waterfront context.
The project provides a continuous 'shared path' along the Westhaven foreshore between Wynyard Quarter and the Auckland Harbour Bridge including new waters edge open spaces, marina infrastructure and new coastal structures such as piers, observation platfoms, look outs and the ecological enhancement of the coastal margin zone.
The project has successfully merged together the existing working marina, land based activities and enhanced public access to a previously inaccessible waters edge. The promenade incorporates generous timber decking, bespoke seating and lighting.
LandLAB_还与Waterfront Aucklands游艇码头团队合作开发新码头基础设施的设计,包括码头入口,标牌以及重新使用浮桥和平台供公众使用。
LandLAB_ have also worked with Waterfront Aucklands marina team to develop designs for new marina infrastructure including pier entrances, signage and the re-use of pontoons and platforms for public access.
地点:奥克兰韦斯特海文
客户:奥克兰海滨
日期: 2011年至今
预算: 750万美元
团队: ASPECT工作室+架构+ JAWA结构+ E3BW
Location: Westhaven, Auckland
Client: Waterfront Auckland
Date: 2011 – Current
Budget: $7.5m
Team: ASPECT Studios + Architectus + JAWA Structures + E3BW
更多:LandLAB_