项目位于英国伦敦,布里克斯顿中央广场由三个独立的公共空间组成:泰特花园,Windrush广场和圣马修斯和平花园。这些空间由一系列公民建筑物松散地定义,包括市政厅,圣马修斯教堂,罗利厅和泰特图书馆。然而,这些空间彼此断开,公民建筑物由一系列道路,其中两个,布里克斯顿山和埃夫拉路交通繁忙。布里克斯顿中央广场的项目旨在创造一个非常需要的高品质公共空间,以符合布里克斯顿的重要性。
Brixton Central Square is formed by combining three separate public spaces: Tate Gardens, Windrush Square and St Mathews Peace Garden. The spaces are loosely defined by a series of civic buildings, including the town hall, St MathewsChurch, Raleigh Hall and the Tate Library. However, these spaces are disconnected from each other and the civic buildings by a series of roads, two of which, Brixton Hill and Effra Road, carry heavy traffic. The project for Brixton Central Square aimed to create a much needed high quality public space that does justice to the significance of Brixton.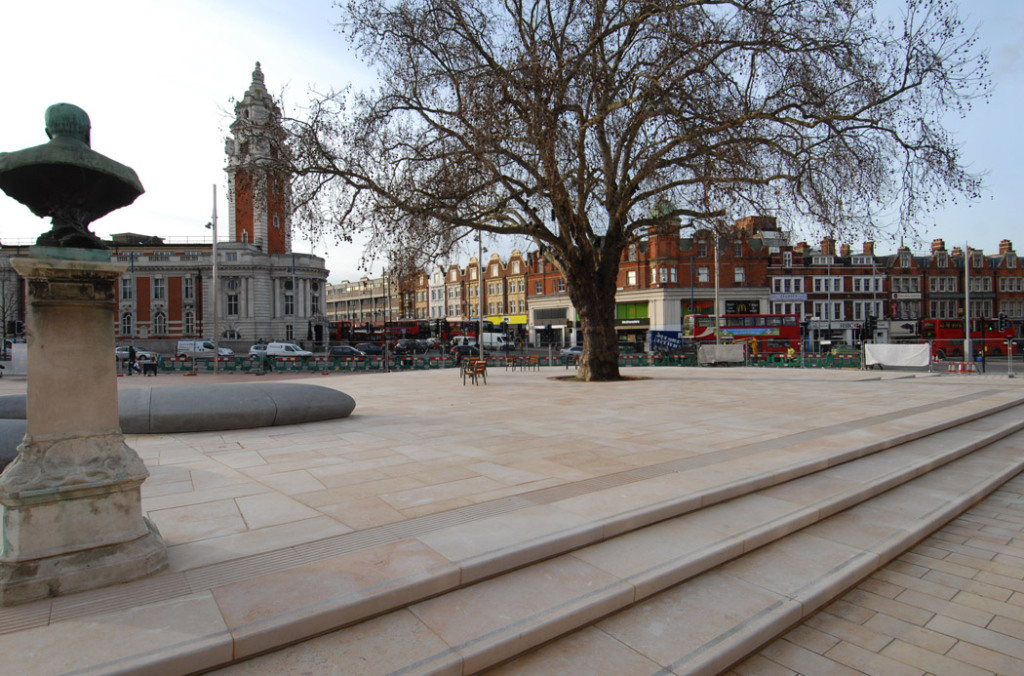 布里克斯顿中央广场反映了21世纪初城市空间的作用,作为充满活力的多元文化社会的活力舞台。布里克斯顿广场内的教堂(宗教),市政厅(政治)和图书馆(知识)等社会传统支柱不再是这种公民空间的优先事项。这个网站在空间和时间上都迷失了方向。它需要在计划和活动方面制定新的议程,并为这些活动提供新的环境,既提供空间一致性又提供一个标志性的地标。花园与广场的结合可以融合成为一种新的城市类型学,它提供了独立和聚集,封闭和开放,内向和外向等相反的经历:一个用于生物和文化多样性的综合公园和广场。
Brixton Central Square reflects on the role of civic space at the start of the 21st century as a vibrant stage for a dynamic multi-cultural society. Traditional pillars of society such as church (religion), town hall (politics) and library (knowledge) which are all represented within Brixton Square are no longer the priority of such a civic space. The site was lost in space and time. It needed a new agenda in terms of programme and event, and a new setting for those activities, which provides both spatial coherence and an iconic landmark. The combination of garden and square can be reconciled into a new urban typology, which provides for opposite experiences such as solitude and gathering, enclosure and opening, the introvert and the extrovert: An integrated park and square for both bio- and cultural diversity.
项目名称:布里克斯顿中央广场
项目类型:广场
位置:英国伦敦
完成年份:2008
设计公司:GROSS. MAX.
客户:伦敦兰贝斯区/伦敦交通
Project name: Windrush Square
Project type: Square
Location: London,England
Completed: 2008
Design company: GROSS. MAX.
Client: London Borough of Lambeth / Transport for London