本文由 Letts Wheeler Architects 授权mooool发表,欢迎转发,禁止以mooool编辑版本转载。
Thanks Letts Wheeler Architects for authorizing the publication of the project on mooool, Text description provided by Letts Wheeler Architects.
Letts Wheeler Architects:  在第一次世界大战百周年纪念活动期间,诺丁汉市和诺丁汉郡议会委托我们建造了这座新纪念馆,以一次纪念的形式将在这场大战中丧身的近14,000个诺丁汉郡人姓名汇集在一起。该项目在2018年的公开设计竞赛中获胜,并于2019年完工。
Letts Wheeler Architects:  As part of its centenary commemorations of WWI, Nottingham City and Nottinghamshire County Councils commissioned this new memorial, which brings together the nearly 14,000 names of all Nottinghamshire's fallen from the Great War in a single roll of honour. The project was won in an open design competition in 2018 and completed in 2019.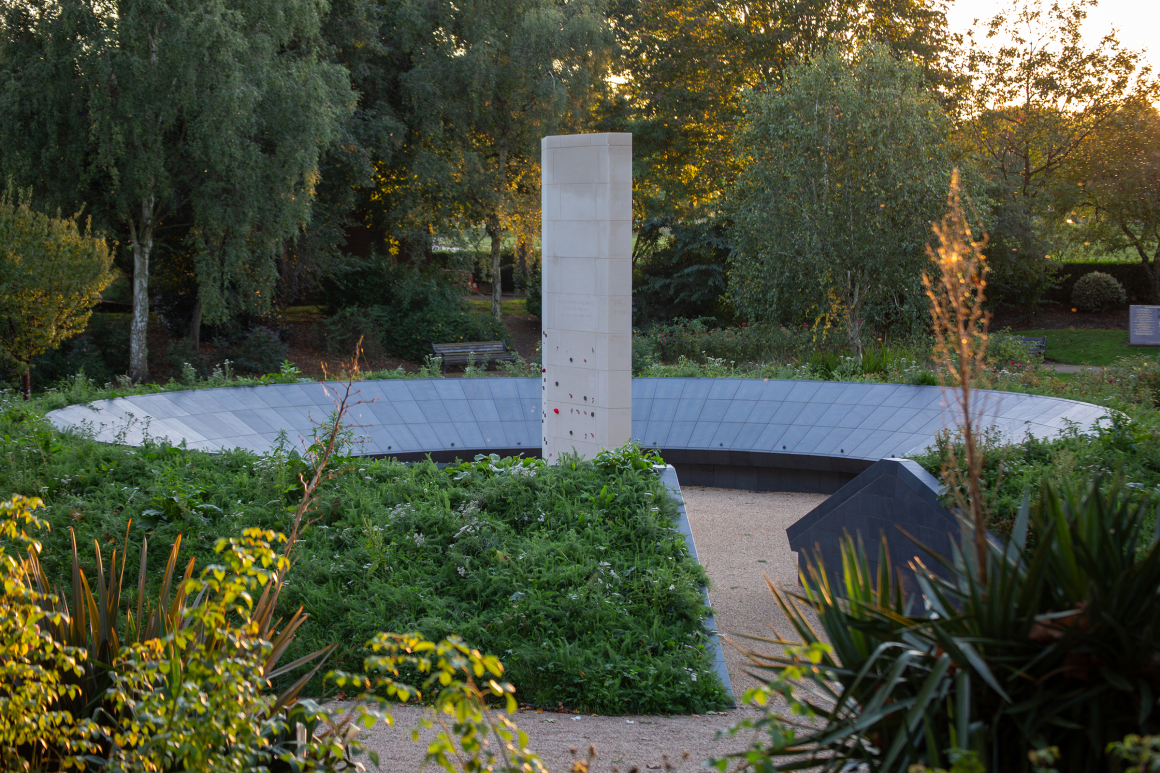 纪念馆位于维多利亚堤花园内。纪念馆整体呈现圆形;具体由1.5米高的土方堤岸围合而成。堤岸的高度是根据整体纪念馆空间而定,既创造了一种纪念空间的肃穆感,又没有将纪念馆与周围空间完全隔离。堤岸切出的八字形入口是进入纪念馆的大门,通过此门即可进入纪念空间。
The memorial is sited within the existing listed Victoria Embankment Gardens. It has a circular form; a 1.5m high earthwork bund enclosing a central space. The height of the earthwork has been set to create a protected space for reflection, without being isolated. The space is entered through a splayed opening cut into the bund, which connects to an existing route from the Memorial Gate and river embankment.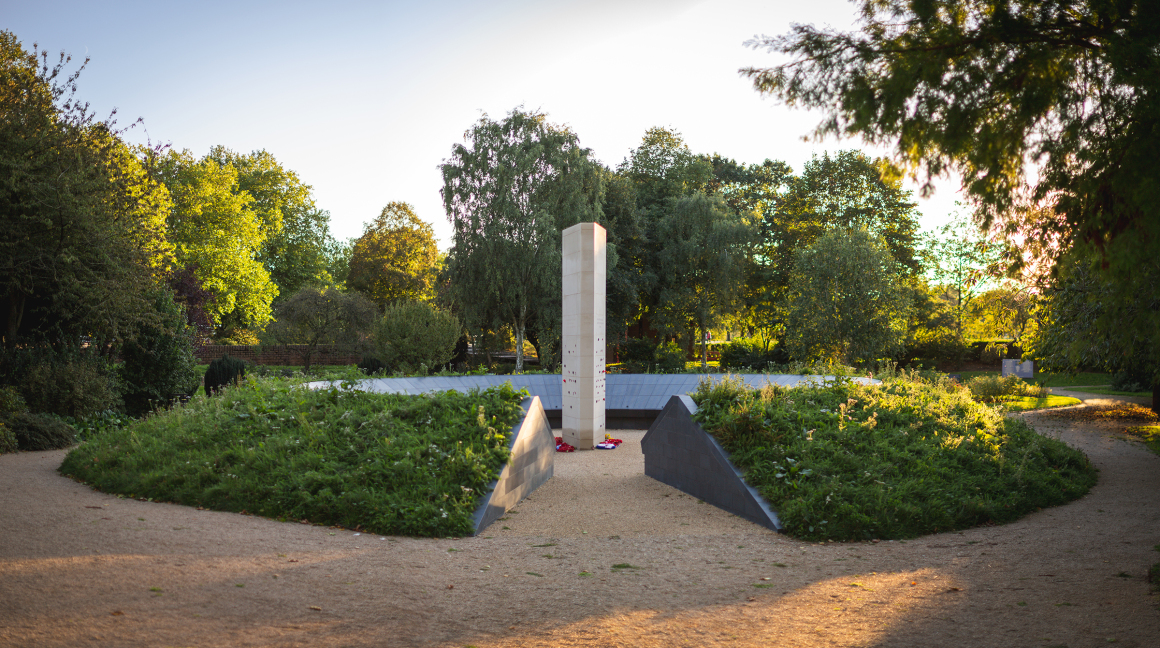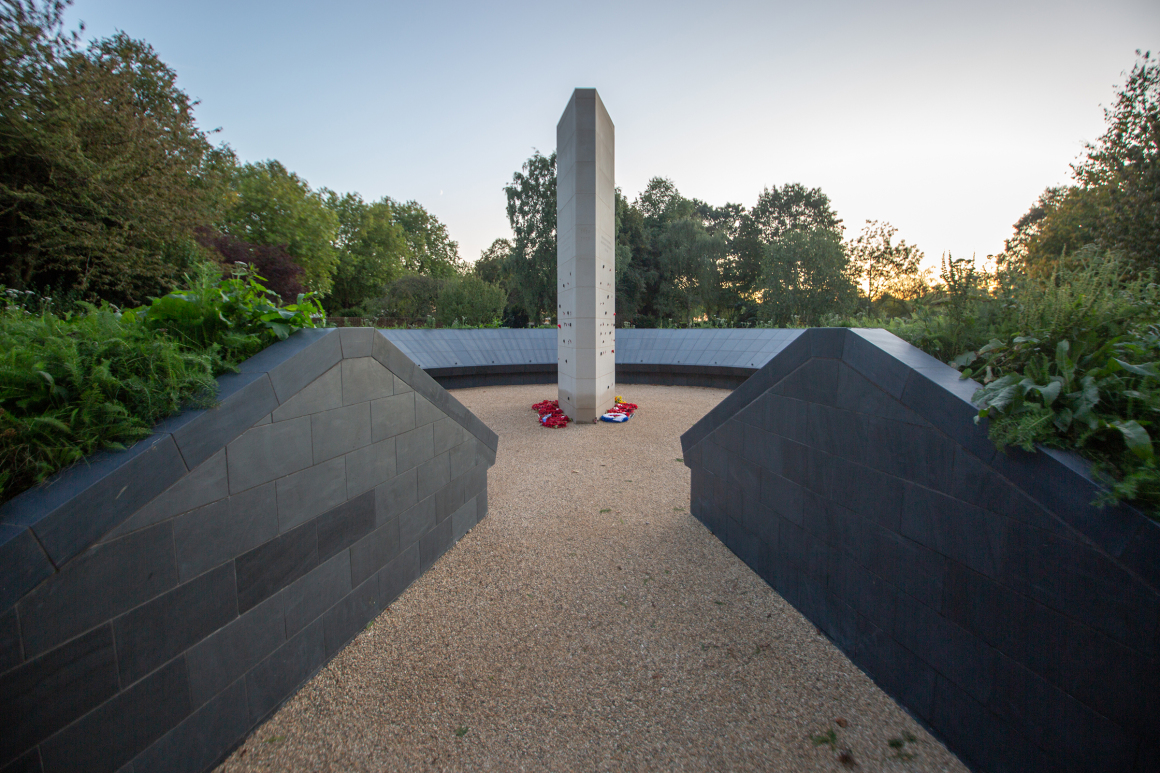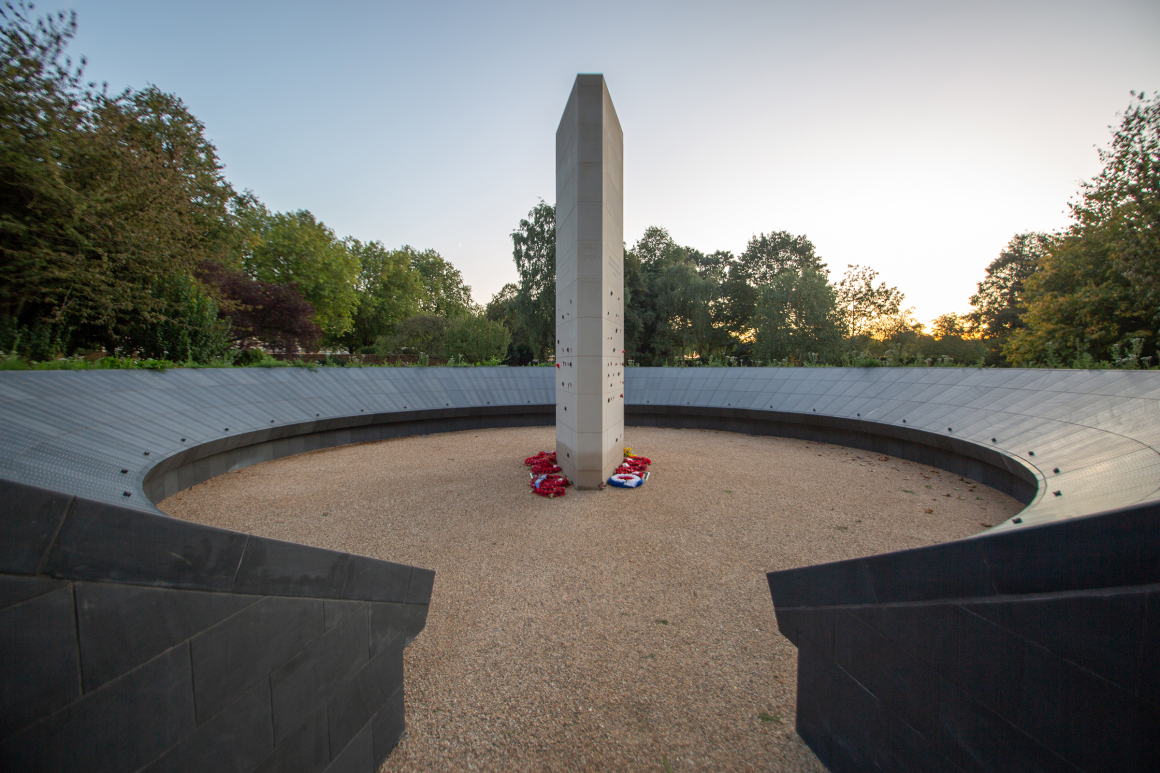 内部倾斜环形堤岸的石板上篆刻着纪念之人的姓名。石板高度和倾斜度考量了一般游客的视角也考虑到了残疾游客的注视视角。圆形的堤岸设计既能保证14000个名字都能得以很好的安排,也能在你进入空间时提供一种全局的视角。
An inclined ring of slate, which runs around the enclosed space, carries the role of honour. The height and incline of the surface allow good access to view the names for both able and disabled visitors. The circular form allows the role of honour to be accommodated in a relatively compact space, enabling the scale of the 14,000 names to be taken in from a single vantage point as one enters the space.
▼内部倾斜环形堤岸 inclined ring of slate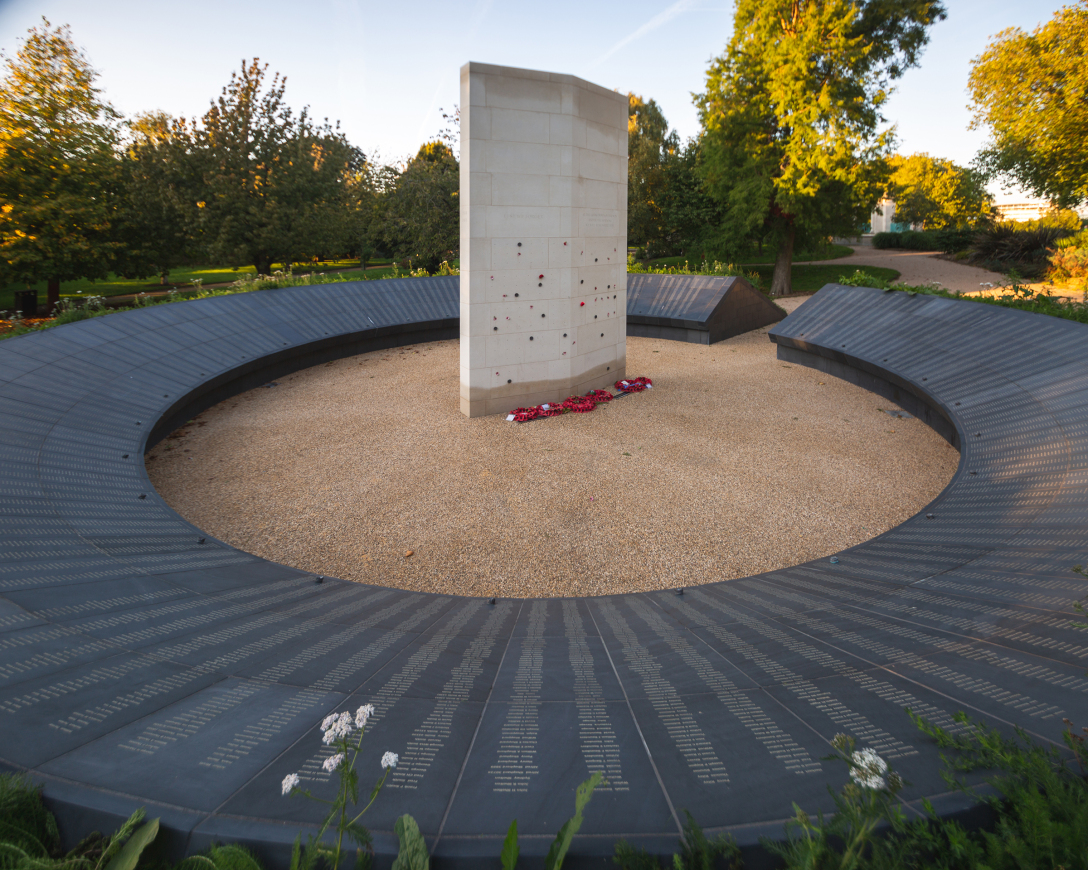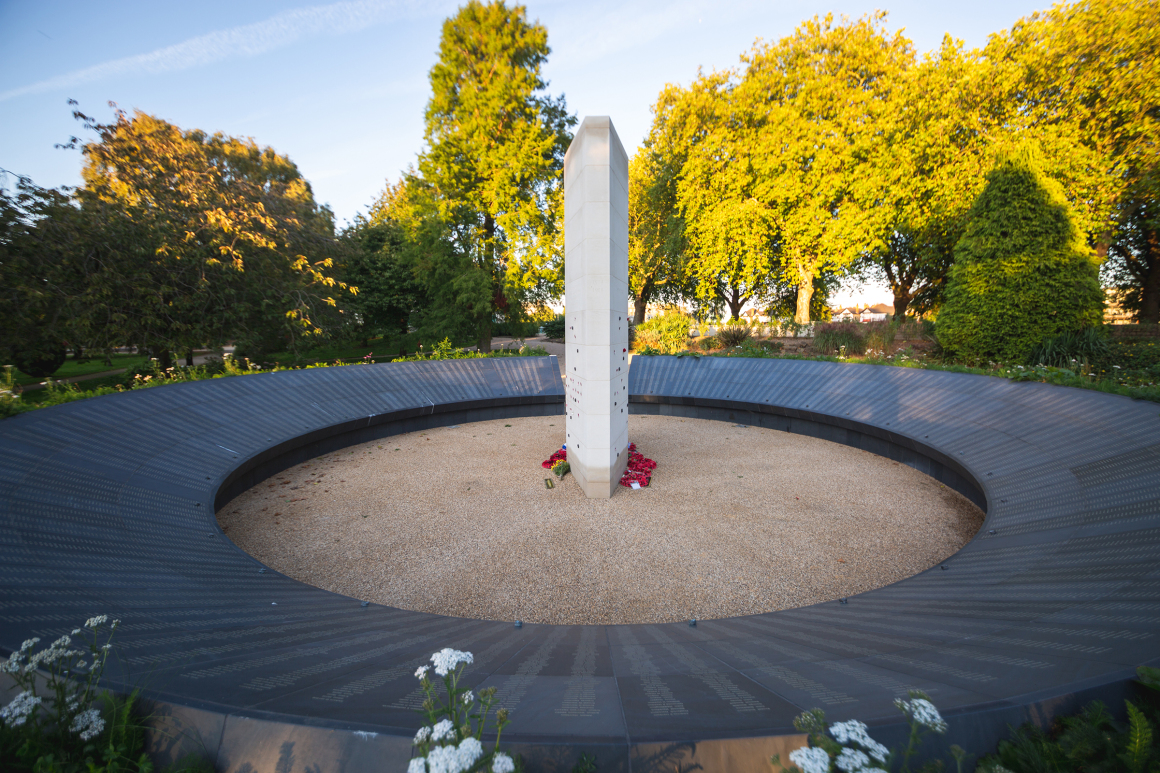 ▼内部堤岸细节 details of inclined ring of slate
圆形空间的中心矗立着一根5米高的波特兰石柱。这个石柱吸引了花园内各方游客前来观看,成为了纪念馆标志性构筑。整个设计结合了水平元素和垂直元素既创造了一个引人注目的视觉地标,又没有破坏花园的现有规模和特点。
A 5m high Portland stone column stands at the centre of the circular space. This vertical element provides a marker for the memorial, drawing the eye of visitors from various locations in and around the gardens. The combination of the horizontal ring and vertical pillar create a visually arresting landmark, whilst respecting the scale and character of the garden.
▼波特兰石柱 Portland stone column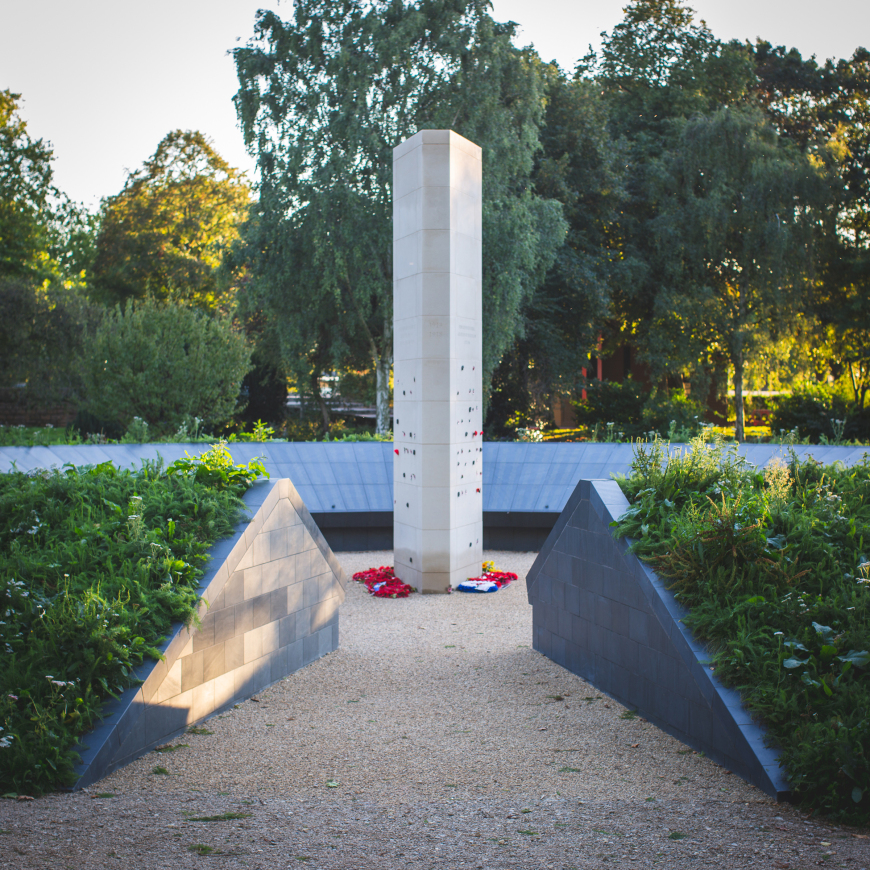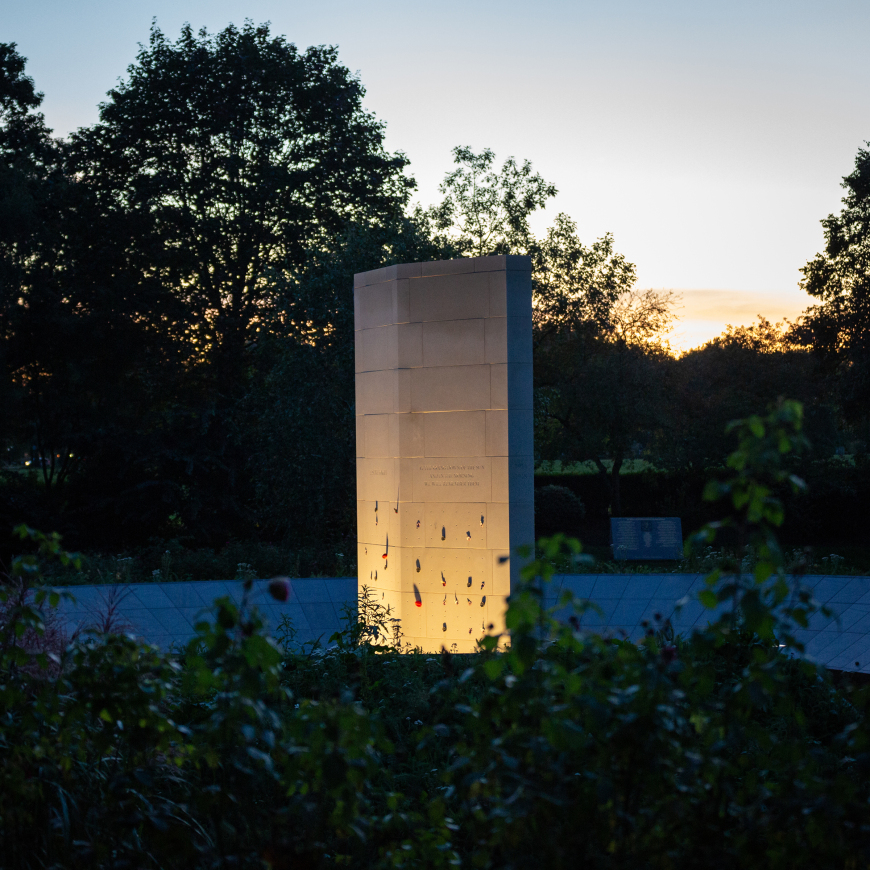 石柱的上半部分描述了纪念馆的背景和目的。下半部分打有小孔,专门用来盛放标准英国军团纪念罂粟花,以寄托个人哀思。其中由诺丁汉艺术家汤英格设计的青铜罂粟花既能装饰石柱和其自身也是一种纪念的象征。
The upper half of the column describes the context and purpose of the memorial. The lower half is perforated with small holes, designed specifically to hold a standard British Legion remembrance poppy, allowing for individual tributes to be made. Bronze poppies designed by Nottingham artist Inge Tong decorate both the column and role of honour.
▼波特兰石柱近景 close up of Portland stone column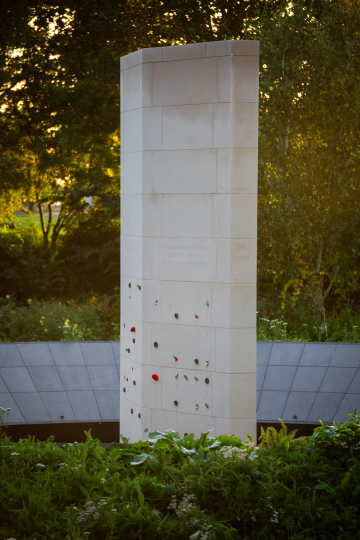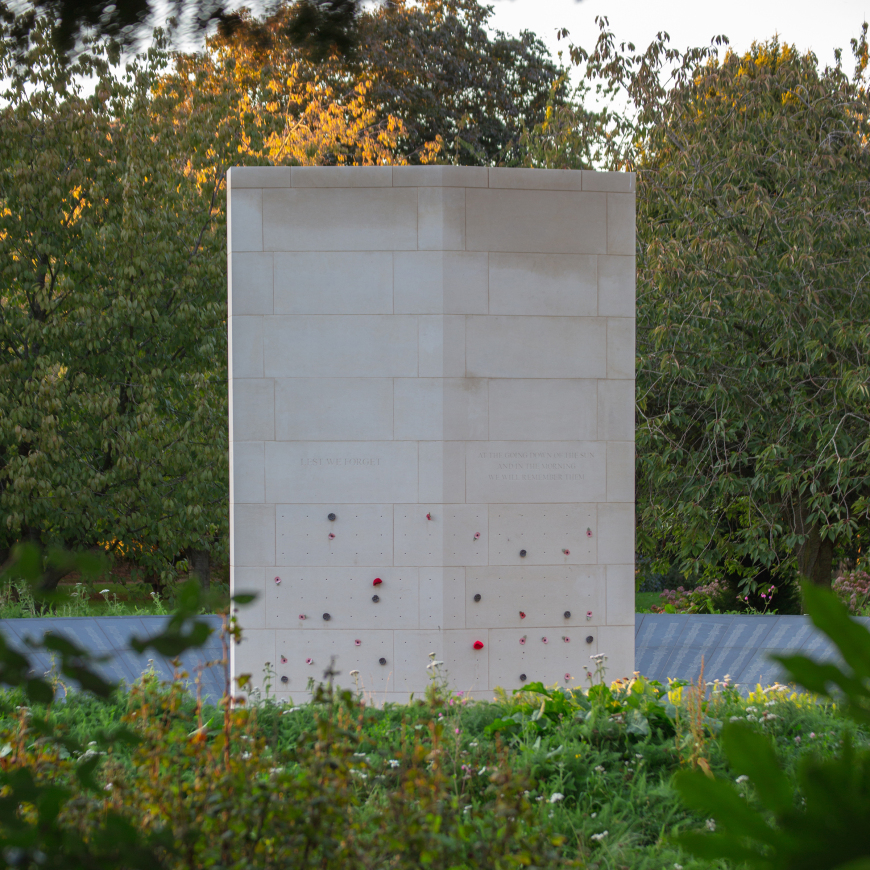 ▼石柱上半部分描述了纪念馆的背景和目的 upper half of the column
▼石柱下半部分设有用来放纪念罂粟花的小孔 lower half of the column
▼青铜罂粟花 Bronze poppy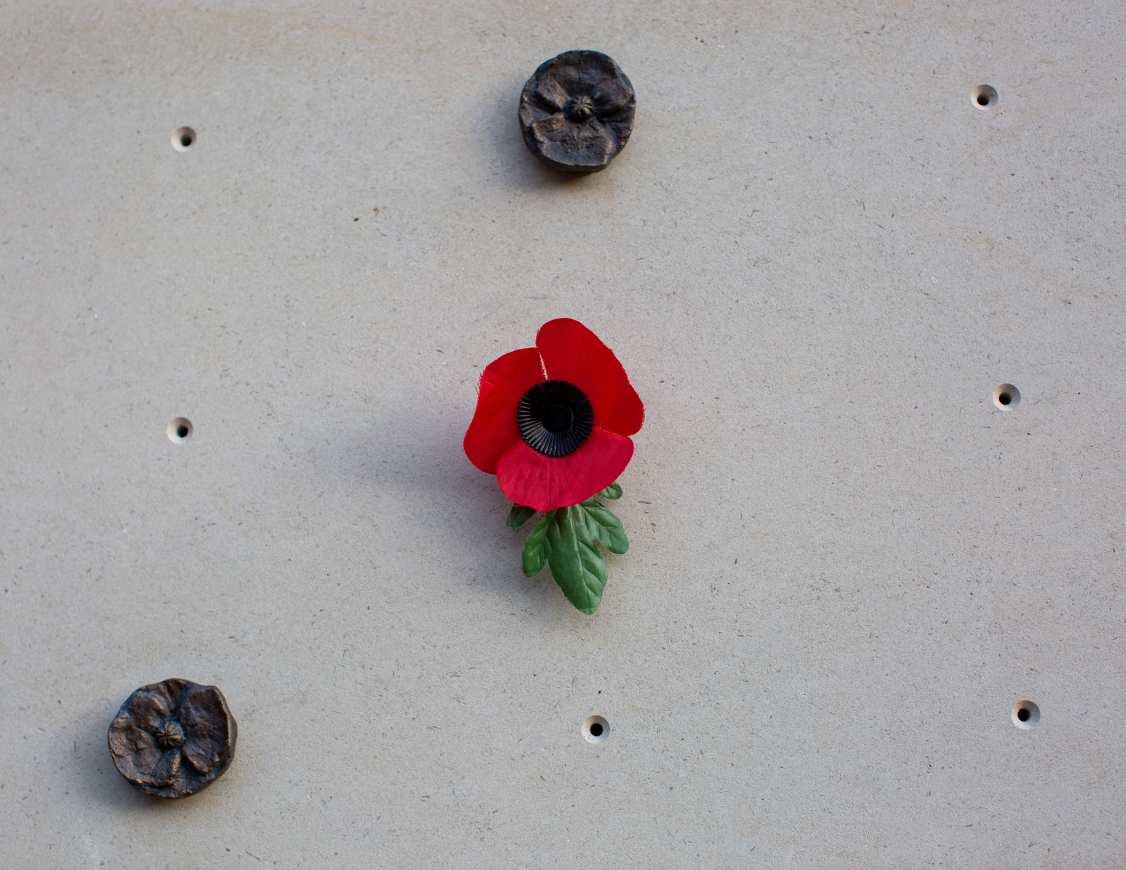 堤岸外部种有野花和罂粟,为纪念馆营造出柔软自然的边缘,待到盛夏,花朵绽放时,空间的纪念性也得到了增强。
The outer earthwork is planted with wildflowers including poppies to create a soft, natural edge to the memorial, adding a distinct and poignant quality to the memorial during the summer months.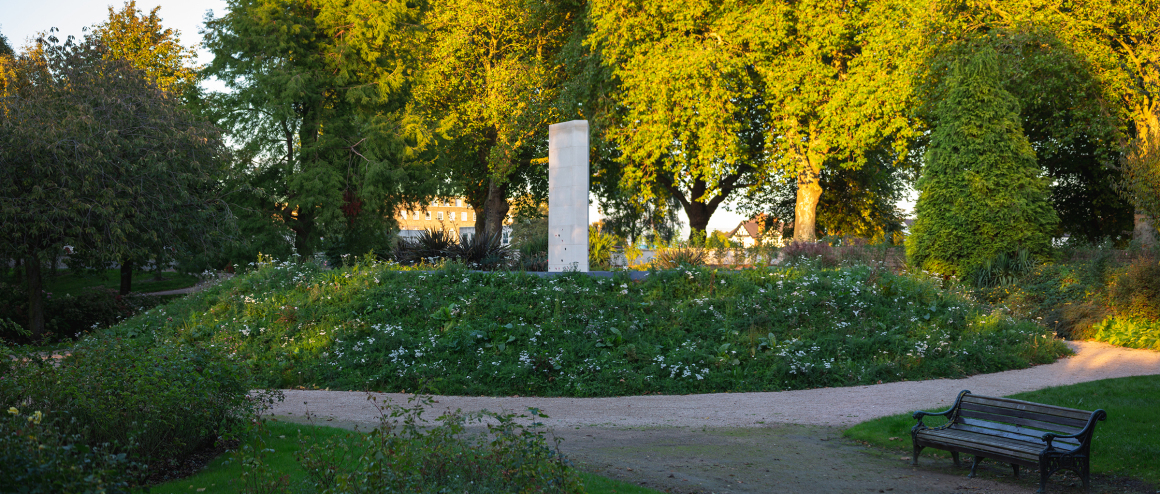 ▼模型 model
项目名称:  第一次世界大战百年纪念馆
项目类型:  新建纪念馆
客户:  诺丁汉市和诺丁汉郡议会
项目地点:  诺丁汉,诺丁汉郡
造价:  30万英镑
完成时间:  2019
艺术家:  Inge Tong
工程师:  Price & Myers
建造:  Lindum Group
石匠:  Bonsers
Project name:  WWI Centenary Memorial
Project type:  New-build Memorial
Cilent:  Nottingham City and Nottinghamshire County Councils
Project location:  Nottingham, Nottinghamshire
Value:  £300k
Completion:  2019
Artist:  Inge Tong
Engineers:  Price & Myers
Construction:  Lindum Group
Stone Masons:  Bonsers
更多read more about:  Letts Wheeler Architects