本文由 HZS滙张思 授权mooool发表,欢迎转发,禁止以mooool编辑版本转载。
Thanks HZS for authorizing the publication of the project on mooool, Text description provided by HZS.
HZS滙张思:场地设计的本质是设计者与场地之间反复对话、不断交流的过程。我们一直在思考,当下"场所集体失语"的现状该如何解决?而设计所强调的场所精神与在地性,在实际落地时,究竟如何得以真正的表达?
HZS: Landscape design is a process that landscape architect keeps talking and listening to the site. We have never stopped think what if the "site fell silent"? And how do we truly convey the spirit of site and local characteristics emphasized in design when getting it landed?
生长与对话 Growth and talk
本案位于贵州遵义,傍山望水,拥有天然的生态优势,项目基地紧邻新蒲湿地公园,场地内高差显著。接触项目的第一瞬间,设计师便在脑海中勾勒出一幅游走山林、眺望远山的画作。
Site is in zunyi city, guizhou province, embracing natural ecological advantage, and is adjacent to xingpu wetland park. While getting to know the site conditions like big elevation change, a beautiful painting of mountain and forest is rolling out in designer's head.
▼场地分析 Site analysis

重塑 Reshaping
场地保有天然的生态优势,但也面临部分自然条件被严重破坏的问题。如何在保留基地原始生态的基础之上重塑场地,为场地注入新的活力,呈现出理想的生活场景,是设计需要解决的主要问题。
Site has its natural eco-advantage, also faces the difficult of natural environment being severely damaged. How to reshape site, inject new vitality and create ideal living environment while preserving its natural ecology is the main problem to solve.
▼被破坏的空间 + 场地尚存的自然资源 Broken space + existing natural resources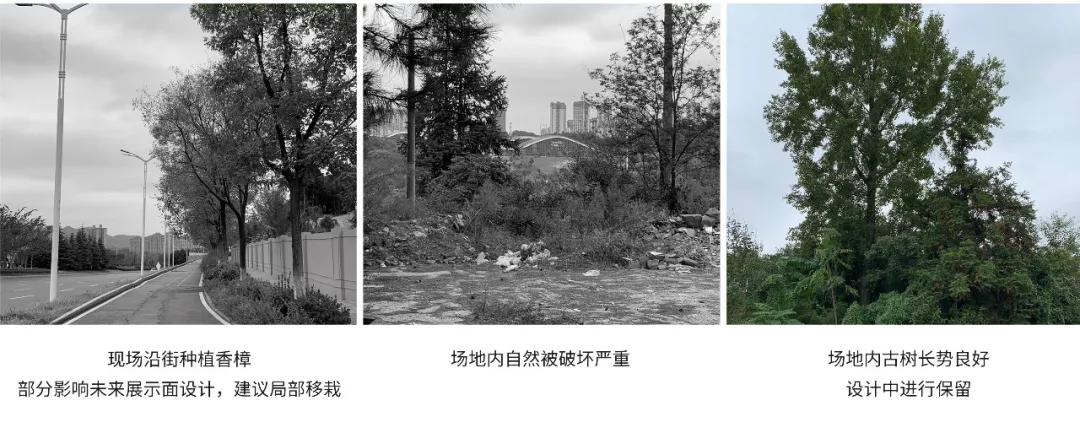 设计因地制宜,首先对地表进行复绿处理,让场地回归自然;同时顺应地势,对局部地形进行微处理,在现有场地中打造最佳景观动线,用空间讲述一个动人的故事。
Design with respect of site conditions. First, cover the land with green species and bring site back to natural conditions; with respect of the site topo, the land is partially modified to create the best landscape viewing route that tells a touching story.
▼景观从来不是推翻场地重新创造,而是在场地中自然生长 Landscape design is never done regardless of site conditions, rather it grows naturally out of its context
生长 Growth
设计初始,我们首先考虑的是尽量将建筑置于高处,让建筑生长于自然之间,以达到最佳观赏性与体验感。但鉴于建造成本和游览动线等多方考量,设计最终决定将建筑放在地势较低的入口处,作为整个空间的起景;通过景观动线的组织丰富空间体验,营造自然生长的状态。
At the beginning, we firstly wanted to place buildings at higher land as possible, where buildings will co-exist in harmony with nature, to harvest the best view of landscape and users experience. But after construction cost and organization of visiting circulation took into consideration, buildings were placed on lower land adjacent to entrance and serve as the starting point of the whole space; the organization of landscape circulation will help to enrich visitor's experience of space and leave the impression that everything grows naturally.
▼建筑位置剖面图 The locations of building
▼层峦迭嶂,绿意朦胧,我们身处其中,便与自然融为一体 Mountain after mountain, covered with green trees and flowers, standing at inside, we are absorbed in nature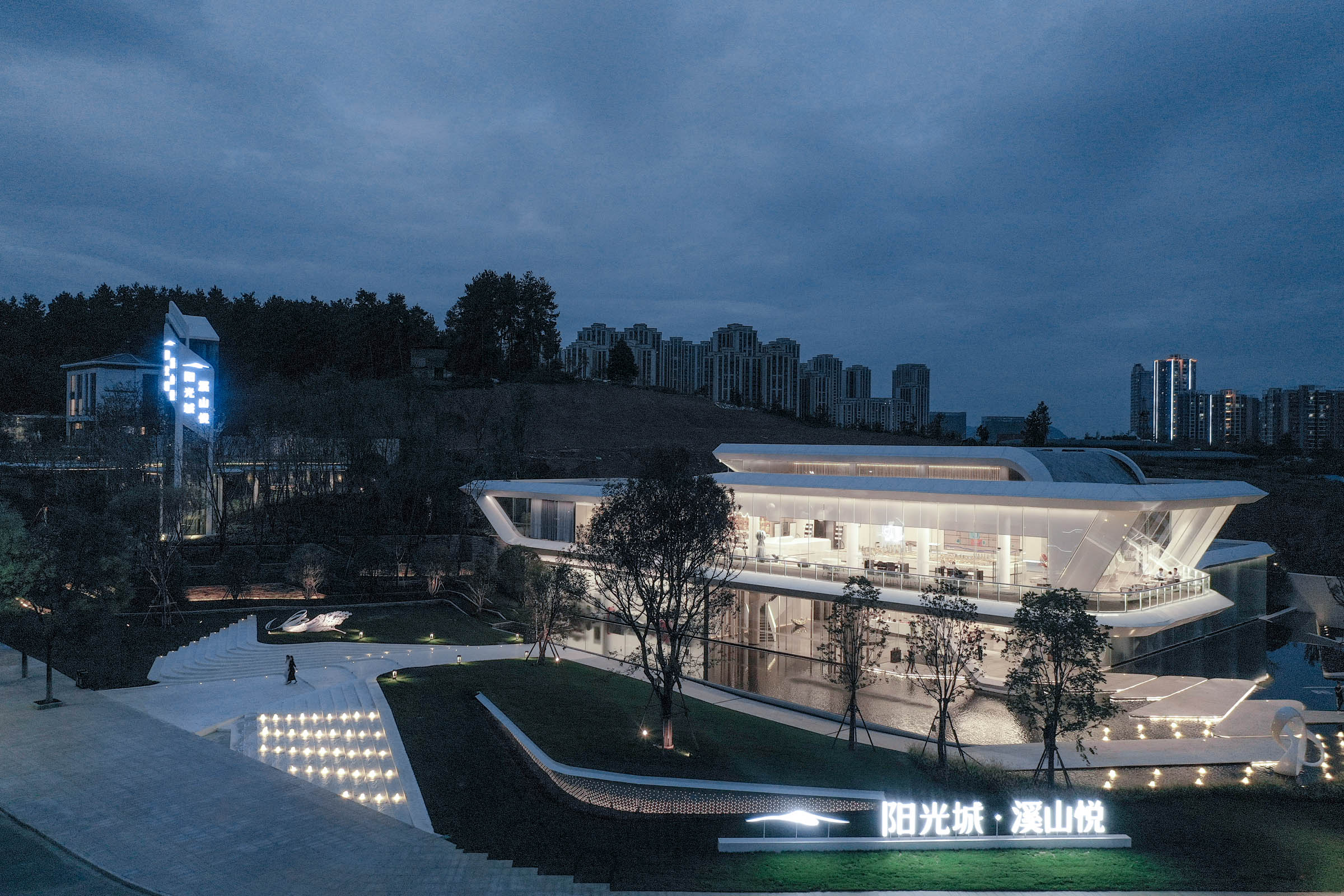 对话 Talk
设计将前场部分香樟移除,将展示面打开,消除场地内外界限,延伸空间,完成场地与周围环境的有机对话。
Part of the camphor in front space are removed to open up the show area, eliminate the boundary of internal/external space so that the site can talk with its surrounding environment.
充分利用场地高差打造登山野趣,一路芳草丛生,绿意盎然,人在行走的过程中形成与自然的静心对话。
Site topography is made the best of which for people to have a peaceful conversation with the wild, green and natural atmosphere.
观自然,享生活,我们对自然的追寻从未停止,这里是自由的天地,是心之所栖,梦之所向。
Nature and lifestyle. We have never stopped follow the footprint of nature, the land of freedom, dream and heart.
▼一次对话,便生出一段情缘、一段故事 Once conversation, leads to a lifetime story and romance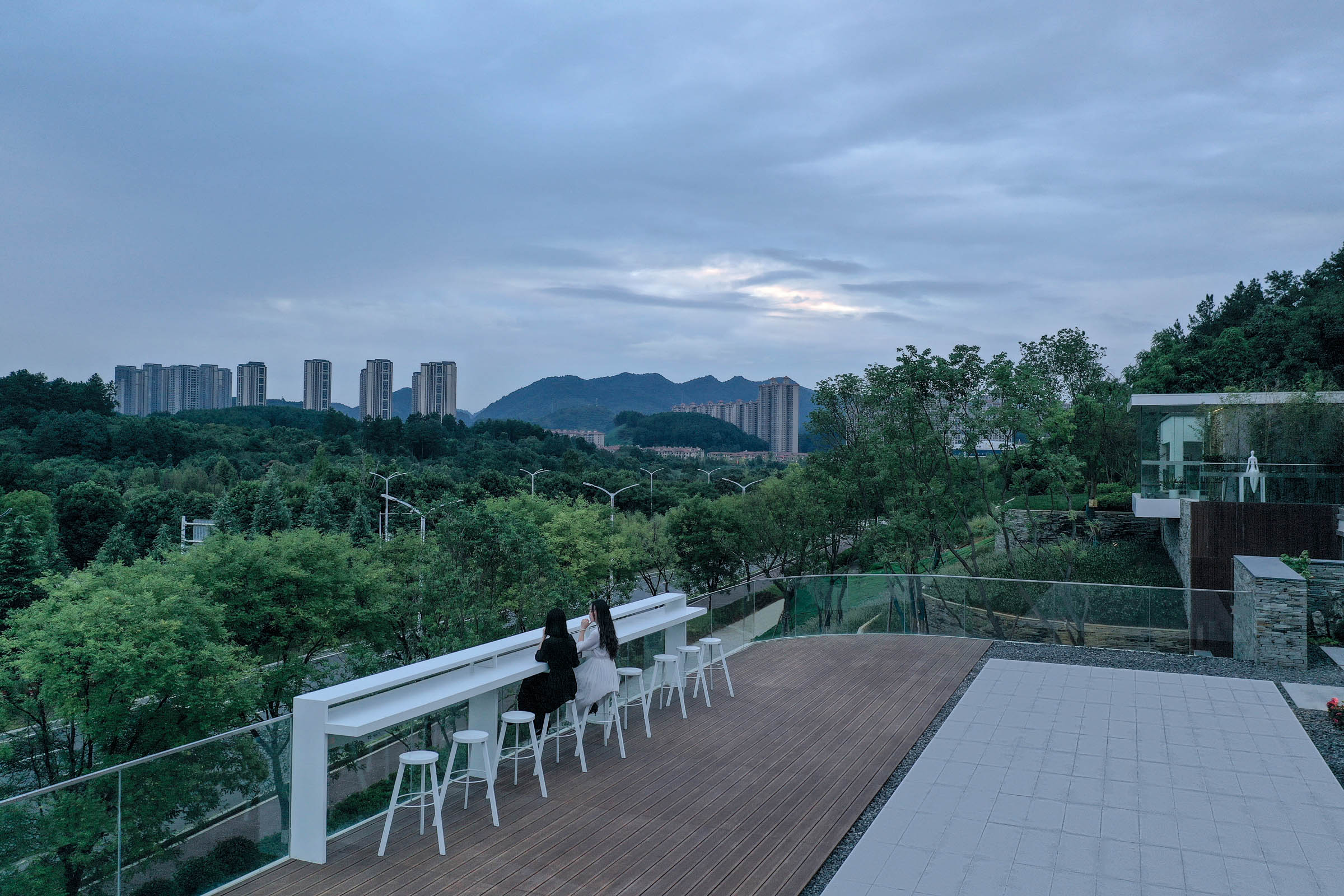 共生 Co-existence
景观从项目初始阶段便介入其中,参与场地的整体规划布局。设计的过程即是建筑与景观相互融合的过程,我们希望让建筑与景观融为一体,形成内外交融的模糊空间,营造融合共生的场所感。
Landscape team is involved since the beginning of overall planning. The process of design is a process that architecture and landscape mutually integrated. We hope the integration of architecture and landscape will form the internal/external transitional space and sense of co-existence.
设计将建筑立面语言延伸到景观之中,以曲折蜿蜒的动线打造丰富的游览体验,通过栈道、阶梯、平台等搭建与建筑的桥梁,打造空间的流通性与连贯性。
Building façade language is extended into landscape helping to create the rich visitors experience; the boardwalk, stairs and platforms etc. are designed bridge with buildings to guarantee the smooth transition and continuity of spaces.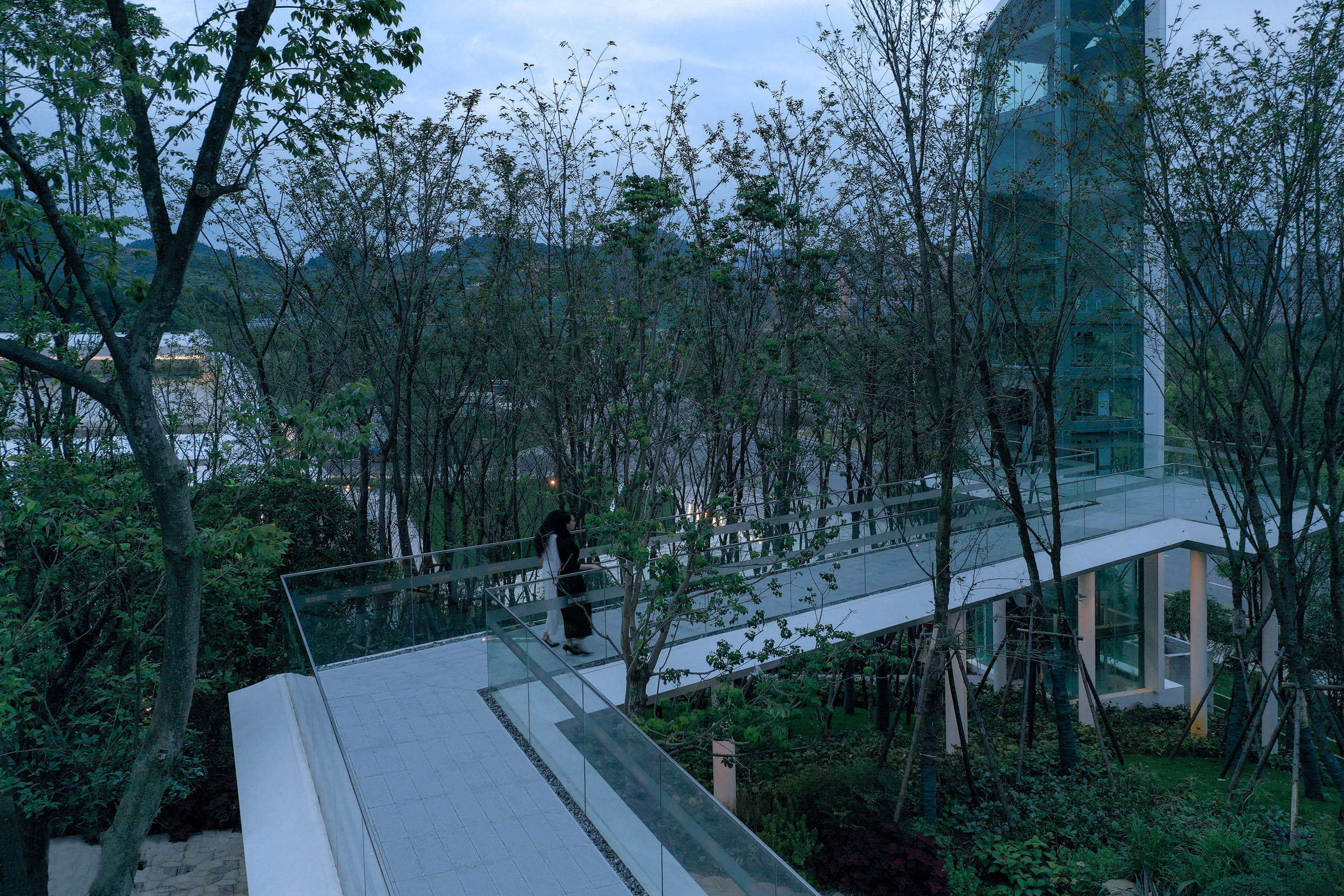 本案设计本着尊重场所精神的初心,努力寻找一个"回归场所精神"的答案,通过建筑景观的一体化设计、空间的序列排布,利用场地空间的明暗、开合、曲直渲染属于这片土地的自然氛围。
Bear in mind the genuine principle of respecting site spirit, the design has tried hard to find the solution that "truly returns to site spirit". the integrated architectural and landscape design, sequential space arrangement, the use of bright and dark, open and closed,  winding and straight spaces on site combined has helped to create the exclusive natural atmosphere on site.
项目名称:遵义阳光城溪山悦
项目地点:贵州遵义
业主单位:阳光城
景观设计:HZS滙张思景观_事业三部
设计团队:苏婕、李镓、李江帆、颜宇晨、曾毅、张宪伟、王星、单明雯、杨洁、赵书豪、廖萌
建筑设计:HZS建筑成都公司
建成时间:2020.07
景观面积:11,000㎡
摄影:ZOOM琢墨摄影(部分图片来自HZS滙张思李镓)
编辑:小Pang
Project Name: Yango Art Palace of Nature
Location:Zunyi City, Guizhou Province, China
Developer: Yango
Landscape Design: HZS Landscape No. 3 Business Division
Design Team Members: Su Jie, Li Jia, Li Jiangfang, Yan Yuchen, Zeng Yi, Zhang Xianwei, Wang Xing, Shan Mingxia, Yang Jie, Zhao Shuhao, Li Meng
Architecture Design: HZS Chengdu office
Date of Completion: July 2020
Landscape Area: 11,000㎡
Photographer: ZOOM, Some of the pictures are from Li Jia (HZS)
Editor: Little Pang
更多 Read more about: HZS滙张思