本文由 Lab D+H 授权mooool发表,欢迎转发,禁止以mooool编辑版本转载。
Thanks Lab D+H for authorizing the publication of the project on mooool, Text description provided by Lab D+H.
Lab D+H:银城Kinma Q+ 青年社区(Kinma Q+ Youth Community ) 是银城地产与腾讯合作打造的南京首个为青年人量身定制的智慧互联社区。Lab D+H受银城地产的委托,为这一集青年人聚会、社交、会谈和创业于一体的乌托邦国际社区设计景观。
Lab D+H:Lab D+H was commissioned to design the Kinma Youth Commune, Nanjing. This was to be the first international youth community in Nanjing and was to be operated by Yincheng Real Estate and the giant internet mogul–Tecent. The 1.7-hectare Artificial Intelligence (AI) oriented complex brought apartments, hotels, retails, startup incubators and public spaces together, all within one campus.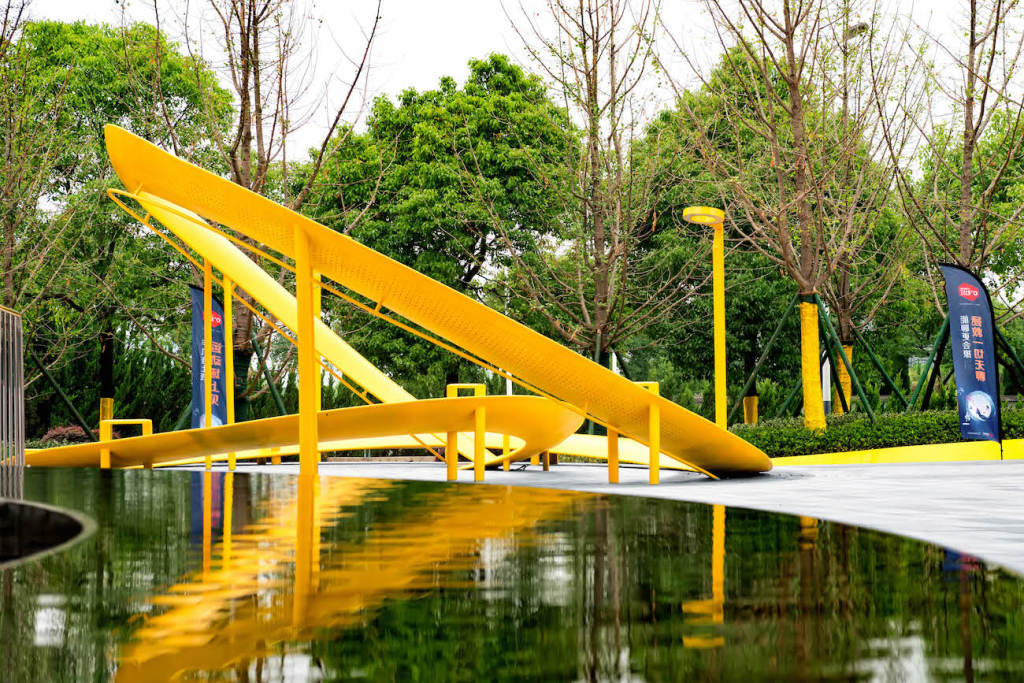 结合场地定位,我们以 "缘圈" 作为景观设计的策略:通过"圆圈"的空间语言创造聚集年轻人的"缘圈",即因缘分聚集在场地的不同功能的"朋友圈"。在这座1.7公顷的青年社区中,我们结合建筑的业态布置了各种主题的"朋友圈":运动圈、阅读圈、分享圈、互动圈、开放圈、多功能圈和聚会圈。
"Circle" was used as the central landscape strategy for this mixed-use complex. It involved creating a circle of youth that brought young people together with a spatial language of "circle". The commune included various themed "circles"– Athletic Circle, Reading Circle, Share Circle, Interactive Circle, Open Circle and Party Circle– which were linked by a multi-functional path that runs through the whole commune. Many interactive programs that usually took place indoors were brought out to open spaces, greatly exceeding lifestyle expectations of the young residents. Here, the young generation discovered different "circles" based on their personal interest and also began exploring new lifestyle avenues.
西北广场作为社区的展示区首先建成并对外开放。沿坡消隐的台阶和沿弧抬升的不锈钢树池,优雅地化解了建筑室内和市政人行道之间1.8米的高差。一条弧形的坡道将行人引导至展示区前广场,广场上有两个"朋友圈":剧场圈和互动圈。
Northwest square as a community exhibition area was first built and opened to the public. The steps along the slope and the stainless steel tree ponds that rise along the arc have elegantly resolved the 1.8m height difference between the building's interior and the city's sidewalks. A curved ramp leads pedestrians to the front square of the exhibition area, where there are two "friend circles" : the theater circle and the interactive circle.
互动圈
Interactive circle
互动圈的弧形装置,盘旋上升至离地面三米的高度,为不同姿态的行为方式和运动提供了各种可能。夜晚,从穿孔钢板里透出的灯光划出了一条弧形的光带,使得装置成为广场的地标。
The arc-shaped device of the interactive circle spirals up to three meters above the ground, providing various possibilities for the behavior and movement of different poses. At night, a curved strip of light from a perforated steel plate makes the installation a landmark of the square.
剧场圈
Theater circles
剧场圈的半月靠座,既是销售活动时的观众坐席,也是日常用于观看来往行人的日光躺椅。
The half-moon seating of the theatre circle is not only for the audience during sales activities, but also for the daily use of the sun lounger to watch the passers-by.
镜面水景
Mirror-like waterscape
镜面水景是展示区静谧的一隅,与互动圈、剧场圈的热烈形成强烈的反差,这种空间环境的反差正是青年人不同生活方式的体现。
The mirror water scene is a quiet corner of the exhibition area, which forms a strong contrast with the enthusiasm of the interactive circle and the theater circle. The contrast of this space environment is the embodiment of the different life styles of young people.
分享圈
Sharing circle
分享圈的环形装置,层层上升三个阶段,每0.45米一个层次,两个环形高低交错,形成座与桌的组合,为使用者提供了不同视角的位置,当圈内发生表演,人群围坐在这里,一起分享乐趣。
Share circle ring assembly, layer upon layer up three phases, each 0.45 meters a level, the two ring staggered, formed with the combination of desk, provides the user with a different perspective of position, when performing occurs in the circle, people sitting here, share fun together.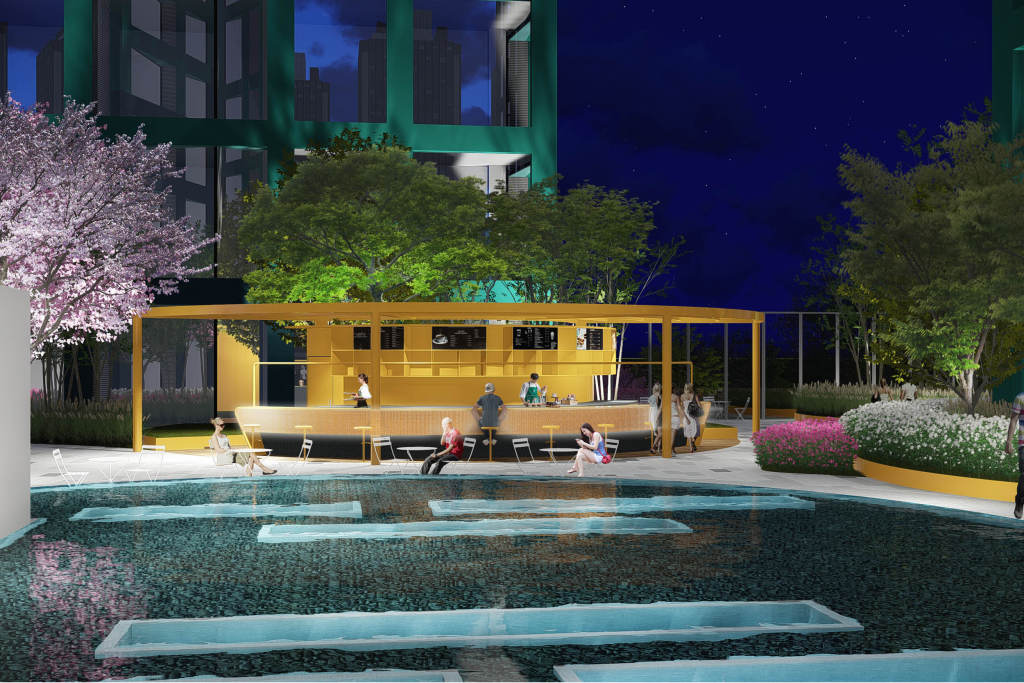 Photos by Xueer Photography · Tang Wei, Wu Peiyu (photo of construction site).
位置:中国南京
面积:17000m²(显示面积3000m²)
客户:银城房地产
设计团队:钟慧成,宋飞民,郝兰,蔡俊妍,王迪,林炳兴,郭国武
建筑设计:M·A·O
景观设计:Lab D+H
Location:Nanjing, China
Size:17000 m² (display area 3000 m²)
Client:Yincheng Real Estate
Design Team:Huicheng Zhong, Feimin Song, Hao Lan, YoungJoon Choi, Di Wang, Bingxing Lin, Guowu Lv
Architectural design: M·A·O
Landscape: Lab D+H
更多 Read more about:Lab D+H