本文由 墨刻景观 授权mooool发表,欢迎转发,禁止以mooool编辑版本转载。
Thanks MEKE Landscape for authorizing the publication of the project on mooool, Text description provided by MEKE Landscape.
墨刻景观:项目位于合肥望江东路和铜陵路交叉口,基地紧贴城市干道及高架,外部车水马龙,环境嘈杂。如何从喧嚣到宁静、从城市到生活是此次设计关键。汲取中式园林空间精髓,融入现代景观技法,创造一个充满文化感与艺术性的生活场景。引入中式"漏窗"元素,形成多个借景、对景、漏景等趣味性场所。窗体通透度的变化,使人们逐渐远离了街道的喧嚣,慢慢沉浸在舒畅的生活中。
MEKE Landscape:The project locates at the intersection of Wangjiang East Road and Tongling Road in Hefei. The site is close to the city main roads and highway. The surrounding environment is dominated by busy traffic and disturbing noise. Therefore, the design key of the project is to find a balance between the noisy environment and quite living environment and a balance between the urban and public's life. The design focuses on the essence of traditional Chinese garden space, incorporates modern landscape design techniques, and creates a cultural and artistic life scenes. Introducing the traditional ornamental element "perforated window", the project forms some interesting spaces like borrowed scenery, opposite scenery, and leaking through scenery. The change in the transparency of the windows makes people gradually keep away from the hustle and bustle of the street and slowly immerse themselves in a comfortable life.
转角的宁静:围合式的空间处理手法,营造了安静的体验区内场。大大小小的光之盒子,与城市的对话。
The tranquility of the corner: the enclosed space treatment method creates a quiet interior space. The lights boxes in different sizes seem to talk with the city.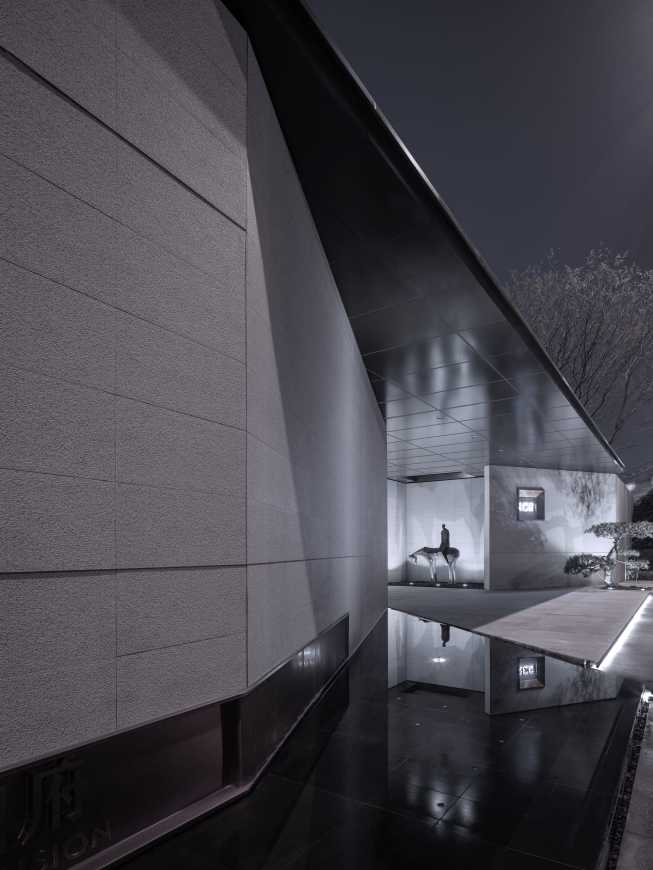 光廊:狭长的廊道,光束从天而降,洒落在艺术雕塑上、洒落在竹叶上,光影斑驳,情绪酝酿。
The Light gallery: in the narrow corridor, the light beam descends from the sky and sprinkles on the art sculptures, on the bamboo leaves. The light and shadow plays with each other, brewing an enjoyable emotion.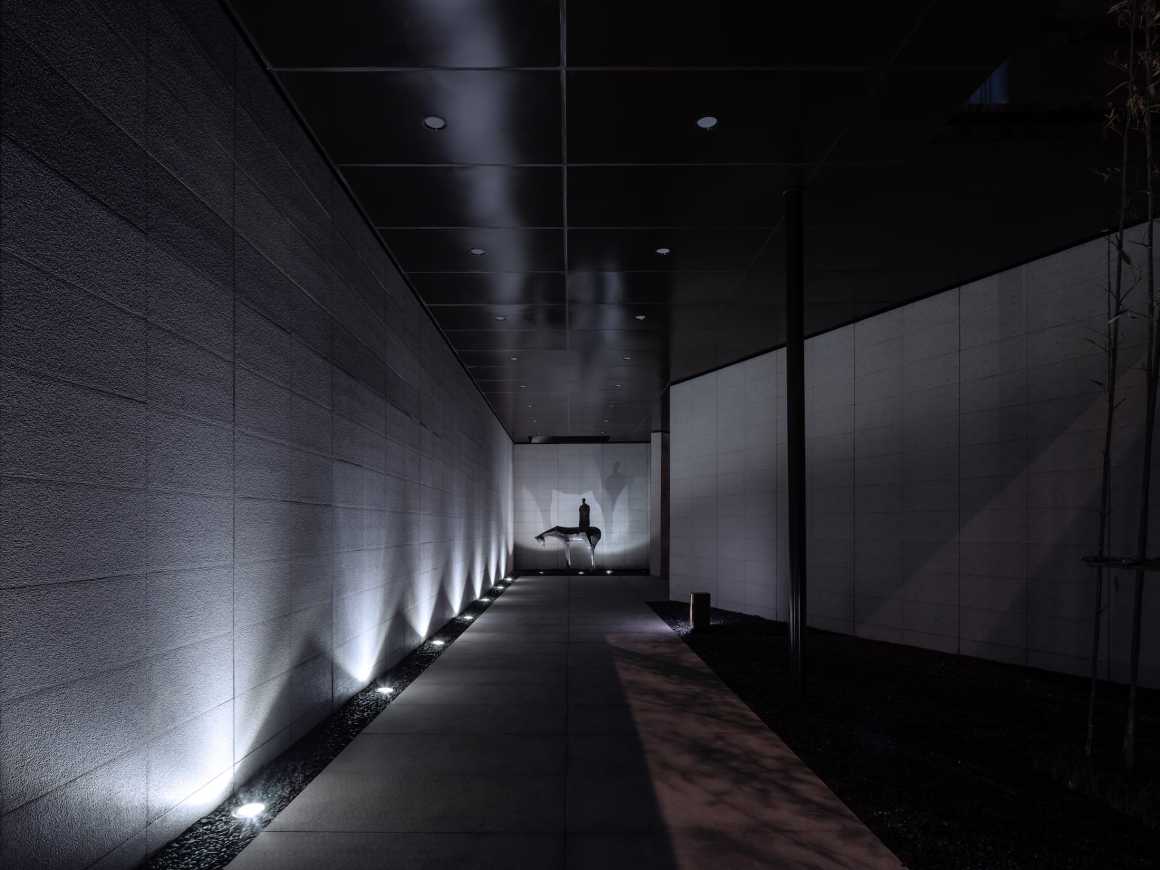 水院:穿过光廊,树影婆娑中走进水院。手牵手的"幸福"艺术品静静的屹立在如镜的水面之上。光之盒的灰空间,坐下来,欣赏四时更迭,光影变幻,享受着难得的平静。在这方寸之间,静谧与艺术共享,雅致与激荡同在。
The Water Court: Through the light gallery, the tree shadow enters the water court. The "happiness" artwork of "hand in hand" stands quietly on the mirror like water. In the gray space of the Light Box, visitors can sit down and enjoy the four-season change, the show of lights and shadow, and a precious peace. Between this square, peace and art, elegance and excitement exist simultaneously.
星空水庭:夜幕降临、华灯初上,城市窗口投射出的璀璨,雕塑置身于"星空"倒影中,艺术与空间,光与影结合,拼出了夜晚的无限浪漫。
Star Water Court: The night falls. The lights are on. The shackles are projected by the city windows and the sculptures are placed in the reflection of the "Star Sky". Art and space, light and shadow combine to create the infinite romance of the night.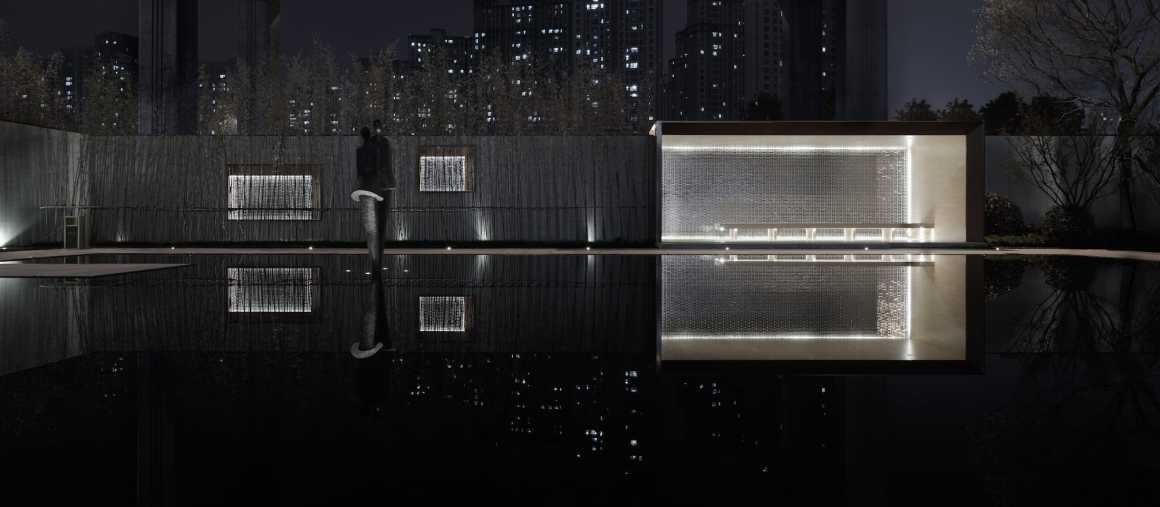 窗:你站在窗边看风景,看风景的人在看你 。人物、景物在相对、互换中, 都悄悄发生了转变。
Window: As you are enjoying the scenery by a window, people enjoying the scenery are watching you. Characters and scenes have changed quietly. Sometimes they are against each other and sometimes they become each other. Here, you and the scenes are relative.
▼细部 Detail
项目名称:合肥阳光城·悦澜府体验区
项目地址:安徽合肥
项目设计时间:2018年10月
项目完成时间:2019年4月
设计面积:2200㎡
业主:阳光城集团安徽区域公司
业主团队:余艳峰、吴俊彦、刘佳
设计公司:上海墨刻景观工程有限公司
主创及设计团队:陈皓、张晓磊、阮东、杨凯(方案团队);陈晓悦、张毅(施工图团队)
景观施工:福建省森泰然景观工程有限公司
摄影:章勇
Project name: Yuelan Mansion Experience Area of Yango city,
Location: Hefei, Anhui province, China
Design date: October 2018
Completion: April 2019
Design area: 2200㎡
Client: Yango Group Anhui Regional Company
The client team: Yanfeng Yu, Junyan Wu, Jia Liu
Design company: MEKE Landscape
Design team: Hao Chen, Xiaolei Zhang, Dong Ruan, Kai Yang (concept design); Xiaoyue Chen, Yi Zhang (construction drawing team)
Landscape construction: Sentairan Landscape
Photography: Zhang Yong
项目中的材料运用 Application of materials in this project
更多 Read more about: 墨刻景观