本文由 壹安设计 授权mooool发表,欢迎转发,禁止以mooool编辑版本转载。
Thanks Y.An Design for authorizing the publication of the project on mooool, Text description provided by Y.An Design.
壹安设计:壹池三进,入堂九间,过贰拾肆院,宽心一生。中轴首开区:承意"三开三进,谓之九间"传统大家府邸规制,构归家之仪。大区宅间:取意《二十四诗品》诗境,打造二十四庭院场景,构诗意居所,为居者而生。
Y.An Design:Entrance with three layers and one water feature, nine rooms behind the hall, after twenty-four gardens, enjoy a peaceful life. First stage – the central axis: originated from the traditional practice in China that "three halls with three entries, is nine rooms", which constructs the rite of homing. In residential area, landscape area between the house: meaning from poetic scene of <24 poetry>, build 24 courtyard scenes, create poetic dwelling, born for residents.
一间 池迎庭 Greeting Pool
入口百尺面宽, 层层递进, 定鼎整个空间,水流与U型景墙拂净城市喧嚣。
采用定制工艺打造面宽40米,进深21米,高4.5米尊贵门庭,超意境水景,120平方米定制龙鳞纹墙面纹饰彰显尊贵品质。
Hundred feet entrance with progressive layers settled the whole space. City noises are swept by water flow and u-shaped landscape wall.
The most luxurious door , 40 meters wide, 21 meters deep, 4.5 meters high, is established by customized technology. Super artistic waterscape and 120 square meters custom dragon scale wall decoration highlights the highest level of quality.
▼设计细节 Details
二间 乐栖阁 The music pavilion
紫阁舞云松,开尊绿酎浓。入门自在可休憩,可小酌,可观景。
承袭王府建制,采用定制工艺,打造宽18米,高8米,九层斗拱结构大宅入口,彰显世家府邸礼仪风范。
The purple pavilion dancing around pines, a bottle of wine with strong aroma. Easy entry and peaceful break, with a beautiful drink and nice scenery.
Adopting the system of the royal palace and the custom craft to create a mansion with a 18 meters width, 8 meters width, and a nine layers brackets structure, which highlights the etiquette of family mansion.
三间 璟松殿 Hall of Forest
落花流涧水,明月照松林。水流如乐,漫步赏景,静听曲水流觞。
约35米长的登高步道,15棵黑松耸立,以流线型元素表现山体,营造登高聆水的意境。
Falling flowers float on stream, moonlight through pine forest. Walking along with the scenery and rhythm of the water flowing.
On the 35 meters climbing path, there is 15 black pines, with artificial mountain expressed by streamlined elements, to create the artistic conception of ascend to the rhythm of water.
四间 御涛阁 Pavilion on Waves
回望甘泉道,龙山隐汉宫。入隐林间, 再赏四季繁华。
采用定制工艺打造面宽9米,进深16米的高贵宫阙带来全新东方意蕴。
Looking back at the spring path, longshan hidden Han Palace is hidden in dragon mountain. Step into the forest, then enjoy the beauty of seasons.
The 9 meters wide and 16 meters depth noble palace with customized craft bring the new meaning from the Orient.
五间 长明池 Ever-Shining Pond
光影借景,收归无限于有限。空灵、极简、留白,却能记录一切细微变化。
约700平方米超大双栖水景,64盏明灯按"星阵"方式排列彰显"宽心"世家。
Borrowing scenery by light and shadow. Vacant, minimalism and blank, which is able to record all the subtle changes from life.
About 700 square meters double habitat waterscape with 64 lamps by the "star array" arrangement to highlight the "relieved" family.
六间 庐云间 Cottage under Clouds
由快至慢,回归生活,活力草坪、亲水平台提供了丰富的活动空间。
以"流云"为源头,采用流线型设计,精细打磨的水磨石,使得活力倍增。
Fast to slow, back to life, the dynamic lawn and hydrophilic deck provides an exciting activity space.
Using "Cloud" as the source, streamlined design and fine grinding terrazzo to enhance the vitality dramatically.
七间 柏林池 Pond by Woods
全季三栖水景,兼具泳池、休闲和观赏水系三大功能。
长35米,宽12米的双栖泳池,8.4米定制水族馆玻璃作为泳池边界高超的施工工艺带来美感生活品质。
Three – season waterscape, including functions of swimming pool, relaxation and water system scenery.
35 meters long and 12 meters wide double-season swimming pool. Using 8.4 meters custom aquarium glass as the boundary to import the aesthetic quality of life.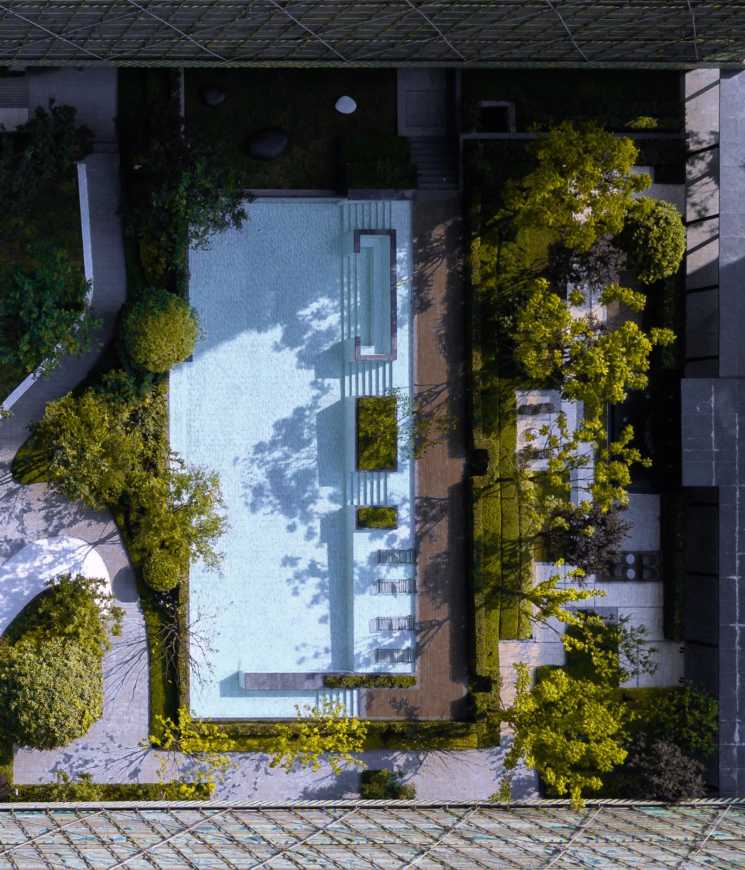 八间 沉香榭 Hall of Vanilla
清夜湖心把酒杯,花间风月共徘徊。宛转花园里,香草、连廊、水景,邻里和睦的交流空间。
约36米长的休闲步道结合4处休闲平台,百转千回,打造精致庭院。
At night, in the middle of lake with a wine glass, strolling along the between flowers. Take steps into garden, herbs , corridor and water scene, created the harmonious communication area.
36 meters long leisure footpath with 4 leisure platforms, innumerable twists and turns, an exquisite courtyard is created.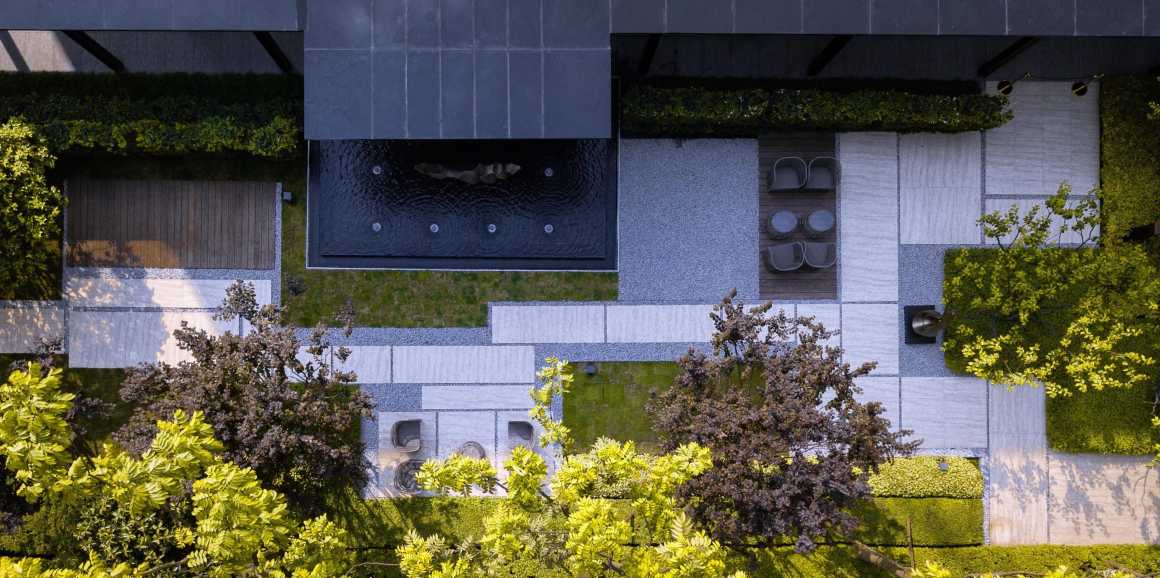 九间 豪谈间&艺术吧 Negotiation room & Art bar
大树倚高盖,小酌欢有余,何妨到夕阴。楼王定制庭院。
楼王专属艺术会客空间,一为私宴,二为聚会。
Leaning on trees, drink in happy atmosphere, no matter it is evening or not. The courtyard of king building.
The exclusive art reception space of king building, could be for private dinner, or parties.
▼大区效果图预览 More perspectives of residential area
项目名称:财信 · 融创九阙府
项目地点:重庆市南岸区茶园天文大道北路
景观面积:43077㎡
设计时间:2018年
业主单位:重庆信创置业有限公司
业主景观团队:熊宇|聂利|杜慎昆
景观设计:深圳市壹安设计咨询有限公司
景观设计团队:李昕|李继刚|梁天才|陶先伦|张国炜|方芳|安秋会|王菁|陈伟|乔滢宇
建筑设计:上海大椽建筑设计事务所
室内设计:重庆默存室内装饰设计咨询有限公司
摄影:王骁
Project name: CASIN & SUNAC Nine-Court Mansion
Project location: North Road, Tianwen Avenue, Chayuan, Nan 'an District, Chongqing
Landscape area: 43077 ㎡
Design time: 2018
Developer: Chongqing Xinchuang Estate Co., Ltd
Developer team: Yu Xiong, Li Nie, Shenkun Du
Landscape design: Shenzhen Y.An design consulting co., LTD
Landscape design team: Xin Li | Jigang Li | Tiancai Liang | Xianlun Tao | Guowei Zhang | Fang fang | Qiuhui An | Jing Wang | Wei Chen | Yingyu Qiao
Architecture design: Shanghai Dachuan Architects
Interior design: chongqing mercun interior decoration design consulting co., LTD
Photography : Xiao Wang
项目中的材料运用 Application of materials in this project
更多 Read more about: 壹安设计