本文由 山水比德 授权mooool发表,欢迎转发,禁止以mooool编辑版本转载。
Thanks Guangzhou S. P. I Design Co., Ltd. for authorizing the publication of the project on mooool, Text description provided by Guangzhou S. P. I Design Co., Ltd. .
山水比德: 在重庆生活,习惯起伏与穿梭,在无数次低头爬坡、抬头看景之后,在下一个转角,也许会遇见那位面容模糊的神秘女子。应当如何用现代的设计语汇,向这座地势崎岖、充满野趣的城市回应?于我们看来,与巴拉甘、西扎等建筑师的作品一般,也与韦斯安德森的电影一般,构图规整、情节跌宕、色彩浓烈,以及极具辨识度的情绪传达。
Guangzhou S. P. I Design Co., Ltd: People living in Chongqing are accustomed to go up and down stairs; after lowering heads and looking up for views again and again, they may meet a mysterious lady who could not be seen clearly at the next corner. How should we use modern design vocabulary to describe this city with an uneven terrain and rustic charm? In our opinions, like the works of such architects as Barragán and Siza, and like Wes Anderson's movies, the city is of regular composition, but with ups and downs, bright colours, and highly recognizable emotional expression.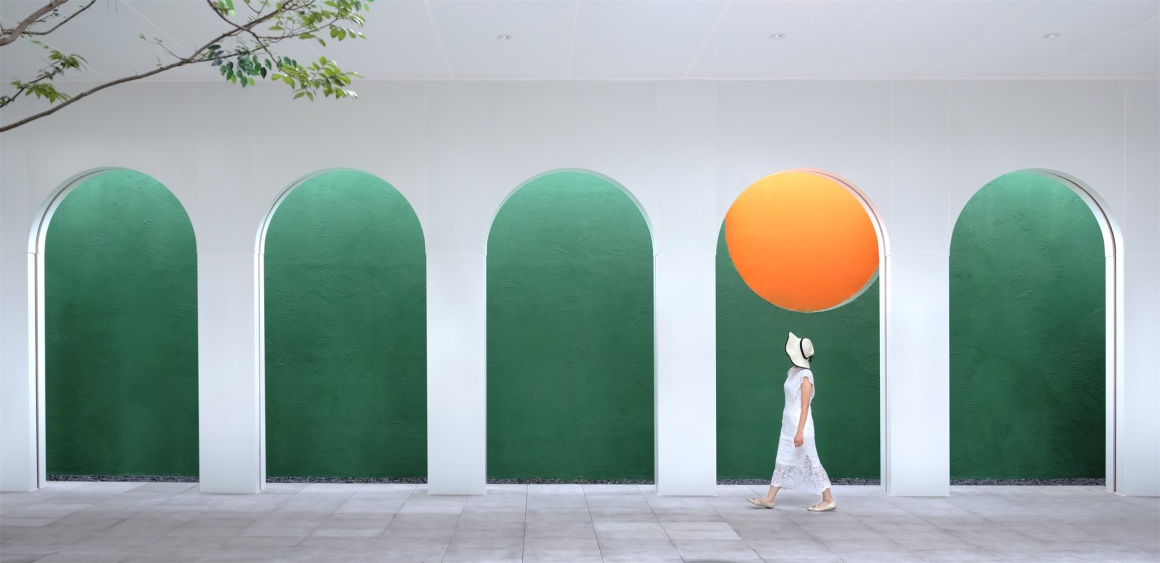 带着这样的灵感,我们在旭辉金科·空港项目中,制造出错落的空间穿插,加入亮眼的主题色彩,建立了一座多层次"视觉系"秀场的景观,响应缤纷生活、互动艺术的设计理念,把山城生活的缩影映射于此。
With this idea, in the CIFI JINKE AIRPORT ART EXPERIENCE CENTRE project, we created the well-proportioned space, added bright theme colours, and built the landscape with a multi-level "visual" show, reflecting the design concept of a colourful life and interaction art, as well as a life in the mountain city.
体验伴随脚步的推进开启,启程-探索-相伴-曲折-归宿,串联起入口、内庭、侧院、屋顶四大主题空间,一个年轻时尚、趣味神秘的色彩异想世界展示在眼前。随我们,在一个又一个具有强烈记忆点的转角中,不安分地穿行。
The experience starts as follows: starting-exploring-accompanying-twists and turns-returning, connecting four major theme spaces of entrance, inner courtyard, side courtyard and roof; and then a young, fashionable, interesting and mysterious colourful fantastic world appears in front of us. Come with us, passing restlessly through corners with strong memory points.
▼入口 Entrance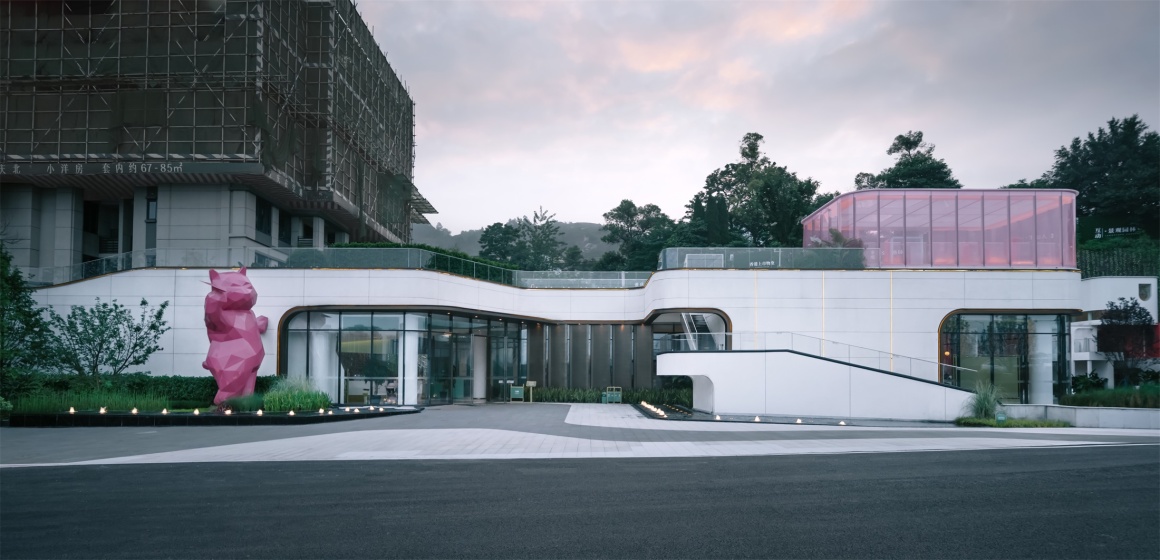 ▼内庭 Inner courtyard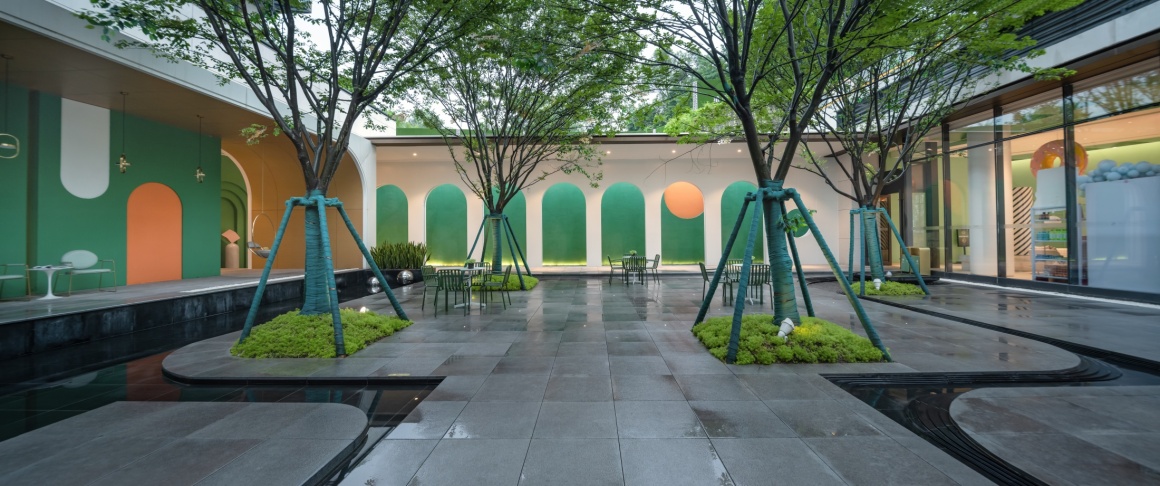 ▼侧院 Side courtyard
▼屋顶 Roof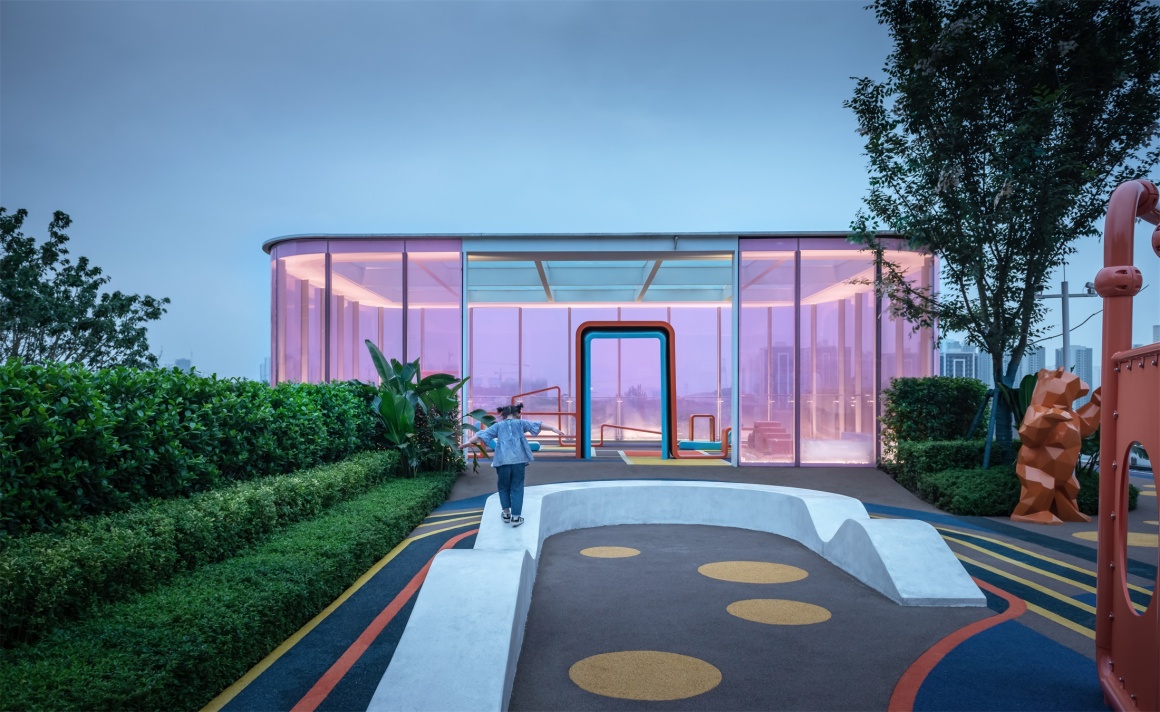 01 绿 & 橘 GREEN & ORANGE
绿色是静谧,橘色是活力。当大面积的翡翠,遇上一小块阳光,像是葱郁的绿洲中突然开出的花朵,耀眼、闪烁,散发出迷人的光芒。
Green is quiet, orange is vitality. When a large area of emerald meets a small piece of sunlight, like a flower blooming in a lush oasis. Dazzling, shimmering, emitting a charming light.
或是在异域连廊,漫不经心地走走停停;或是在林下庭院,安静地阅读一本书 ;或是在流动水幕,细心地观察水流动;或是,直接放空。无论哪种,都不失为一种奇妙的体验,还有充满着惊喜的转角。
Or in an alien corridor, stop and go casually; or under trees in the courtyard, read a book quietly; or in front of a waterfall, watch the water flowing attentively; or just hold a blank mind. Anyway, it's a wonderful experience, and corners full of surprises.
02 红 & 白 RED & WHITE
红色是蚊子血或是朱砂痣,白色是白月光或是饭粘子,但凡间的红与白,并不都是"红玫瑰与白玫瑰"的故事。
Red is blood or cinnabar, white is moonlight or rice, but not all stories red and white, are about "Red Rose and White Rose".
白色依旧纯洁,我们在红色中注入了鲜活的金调,化解浓烈与哀愁,营造出更年轻、欢快的氛围,让空间也愈加俏皮玩趣。
White is still pure. We put a vivid gold tone in red, weaken density and sadness. Create a younger and cheerful atmosphere, make the space more playful and fun.
在高差中穿行,越过休闲会客的庭院,不知不觉已踏足空中栈桥之上,俯瞰侧墙与廊架的相互交融,镜面水池的折射与反射,为场地带来更多想象空间。让精神与肉体,都游走在虚与实的边界。
Walk through height differences, pass the courtyard for leisure and meeting guests. We stand on an air corridor before noticing it, overlook the fusion of side walls and corridor frame. Refraction and reflection from a pool, bringing more imagination to the site. Spirit and body, go around the boundary of virtual and real life.
03 粉 & 白 PINK & WHITE
粉色是甜蜜,白色是纯洁。化为敞开的大门与灵动的小熊,带着些许暖意与一丝童趣,寓意着希望与梦想。
Pink is sweet, white is pure. Turn into an open door and a smart bear, with a little warmth and childishness, it means hope and dream.
迎接每一个来到这里的客人,开启带有春夏般色彩的艺术想象。
Any guest is welcomed here, start their artistic imagination with spring and summer colours.
04 彩 MORE COLOURS
在贴近天空的高度,我们彻底打翻了调色盘,用彩色,延伸出更多。
At a height close to the sky, a palette is completely knocked over. Leading to more painting with colours.
蹦床盒子、未来跑道的设置,带给孩子新奇的游乐体验。趣味性滑梯、灰空间将游乐功能延续到侧庭,让家长陪伴其旁,时刻记录亲子时光。
Trampoline box and the setting for a future track, bring children a novel play experience. Fun slide and gray space, extend the play function to the side courtyard. Parents are nearby recording parent-child time.
05 盒子 BOXES
三个代表不同心情的盒子,等待着被逐一打开。"飞翔盒子"与建筑形体相呼应,像是跳上蹦床,体验瞬间的失重。
Three boxes represent different moods. Waiting to be opened one by one. "Flying Box" echoes the architectural form, like jumping on a trampoline and experiencing instant weightlessness.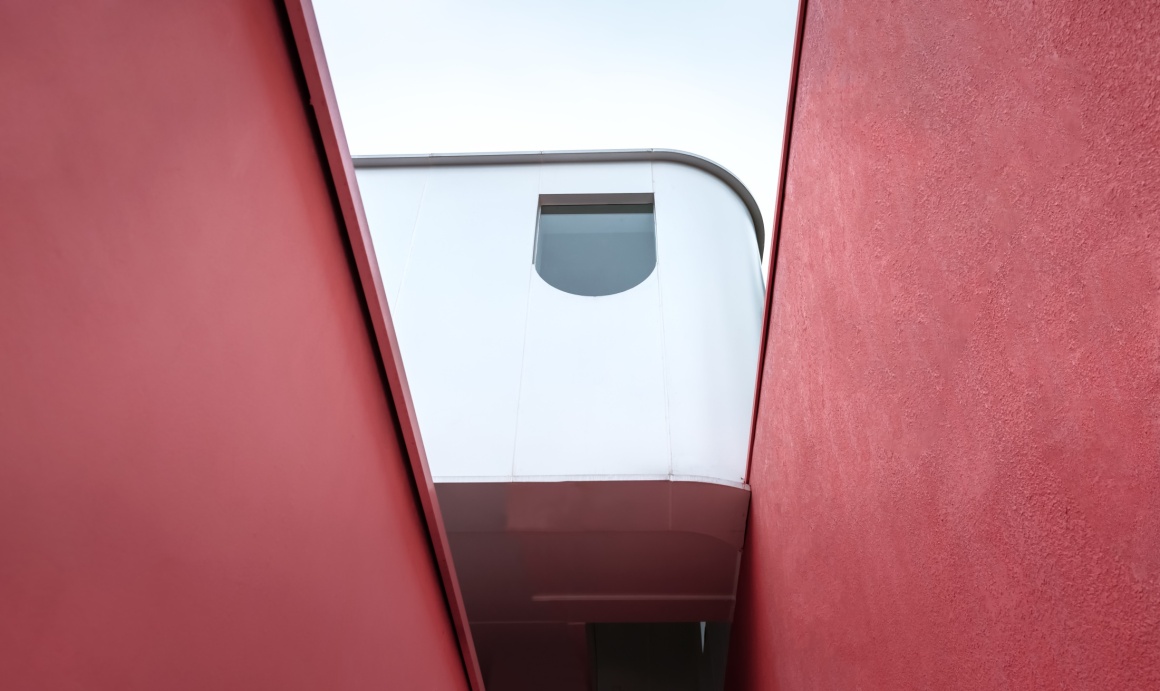 漂浮的"漫享盒子",提醒自己生活再忙,也要享受生活。
The floating "Enjoy Box", reminds us of enjoying our life no matter how busy life is.
与屋顶乐园连接的"奇思盒子",大面的色块墙体,干净的白色墙体,打造兼具轻松生活的氛围,抢占朋友圈风头的最hit拍照打卡点。
"Fancy Box" connects to the rooftop park, large colourful walls and clean white walls. Create an atmosphere with a relaxed life, becoming the hottest site to take perfect Wechat Moments snaps.
06 色 COLOUR
"我们从园林中悄然而过,言语在此刻显得是多余,其中的每一件东西都拥有毋庸置疑的独特性,光线轻松而迷人。色彩则不受任何限制的表达着作者的各种情感与精神。"——阿尔多·西扎
"We passed by the garden quietly. Words are useless at this moment. Everything in it has undoubted uniqueness. The light is relaxed and charming. The colours express the author's various emotions and spirits without any restriction." Alvaro Siza
设计师感言 Designer's Words:
在开启设计前,我们问了自己一个问题:深受年轻人喜爱的地方有什么特点?在研究了大量网红打卡地之后,我们提取出色彩、高差、故事、情绪、戏剧性等关键词。
反映于项目,我们运用了构成几何与浓烈色彩的设计手法,加上不断变幻的自然光线,让这里变成现实与梦幻的交汇之处,同时不失重庆独特的地理文化。强烈的视觉冲击感和丰富的空间层次感,一定能像重庆这座8D魔幻之都一般,给你留下深刻的印象。
Before starting the design, we asked ourselves a question: What are the characteristics of places popular among young people? After researching a large number of Internet-famous places, we extracted such key words as colour, height difference, story, emotion and drama.
In the project, we used the design techniques of composition geometry and bright colours and added the ever-changing natural light, to turn this place into the intersection of reality and dream without losing the unique geographical culture of Chongqing. The strong visual impact and rich spatial levels will surely impress you like Chongqing, the 8D magical city.
项目名称:旭辉金科·空港销售中心
委托业主:旭辉地产西南区域集团、金科地产集团股份有限公司
景观设计:广州山水比德设计股份有限公司
主创及设计团队:方案主创:孙虎、利征、曾利军;设计团队:吴德俊 刘星 刘万莉 祁佳敏
园林施工:重庆晟景城景观工程公司
建筑设计:PTA上海柏涛
项目地点:重庆市空港新城
设计面积:3400㎡
设计时间:2019年5月
建成时间:2020年6月
摄影:广州山水比德设计股份有限公司
Project Name: CIFI JINKE AIRPORT ART EXPERIENCE CENTRE
Client: CIFI GROUP SOUTHWEST REGION; Jinke Property Group Co., Ltd.
Landscape Design: Guangzhou S.P.I Design Co., LTD
Creator and Design Team: Project leader: Sun Hu, Li Zheng, Zeng Lijun; Design Team: Wu Dejun, Liu Xing, Liu Wanli; Qi Jiamin
Landscape Construction: Chongqing Shengjingcheng Landscape Engineering Co., Ltd.
Architectural Design: Shanghai PTA
Location: Chongqing Airport New Town
Design Area: 3400㎡
Time of Design: May 2019
Time of Completion: June 2020
Photography: Guangzhou S.P.I Design Co., LTD
项目中使用的植物和材料 Application of materials and plants in this project
更多read more about:  山水比德 Guangzhou S. P. I Design Co., Ltd.