本文由 COS Design 授权mooool发表,欢迎转发,禁止以mooool编辑版本转载。
Thanks COS Design for authorizing the publication of the project on mooool. Text description provided by COS Design.
COS Design:该住宅业主希望我们在其现有的花园和游泳池周围,为他们正在装修中的住宅创建一个新的景观。该项目的其中一个关键元素是前场通往建筑的行人入口,我们在这里设置了一个新的前门,但前门的高度要高于人行道的高度,故我们想到了通过设置台阶来平衡高差,而且住宅的新立面是现代极简主义美学风格,因此入口景观的设计也要配合突出和加强这种感觉和形式。
COS Design:The owners of this home which was currently under renovation wanted to create a new landscape for their entire property in and around the existing garden and pool. One of the key elements was the front pedestrian entry to the new wing, which featured a new front door position. The front door level was elevated from footpath level, so steps were required to navigate the level differential. The home's new facade was of a modern, minimalist aesthetic form, so the entry landscape needed to highlight and enhance this feel and form.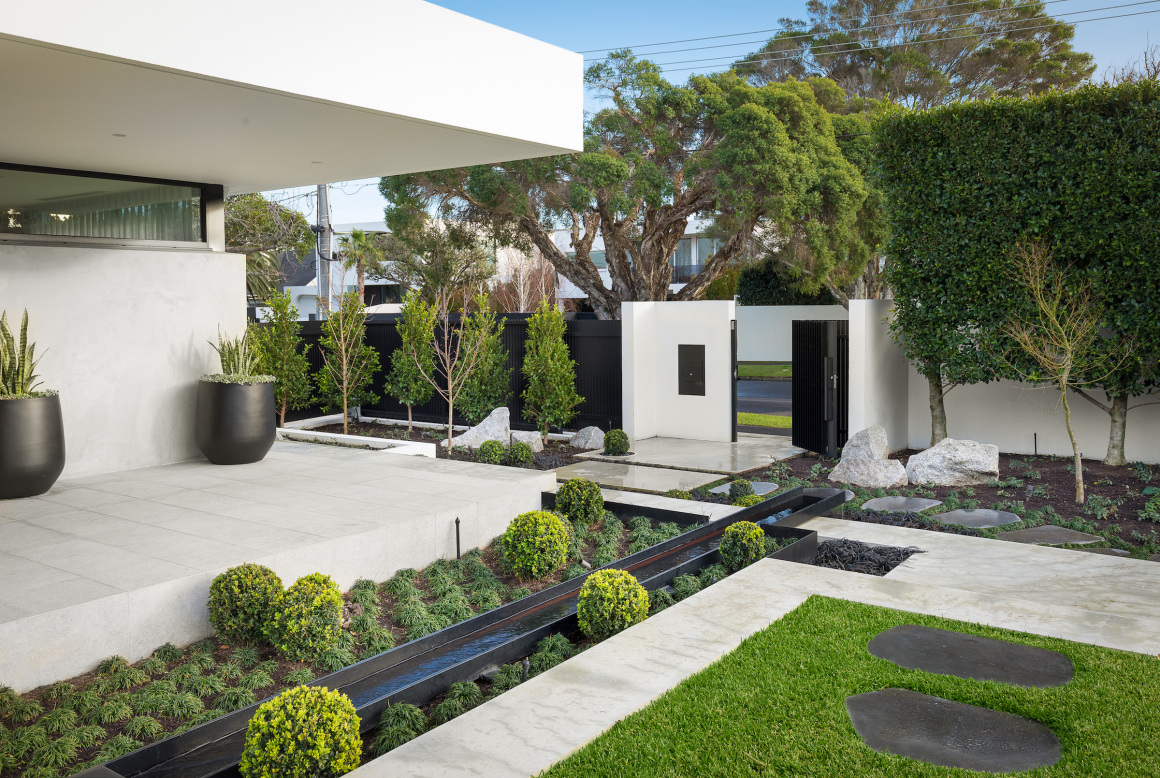 于是,我们建造了一个大面积的高平台和宽阔的不对称台阶来连接前面的门廊,同时以此作为进入生活区的路径。这些台阶在形式和色彩上呼应了住宅建筑,也为入口增添了一个真正的会谈区。台阶和入口周围都有园地花坛,脚下铺就的不规则形态的大块青石将引领你进入主要的上、下层草坪区。
We set about creating large floating landings and wide asymmetric steps up to the front porch, which also needed access to the Au Pair's living quarters. These steps complement the home's architecture in both form and colour whilst adding a real talking point to the entry. Garden beds have been worked in and around the steps and entry, with informal large bluestone rounds leading you to the main upper and lower lawn areas.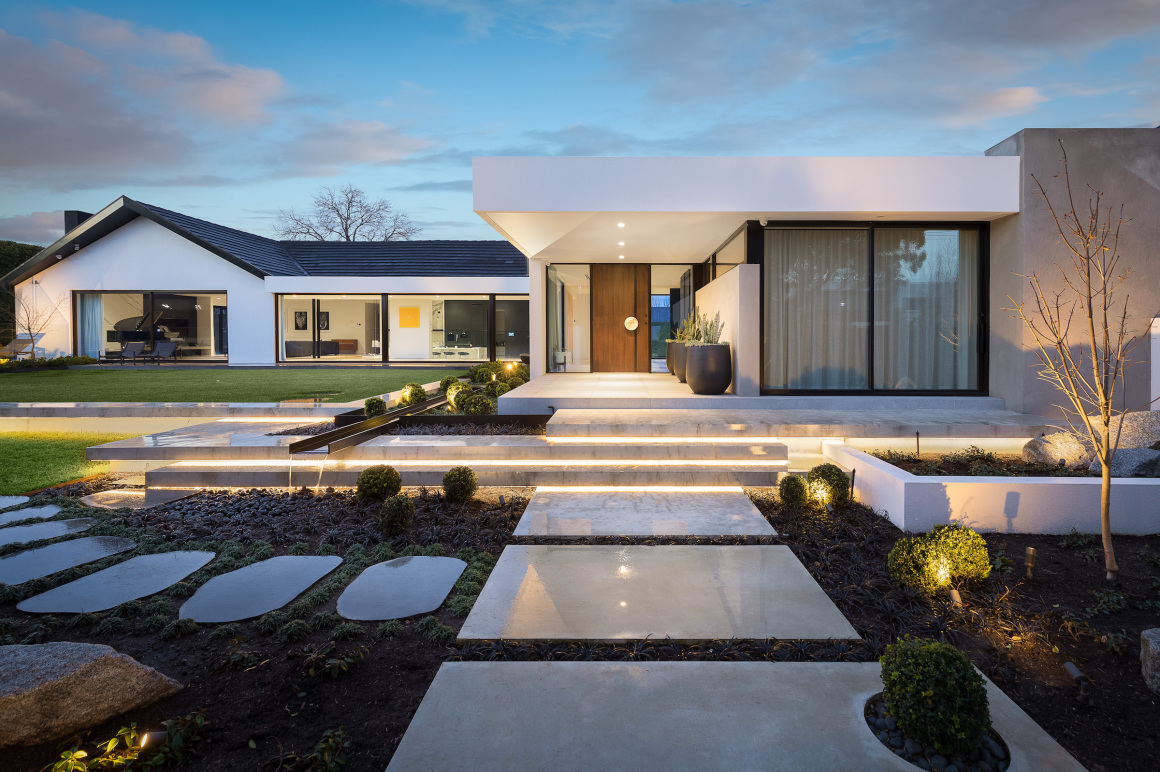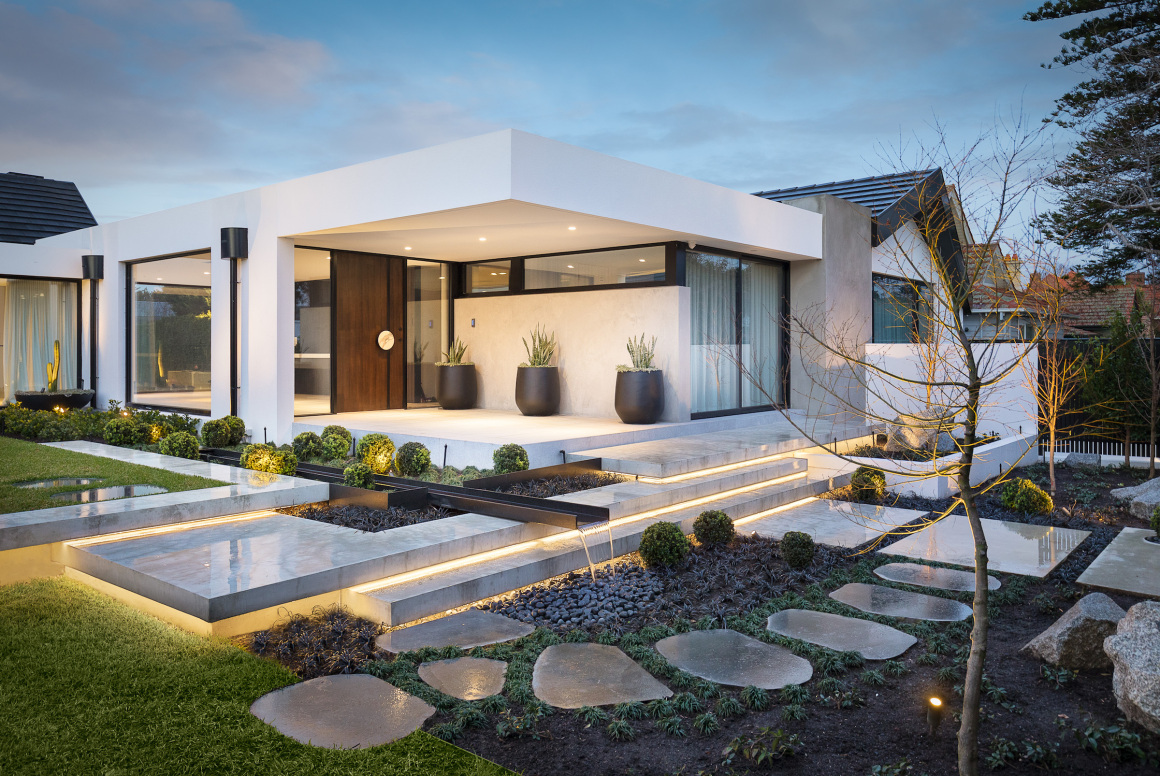 长长的水槽设计巧妙而精致,带来的影响也是最大。其长度突出了空间及可用空间的尺度。潺潺的流水为入口空间更增添了一份柔和的声音和宁静的氛围,几乎成为了所有访客的谈话焦点。
The long water chute is all about scale and subtle yet with maximum impact. The length of the chute really accentuates the space and scale of the generous space available. The subtle moving water rill adds a softening sound and a calming ambience to the entry space and has become a real talking point for all guests who visit.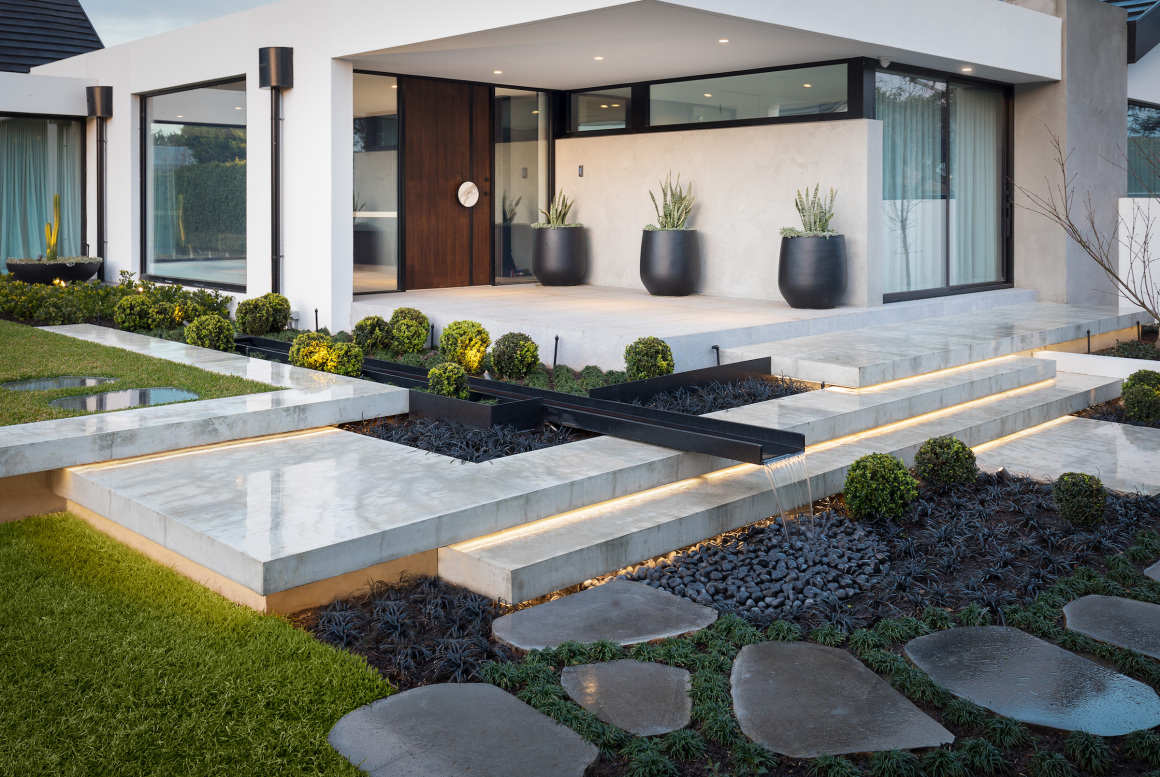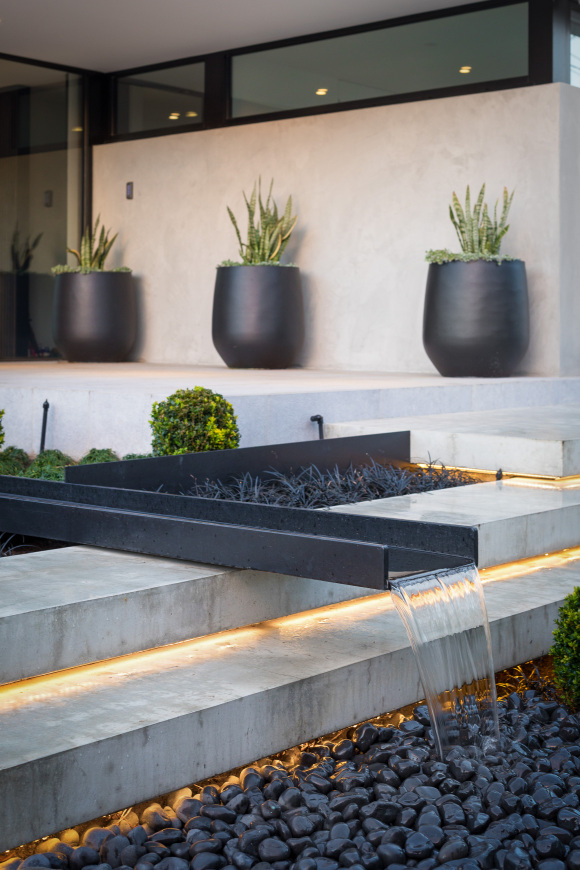 这些结构的内部和周边是简单又鲜明的浓黑色芒多草,它们与修剪后的绿色球体植物形成了巧妙的对比。简单、干净、优雅的星形茉莉花镶嵌在细长的槭红色主景枫树下,既体现了简约的设计意图,又软化了建筑的形式,但并没有压制建筑。白色/灰色色调的大型花岗岩巨石完美地完成了入口花园元素,其锯齿状的铺叠形式与建筑坚硬、干净的线条并置,形成完美的平衡和对比。
Scattered in and around these structures is the simplicity of the black dramatic nature of the Mondo Grass cleverly contrasted by the green Buxus spheres. The simple, clean elegant Star Jasmine Asiaticum as underplanting to the tall slender Acer Crimson Sentry Maples carries through the minimalistic design intent while softening the built form yet not overpowering it. Large granite boulders in white/grey hues finish the entry garden elements off perfectly with their jagged form standing juxtapose to the hard, clean lines of all other built forms for the perfect balance and contrast.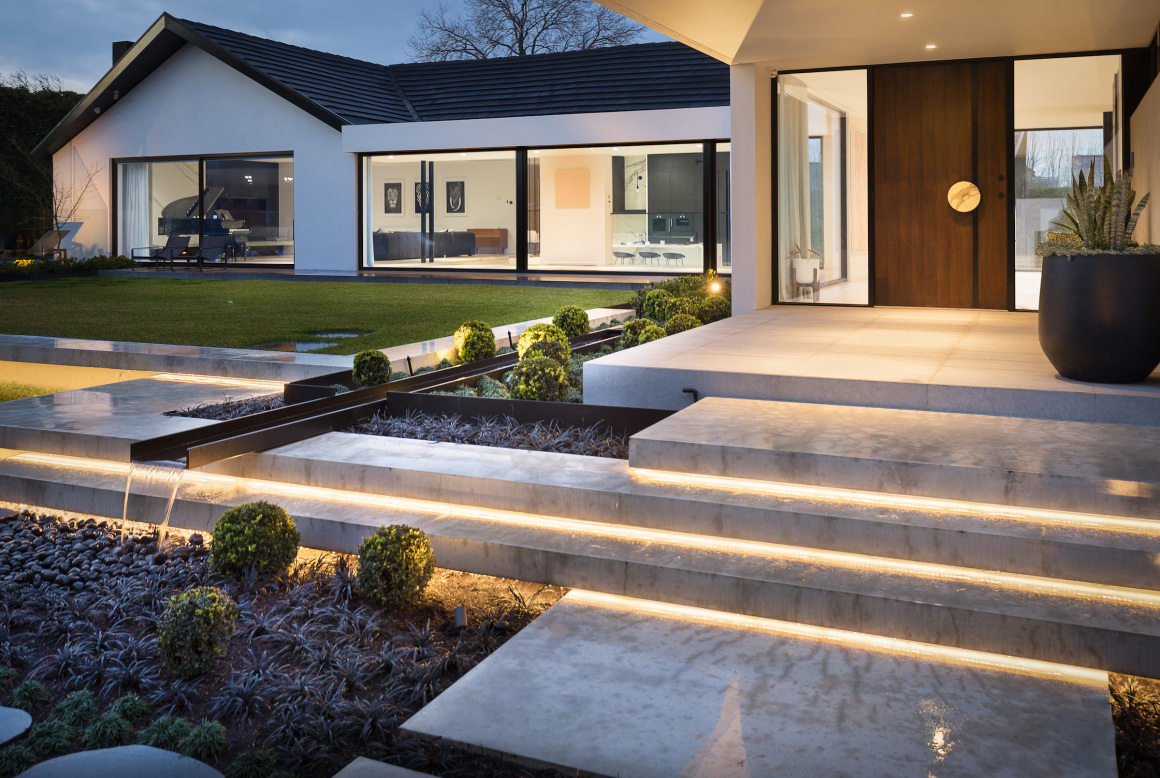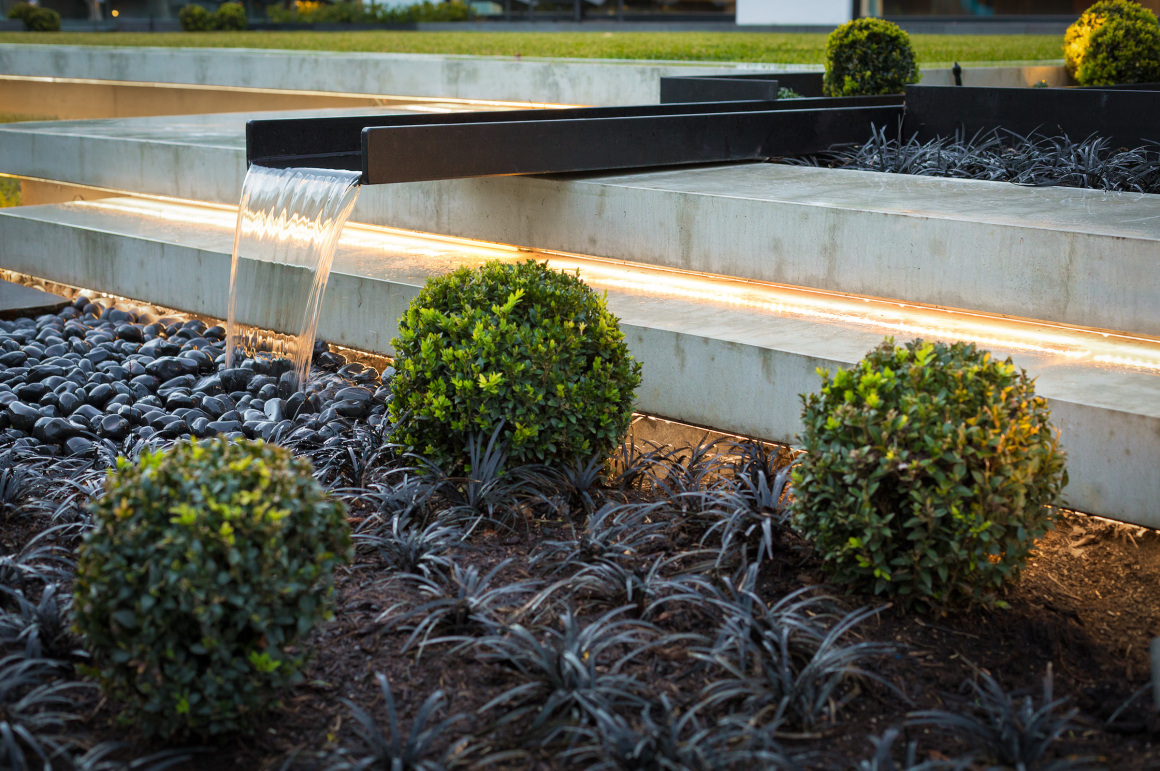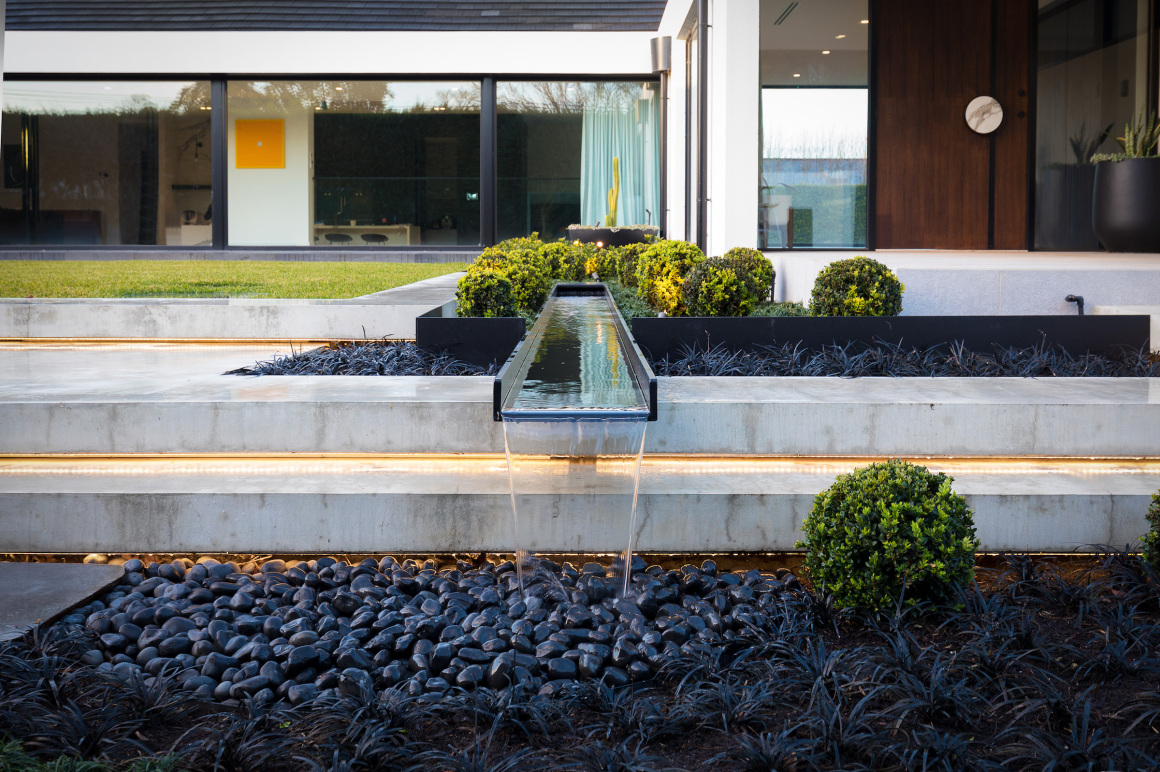 总的来说,现代简约、干净利落的景观台阶、精心挑选的特色叶树种和具有软景特性的排水槽,所有的这些结合起来创造了一个引人注目、美丽、永恒的入口景观花园,为家庭的其余部分定下了基调和标准,且已经成为所有来访客人的一个真正的休闲谈话区。
Overall, the clean, modern simplicity, strong masculine forms of the feature steps, carefully selected foliage highlights and the softening nature of the water chute all combine to create a dramatic, beautiful, timeless entry garden feature that sets the tone and standards for the rest of the home and has become a real talking point for all guests who visit.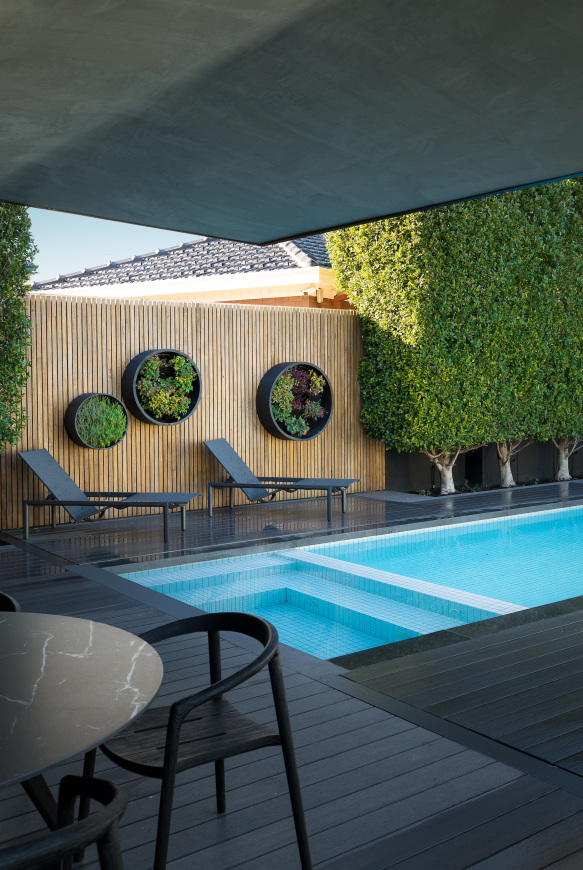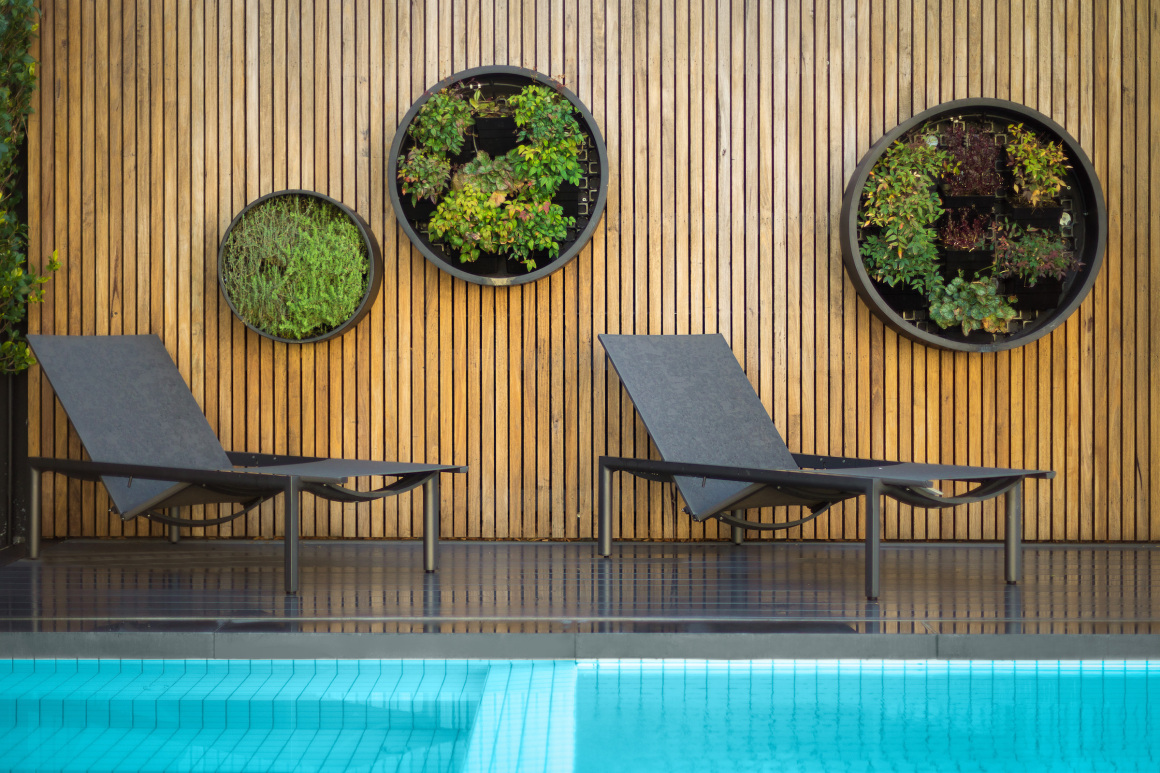 项目名称:Cosham Road
竣工时间:2019年1月
设计范围:住宅前后景观
项目地点:澳大利亚 维多利亚州 布莱顿
景观设计:COS Design
公司网址: www.cosdesign.com.au
联系邮箱:enquiries@cosdesign.com.au
首席建筑师:Steve Taylor
设计团队:Steve Taylor, Amy Taylor, Nathaniel Douglas
客户:私人
合作方:
房子:Precision Projects
绿化:Esjay Landscapes + Pools
建筑混凝土:Hungry Wolf Studio
景观照明:Gardens at Night
花盆:The Balcony Garden
Project name: Cosham Road
Completion Year: Jan 2019
Design Area: Front + Rear Landscape
Project location: Brighton, VIC
Landscape Firm: COS Design
Website: www.cosdesign.com.au
Contact e-mail: enquiries@cosdesign.com.au
Lead Architects: Steve Taylor
Design Team: Steve Taylor, Amy Taylor, Nathaniel Douglas
Clients: Private
Collaborators:
Home by Precision Projects
Landscape Construction by Esjay Landscapes + Pools
Architectural Concrete by Hungry Wolf Studio
Landscape Lighting by Gardens at Night
Pots by The Balcony Garden