本文由 朴乔景观 授权mooool发表,欢迎转发,禁止以mooool编辑版本转载。
Thanks POPJOY DESIGN for authorizing the publication of the project on mooool. Text description provided by POPJOY DESIGN.
朴乔景观:  艺术作为一切享受中最迷人的享受,若能与人生常伴,那生活应是富足的。设计希望呈现一个如美术馆一样干净纯粹的空间,步入场地时就像是参观一场展览,在空间中可对话自然、对话自我。
POPJOY:  Art is the most charming of all pleasures, life should be rich if you can keep it with you. The Design want to present a clean and pure space like an art gallery. When you step into the space, just like visiting an exhibition where you can talk to nature and talk to yourself.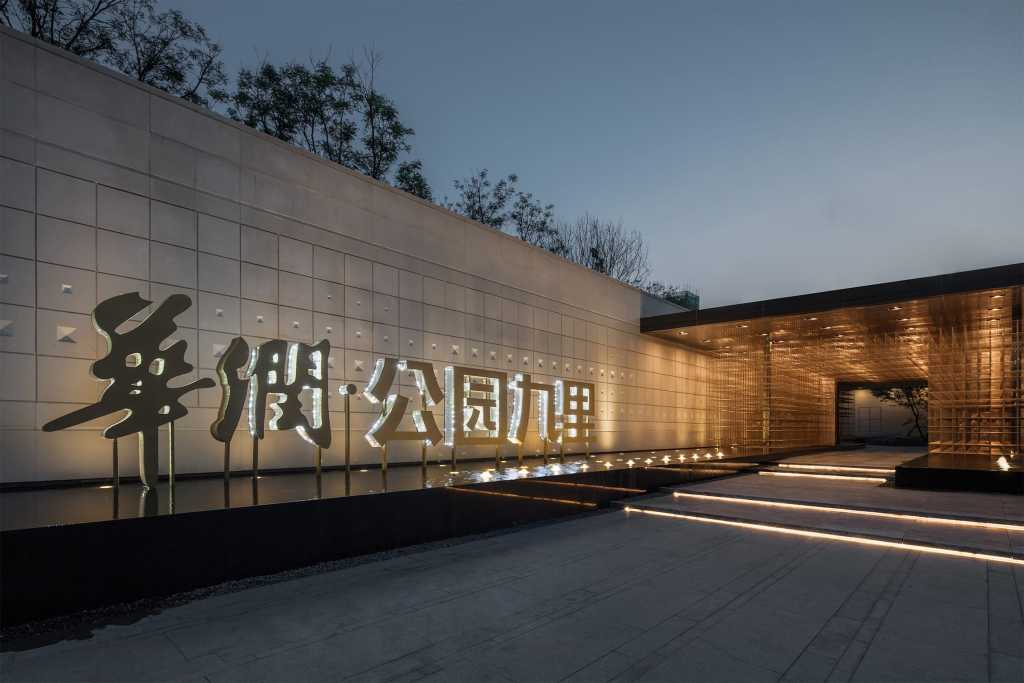 平面图 Master Plan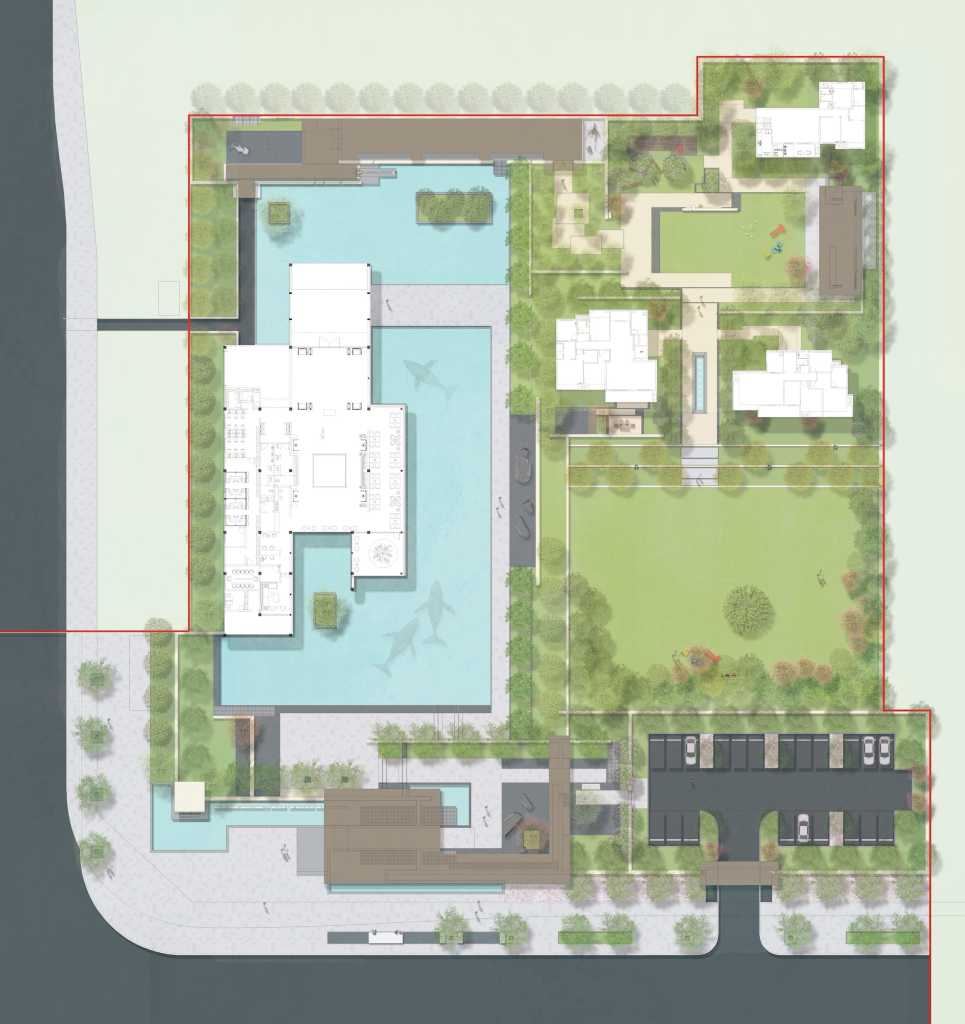 原场地前场进深仅为48米,有别于传统的正向进入,入口朝向公园西路打开,最大限度引入人流。前场通过两次路径转折将空间压缩至最短,为中庭最大化预留空间。
The entrance depth is only 48 meters, which is different from the traditional front entry. The entrance opens to the west of the park and maximizes  attract of people. The entrance compresses the space to the shortest by two path turns, maximizing space for the atrium.
"北冥有鱼,其名为鲲" ,空间是可以激发想象力的,以《逍遥游》中的"鲲"为媒介,使水景与建筑、与场地产生对话,鱼与行人视觉的碰撞,迸发出奇异的空间想象。
"In the northern ocean there is a fish, called the KUN", the  space can stimulate imagination. Taking the "KUN" from the" Carefree Excursion " as the medium. Make waterscape, architecture dialogue space, The collision of fish and pedestrians vision burst out the fantastic space imagination.
售楼部与样板房相距150米,且路径靠场地边缘设置,如何化解行走的枯燥感?以展廊的形式打破单一的路径结构,有效阻隔场地外部视线的干扰,同时形成具有多重可能性的弹性空间。
The sales department is 150 meters away from the model room, and the path is set at the edge of the site. How to resolve the boring feeling of walking? Breaking a single path structure by a gallery, effectively blocking the interference of the externa sight of the site, and at the same time forming an elastic space with multiple possibilities.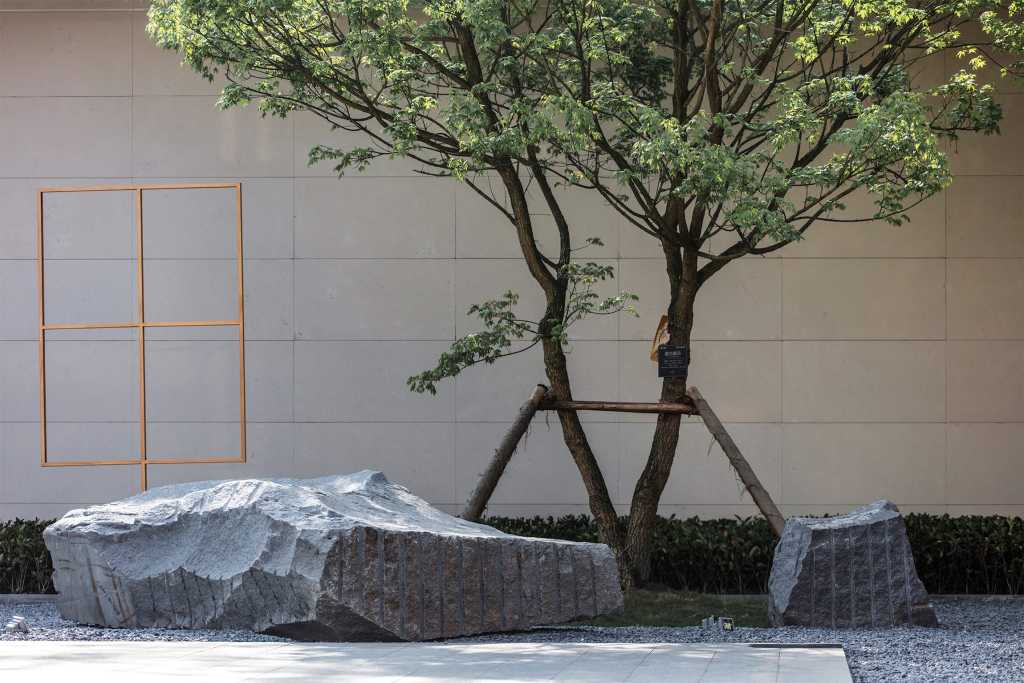 设计营造一个如美术馆一样的空间作为文化、艺术、科学的载体,旨希望人们不要忘记看似平凡的生活永远充满诗意的世界。
The design create a space like an art gallery as a carrier of culture, art, and science. It is hoped that people will not forget the seemingly ordinary life that is always poetic.
项目名称:华润·公园九里
开发商:重庆华润
景观设计:朴乔景观
项目面积:2.3万平方米
项目区位:重庆市两江新区中央公园
建成时间:2018年2月
摄影:Holi河狸景观摄影
Project name:  CR Land Top Mansion
Developer:  CR land
Landscape design:Popjoy
Landscape area:  23000m²
Project location:  Central Park, Liangjiang New District, Chongqing, China
Completion date:  February 2018
Photograph:  Holi  photography