本文由TK Studio授权mooool发表,欢迎转发,禁止以mooool编辑版本转载。
Thanks TK Studio for authorizing the publication of the project on mooool, Text description provided by TK Studio.
TK Studio:  项目位于成都西部的青羊区,这里是古代文化的摇篮。中国著名诗人杜甫曾在此处居住,这里被认为是一个高度文明的地区,文化活动丰富。因此,设计师在考虑设计中国铁建·西派浣花时,想要创造的是一个将古老文化与现代生活融为一体的景观。
TK Studio: Pengzhuan, a district to the west of Chengdu, is a cradle of ancient culture. Near the historical cottage of Chinese renowned poet, Du Fu, Pengzhuan is considered as a highly civilized district and rich in cultural events. Hence, the design delivery of CRCC • Huanhua Pedigree is to create a landscape that can combine the ancient cultures with modern living.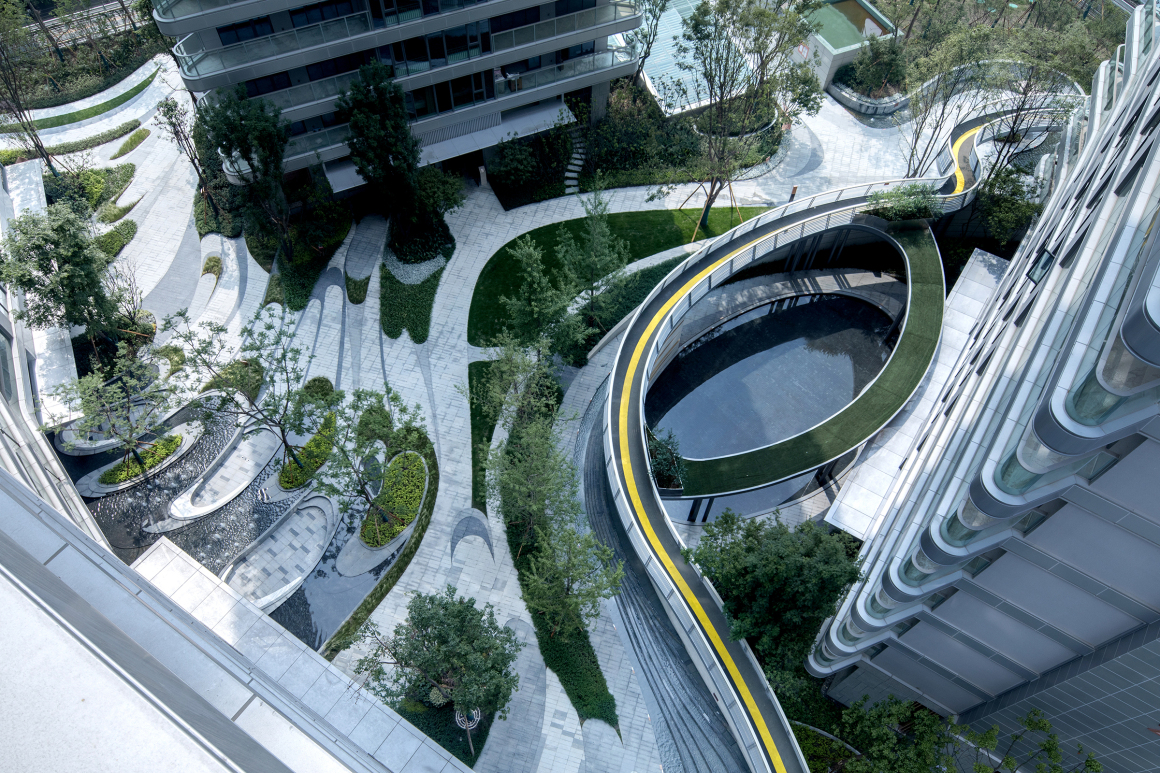 场地特征分析SITE CHARACTER & ANALYSIS
中国铁建•西派浣花地处成都市西部,地处二环路边缘。场地中主要是住宅区,穿过二环路就能看见西南大学。场地中有两种类型的住宅,在西北角的线性建筑为别墅区,别墅区专设了主入口,并有宜人的花园和宏伟的景观墙。其余地块为三栋公寓楼。虽然地块上有不同类型的住房,但设施和景观是公共的,居民可以在庭院中自由漫步。
Located on the verge of the 2nd ring road, CRCC • Huanhua Pedigree sits at the west of Chengdu city. Surrounding the site are mainly residential developments and across the 2nd ring road sits the Southwestern University.The project consists of two types of housing—at the north western corner, the linear buildings are villa houses, and they are provided with an exclusive luxury main entrance that features an aroma garden and grand landscape wall design.The remaining of the plots belongs to three condominium buildings. Although there are different types of housing on the plot, the facilities and landscape are communal and residents can wander through the courtyards freely.
设计标准和概念DESIGN CRITERIA & CONCEPT
要设计一个能够反映地方文化遗产和当地生活方式的景观,首先必须确定一个能够讲述故事的关键要素。这使我们想到了能追溯3000年前历史的传统书法,它在中国文化中具有重要意义。书法是一种类似冥想的舒缓练习,可以平和心态,磨练心力,是记录历史事件的工具,更重要的是,它传承了中国悠久的文化。将中国传统书法运用在居住区景观设计中,说明了在当今城市现代生活中除了追求舒适、豪华的环境外,人们也在寻找能给他们带来高品质生活体验、品味生活的综合设施,以及一个充满文化气息的文明环境。
To design a landscape that can reflect the cultural heritage and local lifestyle of a place, we have to first define the crucial element that can tell a story. It is no doubt that the traditional calligraphy has a great significance in the Chinese culture since Chinese calligraphy can be traced as early as 3000 years ago.It is a soothing practice that is similar to meditation which can enhance your mentality, a tool for recording the historical event, and more importantly, an inheritance of the deep rooted Chinese culture.Applying Chinese traditional calligraphy on residential landscape design illustrates the prerequisites of urban modern living for people nowadays.Apart from comfortable and luxurious environment, people are also looking for comprehensive facilities that can give them a high quality living experience, a good taste for relishing life, and a civilized environment that is soaked with cultures.
▼概念说明concept implication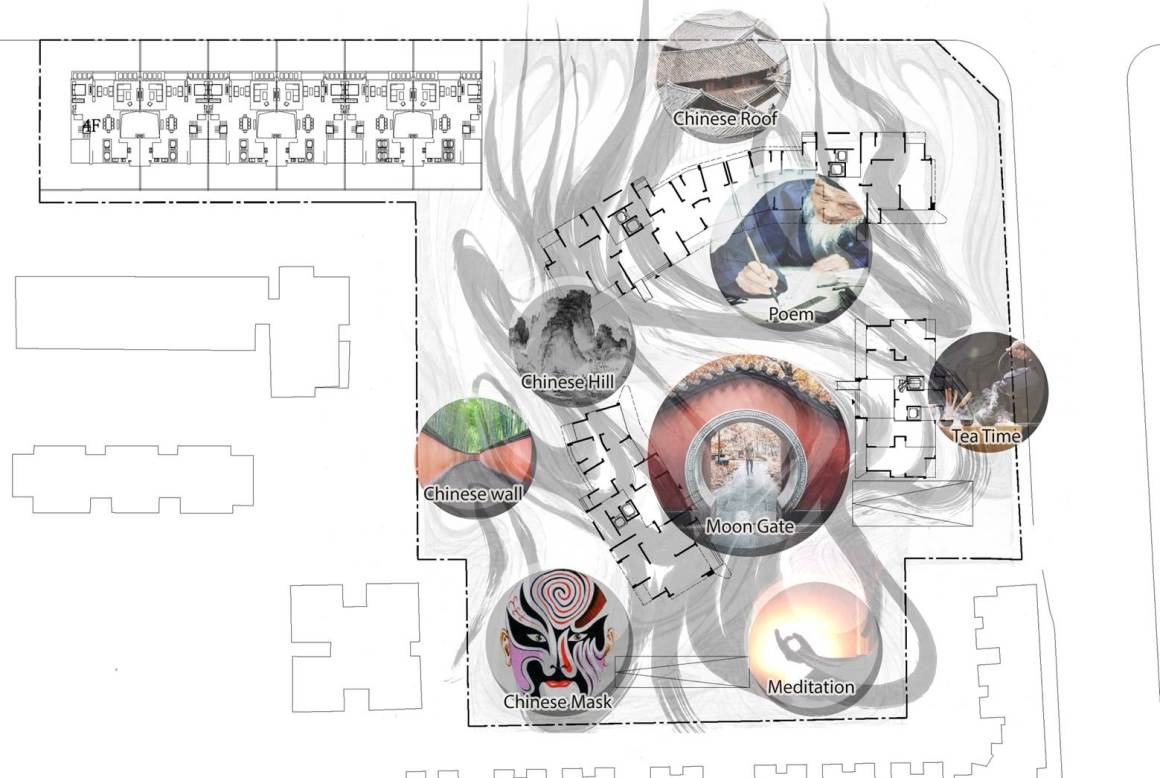 书法的笔触是和谐的象征。书法用的毛笔和技法也可以用来表现中国山水画。笔触中平滑的曲度有着高于文本本身的意义——这是一种融合了自然山水、树木于一体的中国山水画的愿景。因此,我们可以从中国书法艺术中提取了景观表达,将图面转化为功能性景观。
The stroke of calligraphy is a symbol of harmony. Sharing the similar material and technique as Chinese painting, calligraphy can also be used for producing the expression of Chinese landscape. The smooth curvature has meanings beyond the text itself—it is a prospect of Chinese landscape that integrates the rivers, mountains and forests in nature. Hence, we could imprint Chinese calligraphy on the plan, and transform the graphic into functional landscape, following the landscape expression extracted from Chinese calligraphic arts.
▼总平面图masterplan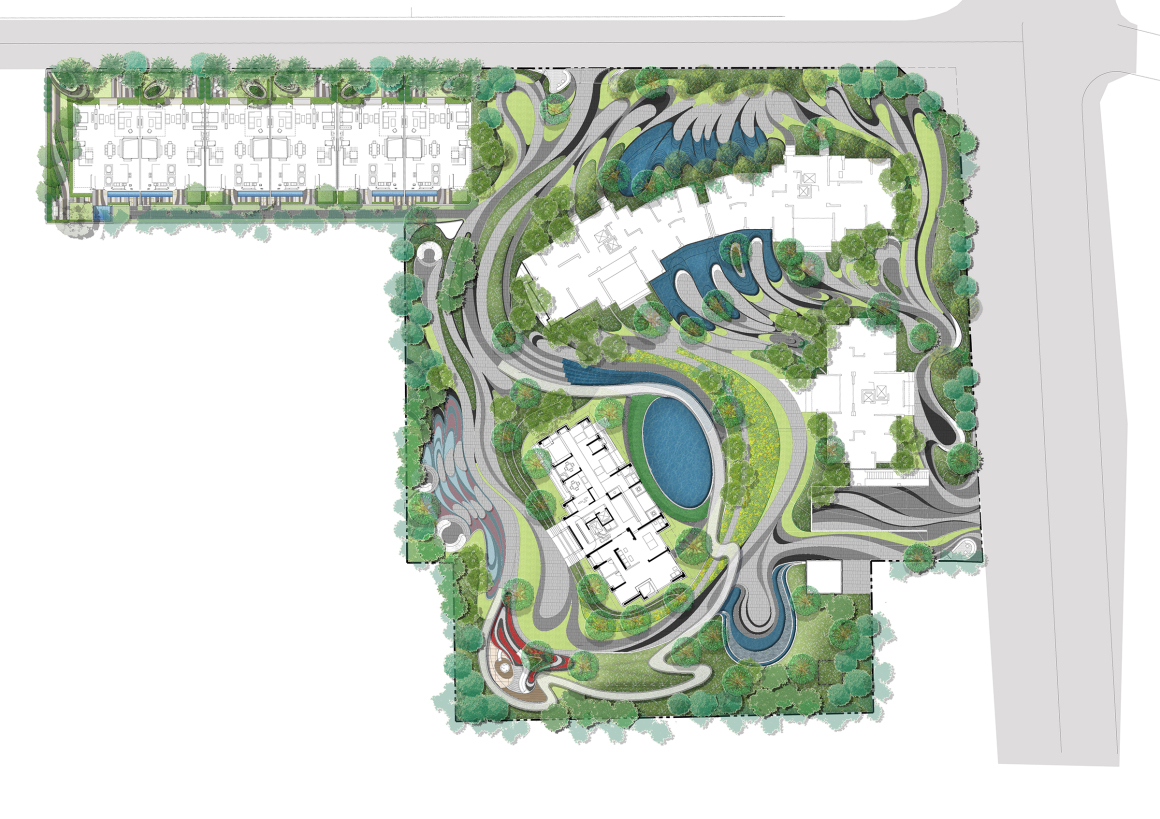 景观设计方案LANDSCAPE DESIGN PROGRAMS
景观分为三个主要庭院,即诗院、茶院和月门院,分别代表了中国文化的重要组成部分,包括文明、慢节奏的生活以及家庭的重要性(特别是中秋家庭团圆之日时)。每个公寓楼都配置了一个特色主庭院和其他小庭院,分别为居民提供了不同的功能用途。
The landscape is divided into three major courtyards, namely Poem Court, Tea Room Court and Moon Gate Court—representing the significant composition of Chinese cultures, including civilization, a slow pace of enjoying life, and the importance of family especially during family reunion at moon festival respectively. Each major courtyard encircles one condominium building, and a distinctive feature will be designed as a highlight of the courtyard. Surrounding the major courtyards will be other smaller individual courtyards, providing different functions for the residents.
诗院——是离主入口最近的庭院,诗院的特色是一个浅水池,池底刻有中国诗歌。
POEM COURT—Being the closest courtyard to the main entrance, the Poem Court features a shallow pond with Chinese poems imprinted on the bottom of the pond.
人们可以坐在水景旁的下沉座椅中或登上台阶来亲近水源。
People will be able to engage with the water by using the sunken seating next to the water feature or walking on the floating steps.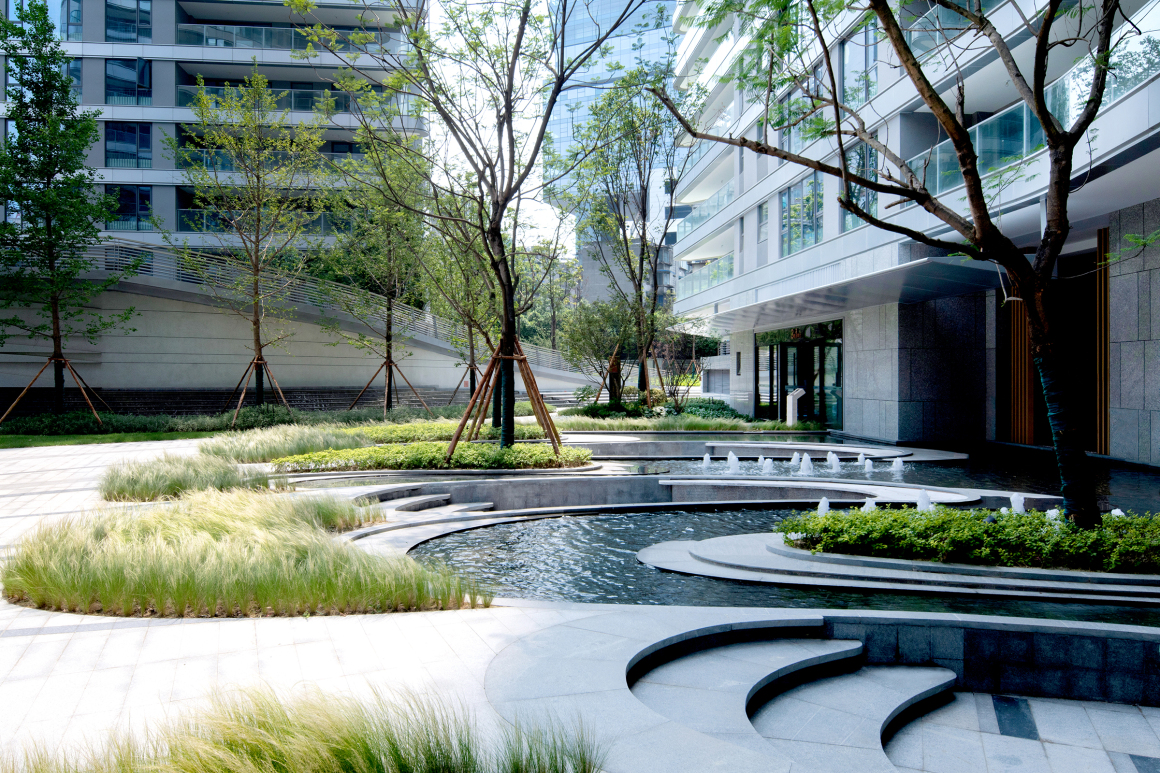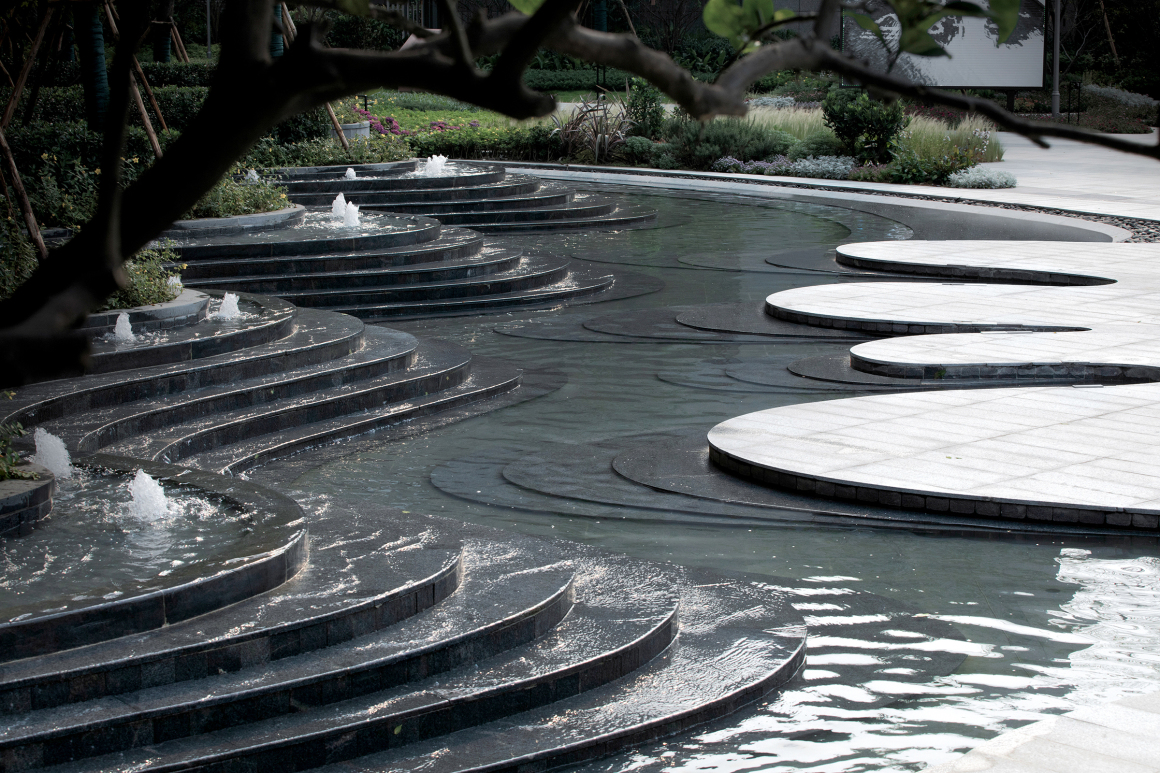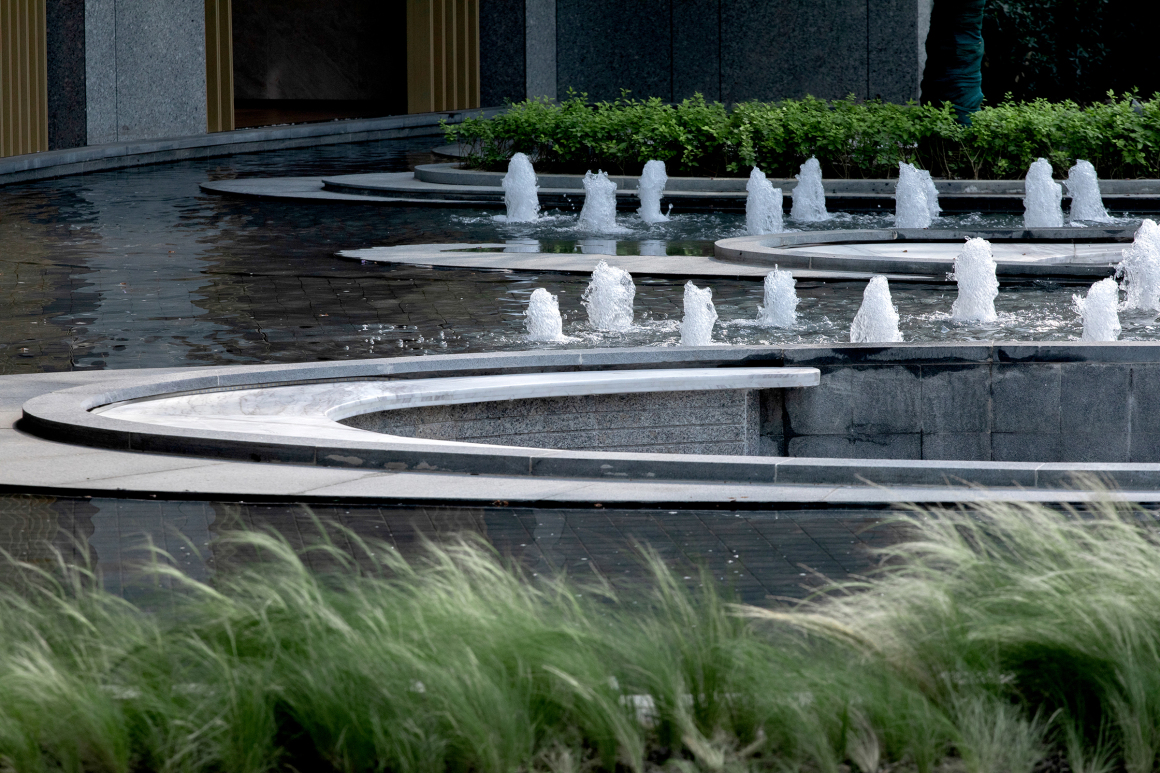 茶院——旨在为享受慢而优质生活的人们营造一种放松的氛围。该庭院将提供舒适的座位区和踏步茶园。
月门院——这个庭院有两个主要特点。天桥下设有瀑布和圆形剧场,在需要时,可作为室外艺术展览空间。第二个特色是趣味艺术园,它位于地块的中心。这其中将安装一个带有可移动座椅的艺术花园框架。
TEA ROOM COURT—This courtyard aims to create a relaxing vibe for people who enjoy a slow and quality life. Pleasant seating area will be provided together with a stepping tea garden at this courtyard.
MOON GATE COURT—This courtyard has two main features. Under the skywalk, there are water cascading feature and an amphitheater, where it can be transformed into outdoor art exhibition space on special occasion. The second feature of the Moon Gate Court is the Seasoning Art Garden, which locates at the center of the plot. A frame of art garden with movable seating will be installed at this garden zone.
▼月门院MOON GATE COURT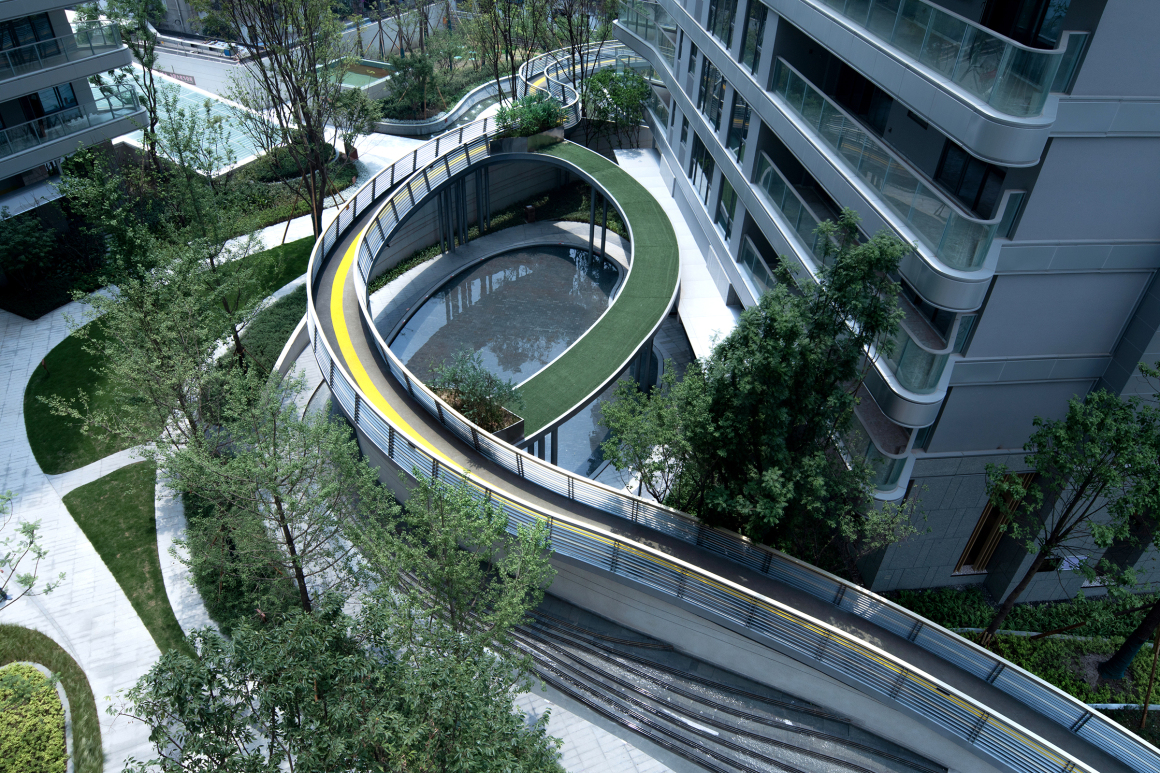 象棋室——顾名思义,这是一个能下棋的袖珍花园。这种策略游戏在中国文化中很流行,人们可以和家人朋友一起玩。象棋桌被设置在水景之中,这样人们可以在一个安静的环境中享受游戏。
面具游乐场——这个游乐场的设计灵感来源于中国变脸表演,它是有趣的,是能够给观众带来欢乐的。场地中充满活力的色彩和动感的曲线都诉说着这将是一个有趣的地方,为孩子们提供各种各样的游戏区域。在操场旁边是一条丛林小道,引导人们前往中央庭院。
CHINESE CHESS ROOM—As much as the name has told, this courtyard will be a pocket garden where people can play Chinese chess. This strategical game is popular among the Chinese culture, where people can play with family and friends. The chess tables will be encircled by a water wall feature so people can enjoy the game in a tranquil environment.
MASK PLAYGROUND—The design of the playground is inspired by the arts of Chinese mask changing performance, which is playful and always a delight for audience. The vibrant colors and the dynamic curvatures in the play equipment implied that it will be a fun place for children with a great variety of play areas. Next to the playground will be a jungle trail leading people to the central courtyards.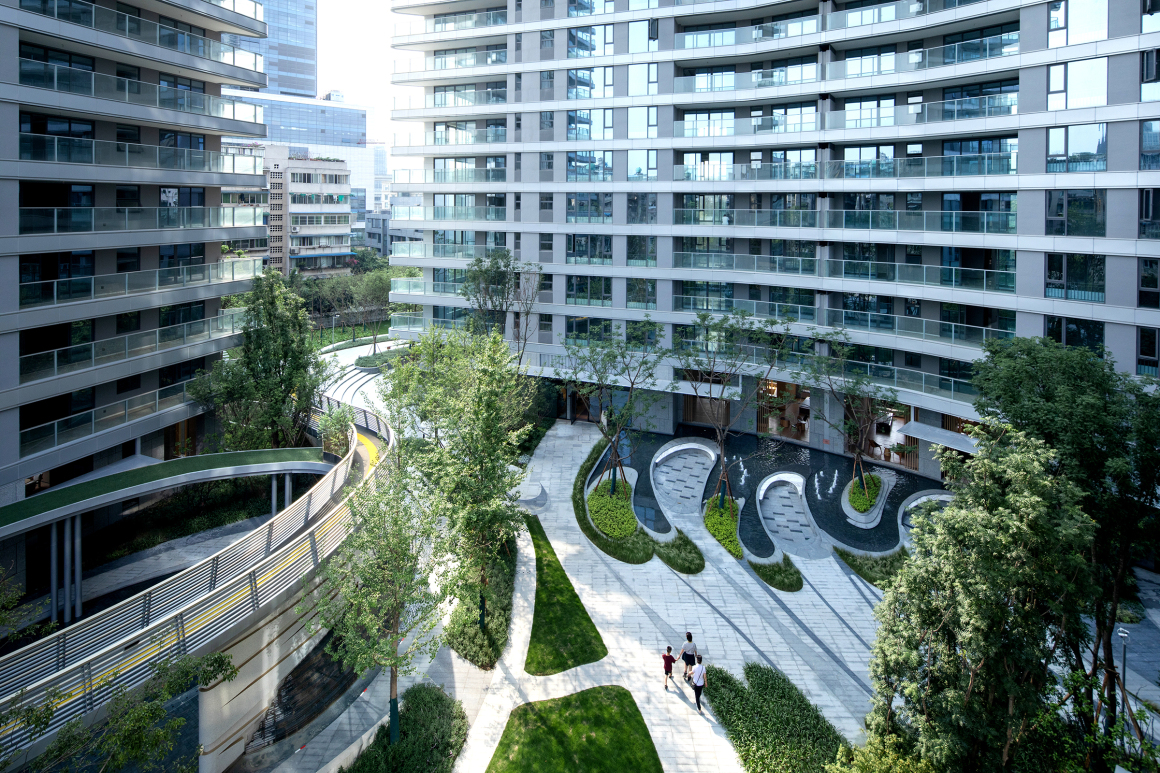 家庭空间——在中国文化中,家庭观是很重的。因此,为有孩子的家庭提供了一个多功能庭院,这样人们就可以在这里享受优质的家庭时光。场地中除了设有能作为聊天、聚会的亭子外,还有菜园和供孩子们玩耍的浅水区。
FAMILY ROOM—Family is always at the top of the priority in the Chinese culture. Hence, a multipurpose courtyard for families with children has been provided so people can have quality family time within their home. Apart from the pavilion for private chatting and gathering, there will also be vegetable garden and shallow waterplay area for kids.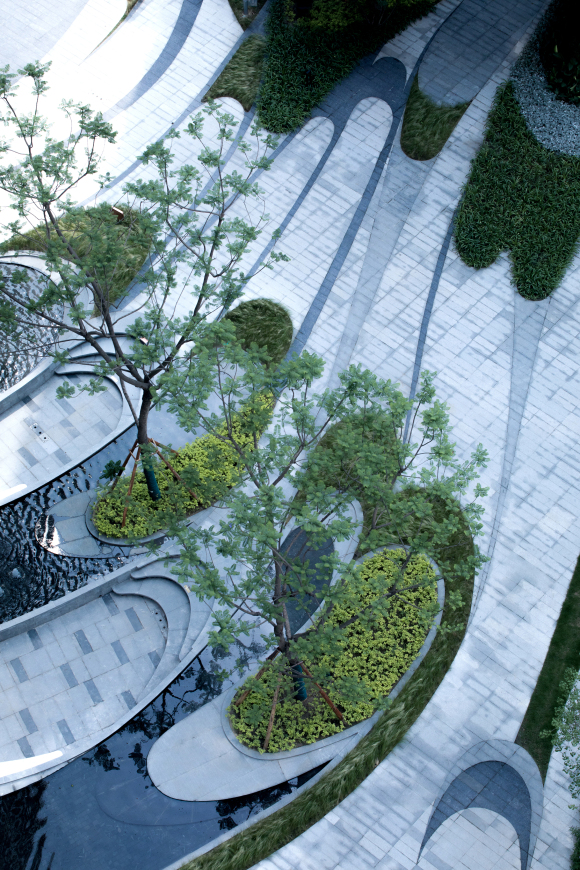 结论CONCLUSION
总之,将书法运用在景观设计中,不仅是一个住宅项目的创新,还是一个将传统文化与现代景观交织在一起的典型。即,中国铁建·西派浣花住宅区景观是中国独一无二、前所未见的住宅项目。
In short, the concept of applying calligraphy on landscape design is not only an innovative residential project, but a prototype that successfully interweaves the traditional cultures with modern landscape. Thus, shaping CRCC • Huanhua Pedigree as a unique and unprecedented residential project in China.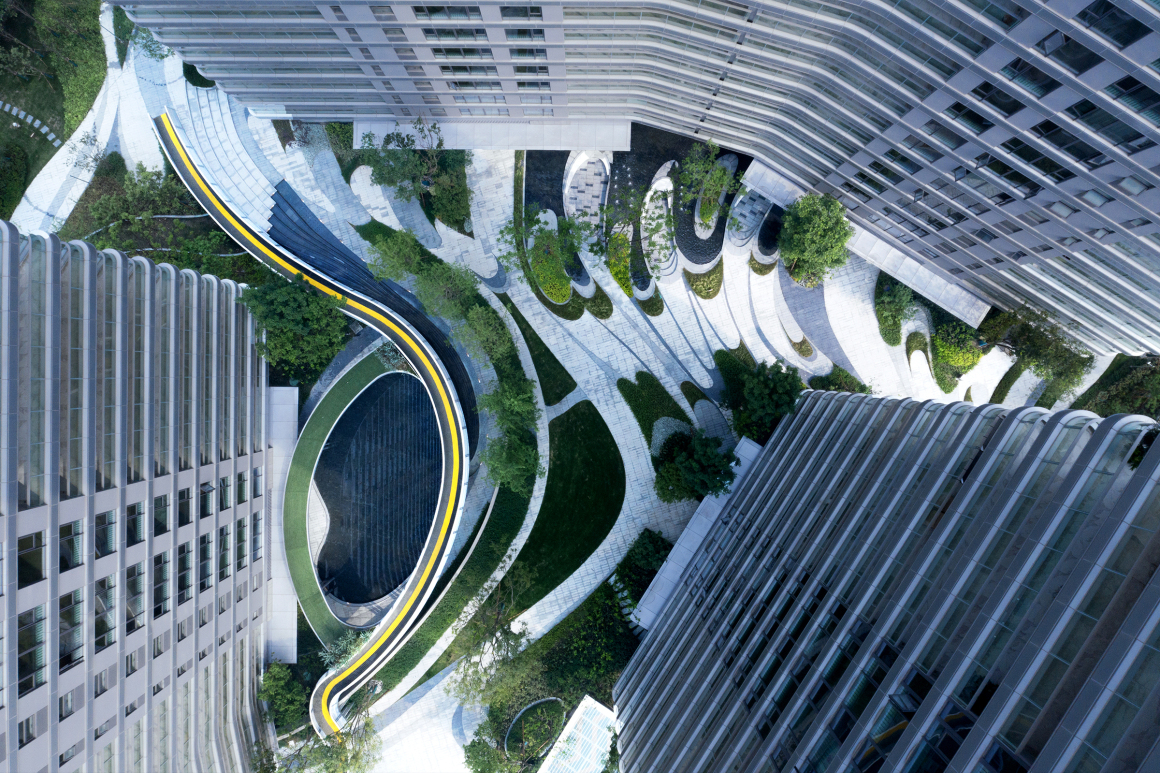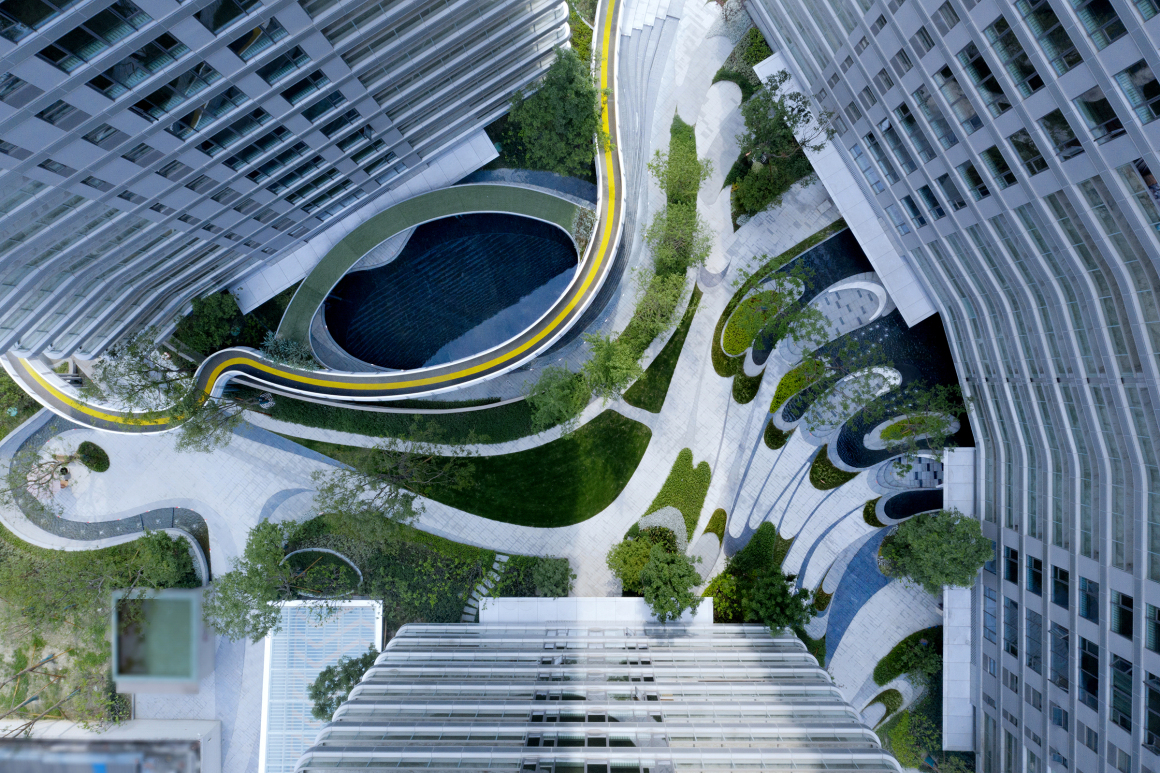 项目名称:中国铁建·西派浣花
完成年份:2020年
设计区域:景观
项目地点:中国成都
景观/建筑公司:
TK Studio(景观设计师);景度设计
网站:http://tkstudio.co.th/; http://www.laggrp.com/
联系人电子邮件:info@tkstudio.co.th
首席景观设计师:Tawatchai Kobkaikit
设计团队:TK Studio; Land Artitude Design景度设计
客户:中国铁建股份有限公司
图片来源:河狸holi摄影
摄影师网站:http://www.arch-exist.com/
Project name: CRCC Huanhua Pedigree
Completion Year: 2020
Design Area: Landscape
Project location: Chengdu, China
Landscape/Architecture Firm:
TK Studio (Landscape Designer) ; Land Artitude Design
Website: http://tkstudio.co.th/ ; http://www.ladgrp.com/
Contact e-mail: info@tkstudio.co.th
Lead Landscape Architect: Tawatchai Kobkaikit
Design Team: TK Studio ; Land Artitude Design
Clients: China Railway Construction Corporation Limited
Photo credits: Holi landscape photography
Photographer's website: http://www.arch-exist.com/
更多 Read more about: TK Studio Co.,Ltd.