本文由 PLACE Laboratory 授权mooool发表,欢迎转发,禁止以mooool编辑版本转载。
Thanks PLACE Laboratory for authorizing the publication of the project on mooool, Text description provided by PLACE Laboratory.
PLACE Laboratory:项目背景——科廷大学是一所以澳大利亚总理约翰·科廷(任期1941-1945年)的名字命名,位于本特利和珀斯的西澳大利亚最大的大学。该医学院项目作为科廷大学校园战略规划中第一个交付的建筑,旨在创建一个新的充满活力的多功能中心(又名大科廷),象征着典型大学校园模式向更具协作性和灵活性空间的转变。
PLACE Laboratory:Background – Curtin University is an Australian university based in Bentley and Perth, Western Australia. It is named after John Curtin, Prime Minister of Australia from 1941 to 1945, and is the largest university in Western Australia. The School of Medicine is the first building to be delivered as part of an ambitious campus strategy to create a new vibrant mixed-use hub, called Greater Curtin. It is a major shift away from the typical university campus paradigm, to one that is more collaborative and flexible.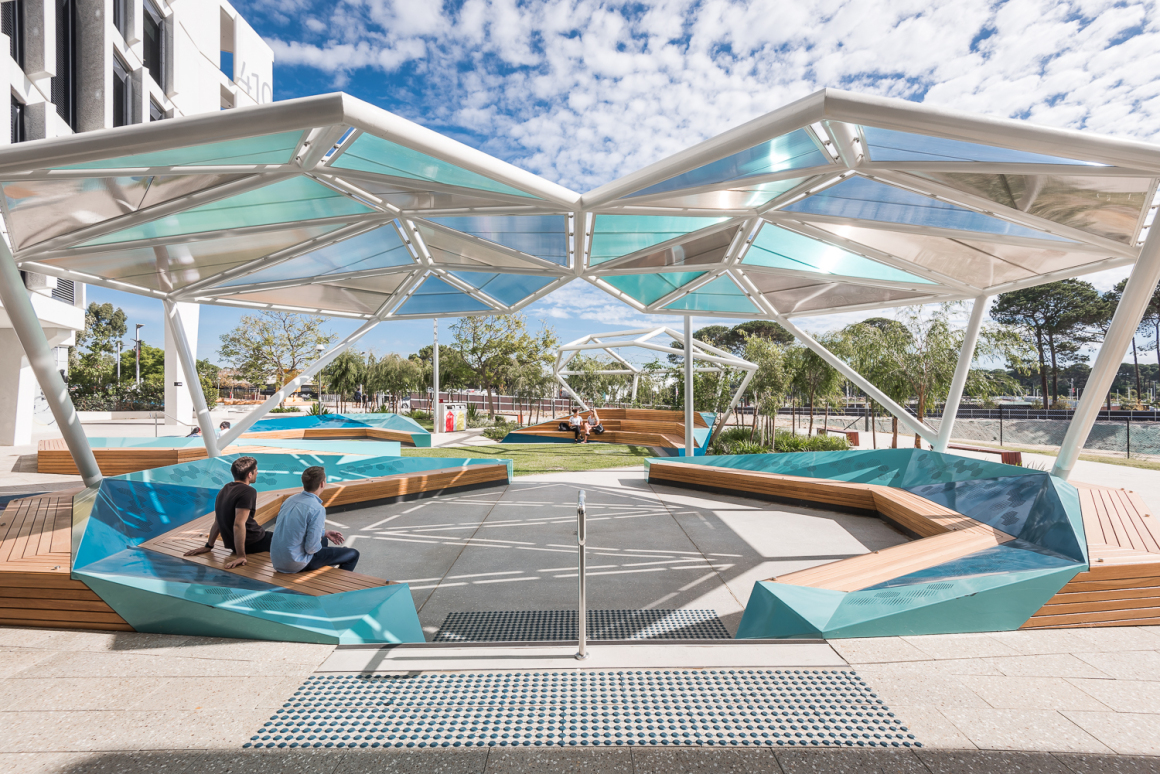 该医学院项目是校园规划和设计的基础,因此,为响应学校的新教育理念,其功能设计主要强调了协作和多样化的学习模式,以及校园内不同用户群体的多方面需求。
其建筑、景观和街景设计都始于对人们在校园生活、工作和交流需求的深刻理解,从而将校园概念化为一个拥有动态城市系统的小型城市空间。
PLACE Laboratory的任务是揭示场地本质,并为医学院开发几个主要的开放空间和基础设施。
The School of Medicine project is fundamentally about place planning and design. Responding to the shift in the educational philosophy, the building function places emphasis on collaboration and diverse learning models and multifaceted needs of different user groups on campus.
The design of the building, the surrounding landscapes and streetscapes are derived from a deep understanding of how people live, work and interact with each other in an academic environment, and conceptualise the campus as a city with dynamic urban systems.
PLACE Laboratory were tasked with uncovering the very essence of the place and develop several major open space and infrastructure projects as part of the Medical School project.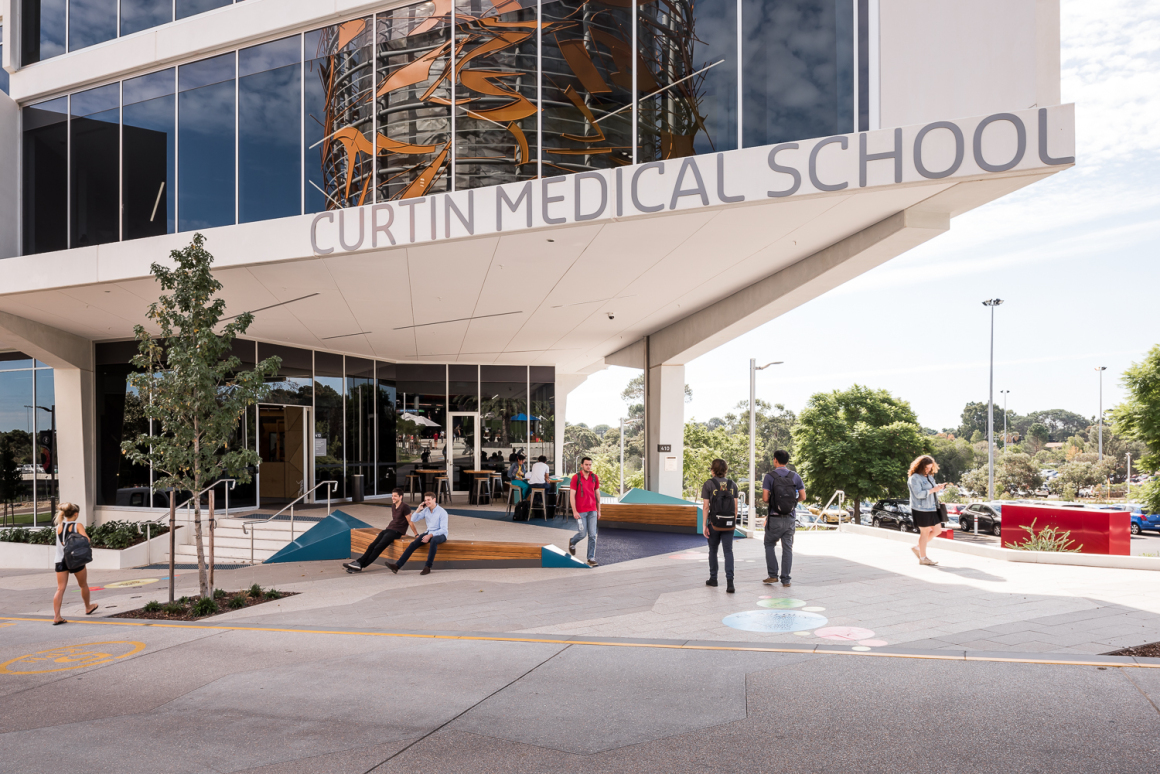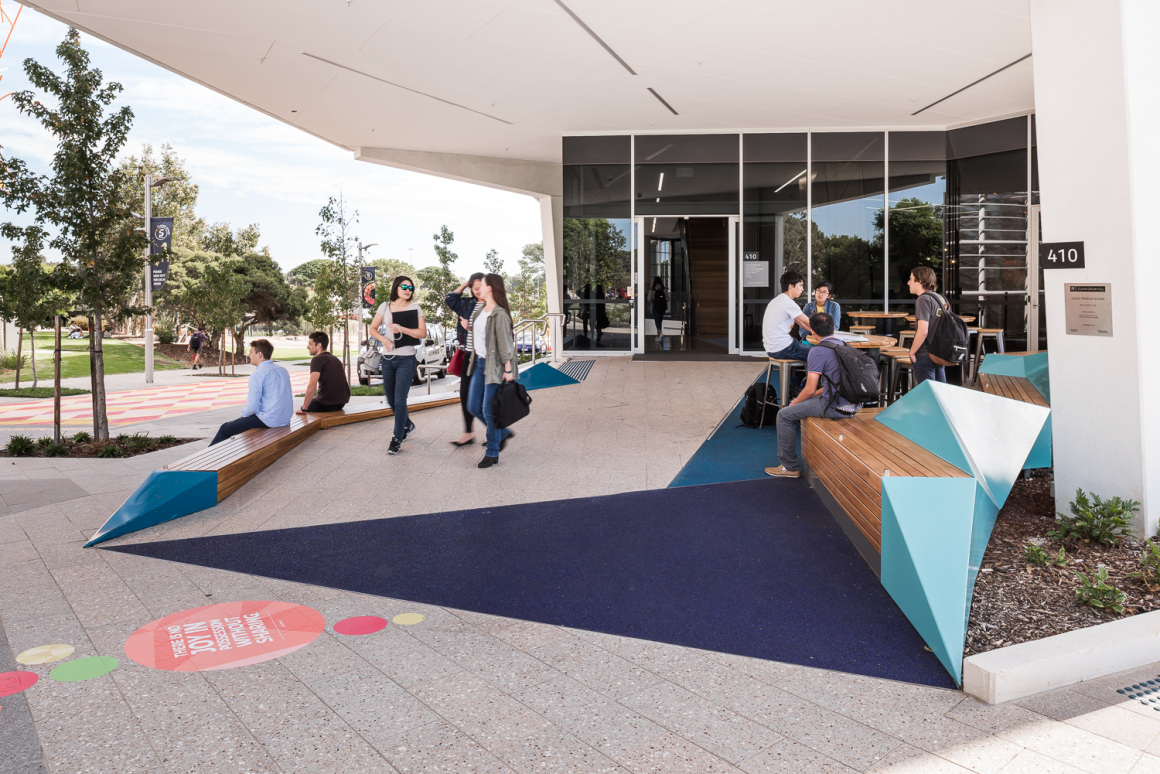 设计思路 Design Approach
根据对当代高等教育的作用和功能,以及医学院服务对象需求的理解,我们得出了该医学院庭院景观的设计概念。
The landscape concept for the Medical School courtyards is derived from an understanding of the role and function of contemporary tertiary pedagogy and the needs of the people they serve.
▼景观平面图 Landscape Plan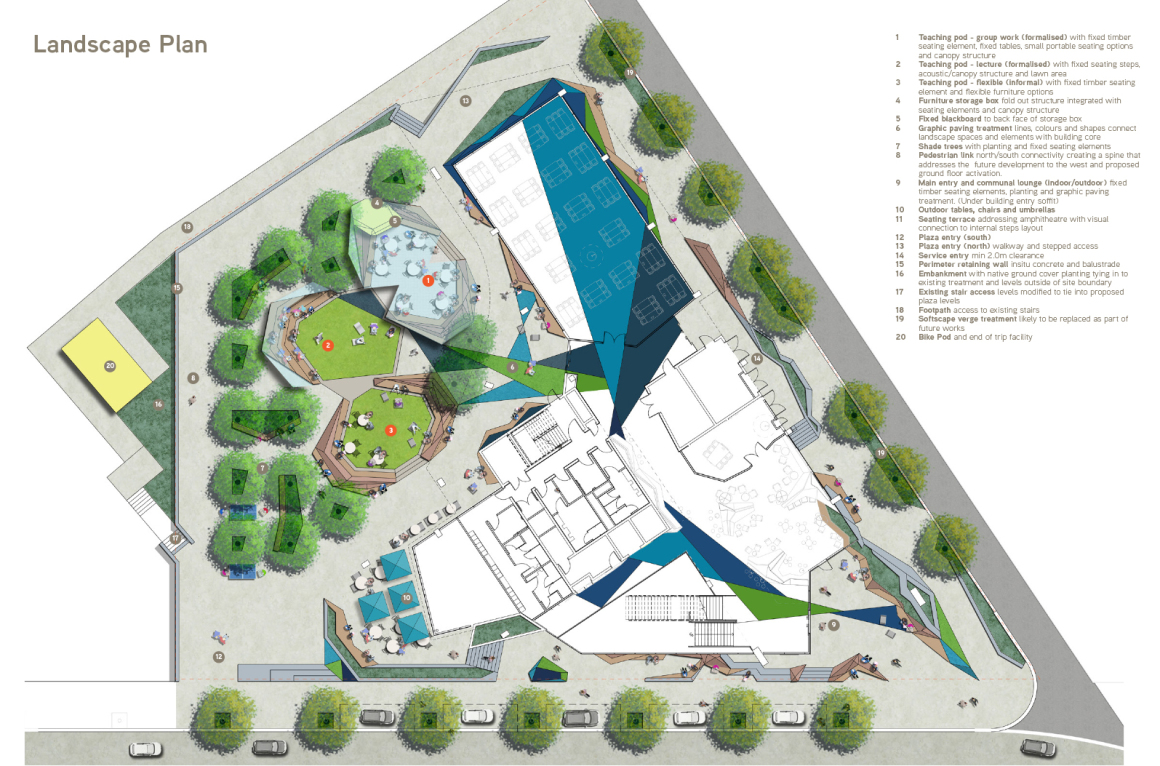 庭院的主要特色之一是一组可进行小组协作、辅导和非正式讲座的户外遮蔽空间。这三个战略性布局和塑造的构筑空间,创造了满足医学院教育需求的最佳户外教学环境,而为了进一步满足一系列的潜在功能需求,该构筑物的设计,包括顶棚和内置座椅,都保持了其灵活性。当不用于教学时,该构筑物可作为一个非正式聚会、社交和学习的空间,学生和工作人员可利用摆放在外面的可堆叠/可移动家具,灵活地使用空间。
One of the main features of the building courtyards is a group of outdoor pods designed to provide shaded meeting space for group work, tutorials and informal lectures. The three pods have been strategically orientated and shaped to achieve the optimal outdoor teaching environment to support the education function of the Medical School. The design of the pods, including a canopy and built in seating, maintains flexibility to allow them to meet a range of potential uses.
When not being used for teaching purposes the pods are a popular place for informal gathering, socialising and study. Stackable/moveable furniture is placed out each day allowing students and staff to occupy the spaces with complete flexibility.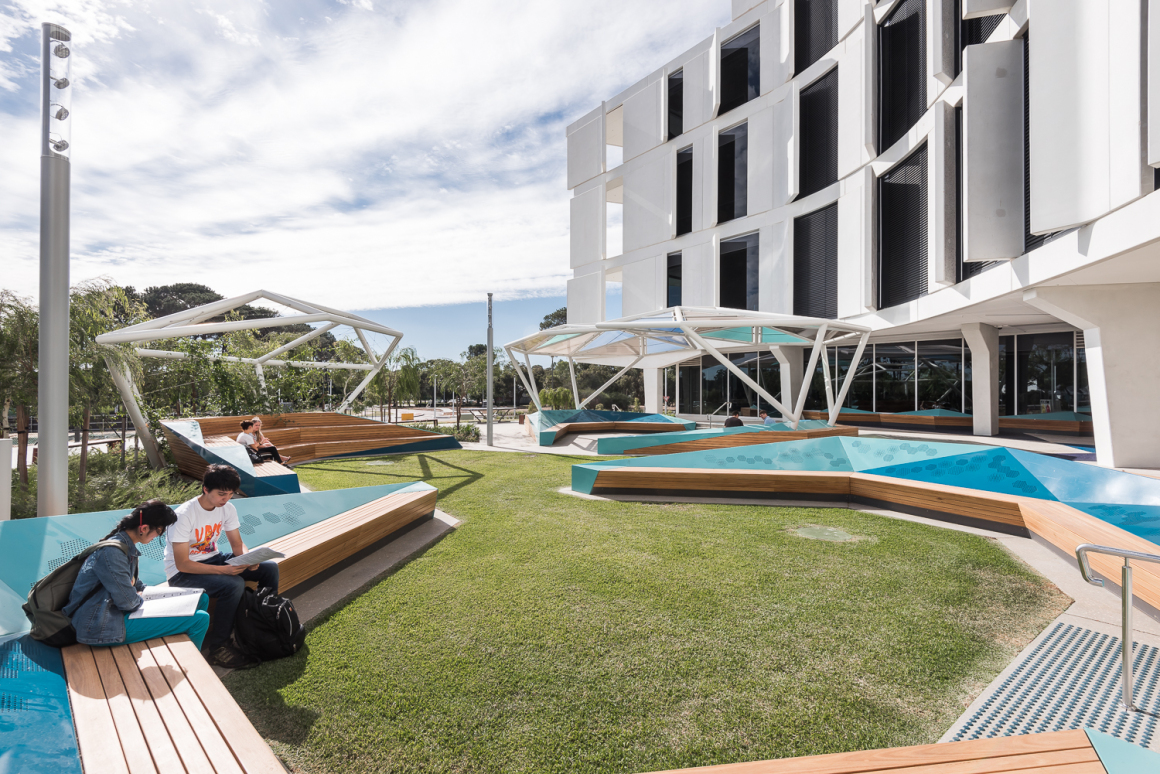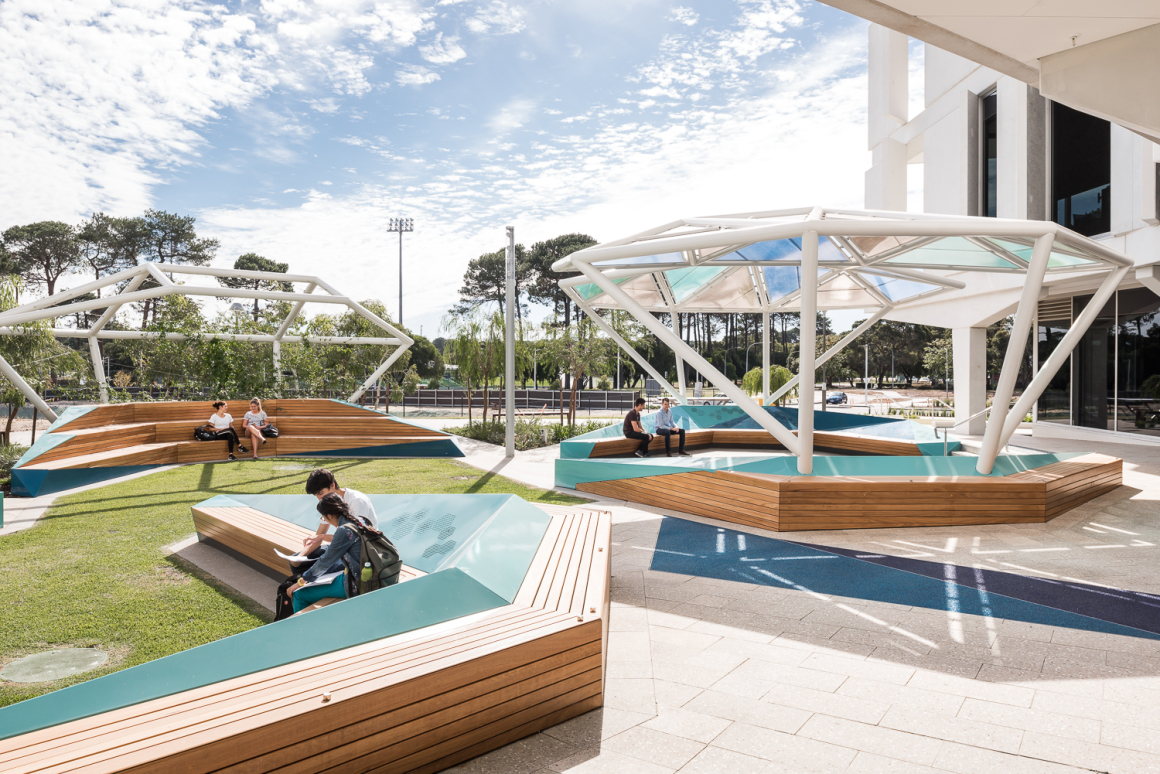 构筑物内外统一的多面几何图案衍生自从医学中发现的分子结构。该图案广泛应用于座位空间、墙面和座位,以及铺装,产生了一个连贯的叙事和视觉效果。
A faceted geometrical pattern derived from molecule structures found in medicine is used extensively inside and outside the building. Externally, the pattern has been applied to create the 3-dimensional form of the seating pods, wall facades and seating, and paving patterns, to create a coherent narrative and visual style.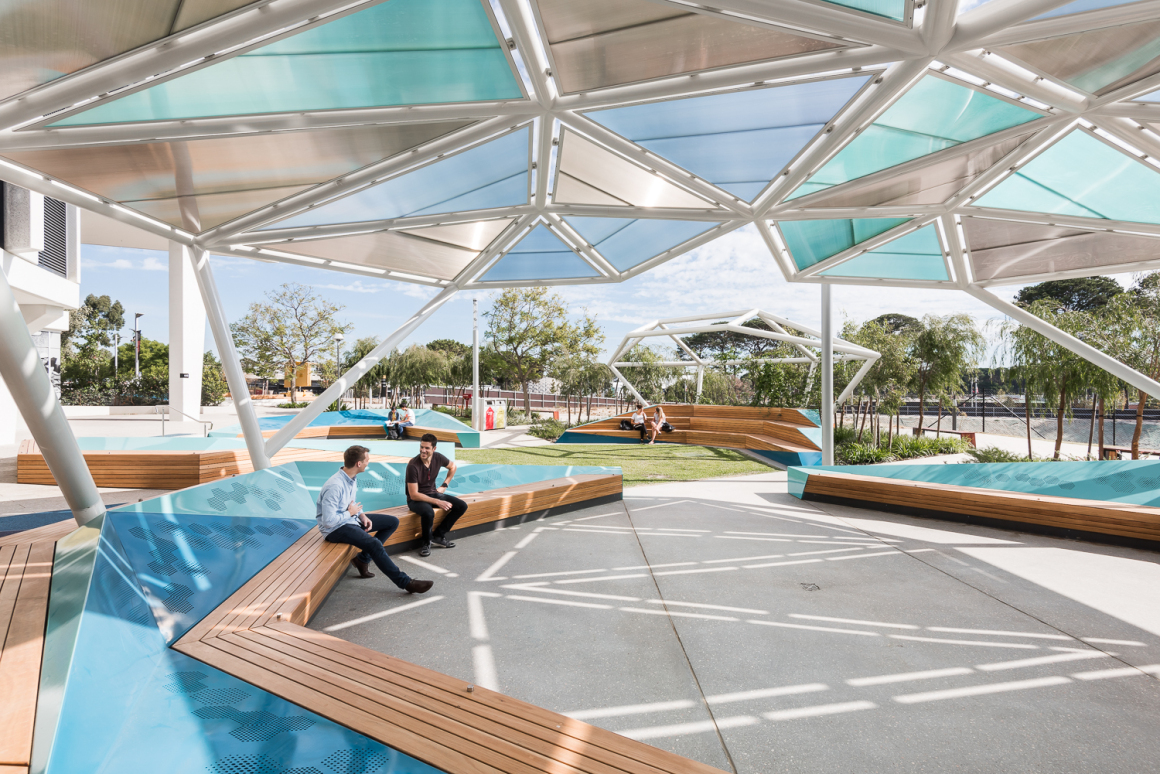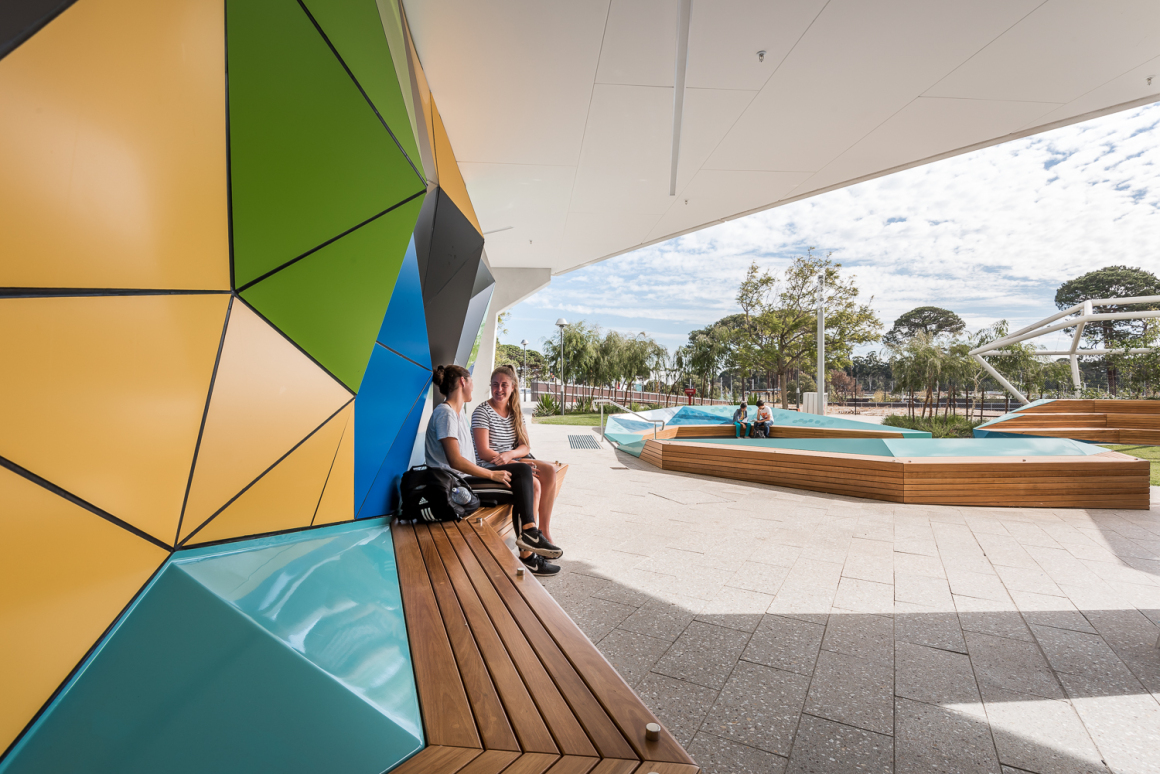 构筑物的材料是我们根据其遮荫能力、颜色,以及在珀斯极端炎热的夏季抗热/紫外线的能力而选定的。
The materials of the canopy were selected for their shading ability, lively colours, and ability to sustain heat/ UV stability in the extreme Perth summer heat.
项目信息 Project Information
项目名称:科廷大学医学院
客户:科廷大学
项目地点:西澳大利亚 宾利
类型:教育/校园
面积:3000平方米
坐标:32.001765S, 115.893140E
项目周期:2013 – 2015年
Project: Curtin University School of Medicine
Client: Curtin University
Location: Bentley, Western Australia
Type: Education/campus
Area: 3000 m2
Coordinates: 32.001765S, 115.893140E
Project Period: 2013-2015
设计团队 Design Team
景观设计:PLACE Laboratory
建筑:Coniglio Ainsworth Architects/GHD
照明/电力:ETC/GHD
Aborist:Arbor Centre
土木:Pritchard Francis/GHD
结构:Pritchard Francis/GHD
测量:RBB
灌溉:CADsult
建造:Civcon
摄影:Dion Robeson
Landscape Architect: PLACE Laboratory
Architect: Coniglio Ainsworth Architects/GHD
Lighting/Electrical: ETC/GHD
Aborist: Arbor Centre
Civil: Pritchard Francis/GHD
Structural: Pritchard Francis/GHD
Quantity Surveyors: RBB
Irrigation: CADsult
Builder: Civcon
Photographer: Dion Robeson
更多 Read more about:PLACE Laboratory