Rolf von Burg:随着对设计、质量和可用性的高要求,客户需要一个全新的设计,这应该更加注重空间的隐私性。
Rolf von Burg:With a high demand in design, quality and usability the client required a completely new design which should give privacy more room.
带有集成漩涡的长拉伸游泳池的新位置发挥了关键作用。这是花园的中心元素。它的黑色大尺寸石板清楚地将这个区域与其余空间的明亮石板区分开。除此之外,人们还希望有一个宽敞的座位区,有一张大餐桌,十个人可以很容易地坐在上面。一个休息室、一个烧烤空间以及一个可以沐浴阳光的房间被纳入了花园的概念。
The new location of the long stretched pool with integrated whirlpool played a key role. It is the central element of the garden. With its dark and large sized flagstones it clearly separates this area to the bright flagstones of the remaining spaces. Other than that a generous seating area with a large dining table where ten people could easily be placed on was wished for. A lounge area, a BBQ space as well as room to sun bath got incorporated into the garden concept.
游泳池下端的木质甲板上放置了一个带有综合烧烤、储藏设施和室外淋浴的消防处。从外面看不到开口。消防处用与游泳池这边相同的层状石板墙进行了遮护。休息室就在壁炉旁边,那里的大桌子被藤架覆盖着。它可以调整以适应所有不同的需求。
A fire place with an integrated BBQ as well as storage facilities and an outdoor shower were placed on the wooden deck at the lower end of the pools. No openings can be seen from the outside. The fire place is revetted with a layered flagstone wall same as this side of the pool. The lounge area is located right next to the fire place, where the large table is covered by a pergola. It is adjustable to suit all different needs.
一条坚硬的花岗岩道路带你穿过一片枫林,通往花园后面的区域。邻居的围墙适合带有土红色色调的配色方案。
A path of solid granite blocks leads you floating through a little maple forest to the areas in the back of the garden.A screening wall to the neighbours suits the colouring scheme with its earthy red tones.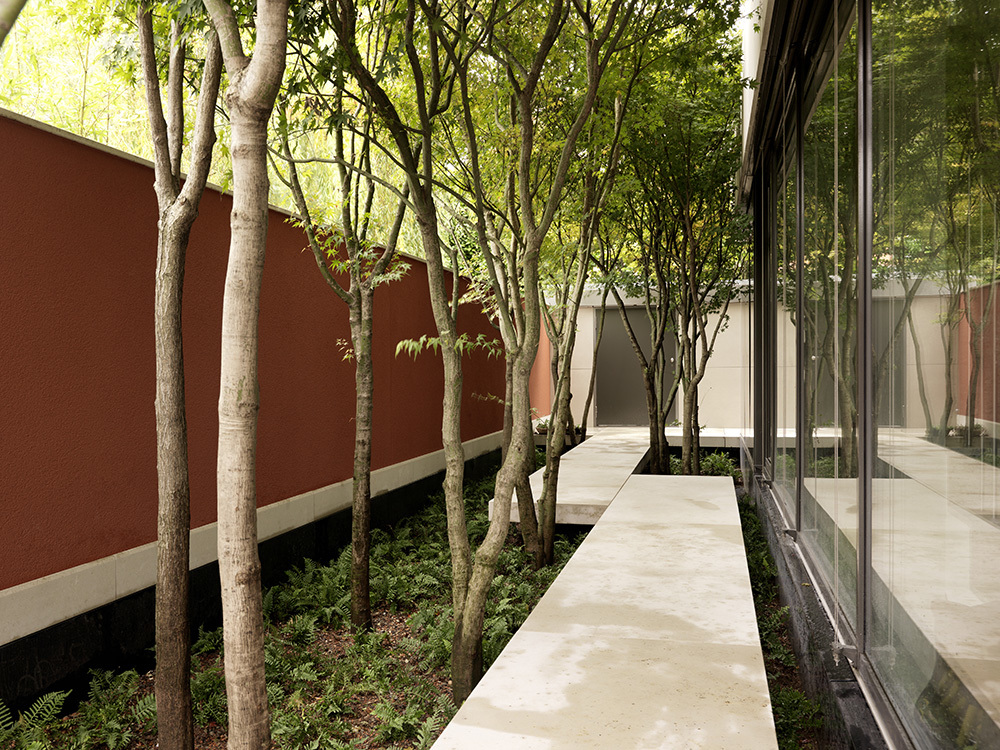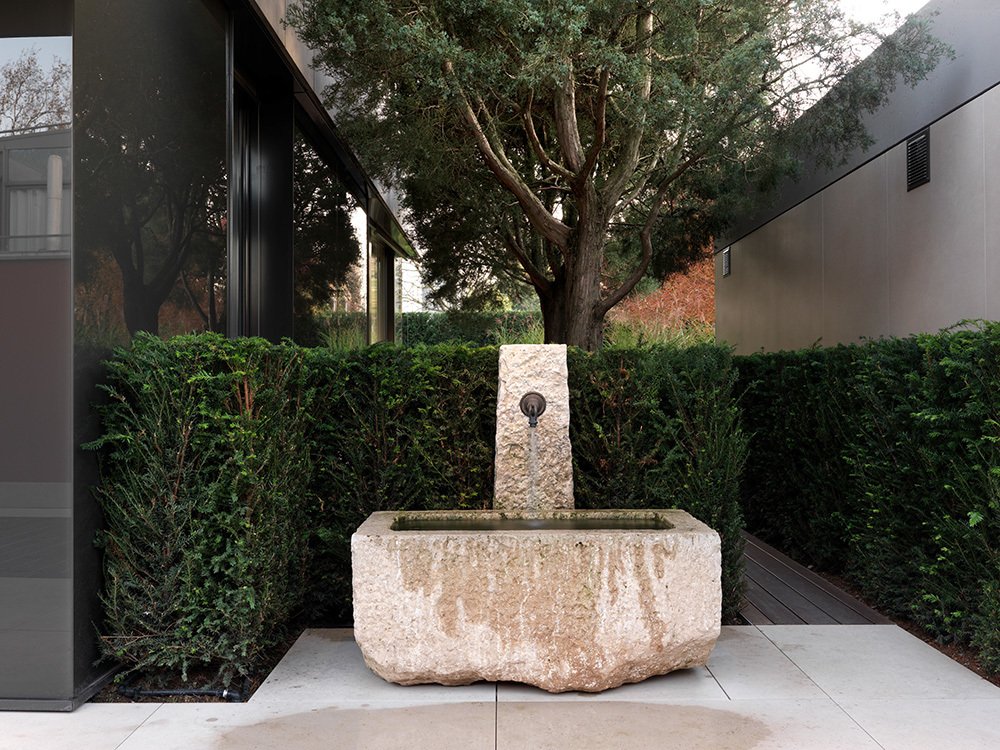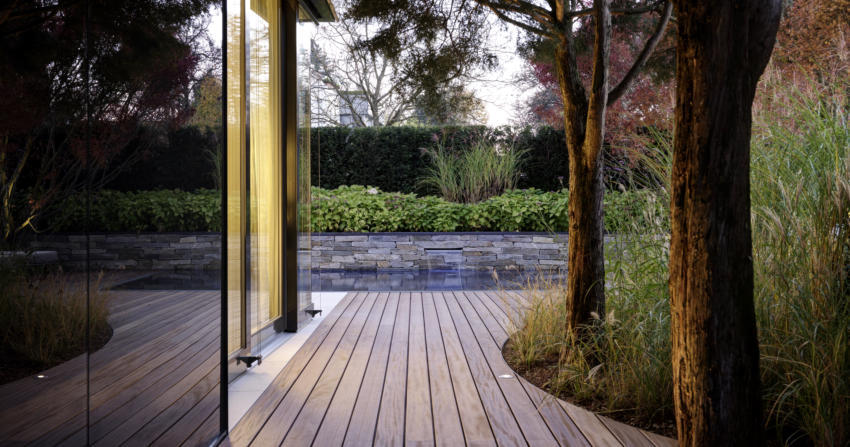 多根茎的树及其特性对设计具有决定性的意义。一个易于维护的灌木和草的种植方案伴随着种植概念的产生。紫杉树篱保护着财产不受外界的视线干扰。除此之外,花园设计是用照明和灌溉概念完成的。
The multi-stemmed, shadowing trees and their character are decisive for the design. An easily to maintain planting scheme of shrubs and grasses are accompanying the outline of the planting concept. A yew hedge is safeguarding the property from views from outside. Other than that the garden design was completed with a lighting and irrigation concept.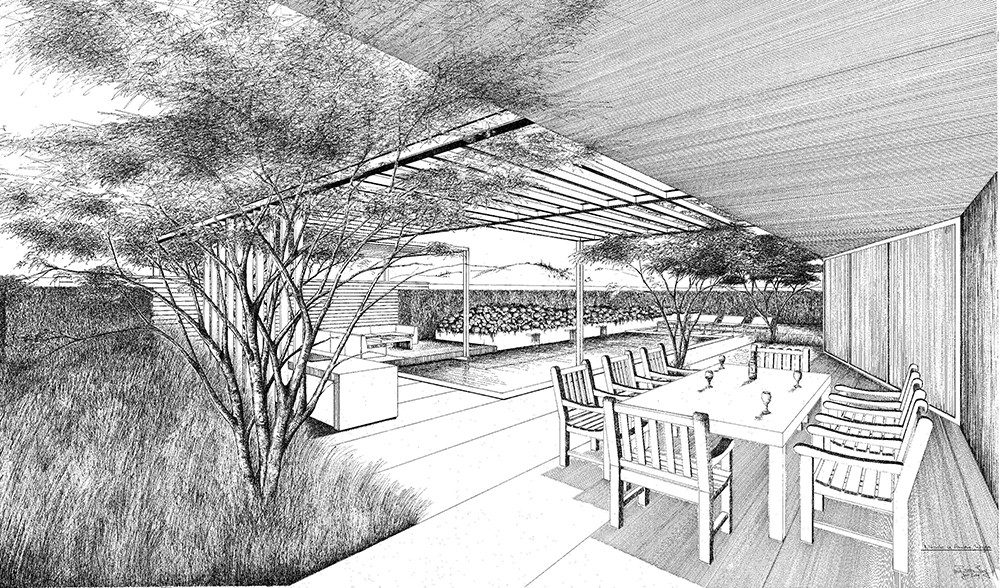 地址: 瑞士巴塞尔
年份: 2016年
摄影: Bruno Helbling, Rolf von Burg
Address: Basel, Switzerland
Year: 2016
Photography: Bruno Helbling, Rolf von Burg
更多 Read more about:Rolf von Burg