纬图设计机构:项目设计由传统院落空间形态发展而来,在设计中处处彰显东方美学,特别是宋代的精神气韵,并通过现代材质和建造工艺的表达,构建出一处精致内敛、充满诗意的场所,为不过四五千平米的场地带来了以小见大、别有洞天的空间体验。
WISTO:In this project, the inspiration of spatial design stems from traditional Chinese courtyard, while the landscape design celebrating the beauty of oriental aesthetics, especially drawing upon the aesthetic ideas of the Song Dynasty, including architectural style, calligraphic culture, and craftsmanship. By integrating such ideas with modern construction materials and techniques, a poetic, modest place is built, where is full of fine details, natural vitality, and elegant ambience, beyond the limited space of the site.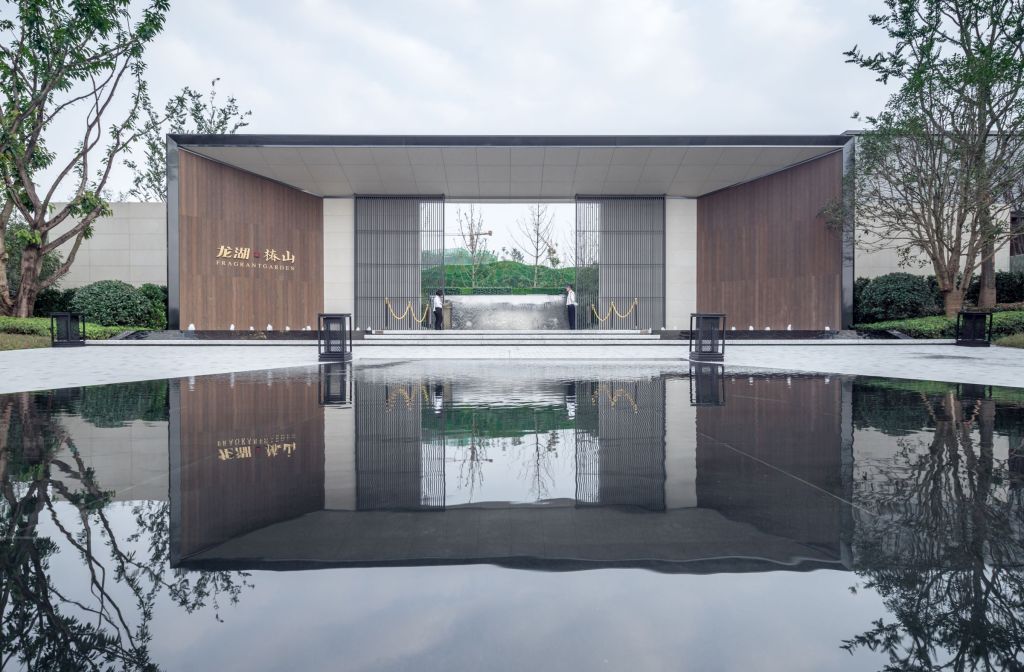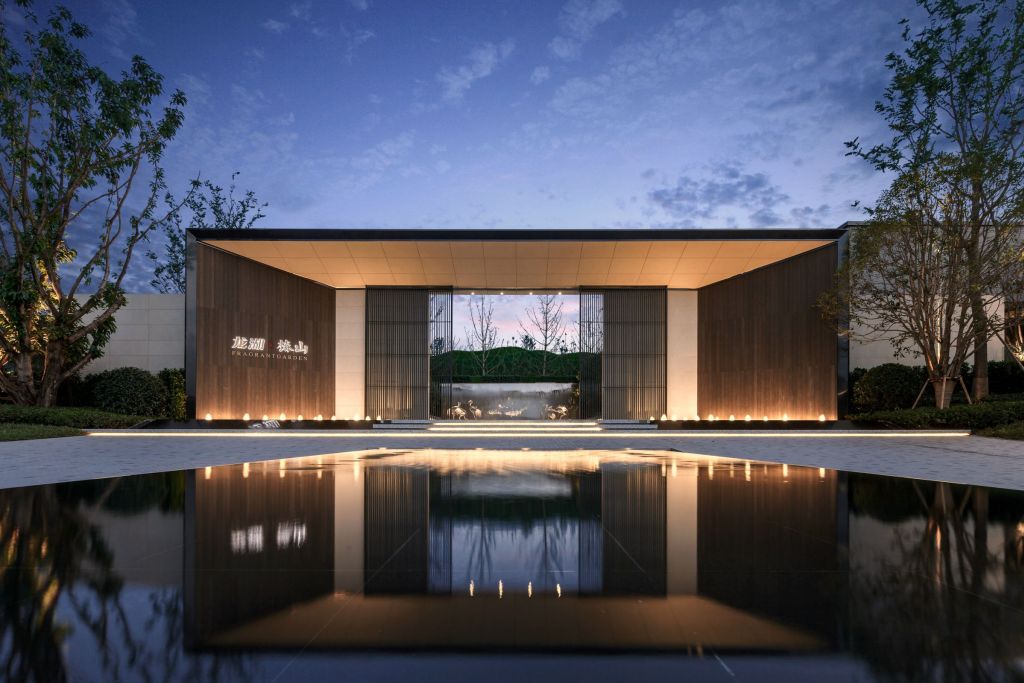 门头
取宋代传统府邸门头形式,留其气韵,去其形役。取其磅礴气势,采用"中魂西技"的手法,结合现代建筑表现方式,构筑两侧使用深色生态木凸显门头的"形",通过色差对比勾勒出古建筑门头神韵。格栅的设计融入了部分宋代盛行的书法文化"瘦金体",以增其风韵雅致。门前长12米,宽6米的水景,黑色不锈钢一体成型的宽阔的跌水水面拉长了画面的景深并开阔了前场的空间。
The door
Take the traditional style of residence gate in song dynasty, remain the essences of traditional form. Taking its majestic momentum, adopting the technique of " Chinese soul and western skill" and combining with modern architectural expressions, the " shape" of the door head is highlighted by dark ecological wood on both sides of the building, and the charm of the door head of the ancient building is outlined through color difference comparison. The design of the grille is integrated with the calligraphy culture of " thin gold body" prevailing in song dynasty to increase its charm . The 12 – meter – long and 6 – meter – wide waterscape in front of the door and the wide falling water surface formed by black stainless steel have lengthened the depth of field of the picture and widened the space of the front court.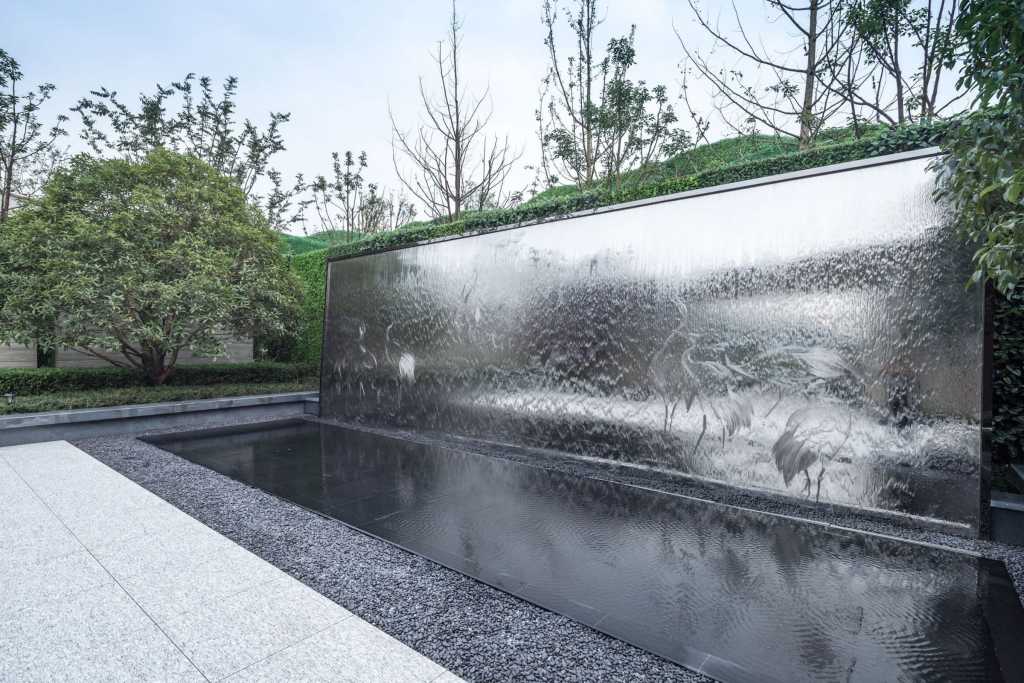 景墙灵感来源于宋代《瑞鹤图》
镜院
镜院主景照壁灵感来源于宋代名画《瑞鹤图》,鹤者"贺"也,取开门贺喜之意。《瑞鹤图》画面简洁,照壁的构图更是取其精华,力求极简。照壁采用不锈钢篆刻工艺,由匠人在不锈钢金属面上进行手工纂刻。再反复调试镜面流水,以确保照壁在缓缓流下的水幕中,图案也空灵透亮,仙鹤翩飞栩栩如生。
The inspiration for Chinese wall came from the " ruihe figure" of Song dynasty.
Mirror court
The main scene of the mirror courtyard is inspired by the famous painting " ruihe figure" of Song dynasty . The meaning of it is "opening the door to congratulate others". The picture of " ruihe figure" is simple, and the composition of the screen wall is the essence of it, striving to be extremely simple. The screen wall adopts stainless steel seal cutting technology, and the craftsman carries out manual engraving on the stainless steel metal surface. The mirror surface running water is adjusted again and again to ensure that the screen wall is in the slowly flowing water, the design of pattern is also elegant.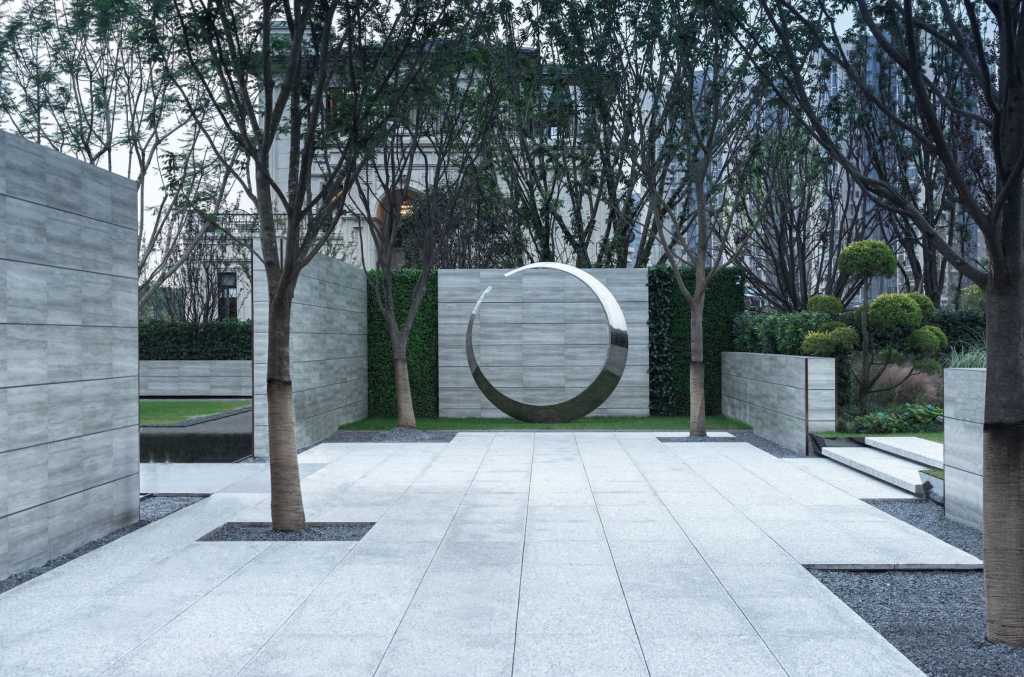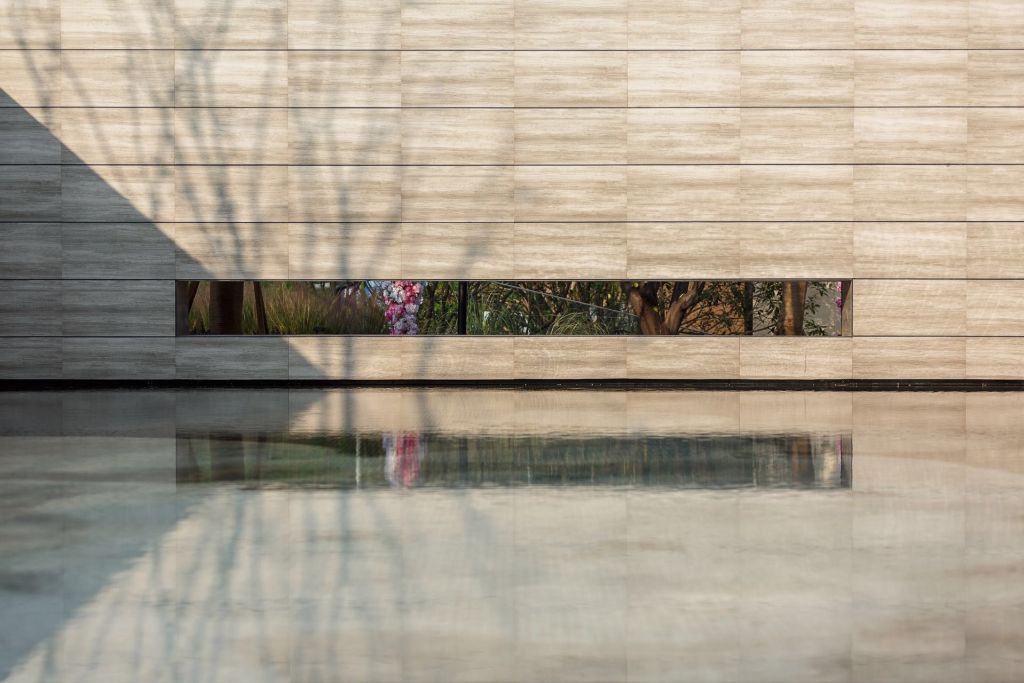 水院
走过树影婆娑的树院后,中心水院如一幅静默的山水画在眼前展开,开阔的镜面水与建筑相映成趣。水面漂浮着一片绿岛,池底的水墨花瓣悠然绽放。
水院之中,绿岛之上,放置以椿树之"翅果"为主题的雕塑,呼应项目案名"椿山"。另植栽精选树型的蓝花楹体现生机勃勃之感。池底水墨花瓣的构图,经过无数次尝试,使用石材马赛克作为材料,通过数码排版反复测试,力求达到水墨的淡雅色彩。
Water yard
After walking through the swaying tree courtyard, the central water courtyard unfolds like a silent landscape painting in front of our eyes, with the open mirror water and the architecture reflecting each other. There is a green island floating on the water surface, and the ink petals at the bottom of the pond bloom leisurely.
In the water court, on the green island, a sculpture was placed to echo the project name. In addition, planting a selection of Jacaranda mimosifolia shows the sense of vitality. The composition of ink petals at the bottom of the pond has been tested repeatedly by using stone mosaic as material,and through digital typesetting after countless attempts to achieve the quietly elegant color of ink.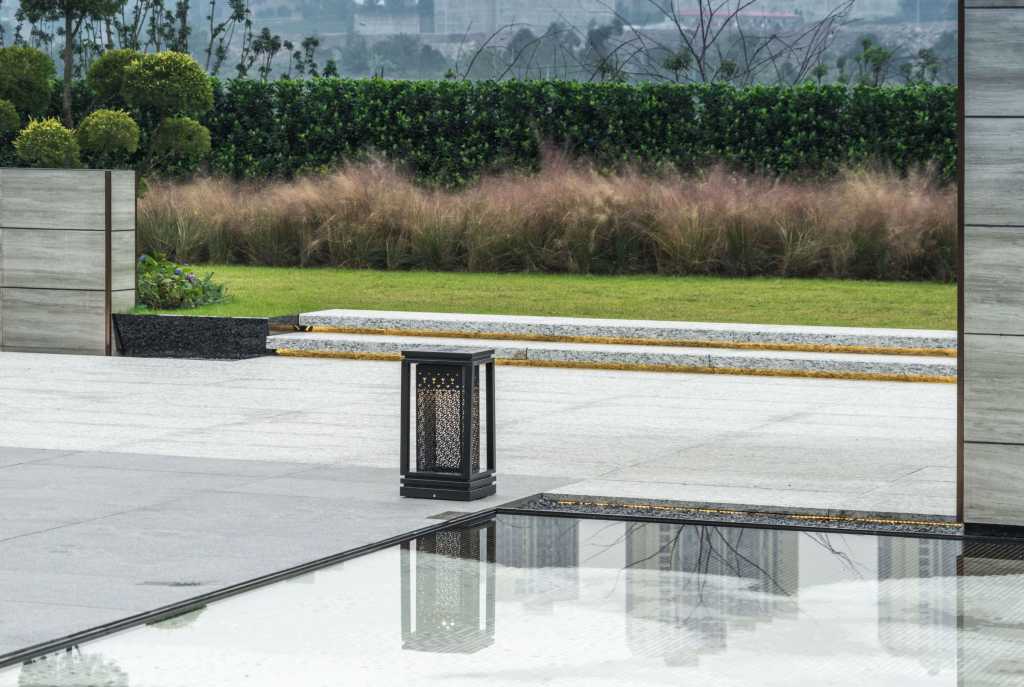 总平面图  Master Plan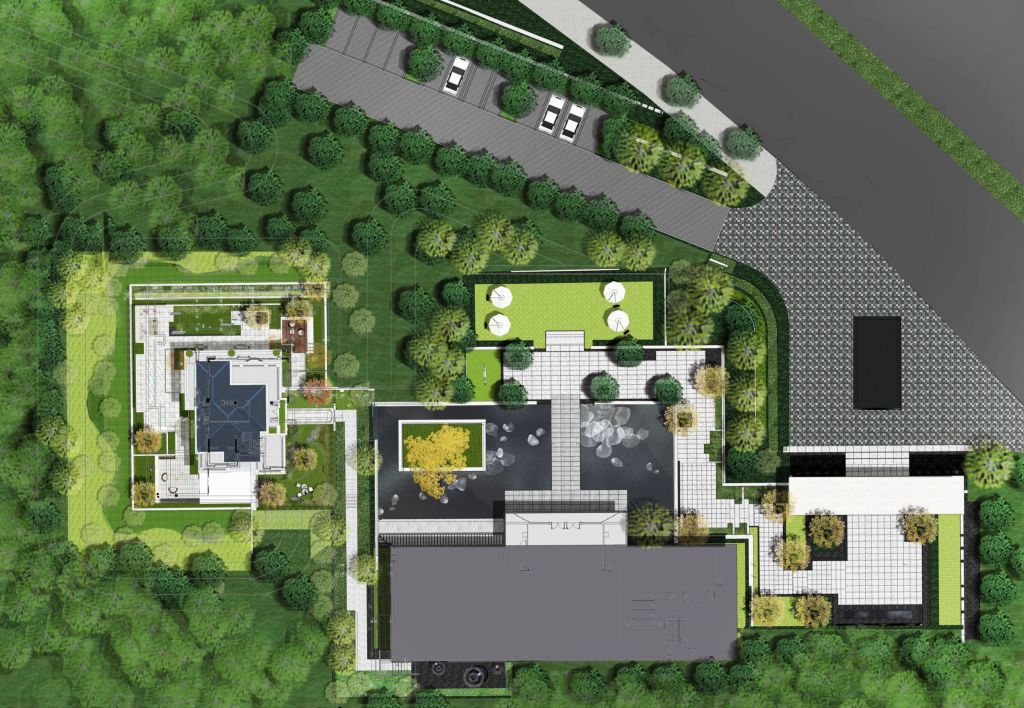 项目名称:重庆龙湖•椿山展示区
项目地点:重庆北碚蔡家岗
业主单位:重庆龙湖地产
景观设计:纬图设计机构
景观施工:罗汉园林
用地面积:87278平方米
示范区景观面积:6469平方米
建成时间:2017年09月
获奖情况:第十三届金盘奖西南区年度最佳别墅奖
Project name:Demonstration Area of Longfor Chunshan Villa in Chongqing
Location:  Caijiagang,Beibei,Chongqing
Client: Longfor
Landscape design:  WISTO
Landscape construction:
Land area: 87278 ㎡
Landscape area of demonstration area: 6469 ㎡
Completion date: September 2017
Award: 13th kinpan award, best villa award of the year in southwest China
更多Read more about:WISTO纬图设计机构