本文由 K-Studio授权mooool发表,欢迎转发,禁止以mooool编辑版本转载。
Thanks K-Studio for authorizing the publication of the project on mooool, Text description provided by K-Studio.
K-Studio:Dexamenes的历史可以追溯到20世纪初,当时混凝土罐直接建在海岸线上,用来储存出口到海外的葡萄酒。场地在改造成酒店的过程中展示了现有建筑的强大历史和原始美,并通过优雅的干预来强调它们的野蛮特性。混凝土、钢材、木材和加工玻璃的应用确保了新的建筑元素足够轻柔,使现有建筑相对保持原状,并保留其强大的存在感。
K-Studio:The history of Dexamenes dates back to the early 1900s, when the concrete tanks were built directly on the coastline, to store wine for export overseas. In converting the site into a hotel, the intention was to showcase the strong history and raw beauty of the existing buildings and compliment their brutality with elegant interventions. A complimentary palette of concrete, steel, timber and engineered glass ensures that new construction elements tread lightly, leaving the existing buildings relatively untouched and retaining their strong presence.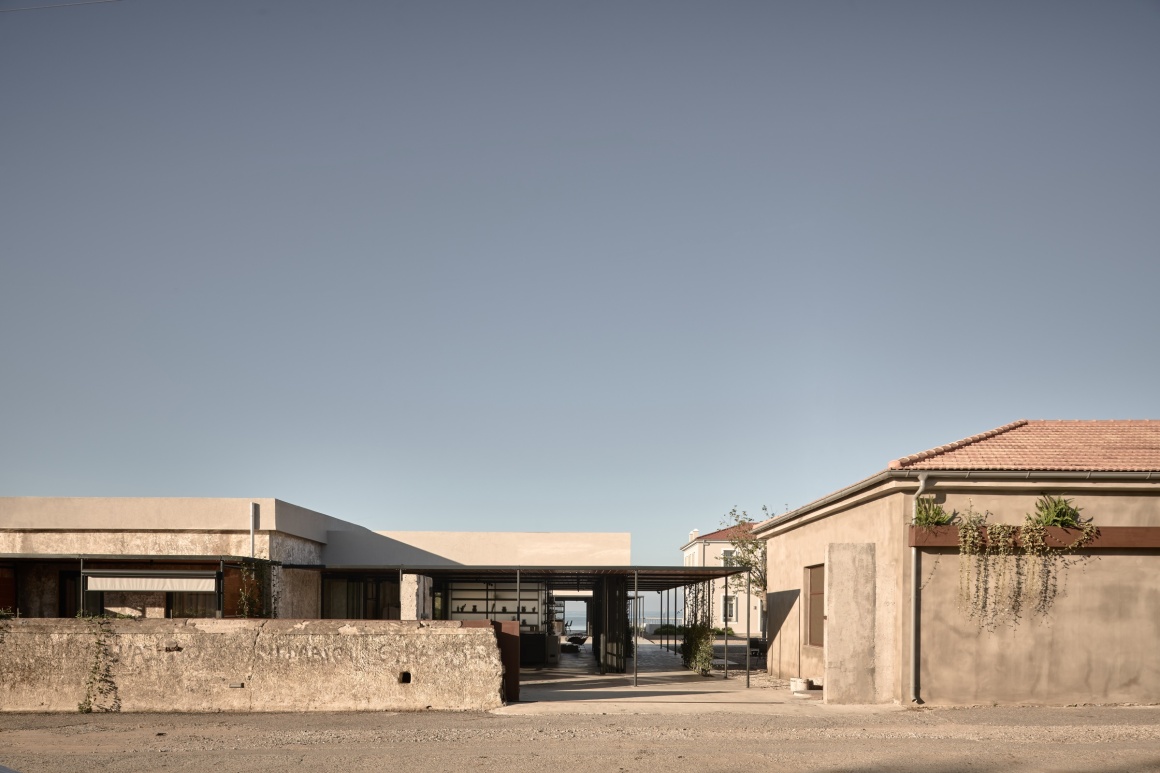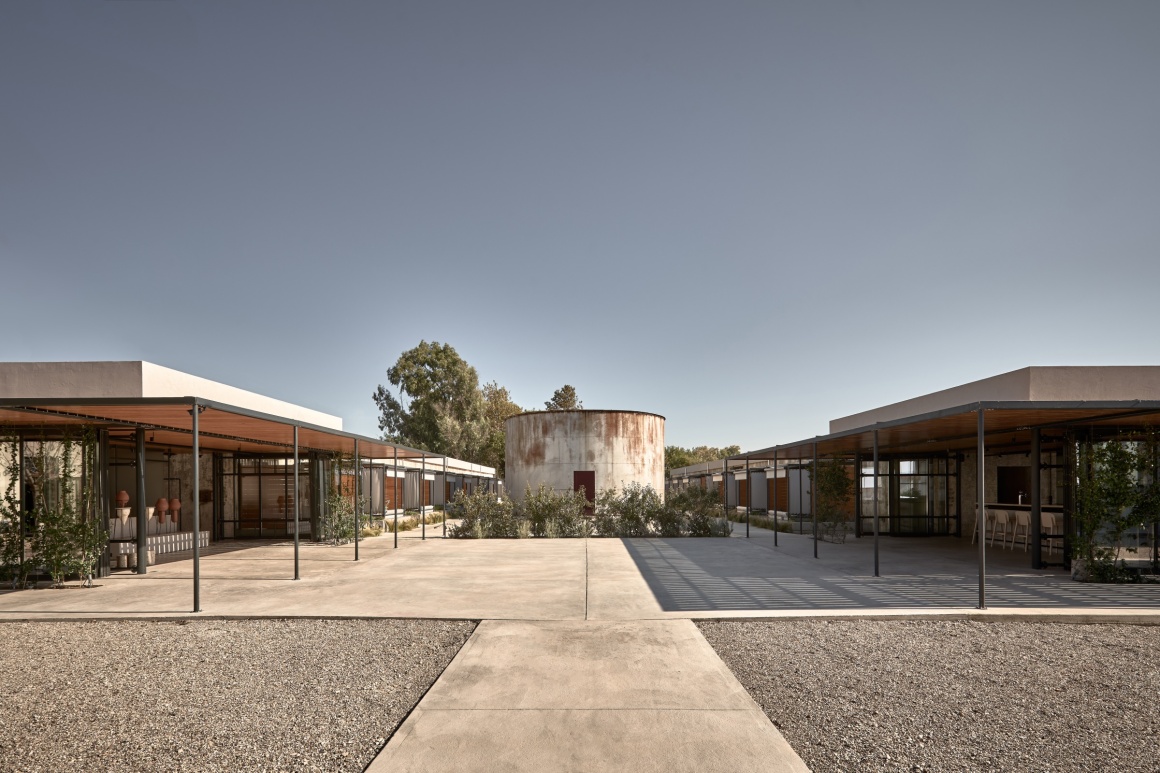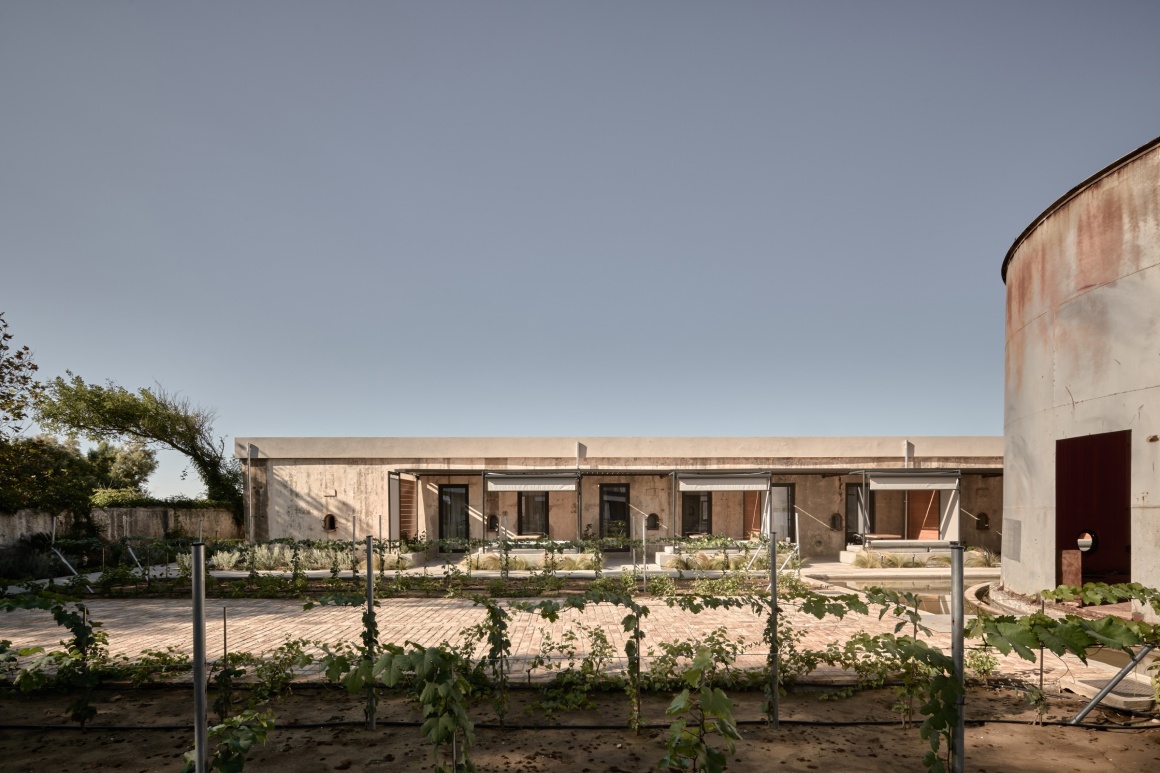 接待凉亭的百叶顶棚打造了一个没有阳光暴晒的受欢迎的休息空间。
The louvered canopy of the reception pavilion offers welcome respite from the heat of sun.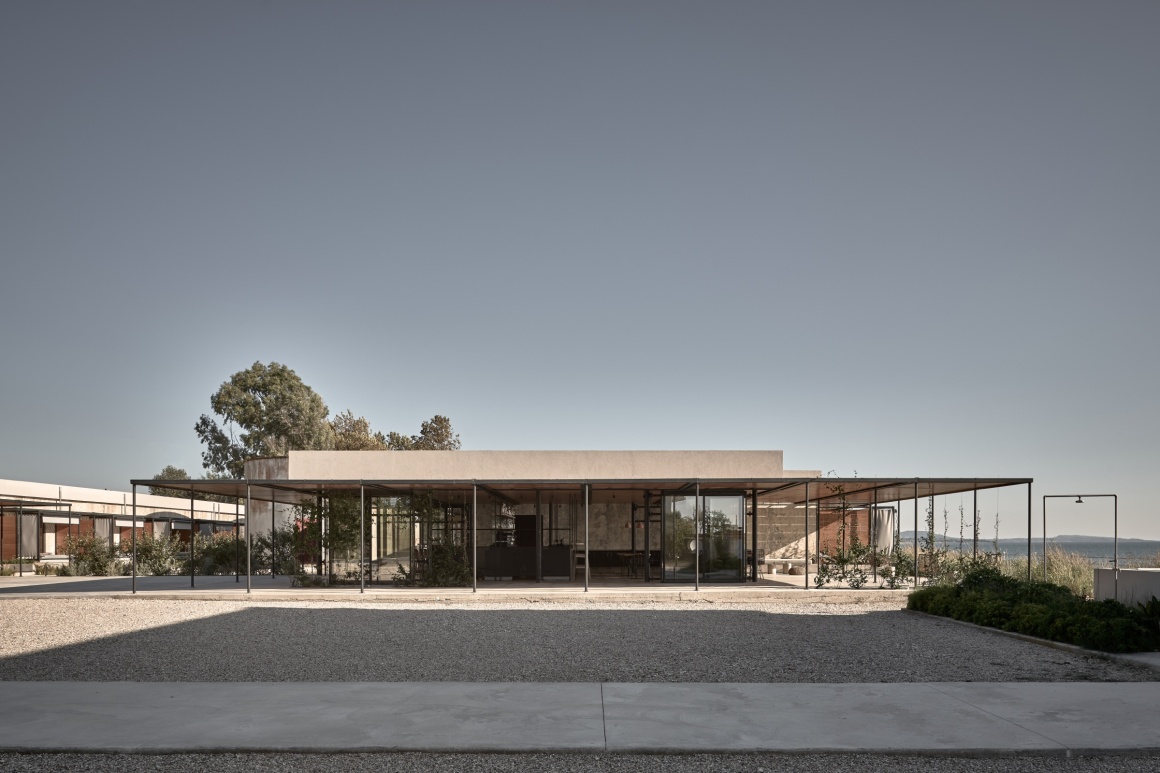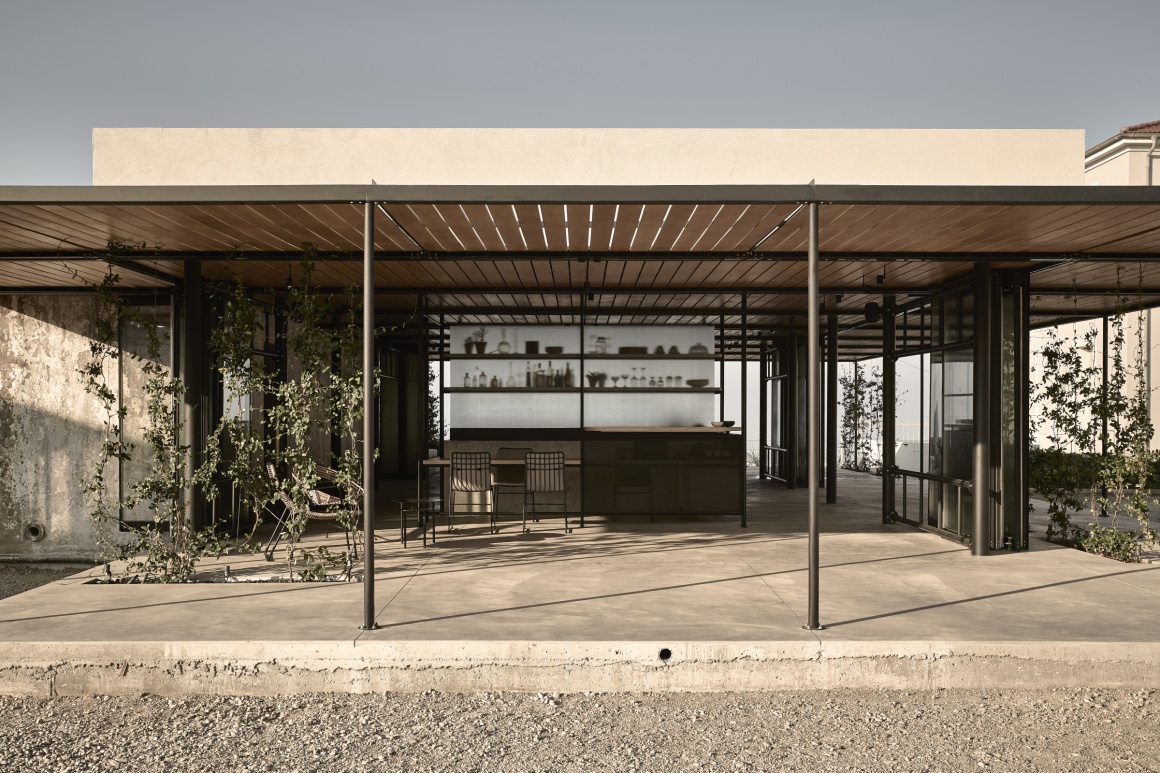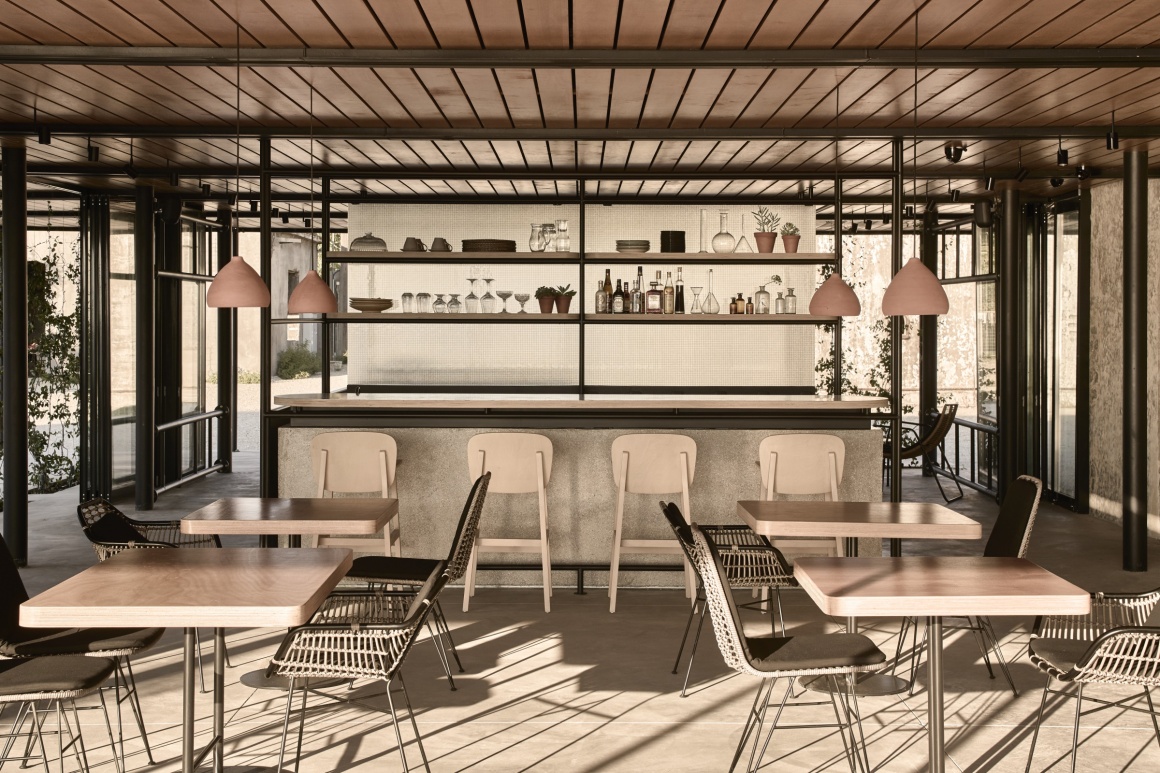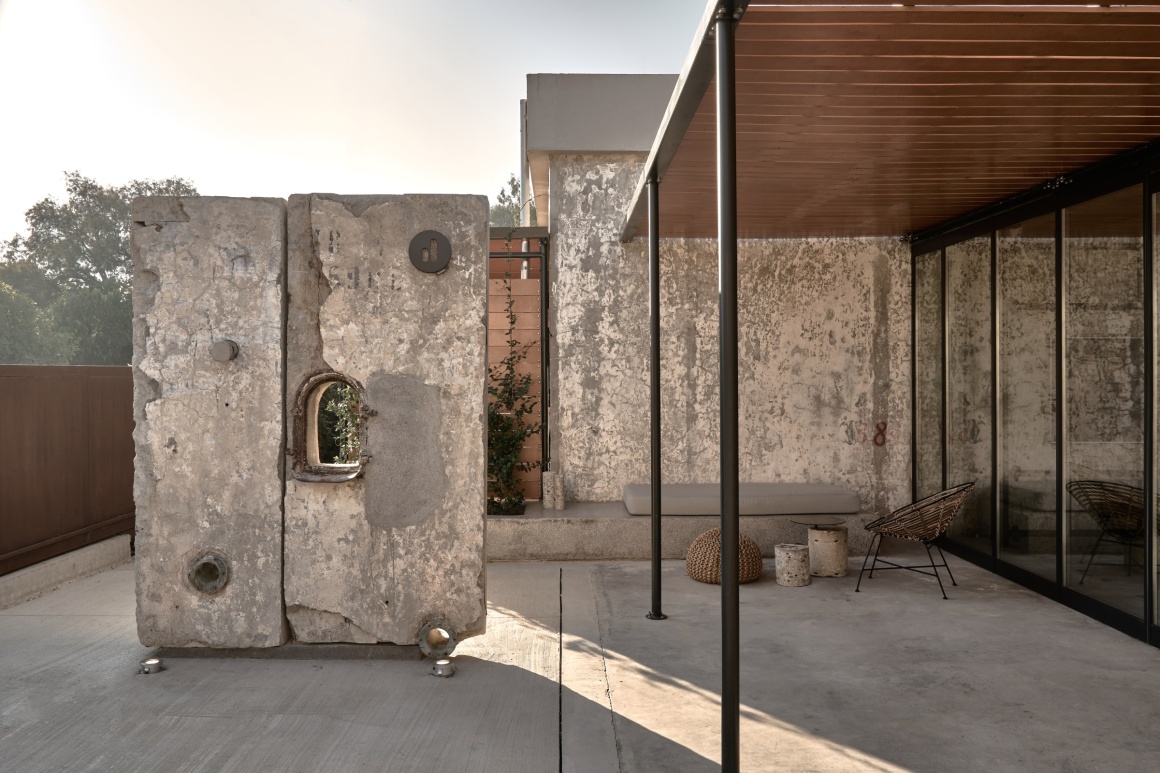 酒店精品区向宁静的庭院花园和露台开放,工业历史的遗迹与手工制作的亚麻沙滩装饰巧妙地陈列在一起。
Remnants of the industrial past are artfully displayed alongside hand-made linen beachwear in the hotel boutique, as the space opens out onto the peaceful courtyard garden and terraces.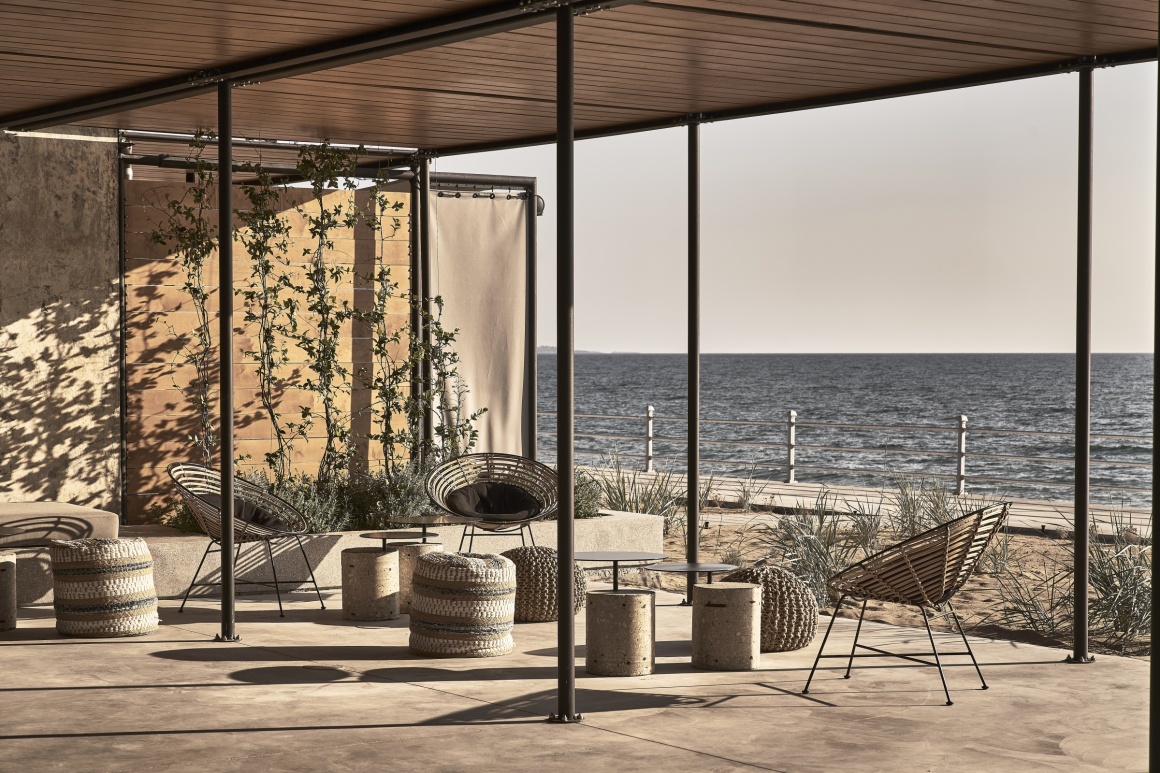 场地原来的标志是两个混凝土罐体,现在则是四排整齐的看似豪华的房间。混凝土罐原始的特征被保留了下来,比如立面的检修孔和有纹理的内墙,作为新的纹理玻璃、抛光水磨石、木材和优雅的黑色钢材细节的背景。
Dominating the site are the 2 concrete blocks of tanks, now converted into 4 neat rows of deceptively luxurious rooms. Original features of the tanks such as the façade manholes and the textured internal walls have been preserved to frame the new textured glass, polished terrazzo, rich wood and elegant black steel details.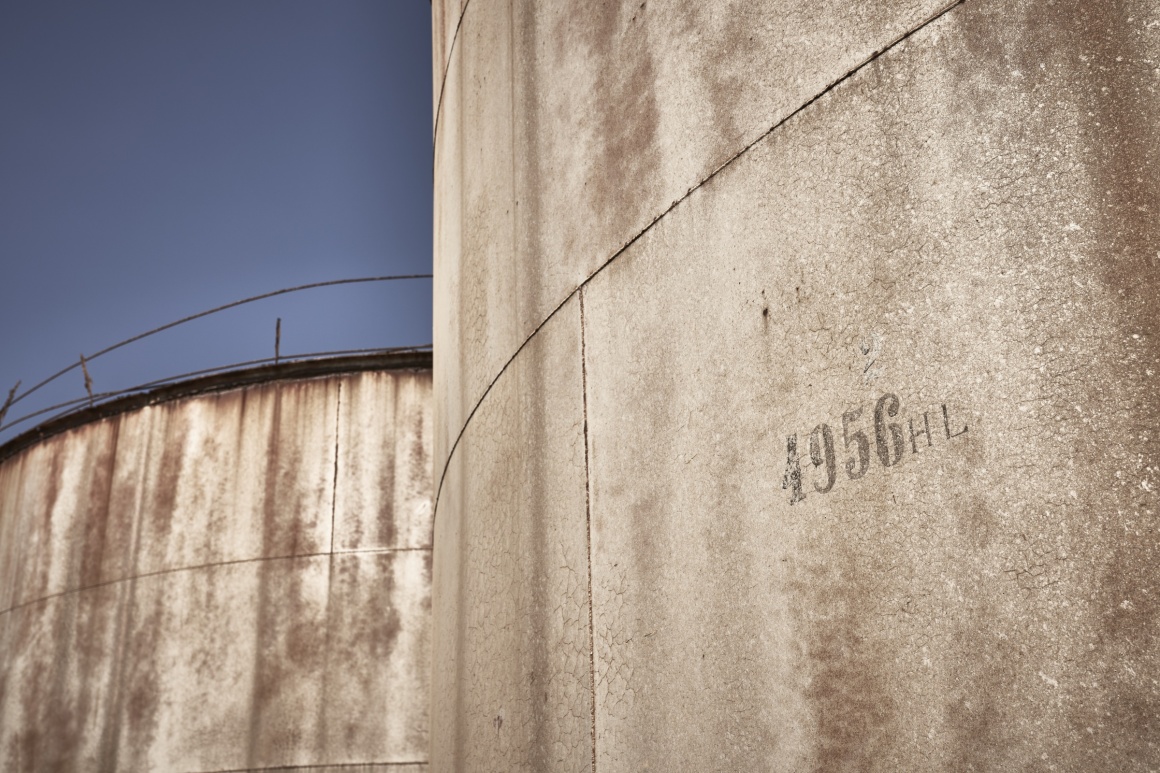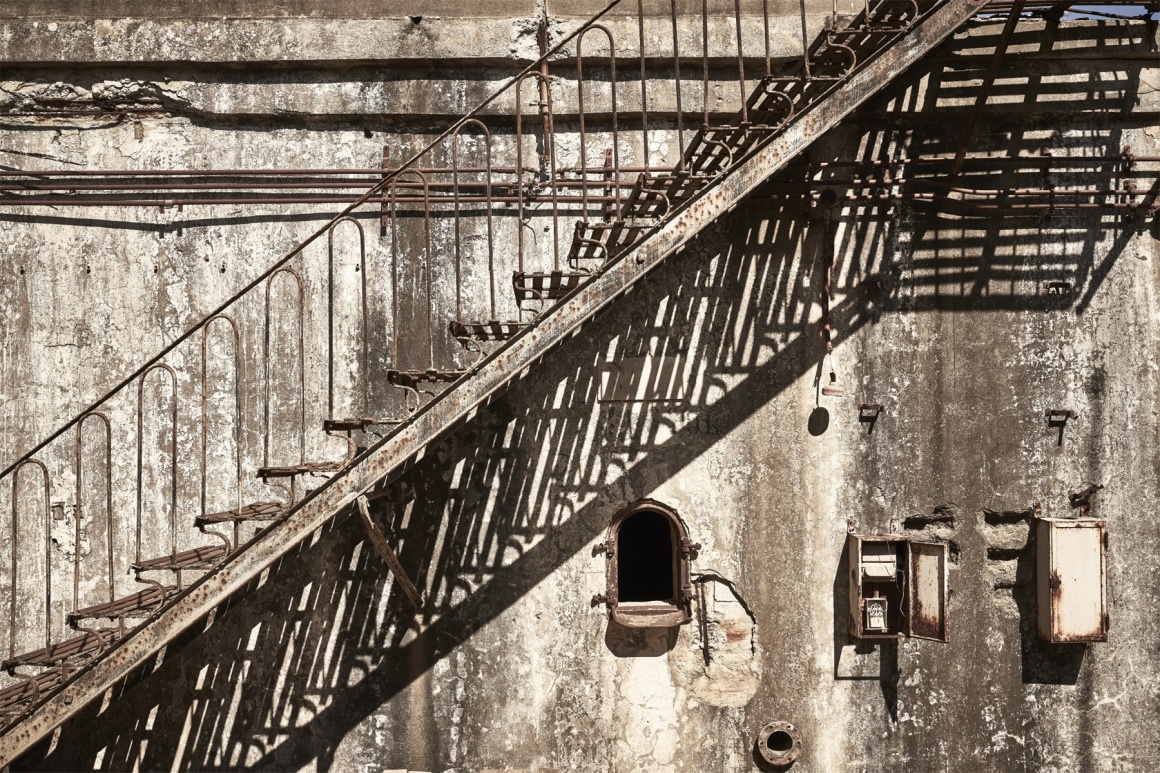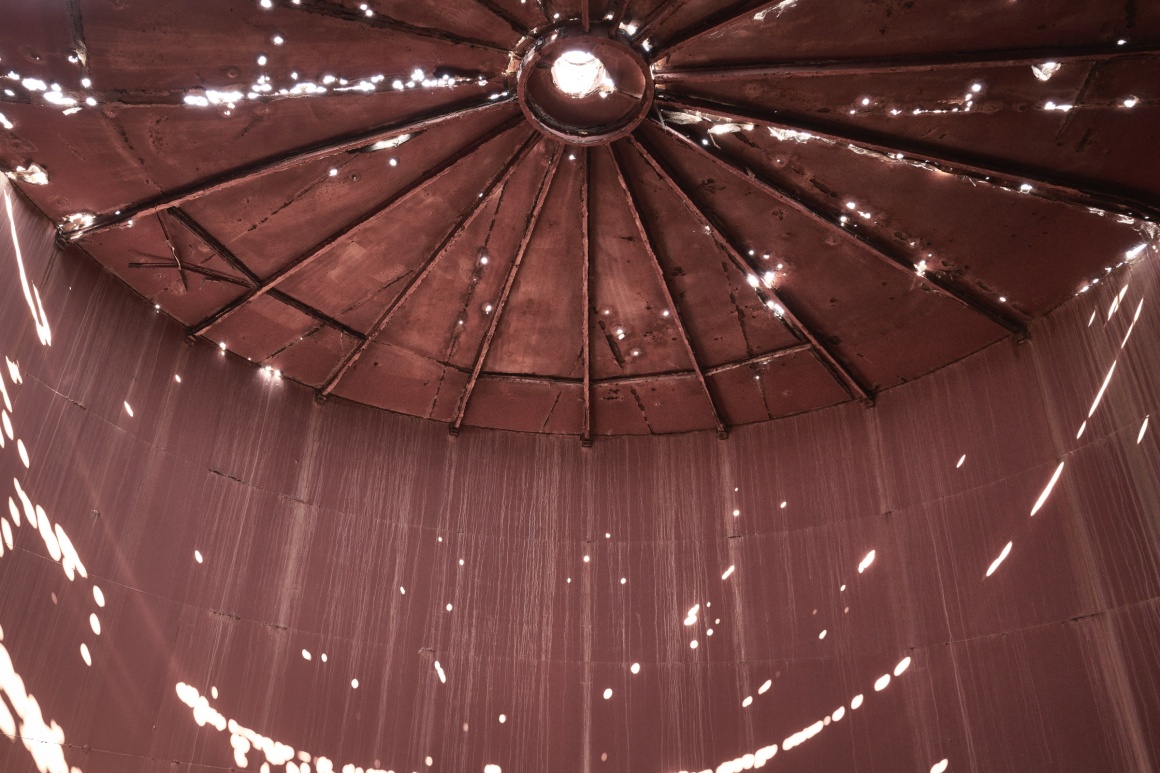 中间的浅水池有冷却空气的效果,还可以将光和声音反射到水中钢桶的凹面上。从水池中切割出的混凝土被用作垫脚石和休息亭的桌子。
Separating the blocks a shallow pool has a cooling effect on the air and reflects light and sound onto the concave surfaces of the steel drums sitting in the water. Concrete cut from the tanks to create openings has been used for stepping stones in the pool as well as tables in the lounge pavilion.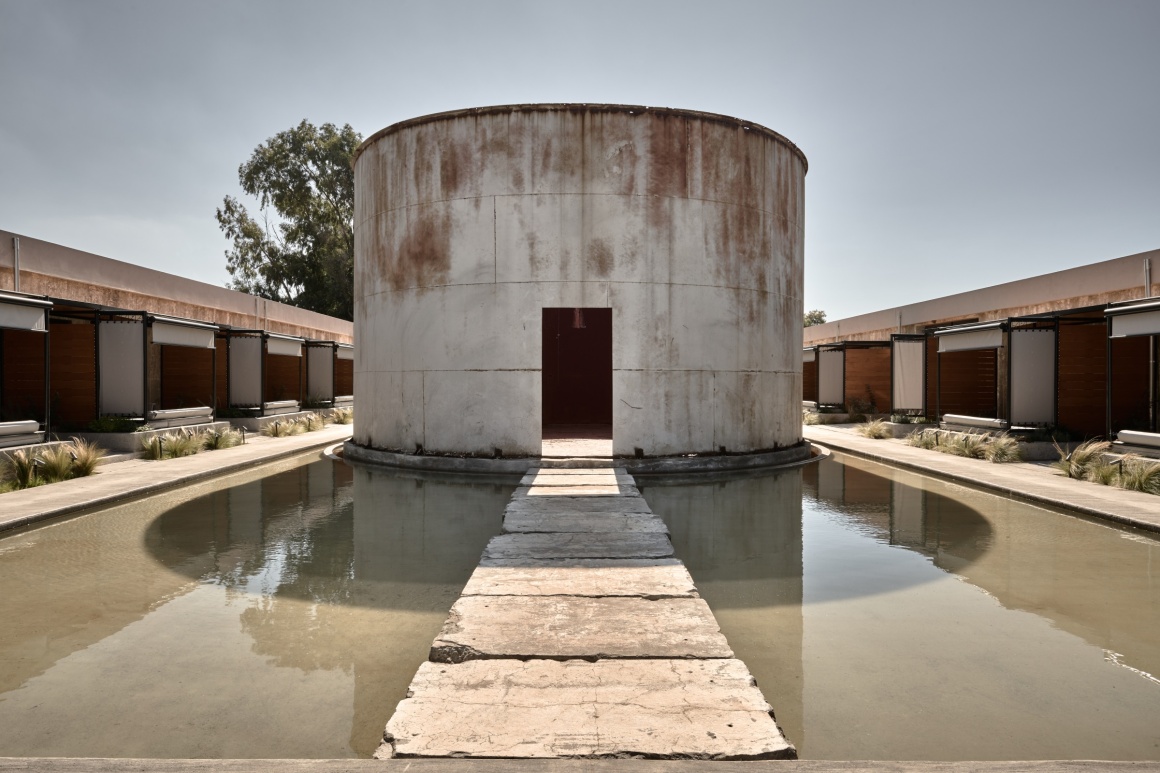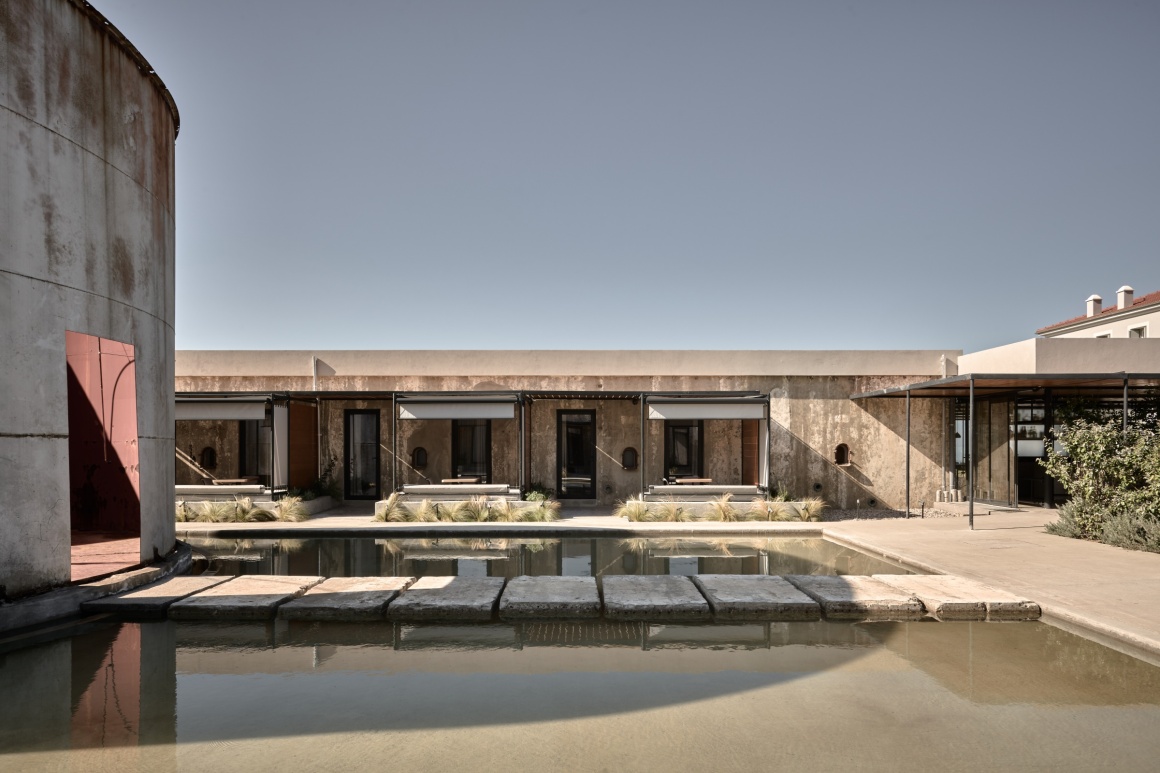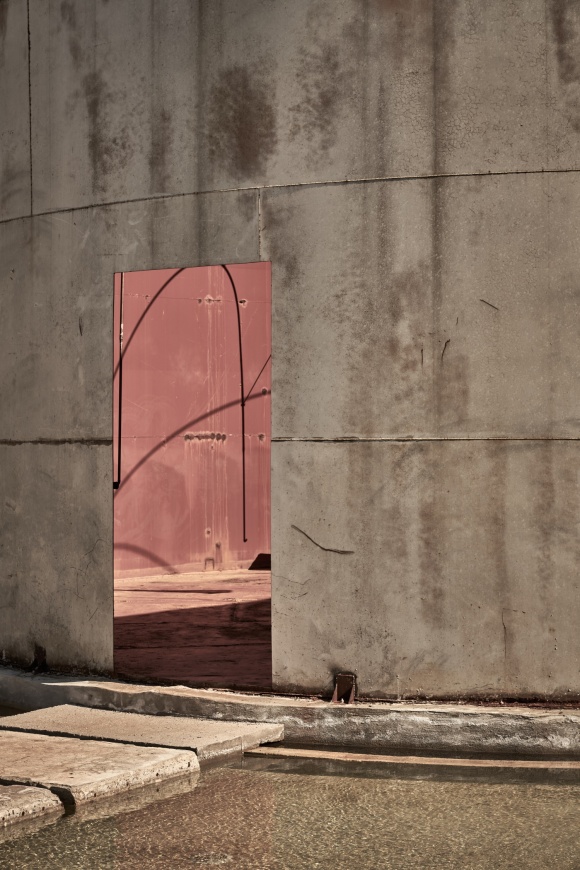 面向庭院的卧室布局保障了隐私,而海滨房间最大限度地向海景开放,并通过海滩边缘的宽阔步道连接起来。
Courtyard-facing bedrooms are laid out to create privacy whilst beachfront rooms maximize their sea-views and are connected by a wide promenade path along the edge of the beach.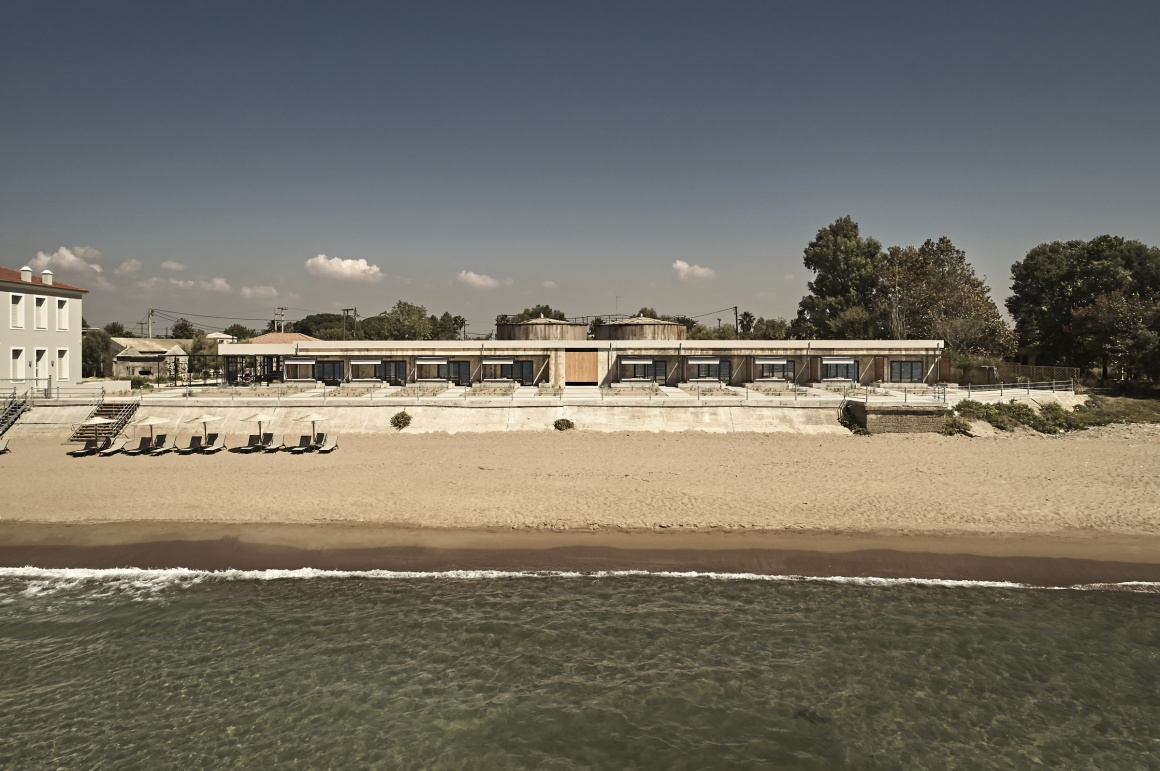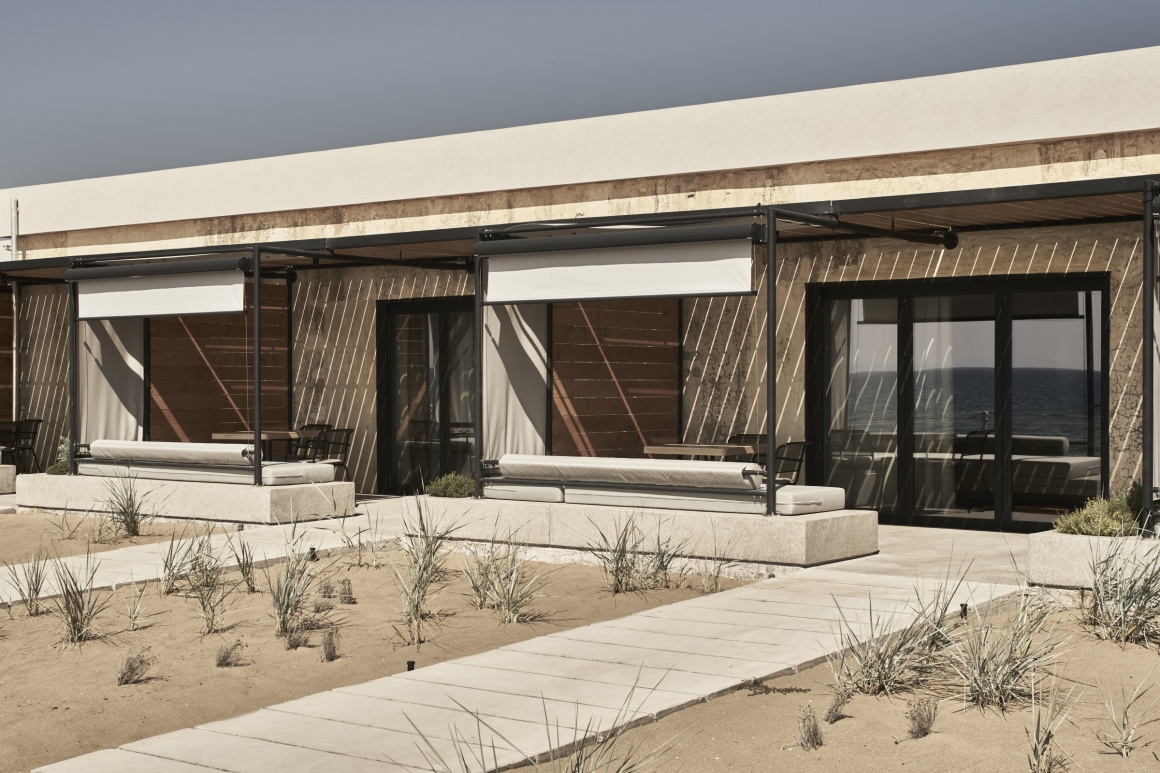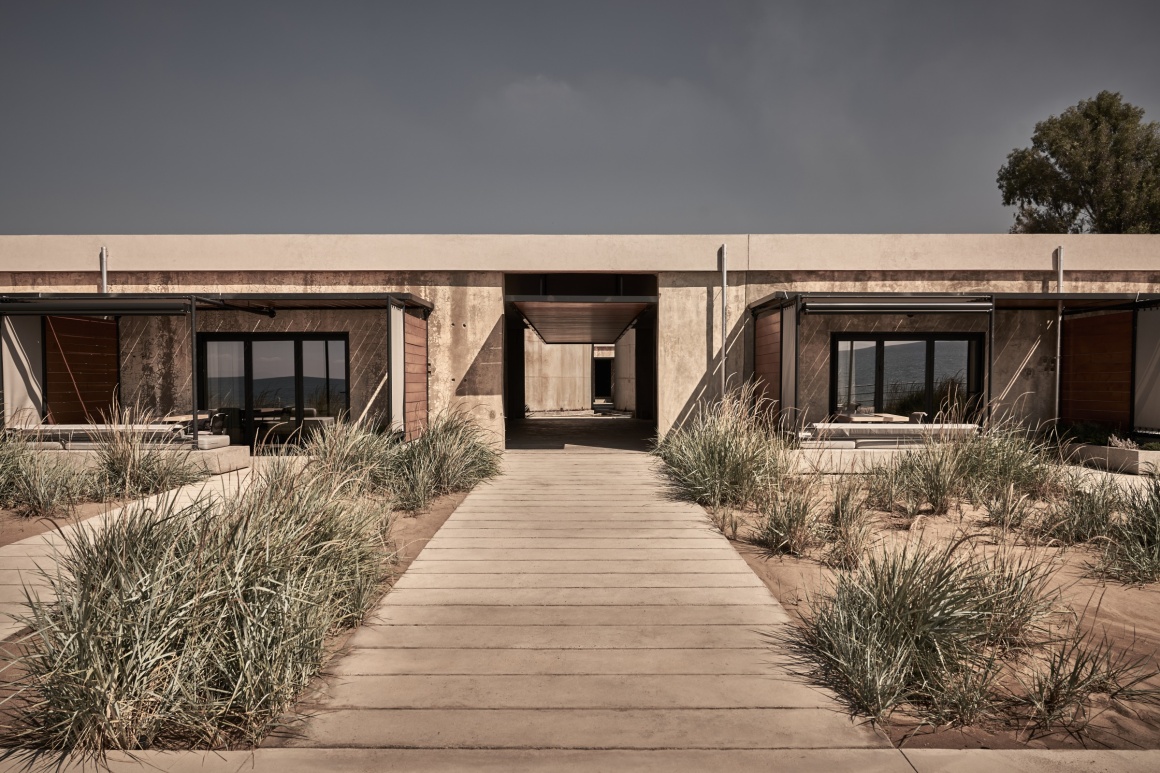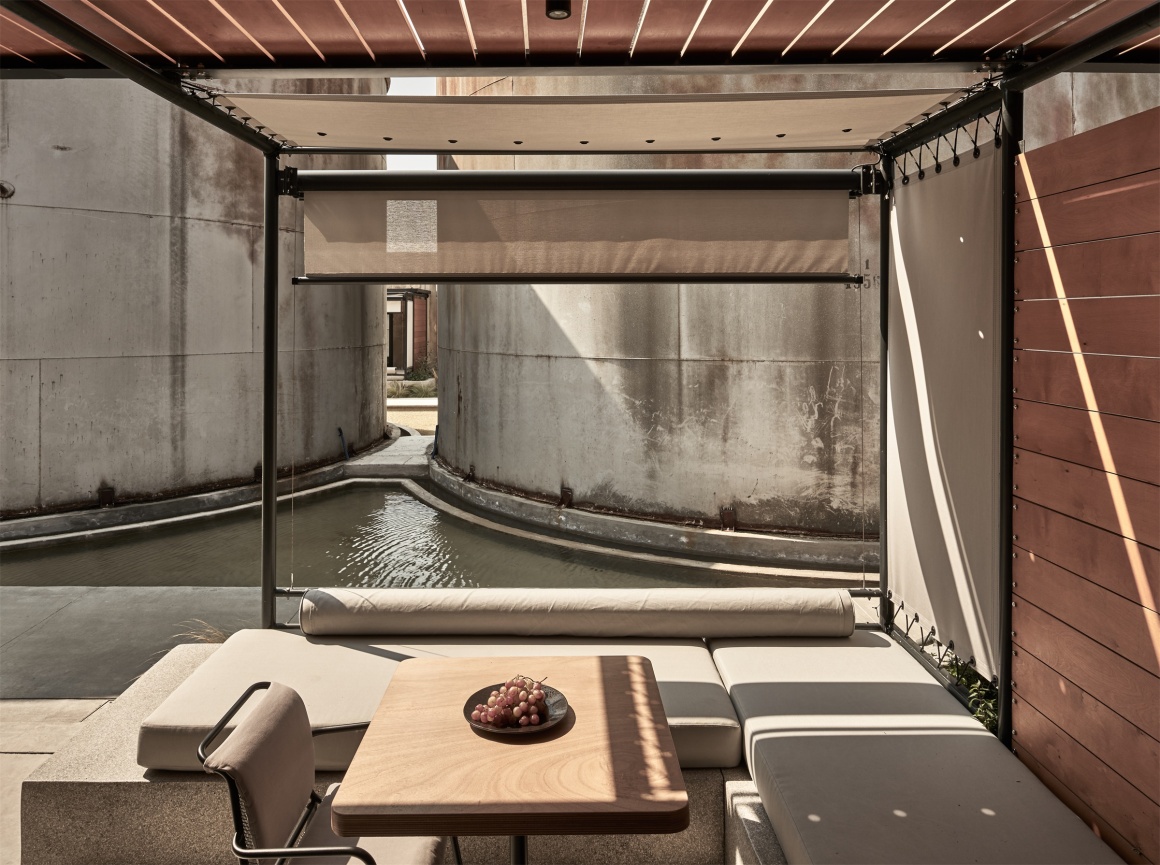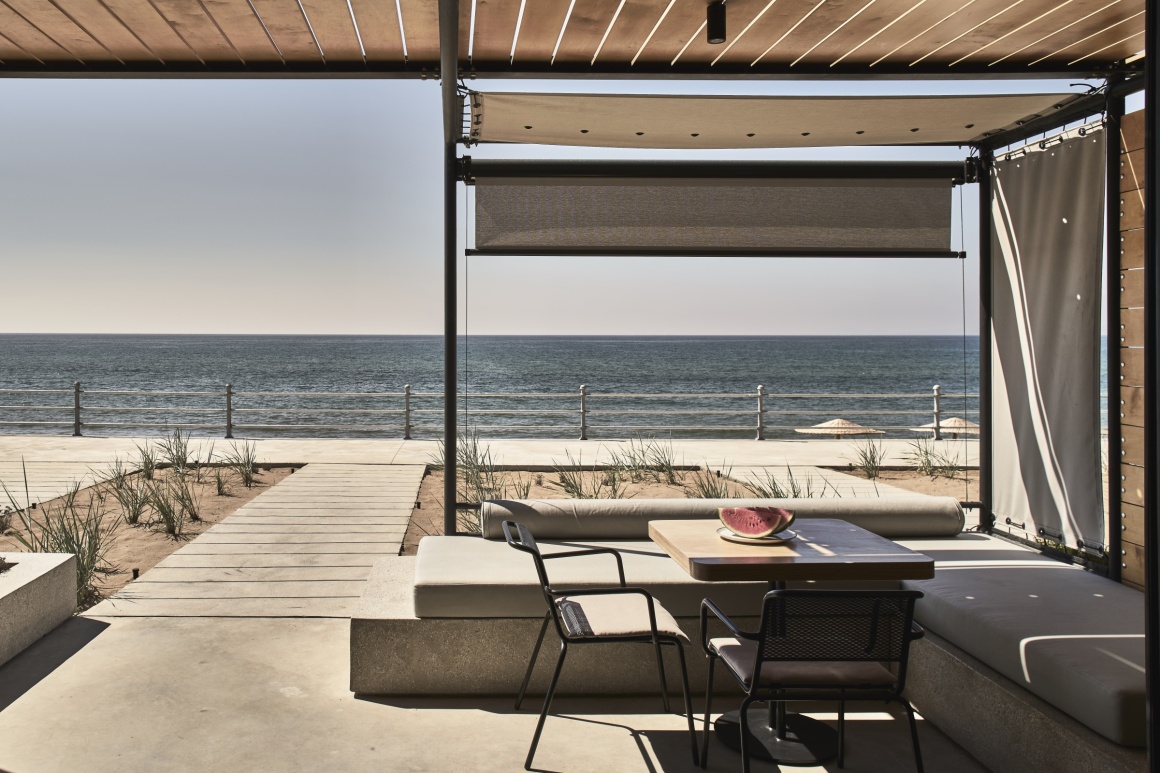 ▼室内 Interior
两座原有的石头外屋现在是酒店的餐饮空间,也为艺术和食物的活动提供场地,以传播该地区的文化和历史。回收的砖块铺设在地板和露台上,倾斜的屋顶也用当地定制的瓷砖进行了改造,与原来的风格融合在一起。酒店有一个正在进行的艺术活动,整个夏季,常驻艺术家在这里进行表演和展览。
Two original stone out-buildings now provide the hotel with in-house dining and facilities for art and food focused events that communicate the culture of the area and the history of the site. Reclaimed bricks line the floors and terrace, and the pitched roofs have been restructured with bespoke ceramic tiles made locally and crafted to blend with the originals. The hotel has an ongoing program of arts events, with resident artists presenting performances, installations and exhibitions throughout the summer season.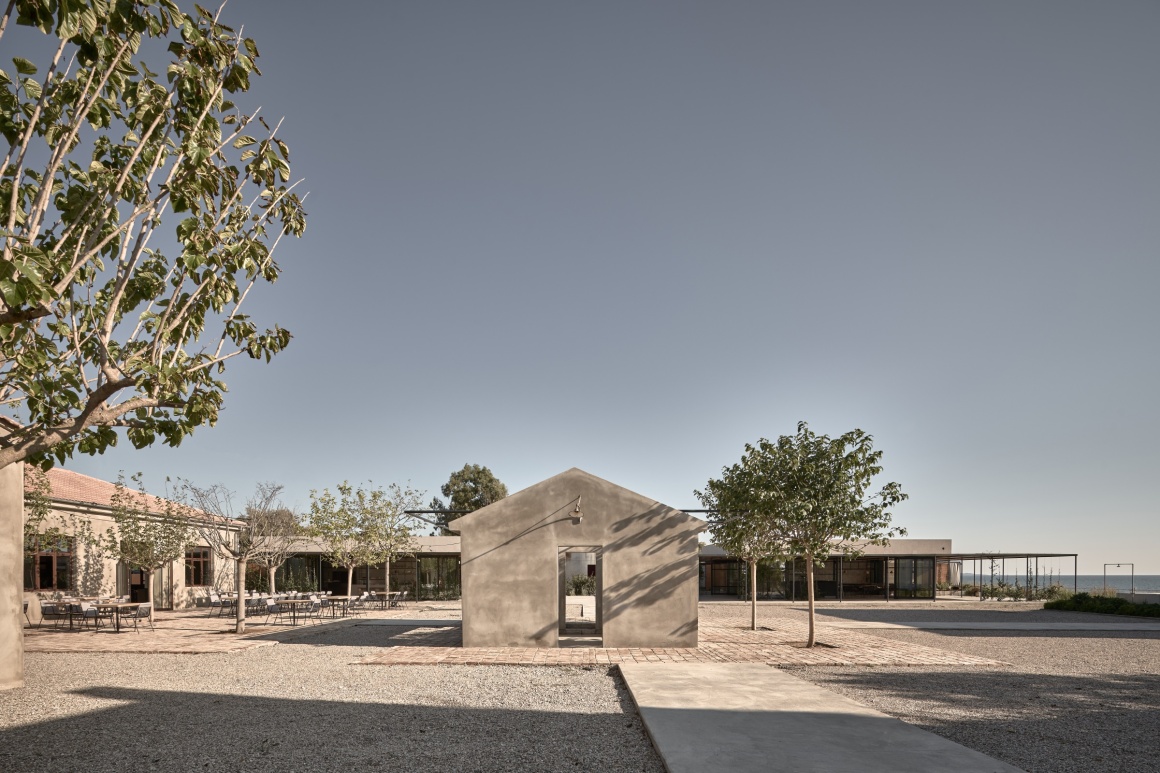 ▼轴测图 Axo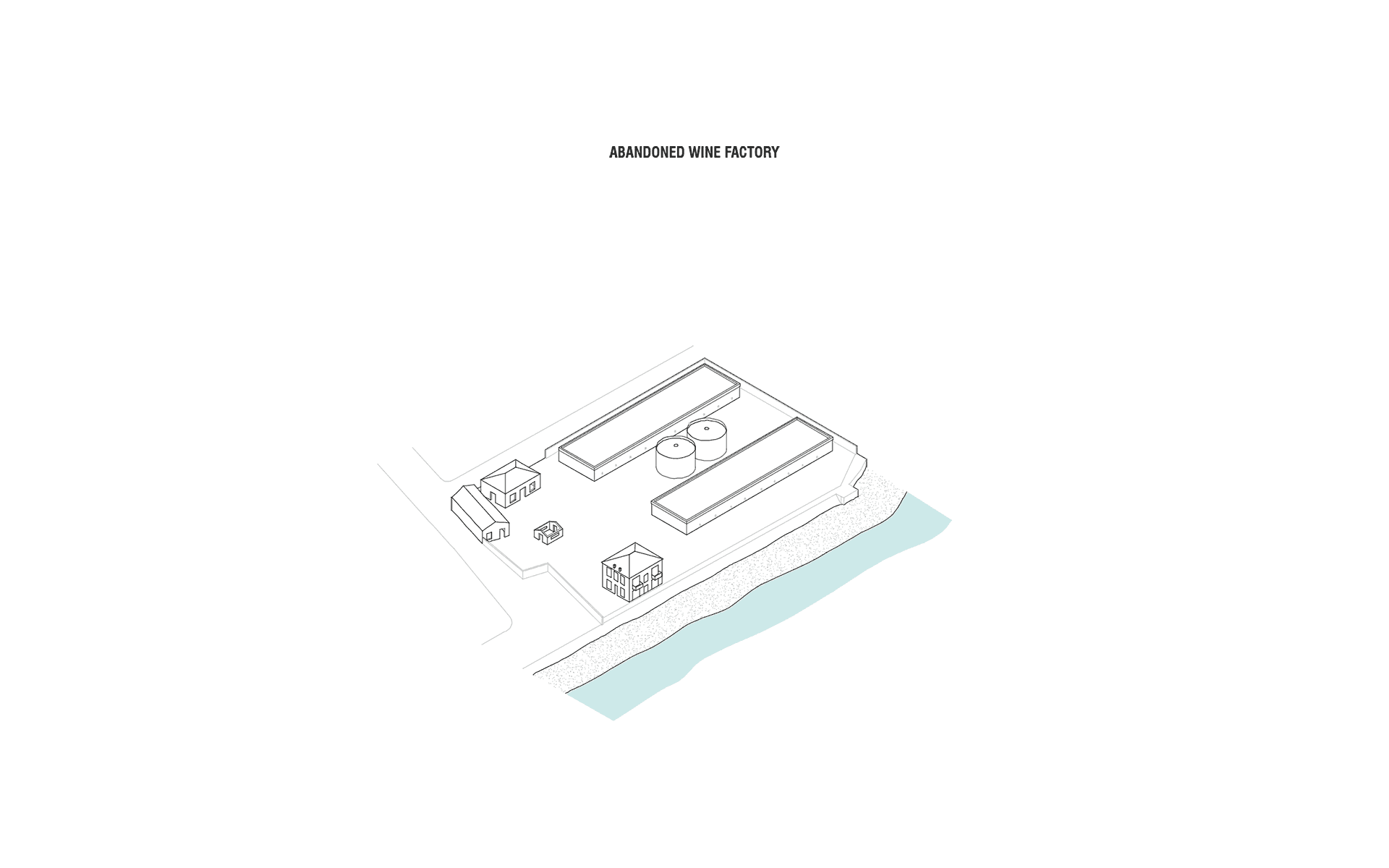 项目名称:Dexamenes海滨酒店
地址:希腊
面积:2060平方米
设计公司:K-Studio
设计团队:Dimitris Karampatakis, Giorgos Mitrogiorgis, Dimitris Sotiropoulos, Marivenia Chiotopoulou, Giorgos Dimitrakopoulos, Christina Stamouli, Thomai Christopoulou
3D可视化:K-studio (Dimitris Sotiropoulos)
品牌设计:Angelos Botsis
测量师:Georgakopoulos
规划咨询:Christos Georgakopoulos
结构工程:Panagiotis Zourntos
机械工程:ERGO-PRAXIS, Kostas Angelakoudis
灯光:Ifi group, Kafkas SA
声音咨询:Vasilios Mpantounas
厨房:INOX HAND Dimitris Kalogeras, Visvardis SA
金属加工:Vathron IKE, Theofanis losifidis, Georgios Kondylopoulos, Nikolaos Tsagris, Kostas Mitropoulos
木工:Trikogias Bros, Nikos Aspiotis
门框窗框:Alumil
大理石墙面:Fotis Manthopoulos
镜面墙面:Tasos Christodoulopoulos
水磨石:Tsantilis S.A, Novamix
靠垫:loannis and Konstantinos Oikonomou
桌子定制:loannis Mpelekoukias, Theofanis losifidis, Almeor
镜面定制:Andreas Triantafyllopoulos, Nikos Tsagris, Tasos Christodoulopoulos
电工:HLMEK Kostopoulos, Stefanos Pennias
摄影:Claus Brechenmacher&Reiner Bauman
编辑:寿江燕
Name: Dexamenes Seaside Hotel
Location: Kourouta Beach, Amaliada, Greece
Area: 2060sqm
Design firm: K-Studio
Design Team: Dimitris Karampatakis, Giorgos Mitrogiorgis, Dimitris Sotiropoulos, Marivenia Chiotopoulou, Giorgos Dimitrakopoulos, Christina Stamouli, Thomai Christopoulou
3D Visualization: K-studio (Dimitris Sotiropoulos)
Branding Designer: Angelos Botsis
Surveyor: Christos Georgakopoulos
Planning Consultant: Christos Georgakopoulos
Structural Engineer: Panagiotis Zourntos
Mechanical Engineer: ERGO-PRAXIS, Kostas Angelakoudis
Lighting Designer: Ifi group, Kafkas SA
Sound Consultant: Vasilios Mpantounas
Kitchen Consultant: INOX HAND Dimitris Kalogeras, Visvardis SA
Metal works: Vathron IKE, Theofanis losifidis, Georgios Kondylopoulos, Nikolaos Tsagris, Kostas Mitropoulos
Wood works: Trikogias Bros, Nikos Aspiotis
Window/Door frames: Alumil
Marble Cladding: Fotis Manthopoulos
Mirror Cladding: Tasos Christodoulopoulos
Terrazzo: Tsantilis S.A, Novamix
Cushions: loannis and Konstantinos Oikonomou
Custom Tables: loannis Mpelekoukias, Theofanis losifidis, Almeor
Custom Mirrors: Andreas Triantafyllopoulos, Nikos Tsagris, Tasos Christodoulopoulos
Electrician: HLMEK Kostopoulos, Stefanos Pennias
Photographer: Claus Brechenmacher&Reiner Bauman
Editor: Jiangyan Shou
更多Read more about: K-Studio