罗斯福纪念馆,全称富兰克林·德拉诺·罗斯福纪念公园,坐落在首都华盛顿市区,建成于1997年5月,工程整体耗资4800万美元,是专为纪念美国第32任总统富兰克林·德拉诺·罗斯福先生而由美国政府出资设计并建造的。
Roosevelt memorial hall, the full name of franklin delano Roosevelt memorial park, located in downtown Washington, completed in May 1997, the overall project cost of $48 million, is designed to commemorate the 32nd President of the United States, Mr Franklin delano Roosevelt and funded by the U.S. government was designed and built.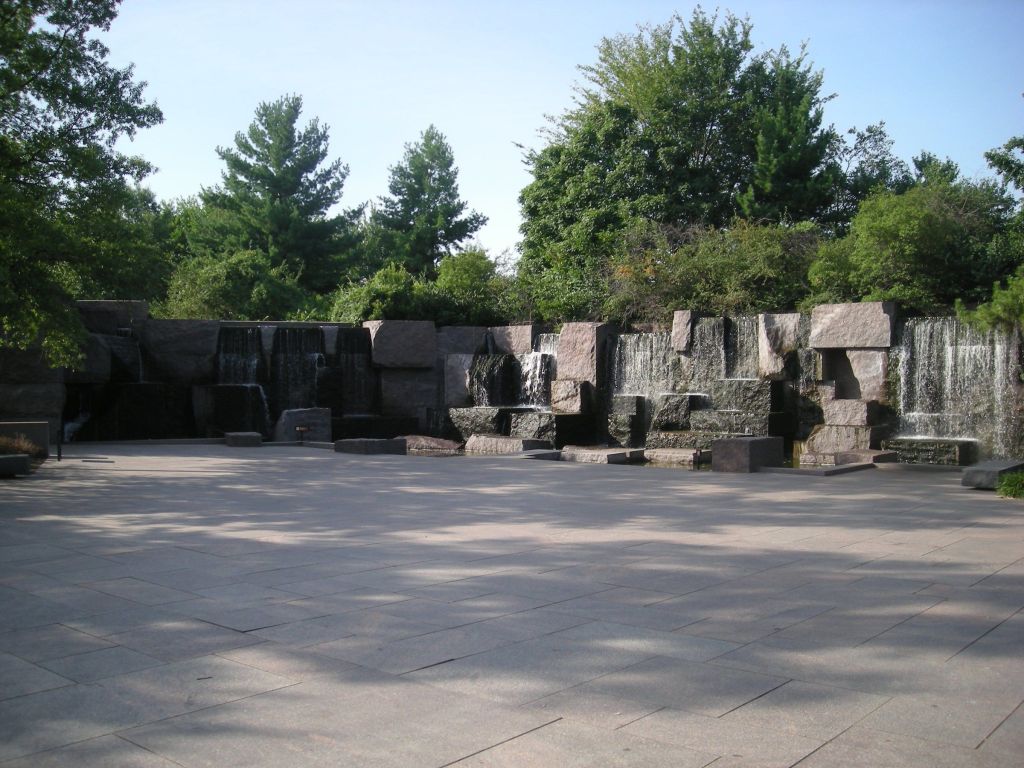 纪念公园所使用的优质天然材料,是来自美国本土南得科他州的棕色花岗岩巨石。罗斯福纪念馆由3万多块、共重达6千余吨的花岗岩堆起的石墙,如真人大小、栩栩如生的青铜雕像,是这个公园型设计方案的主体。
The premium natural materials used in the memorial park are brown granite boulders from the native south Dakota state. The stone walls of the Roosevelt memorial, made of more than 30,000 pieces of granite weighing more than 6,000 tons, such as life-size, lifelike bronze statues, are the main part of the park's design.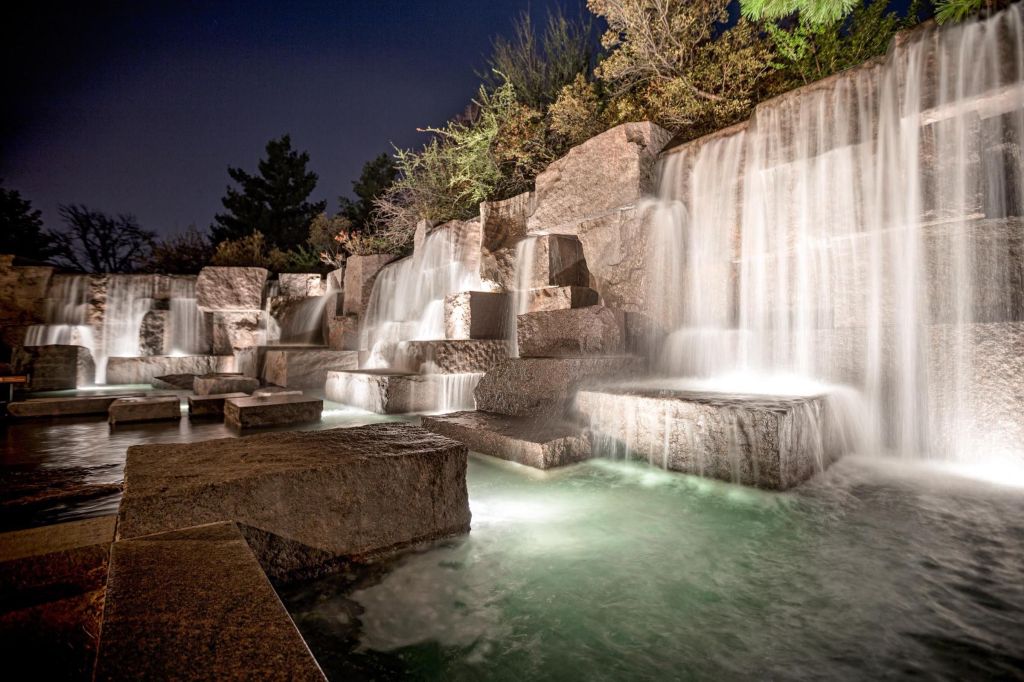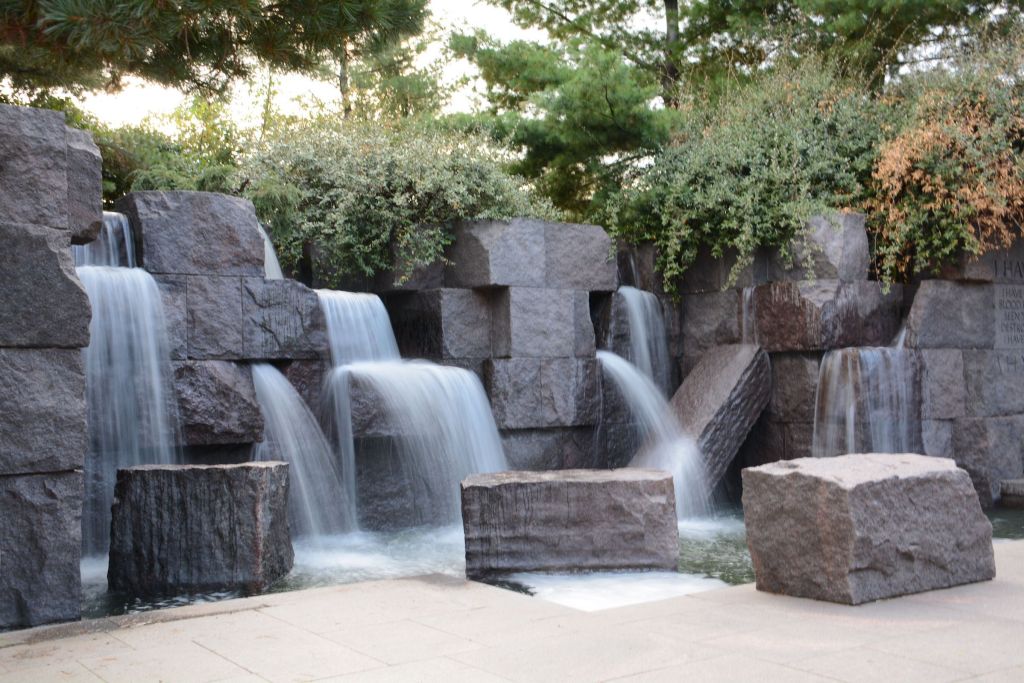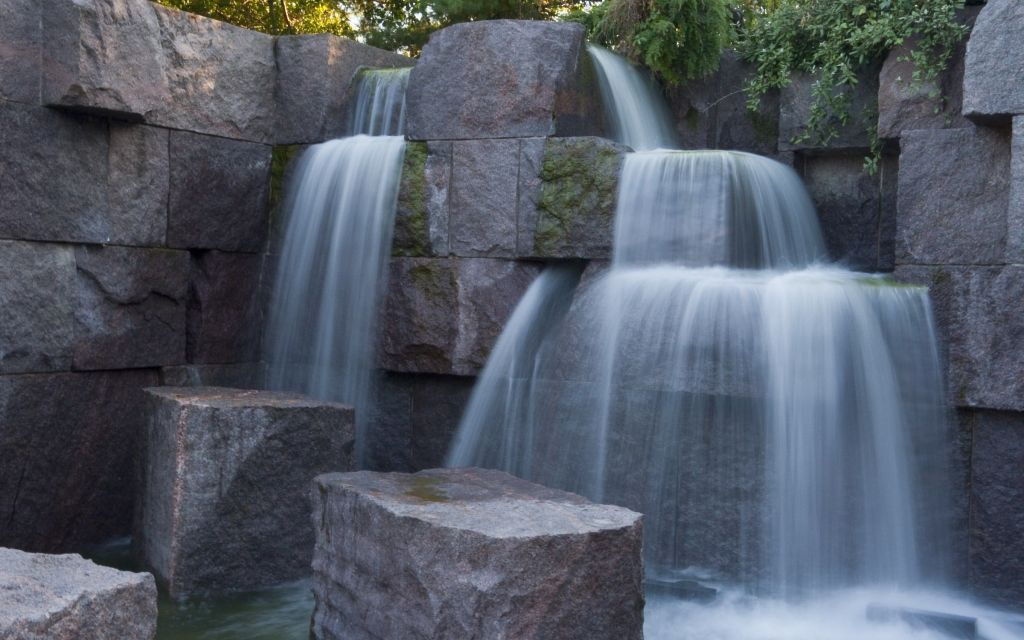 罗斯福纪念馆全部建筑以石墙分隔成四个部分,代表着罗斯福执政的四个时期:第一个石室以浮雕再现了罗斯福宣誓就职时的情形。石墙上另刻有不同的手印与面容,与室中央石柱上的雕刻一一对应,表现了经济大萧条时期人们恐惧与无助的心态;第二个石室承接第一石室的"罗斯福新政"与社会福利制度建立的主题,同时容纳了着名雕刻家乔治·西格和罗伯特·格里汉姆的杰作;第三石室以一尊比真人大一倍的总统坐像为主题,罗斯福身披斗篷,面容坚毅;第四石室的主旋律则是罗斯福总统最重要的工作伙伴——罗斯福夫人依莲娜。
The entire building of the Roosevelt memorial is divided into four sections by stone walls, representing the four periods of Roosevelt's rule: the first stone chamber is embossed to represent the moment when Roosevelt was sworn in. There are different handprints and faces carved on the stone wall, which correspond to the engravings on the central stone pillar of the chamber. The second stone room is the subject of the first stone room's New Deal and social welfare system, and contains the works of famous sculptors George seeger and Robert graham. The third stone room features a President sitting twice as big as a real person. The theme of the fourth stone chamber is President Roosevelt's most important working partner, Mrs. Eleanor Roosevelt.