本文由PDS design 派澜设计事务所授权mooool发表,欢迎转发,禁止以mooool编辑版本转载。
Thanks PDS design for authorizing the publication of the project on mooool, Text description provided by PDS design.
派澜设计事务所:设计意在寻求自然之美,居住在自然博物馆里品味世外桃源。捕捉易被忽视的自然之景,提取自然中的光影元素作为设计语言,打造一方幽静自然的休憩之所。阻隔外界的喧嚣,留下了光影、树影、云影、水影。
PDS design:Designed to seek the beauty of nature, living in a natural museum to taste the paradise. Capture the natural landscape that is easily overlooked, and extract the natural light and shadow elements as a design language to create a quiet and natural place to rest. Blocking the outside world, leaving behind the light, tree shadow, cloud shadow, water shadow.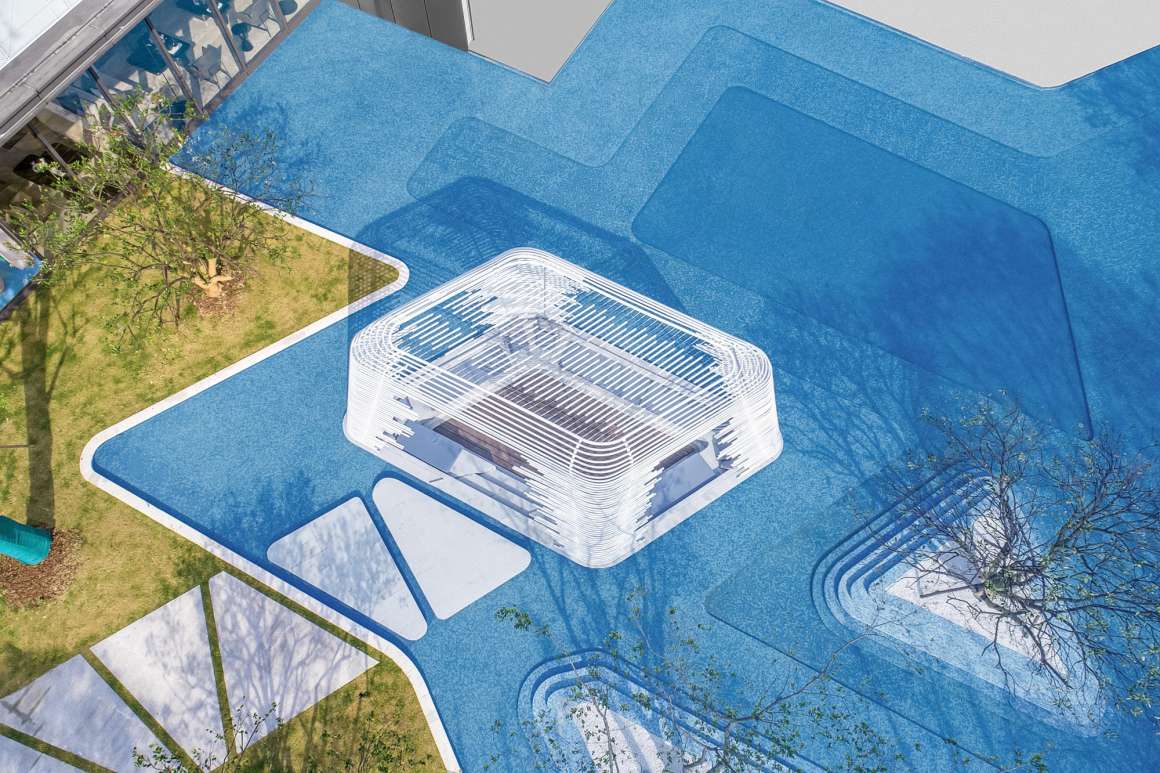 ▼平面图  Plan
景观流线  Landscape streamline
层层递进的门头,使人联想到"咔嚓咔嚓"的相机镜头,将人的视线集中于入口。层层收进把喧嚣阻隔在外,雕塑般的形体力量感,形成极具标示性的入口。
The progressive door is reminiscent of the camera lens, which focuses the person's attention on the entrance. The layers of the entrance block the shackles, and the sculptural shape of the body feels a very characteristic entrance.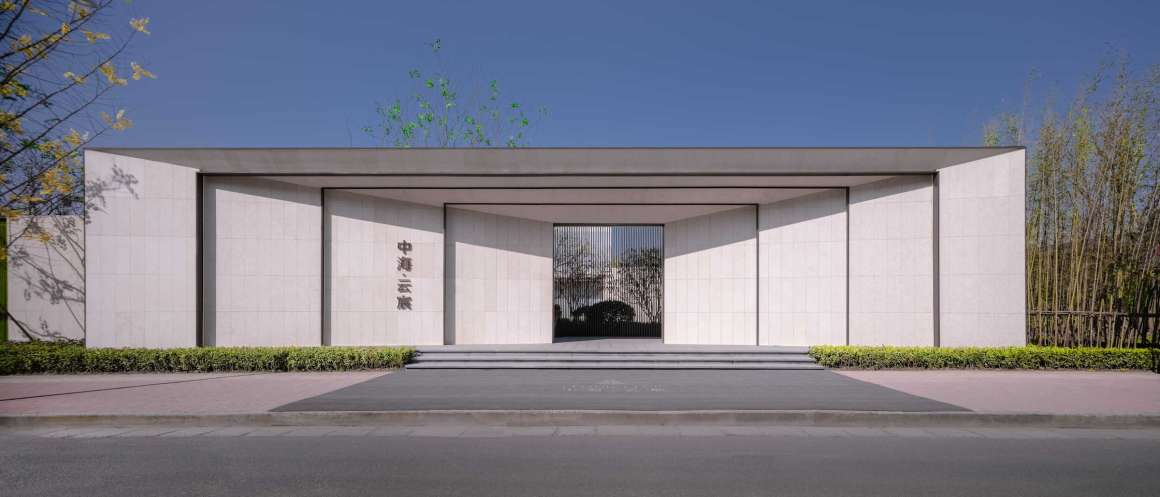 行进此处,半隐半露半明半暗,格栅隐现的树影,耳边淙淙的水声,形成暧昧的感官体验。
Going here, the semi-hidden half-bright half-light and half-dark, the shadow of the tree hidden in the grille, the sound of the water in the ear, forming a sensual experience.
▼入口夜景  Night view of entrance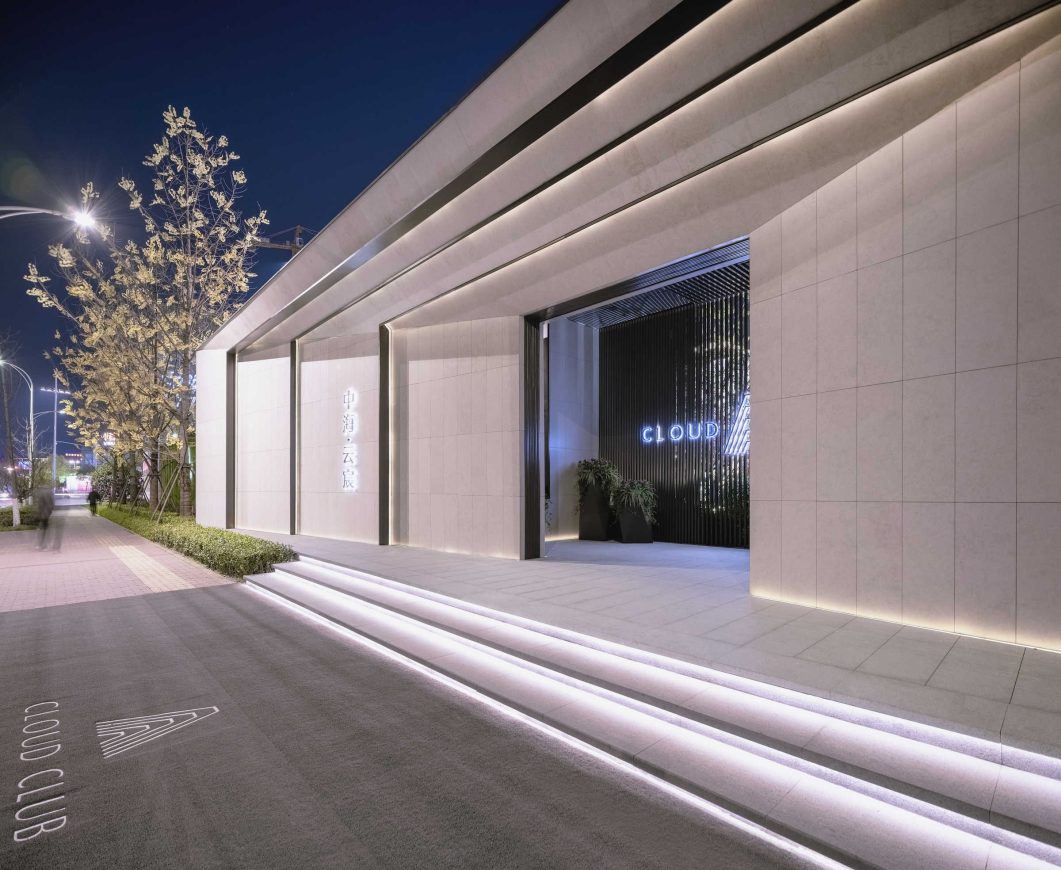 穿过门头寻到水声的源头,光从墙上特意留出的空隙中泻出,染红水面,同婆娑的树影形成画境。随着景墙的节奏行进,一转弯豁然开朗,眼前是一片开敞的水面,与精致的建筑立面相呼应。
Through the door to find the source of the sound of water, the light sheds from the space left by the wall, dyed the red water surface, forming a picture with the tree shadow of the mother-in-law. As the wall of the landscape moves, the corner is suddenly open, and the front is an open water surface that echoes the delicate facade of the building.
天光云影下,曲折流动的观景路线,建筑立面倒映在水中。
Under the shadow of the sky, the winding view of the road, the facade of the building reflected in the water.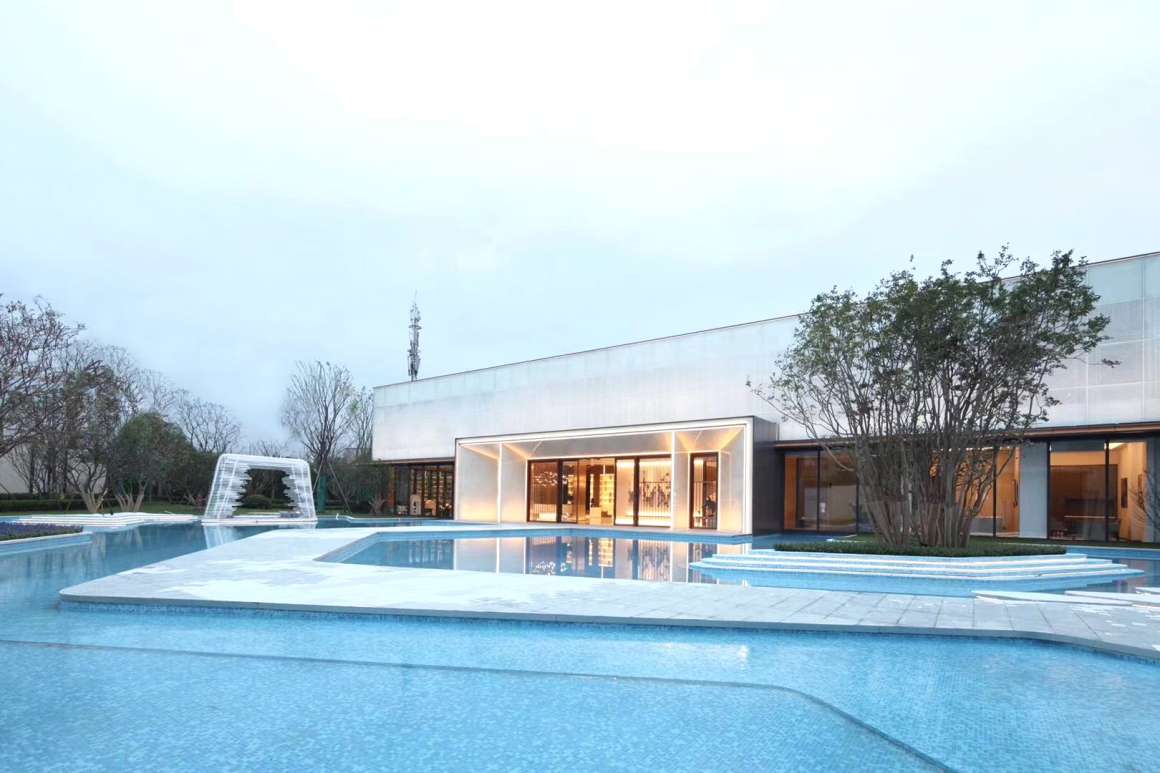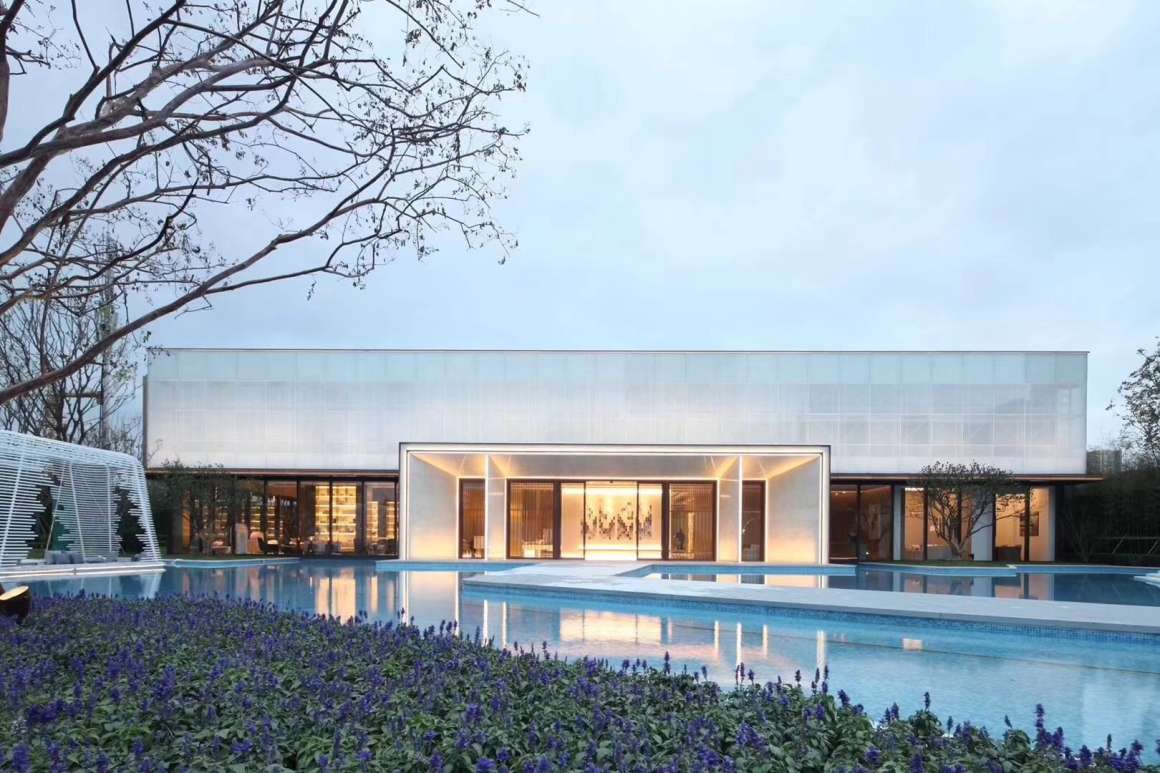 特色的铺装如婆娑的树影被定格在地面上,池底渐变的层次如水的波纹被定格在水中,树池如起伏的山形被定格在沿路,一水一树一砖一路,无不勾勒云宸不可名状透彻心扉的清秀之美。
The characteristic paving such as the tree shadow of the mother-in-law is fixed on the ground. The gradient of the bottom of the pool, such as the ripples of the water, is fixed in the water. The tree-shaped pool is like a undulating mountain shape. It is fixed along the road, one by one, one brick, one brick and one road. You can't name the beautiful beauty of your heart.
▼水景区鸟瞰  Aerial view of waterscape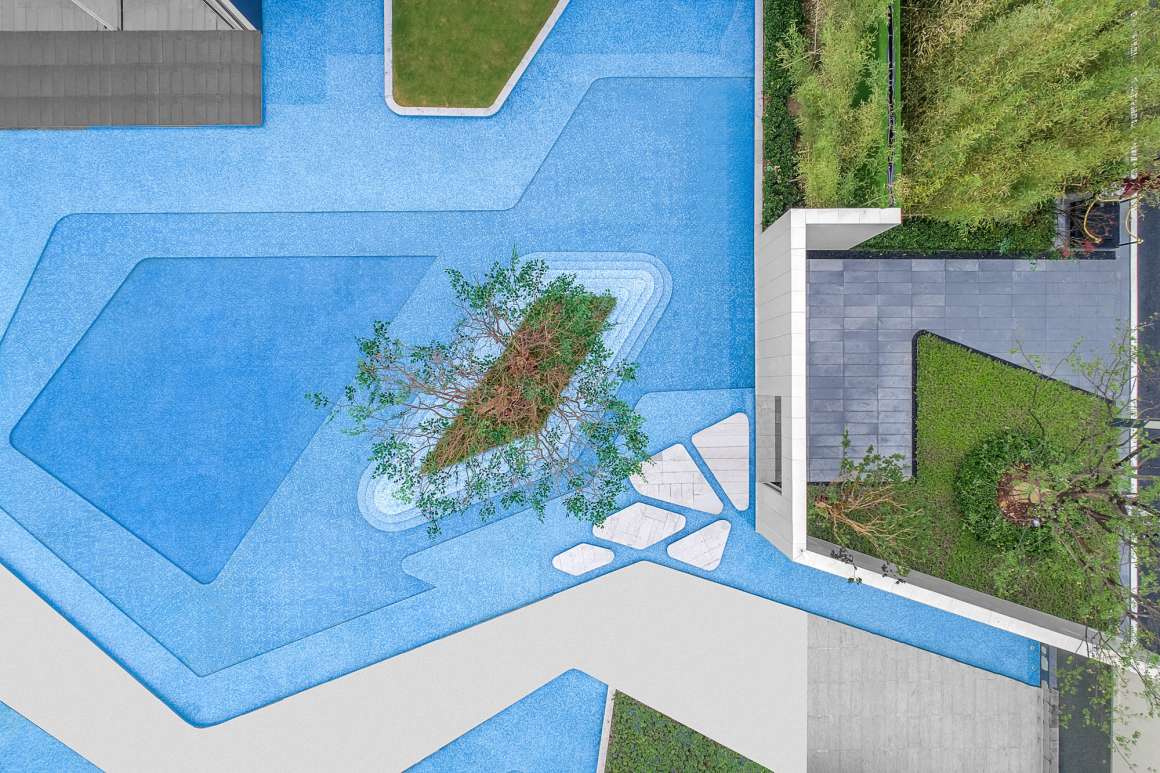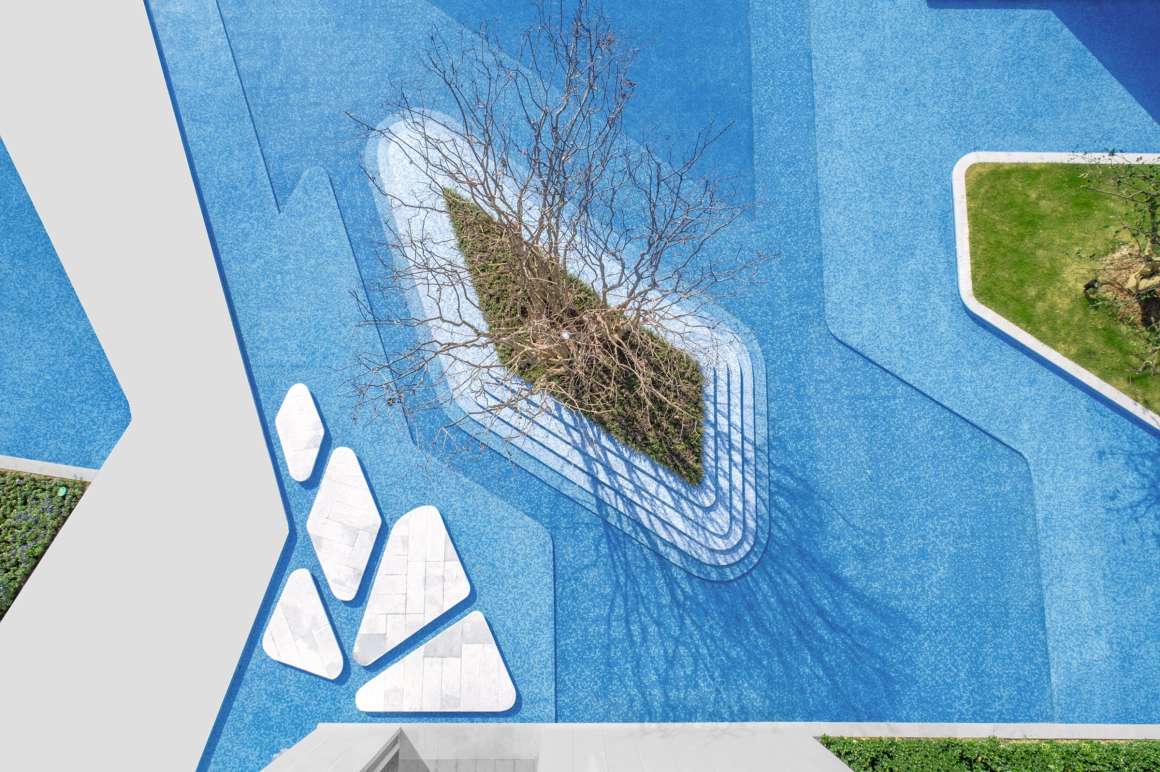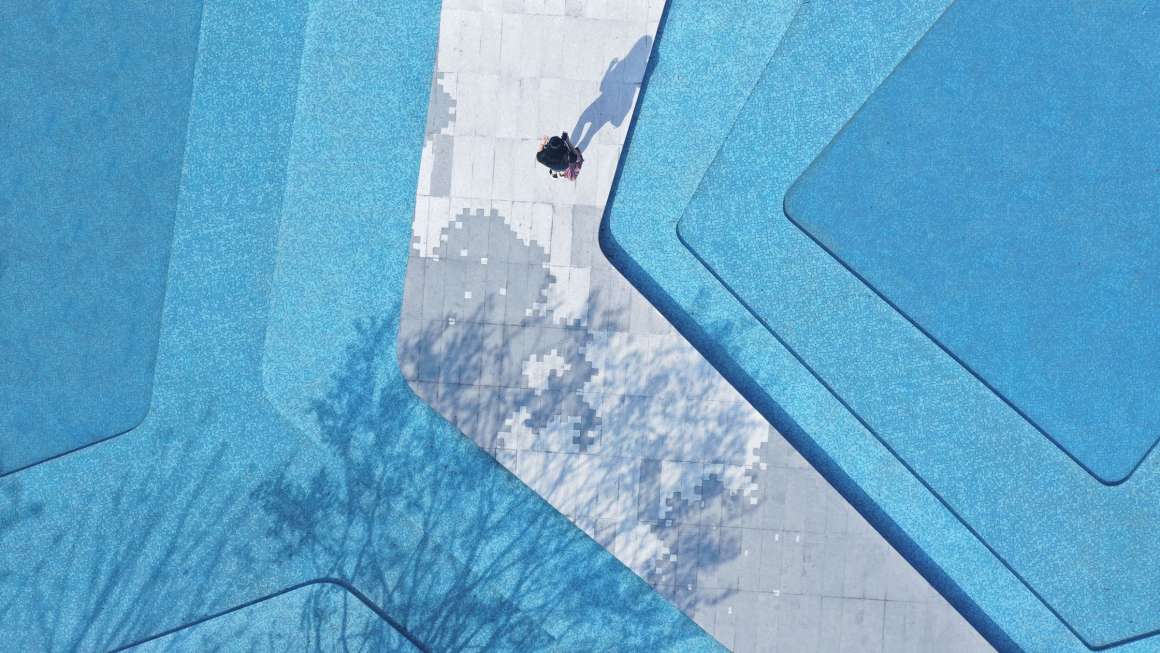 ▼置身其中,心随景动。一路走来,一路盛开  In the middle of it, the heart moves with the scene. Along the way, all the way to full bloom.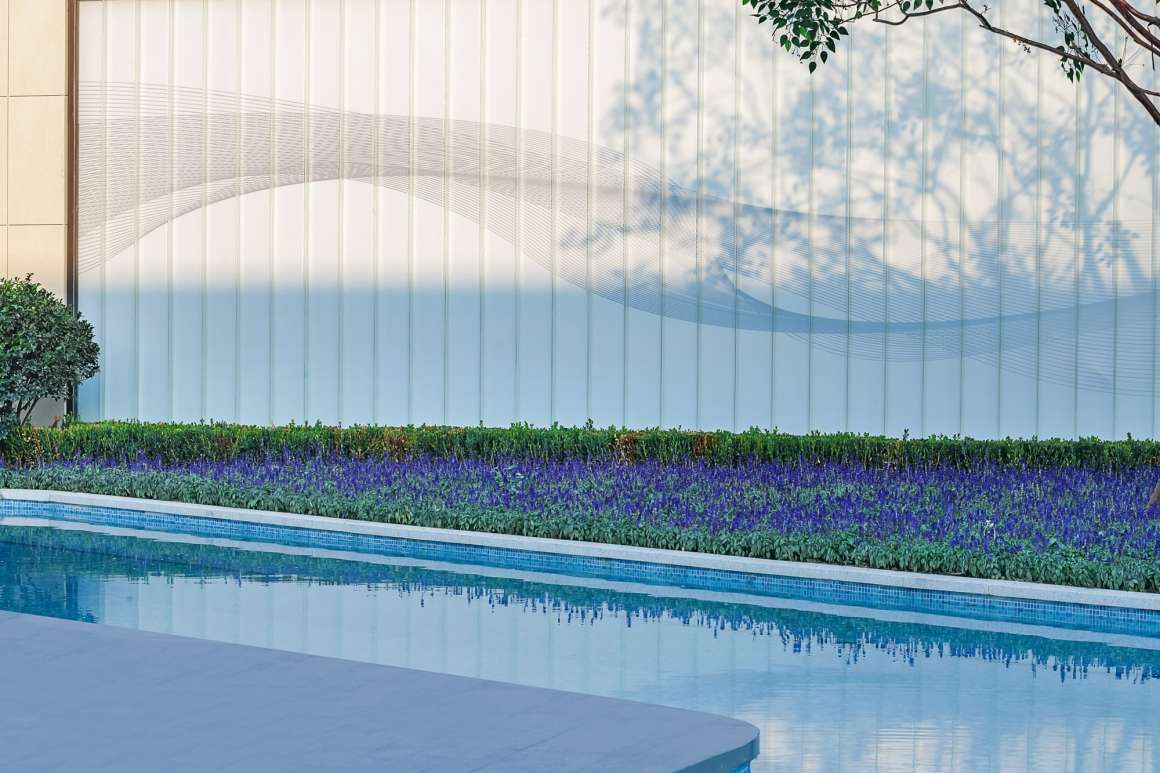 从建筑侧门走出,行至室外会客景观亭,亭如隐隐飘动的云影,构成山抹微云之景。
不规则的几何形态,远望形如一处艺术雕塑个性简约,近看景观亭支架错落布置,打造自在轻盈的质感。会客其中犹如端坐云端,回望整个空间流连忘返。
Going out from the side door of the building, going to the outdoor meeting pavilion, the pavilion is like a faint cloud shadow, which forms the scene of the mountain whispering clouds.
Irregular geometric form, Yuanwang shape is like an art sculpture with a simple personality, and the landscape pavilion brackets are arranged in a staggered arrangement to create a free and light texture. The meeting is like sitting in the clouds, looking back at the entire space and forgetting to return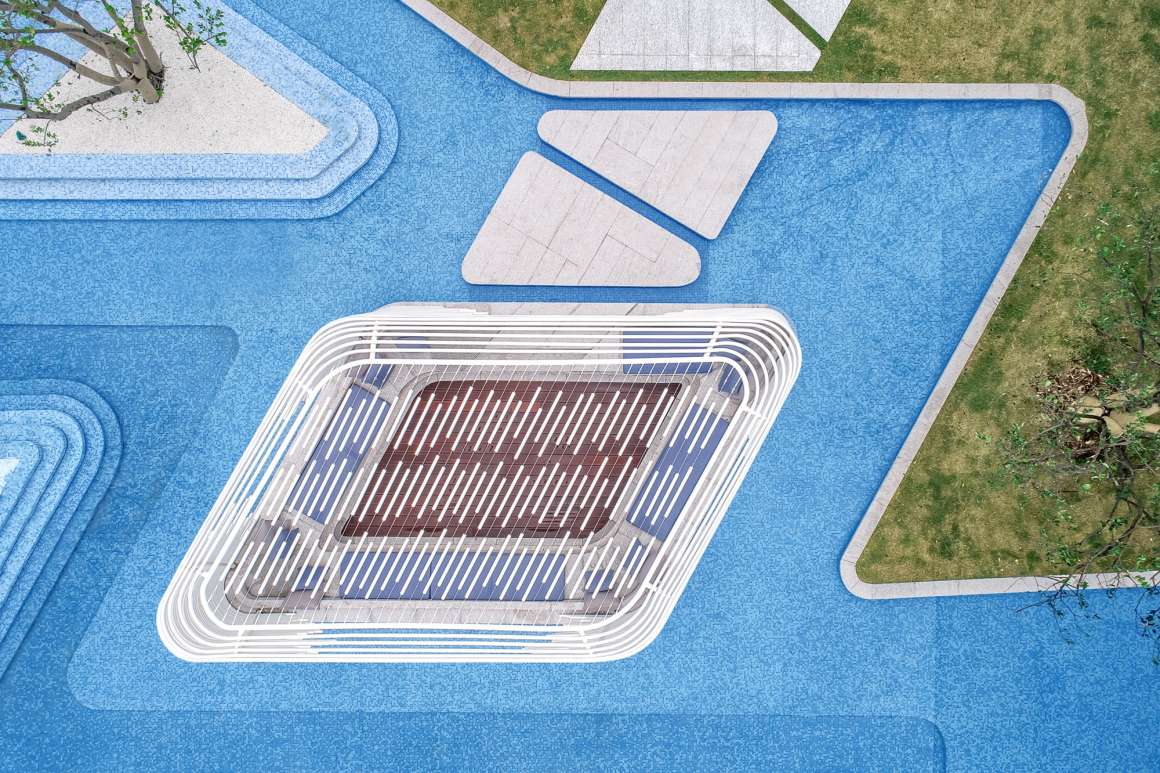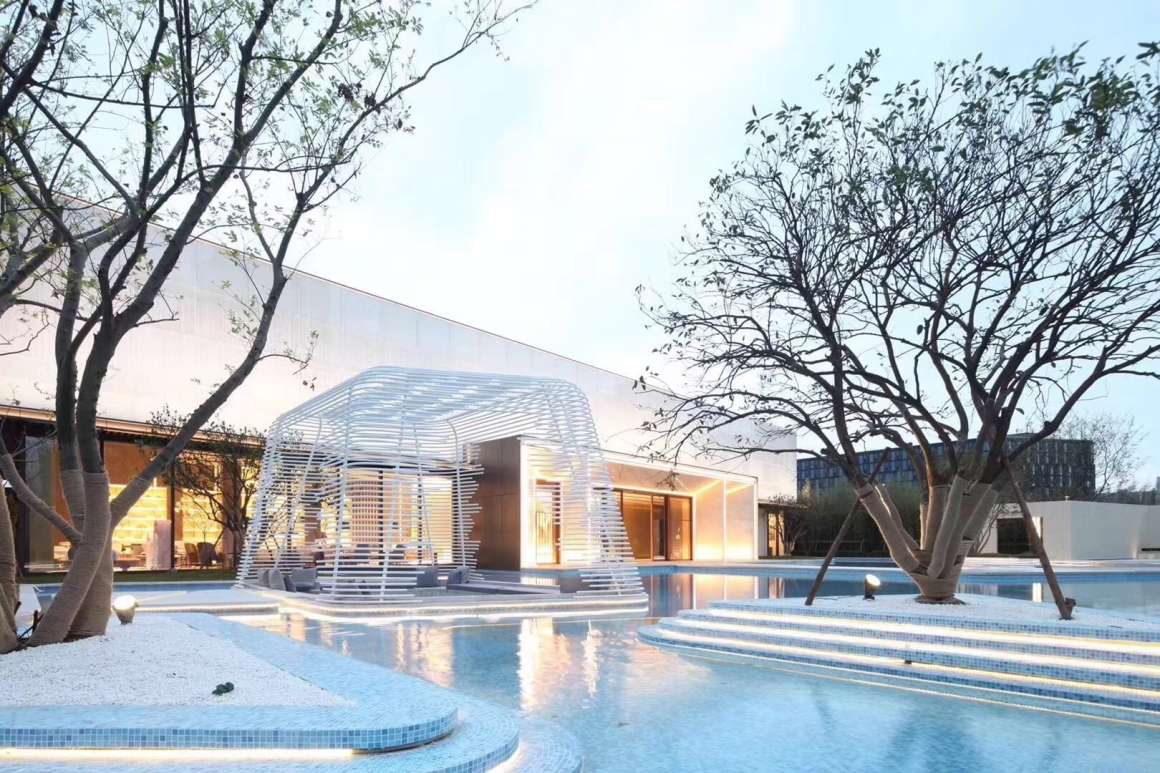 ▼景观亭设计详图  Detailed drawings of landscape pavilion
▼亭子细节  Details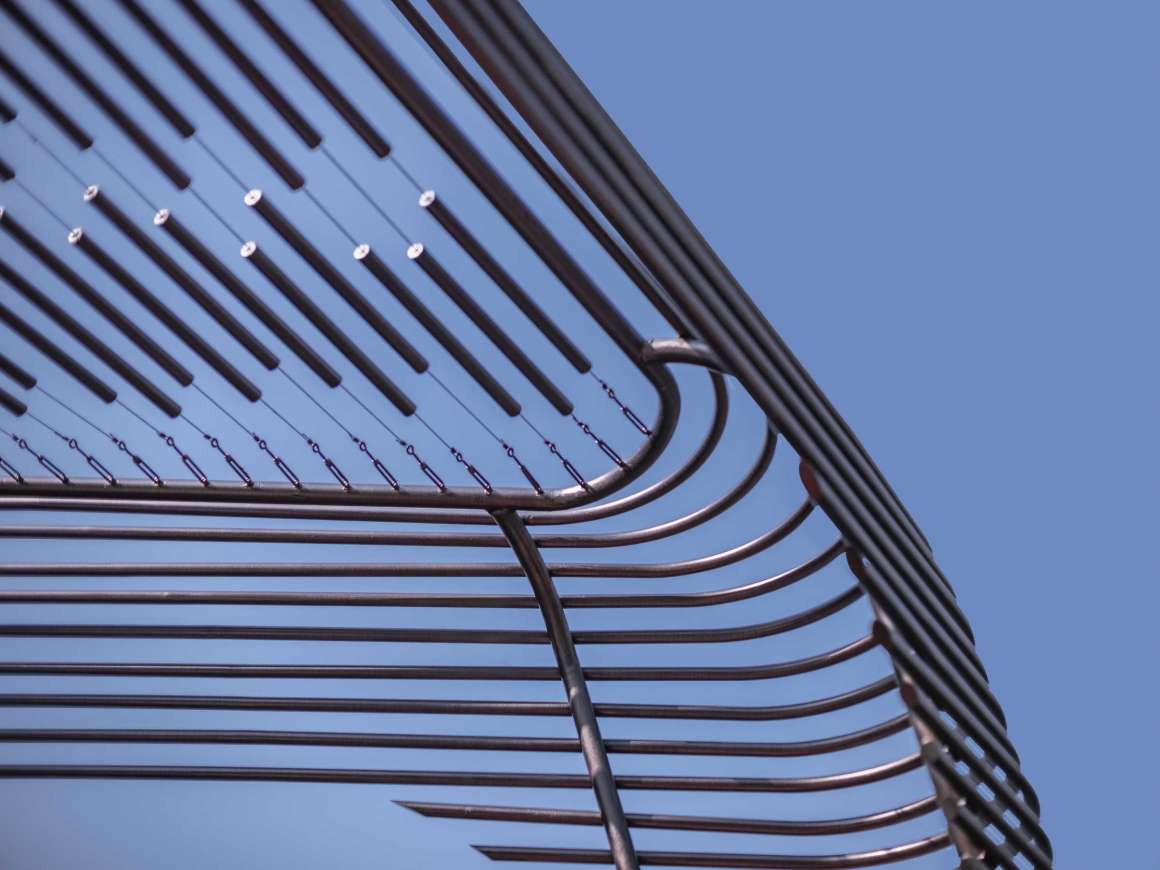 ▼停车场景观鸟瞰  Aerial view of parking area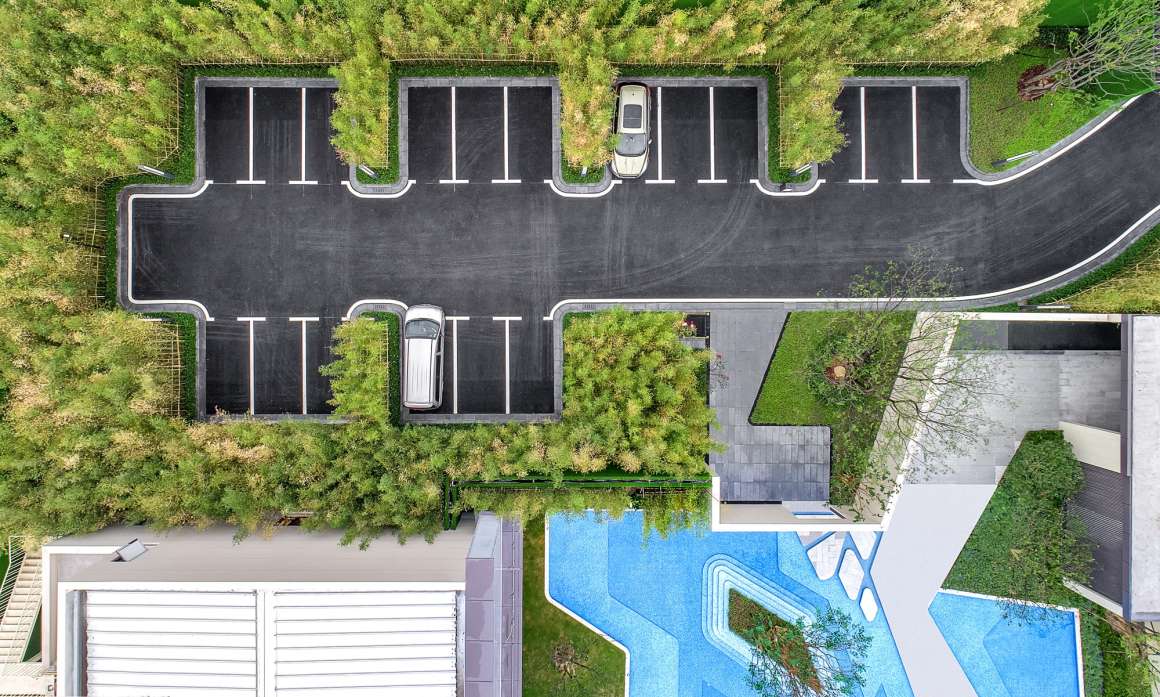 蓝色的云宸是艺术小众的自然博物馆清秀简约,但由于甲方更偏爱植物组团和高贵典雅的风格,所以之后我们对云宸的整体风格进行了更改。
The blue Yunchen is a natural and meticulous museum of art, but since our client prefers plant groups and noble and elegant styles, we have changed the overall style of Yunchen.
▼改造后的中海云宸  Project after updated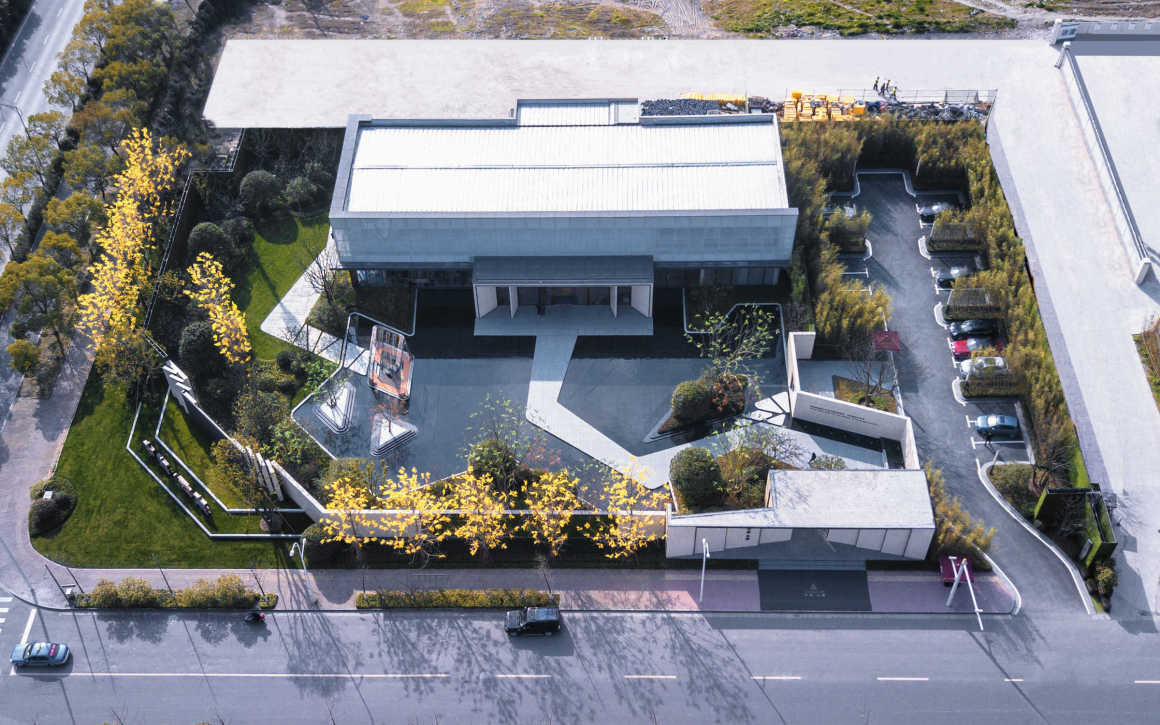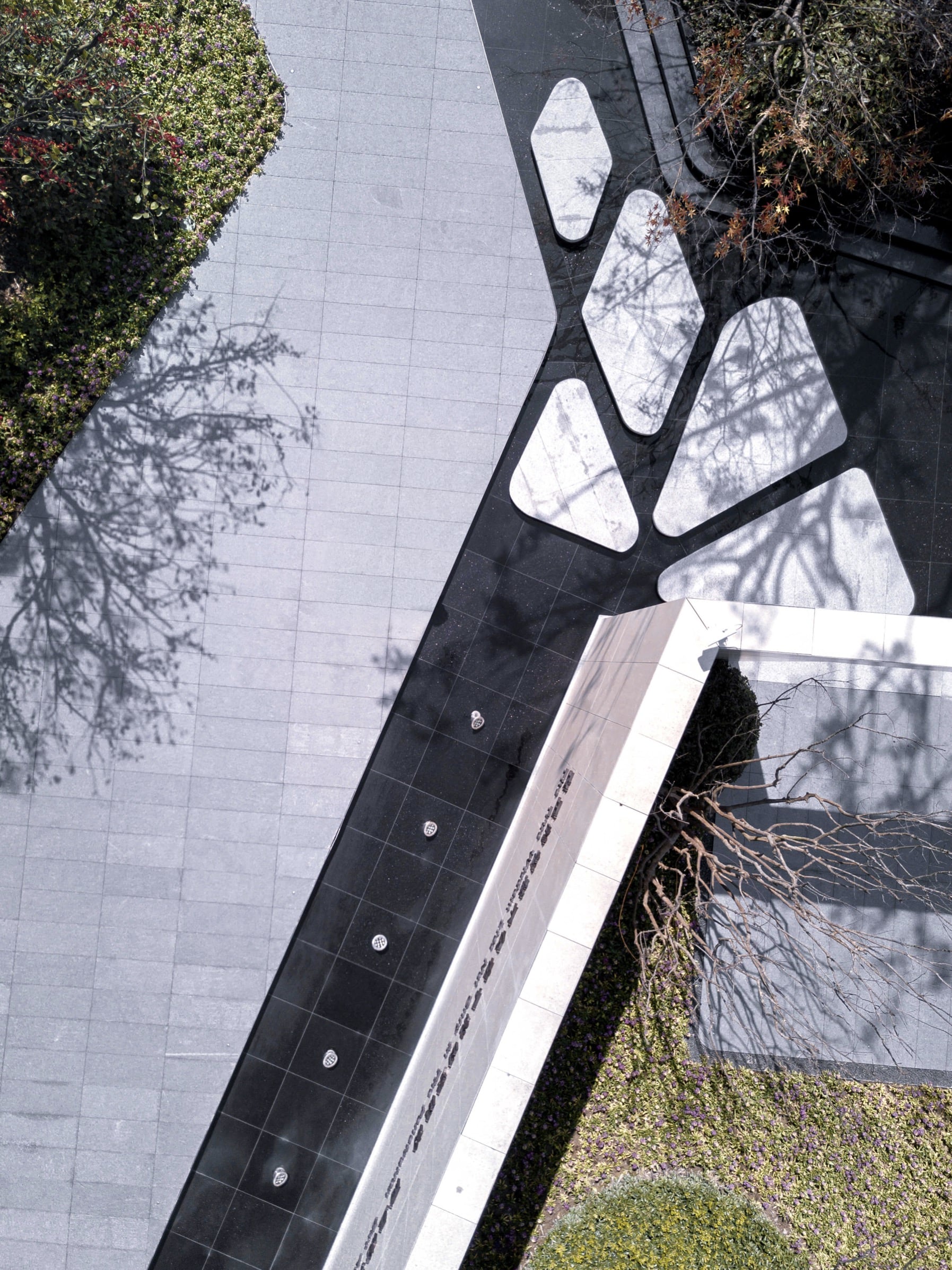 ▼更新后景观亭区域鸟瞰  Aerial view of updated landscape pavilion area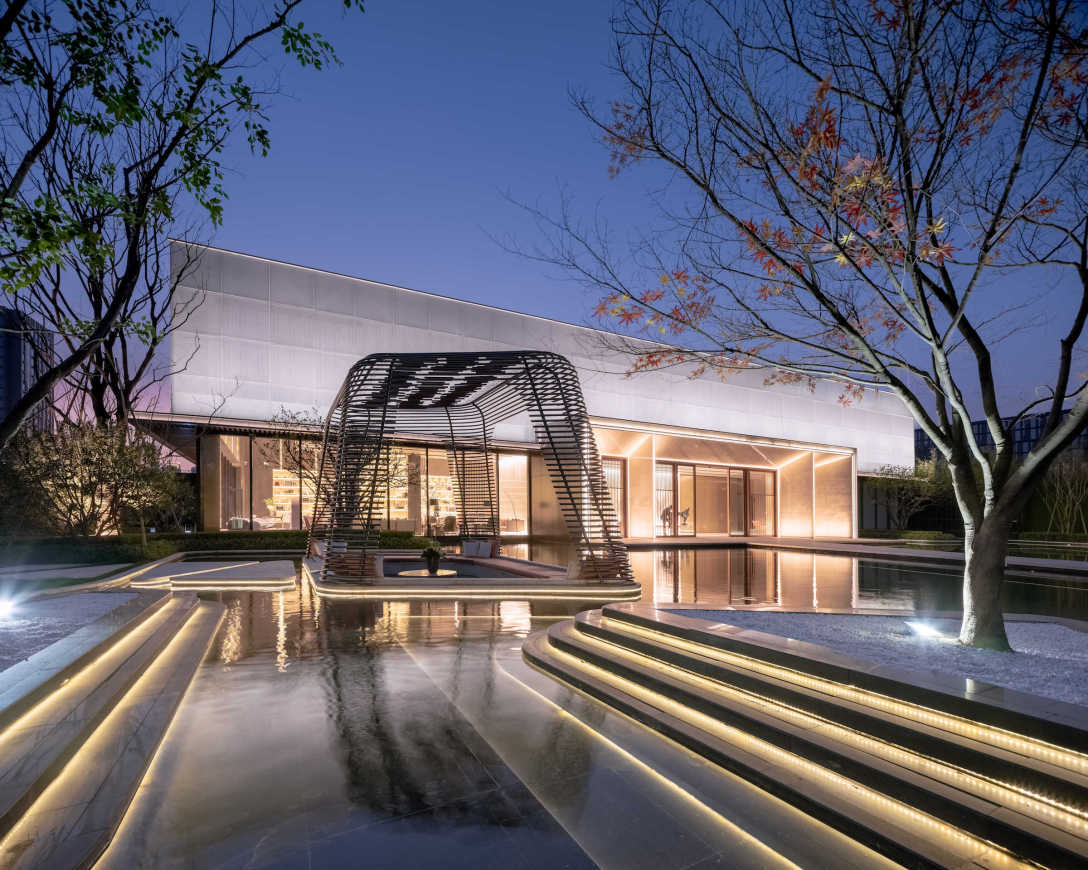 项目名称:杭州中海云宸
开发商:中海集团
项目地址:浙江省杭州市滨江区
设计公司:深圳市派澜景观
主创及设计团队:张方法、李飞、冯永生、陆思雯
项目面积:2000㎡
设计时间:2018年4月
建成时间:2018年9月
摄影师:大象摄影(改造前);匠力摄影(改造后)
Project name: Hangzhou Zhonghai Yunchen
Developer: COHL
Project address: Binjiang District, Hangzhou City, Zhejiang Province, China
Design firm: PDS Landscape
Chief designer&Design team: Zhang Fangfa, Li Fei, Feng Yongsheng, Lu Siwen
Project area: 2000㎡
Design time: April 2018
Built in: September 2018
Photography: Elephant Photography (before reconstruction), Jiangli Photography
项目中的材料运用 Application of materials in this project
更多 Read more about:  PDS 派澜设计