本文由 USAD都境景观 授权mooool发表,欢迎转发,禁止以mooool编辑版本转载。
Thanks USAD for authorizing the publication of the project on mooool, Text description provided by USAD.
USAD都境景观:项目位于江西省九江市。基地周边为现状老小区,目前仅东侧人民路通车。整体边界界面较为陈旧。展示区场地为不规则长方形,东侧市政路和建筑有一定倾斜角度,周边高差变化丰富,东高西低,南高北低。
USAD:The project is located at Jiujiang, Jiangxi province, of which surrounding environment is relatively rundown, with some old communities next to it.  Only Renmin Road on the east side is available for vehicle.  The boundary of demonstration area is a irregular rectangle and its height difference is rich. The Architect has a certain inclination angle with the municipal road  on the east side. The  terrain of site is high in the east and south, and low in the west and north.
空中走廊 Sky corridor
设计将一条飘逸的空中连桥来界定内外部空间。连桥同时也界定出了门廊的进入界面。两侧的序列装饰格栅进一步界定空间和视线。仿木纹(金属转印木纹技术)肌理的运用提供了一种亲切感。内部被连桥围合的空间更为静谧,跌瀑涌泉仿佛在迎接访客,并能有效的屏蔽外界噪音。
An elegant sky corridor which  is also the demonstration area's entrance, demarcates the internal and external spaces. The sequential decorative grilles on both sides in the corridor further define the space and line of sight. The grilles which using the metal transfer wood grain and pattern process, provides a sense of intimacy. The sound of falling waterfall at the entrance seems to welcome visitors, effectively isolating external noise, and the internal space enclosed by the sky corridor is more quiet.
倾听森林 Listen to the forest
灵动的参观园路搭配高低起伏的水中绿岛,溪流在脚边环绕。借用自然景观的灵感与人工的流线艺术形态相结合。绿树成荫,溪声环绕。这便是令人愉快的倾听森林。丰富的错位空间也弱化了用地红线的不规则感。
The winding road runs through the green islands and the stream. Terrains undulating,  streams by the feet, this is the joy of listening to the forest. Design inspiration comes from the natural landscape, Combined with the artificial streamline art form,  using abundant dislocation space to weaken the irregularly boundary of site.
童趣乐园 Children's paradise
因为客群的定位以小太阳家庭为主,景观中儿童的参与性应该被关注。设计中结合灰空间、二层连桥设计了供儿童参与游乐的设施。空间上刚好和室内部分的儿童活动区连接起来。彩虹悠悠球、阶梯绿化式户外阅读区、旋转滑梯等提供了种类丰富的游乐体验。水中下沉式卡座提供户外洽谈,同时视线也能监护到孩童的玩耍。
Because the customer group is mainly based on families with children, children's participation in the landscape should be valued. The children's playground is set up in the disheartened space and the upper corridor space, connecting to the indoor room of children's activity area. Rainbow yo-yo, stepped outdoor reading area and rotating slides are the paradise for children to explore and play. The sinking seat in the water provides outdoor negotiation space, and at the same time the parents can monitor the children's safety.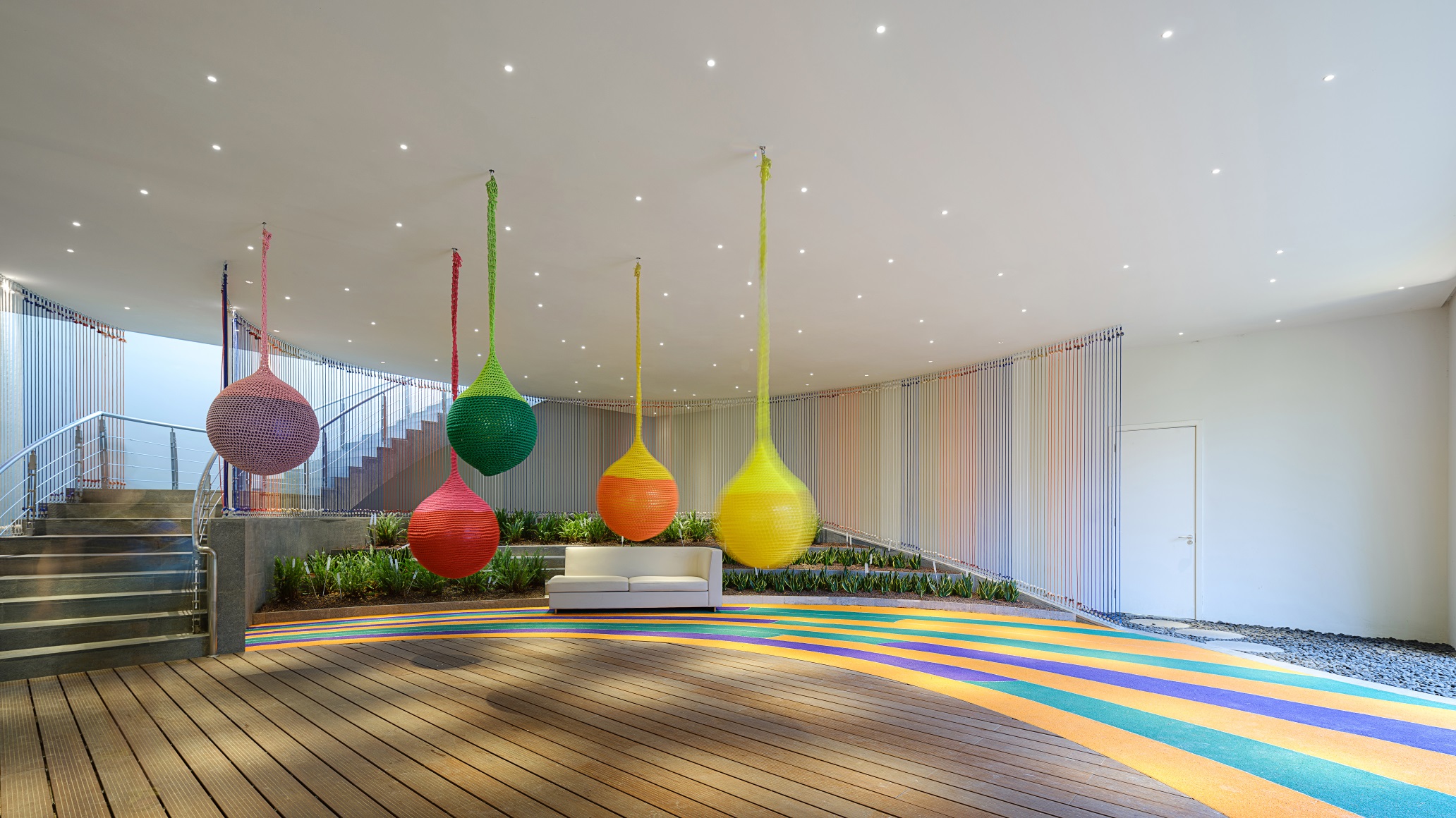 ▼旋转滑梯供儿童参与游乐 Rotating slides provide children a place to explore and play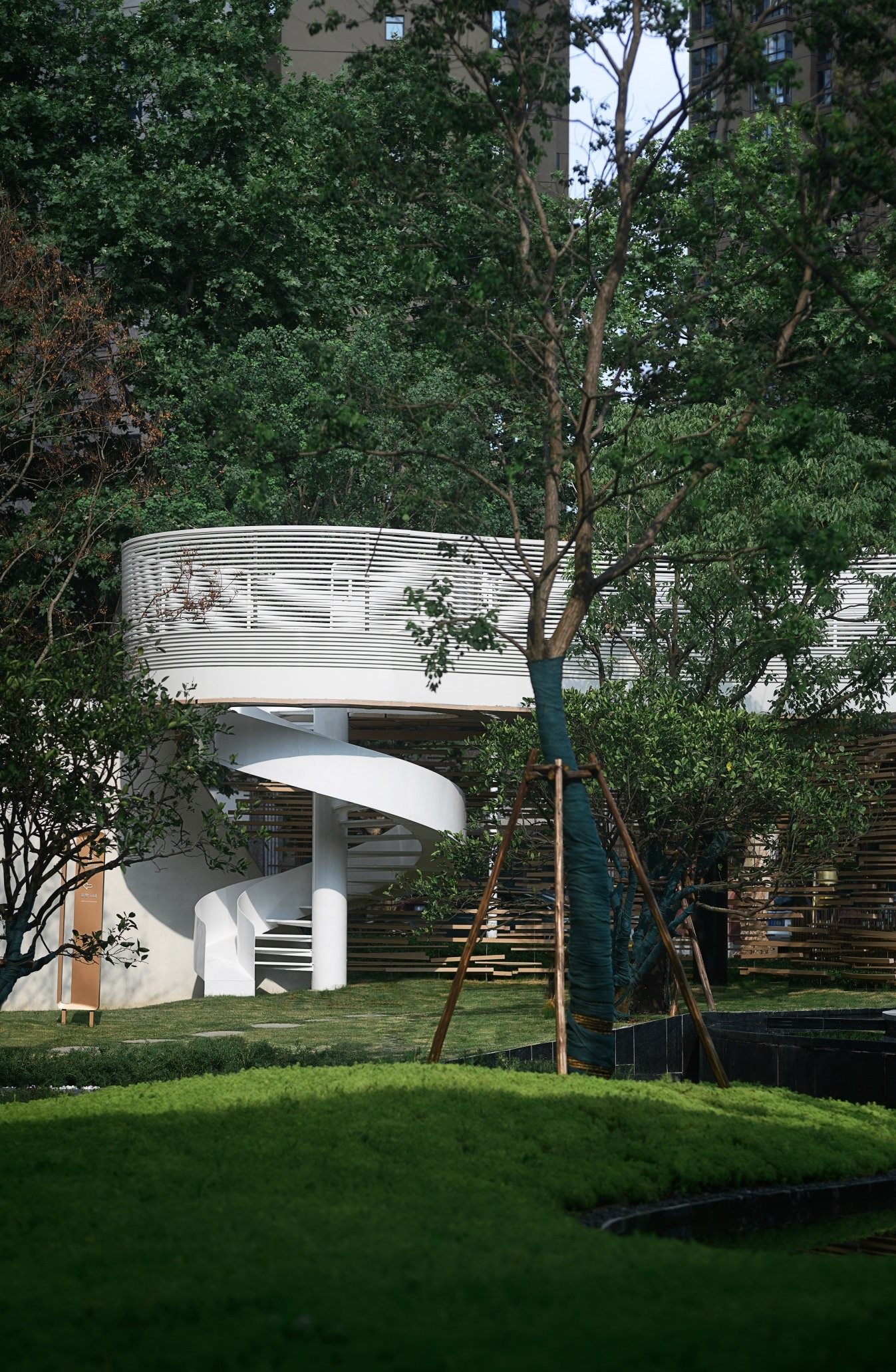 设计从自然摄取灵感,各元素和谐统一,灵动的曲线柔化了原本生硬的边界,仿佛舞动的飘带伴随着自然的乐章。希望作品能够意境深远,安静而祥和,质朴而高雅。
The design Learns from nature. All elements are harmonious and unified. the flexible curve softens the original rigid boundary, as if a dancing streamer travels through the natural land. The design hopes to have a profound artistic conception, quiet and peaceful, simple and elegant.
▼项目鸟瞰 Aerial view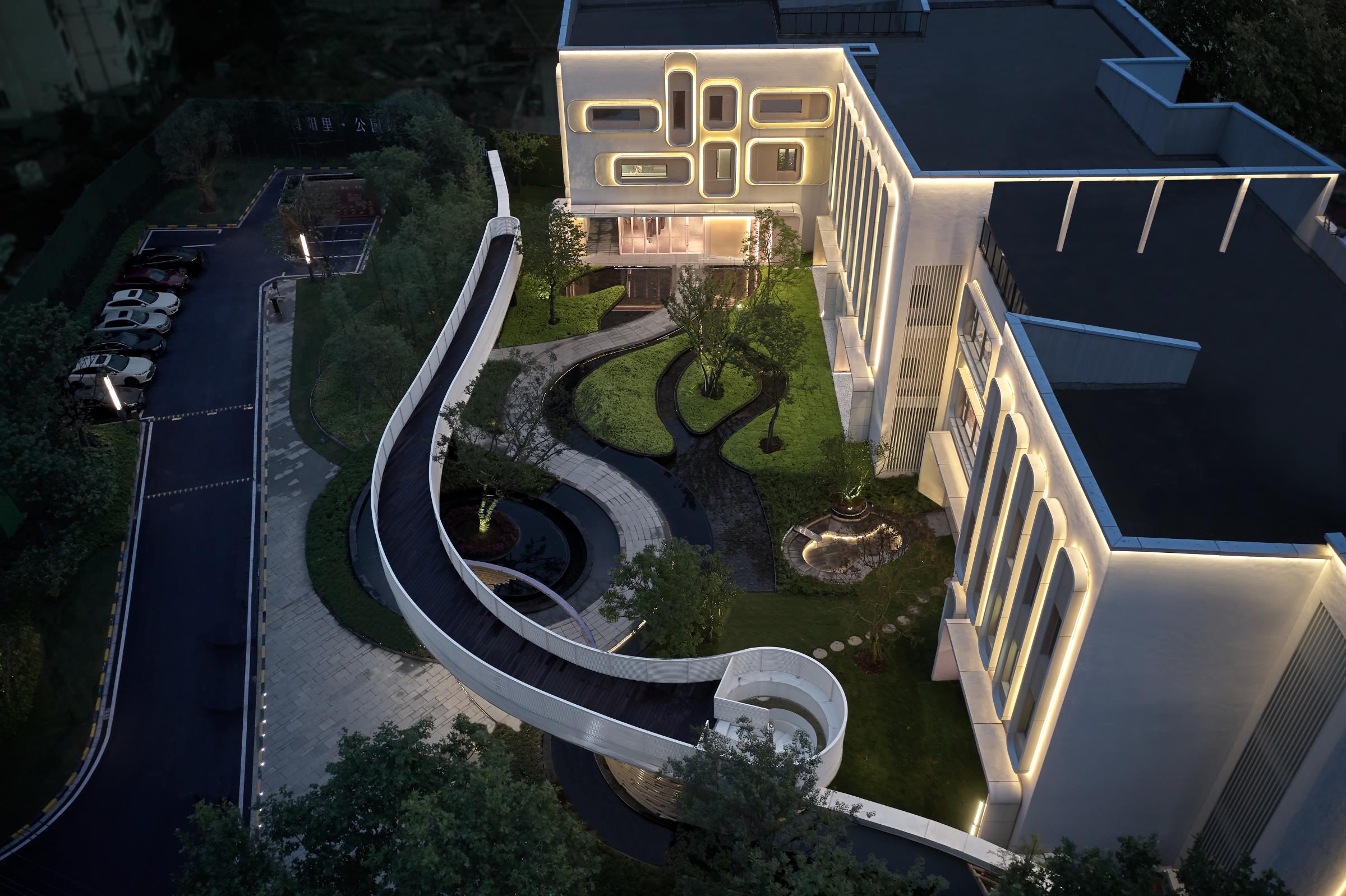 ▼平面图 Plan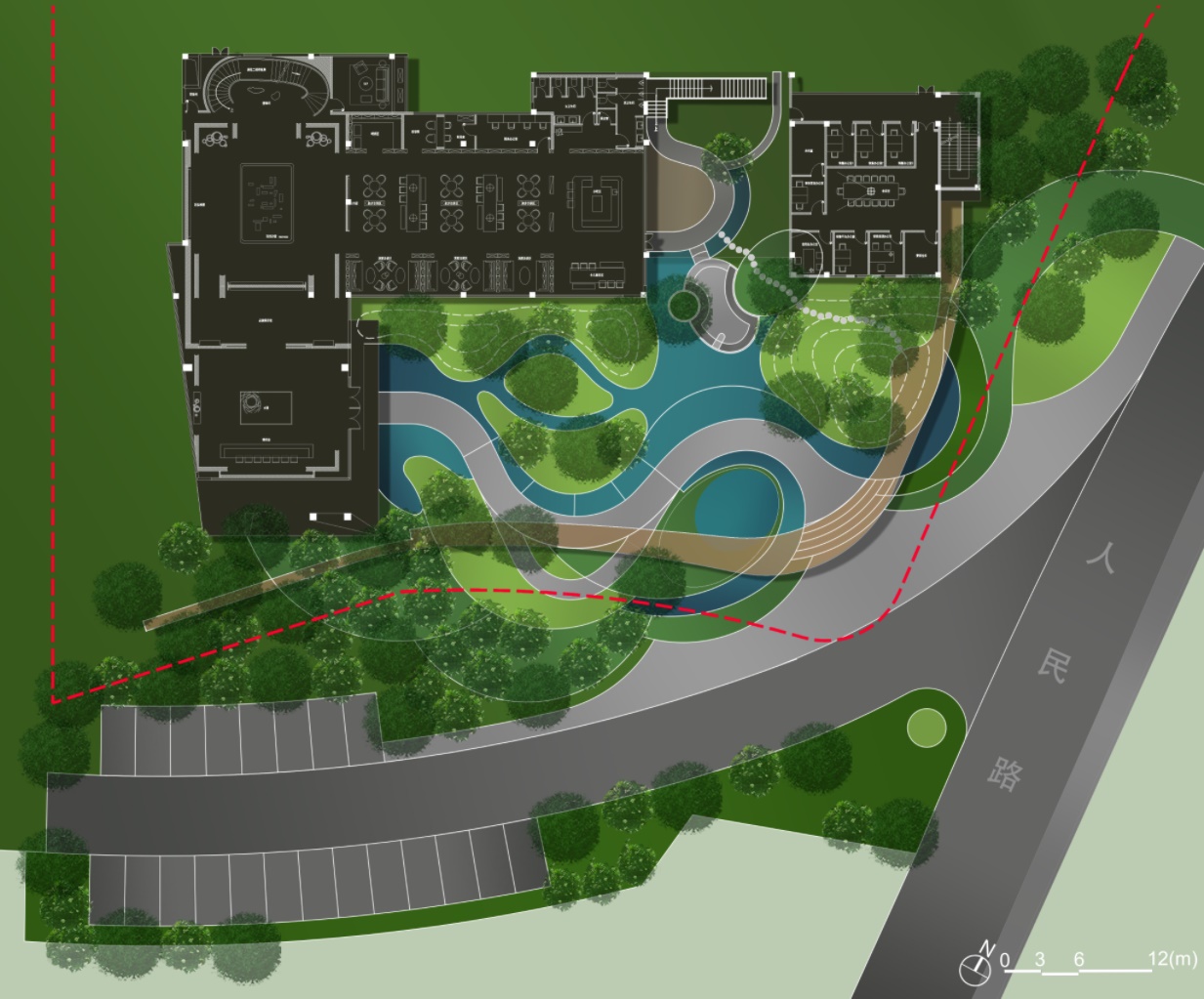 ▼施工过程 The construction process 
项目名称:融信碧桂园金地国贸•九棠示范区
完成年份:2020年3月
项目面积:3500㎡
项目地点:江西省九江市浔阳区
景观设计:USAD都境景观
设计团队:林楠、曹中波、 高境琪、赖兰燕、汤玉乐、缪佳熠、齐菲
客户/开发商:融信、碧桂园、金地、国贸
摄影师:南西建筑空间摄影
Project name: Jiutang Demonstration Area
Completion: March 2020
Project area: 3500㎡
Location: Xunyang District, Jiujiang City, Jiangxi Province, China
Landscape design: USAD
Design team: Lin Nan, Cao Zhongbo, Gao Jingqi, Lai Lanyan, Tang Yule, Miao Jiayi, Qi Fei
Client / Developer: Ronshine Group, Country Garden, Gemdale, ITG Group
Photo credit: Nancy studio
更多 Read more about: USAD都境景观