本文由Inside Outside / Petra Blaisse授权mooool发表,欢迎转发,禁止以mooool编辑版本转载。
Thanks Inside Outside / Petra Blaisse for authorizing the publication of the project on mooool, Text description provided by Inside Outside / Petra Blaisse.
Inside Outside / Petra Blaisse:该项目结合了阿姆斯特丹运河的经典标准轮廓的简单和别致的特点,以及一个特定的Roeterseiland标志:一个额外的赋予Roeterseiland校园新定义,并起连接,引导,吸引和邀请作用的图形。
Inside Outside / Petra Blaisse:The strategy combines the simple and chic qualities of the classical standard profile of the Amsterdam canals with a specific Roeterseiland-signature: An additional, graphical layer that defines the Roeterseiland campus but also connects, leads, lures and invites.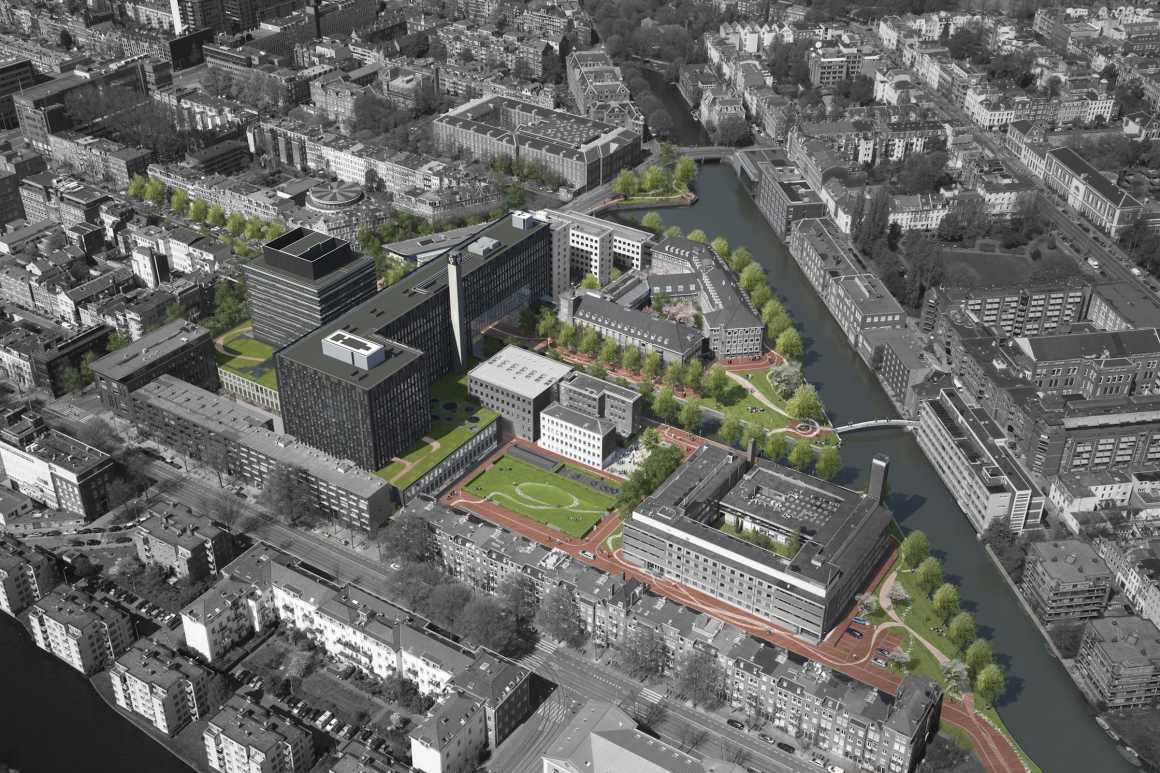 蜿蜒的缎带可能是学生在学习时所走的路——有时这条路是A和B之间的直接连接,但通常是一个环。人们可以沿着这条小路来到水边的某处,或者去向一个隐蔽的庭院,庭院里开满了鲜花,散发着精致的香气和静谧的声音。从上面看,它创造了一个有趣的模式,界定了人们相遇或欣赏美景的地点。
The winding ribbon might refer to the paths students take while studying – sometimes that path is a direct connection between A and B, but often it will be a de-tour or a loop. The path invites to be followed to special places on the water edge or to a hidden courtyard full with flowers with delicate scents and subtile sounds. It creates an intriguing pattern to look at from above and it defines places where one can meet other people or admire an amazing view.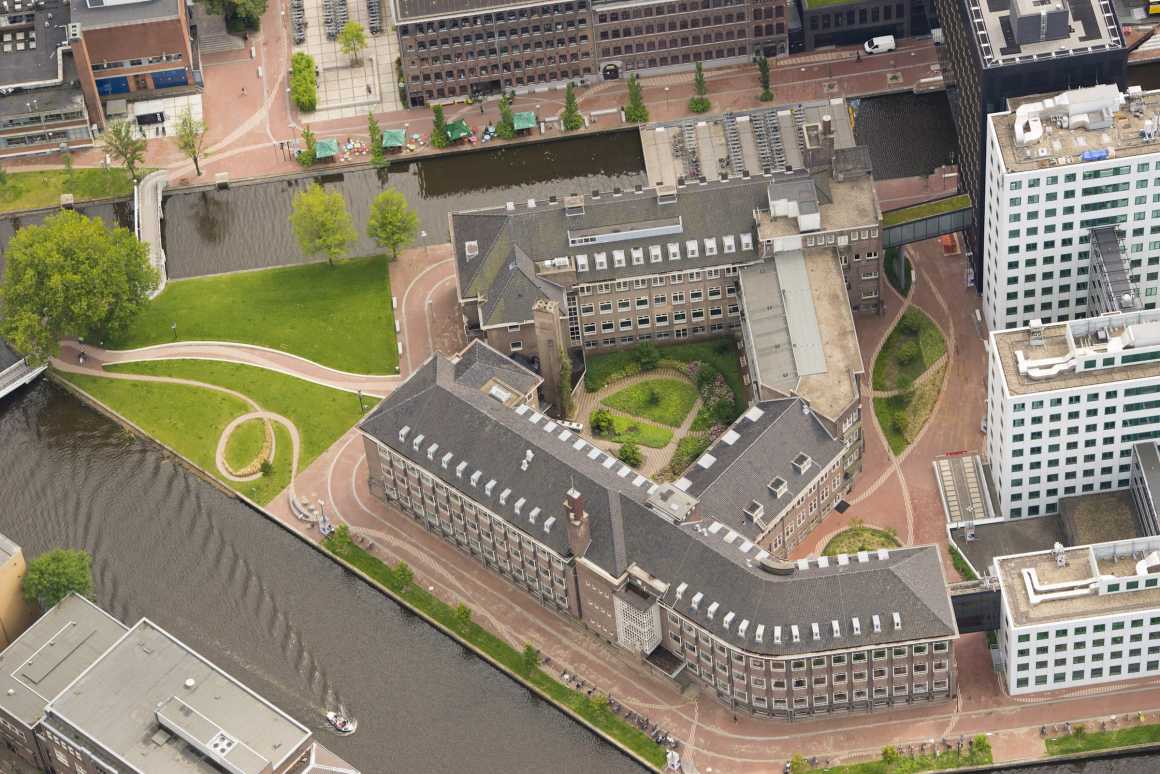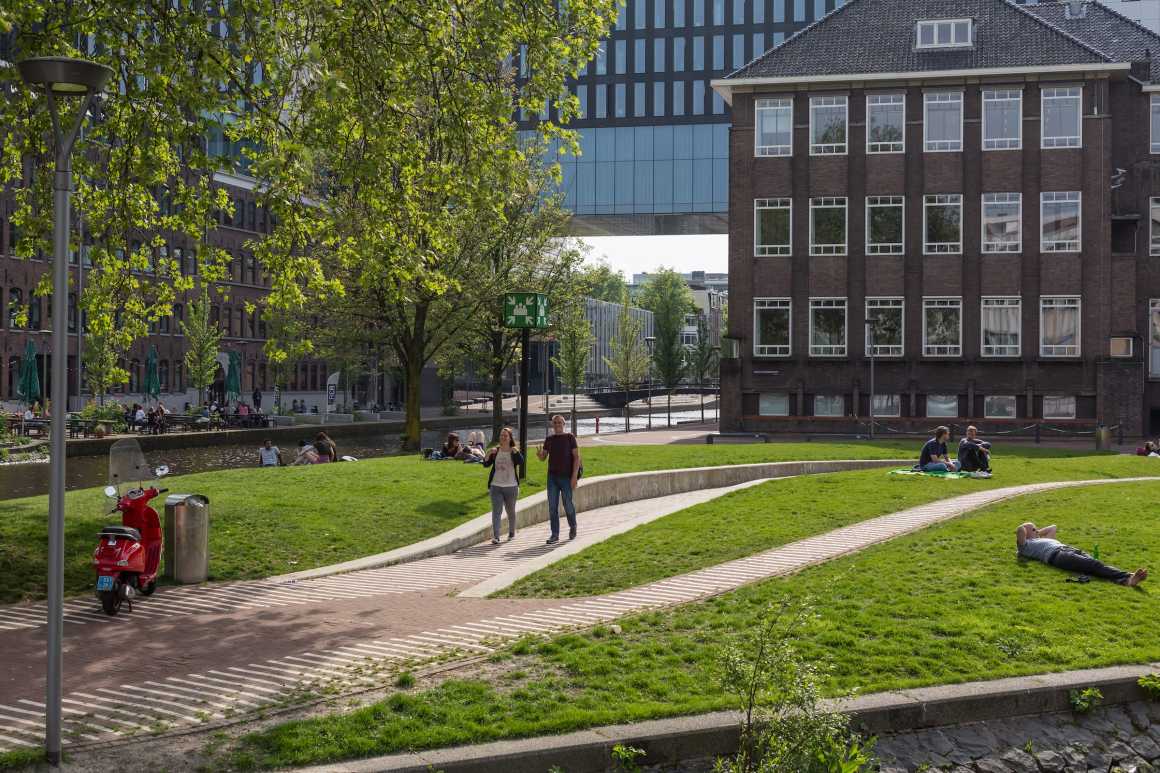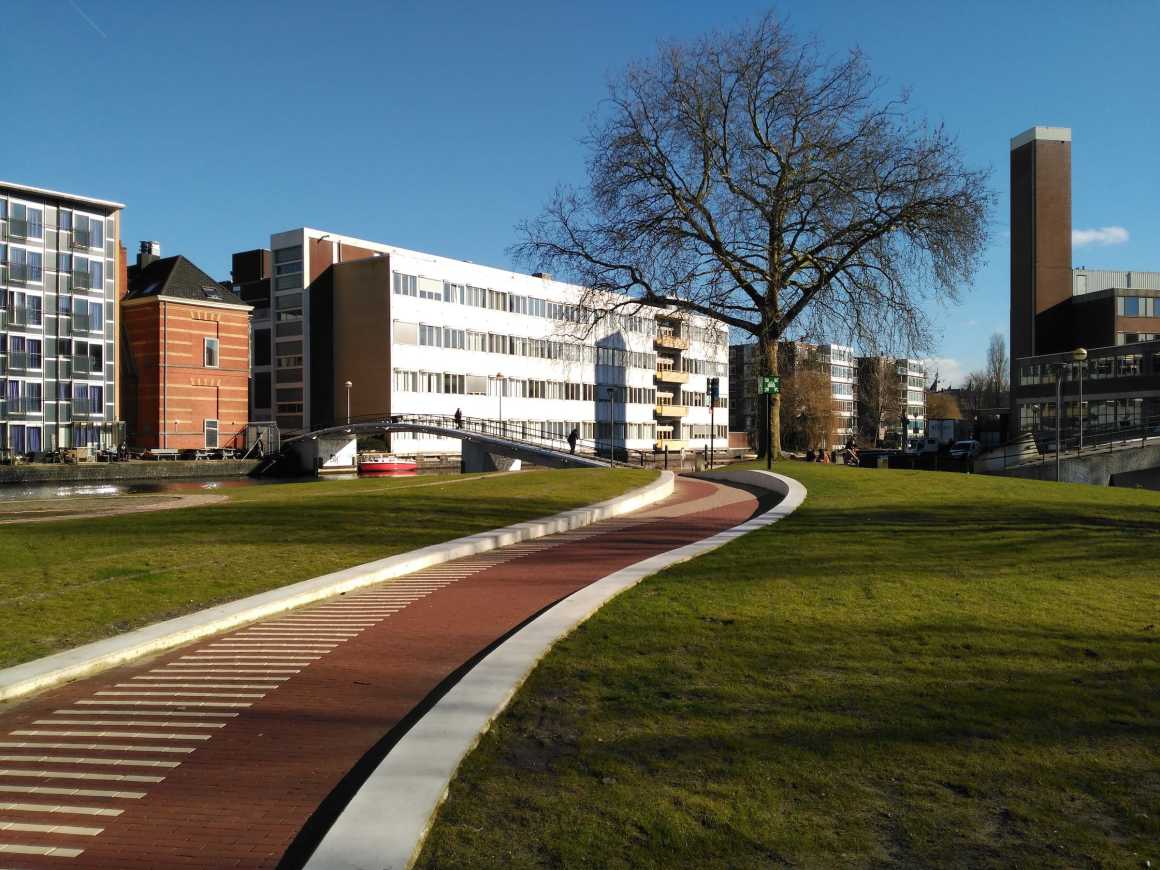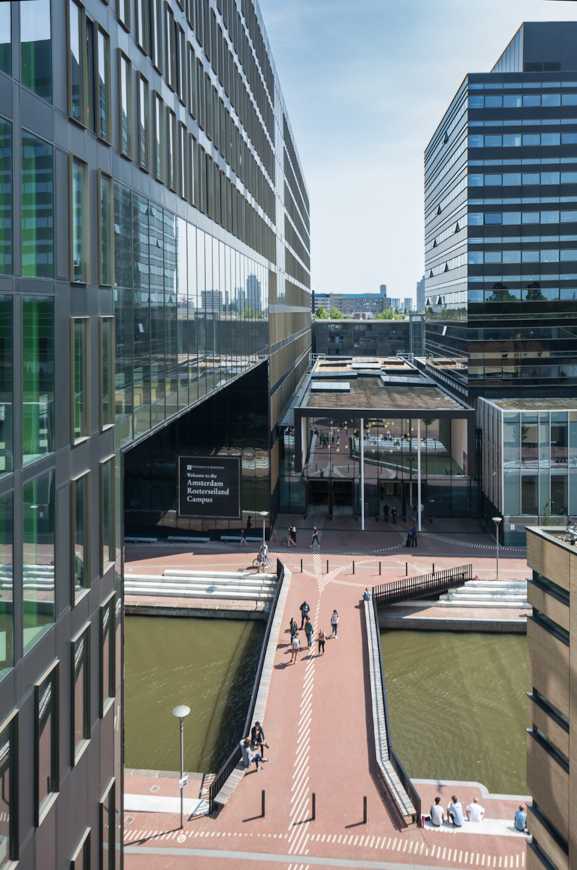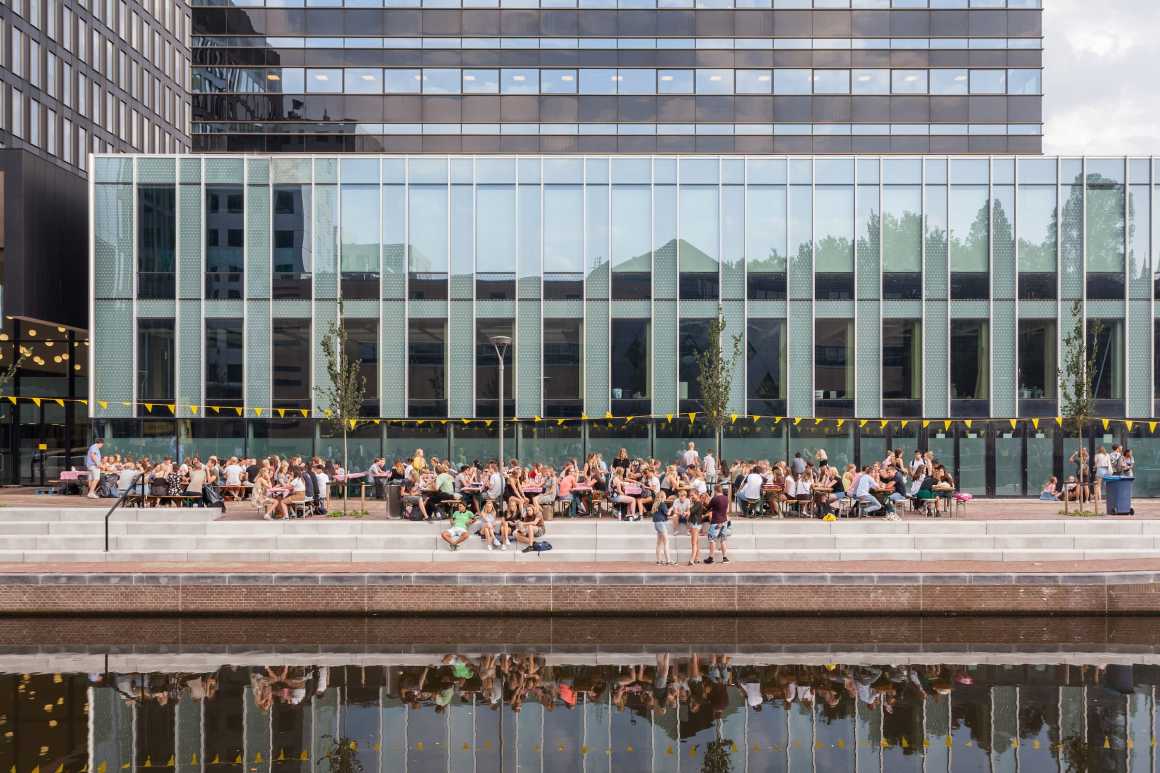 基础层由清晰的线条轮廓和经典材料组成——砖和蓝色石灰石,以及无处不在的榆树。道路是由对比图案的砖连续铺设砌成的。有时,这条小路会绕着一棵特殊的树蜿蜒而行,形成一个环,界定了一个种植岛屿,然后向上延伸,形成座位或桌子,供学生们坐下来交流或安静地学习。这些坐凳的元素分布在整个校园,都位于最有趣的地方,吸引学生们到外面,参与户外学习和交流。
The basic layer consists of a clear profile and the typical materials – brick and blue limestone with the omnipresent Elm trees. The path is created by contrasting bricks laid in a continuous patterns. Sometimes that path curls around a special tree, describes a loop that defines a planted island and it rises up to create seating or tables for students to sit and meet or to quietly work outside. Those sitting elements are spread all over the campus and located on the most interesting places to invite the students to be outside, to study and meet in the open air.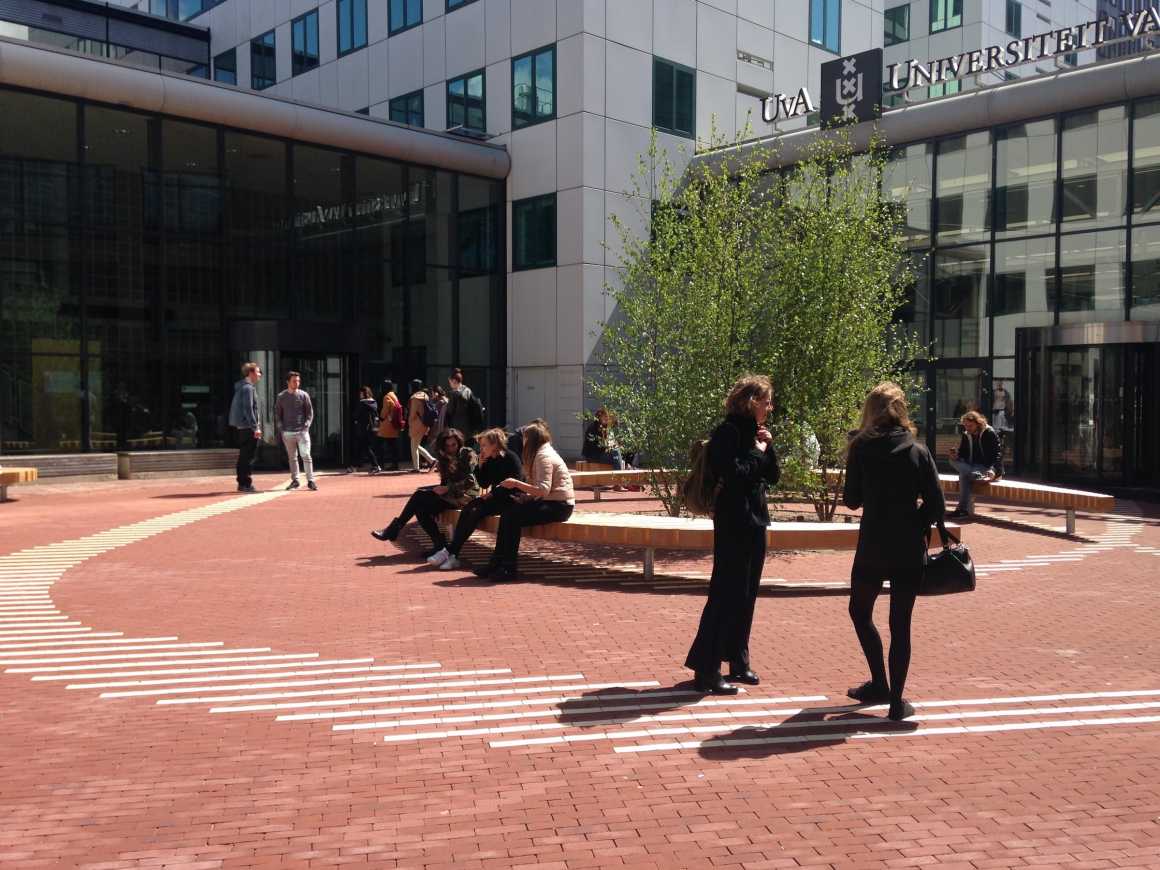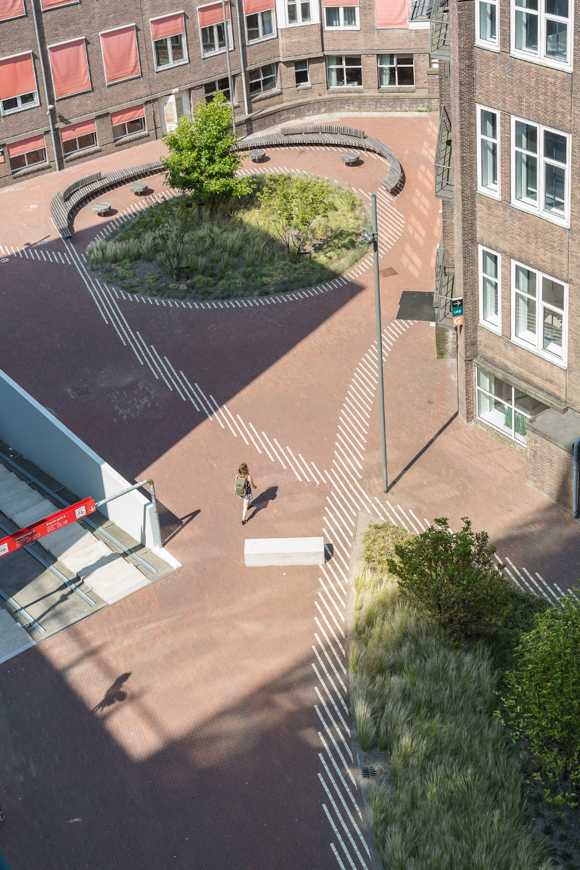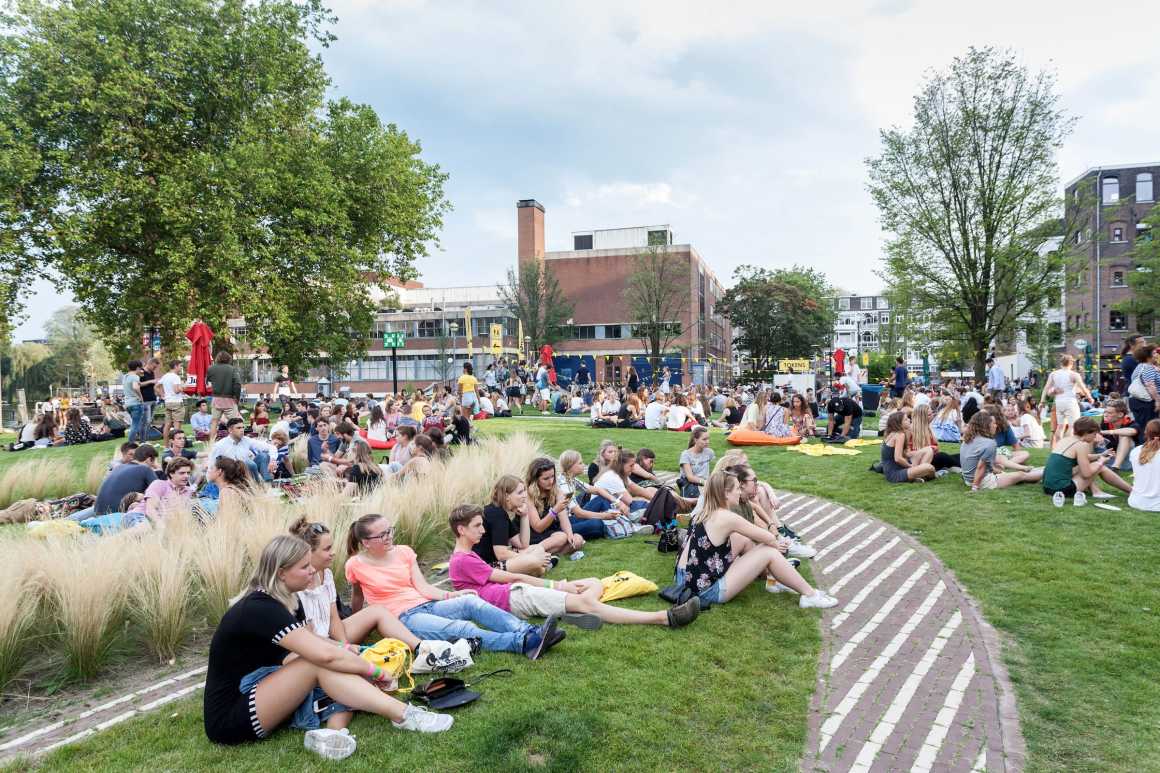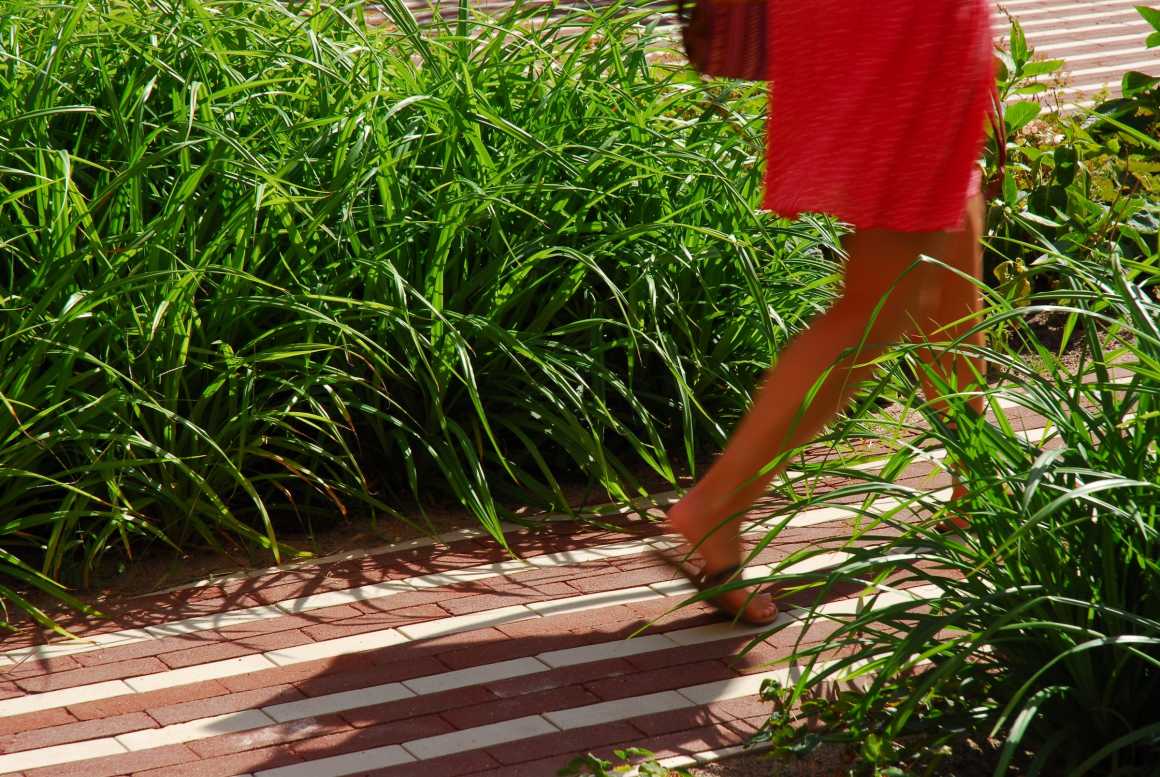 在大学校园的公共空间中,神奇的庭院构成了一片安静的绿洲。这个空间不为公众所进入,也不受风和寒冷的影响,它被多个报告厅和工作室所包围,同时为他们提供光线,创造了一个安静的冥想空间;随着季节,一天天微妙的变化着。
Within the public space of the University Campus the Amazing Courtyard makes for a silent oasis. Inaccessible to the general public and sheltered from wind and cold, this space is enveloped by multiple lecture rooms and studios providing them with light at the same time creating a space for meditation; subtly changing with seasons and along the day.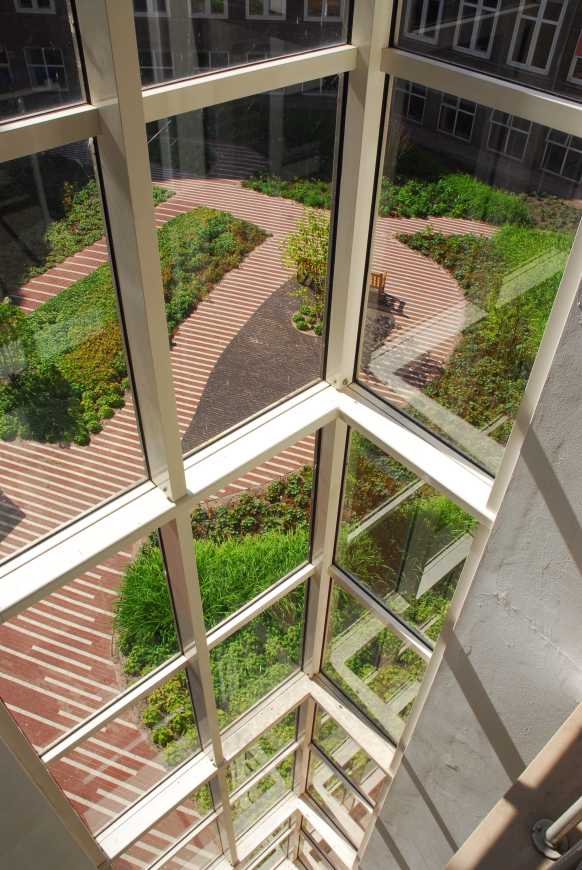 这些错综复杂的路径不仅在引导用户进入,还能让他们安静地散步、冥想、思考或简单地交谈……庭院的宁静与校园中其他更活跃的部分相辅相成。这也是将于2015年底完成的由Inside Outside设计的整个校园景观的第一部分。
The intertwining pathways not only invite the user in visually but also to take a walk quietly, meditating, thinking or simply talking… the calmness of the courtyard complements the more active parts of the campus. It is also the first part of the realization of the entire campus landscape designed by Inside Outside that will be completed by the end of 2015.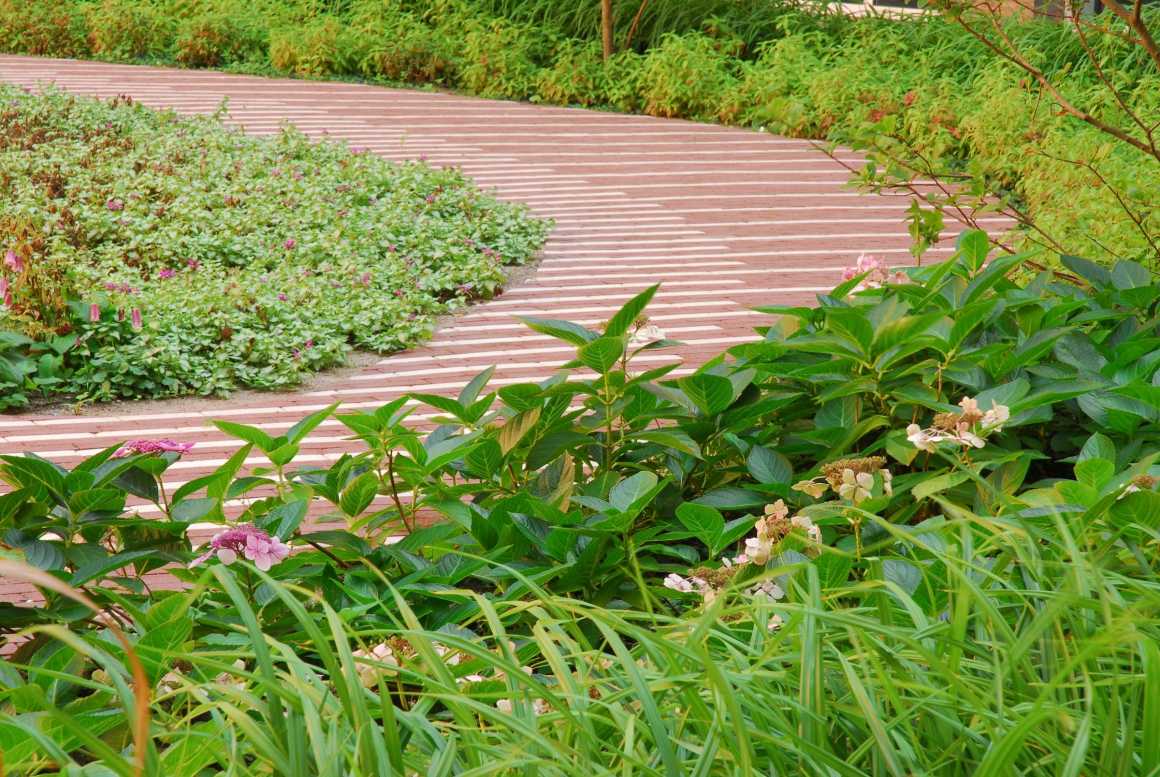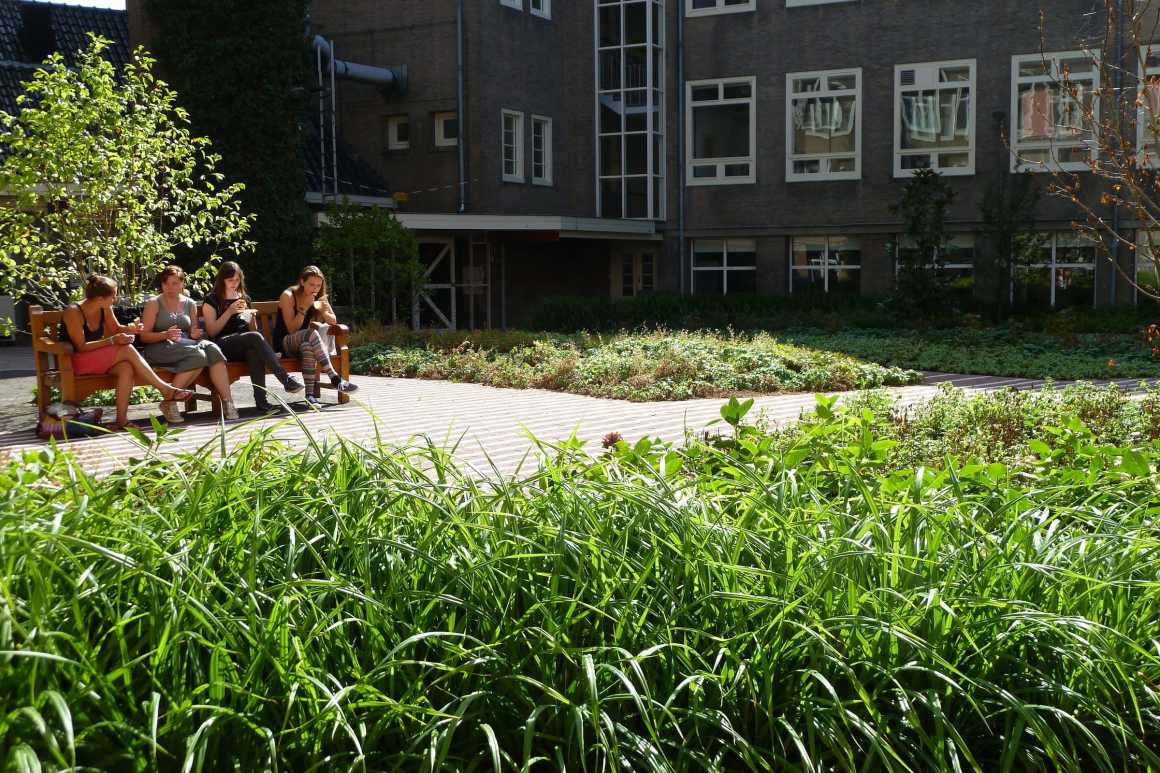 庭院内的植物选择是动态的,一年四季都有季节性常绿植物和令人惊艳的花朵。木兰是一种脆弱的,在阿姆斯特丹气候中很难生长的树木,而在这个有遮蔽的院子里,几种不同种类的木兰有机会茁壮成长。
The plant selection within the courtyard is dynamic, with seasonal evergreen plants and stunning flowers all year round. The fragile Magnolias are trees which prosper rarely in Amsterdam climate; here in the sheltered courtyard several different species of Magnolia get a chance to thrive.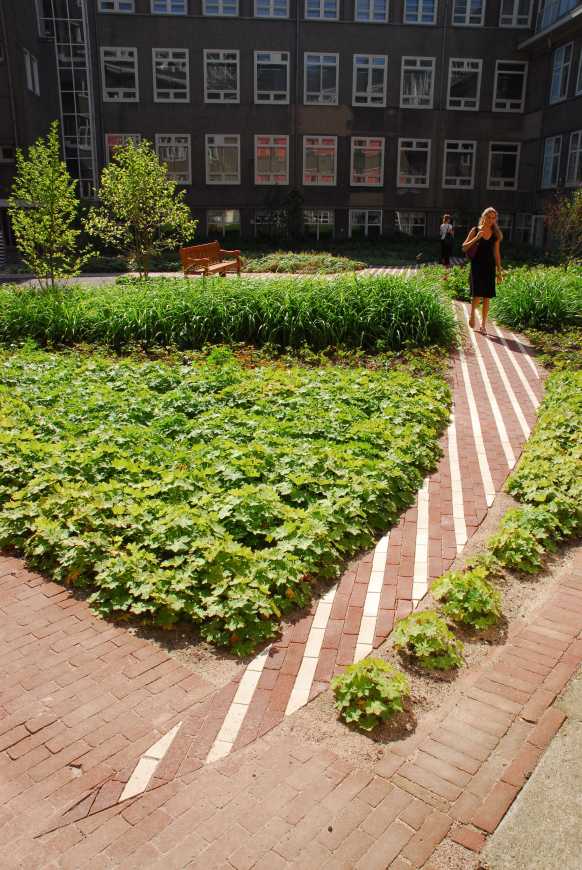 ▼概念  Concept
▼分区主题  Schemes areas
▼效果图  Perspective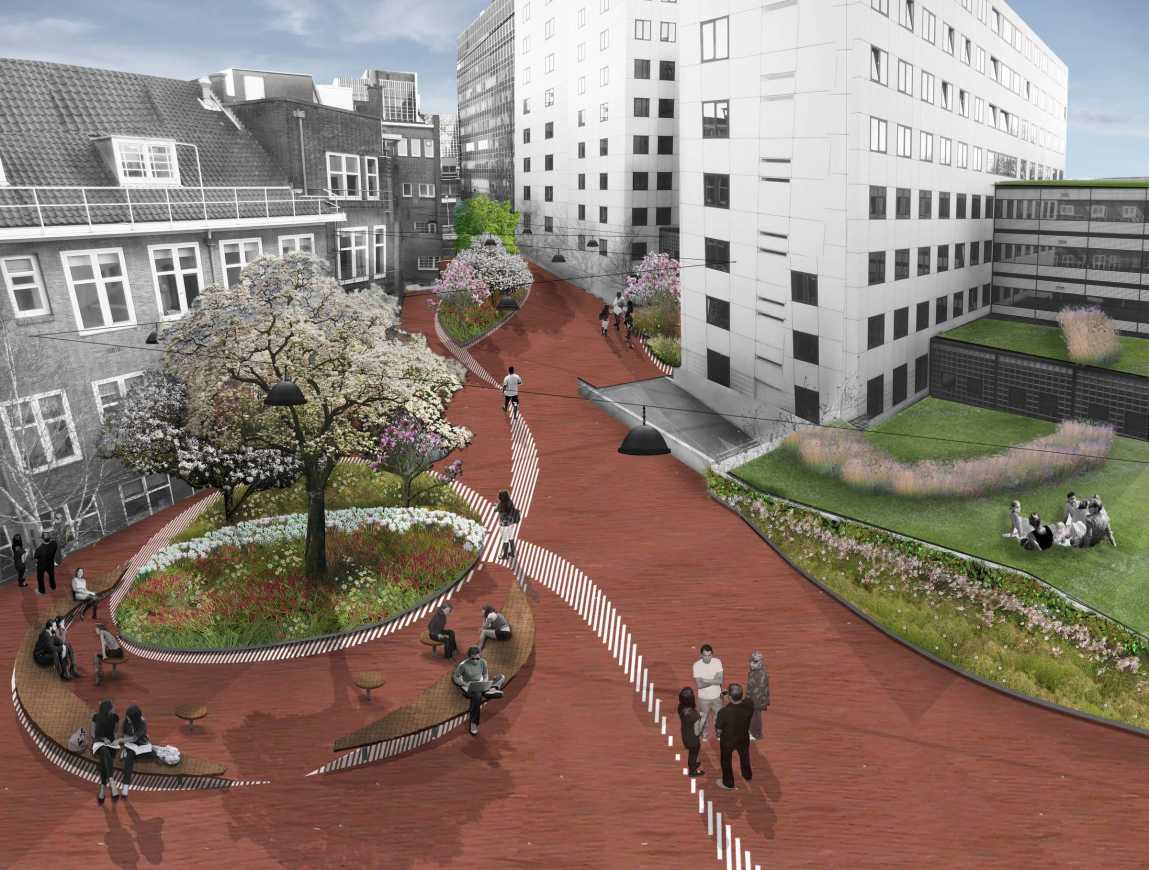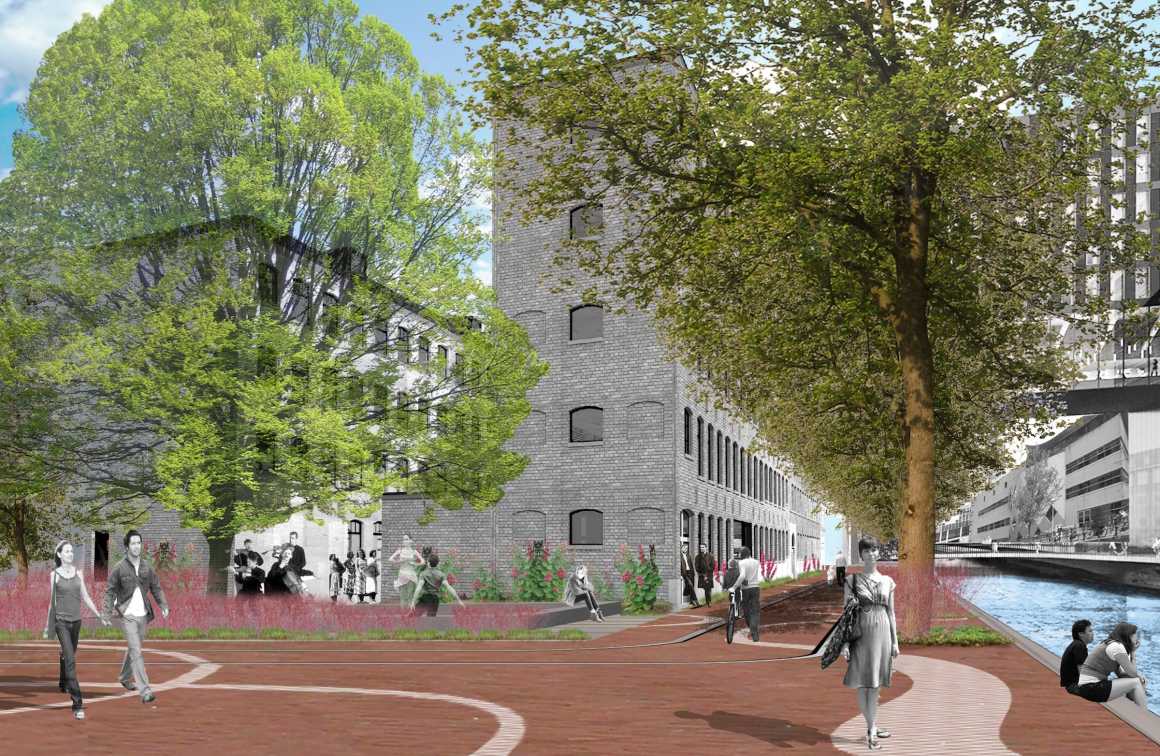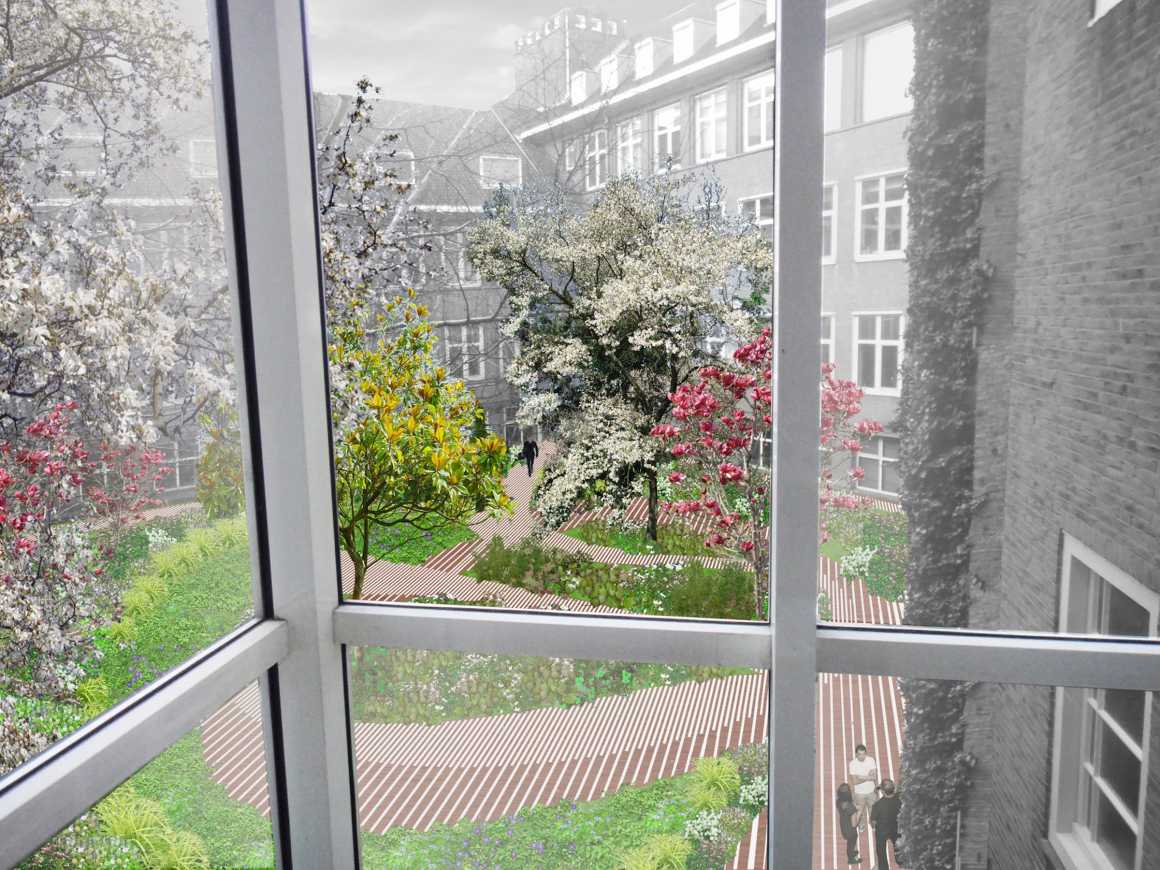 项目周期:2010-2017年(2013年一期完成)
面积:公共空间2公顷(一期:0.7公顷)
客户:阿姆斯特丹大学
设计:Inside Outside / Petra Blaisse
Date: 2010-2017 (First phase realized in 2013)
Size: 2 ha of public space (First phase: 0.7 ha)
Client: University of Amsterdam
Design: Inside Outside / Petra Blaisse
更多 Read more about: Inside Outside / Petra Blaisse