本文由 Christ & Gantenbein Architects 授权mooool发表,欢迎转发,禁止以mooool编辑版本转载。
Thank Christ & Gantenbein Architects for authorizing the publication of the project on mooool, Text description provided by Christ & Gantenbein Architects.
Christ & Gantenbein:巴塞罗那当代艺术博物馆(MACBA)位于一座1995年开放的建筑中,目前急需大幅增加其展览空间。为此,Christ & Gantenbein和巴塞罗那的H Arquitectes合作设计了MACBA的扩建方案,即在当前场地对面新建一座建筑。在巴塞罗那最具活力的公共空间之一的天使广场附近,以开放的阶梯形式,容纳新的画廊、商店和公共场所。其现存的15世纪教堂和女修道院也将被改造为博物馆的入口大厅,赋予更多面向公众的功能,对所有人开放。教堂的十字架将被改造成一个新入口,连接两个广场,象征性地充当MACBAs的新核心。
Christ & Gantenbein:Presently housed in a building opened in 1995, the Barcelona Museum of Contemporary Art (MACBA) requires a significant increase of its exhibition space. Addressing this need, the design for the new MACBA was developed in partnership between Christ & Gantenbein and Barcelona-based H Arquitectes as a new volume opposite the current venue. Positioned around one of Barcelona's most vibrant public spaces, the Plaza des Angels, the extension is shaped as a terraced, open building housing new galleries, shops, and public places. An existing chapel from the 15th century and a convent are also part of the scheme and will be transformed to house the museum's entrance hall with many public-facing uses, open to all.The chapel's cross-figure will be activated as a new portal, linking two squares and symbolically acting as the MACBAs new center of gravity.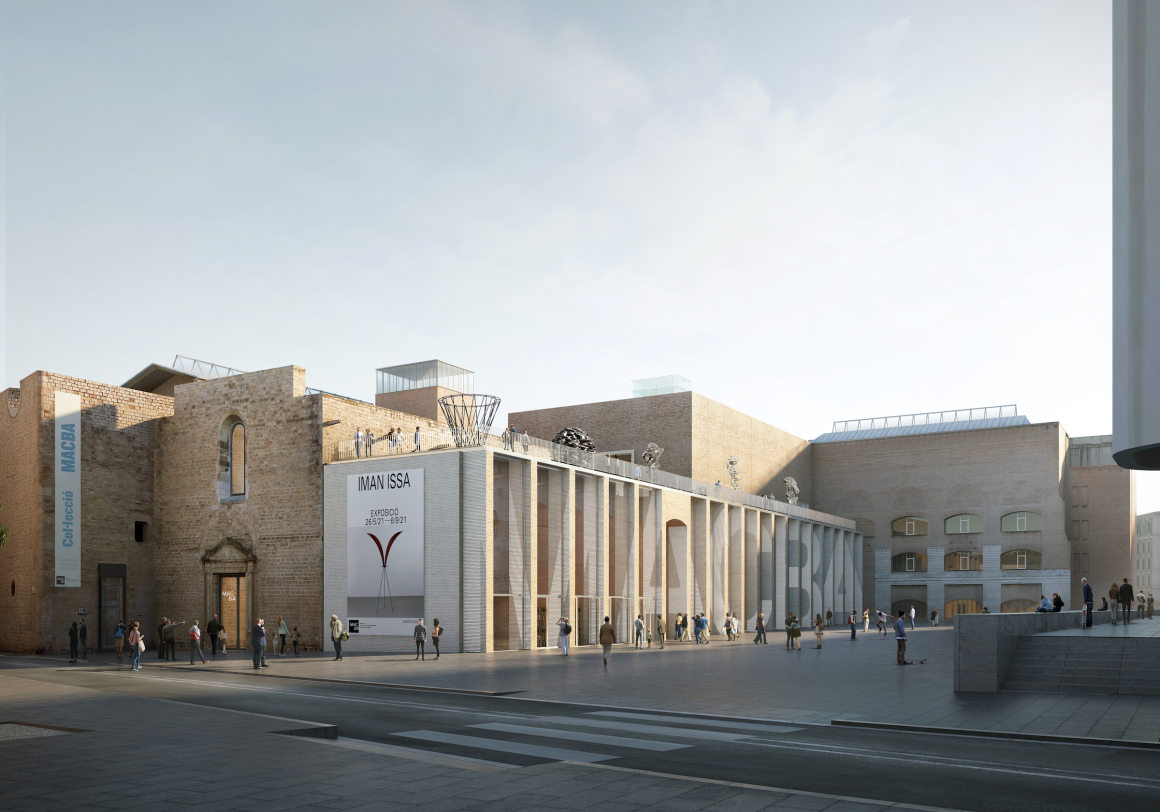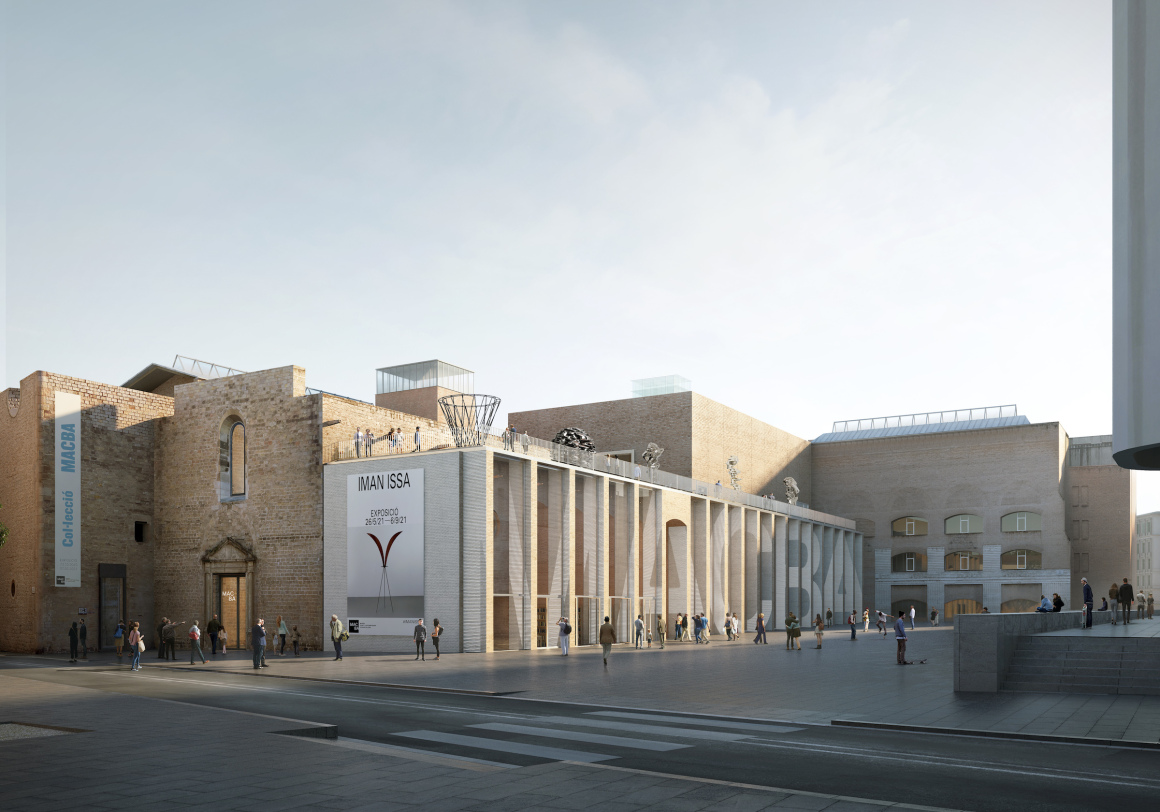 扩建部分是一个人性化的、可渗透的附加界面,它连接着广场和教堂。画廊通过可持续的砖结构重新塑造了博物馆的形象,增加了可达性,拉近了博物馆与公众的距离。屋顶上,用于展示雕塑的平台将提供开阔的景观视野,成为广场的一部分。教堂旁边的画廊后面,与后殿相通的较高建筑于三个楼层间创建了多个大而灵活的展厅。
The extension is a human-scale and permeable addition that interfaces between the squares and the chapel. Reformulating the institution's image into a new whole with sustainable brick construction, a gallery increases accessibility and brings the museum closer to the public. On its roof, a terrace for displaying sculptures will provide views of the surroundings, becoming part of the Plaza. Behind this gallery next to the chapel, a higher volume in communication with the apse creates several large and flexible exhibition rooms on three floors.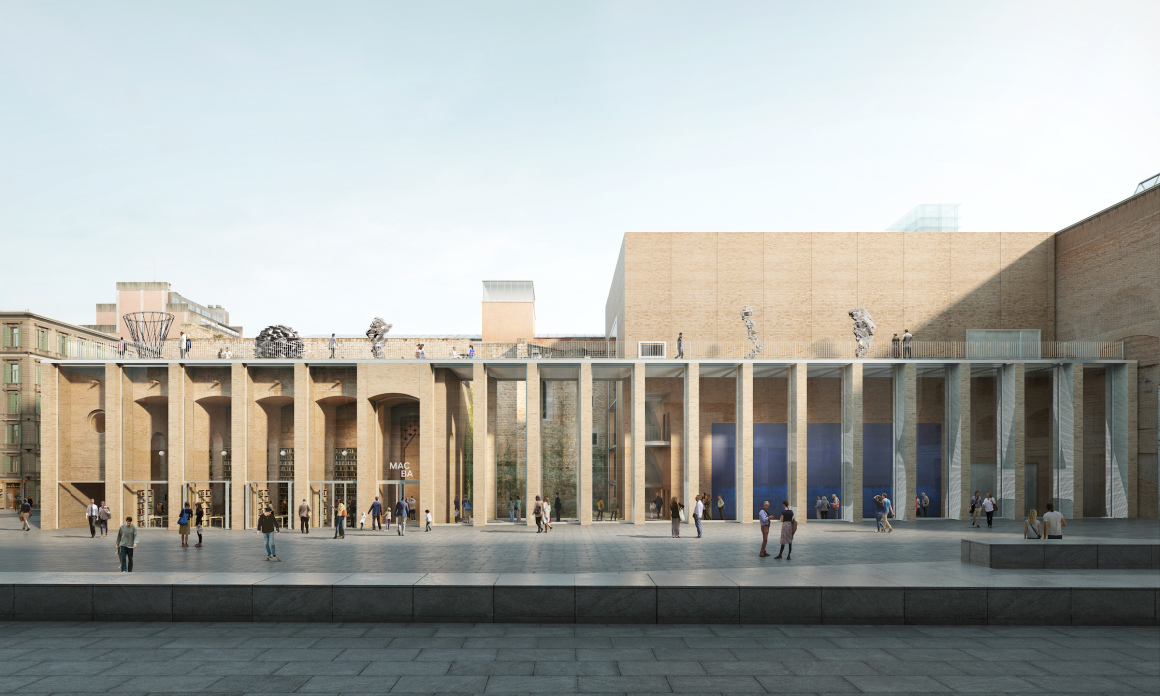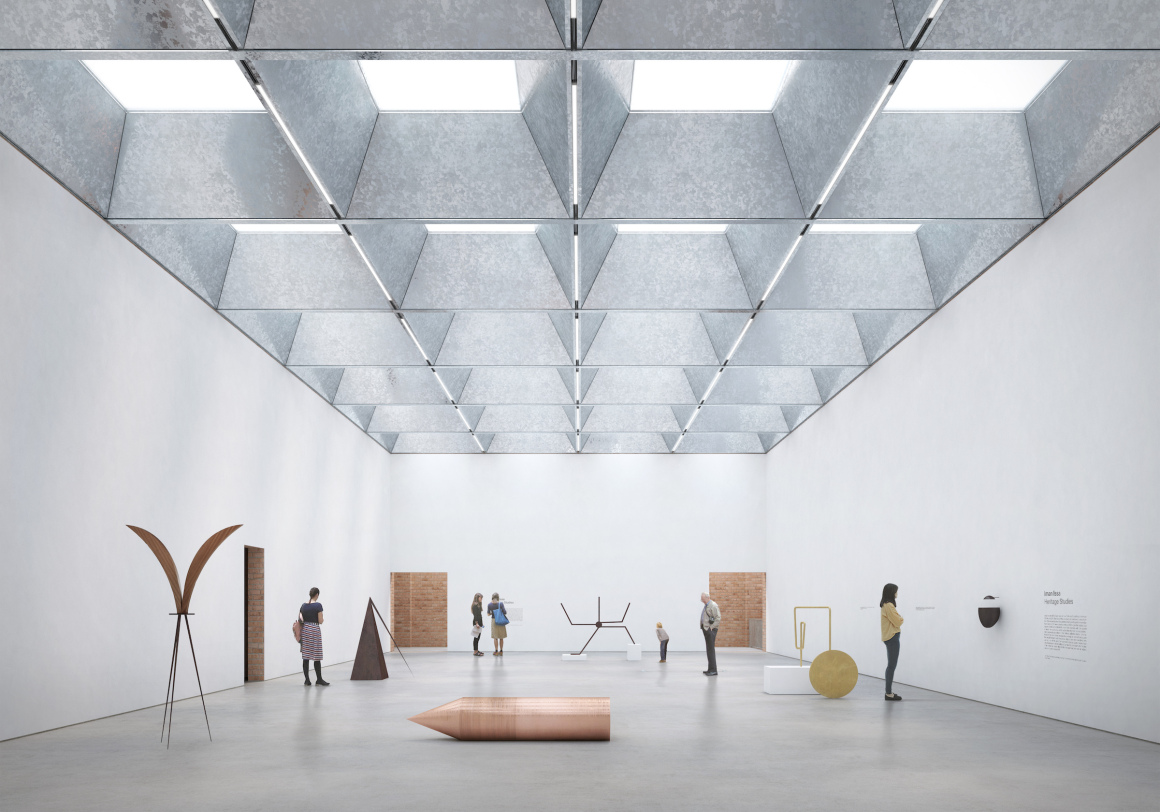 建筑运用砖块将博物馆的各种元素融合在一起,建立了新与旧之间的对话。新的巴塞罗那当代艺术博物馆从异质环境中继承了建筑的构造、组合和体量线索,将不同时期的几个部分结合,敏感地扩展现有的建筑,形成连续的建筑逻辑。以其人性化的尺度、延伸和转变重新定义该机构的形象,使其更容易接近,更贴近民众。
Establishing a dialogue between new and old, the use of brick fuses the museum's various elements together. Inheriting constructive, compositional, and volumetric cues from a heterogenous context, the new MACBA will become a union of several parts from different periods with a continuous architectural logic that sensitively expands the existing. With its human scale, the extension and transformation will redefine the institution's image, making it more accessible and bringing it closer to the public.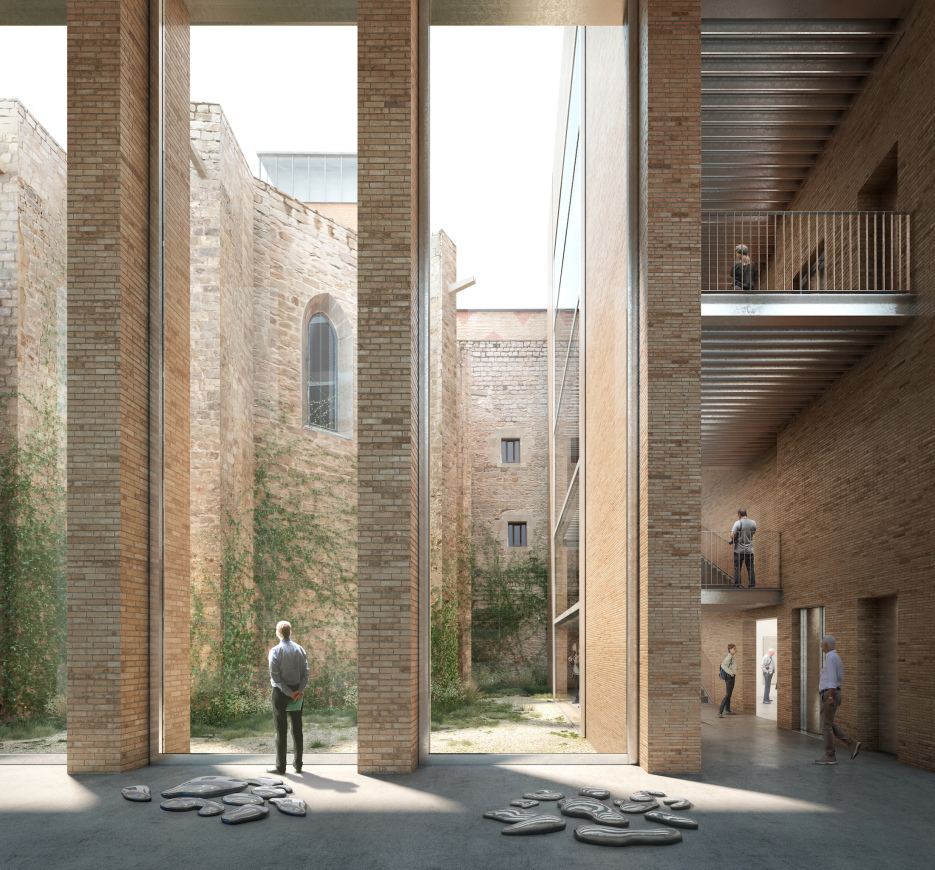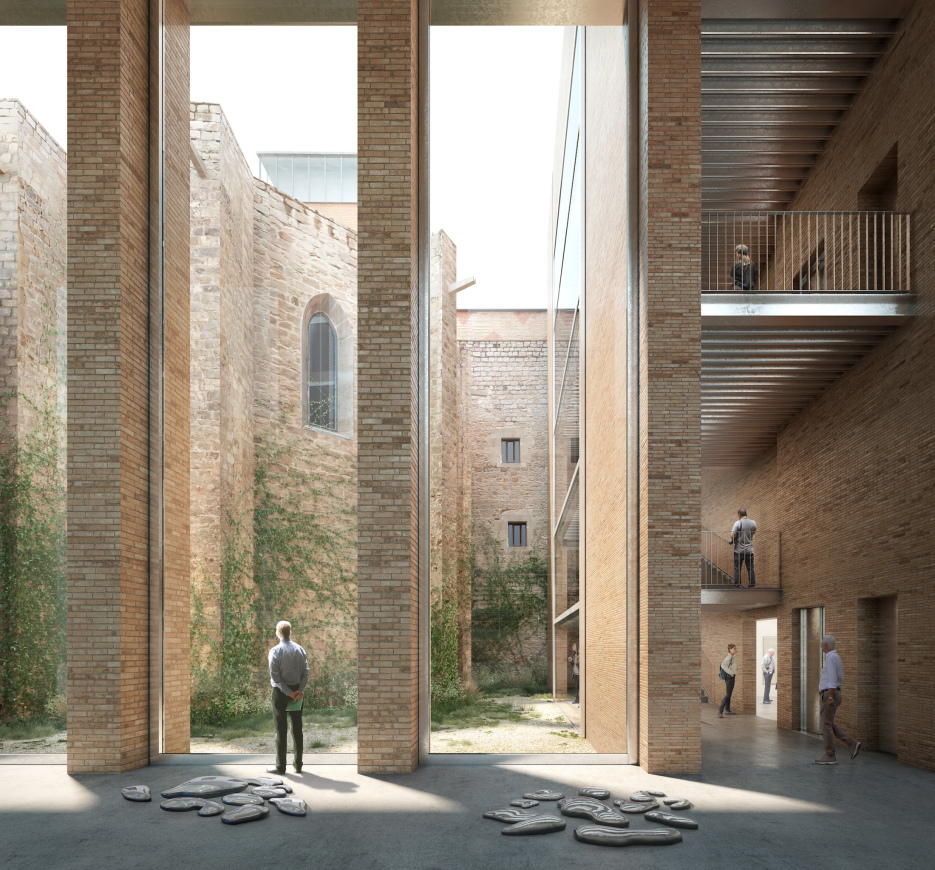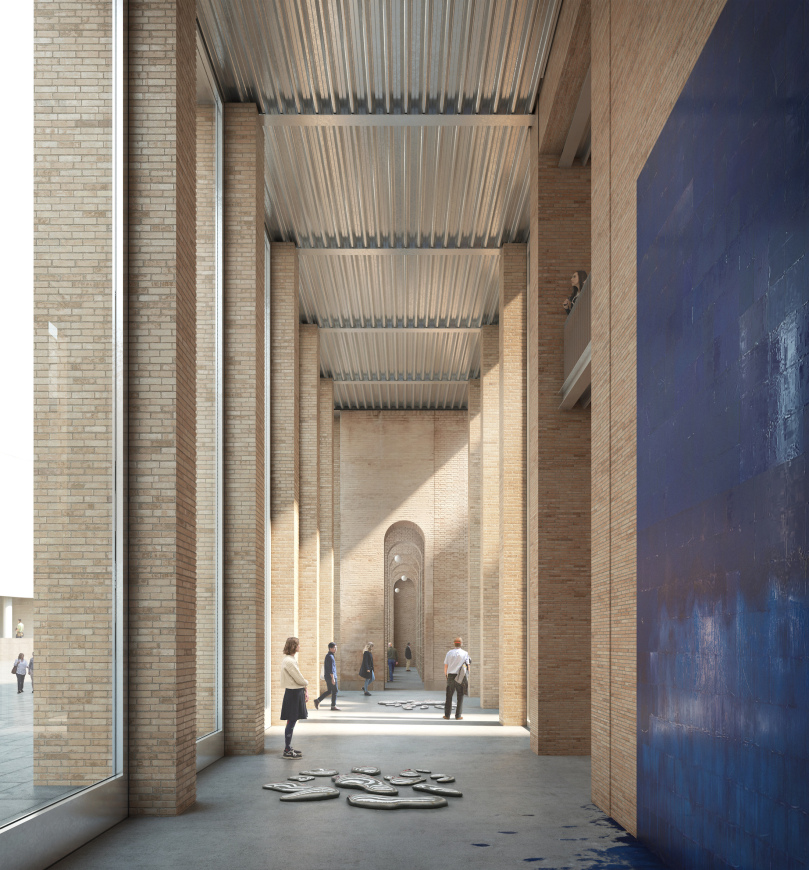 未来,在成为城市校园和城市可转换的文化基础设施的过程中,这个领先的当代艺术机构的目标是成为21世纪及以后的高参与性和互动性博物馆。
In becoming an urban campus and a transformable cultural infrastructure for the city, the leading contemporary art institution aims to be a participative and interactive museum for the 21st century and beyond.
地点:西班牙巴塞罗那
客户:巴塞罗那当代艺术博物馆MACBA
年份:2021年比赛一等奖
项目:文化、博物馆
净面积:3814 平方米(改造2054平方米,扩建1760平方米)
项目团队
合作伙伴:Emanuel Christ, Christoph Gantenbein / David Lorente, Josep Ricart, Xavier Ros, Roger Tudó (H Arquitectes)
项目负责人:Moisés García (Christ & Gantenbein);MayaTorres, Anna Burgaya (H Arquitectes)
建筑师:Jonas Loland, Kilian Schellenberger, Jeffrey Cheng, Guillem Canudas, Miquel Arias, Cynthia Rabanal, Itziar González
规划:Carles Bou, Societat Orgánica, DSM, M7, Chroma
图片:Filippo Bolognese Images
Location: Barcelona, Spain
Client: MACBA, Contemporary Art Museum of Barcelona
Year: Competition, 2021, 1st Prize
Program: Cultural, Museum
Net Area: 3,814 m2 (2,054 m2 of transformation, 1,760 m2 extension)
TEAM
Partners: Emanuel Christ, Christoph Gantenbein / David Lorente, Josep Ricart, Xavier Ros, Roger Tudó (H Arquitectes)
Project Leaders: Moisés García (Christ & Gantenbein); MayaTorres, Anna Burgaya (H Arquitectes)
Architects: Jonas Loland, Kilian Schellenberger, Jeffrey Cheng, Guillem Canudas, Miquel Arias, Cynthia Rabanal, Itziar González
Planning: Carles Bou, Societat Orgánica, DSM, M7, Chroma
Images: Filippo Bolognese Images
更多 Read more about: Christ & Gantenbein Architects