HANAZAKI 景观设计事务所 巴西最具创意的景观公司之一,也是唯一获得ASLA专业奖的巴西景观公司。十八年来,他们一直秉承着极简主义理念,关注景观概念和细节,致力于将其意义融入纯粹主义美学,并坚持将每个项目当做艺术品来设计。
mooool聚焦景观设计行业,致力于传播全球优秀设计理念,本期mooool专辑带来的是HANAZAKI公司创始人亚历克斯·花崎(Alex Hanazaki)的专访。欢迎业界同行跟我们分享更多的经验和想法!
Since its beginning, 18 years ago, Hanazaki has been considered one of the most creative landscape architecture firms in Brazil. Hanazaki is the only Brazilian landscape architecture studio that has been awarded with the ProfessionalAwards of ASLA. They insist on minimalistic environments, in concept and attention to minutiae, composed with details that flirt with purist aesthetics and its meanings.
We focus on landscape architecture industry and devote to spreading the excellent design ideas around the world. In today's interview, we introduce Alex Hanazaki, Founder of HANAZAKI LANDSCAPE.
总策划:陈科君 / Producer: Kejun Chen
主编辑:陈科君、陈虹羽、王兰芳、王维佳 / Editor: Kejun Chen, Hailee Chen, Via Wang, Weijia Wang
Interview: Mooool x Alex Hanazaki
专访内容:
Q:作为一名杰出的巴西日裔景观设计师,在成长过程中吸收的多元文化对您的设计产生了哪些影响?
As one of a Brazil's foremost landscape designer, yourself of Japanese ancestry, what has affected on your design in such a multi-culture growth environment?
我出生在巴西圣保罗内陆的一个城市小镇,小镇上的农田广阔,居民稀少,我就跟小镇上的大多数小孩一样,也总是在街上玩耍、爬树、游泳,在穿过小镇的河流里钓鱼,与大自然保持着亲密的接触。
巴西是除日本以外日本人口最多的国家,比如我就是一个日裔巴西人。从小,我就与艺术界有着不解之缘,后来在学校里,大家也都鼓励我走艺术方向,因此,我在大学攻读建筑学课程也就成了一件自然而然的事。
大学时期,我热爱一切经典主义及极简主义作品,我认为真正美的东西可以克服众人不同的品味偏好。
在所有激励我的因素中,理性主义建筑是影响我资质和审美的一个非常重要的因素。除了密斯·凡德罗、瓦尔特·格罗皮乌斯、勒·柯布西耶等这些重要的国际名人之外,巴西理性主义学派中造就的一批令人印象深刻的现代主义建筑师也对我影响颇深,比如奥斯卡·尼迈耶、保罗·门德斯·达·罗查、比拉诺瓦·阿蒂加斯、丽娜·柏·巴蒂等。
我也开始在设计中注意线条的精准性、精简性、纯净性,以及留白的价值,避免过度堆砌。
毕业前夕,我决定选修一门景观设计课程。这是一个为期四天的课程,在巴西最大的切花和观赏植物生产城市Holambra举行。就是这短短的四天改变了我的生活,那时我才真正想明白:我想成为一名景观设计师。
带着这样的理想,我来到了圣保罗。圣保罗又带来给了我另一种纯粹文化冲击:一个拥有1200多万人口的多元国际大都市,经济强大、劳动力市场潜力巨大,到处是高楼大厦的钢筋混凝土丛林,然后,我就在这里开设了我的工作室。
I grew up in a small town in the interior of São Paulo. A city with vast expanses of agricultural land. A city with only 10 thousand inhabitants. Like any child in these small towns, I spent my time playing in the street, climbing trees, swimming, and fishing in the rivers that crossed through the town, always having close contact with nature.
I am the third generation of Japanese descendants in Brazil, which is the country with the largest Japanese population outside Japan.
Since my early childhood, I have always had a close relationship with the artistic universe, and later, at school, I was very much encouraged to follow this direction. As a result, my decision to pursue a University course in Architecture came naturally.
At the Architecture University, I admired everything from the classic works through to the minimalists. What I considered beautiful overcame any predilection for taste.
Out of all things that motivated me, rationalist architecture was a very important element of my qualification and for my aesthetic sense. Apart from important international names including Mies van der Rohe, Walter Gropius, and Le Corbusier, I was also influenced by Brazil, which brought out an impressive crop of modernist architects within this rationalist school, such as (show) Oscar Niemeyer, Paulo Mendes da Rocha, Vilanova Artigas, Lina Bo Bardi.
Notice the surgical precision of the lines, the economy of strokes, the presence of pure and clean lines, the value of the void and the renouncement of excesses.
On the eve of my graduation, I decided to take a course in landscaping. This was a four-day course in a city called Holambra, which is the largest producer of flowers for cutting and ornamental plants in Brazil. These four days spent taking the course were enough to change my life. It was then that what I really wanted to be dawned on me: I wanted to be a landscape architect.
This is how I came to the mammoth city of São Paulo. This was another case of sheer culture shock: a cosmopolitan city with over 12 million people, multicultural, a concrete jungle full of buildings – a city that is very strong economically, with big possibilities on the labour market. This was where I opened my office.
▼HANAZAKI部分作品展示(点击阅读更多) Click here to read more projects of HAANZAKI on mooool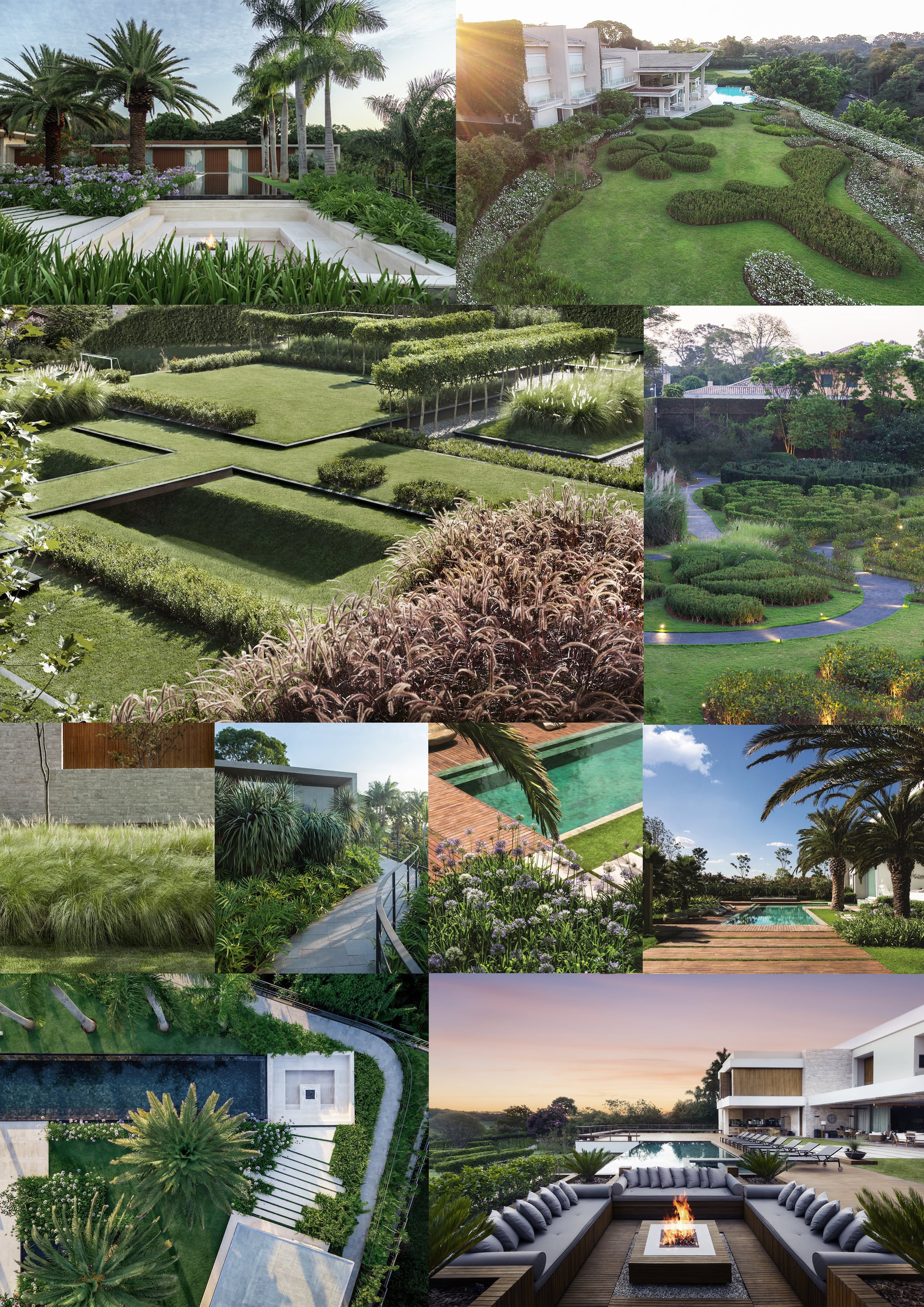 Q:在接到项目后,您如何开始您的设计?
How do you start a project after receiving one?
我的建筑师经历给我的花园设计产生了很大的影响,因此,我作品中的外部建筑元素特征会比较明显。我认为建筑元素有时候往往会比植物元素更具说服力,在我的作品中,植物往往都是作为最后的修饰而加入的。
Being an architect is the main influence on my method of designing a garden, and, for this reason, the my external architecture element is so strong. The architectural elements are shown with strong evidence, often even more than the plant elements. In my works, botany is the finishing.
▼画龙点睛的植物修饰 Fazenda ML – HANAZAKI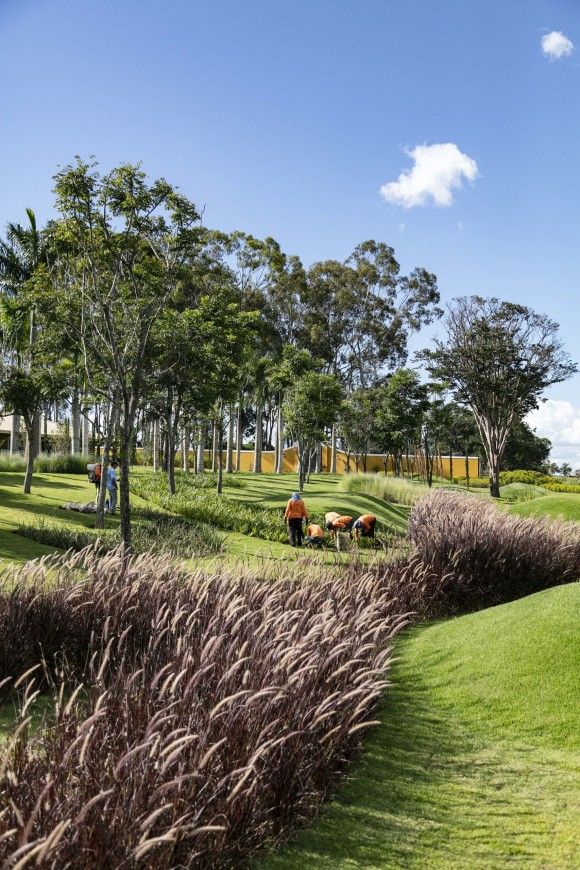 现在来谈谈创作过程,当我要开始一个项目的时候,我会先研究建筑,因为这对于分析最适合的花园类型至关重要。我需要分析建筑师打算通过这个项目传递的信息,以及他的参考和想法是什么?基本上,这些答案就是我设计的最大灵感来源。
接下来就是要了解用户的期望和需求。有一些问题是必须要问清楚的,比如建造这个花园的目的是什么?用户有什么特别的品味偏好吗?预算是多少?
第三步,位置分析尤为重要,因为巴西是一个包含多种不同类型生物群落的幅员辽阔的大陆国家,在巴西开发一个花园本身就是一场探险。
最后,为了完成创意过程并开始项目的建设,我最喜欢做的事情就是在办公室头脑风暴。我会把我们整个创作团队(由15名年轻、有创造力的建筑师组成的团队)聚集在一起,围坐在桌子旁,讨论项目、分析用户需求和期望,集思广益,项目也这样随之开始了。
Now talking about the creative process, when I am going to start a project, the first study is that of architecture, which is essential for analysing the type of garden that is most appropriate for the valuation. I need to analyse the message that the architect intends to transmit with this project. What are his references and ideas? In many cases, these answers are the greatest sources of inspiration.
Next, I need to be aware of the expectations and the needs of the people who are going to use the garden. There is always a need for this kind of questioning. What is the purpose of the garden? Is there any particular taste involved? How much should be invested?
In the third stage, the analysis of the location is very important, and the development of a Garden in Brazil is always an adventure in itself! After all, Brazil is a country of continental size in itself, with several different types of biomes.
Finally, to finalise the creative process and start the development of the project, what I most like to do in the office is Brainstorm. We bring the whole creation team together, around a table – a team of 15 young and creative architects. Discussing the architectural project, analysing needs and expectations, and pooling ideas and references. Thus, the project gets under way.
▼景观与建筑、环境相得益彰 – Jardim CM (Ongoing) & Jardim AF  (Ongoing)
Q:您设计的住宅花园有获得过"世界上最美丽的住宅花园"称号,您认为一个好的庭院花园应该具备哪些要素?
The residential garden you designed has been awarded "the most beautiful residential garden in the world" by ASLA before, what elements do you think a good garden should possess?
我做项目时首先要做的第一件事情,就是分析房屋/建筑结构及其周围环境,之后就是根据客户提供的概况信息,去实现心中的设计蓝图,在这之后,可能会衍生出几种设计要素,即外部区域的建筑元素、地形状态、照明等其他一切可能的要素。但我不认为一个项目会有一个必须的基本要素,每个元素的独特性就是这个花园的特色,当然,每次我做设计必须寻找的一个元素就是"比例",这是最基本的。
First we always analyze the architecture and the environment where the house / building is inserted. This is my first starting point for developing any project. After that, a customer briefing is necessary for you to make all these wishes a reality. After that, several possibilities can happen, namely: architectural elements in the external area, ground level work, lighting, among many possible elements. I do not believe that there is a basic element to a project, but the peculiarity of each one is what makes a garden unique. But of course, a basic element that I always look for in all cases is the proportion. This is fundamental.
▼每个项目的空间尺度与比例设计都基于项目概况,各有特色 – IGA Berlim 2017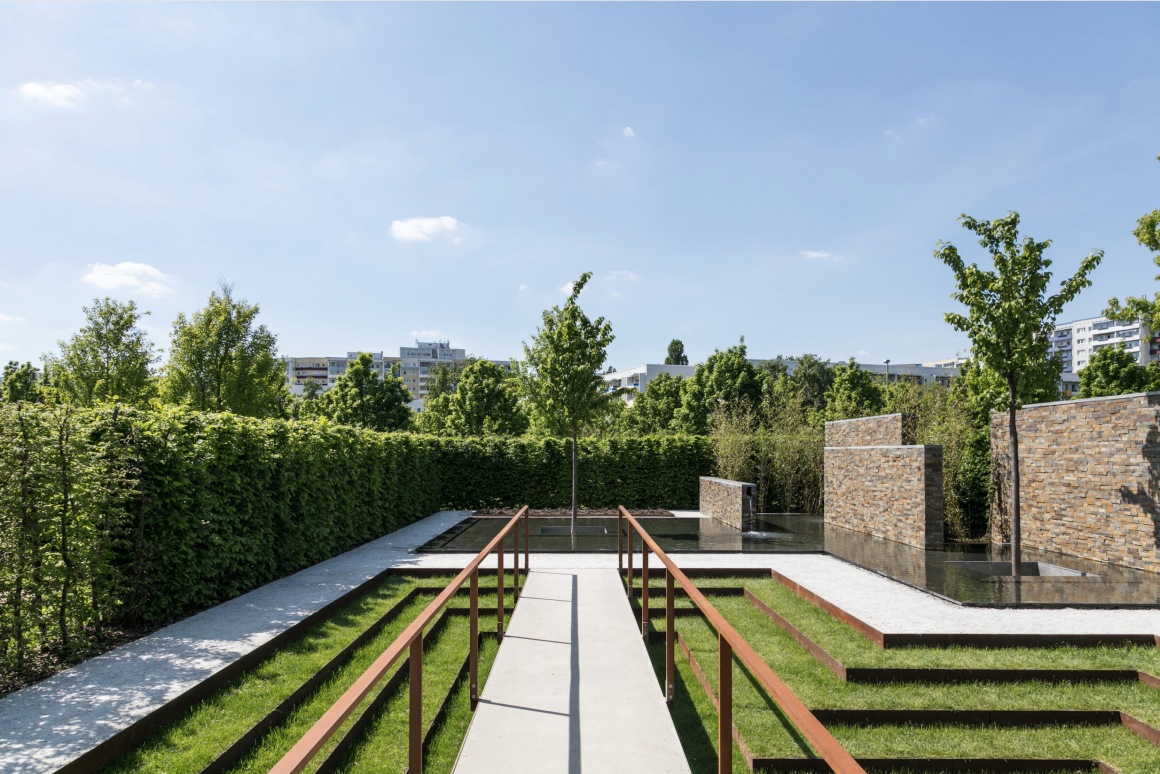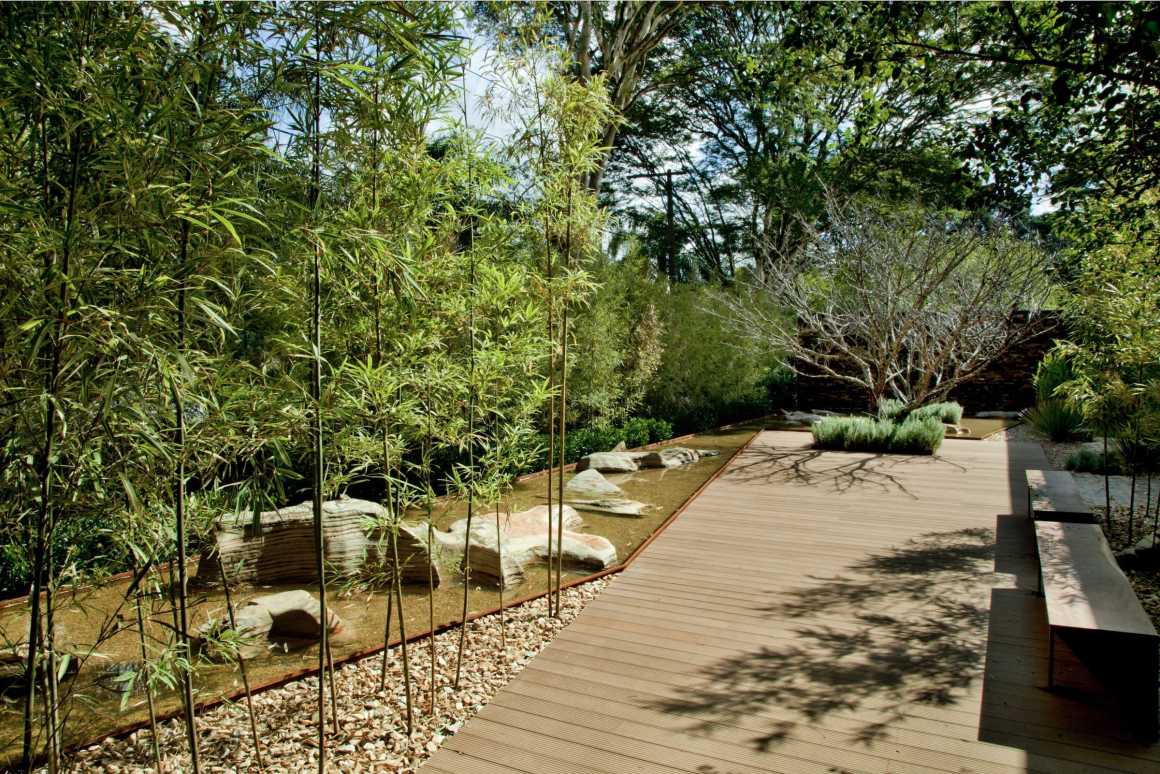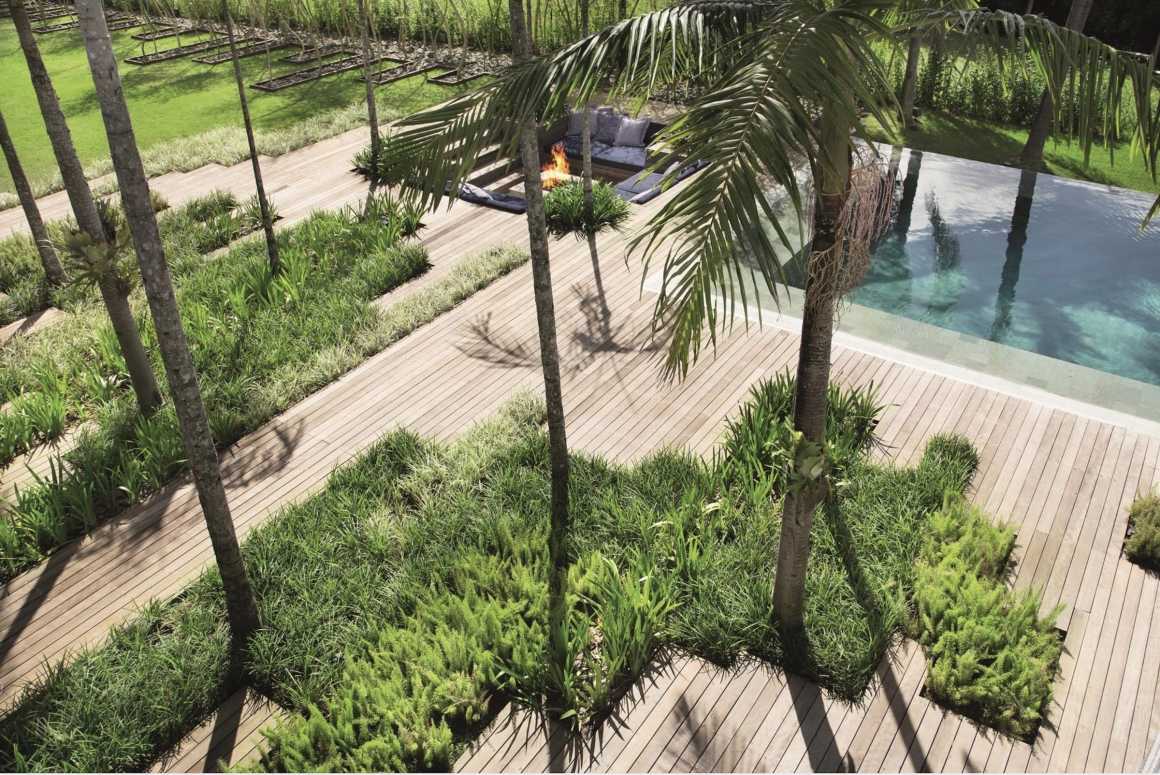 Q:Jardim GM和Jardim CS项目展现出不同的几何美感,都给人非常强烈的视觉冲击,这两个项目是否有可比性?能否把这两个项目的设计过程做详细分享?
Jardim GM and Jardim CS project show different geometric aesthetics, both of which give people a very strong visual impact. Could you share the design process of these two projects in detail?
如前所述,根据建筑和客户提供的概况信息,每个花园都有其特殊性。GM和CS花园所表现出的几何特性,同样是源自这两处住宅的建筑设计元素。
As mentioned before, each garden has its particularity according to the architecture and customer briefing. About GM and CS gardens, they are really very geometric gardens, where we had as a starting point this remarkable architecture of both residences.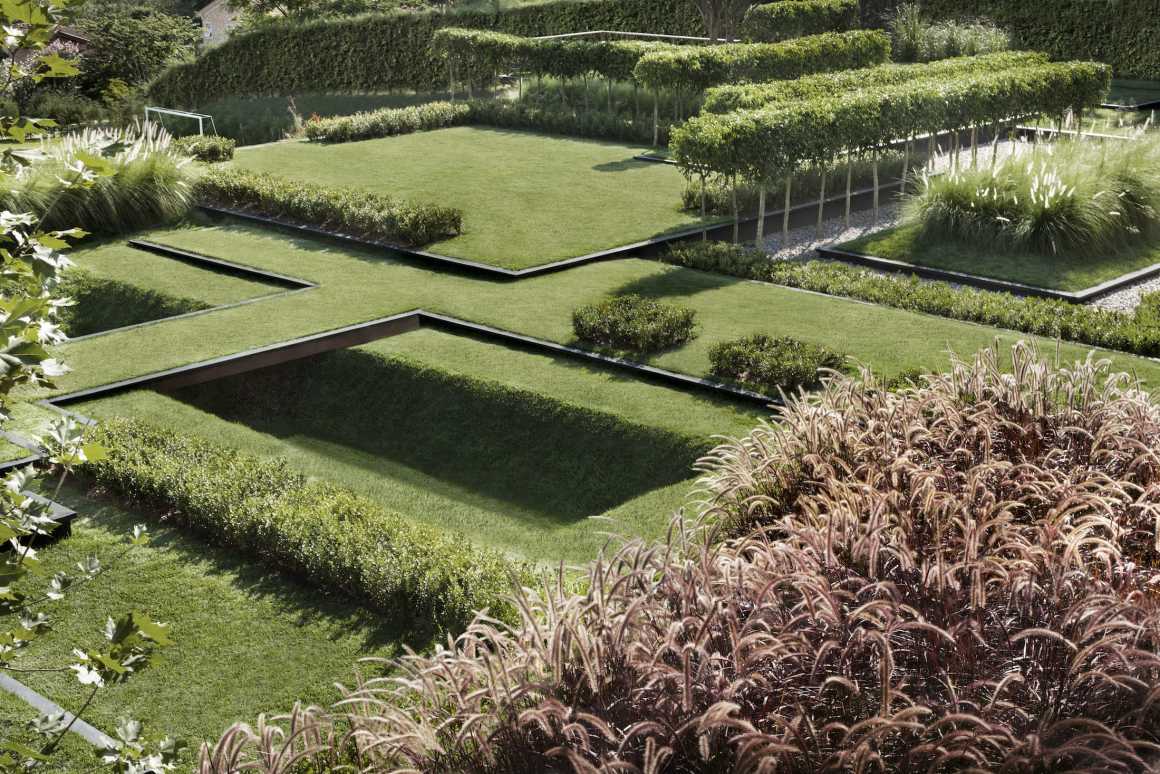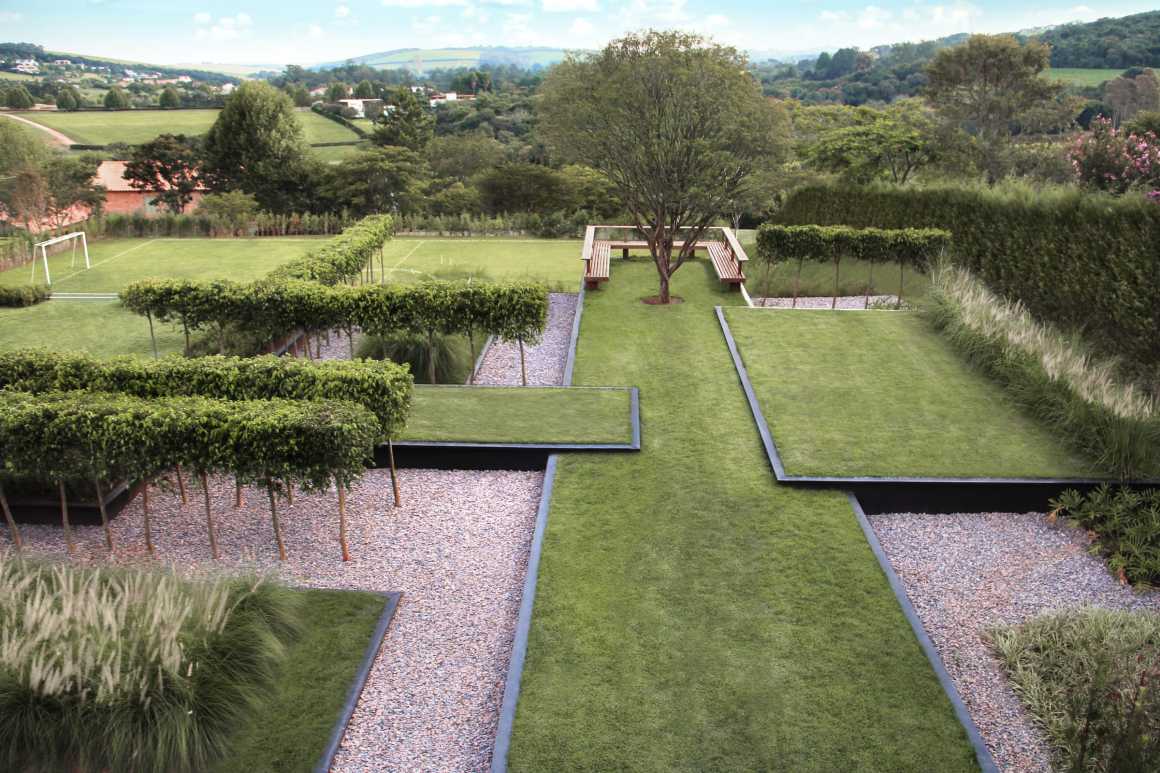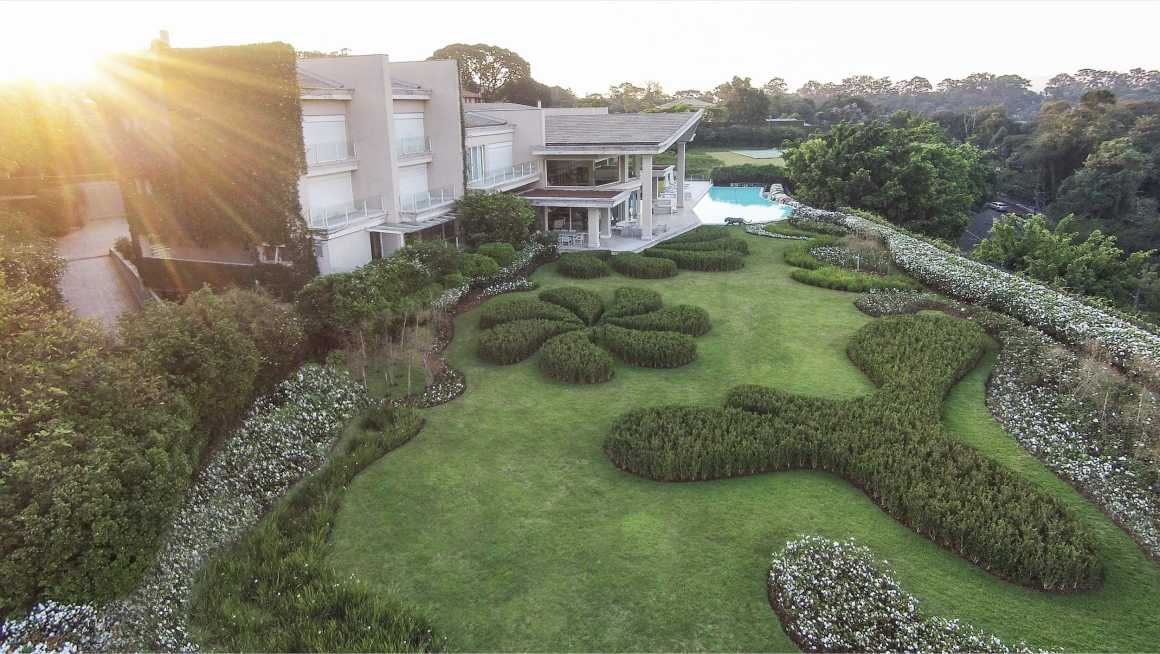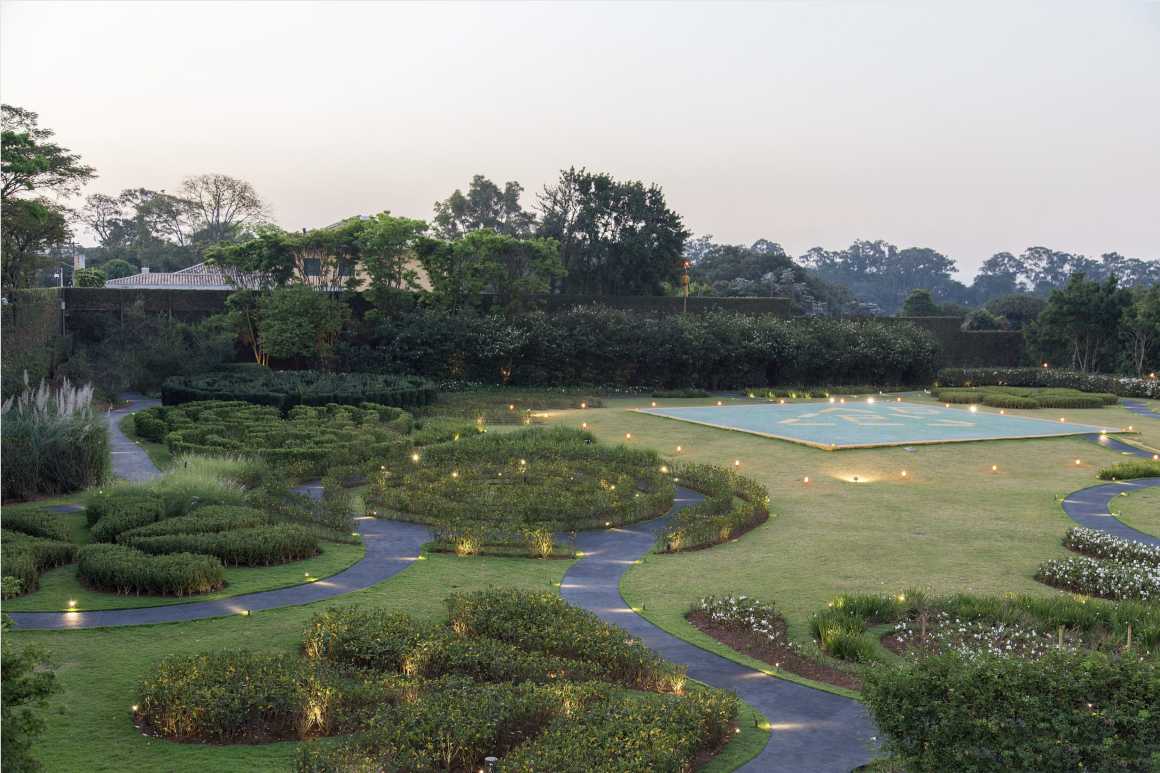 Q:当下的一些设计正不断趋于雷同,您设计的庭院空间精致而各具特点,在同样是小而私密的空间中,您如何使各个场地能保持其自身的个性?
Some of the current designs are becoming more and more similar, the garden spaces you designed are both exquisite and characteristics. In the same space which is small and private, how do you keep the individuality of each garden? 
是的,建筑跟时尚、汽车,以及其他许多东西一样,重复雷同的情况越来越严重。在如今大众化普及的时代,可以说几乎没有什么可长期存在的新鲜事物。但我们的花园设计有个最大的优势,除了努力为每个客户创建独一无二的花园以外,我们也尽力以不同的设计手法来创建每个项目,当然我们还有另一个优势,就是景观是有生命力的,它是一个每天都在不断变化、生长、开花和自然更替的有机生命体。
创新可以通过多种形式体现在景观设计中,比如在特定地区加入稀有物种,或在建筑设计和花园概念中运用与众不同的设计形式。但除此之外,我们还会关注那些对客户、对自然环境都有益处的新技术,比如寻求正确使用途径、避免浪费水资源的自动化灌溉,以及降低维护、运输和用水成本的本地植物,LED照明和太阳能等。我们在景观中融入了许多创造性的和现代的功能,它们超越了美学,让大家都可以从中受益。
Yes, architecture, like fashion, cars, among many other things is increasingly recurring. What is new today is already out of fashion in a short time due to the massification of everything. But in gardens, we have a big advantage, because in my case, in addition to trying to make each of the gardens unique to each client, where we try to go out of the way by creating each project in a unique way, we also have the advantage of the garden being a living being that is constantly changing, growing, blooming and naturally changing every day.
Innovation can come through many forms in a landscape design. Be it through species little used in a particular region, in architectural designs or in unusual forms in the garden concept. But beyond that, we also need to be focused on technology that benefits not only customers, but especially benefits to nature, such as automated irrigation, which seeks correct use and avoids wasting water, native plants where we reduce maintenance costs, transports and water consumption, LED lighting and solar energy use. We have many creative and modern features that go beyond aesthetics that we can benefit from using them.
▼利用植物突显景观的生命力与花园的独特性 – Jardim CGD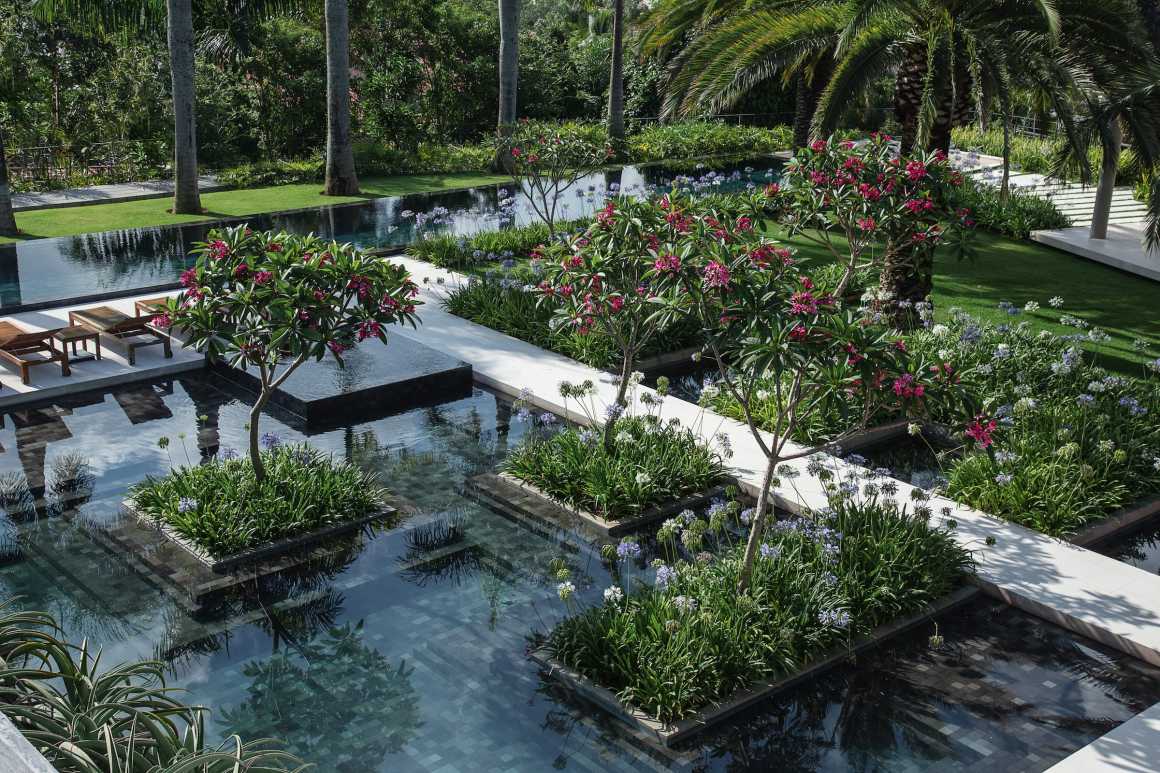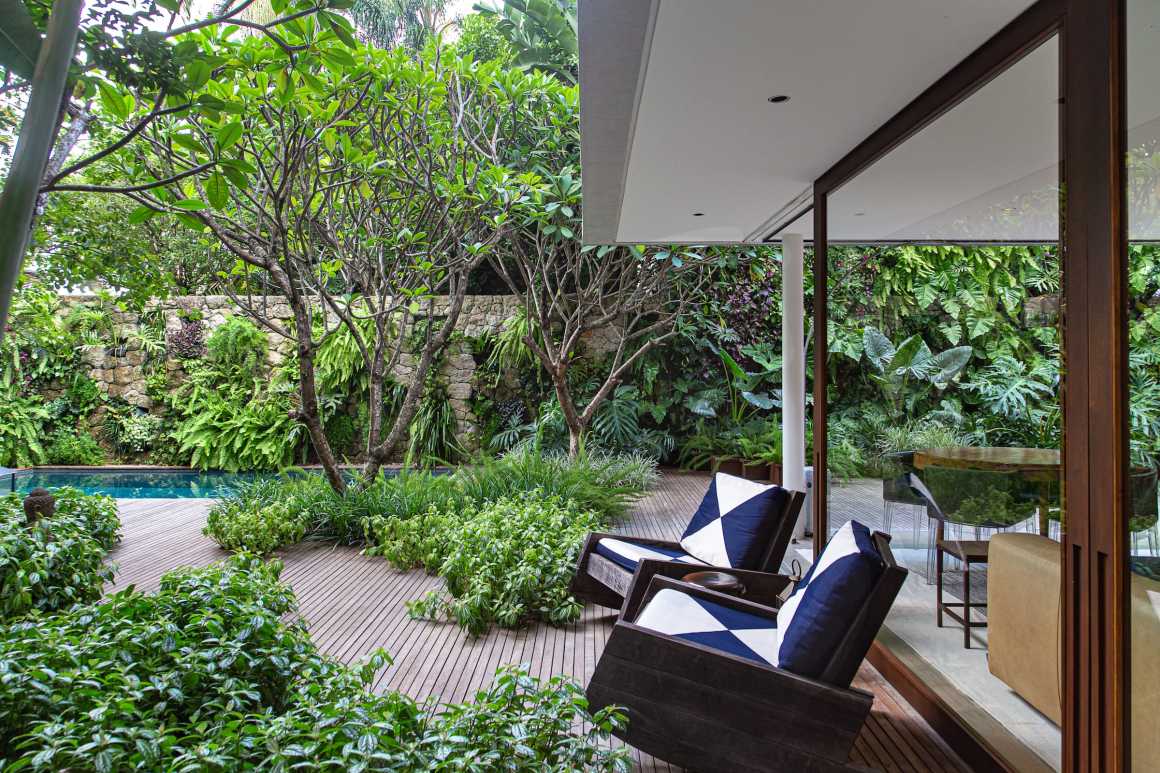 Q:在您接手的众多庭院景观项目中,有哪个项目是您在想起时会仍感激动的?
In all of your garden design projects, which one makes you still excited when you think of them?
这个问题有点难回答,因为项目都有其特殊性,我们与客户之间的联系比其他人更多,还有很多其他的原因,也都给我们带来了许多工作乐趣。但有一点我可以说的是:我对哪些我有更大自主权的项目比较有特殊感情,比如Casa Cor项目,这个项目的客户认为花园就像一个伟大的艺术品,他们很尊重我们的创造过程,也意识到花园护理过程中可能存在的困难和适应,需要后期的长期维护以保持良好的健康状态。花园是有生命的,他们受到的呵护,必会以繁茂、花朵和色彩等丰富的形式回报我们,当然,建筑从中起到的作用也很大,他们两者是互为补充,缺一不可的。
This question is a bit difficult to answer, because projects have their particularities, customers that we have more connection than others, among many other reasons that end up bringing us more pleasure to work. But I have some situations that I think I can comment on: I have special affection for projects that I have greater autonomy to develop, such as the projects of Casa Cor, as in projects where customers perceive that the garden is like a great work of art, that they respect quite a lot of creative process, difficulties that may exist and adaptations, which realize that the garden needs care, where there is a dedication to always be healthy, well maintained. The gardens are living beings, where the treatment they receive, they return us in the form of exuberance, flowers and textures. Of course the architecture helps a lot in the result, but one will always complement the other.
▼将设计中的非常元素巧妙地转化成景观常见元素 Casa Cor 2017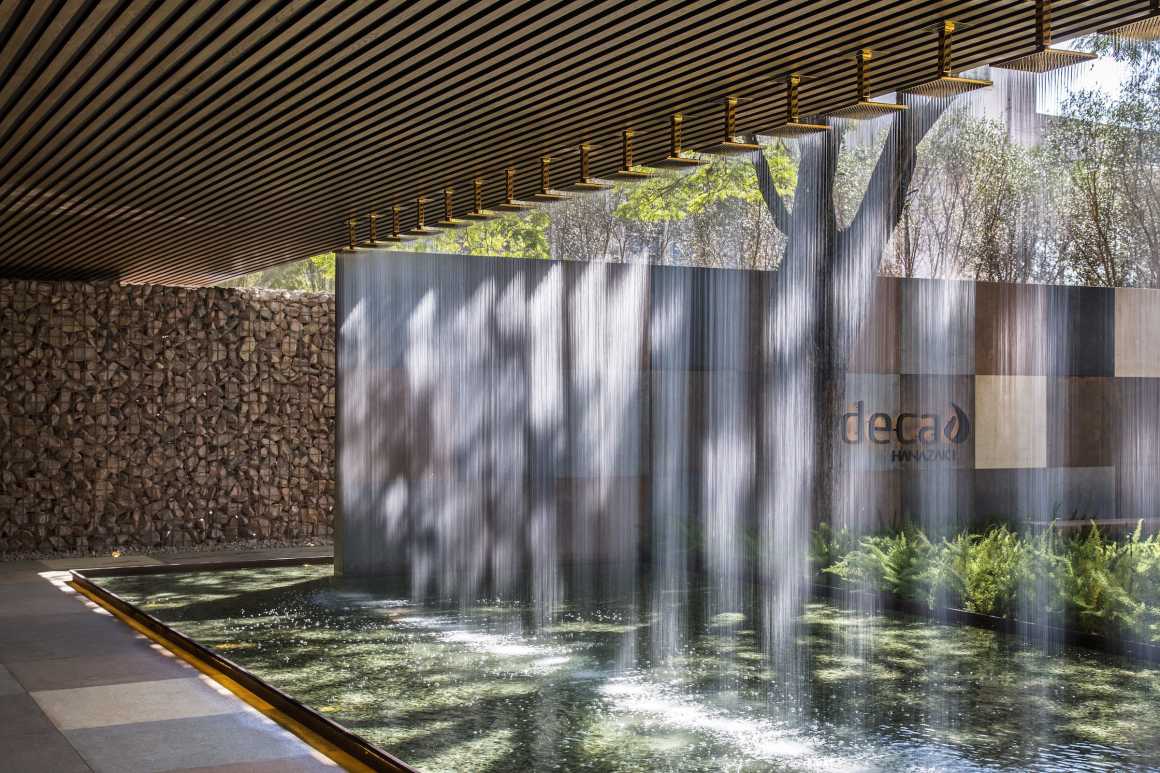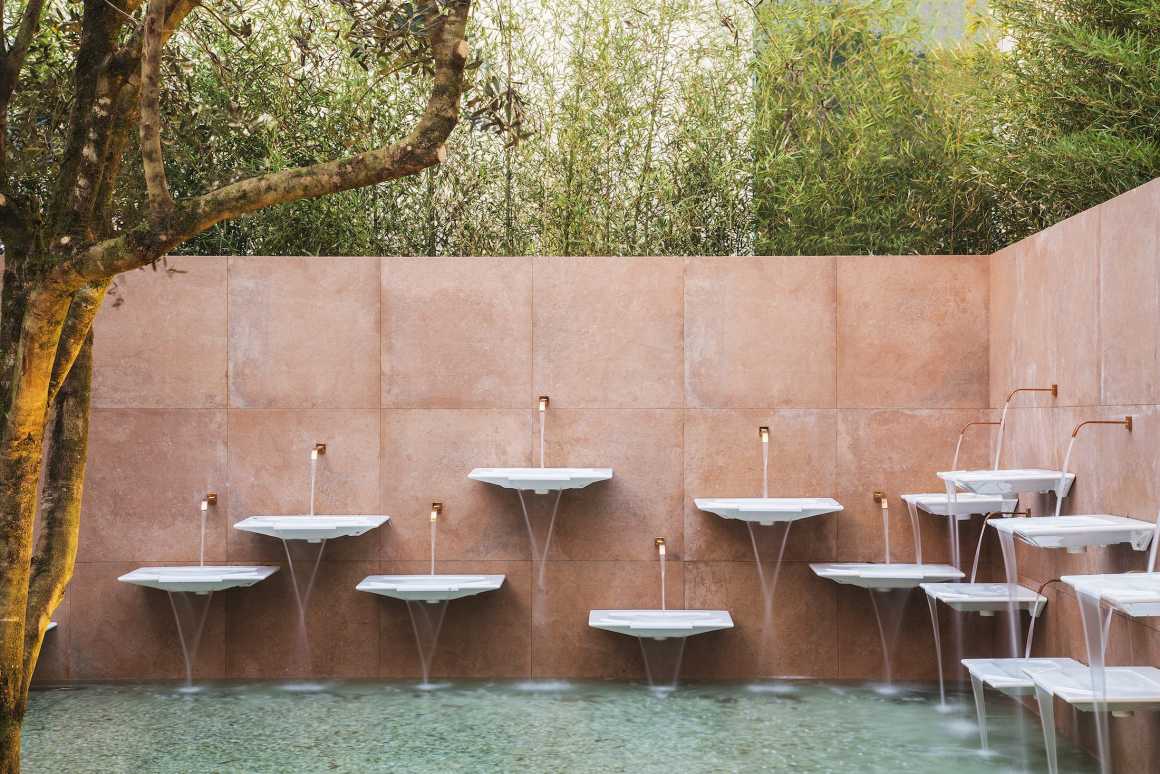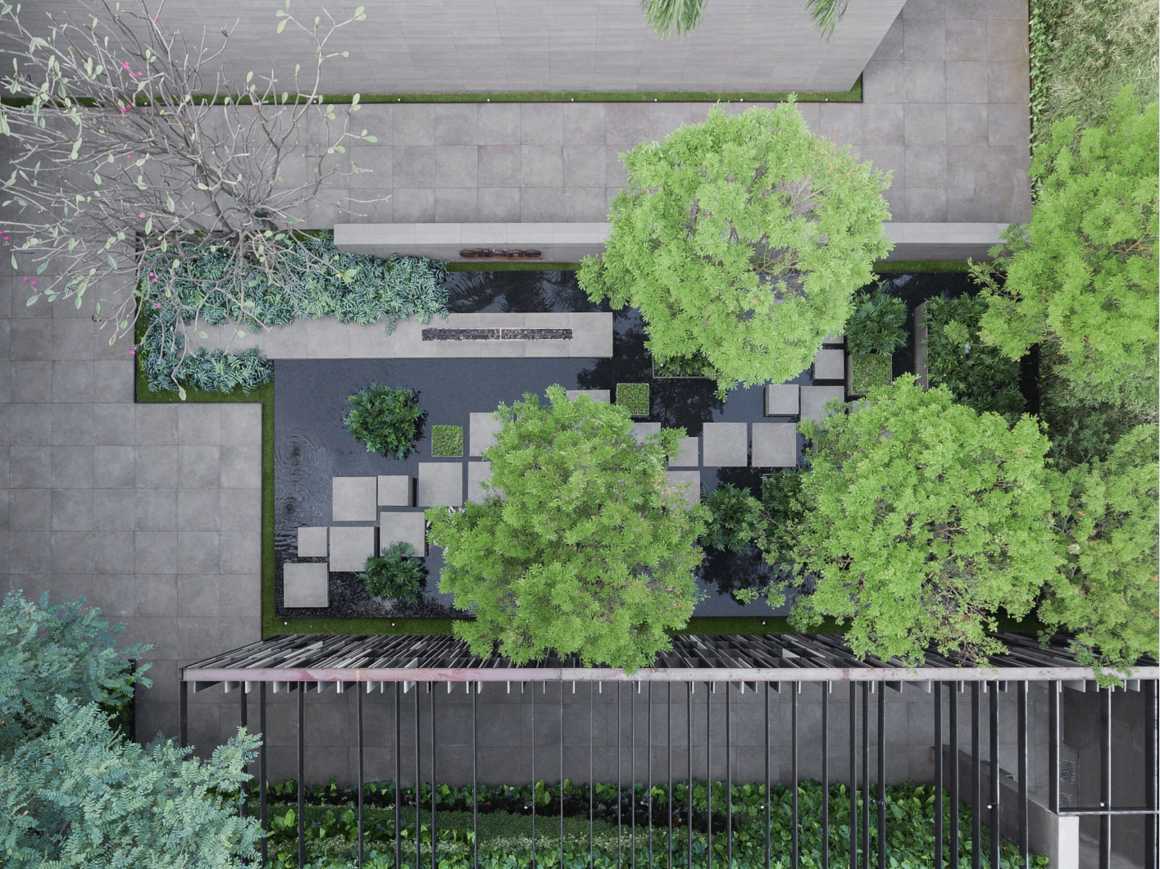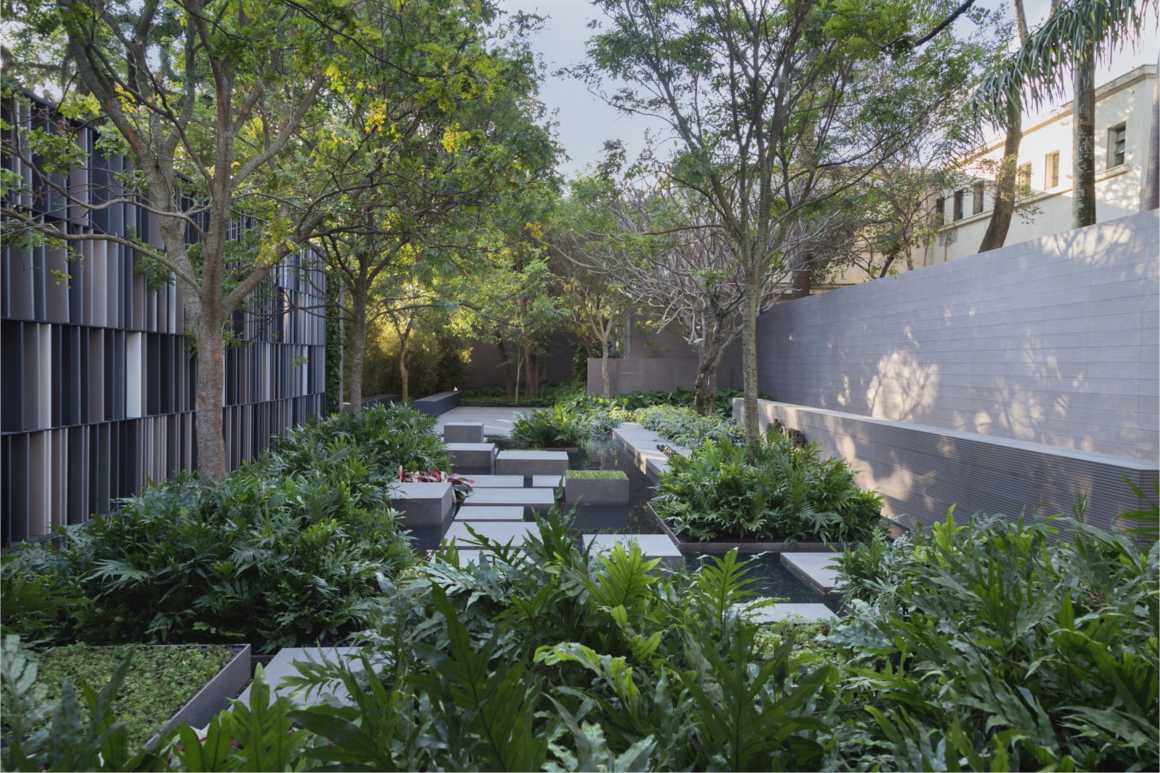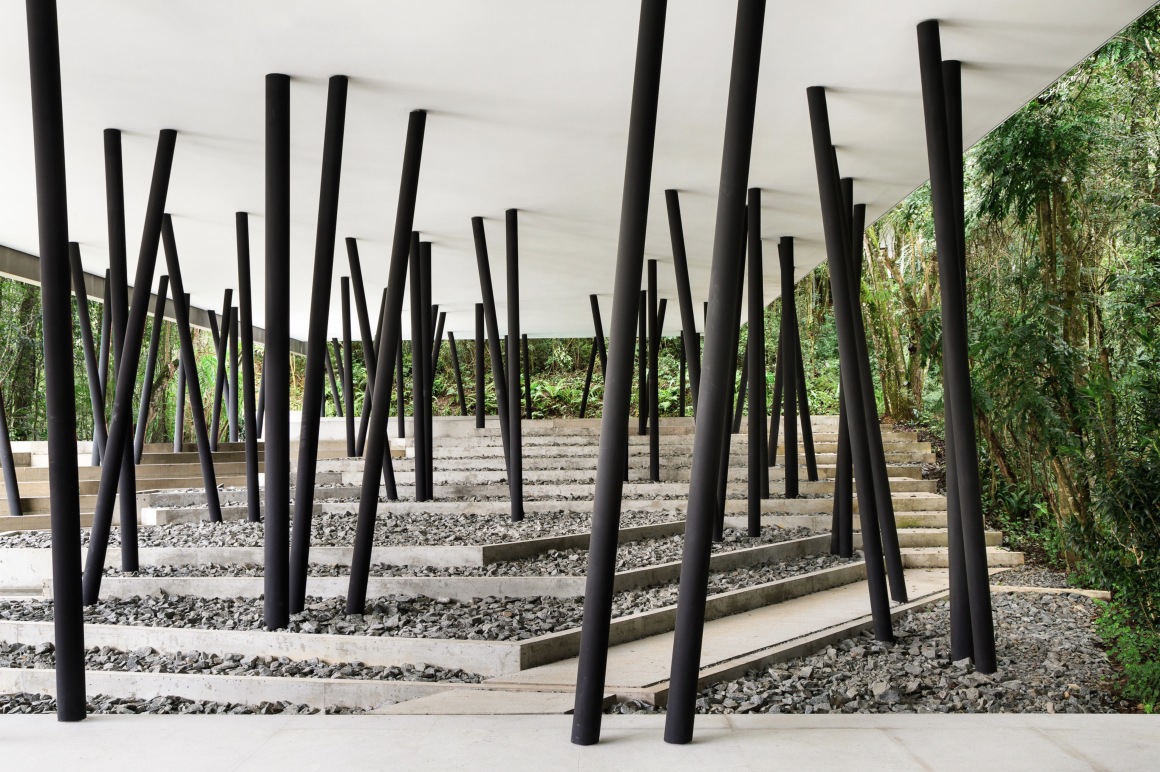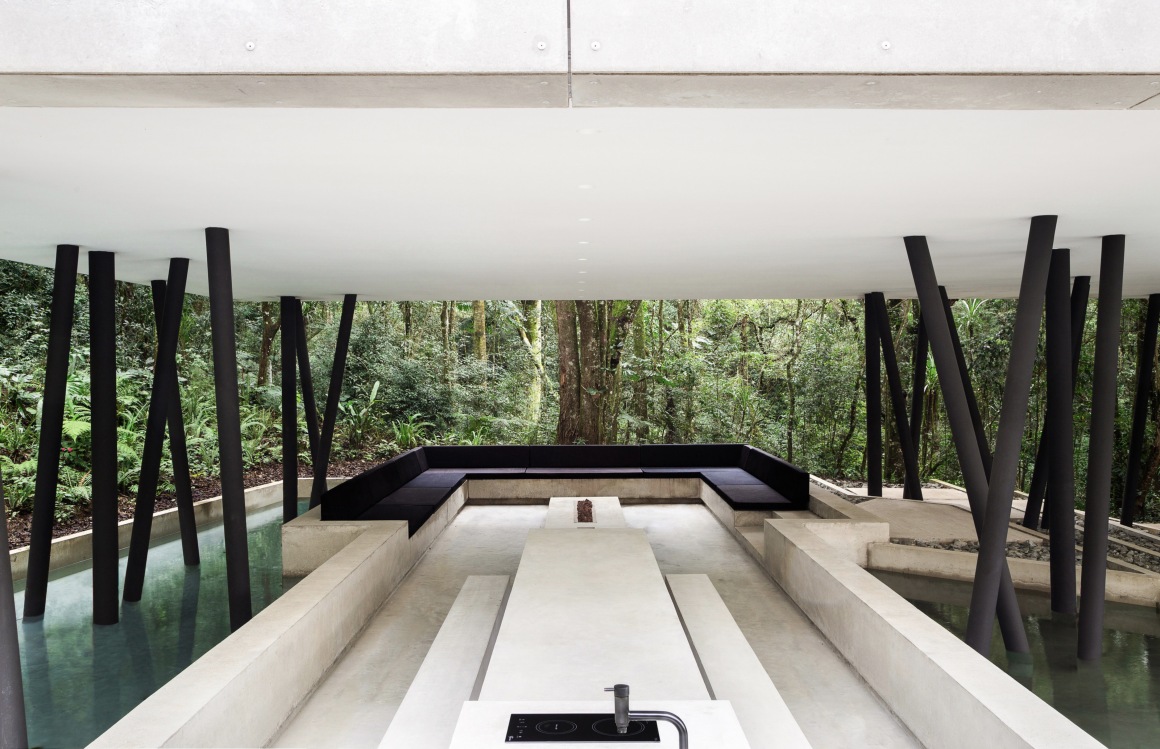 Q:Casa Cor 2017这个项目令人印象深刻,非常有趣,想知道您为什么会在庭院的设计中加入淋浴喷头、洗手盆这些日常中的生活用品?您想带来什么样的场所体验?
Casa Cor 2017 is an impressive and interesting project. We would like to know why you chose to add daily necessities such as shower heads and wash basins to the garden design, what kind of space experience do you want to bring?
这是我应一家卫浴制造商(DECA)的邀请,在CasaCor的建筑和景观展上展示他们的产品。
对于景观设计师来说,淋浴、水龙头、水槽和卫生间等,这些都是设计中的非常元素,所以我们通过旋转瀑布淋浴的方式,将其改造成了一个水幕,重新定义了这些产品,水龙头和水槽由此变成了景观中的常见元素-喷泉。其实这个项目最大的挑战是如何利用花园中间的厕所,当然最后我们把它改造成了muxarabi。
I was invited by a sanitary ware manufacturer (DECA) to exhibit their products in this architectural and landscaping show called CasaCor.
For a landscape architect, elements such as showers, taps, sinks, and toilets are unusual in our designs. So we try to reframe these products by turning waterfall showers, creating a water curtain. Taps and sinks were turned into fountains. And the big challenge was the use of the toilet in the middle of the garden. So we ended up turning a lot of toilets into a kind of muxarabi.
Q:您有参与过大尺度的空间设计吗?您未来还会有哪些尝试?
Have you ever participated in any large-scale design project? What are your future attempts?
我们有设计过几个大尺度的项目,但都是一些私人项目,比如酒店、公寓等。我也希望有机会能参与实现一个大规模的公共项目,一个不仅仅是惠及少数人,而是能造福于广大社区,改善一个地区的生活质量的项目。
We have several large projects, but all private projects, such as hotels, condominiums, among others of this type. But I have a big dream of realizing a grand public project where it can benefit not only a few people, but a large community, where we can bring about an improvement in the quality of life of a region.
▼圣保罗企业园区设计 Empreendimento Fibra Expert – MEET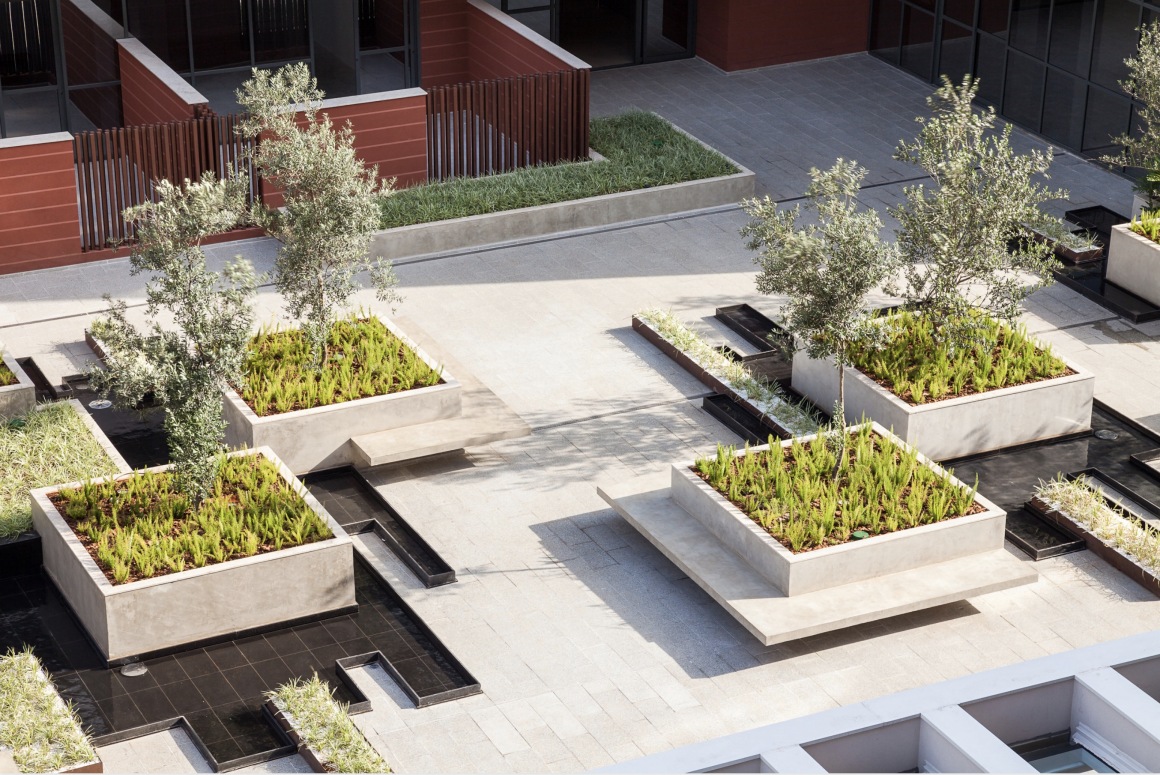 感谢HANAZAKI对本次采访的深度配合!  Thanks to HANAZAKI for their cooperation in this interview.
更多 Read more about:HANAZAKI