本文由 Batlleiroig 授权mooool发表,欢迎转发,禁止以mooool编辑版本转载。
Thanks Batlleiroig for authorizing the publication of the project on mooool, Text description provided by Batlleiroig.
Batlleiroig:Ocellets公园的城市化项目创建了一个各方向可自由流通(特别是在通往La Florida健康中心的多个入口)的娱乐、消遣和休息的空间。该设计解决方案旨在为Pubilla case和La Florida社区创造一个参考点,为Castellers等流行活动的庆祝创建一个新的中心空间。
Batlleiroig:The urbanization project of the Parc dels Ocellets proposes a recreation, diversion and resting space, allowing free circulation in all directions, with special attention in the multiple accesses to the Health Center of La Florida. The proposed solution aims to create a reference point in the neighborhoods of Pubilla Cases and La Florida, obtaining a new central space for the celebration of popular activities such as Castellers.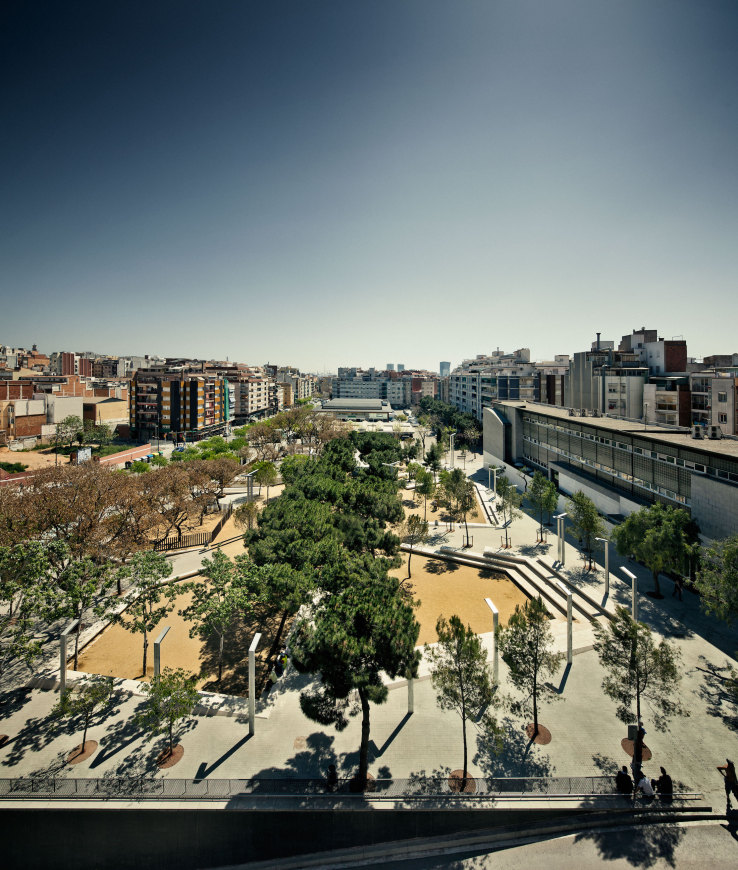 由此形成了这样一个足以容纳相当数量人的大尺度透明中心空间,除此之外,人们还可以坐在周边一系列配备了不同的功能用途的台阶上。这些台阶除了作为不同的功能空间之外,还有助于以最简单的方式解决中央广场和周边街道之间的高差。
As a result, a diaphanous central space of large dimensions is generated, big enough to accommodate a considerable number of people. In addition, a series of surrounding spaces are equipped for different uses and they enable people to sit in variable steps. These stairs help solving the diffrenet height between the central square and the perimetral streets in a simple way, besides generating different spaces.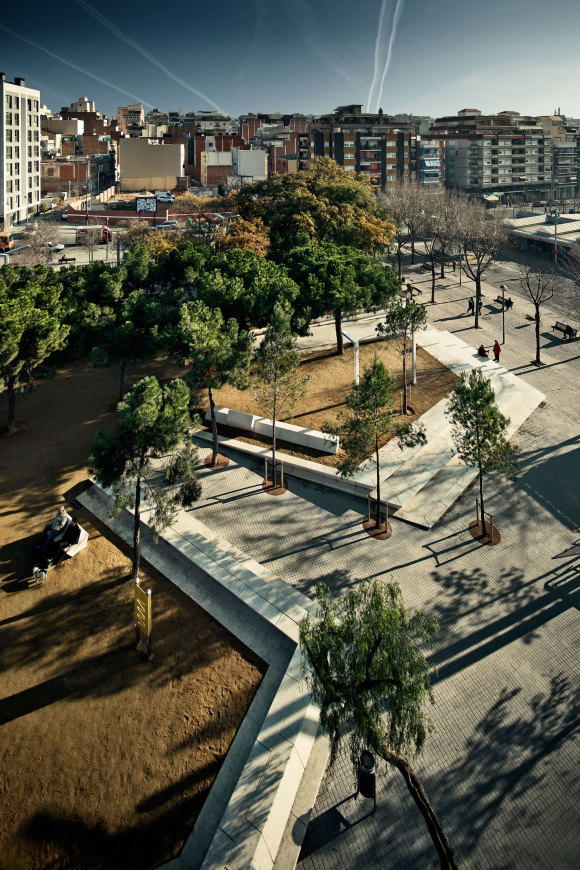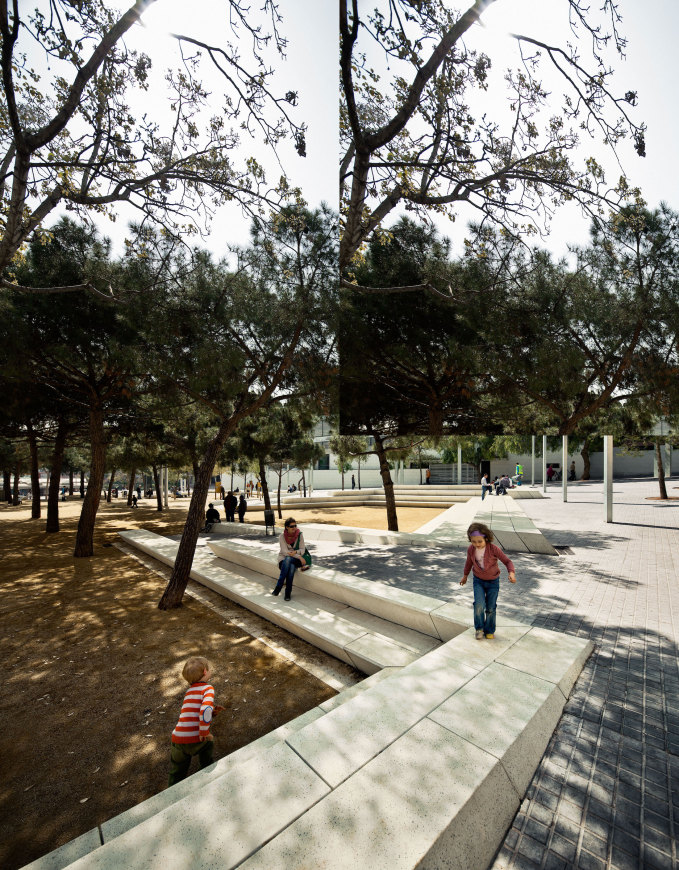 Ocellets中央广场由一个纵斜率为1.5%、横斜率为1%的恒定水平面构成。这一设计可使得雨水通过重力作用进行收集循环利用,广场上没有任何障碍物,也旨在避免形成水坑和过多的径流。其他休息区、宠物活动区和操场的坡度变化较大,其中最大的坡度为2.8%。
The central square of Parque dels Ocellets is formed by a horizontal plane of a constant longitudinal slope of 1.5% and a cross slope of 1%. This allows the water to circulate by gravity and without obstacles, avoiding the formation of puddles and excessive runoff. The other resting areas, dog areas and playgrounds have variable slopes, with a maximum of 2.8% in the most unfavorable case.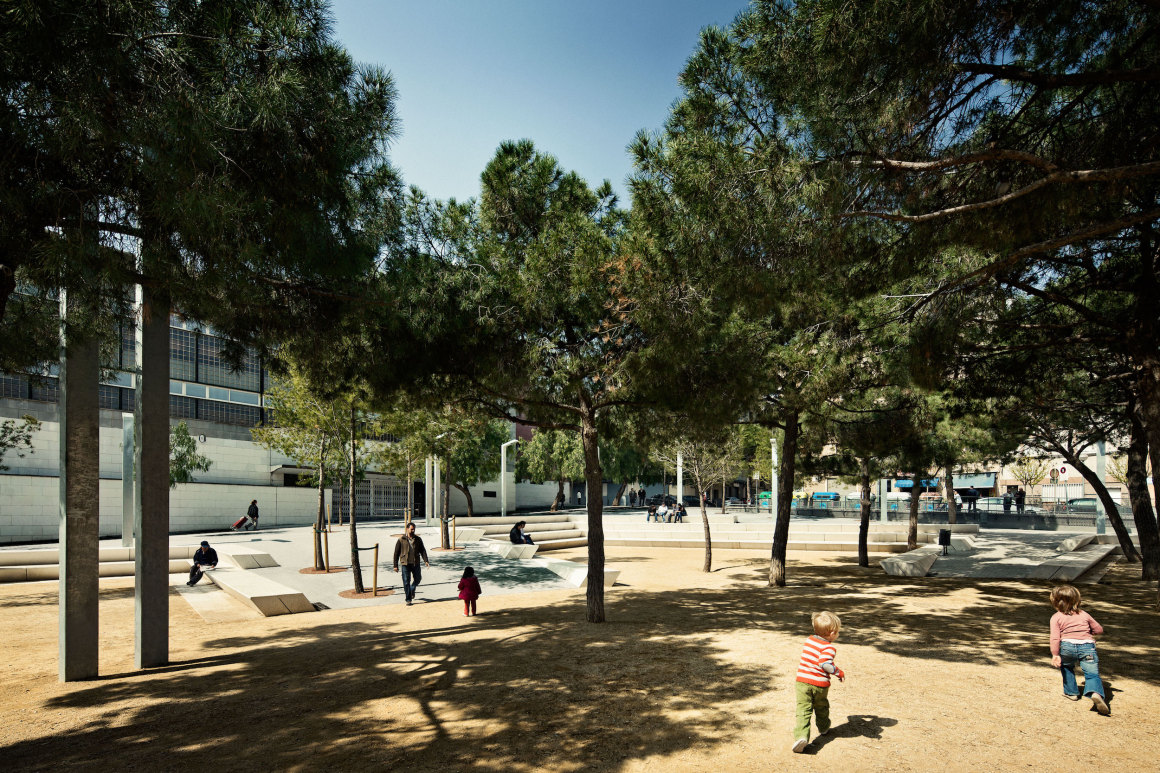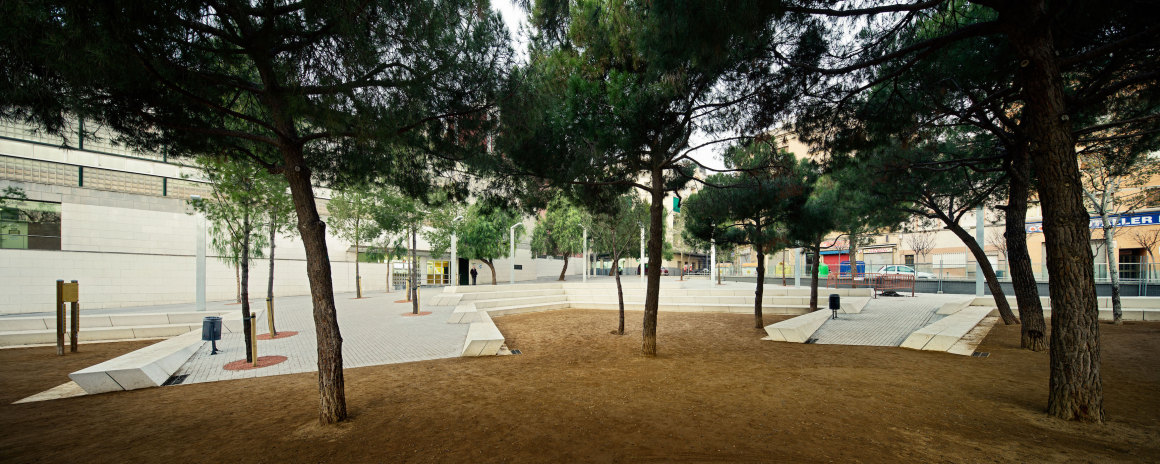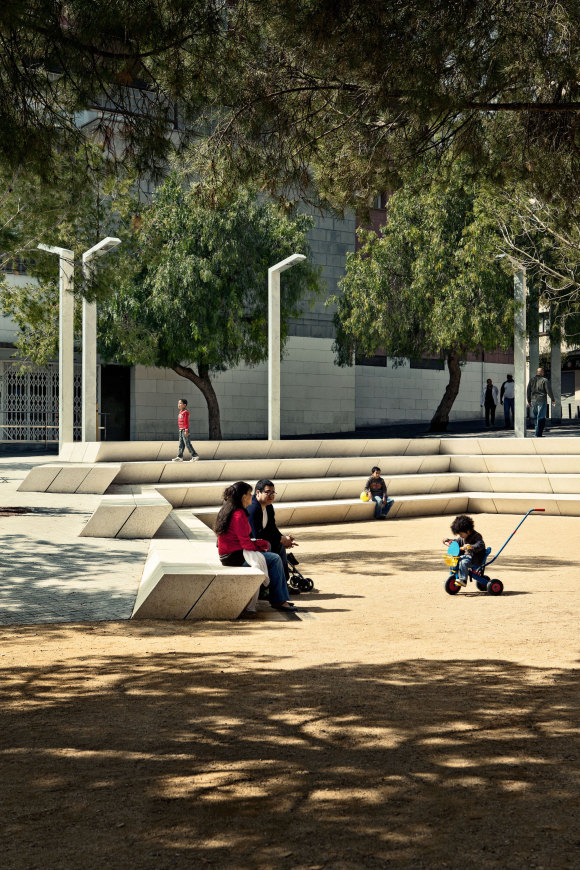 中心广场和周边街道之间由不同的斜坡连接。所有斜坡坡度小于6%,少于10米的斜坡坡度不超过8%,均符合无障碍设计标准。
The connection between the central square and the perimeter streets is made by ramps with variable slopes. All of them comply with the accessibility code with slopes lower than 6% or slopes not exceeding 8% for lengths of less than 10 meters.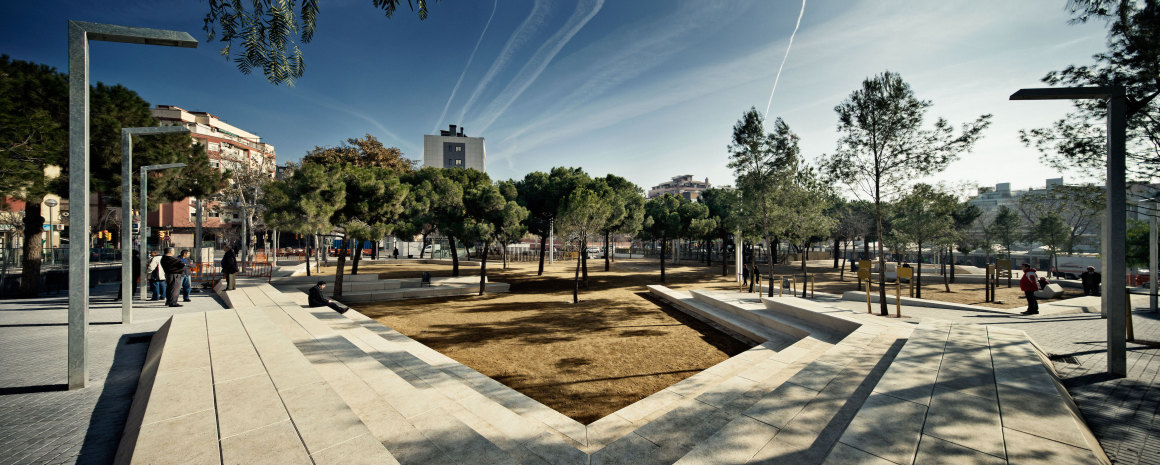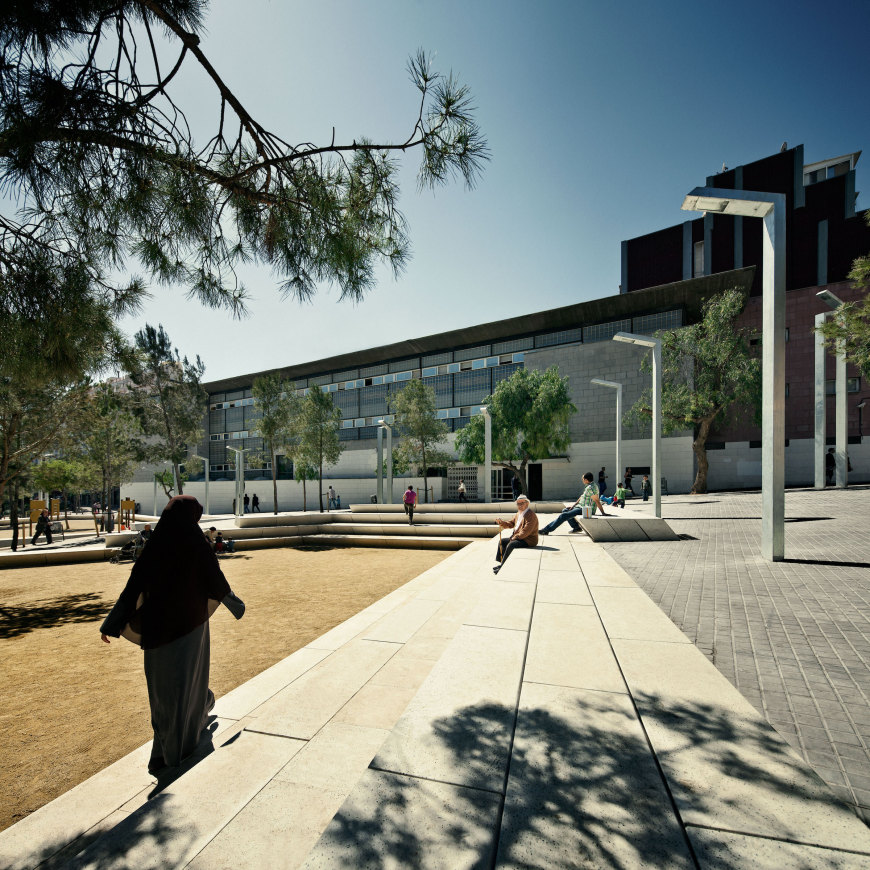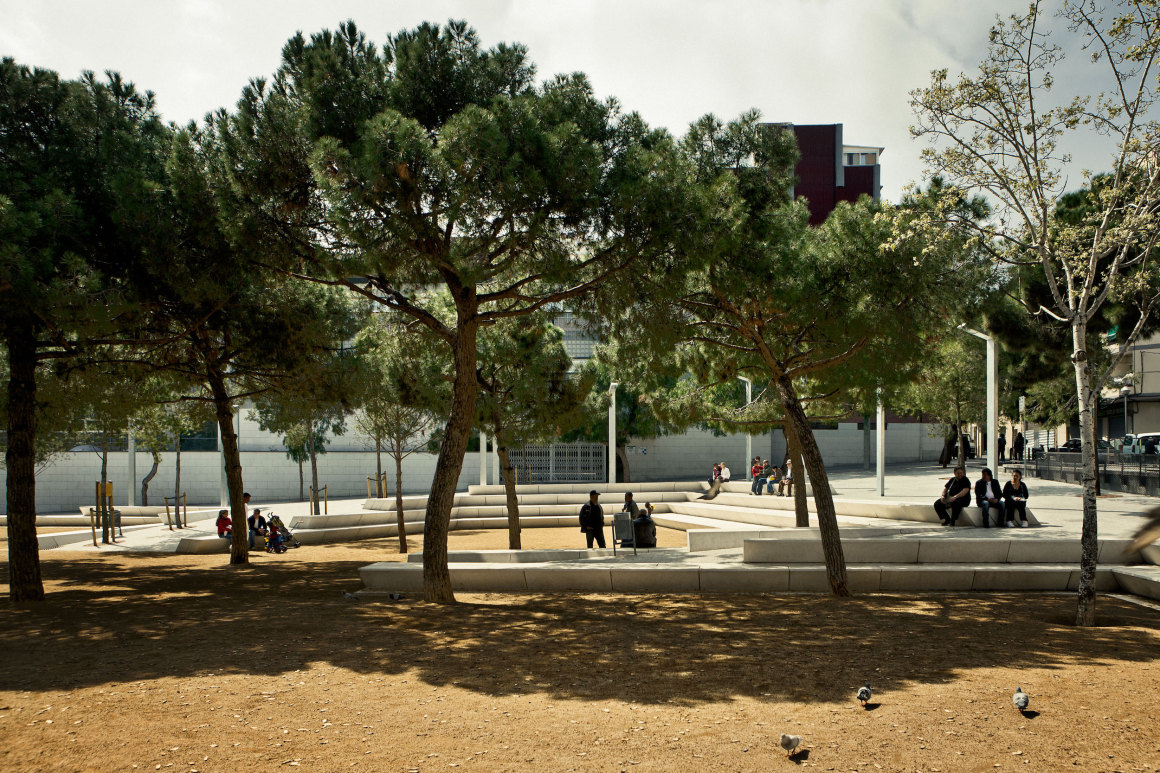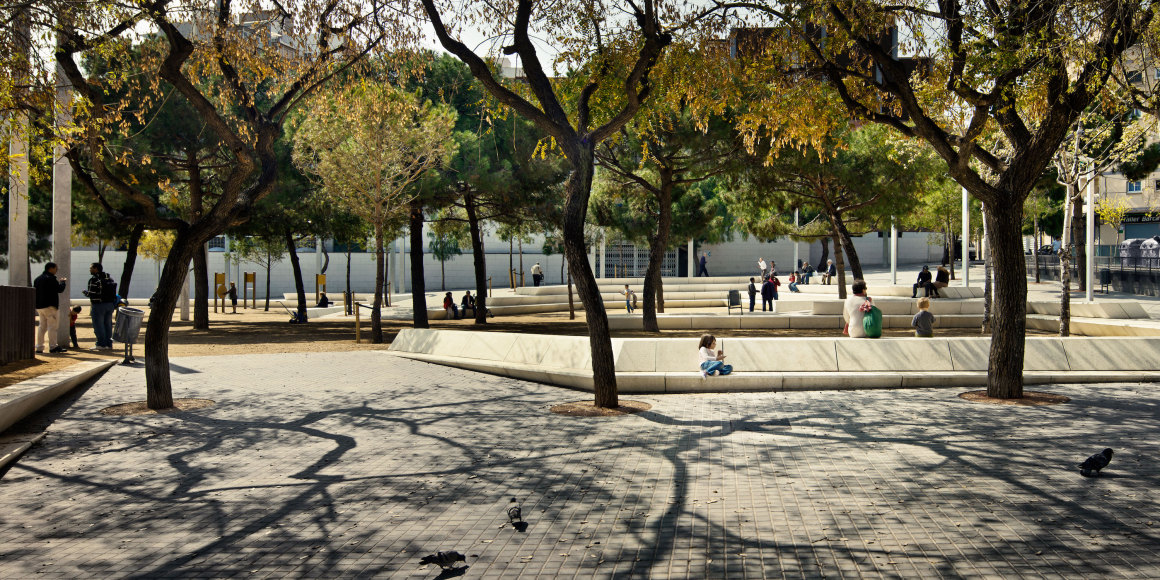 项目名称:Ocellets Park
完成:2011年
设计面积:4456平方米
项目地点:巴塞罗那Llobregat医院
景观设计公司:BATLLE I ROIG ARQUITECTURA
公司网址: www.batlleiroig.com
联系邮箱:communication@batlleiroig.com
首席设计师:Enric Batlle, Joan Roig
设计团队:Iván Sánchez, Javier Zaldívar, Lourdes Romeo – Architects;Dolors Feu – Agricultural Engineer & Landscape Architect
客户:Regesa
合作:TAU-ICESA
图片资料:©Jordi Surroca
Project name: Ocellets Park
Completion Year: 2011
Design Area: 4.456 sq.m
Project location: Hospitalet de Llobregat, Barcelona
Landscape Firm: BATLLE I ROIG ARQUITECTURA
Website: www.batlleiroig.com
Contact e-mail: communication@batlleiroig.com
Lead Architects: Enric Batlle, Joan Roig
Design Team: Iván Sánchez, Javier Zaldívar, Lourdes Romeo – Architects
Dolors Feu – Agricultural Engineer & Landscape Architect
Clients: Regesa
Collaborators: TAU-ICESA