本文由 KWY.studio 授权mooool发表,欢迎转发,禁止以mooool编辑版本转载。
Thanks KWY.studio for authorizing the publication of the project on mooool, Text description provided by KWY.studio.
KWY.studio:阿鲁拉沙漠X活动是Desert X和阿鲁拉皇家委员会共同组织的,举办地位于古老的绿洲阿鲁拉沙漠,是沙特阿拉伯第一个现场类型的展览。该展览灵感来自阿鲁拉的特色景观和历史,也是沙特阿拉伯及其周边地区的艺术家们与之前加州沙漠X活动艺术家之间展开的跨文化交流。
KWY.studio:Desert X AlUla! is organised collaboratively by Desert X and the Royal Commission of AlUla – it takes place in the desert of AlUla, an ancient oasis, and it is the first site-responsive exhibition of its kind in Saudi Arabia. The exhibition is a cross-cultural dialogue between artists from Saudi Arabia and surrounding region and artists from previous iterations of Desert X in California, taking its cues from the extraordinary landscape and historical significance of AlUla.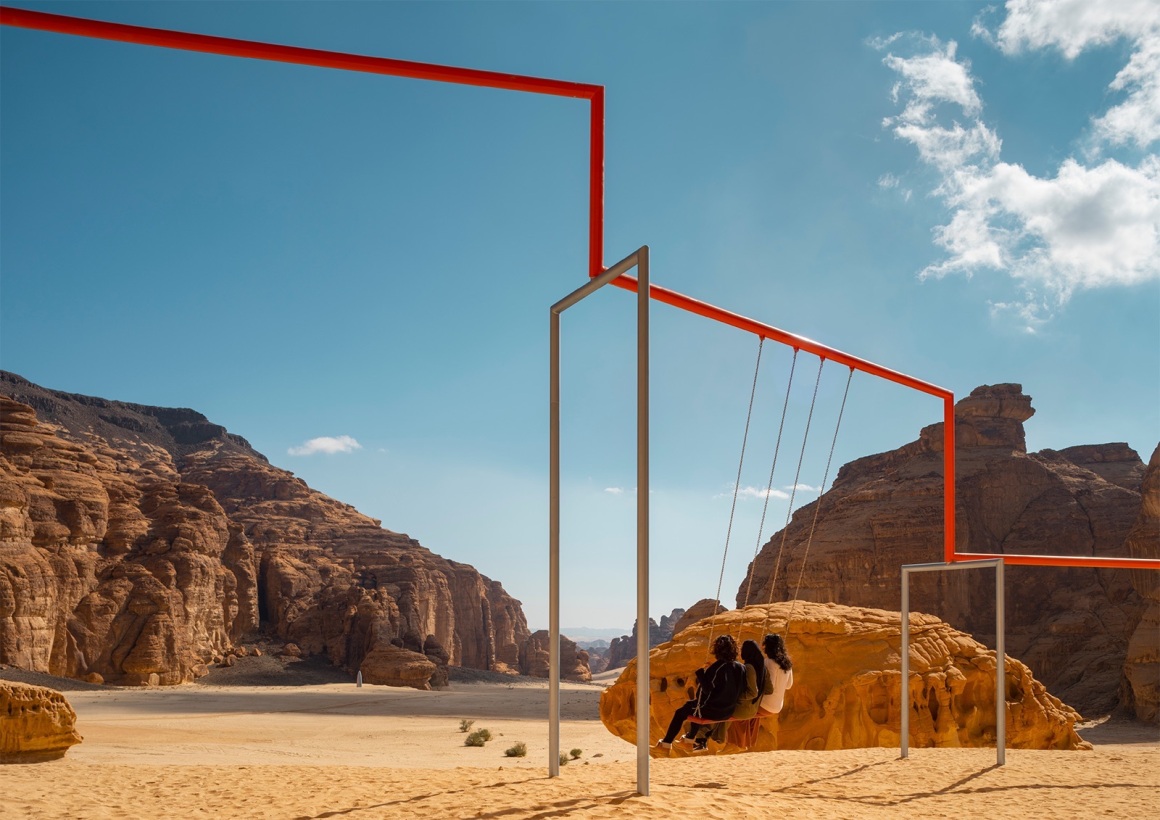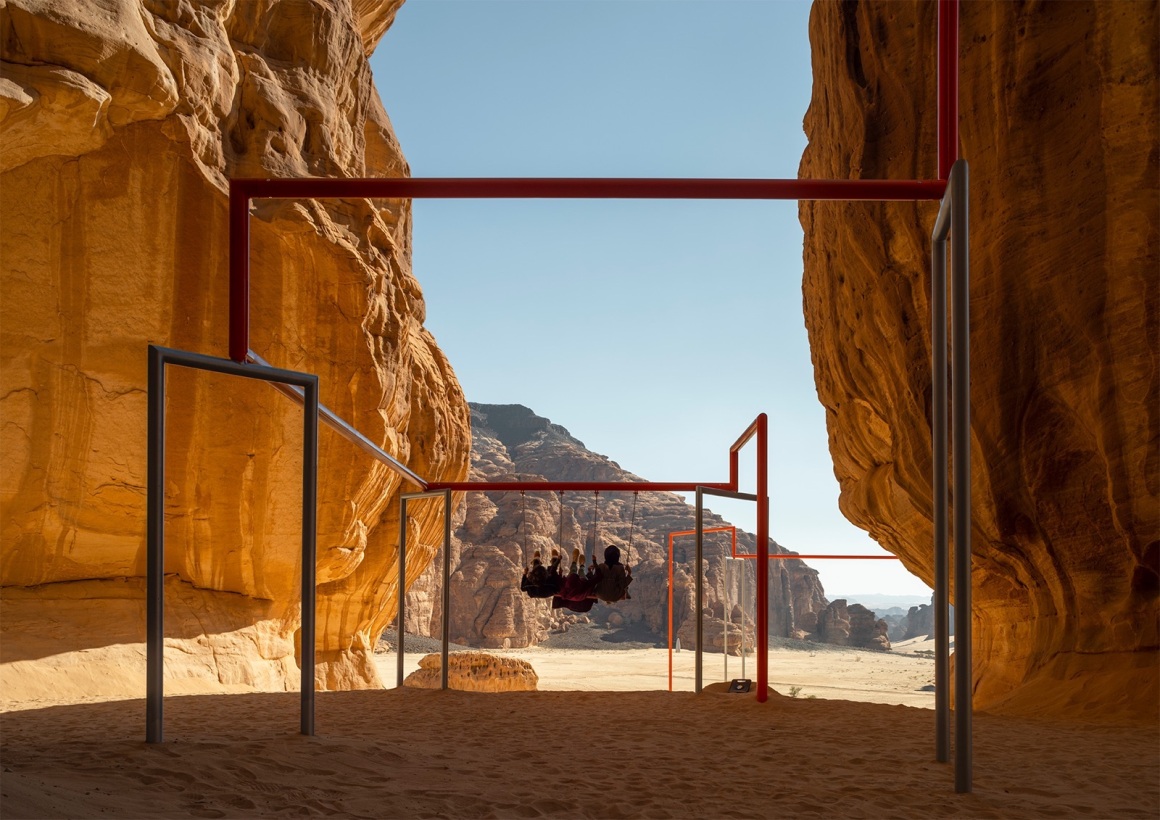 项目中的多样化秋千装置首次安装是在2017年的泰特现代美术馆大厅,此后也陆续在多个不同的场地环境中安装展出,例如韩国的非军事区和丹麦的沃尔丁堡。秋千上的座位配色设计代表了正在展出的国家的货币颜色。未来,这项艺术装置将随着橙色的持续增长和新添加的秋千融入到更广阔的世界中。
First installed at the Tate Modern Turbine Hall in 2017, various One Two Three Swing! site-specific installations continue to be created on a great diversity of contexts, such as the DMZ area in South Korea and Vordingborg in Denmark. The colour-scheme of the swing seats represents the specific colours of the national currency of the country in which the swings are installed. Over time, the work will evolve as the orange support continues to grow and new swings are added into the wider world.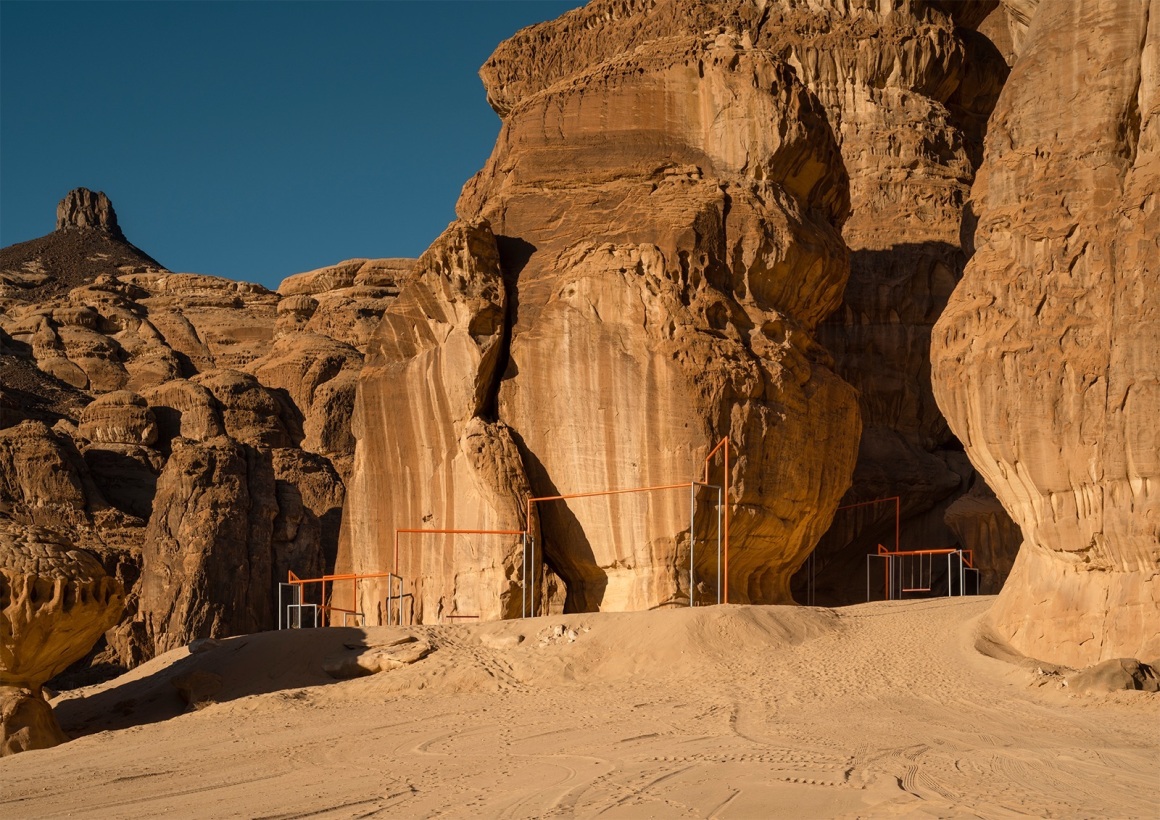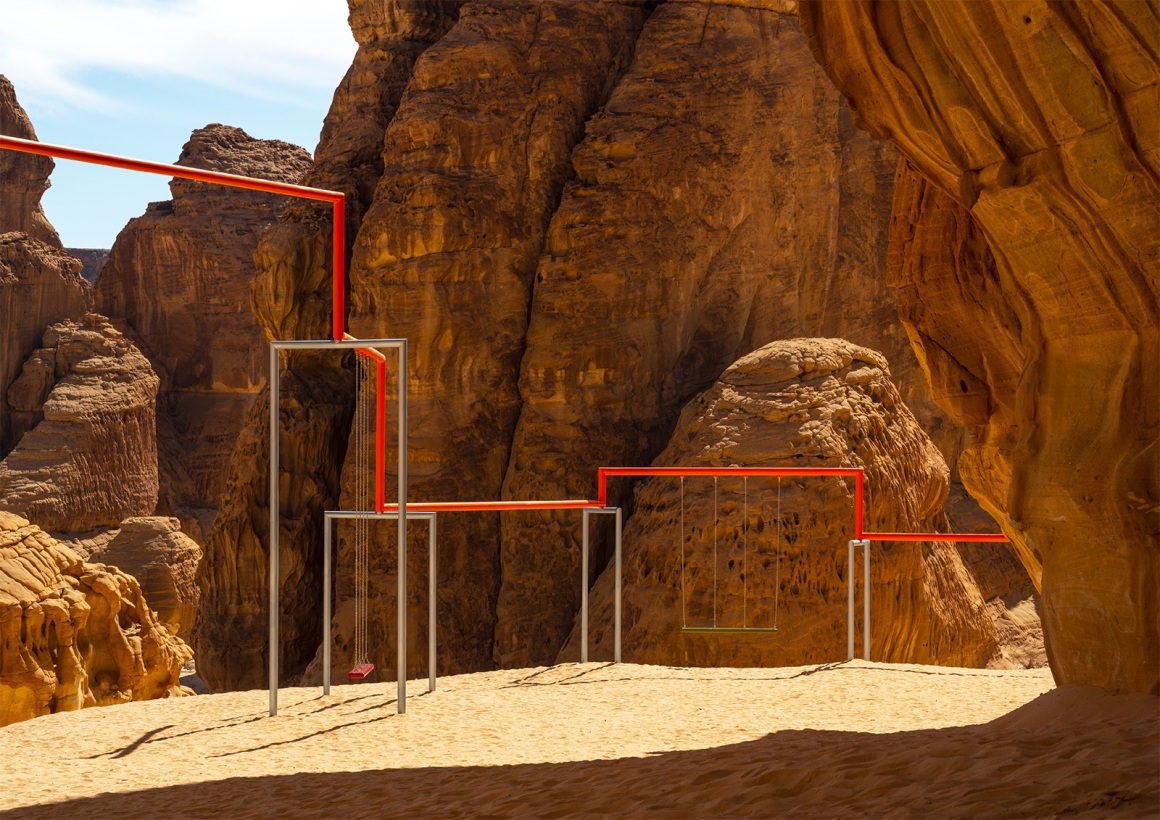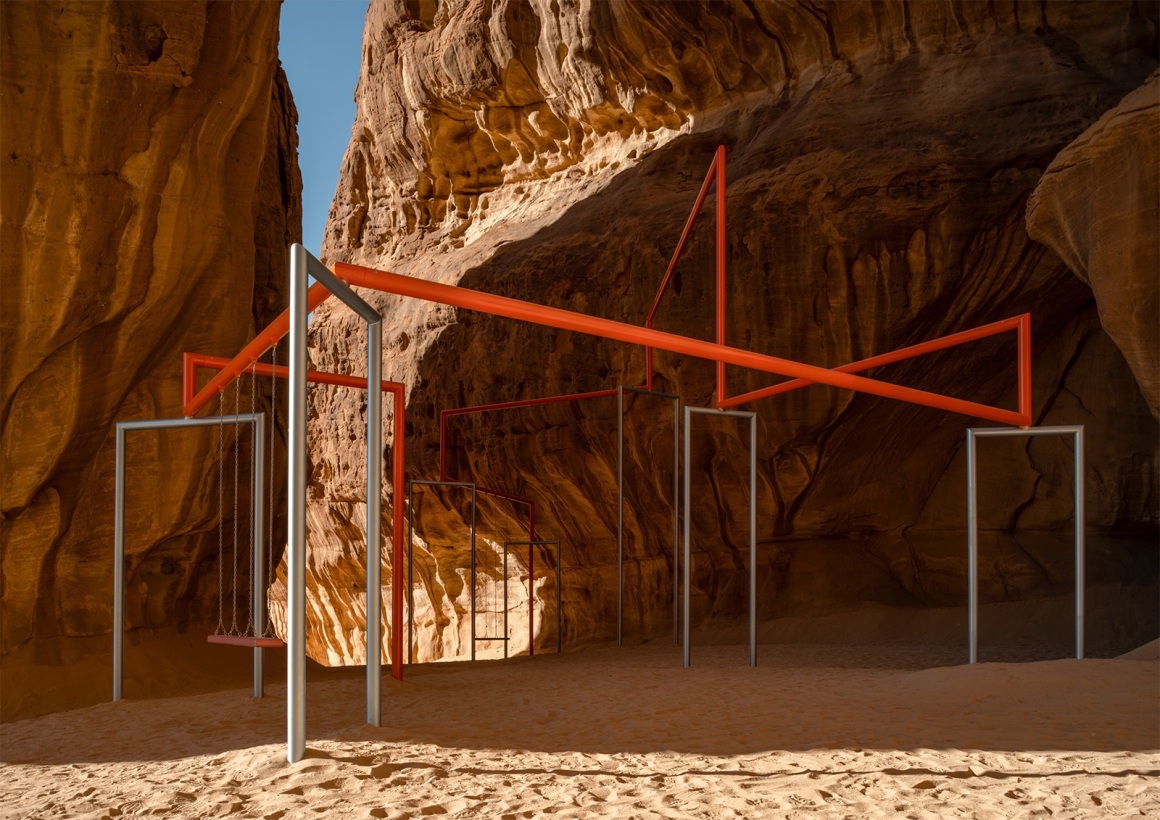 由各组件结合制成的三座位秋千根据之字形橙色线布局排列,吸引游客参与活动,激活集体互动的变革潜力,旨在改变当代社会和政治的停滞状态。秋千的使用者必须通过协调的推拉动作来充分利用重力,才能让每个人都能一起荡起来。在这种全身心投入游戏的时候,群体运动的潜能就被释放了出来。由此可见,我们可以通过互相影响来改变集体行为,那么,放眼全球,我们其实也可以利用团结一致的行动作为社会和政治变革的手段来改变当前全球形势。
Comprised of modular, three-seat swing sets supported by a zig-zagging orange line, One Two Three Swing! challenges contemporary social and political stasis by inviting visitors to activate the transformative potential of collective
movement. The swing's users must utilize the forces of gravity through coordinated pushing and pulling, until e
veryone moves into full swing together. In this playful moment, the potential energy of group movement is released. Perhaps it is possible, then, to shift the impact of our collective action to achieve a different kind of global momentum and utilize the act of swinging together as a means of social and political transformation.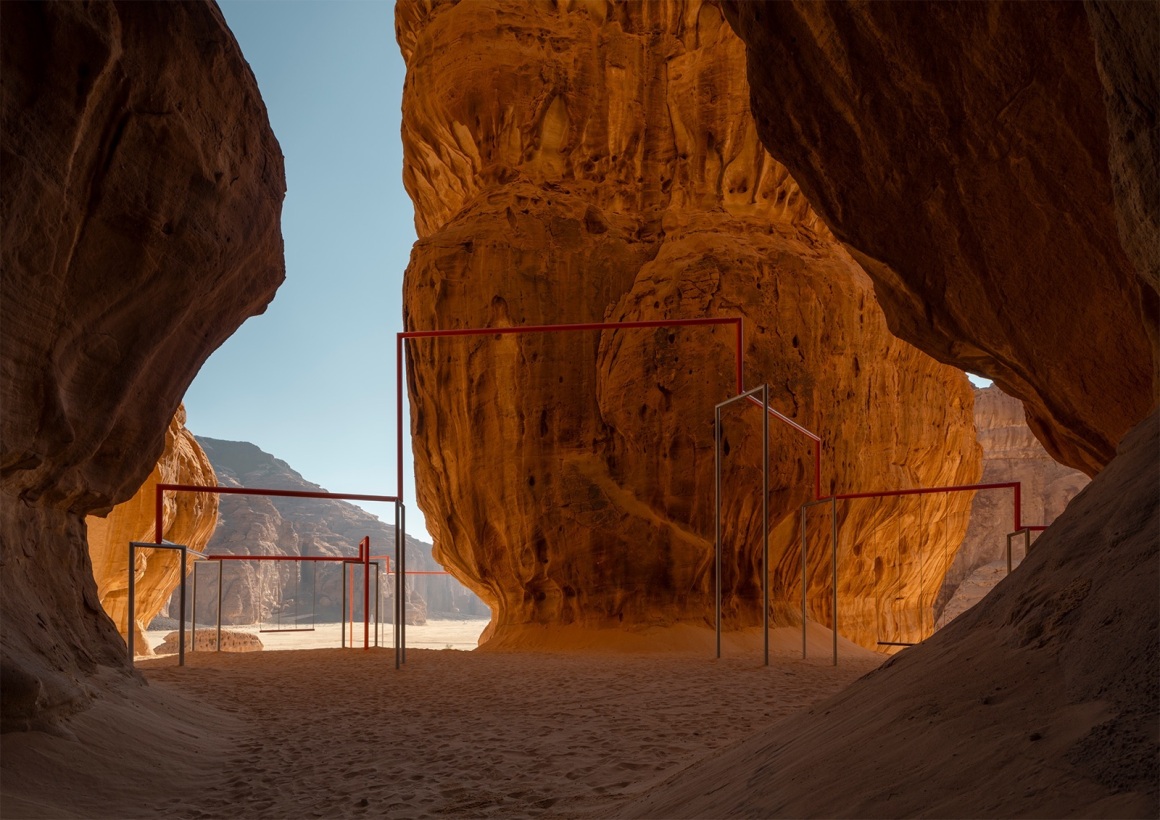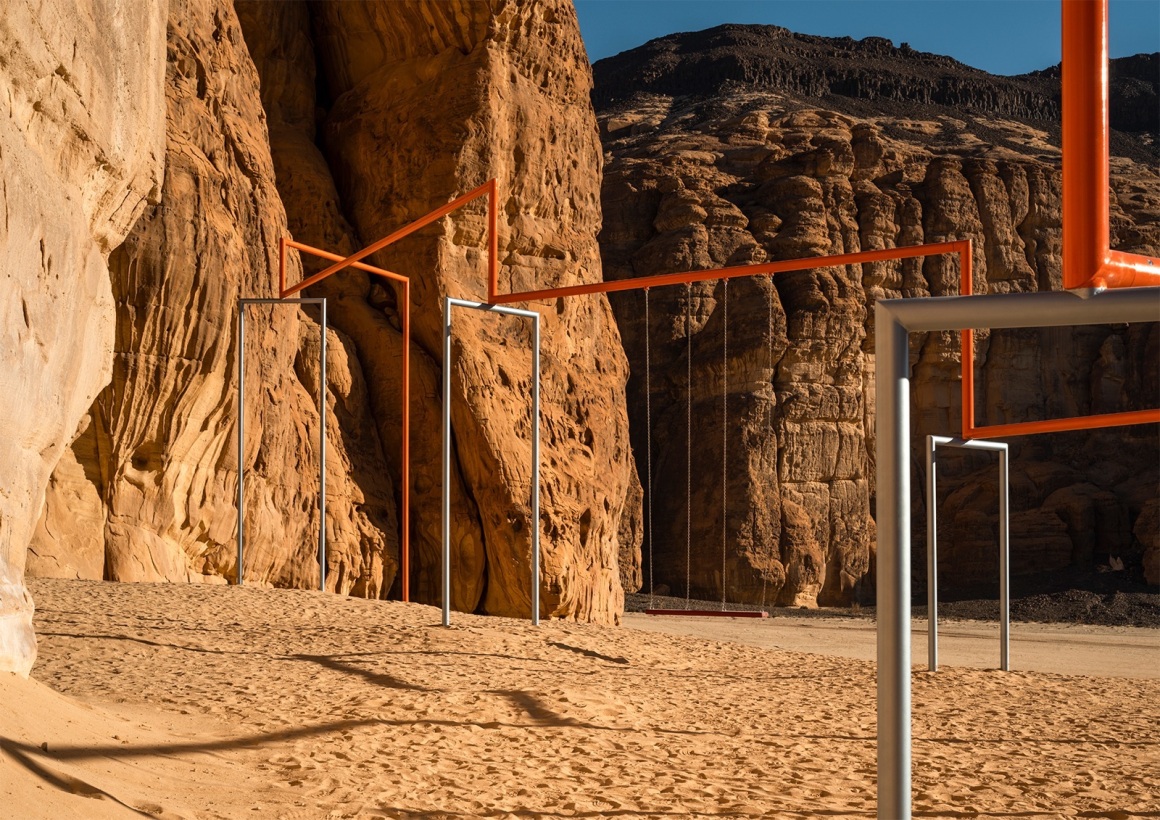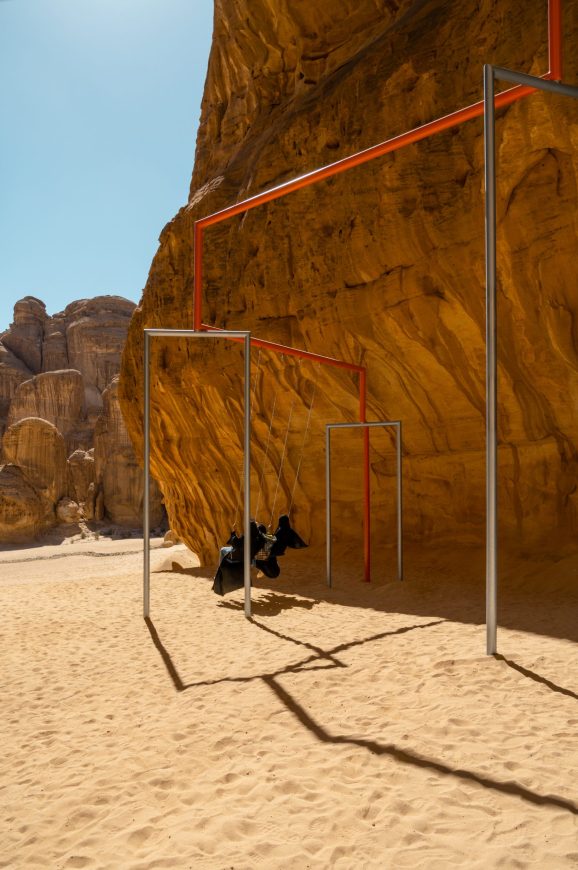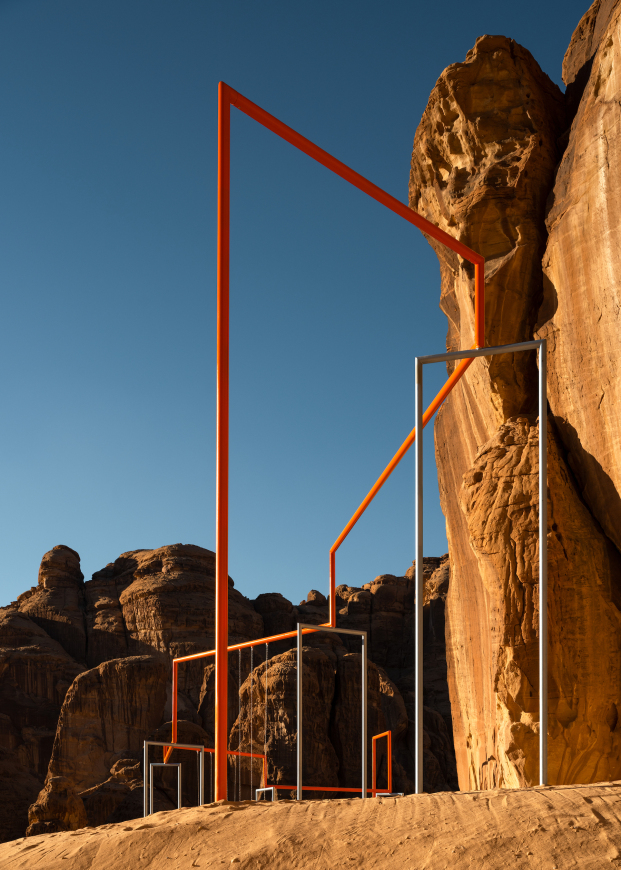 项目名称:一二三,荡秋千!
完成:2020年
项目地点:沙特阿拉伯阿鲁拉
艺术家:SUPERFLEX
开发与制作:KWY.studio
网址:www.kwy.studio
联系邮箱:info@kwy.studio
首席设计师:Ricardo Gomes
设计团队:Ricardo Gomes, Sara Calem, Fergus Laidlaw, Anna Panourgia, Ali Talaat
客户:沙特阿拉伯阿鲁拉皇家委员会
管理:Aecom
施工:Nesma
工程:Betar
景观:Baldios
制造:Nupergo
摄影:Lance Gerber
摄影师网址:https://www.lancegerberstudio.com/
Project name: One Two Three Swing!
Completion Year: 2020
Project location: AlUla, Saudi Arabia
Artist: SUPERFLEX
Development and Production: KWY.studio
Website: www.kwy.studio
Contact e-mail: info@kwy.studio
Lead Architect: Ricardo Gomes
Design Team: Ricardo Gomes, Sara Cálem, Fergus Laidlaw, Anna Panourgia, Ali Talaat
Clients: Royal Commission for AlUla, AlUla, Saudi Arabia
Management: Aecom
Contractor: Nesma
Engineering: Betar
Landscape: Baldios
Fabrication: Nupergo
Photography: Lance Gerber
Photographer's website: https://www.lancegerberstudio.com/
更多 Read more about: KWY.studio