本文由 奥雅设计 L&A design 授权mooool发表,欢迎转发,禁止以mooool编辑版本转载。
Thanks L&A design for authorizing the publication of the project on mooool. Text description provided by L&A design.
奥雅 :御景湖山项目位于重庆渝北区北部新城礼嘉组团,毗邻嘉陵江。重庆地理位置得天独厚,四周被青山环抱,双江在此汇流,就像一处都市桃源。这让奥雅设计想到了陶渊明的《桃花源记》,可是如何在一个人造的艺术空间中表现自然的意境,设计师们认为不是简单的元素引入,也不是复杂的场景组合。
L&A:The project is located in Chongqing, adjacent to Jialing river. Chongqing enjoys a unique geographical position and is surrounded by green hills. Two rivers meet here like an urban paradise. This reminds L&A of the story " peach blossoms" of Tao Yuanming . However, designers think that it is neither a simple introduction of elements nor a complex combination of scenes to express the natural artistic conception in an artificial artistic space.
人居环境内必有人文的艺术本底,而自然应当是在适合的艺术容器中生根发芽、茁壮成长的植株。所以奥雅设计将场地打造成了一座重庆的"艺术自然"示范区,艺术溪谷公园。
在设计上,自然并非草木山水,而是意境与灵魂。要做的不是引入自然,而是表达自然。所以设计师谨慎的选择了山,谷,湖三个自然元素,以此表达世外桃源的意境。
There must be a humanistic artistic background in the human settlement environment, and nature should be a plant that takes root and thrives in a suitable artistic container. Therefore, L&A design has turned the site into a demonstration area of Chongqing's " artistic nature" and an artistic valley park.
In terms of design, nature is not vegetation landscape, but artistic conception and soul. What needs to be done is not to introduce nature, but to express nature. Therefore, the designer carefully chose the three natural elements of mountain, valley and lake to express the artistic conception of Xanadu.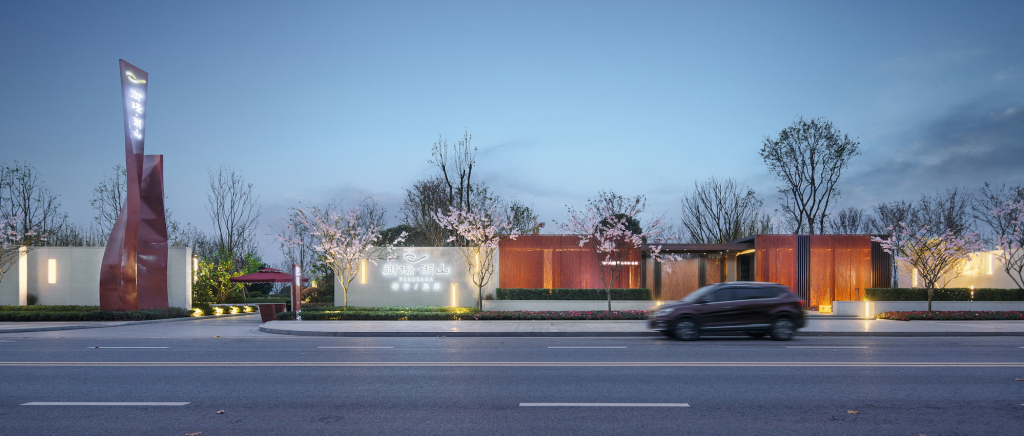 整个场地的意境营造上就是按照世外桃源的发现之旅展开的,所以如山的门头旁有一片开花的树阵,进入门头,然后通过一扇窄门出来,是一片紫荆树林的花镜。
奥雅设计选择了溪流和树林两种自然元素,将一个溪林公园展现给重庆。整个入口的景墙象征崖壁,有星点灯光,入口门头的图案采用树林的剪影,一片崖壁上生长的树林,给人以力量感。
The artistic conception of the whole site was built according to the trip to discover Xanadu. Therefore, beside the mountain gate, there was a flowering tree array that entered the gate and then came out through a narrow gate. It was a flower mirror of a redbud forest.
L&A chose two natural elements, stream and forest, to present a stream forest park to Chongqing. The view wall at the entrance symbolizes the cliff wall, with star lights. the pattern at the entrance gate adopts the silhouette of a forest. a forest growing on the cliff wall gives people a sense of strength.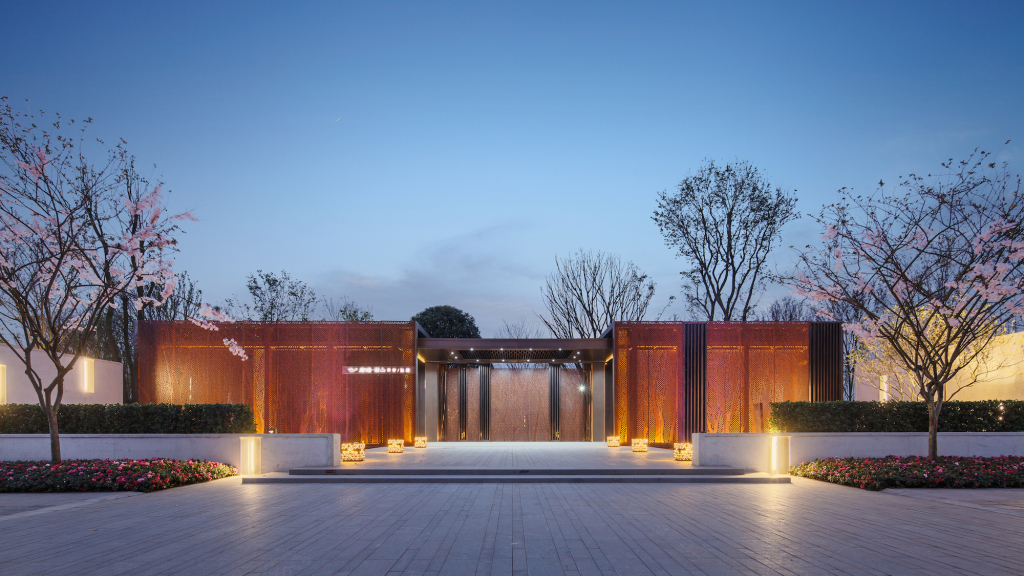 溪流是蜿蜒的,通向远方;开花的树林是深邃的、诗意的。
所以景观设计上,将道路比拟溪流的浅水池沿着地形蜿蜒向远方而去。在花从中栽种树木,着重打造出开花的树林的深邃与诗意。
The stream is winding and leads to the distance. Flowering trees are profound and poetic.
Therefore, the road is similar to the shallow pool of a stream and meanders along the terrain to the distance in landscape design. Trees are planted in flowers, focusing on creating the profoundness and poetry of flowering trees.
最后穿过旷奥的溪林,豁然开朗,一座宁静的湖面倒影着建筑,步入建筑大堂,沿着窗外的景色而下,连廊的尽头是砾石庭院,游览者可以坐在旁边的沙发上发呆,当然你也可以走近踱步、思考。
池底采用不规则的石块拼接铺装,形态自由而独具诗意的肌理透过浅水映在水面上,与建筑产生质感上的对比与互衬。
Finally through the open creek forest, suddenly enlightened, a serene lake reflected the building, walked into the building lobby, along the scenery outside the window, the end of the corridor is gravel courtyard, visitors can sit on the sofa beside staring blankly, of course, you can also approach pacing and thinking.
The bottom of the pond is paved with irregular stones. The free and poetic texture of the shape is reflected on the water surface through shallow water, creating texture contrast and mutual lining with the building.
御璟湖山的整体设计,通过赋予场所独有的内涵与意境,打造出了属于重庆的都市桃花源。在打造过程中,将原场地的功能唤醒,并通过巧妙的设计,营造出丰富的空间体验。
The overall design of project has created the urban peach blossom source belonging to Chongqing by endowing the place with unique connotation and artistic conception. In the process of building, the original site's function will be awakened, and through clever design, a rich space experience will be created.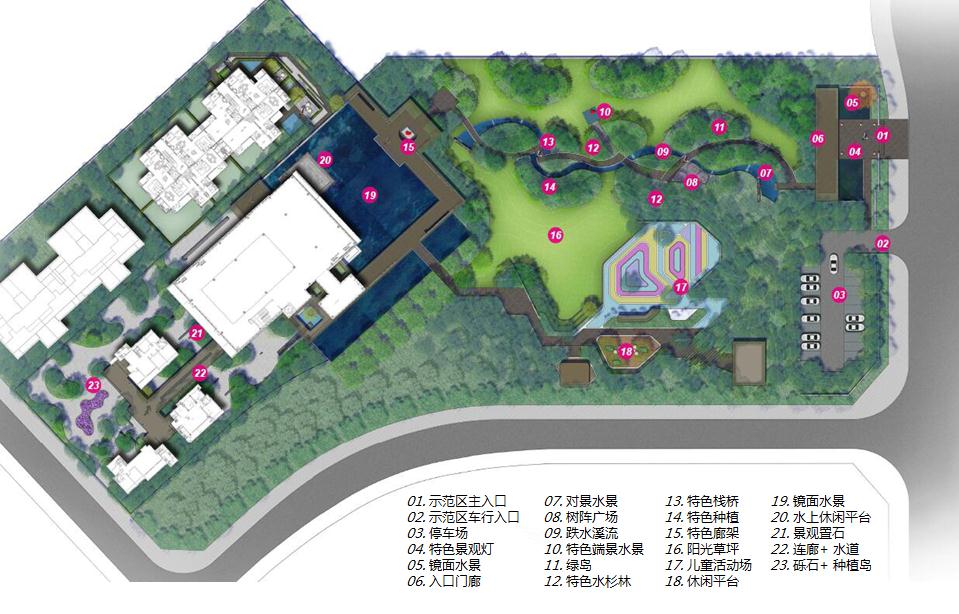 总平面图  Master Plan
项目名称:华宇旭辉-御景湖山
项目地点:重庆市两江新区礼嘉组团
项目类型:项目示范区
景观面积:大区119612㎡;示范区19000㎡
容积率:2.72
绿化率:30%
客户名称:重庆华宇盛泰房地产开发有限公司
景观设计:深圳奥雅设计股份有限公司
建筑设计:上海天华建筑设计有限公司
室内设计:(售楼部)深圳市尚石设计有限公司
(样板房)杭州孙文建筑装饰设计有限公司
设计时间:2017.10
Project name: PANORAMA
Location: Chongqing,China
Project type: Municipal public buildings
Landscape area: whole:119612㎡;demonstration area:19000㎡
Plot ratio: 2.72
Greening rate: 30 %
Client: Chongqing huayu
Landscape design: L&A Shenzhen
Architectural design: Shanghai Tianhua
Interior design: ( sales department ) Shenzhen Shangshi design
( sample room ) S.U.N Design
Design time: 2017.10
更多 Read more about:奥雅