这是一个重新设计整条街的艺术项目。这条街与其他街道共用同一块地面材料,但情况却大不相同。这是一个公园,使它在这个地区独一无二。在袖珍公园里,不同高度的柱子上的轻雕塑在嬉戏。它们中的一些落在地上,成为临时的座位或可以玩耍的元素。它们就像笔记一样,勾勒和强化了这个地方的特色,使史泰尔加坦在白天和晚上都成为一个特殊的口袋公园。
This is an art project that resulted in the redesign of the whole street. The street share the same ground material with the other streets, yet it is quite different. It is a park – that makes it unique in the area. Light Sculptures on poles of varying heights hover playfully in the pocket park. Some of them land on the ground and becomes temporary seating or elements to play with. They are like notes framing and enhanceing the site's character, making Stallgatan into a special pocket park in the daytime as well as in the evening.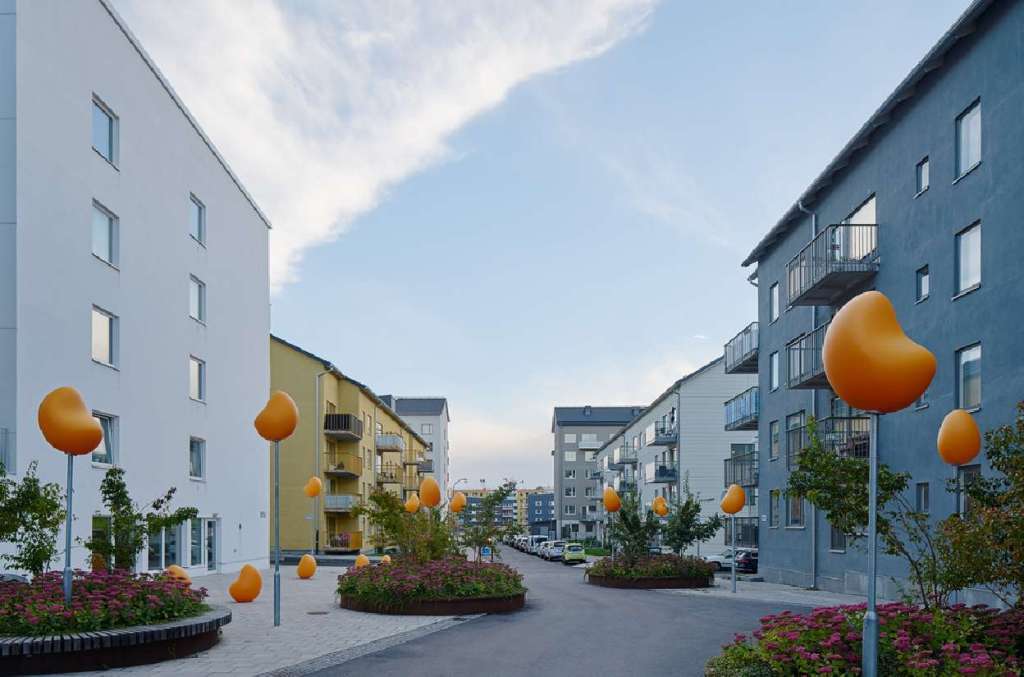 光雕塑
轻雕塑的形状相同,但高度不同,方向不同。这个形状让人联想到月亮减少或增加的相位,这取决于你从哪个方向观察雕刻灯。有的在柱子上,有的留在地面的混凝土地基上。它们由4-6毫米厚的玻璃纤维增强聚酯纤维制成,在其配色方案中闪闪发光。它是一种耐用的材料,和塑料船一样,但厚度更大。这些雕塑由丹·希尔·普拉斯特与照明公司Deltalux ab合作完成。
Light sculptures
The light sculptures are of the same shape but at different heights, twisted in different directions. The shape is reminiscent of the moon's phases, decreasing or increasing; depending from which direction you observe the sculptural lamp. Some are on the pole while others remain in the concrete foundations on the ground. They are made of 4-6 mm thick fiberglass reinforced polyester, shimmering in its color scheme. It is a durable material, the same as plastic boats but with greater thickness. The sculptures were made by Dan Hill Plast in collaboration with the lighting company Deltalux ab.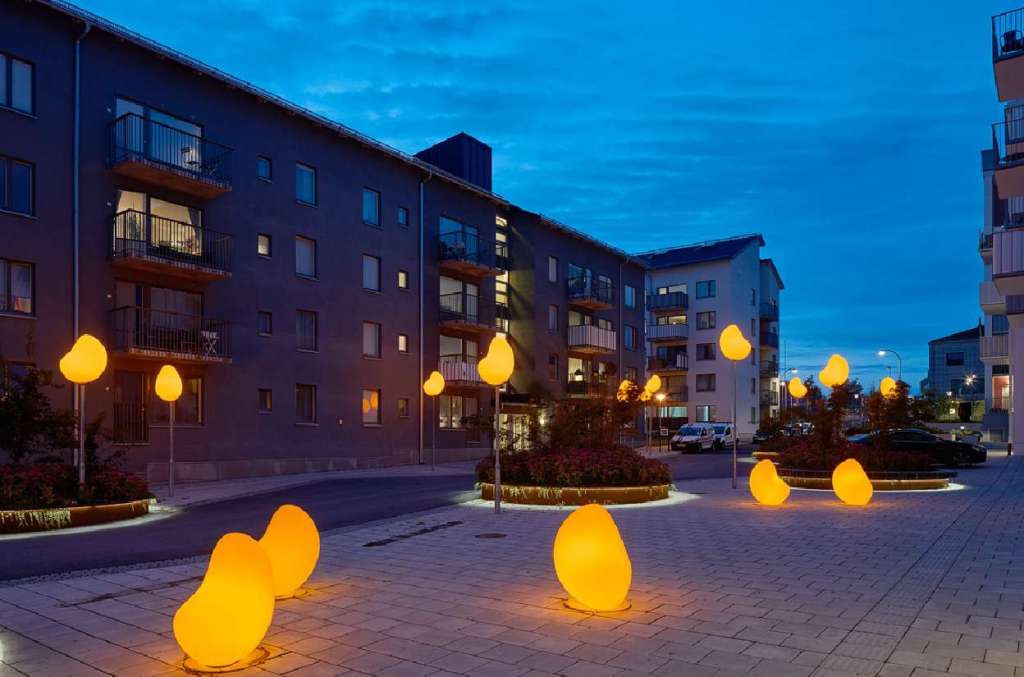 公园的岛屿
公园的岛屿包括在土地规划中。它们是公园的结构,它们的设计很重要。这些岛屿拥有一体化的照明系统,这有助于使这个地方变得明亮,并创造一个多样化的环境。这种材料是耐候性钢。该系统被称为"树岛"(Tree Isles),由Streelife分段交付,现场组装。这些树分散在表面,好像是自己种的。每棵树都矗立在一座小山上,仿佛它已经穿过了混凝土的表面。树木决定和处理房间和交通在现场。口袋公园是一个独特的住宅区街道。
Park Islands
The park islands were included in the planning of the ground. They are the park's structure and their design is important. The islands have integrated lighting that helps to lighten up the place and creating a diverse environment. The material is weather resistant steel. The system is called "Tree Isles", delivered from Streelife in segments and assembled on site. The trees are dispersed in the surface, as if they were self-seeded. Each tree stands on a small hill as if it had broken through the concrete surface. The trees define and dispose both the room and the traffic at the site. Pocket park is a unique residential street.
项目名称:口袋公园
项目类型:雕塑装置
位置:瑞典
完成年份:2013
设计公司:GORA
客户:Stora Ursvik AB
负责任的艺术家和景观设计师:莫妮卡·戈拉
参与交通解决方案的景观设计师:Johan Folkesson、GORA art & landscape
项目经理:安娜·萨林,桑德伯格市
艺术经理:Ann Magnusson, Ampublic。
投影场地:Marten Setterblad, Nyrens Arkitektkontor
背景作品:Ingvar Sorman, Ursvik KB
生产与组装:Fredrik Wettermark, Composite Design & Ake Forslin, Deltalux AB
光计算/光设计:Lars Bylund教授
摄影师:艾克逊·林德曼和英格瓦·索曼
由瑞典交通管理局提名2015年度建筑奖
Project name:Pocket Park
Project type: Sculptures
Location: Swedish
Completed: 2013
Design company: GORA
Client: Stora Ursvik AB
Responsible artist and landscape architect: Monika Gora
Participating landscape architect regarding traffic solutions: Johan Folkesson, GORA art & landscape
Project manager: Anna Sahlin, Sundbyberg Municipality
Art manager: Ann Magnusson, Ampublic
Projecting ground: Mårten Setterblad, Nyréns Arkitektkontor
Groundworks: Ingvar Sörman, Ursvik KB
Production and assembly: Fredrik Wettermark, Composite Design & Ake Forslin, Deltalux AB
Light Calculations / light design: prof. Lars Bylund
Photographer: Åke Eson Lindman & Ingvar Sörman
Nominated to the Architectual Award 2015 by the Swedish Transport Administration.
更多:GORA