本文由 Bona fide taller 授权mooool发表,欢迎转发,禁止以mooool编辑版本转载。
Thanks Bona fide taller for authorizing the publication of the project on mooool, Text description provided by Bona fide taller.
Bona fide taller:长廊位于河谷边的一个小镇的边缘,是对道路一侧的景观改造。陶瓷铺装沿着现有的石墙一路展开,当树木和道路穿过时,就会弯曲或者折叠。
Bona fide taller:Located on the edge of a small town by the river valley, the promenade is a landscape intervention on the side of a road, a ceramic carpet that has been unrolled following the line of the existing stone wall that holds the terrain. It creases and folds as the trees and roads cross its way, thus dragging stones of concrete in those backwaters, where one can sit.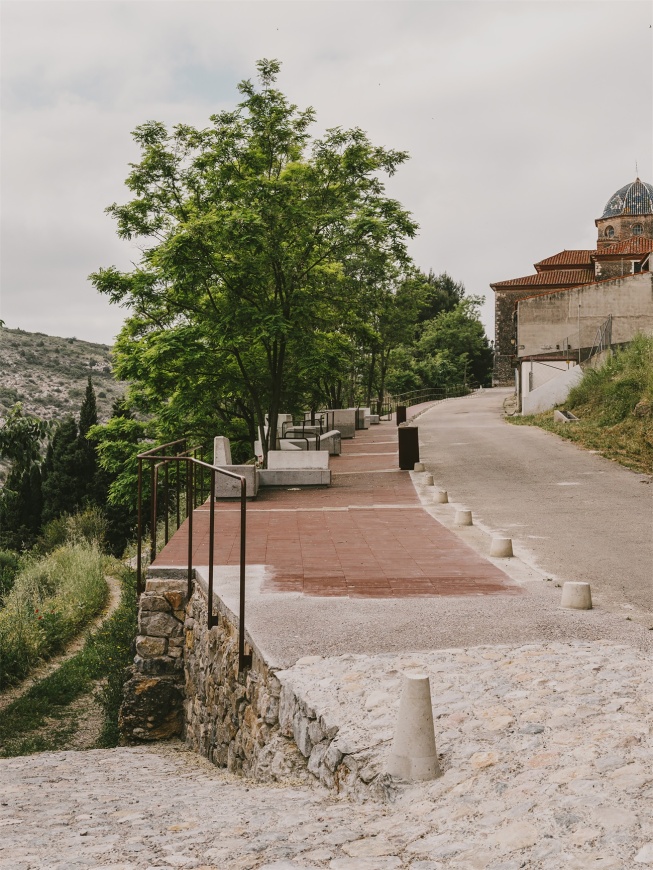 混凝土石凳表面被打磨得很光滑,为人们提供闲坐的空间。其他元素,如系柱,也沿着长廊展开。
The surfaces of these slabs polished as if they were exposed to the sanding of use. Other elements such as bollards lead the flow.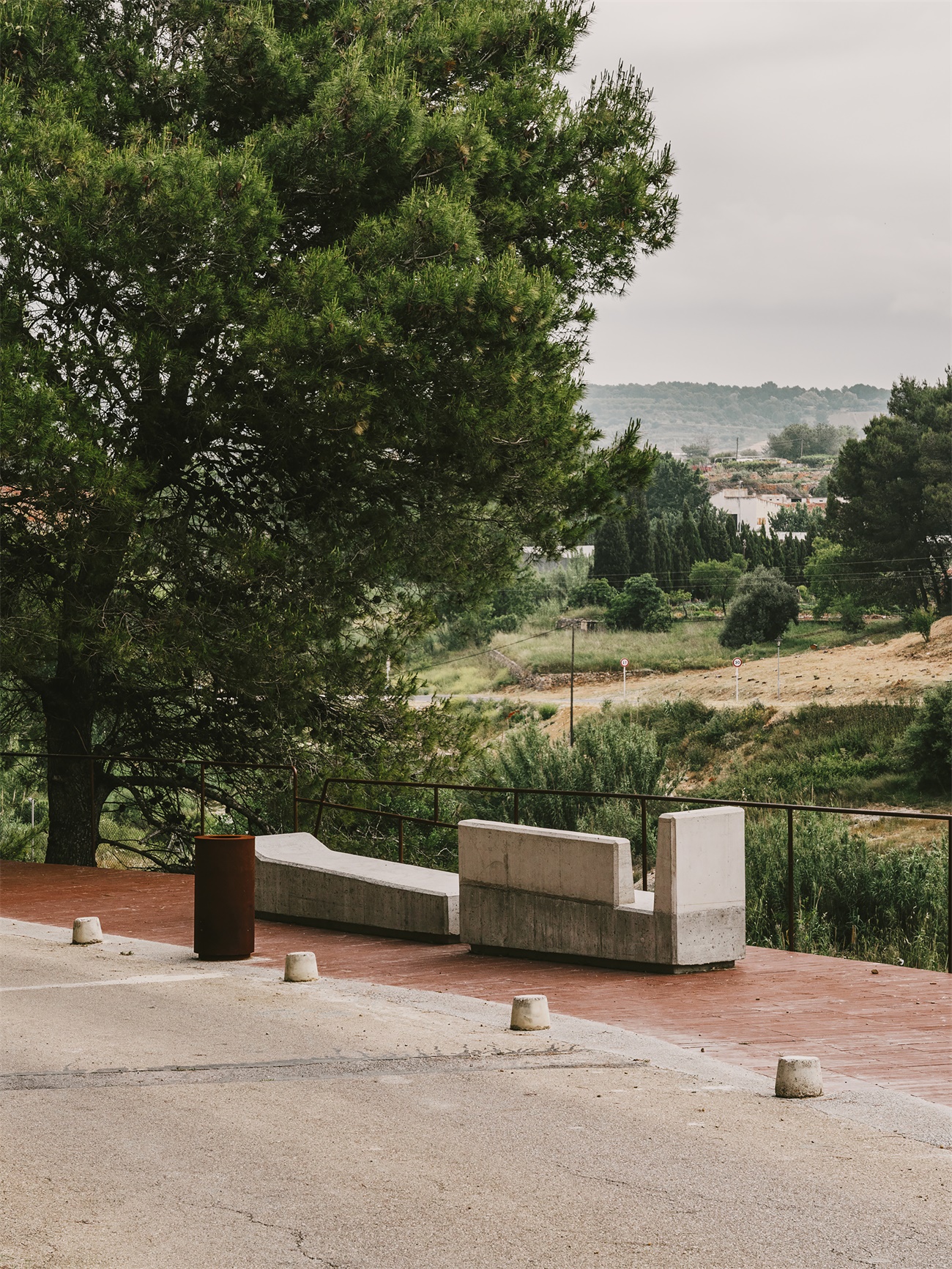 长廊一路下坡进入一个小广场,这个空间具有城市和家庭属性,是会面和休息的室外空间。喷泉占据了广场中心,水流通过一个开放的排水管流到下面的自然地形之中。从锈迹斑斑的网格和石头的边缘,可以看到河流、白色大理石和山谷另一边的废弃谷仓。支撑着庭院的石墙沿着一条小路通向城镇的高处。台阶斜坡采用河边的石头建造,夹杂着在附近的街道和松树底下发现的砖石。
It descends and drains into a small plaza. Unlike the pathway, this space is of urban, domestic attributes. An outdoor room for meeting and rest. A fountain holds the center, expelling its water through an open drain to the natural terrain below. From its ledge of rusted mesh and stone the river can be seen, with all its white marbles, and the abandoned barns at the other side of the valley. The dry-stone wall that holds the court follows a footpath that goes down to the old wheel, coming from the high levels of the town above. Its stepped slope is solved with river stones in between salvaged bush-hammered masonry -as found in the nearby streets uphill-, all under the shade of the pines.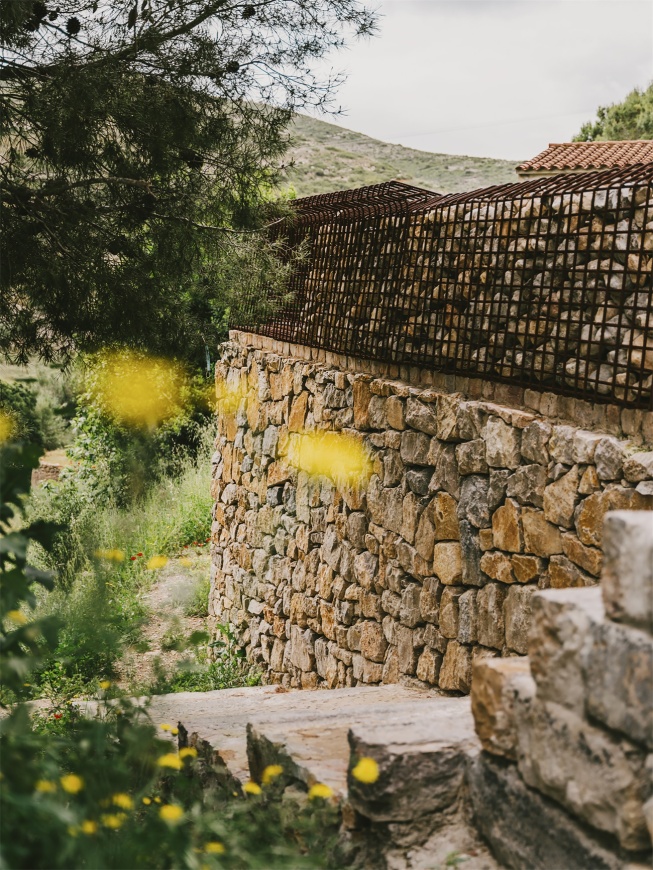 材料是关键,尤其是在这样一个微妙的环境中。长廊铺装使用的是切割和重新组装的可回收的低价陶瓷块,表面是温暖的红色细条纹,一直延伸到石雕和不同种类的石头路面上,或者被耐候钢挡住。元素完全融入了景观之中。
Materiality is key, particularly in such a delicate environment. Pavement is built using blocks of recycled low value ceramic stock, cut and reassembled, resulting in a warm red pinstripe. Along with stone work, stone paving of different sorts and rusted steel, the intervention blends into the palette of the landscape.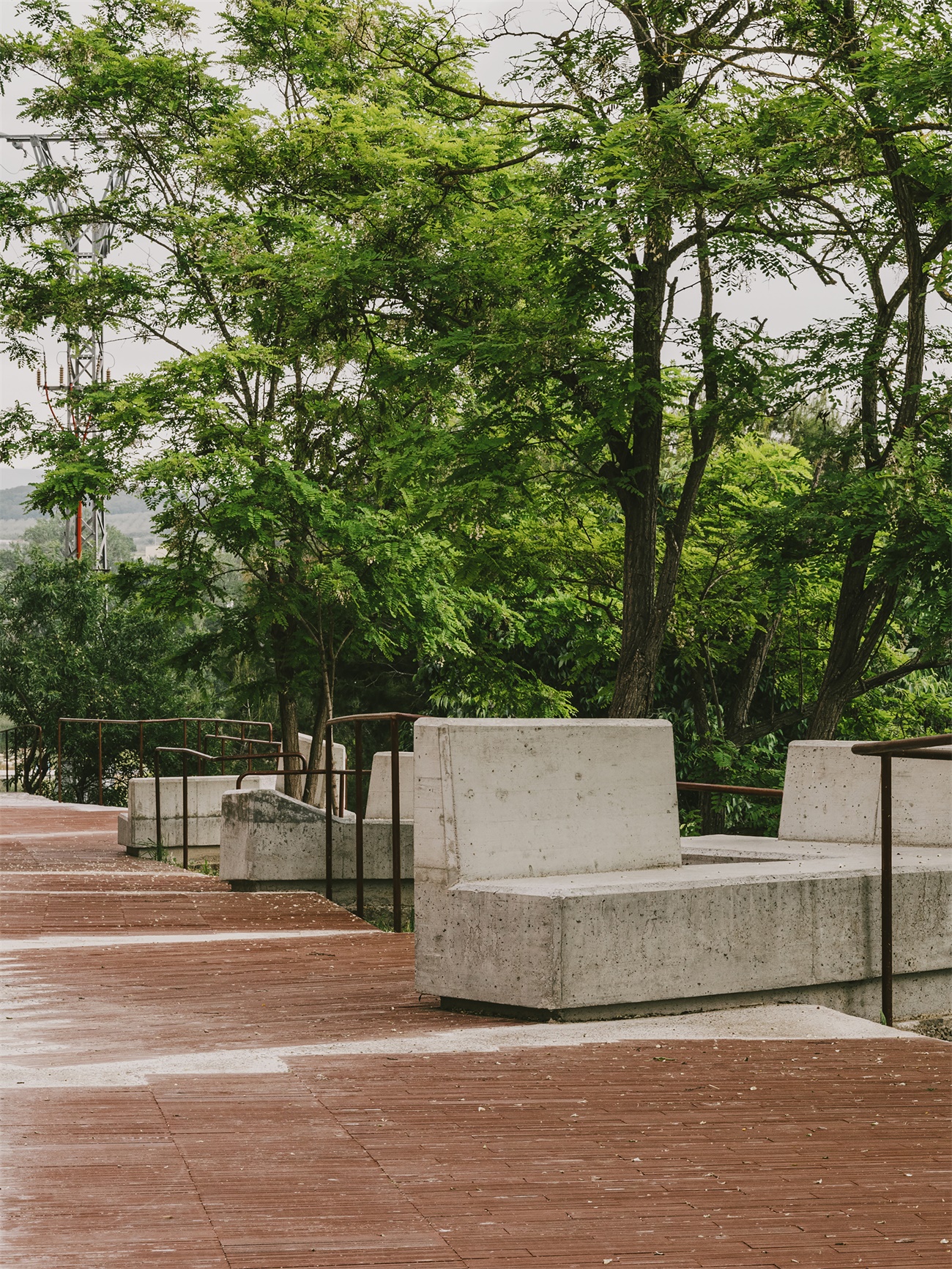 ▼细节Details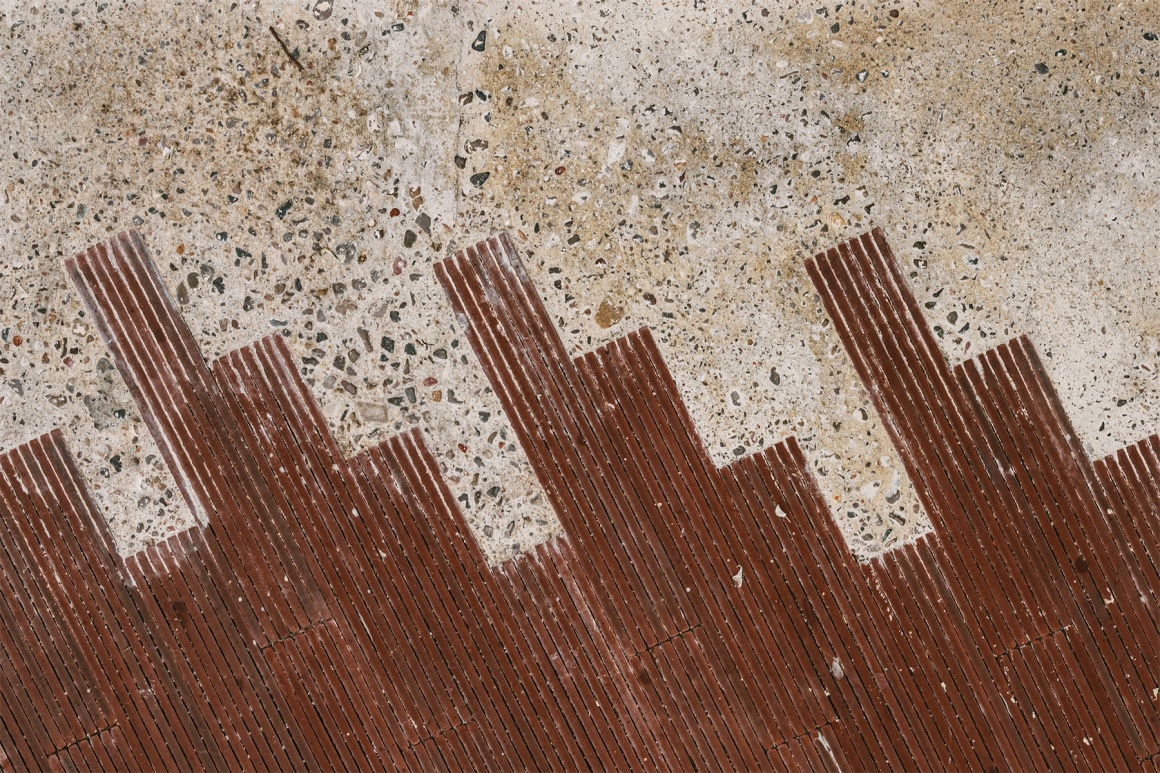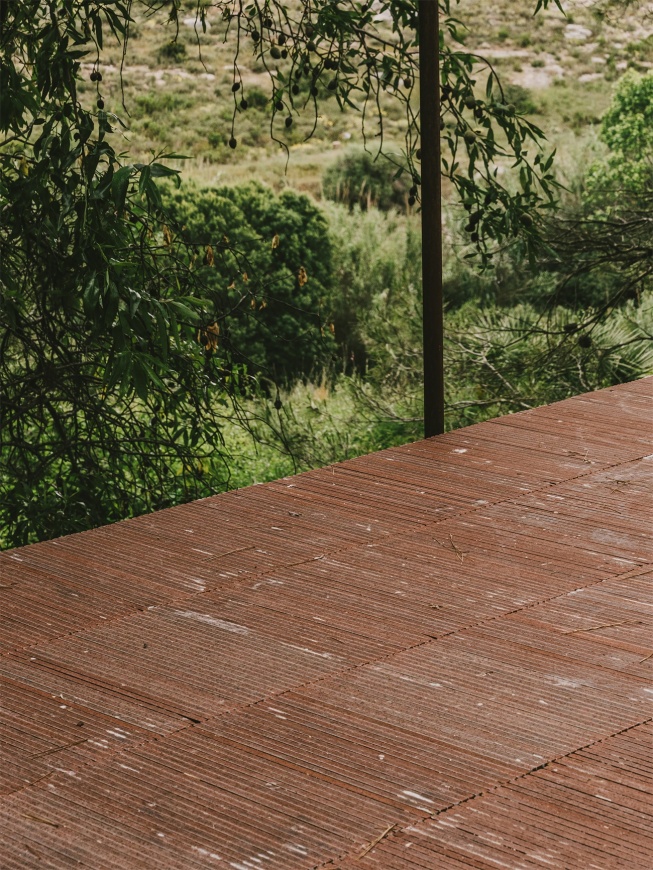 从最初的设计阶段到最终的施工细节,设计师没有使用任何电脑软件,一组美丽的图纸描述了设计的整个过程。一开始,工作室的制图桌被大约5米的描图纸铺满,图纸堆积如山,杂乱无章。设计的结果是在许多次实验、犯错、思考、细节之后产生的,全部浓缩在了图纸上。在纸桌布上,每个元素都有自己的特点,根据空间的需要,要在二维视图上进行三维表现。部分视图和细节由规划大纲编排并参考。
Designed from the early stages to the final details by hand, no software of any kind has been employed, resulting a beautiful set of drawings that narrate the whole process. During the de-velopment, the drafting table at the studio was held hostage by a 1/50 floor plan of roughly 5 meters of tracing paper. Drawings piled up and superseded the former in an untidy chronologi-cal process. The result gathers trials and errors, thoughts, ideas, details and work instructions; the temporal dimension of the process condensed in these documents. On the tablecloths of paper each element acquires its own nature, demanding space or even tri-dimensional representation outside the unfolding rules of the dihedral view, according to its needs for definition. A dance of pieces, partial views and details are choreographed by and ref-erenced to the outline of the plan.
▼平面图 Floor plan

▼设计过程 Iteration design
▼喷泉细节 Fountain detail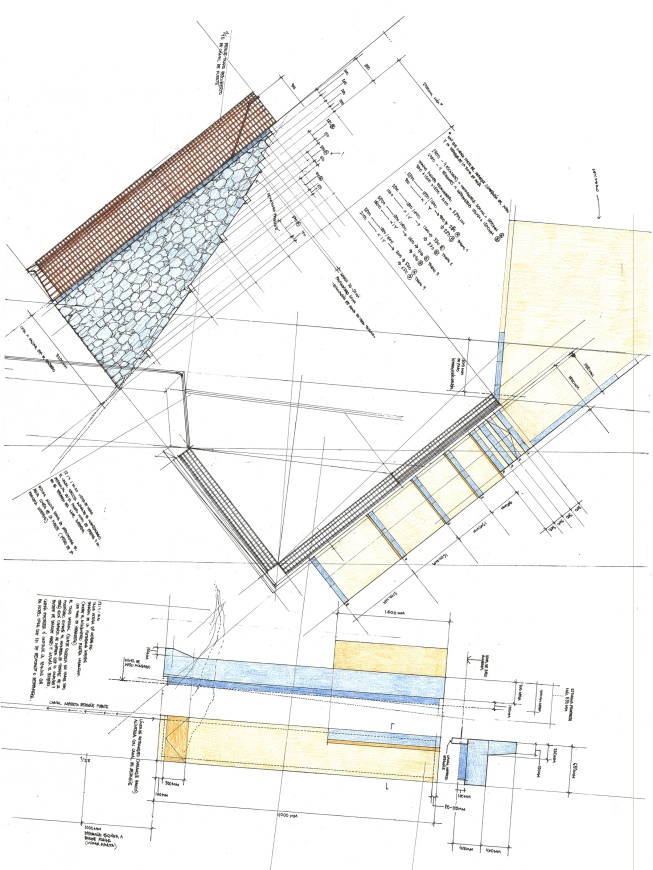 ▼施工图 Construction drawing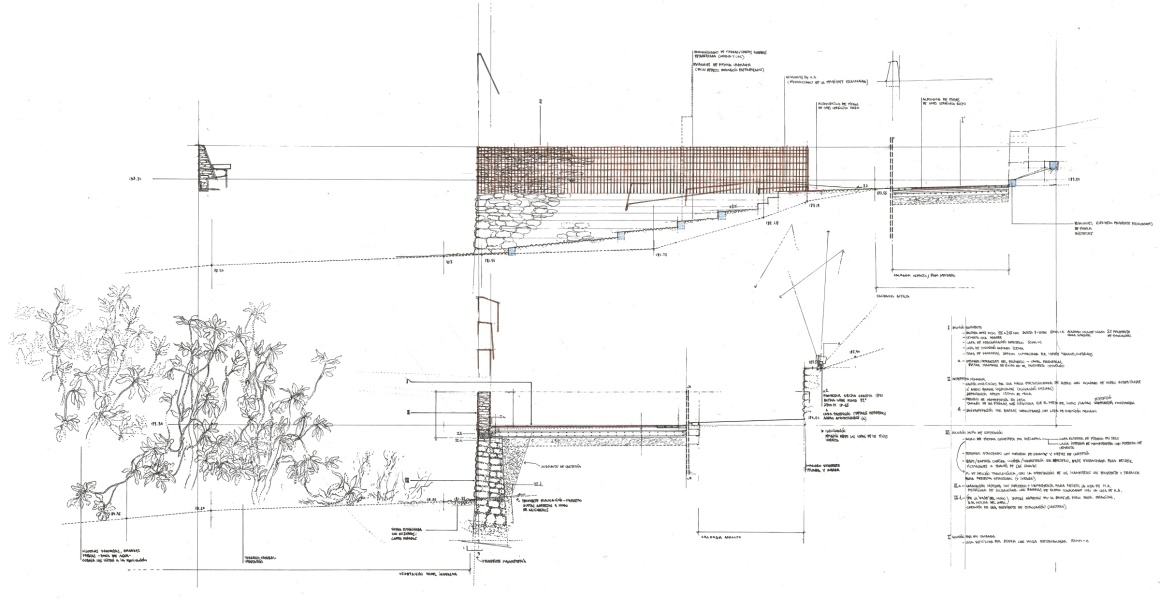 ▼设计概念 Mirador concept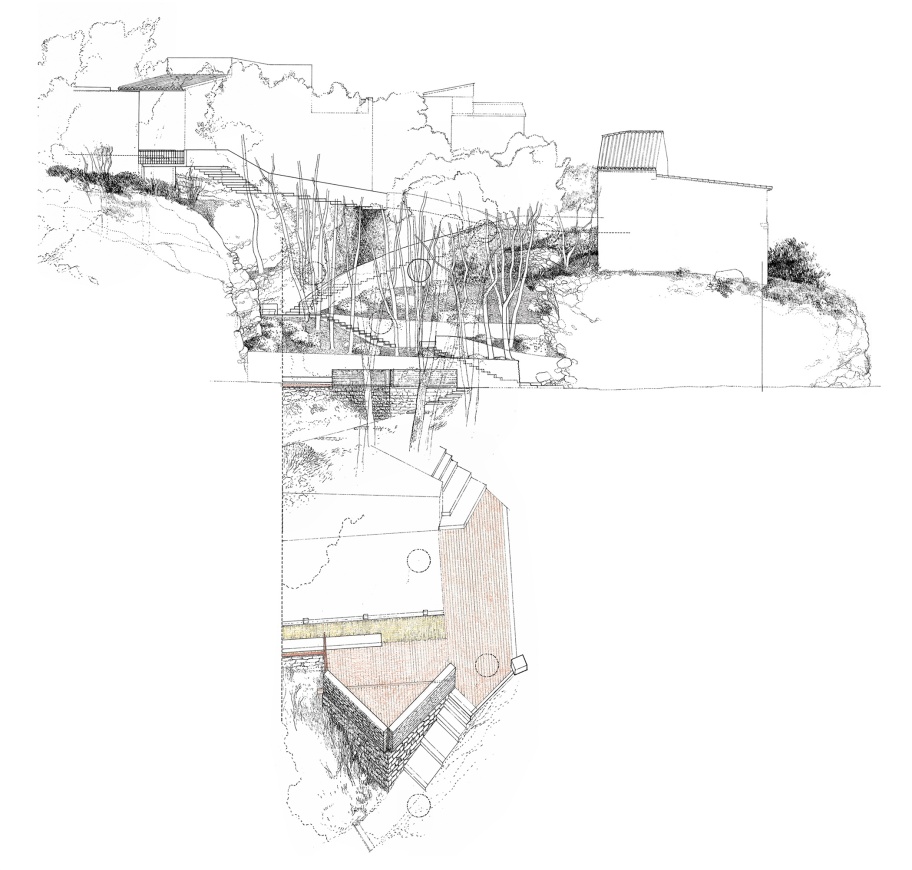 项目名称:西班牙小镇长廊
时间:2020年
面积:500平方米
地址:西班牙
设计公司:Bona fide taller
首席设计师:Alejandro Martínez del Río
客户:Diputación de Castellón
摄影:Oleh Kardash Horlay
编辑:寿江燕
Project name: Promenade at Les Coves de Vinromà
Completion Year: 2020
Size: 500 sqm
Project location: Les Coves de Vinromà, Castellón, Spain
Landscape Firm: Bona fide taller
Lead Architects: Alejandro Martínez del Río
Clients: Diputación de Castellón
Photo credits: Oleh Kardash Horlay
Editor: Jiangyan Shou
更多Read more about: Bona fide taller