本文由SPF: architects授权mooool发表,欢迎转发,禁止以mooool编辑版本转载。
Thanks SPF: architects for authorizing the publication of the project on mooool, Text description provided by SPF: architects.
SPF: architects:SPF:a在2014年被选中在长滩会议中心和长滩表演艺术中心这两个主要的长滩场所之间建立直接的、公共的联系。在大桥建造之前,要在两个目的地之间移动,需要爬很多层楼梯,还要穿过一段以装货码头和暖通设备为主的海滨通道。最初提出的解决方案是在两个中心之间修建一条高架人行道,但在对该市发出的询价做出回应之后,人们更愿意接受这个更完整的公共设施。
SPF: architects:SPF:a was chosen in 2014 for their proposal to create a direct, public connection between two major Long Beach venues: the Long Beach Convention Center and the Long Beach Performing Arts Center. Before the construction of the bridge, moving between the two destinations demanded climbing numerous flights of stairs and crossing a stretch of Seaside Way dominated by loading docks and HVAC equipment. The initial solution proposed was to build an elevated sidewalk between the two centers, but following an overwhelming response to the RFQ issued by the city a more complete public amenity was pursued.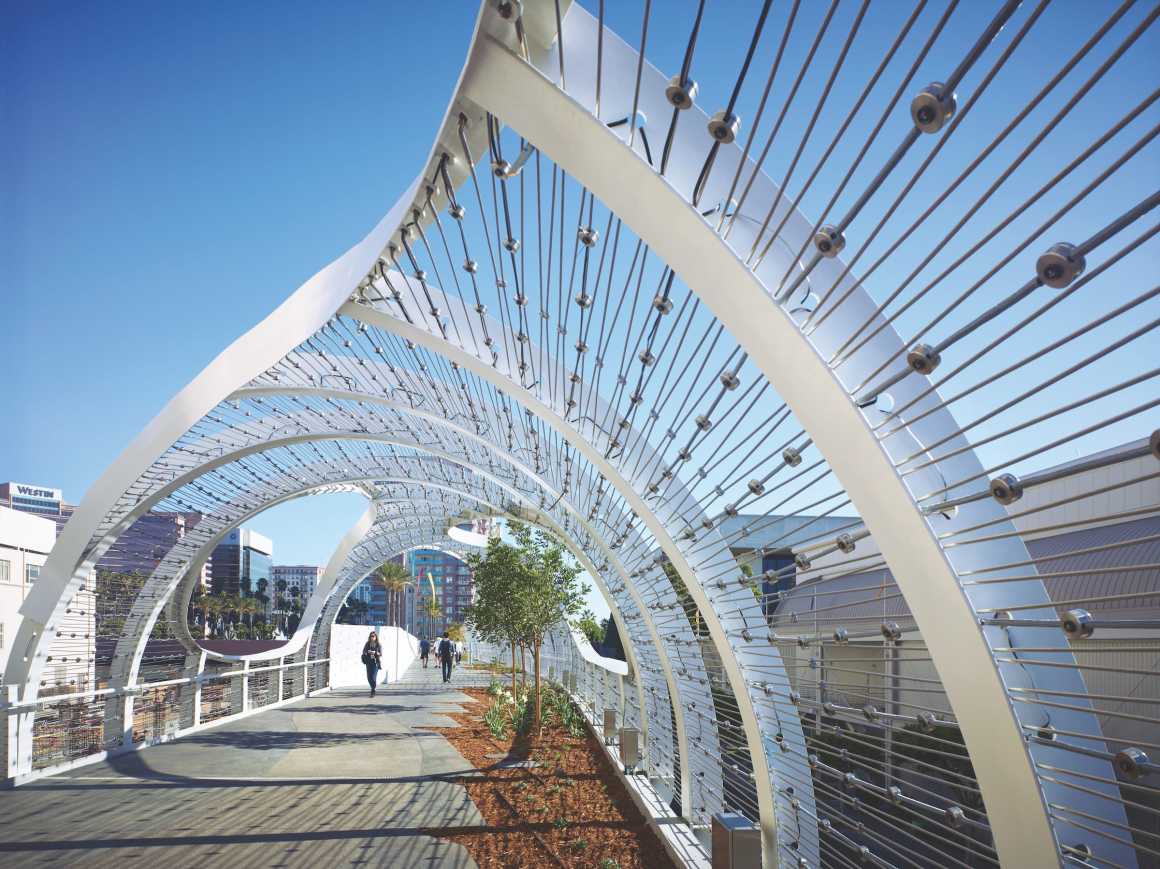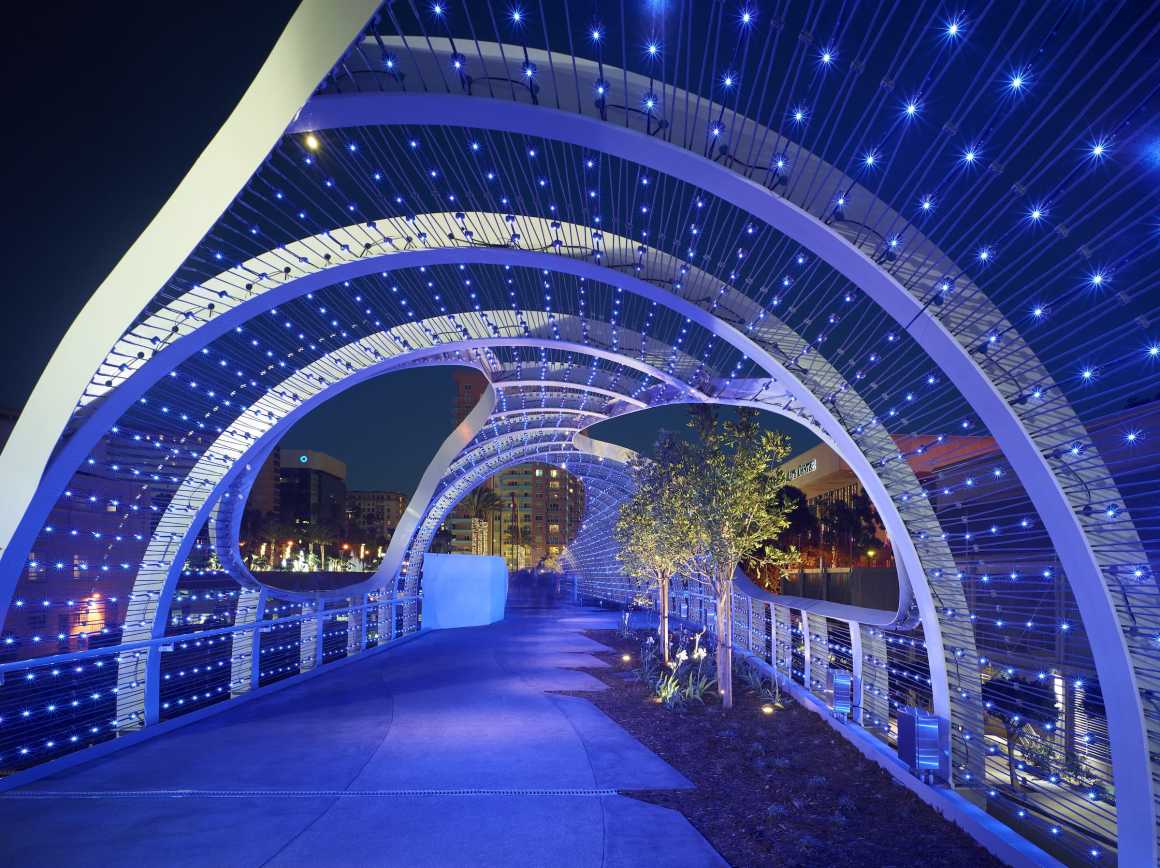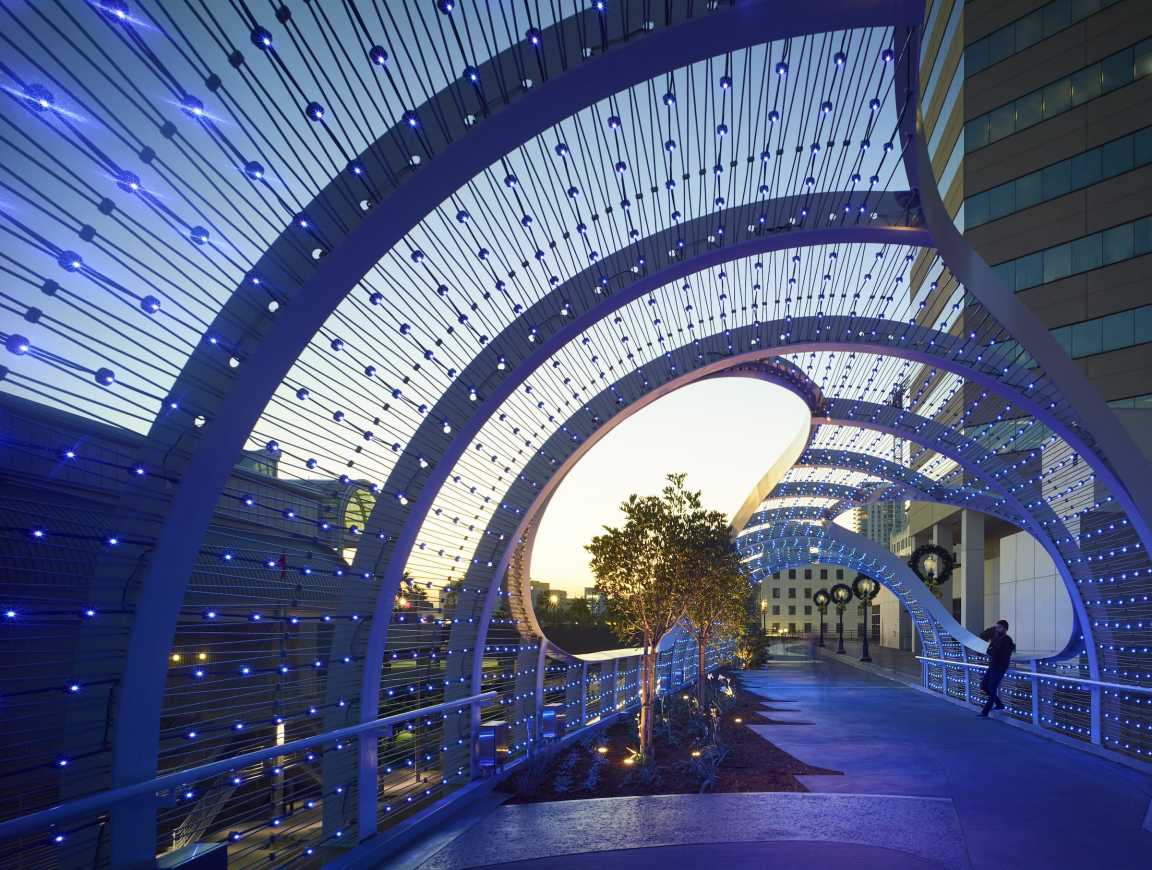 该项目是一座壮观的600英尺的人行大桥,由76根定制焊接的弯钢肋构成顶部框架,约1200立方码的现浇混凝土构成底座。这座桥的顶棚采用了3500个变色LED节点灯、100个落地灯和70个泛光灯,所有这些灯都可以通过编程和同步音乐来产生不同的效果。
The finished project is a spectacular 600-foot pedestrian bridge consisting of 76 custom-welded bent-steel ribs framing the top, and approximately 1,200 cubic yards of poured-in-place concrete shaping the base. The bridge canopy features 3,500 color-changing LED node lights, 100 down lights, and 70 floodlights, all of which can be programmed and synced to music to create different effects.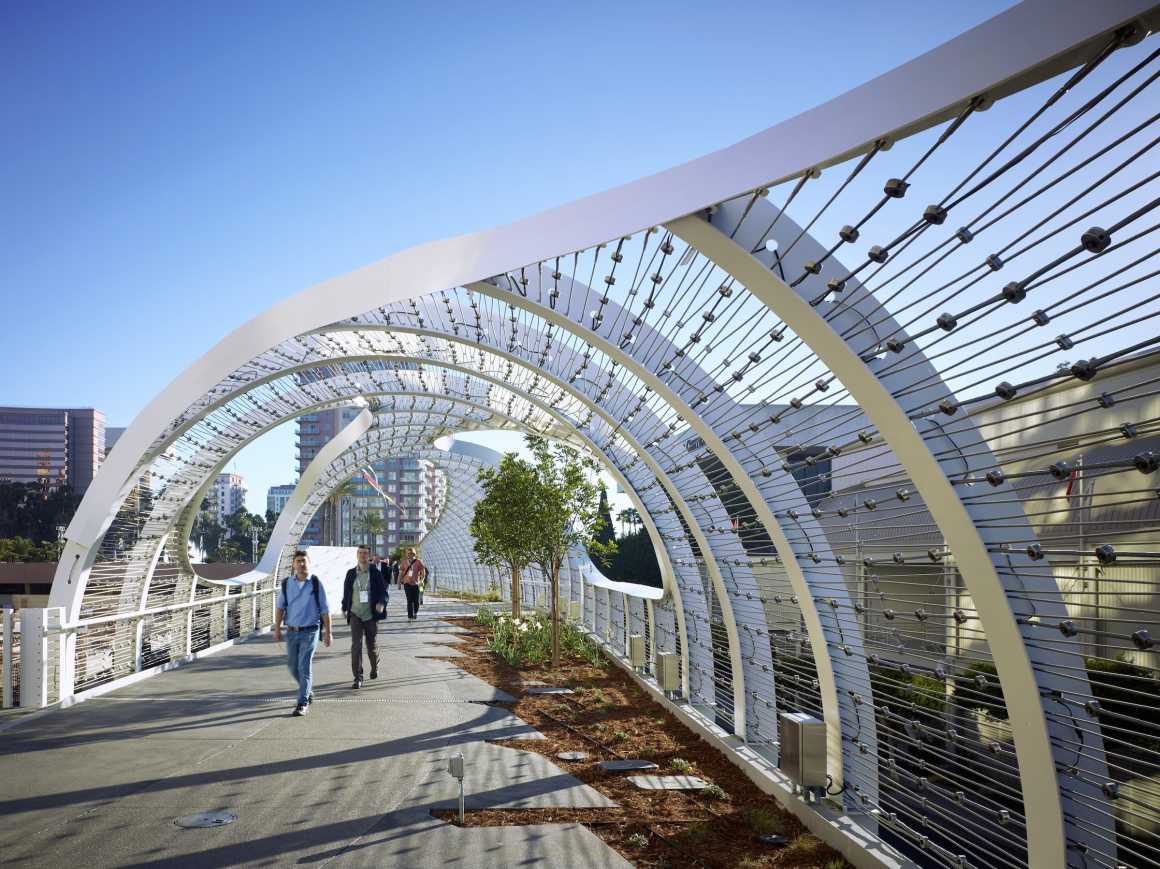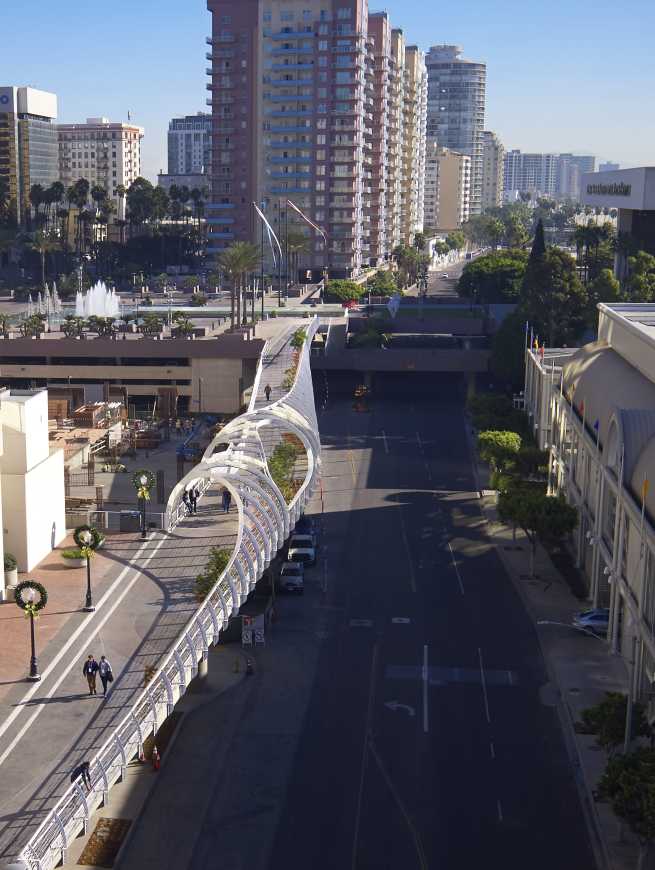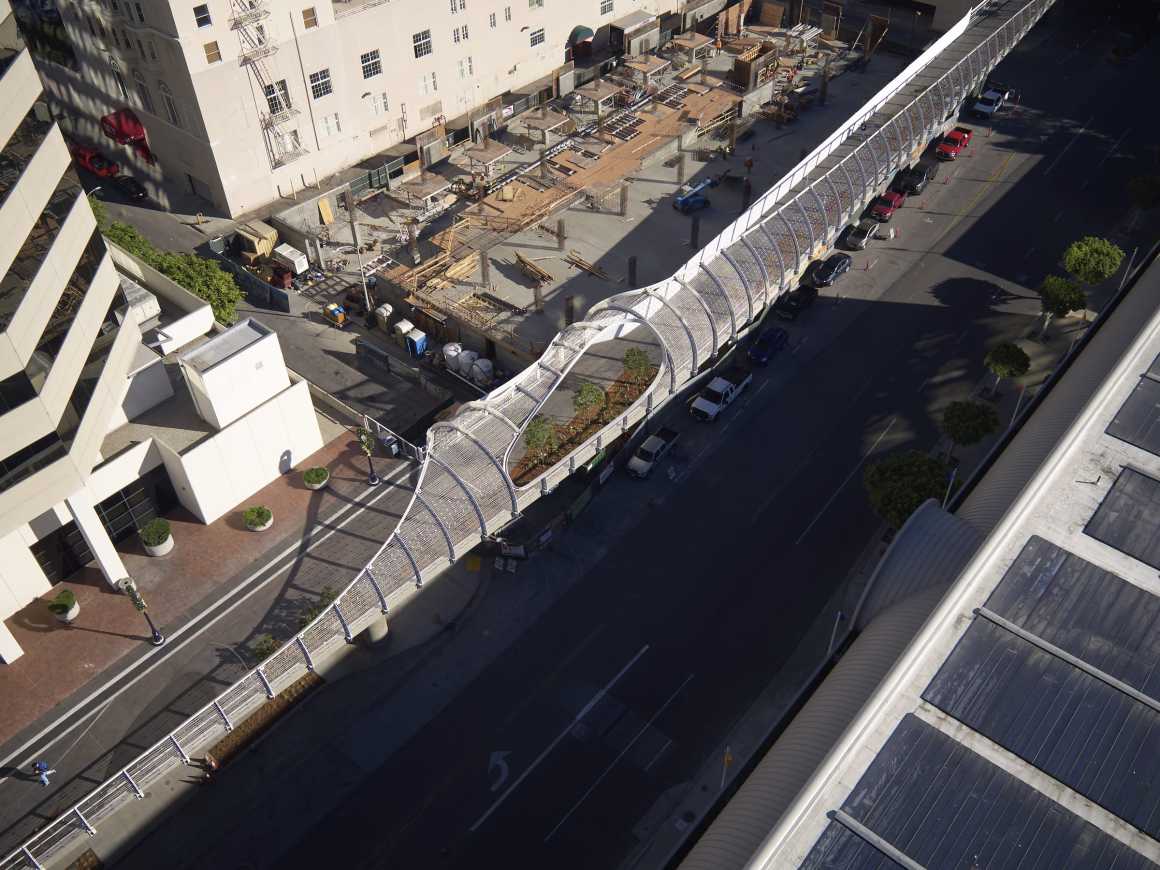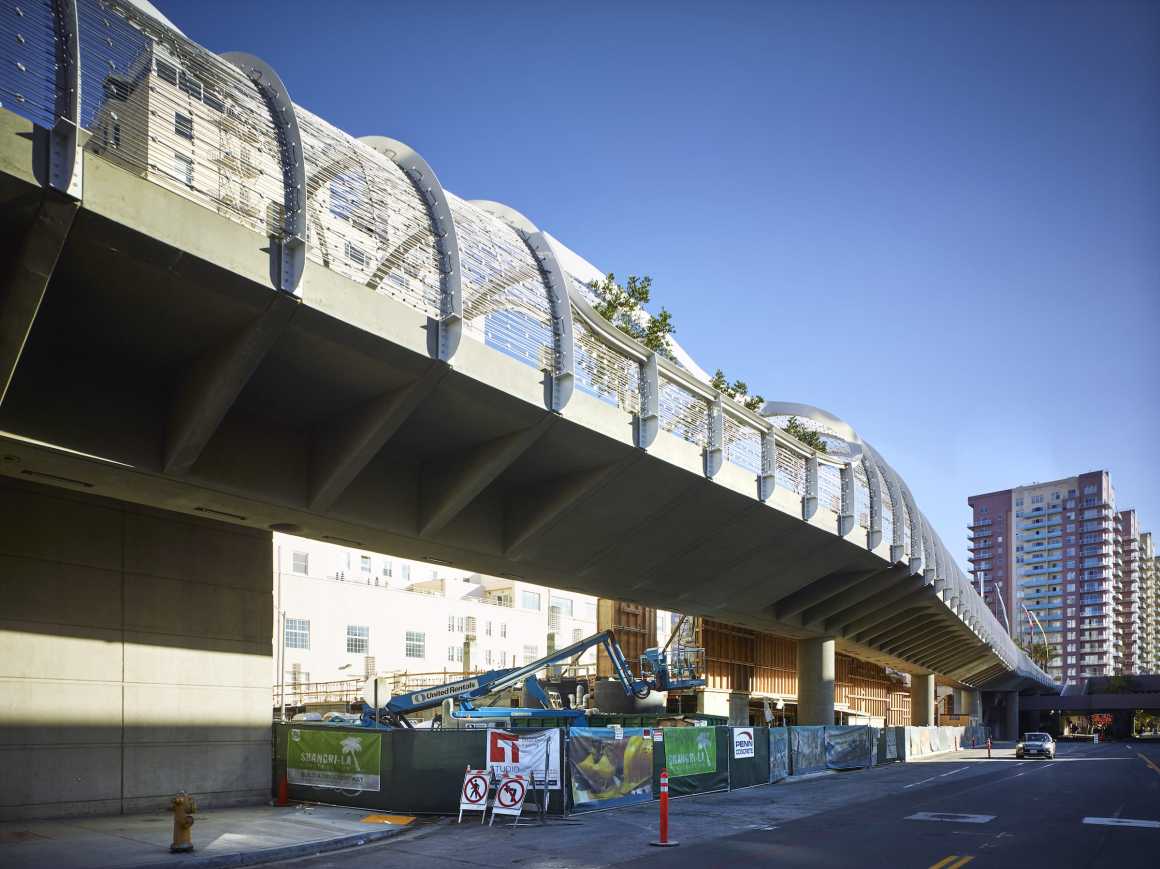 SPF:a与Carl Stahl Architektur密切合作,创建了定制的三件式不锈钢节点夹,使桥梁的LED布线可以连接到顶棚上。独特的设计还可以方便安装和更换的灵活性。人行道植物的植物和排水系统被隐藏在桥的混凝土脊梁中。
SPF:a worked closely with Carl Stahl Architektur to create the custom, three-piece, stainless steel node clip that allows for the bridge's LED wiring to attach to the canopy. The unique design also allows for ease of installation and replacement flexibility. Power and drainage for the walkway plantings have been hidden within the concrete spine of the bridge.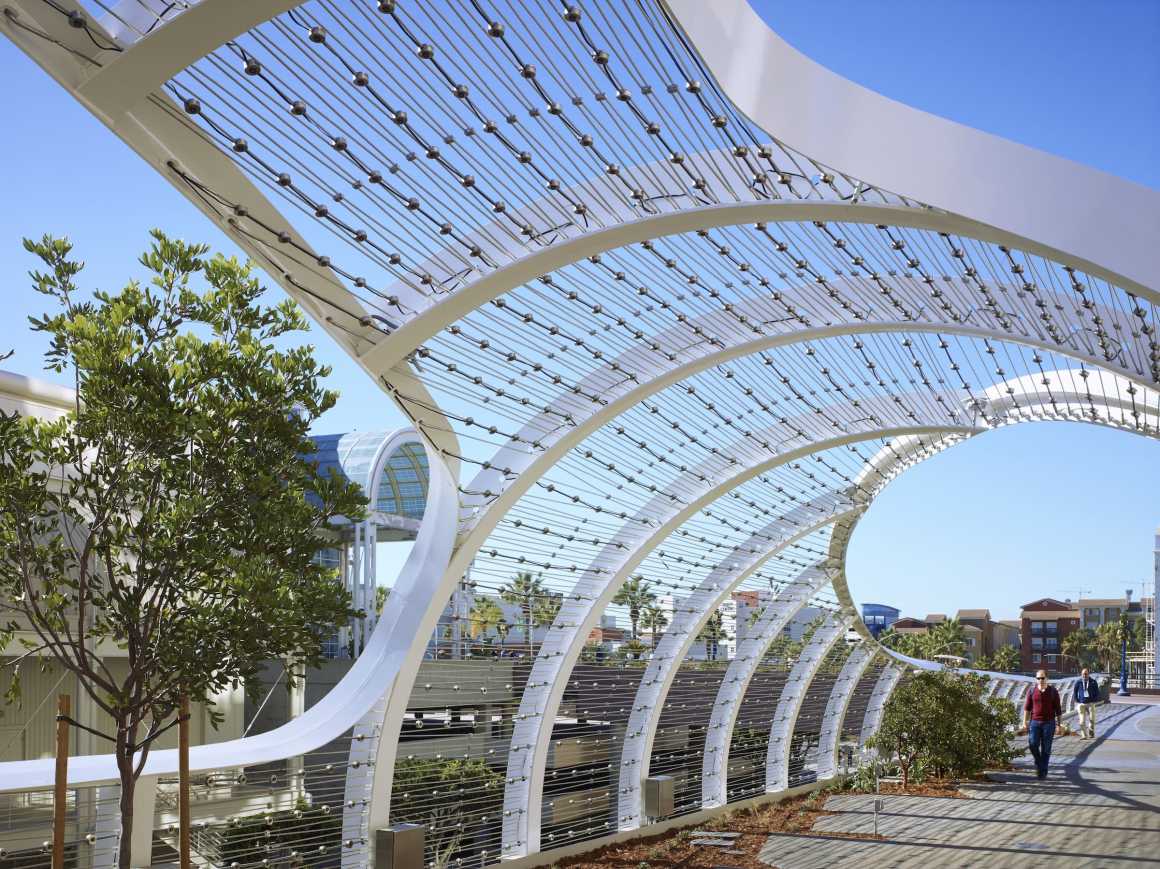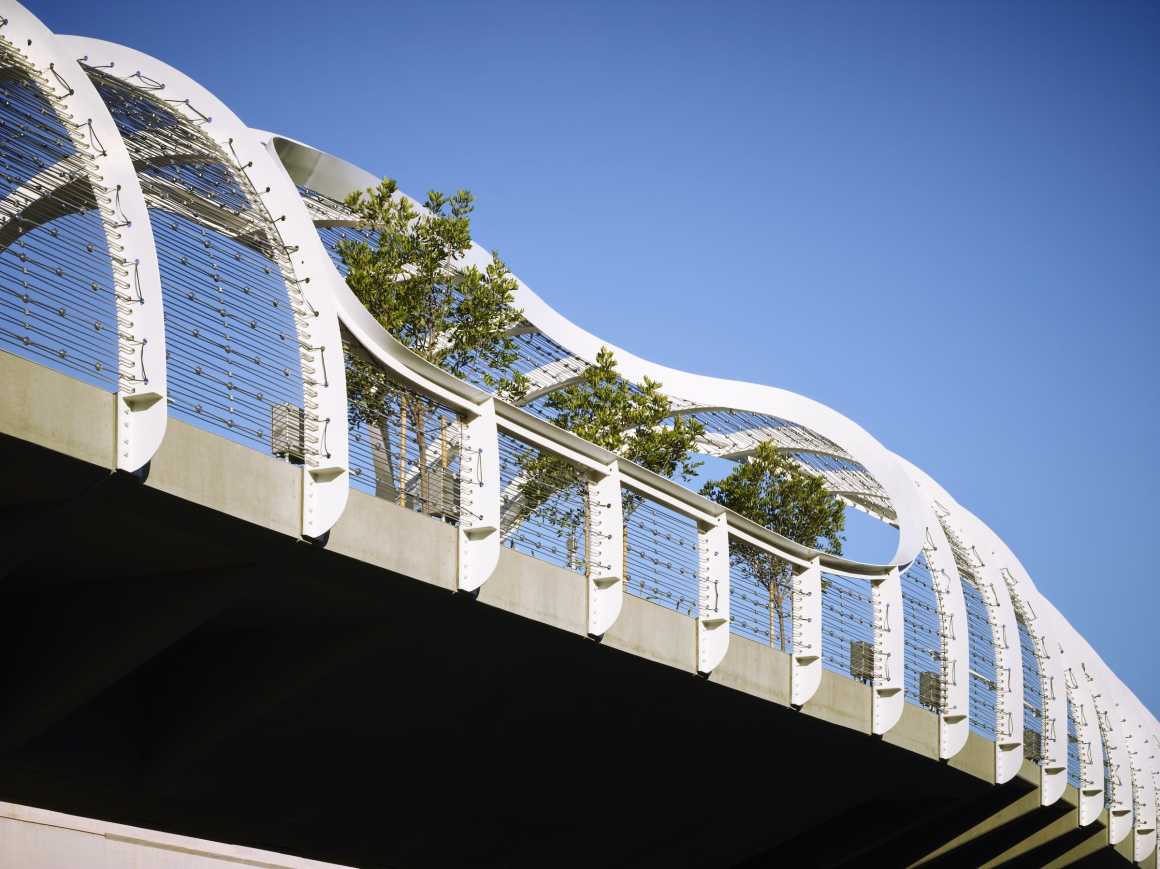 整个设计深受周围海滩环境的影响(事实上,这座桥最初被称为"激流")。船体状构造等结构元素与海浪的优雅和均匀结合在一起,而led则被固定在缆索上,传达出一种网状的感觉或船只的索具。
The overall design is heavily influenced by its beach surroundings (the bridge was, in fact, first dubbed "Riptide"). Structural elements such as the hull-like formation have been married with the elegance and uniformity found in waves, while the LEDs were affixed to cables to convey a net-like feeling or the rigging of a ship.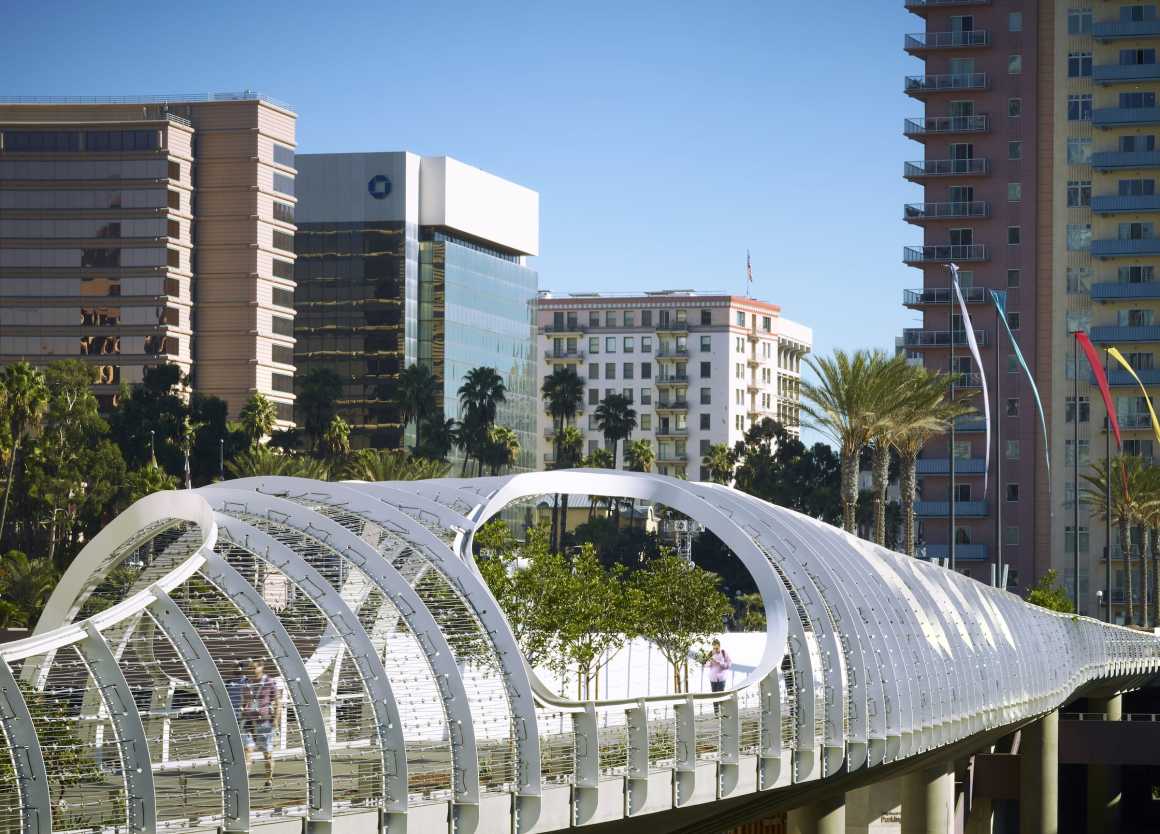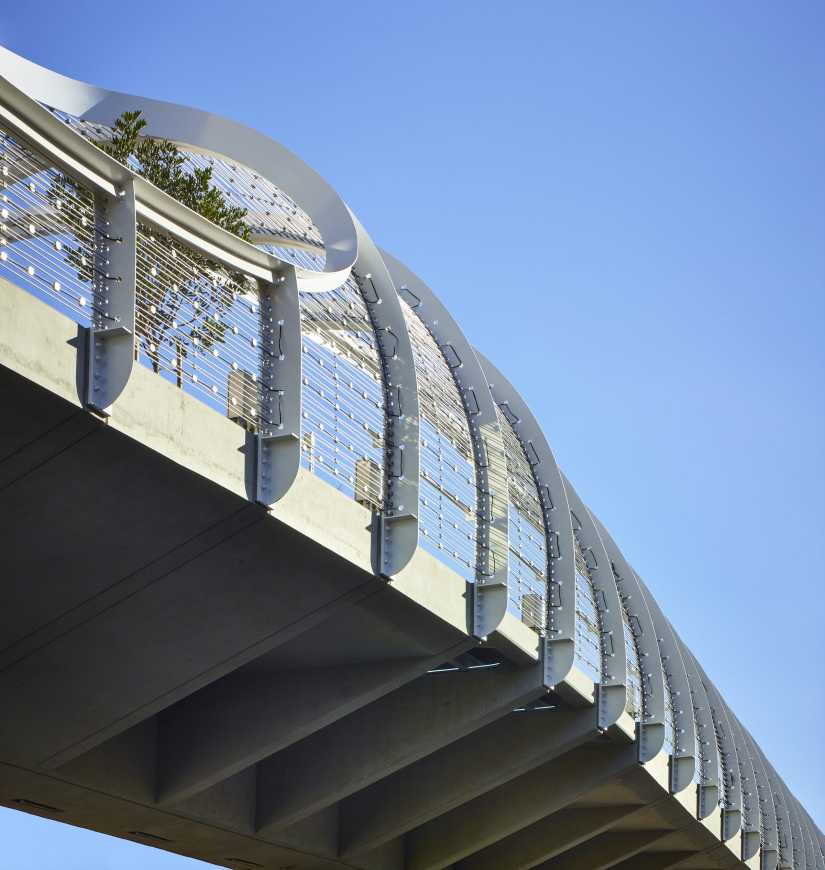 然而,最终的形式受到预算限制和邻近地块开发的影响。SPF:a通过简化钢结构的几何形状和修改桥梁的混凝土轮廓,使项目总成本降至1000万美元。在建造之前,这座桥需要80根或更多独特的混凝土肋梁。设计团队能够以这样一种方式优化几何形状,即在重复放置时,仅一个具体形状就可以实现类似的动态形式。
The final form was, however, influenced by budget constraints and the pending development of an adjacent lot. SPF:a brought the overall cost of the project down to $10 million by simplifying the steel geometry and modifying the concrete profile of the bridge. Prior to construction, the bridge called for 80 or more uniquely formed concrete rib beams. The design team was able to optimize the geometry in such a way that just one concrete shape could achieve a similar dynamic form when placed in repetition.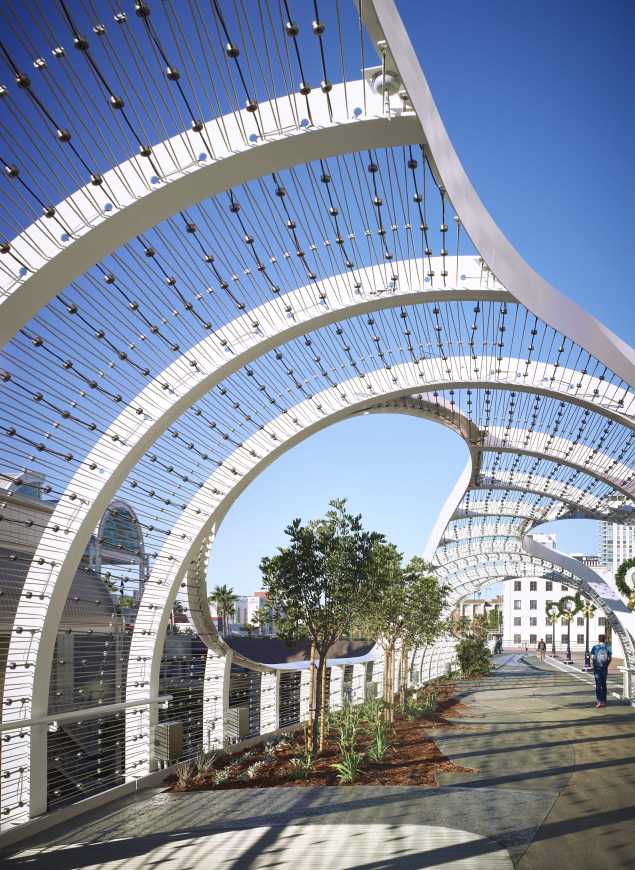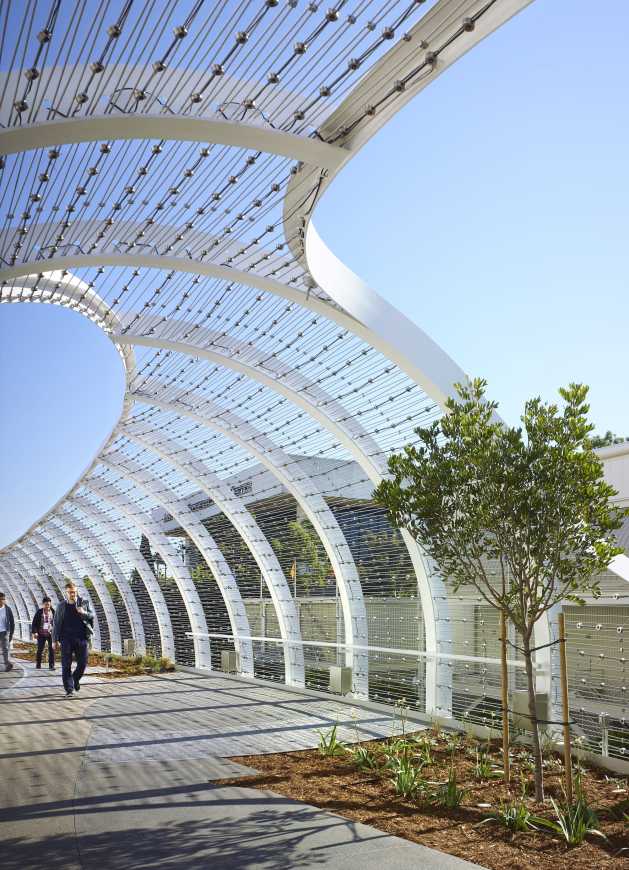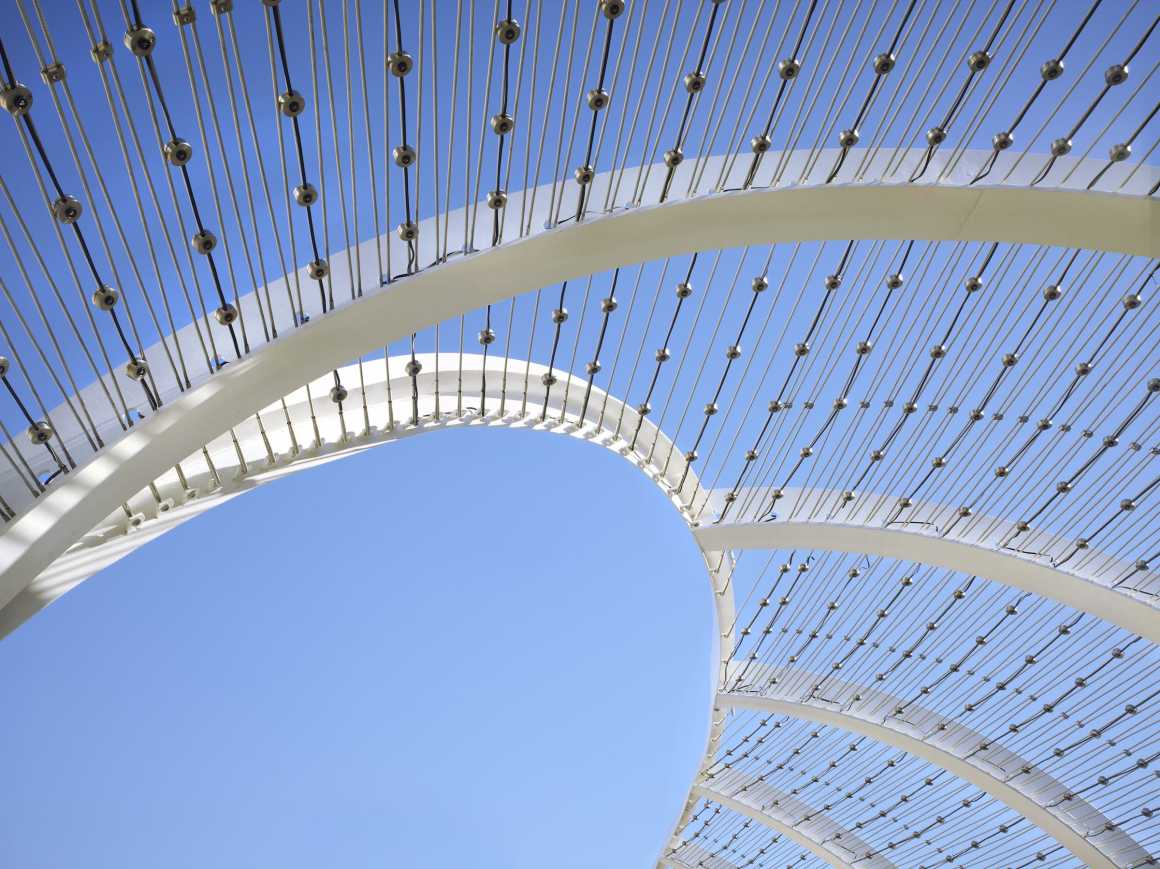 ▼构筑细节 Detail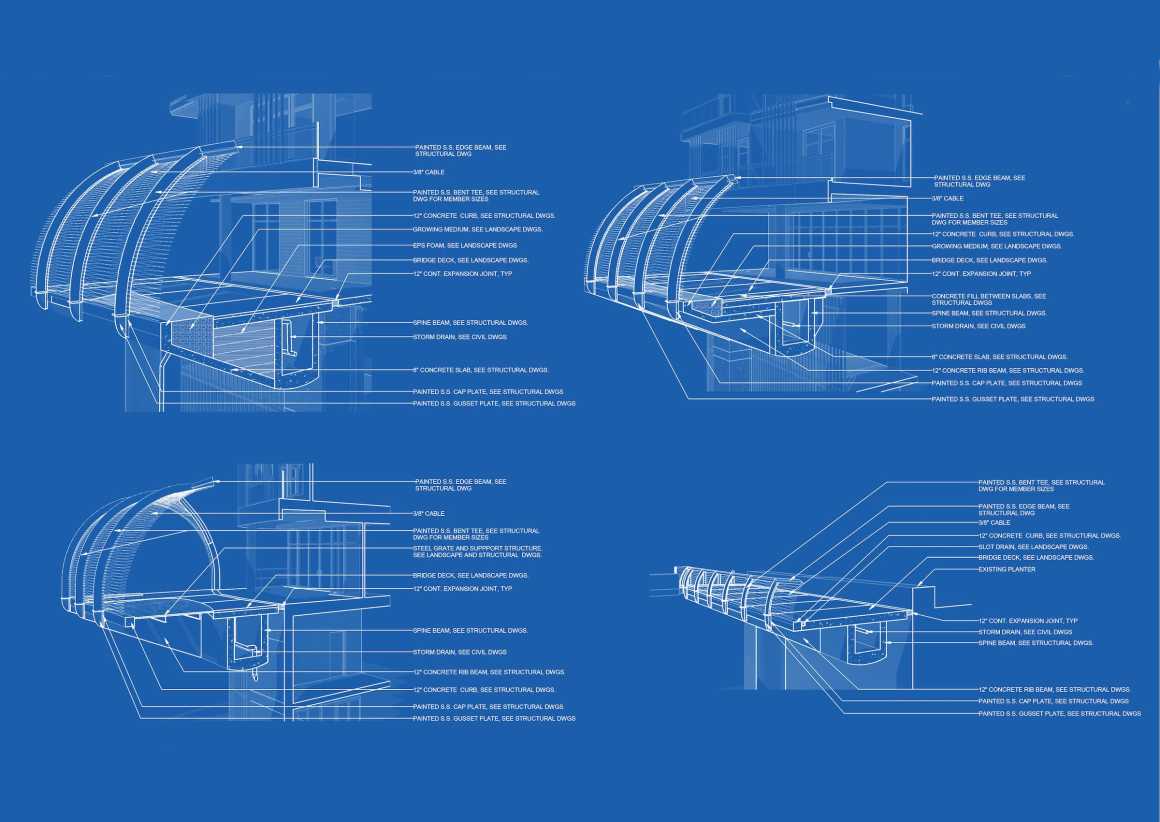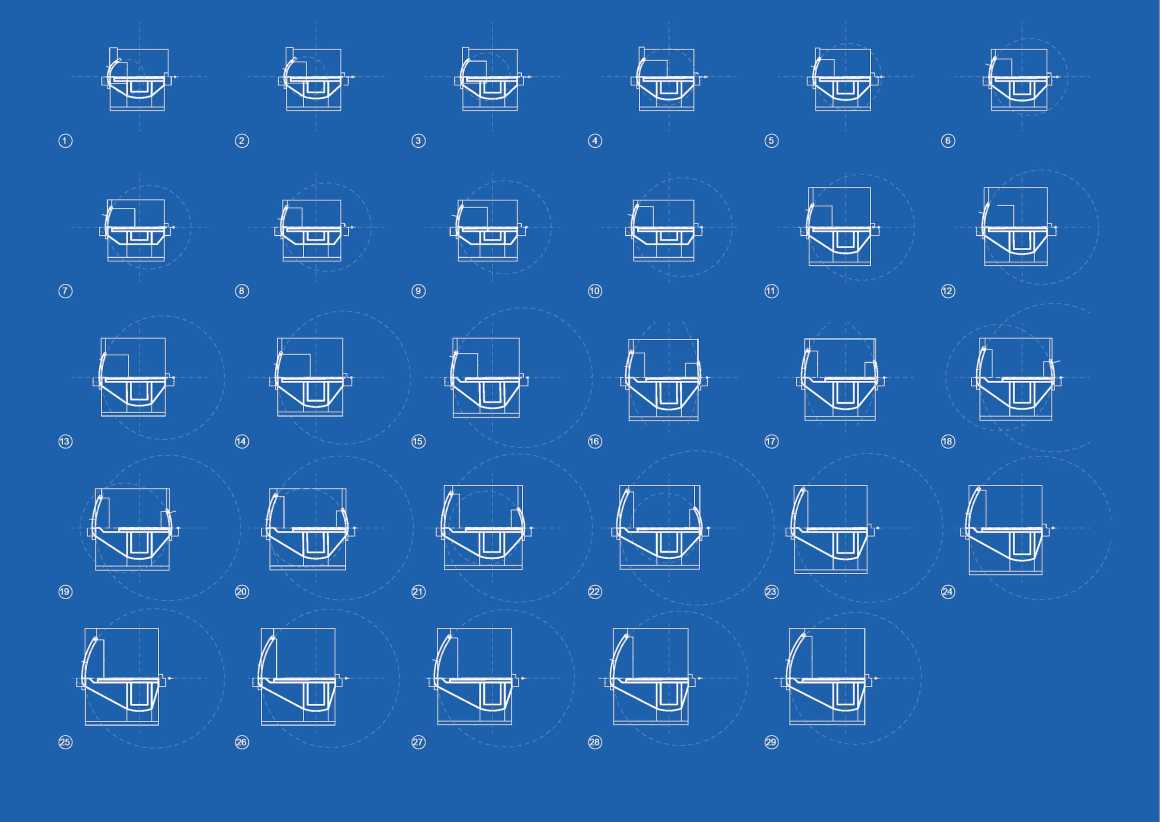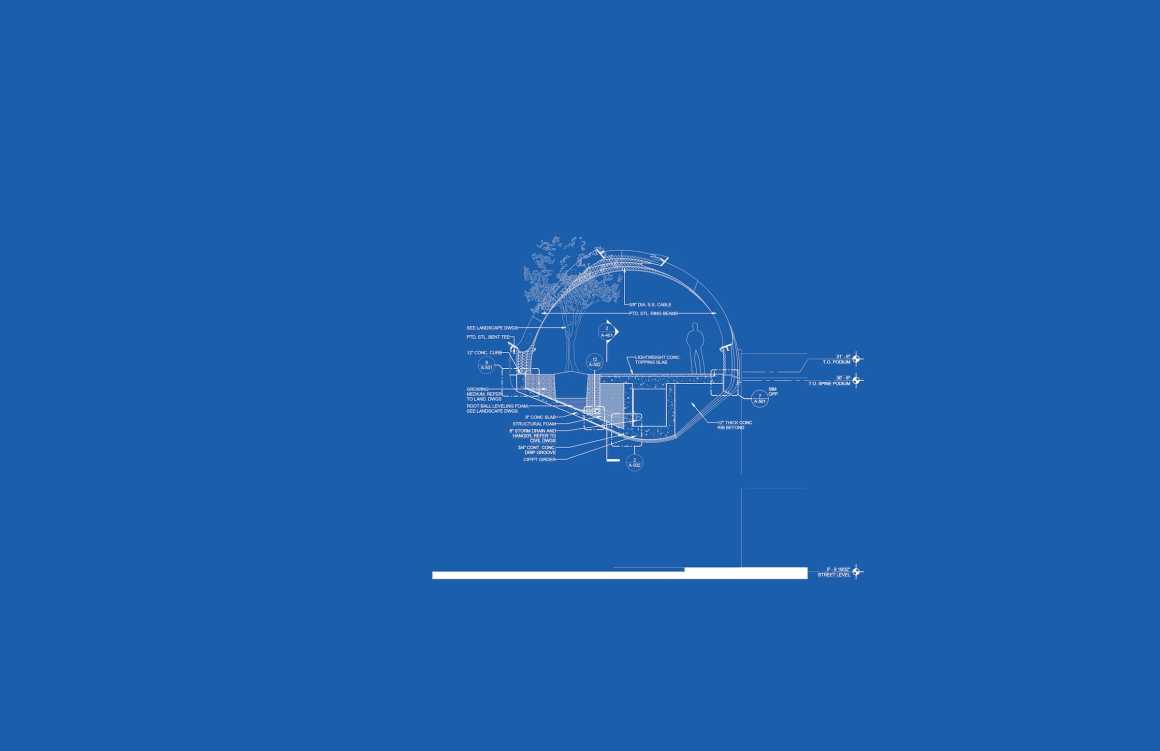 项目名称:彩虹桥
项目地点:加州长滩
竣工:2017年
尺寸:长度604英尺,桥面面积11500平方英尺
业主:长滩市
建筑设计:SPF: architects
土木结构工程:Arup
景观设计:Hood Design Studio
岩土工程:Geocon West, Inc
承包商:Powell总工程承包商
电气分包商:Elecnor-Belco Electric
摄影:John Linden
Project Name: Rainbow Bridge
Project Location: Long Beach, CA
Completion Date: 2017
Size: Length 604 Feet, Bridge Deck Area: 11,500 SF
Owner: City of Long Beach
Architect: SPF: architects
Civil & Structural Engineer: Arup
Landscape Architect: Hood Design Studio
Geotechnical: Geocon West, Inc
Contractor: Powell General Engineering Contractor
Electrical Sub-Contractor: Elecnor-Belco Electric
Photography: John Linden
更多 Read more aboout: SPF: architects