本文由 TCL 授权mooool发表,欢迎转发,禁止以mooool编辑版本转载。
Thanks TCL for authorizing the publication of the project on mooool, Text description provided by TCL.
TCL:皇家墨尔本理工大学(RMIT)在里昂市政府主导的建筑协会的帮助下,对斯旺斯顿街沿线的主教学楼和图书馆进行了全面改造。该项目聚焦当地的关键问题,重新激活了斯旺斯顿街的沿街立面,建立起中心主干道与Bowen街的连接,提供了崭新的图书馆服务,为学生营造日常学习空间,同时作为一餐饮及零售的新中心。
TCL:Through a consortia of architects, led by Lyons, RMIT has undertaken a significant redevelopment of their main academic buildings and library along Swanston Street. The project addresses key issues of the precinct, including reactivating the Swanston Street frontage, providing new links from this spine through the heart of the buildings to Bowen Lane, provides new library services, delivers new informal student learning spaces and services as well as a new food and retail heart.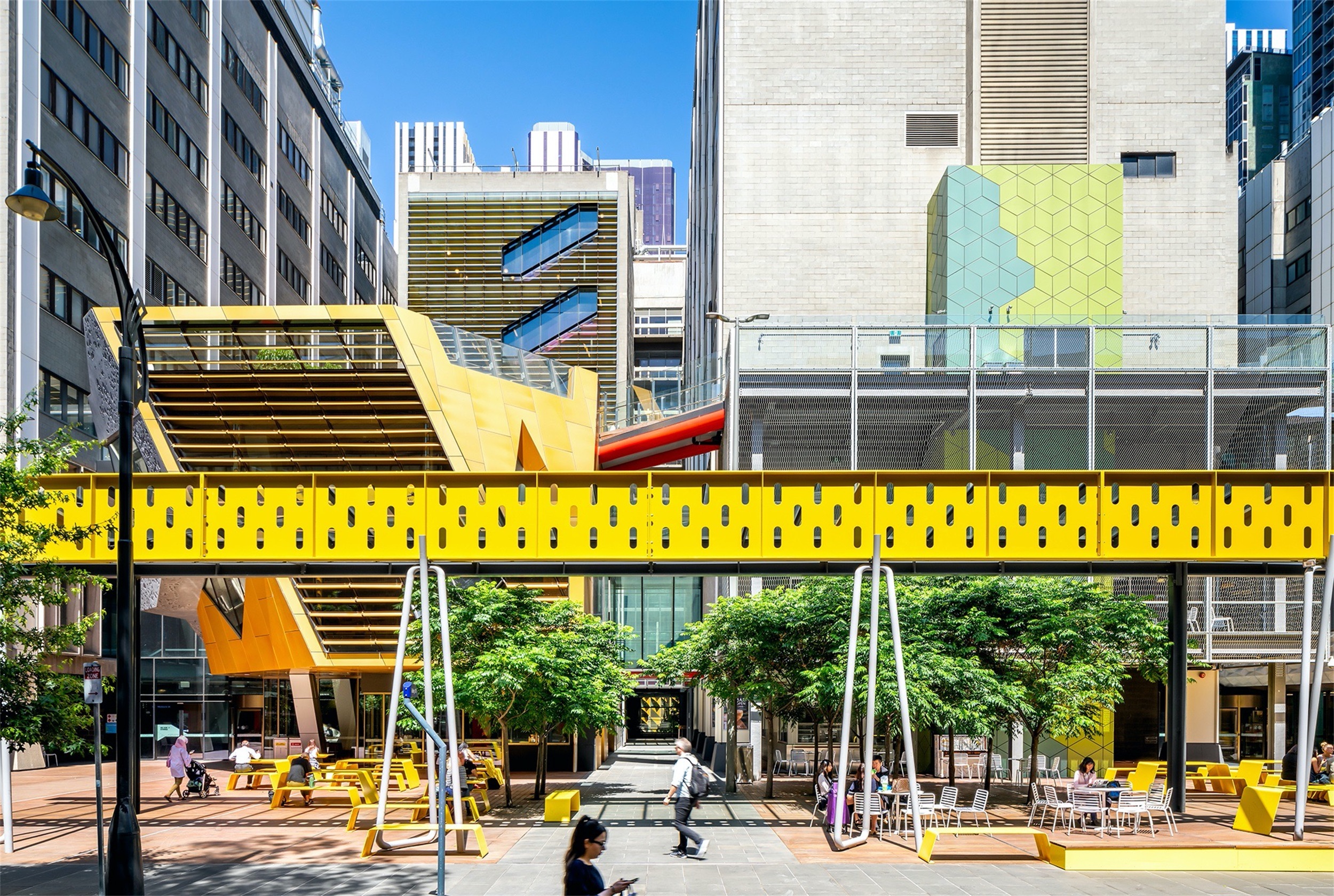 TCL事务所受邀为项目进行景观和城市设计,使其为当地公共空间复兴作出贡献,项目要求建立新的连接巷道,沿Bowen街打造学生空间,并塑造出重要的新屋顶花园景观。
TCL was commissioned as landscape architects and urban designers to ensure the public realm contributed to the revitalisation and dynamism of the precinct. The project required new connecting laneways, student spaces along the Bowen Lane Terrace and significant new roof garden landscapes.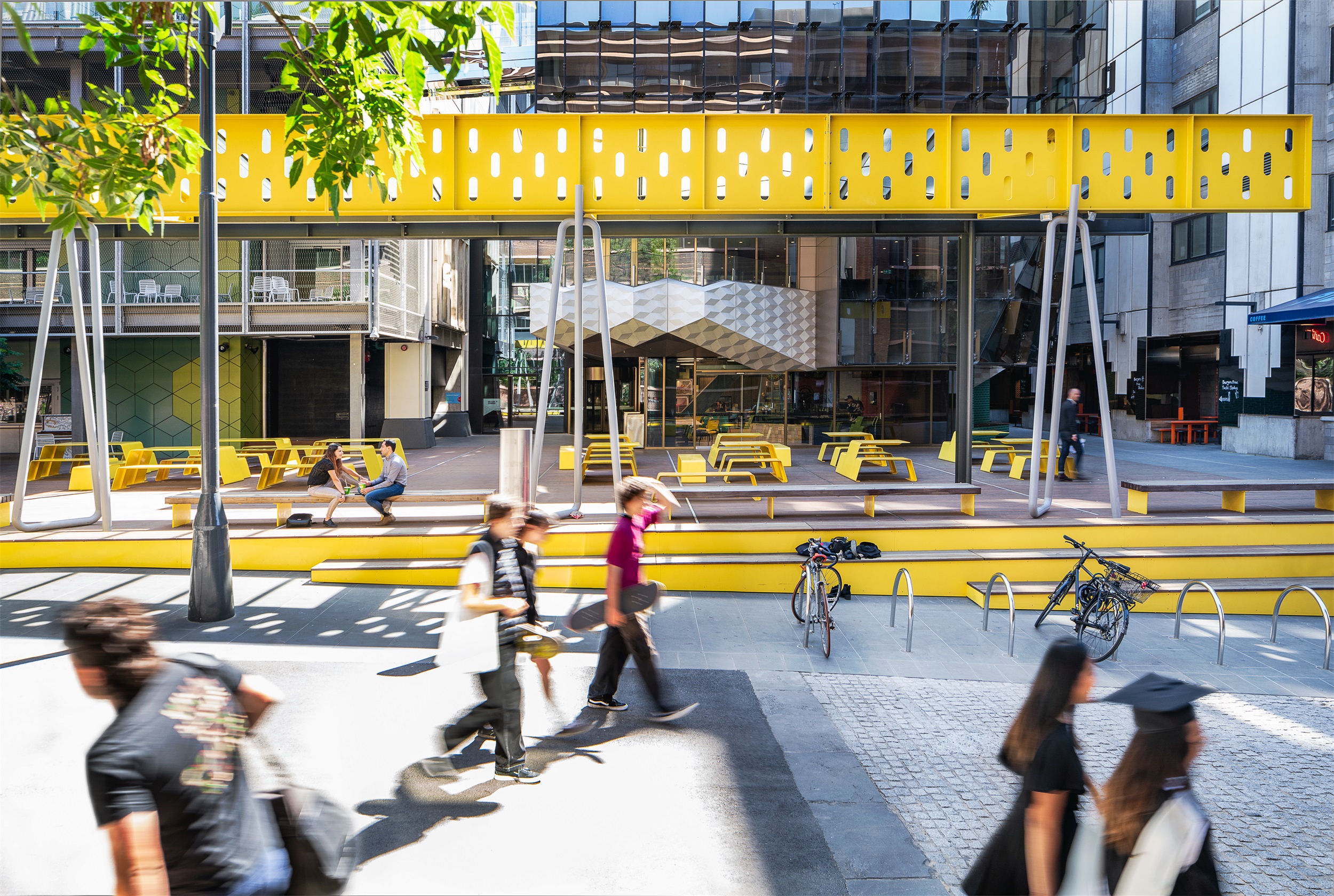 巷道 Laneways
皇家墨尔本理工大学作为一个城市校园与城市肌理相互交织,过去20 年在Peter Elliott的管理下,它的公共空间得到了改善提升,与一系列井然有序的小巷、庭院、广场和长廊相连,成为更大范围内城市交通体系和城市肌理的一部分。
RMIT is an urban campus and intertwined into the city fabric. Over the past 20 years, under the stewardship of Peter Elliott, its public spaces have been upgraded and connected with a sequence of legible lanes, courts, squares and promenades that form part of the greater city circulation structure and identity.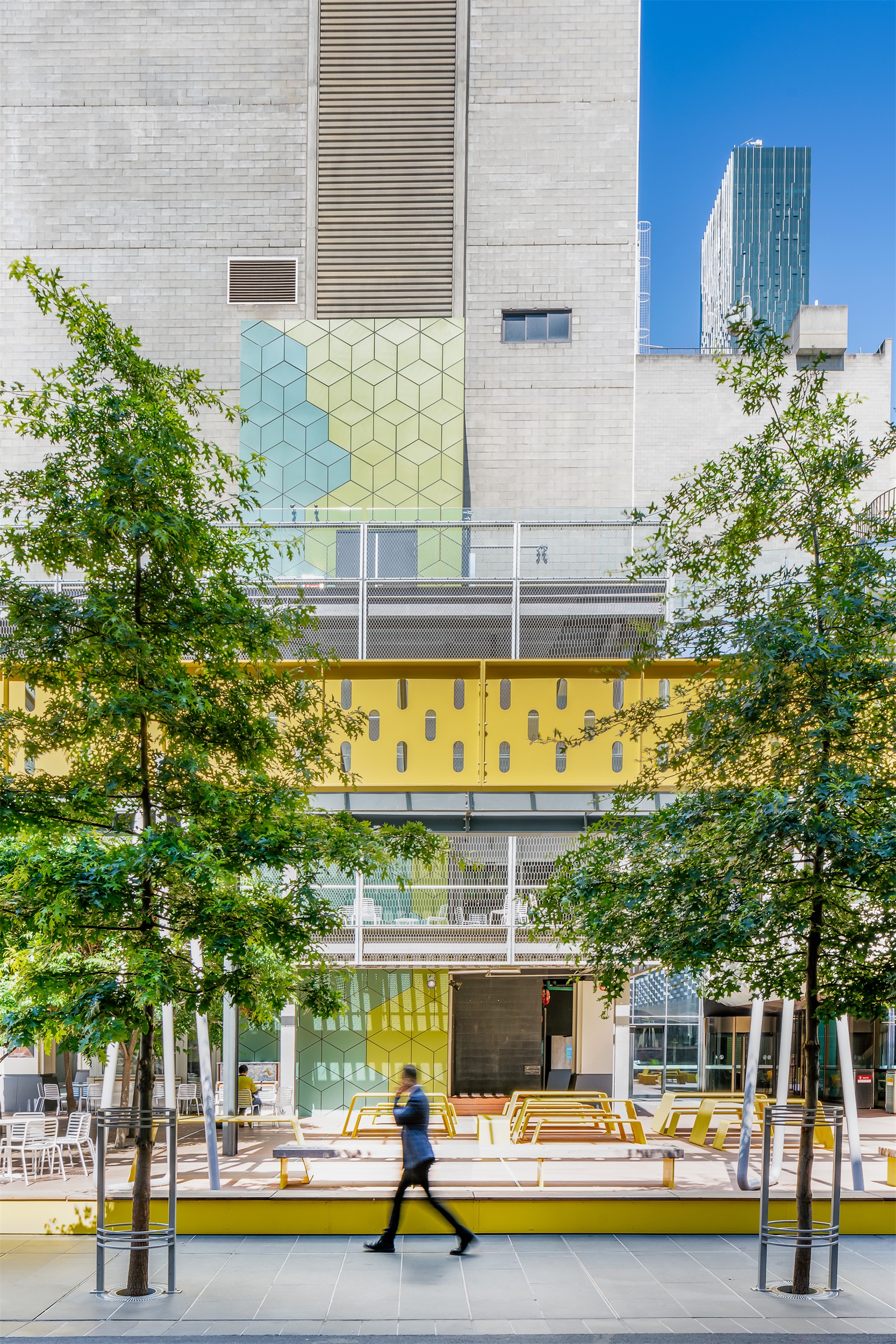 为了创造更大的连通性和渗透性,我们基于城市的形态建立了从Swanston街到Bowen街的新连接,这些街巷在尺度和用材上都体现了墨尔本的城市特色,将场地融入到更广阔的环境中。
To provide greater connectivity and permeability to the campus, we used the morphology of the city to establish new connections from Swanston Street to Bowen Lane. These laneways convey a Melbourne character in both scale and materiality to stitch the site into its broader context.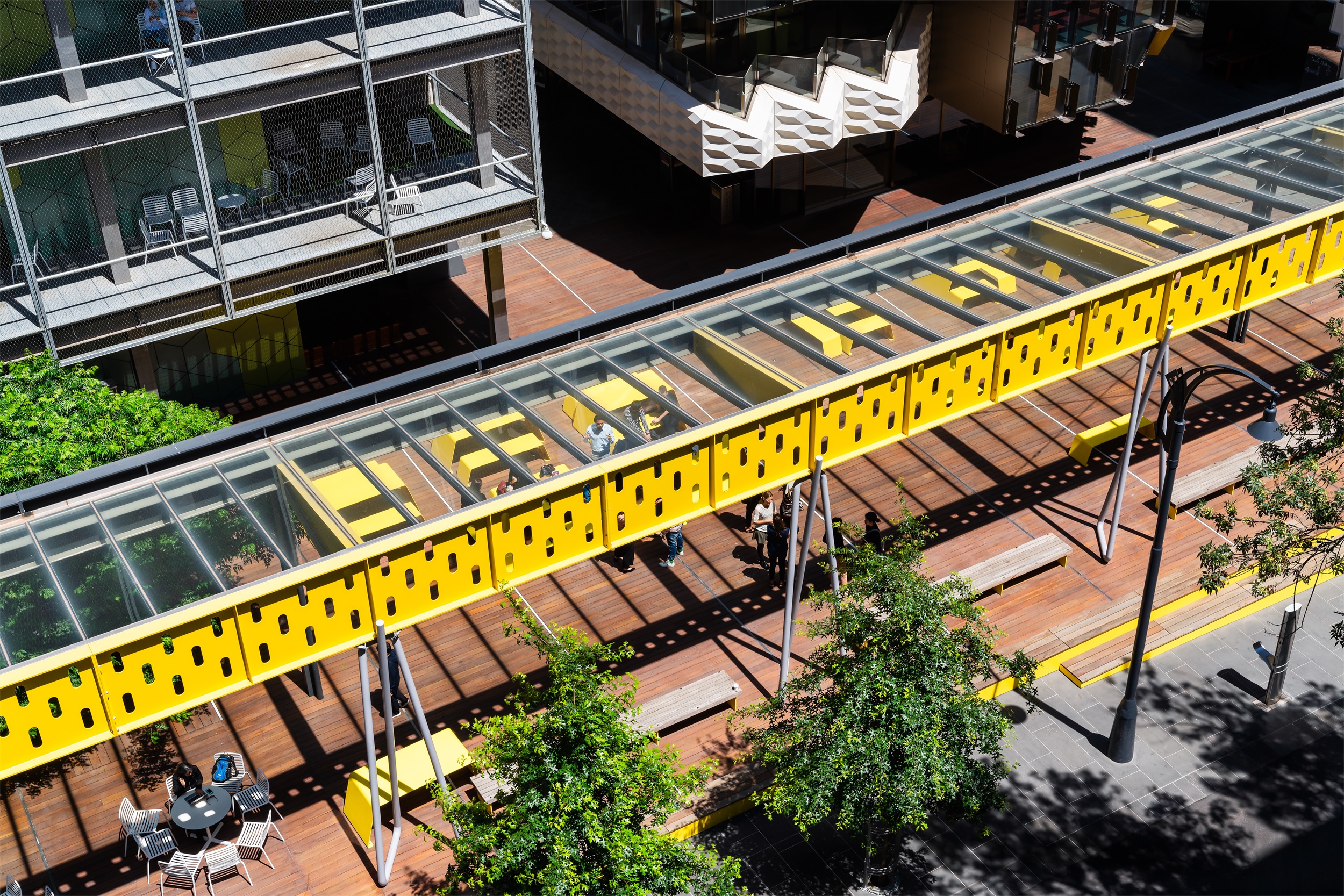 Bowen街露台 Bowen Street Terrace
在意识到必须将传统且孤立的教学城堡转变为参与性强的公共场所后,澳大利亚的多所高校都经历了重大转变。学生在校园里花费的时间越来越少,对学习成果产生了影响。现在大学拥有了更开放、更吸引人的环境设施以及对学生更友好的空间,与更广泛的社区之间建立起紧密的联系。
Recently universities in Australia have undergone significant transformations after recognising the need to move from traditional isolated citadels to places that are engaged with the dynamism of civic life. Students are spending less time on campus with impacts on learning outcomes. Universities are now providing settings that are more open and inviting, providing more student-friendly spaces with stronger connections to the wider community.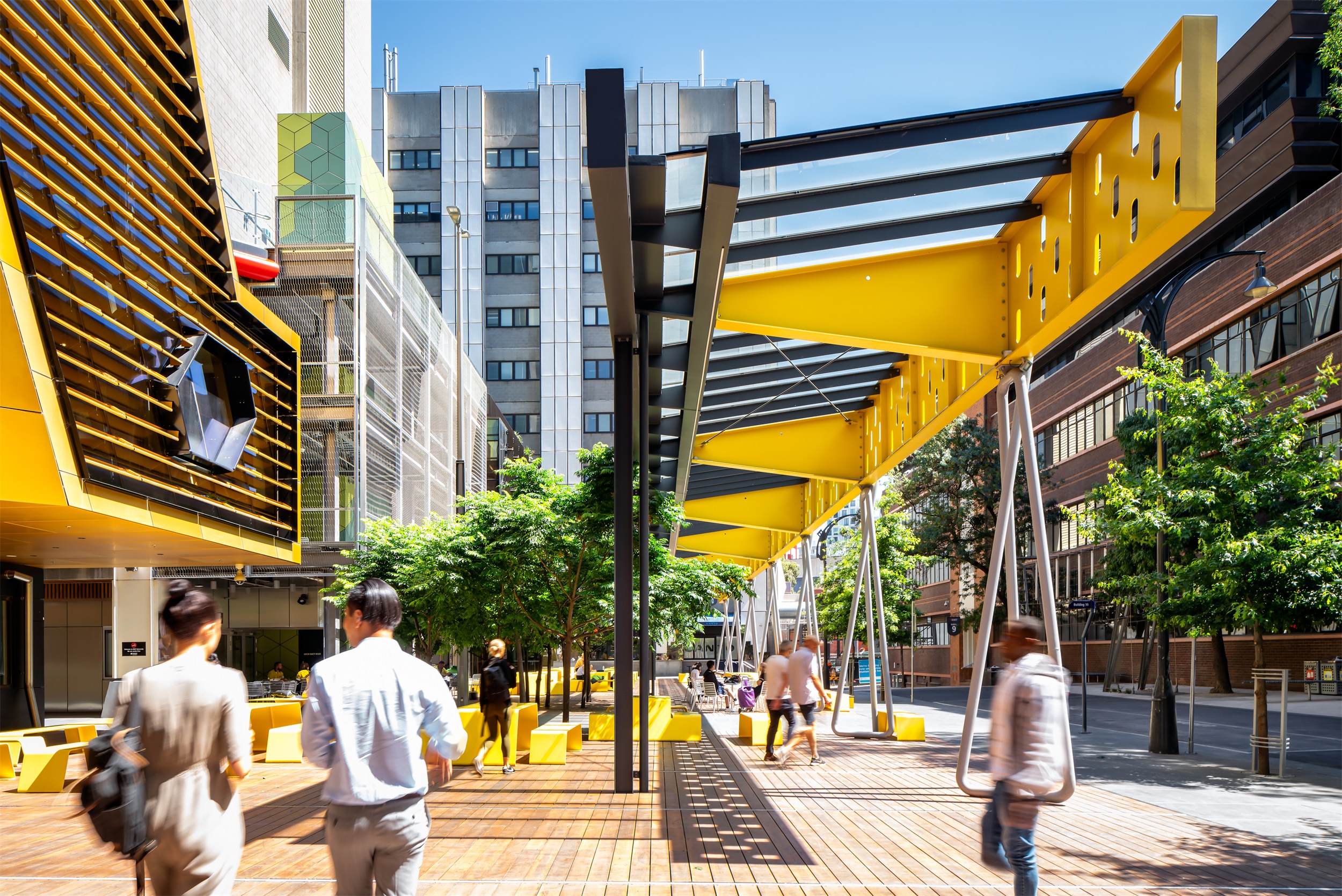 新学术街 (NAS) 为校园带来了一种公众体验,为学生们提供活力、社交机遇以及丰富多彩的活动等,这些都正与大城市的功能相匹配。Bowen露台通过一个开放的城市平台巩固了其作为城市校园的核心地位,并为学生活动提供场所。这个新的木质平台现已化身为各类活动、毕业庆典、学生俱乐部、交易会、餐饮服务以及休闲娱乐空间的载体。
New Academic Street (NAS) provides a civic experience on campus, offering vibrancy, social opportunities, dynamism and changing events and character, all commensurate with great city experiences.The Bowen Terrace consolidates this precinct as the heart of the City Campus via a generous urban platform that has become a setting for student life. A new timber terrace is now host to events, graduation celebration, student clubs, markets, food and beverage services, as well as informal seating spaces.
醒目的定制座椅与重新安置过来的Yellow Beam Arbor相得益彰,这个黄色的构架由Peter Elliott设计的防护天篷衍变而来。场地中移植的树木在中央形成一片遮荫的小树林,与城市露台形成对景。
Bold custom-designed seating by TCL provides an arresting graphic and compliments the relocated Yellow Beam Arbor – a weather protection canopy originally designed by Peter Elliott. Transplanted Melias from the site are arranged to provide a central shady grove and counterpoint to the urban terrace.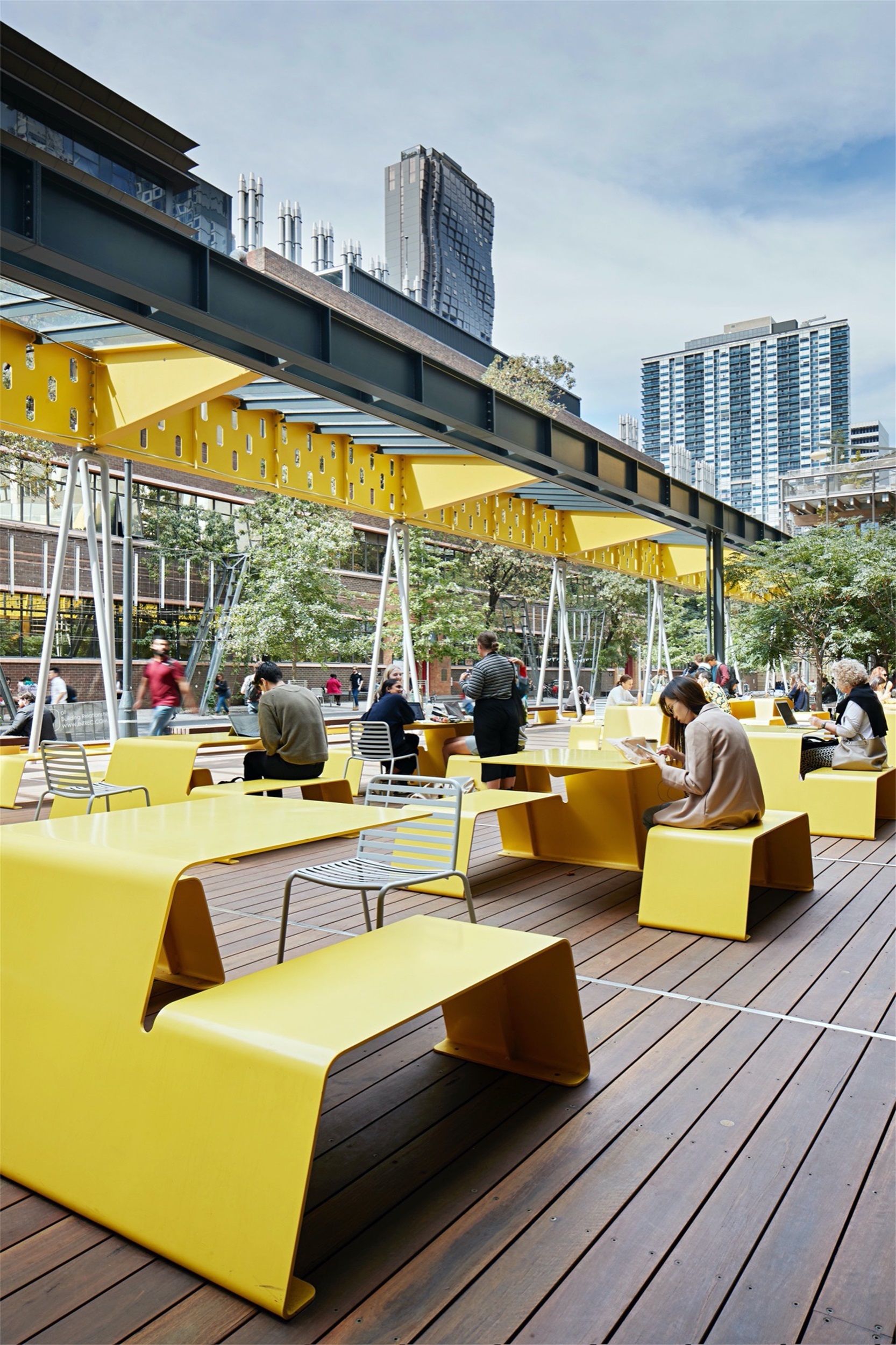 相邻的巷道、活跃的零售边界、学生服务和休憩空间构成了一个充满活力的中心,取代了以前功能和吸引力不足的混凝土平台。在外部空间有限的校园中,Bowen露台满足了教职员工和学生的需求,为他们提供了一个集会议、学习、冥想等多种功能于一体的环境,同时可以灵活适应重大活动和庆典的需求。
Adjacent laneways, active retail edges, student services and informal seating spaces contribute to a dynamic heart that replaces the previous concrete slab with limited public functions and appeal.In a campus with limited external spaces, Bowen Terrace fulfils a need that staff and students were provided a setting that fostered multiple functions from meeting, study, quiet reflection, while being flexible enough to cater for major events and ceremonies.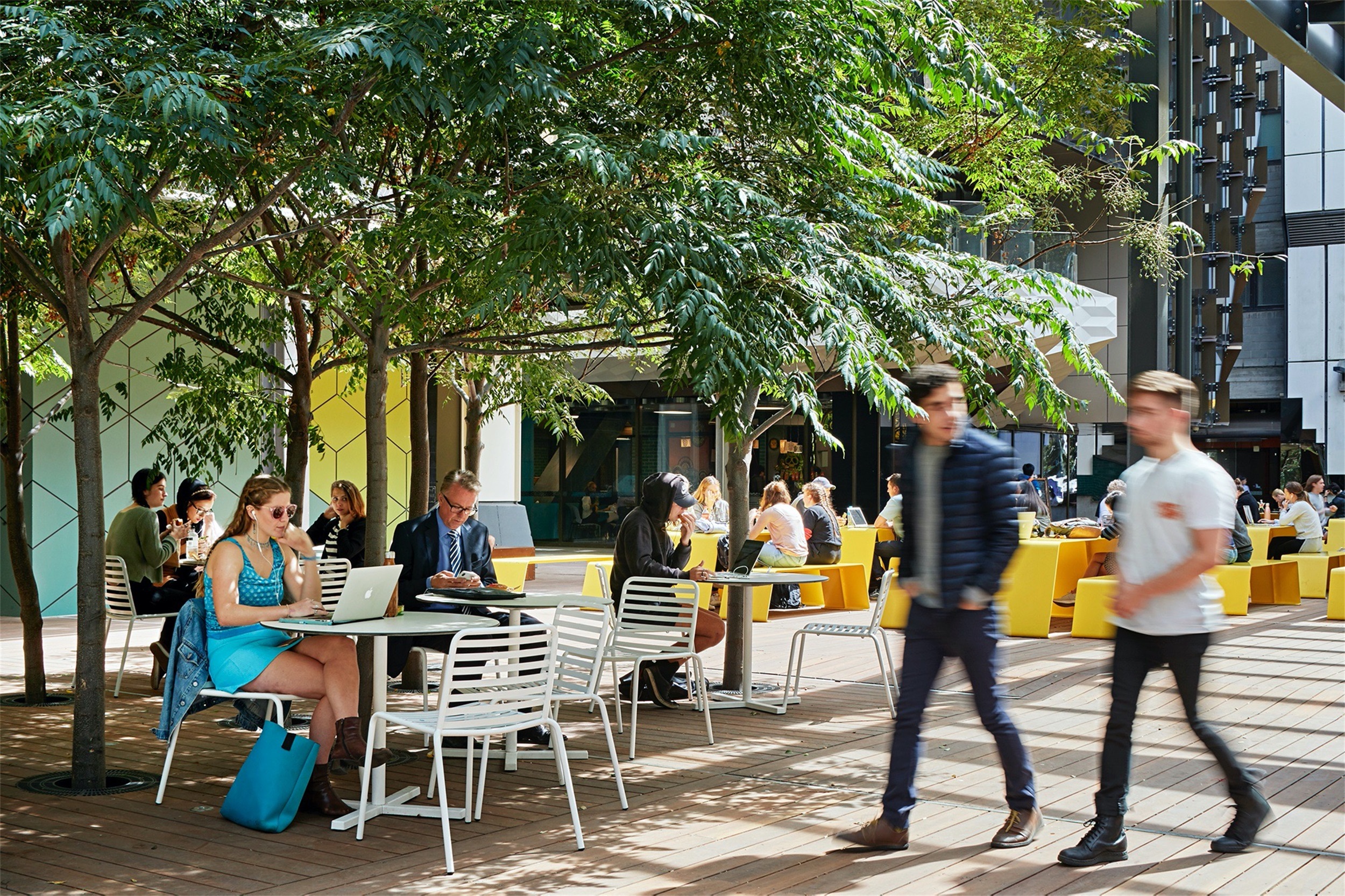 屋顶景观 Roof Landscapes
新学术街(NAS)更新项目将屋顶景观作为多层次开发的一个内在组成部分,为聚会、会议、学习或思考提供丰富的外部空间。一个室外露台和花园从新图书馆里自然延伸出来,使该更新项目在总体上创造了比之前多40%的学生空间。这些露台连接到相邻的屋顶花园,在沉浸式的种植体验中获得了更安静的学习机会。这些屋顶景观作为新学术街交通体系的组成部分,是可持续绿色屋顶技术的绝佳实践,它也与一项正在进行的研究项目相关。
NAS integrates roof landscapes as an intrinsic part of the multi-level development to ensure external spaces for parties, meeting, study or reflection are available at many levels of the project.An outdoor terrace and garden extend seamlessly from the redeveloped library, ensuring the NAS project overall provided 40% more student space than what was previously available.These terraces connect to adjacent roof gardens that provide yet more quiet study opportunities within a more immersive planted experience.These roof landscapes are now an integral part of the circulation structure of the New Academic Street and demonstrate best practice in sustainable green roof technology and have links to ongoing research programs.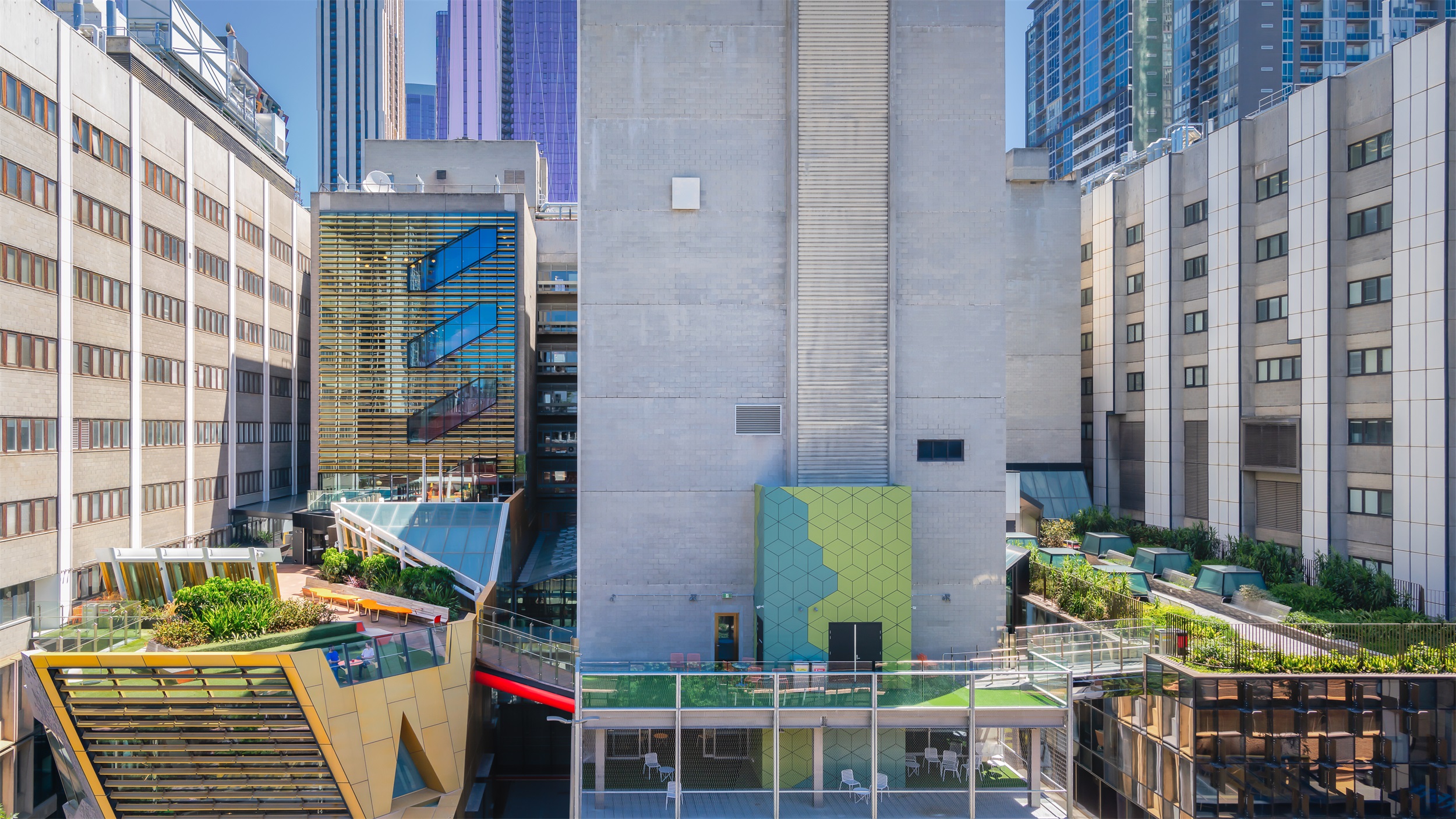 项目名称:皇家墨尔本理工大学,新学术街空间更新
完成时间:2018年
项目地点:澳大利亚 维多利亚州 墨尔本
景观/建筑公司:TCL
网站:www.tcl.net.au
联系电子邮件:kate.c@tcl.net.au
首席建筑师:Perry Lethlean -总监
设计团队:Lucas Dean – Associate
客户:皇家墨尔本理工大学
合作者
建筑团队:Lyons, NMBW Architecture Studio, Harrison and White, Minifie van Schaik Architects, Maddison Architects
景观团队:TCL (Taylor Cullity Lethlean)
合作者:Peter Elliott
园林建筑设计:Glas landscape Architecture
园艺师:Annette Warner
工程师:ARUP, Aecom, CJ Arms
DDA:Architecture and Access
项目管理:DCWC
灌溉:LIS (Landscape Irrigation Services)
土壤:Peter May
照片来源:Massimo Combi
摄影师网站:www.maxicombi.com
Project name: RMIT New Academic Street
Completion Year: 2018
Project location: Melbourne, Victoria, Australia
Landscape/Architecture Firm: TCL
Website: www.tcl.net.au
Contact e-mail: kate.c@tcl.net.au
Lead Architects: Perry Lethlean – Director
Design Team: Lucas Dean – Associate
Clients: RMIT University
Collaborators
Architectural team: Lyons, NMBW Architecture Studio, Harrison and White, Minifie van Schaik Architects, Maddison Architects.
Landscape Architecture: TCL (Taylor Cullity Lethlean)
Collaboration: Peter Elliott
Garden Building landscape architecture: Glas landscape Architecture
Horticulture: Annette Warner
Engineering: ARUP, Aecom, CJ Arms
DDA: Architecture and Access
Project Management: DCWC
Irrigation: LIS (Landscape Irrigation Services)
Soil: Peter May
Photo credits: Massimo Combi
Photographer's website: www.maxicombi.com
---
" 这些街巷在尺度和用材上都体现了墨尔本的城市特色,将场地融入到更广阔的城市环境中。"
审稿编辑: Simin
更多 Read more about: TCL (Taylor.Cullity.Lethlean)