本文由 天仝建筑设计 授权mooool发表,欢迎转发,禁止以mooool编辑版本转载。
Thanks TEKTONN ARCHITECTS for authorizing the publication of the project on mooool. Text description provided by TEKTONN ARCHITECTS.
天仝建筑设计:位于天府新区核心区域,兴隆湖畔的路演中心承载着新区文化艺术和科技创新高地的窗口作用,也因为其紧邻湖面、超远视距的城市标志性,对设计系统性地思考空间、形态和与场地周边关系提出更高诉求。
TEKTONN ARCHITECTS :Located in the heart of TFNA, the Roadshow Centre on the shores of Xinglong Lake serves as a window to the TFNA's cultural, artistic and technological innovation heights, and because of its proximity to the lake and its long-range urban iconic character, the design demands a more systematic thinking of spaces, morphologies and relationship to the environment.
路演中心的设计融于湖畔公园,在毗邻城市一侧采用谦虚、承托的姿态,为游人提供登高远眺的空间;面向湖面一侧则盘旋形成多样且宜人滨水空间。
The design tries to integrate into the lakeside park, adopting a modest, supportive stance on the side adjacent to the city, providing a belvedere for visitors to climb up, while the side facing the lake hovers to form a diverse and pleasant waterfront space.
▽项目与周边环境 Project and surrounding environment,overall view 
▽项目鸟瞰 Aerial view
建筑以简单的形体,粗犷的材质感,远远望去,仿佛湖中巨兽忽然跃出水面的瞬间凝结,以独特的寓意和表达融入环境。
The simple form of the building, with its rough sense of materiality, is seen from afar as if a beast in the lake suddenly leapt out of the water, frozen in a moment of unique symbolism and expression into the environment.
▽建筑外观 Architectural appearance
▽屋顶坡面 Slope roof
▽屋顶鸟瞰图 Aerial view of the roof
▽登高远眺的屋顶空间 Rooftop space with a high view
▽建筑庭院景观 Architectural garden landscape
建筑立面模仿湖畔原生粗糙的岩石,以波浪格栅的形式在建筑外侧形成半透的遮挡。格栅的存在既减少白天阳光的直射,又在夜间形成丰富变化的建筑表情。
The façade forms a wave grille on the outside of the building, with the same texture of the local rough stone. This semi-transparent screen both reduces direct sunlight during the day and creates a changing architectural expression at night.
▽波浪格栅建筑外立面 Wave grid building facade
立面的通透性形成外部空间和内部空间的延续性。结构、吊顶的形式和变化的光影形成渐变的序列感和面对湖面的强烈方向感。而湖畔深达2公里的景深则成为内部空间的城市级背景。
This permeability of façade creates a continuation between the external and internal spaces: the structure, the form of the ceiling and the changing lights and the shades create a sense of gradual sequence and a strong sense of direction facing the lake.  The landscape toward the lake, with a distance of 2km, acts as an urban backdrop to the interior spaces.
▽兴隆湖湖路演中心_分时使用 Xinglong Lake Lake Roadshow Center _ time-sharing use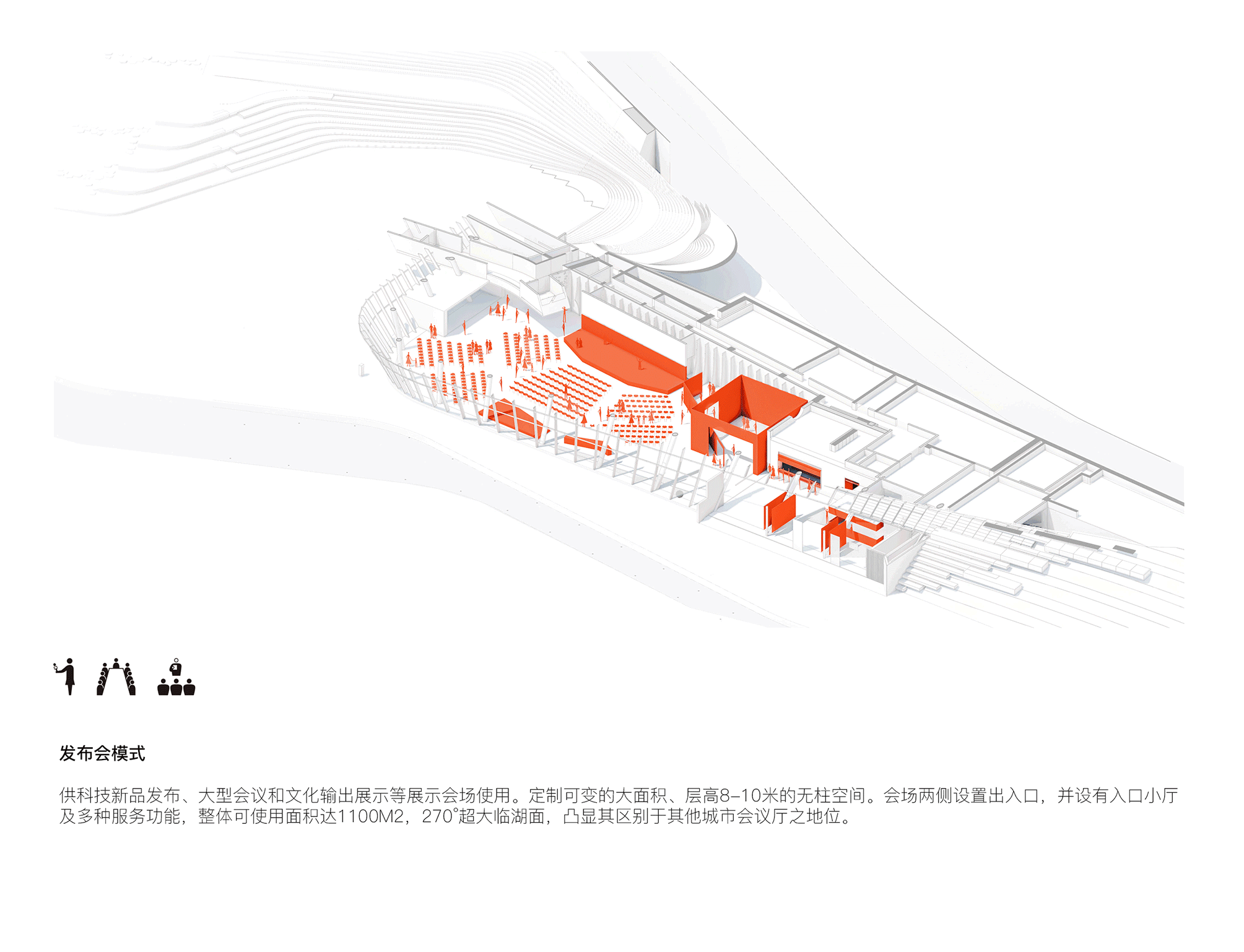 ▽滨水景观空间 Waterfront landscape space
赋予这个直接临水的无柱大空间独特的空间特质,也为市民提供别样的滨水生活体验。
It gives a unique spatial quality to this large, column-free space directly on the water and provides the public with a different experience of waterfront living.
▽场地夜景 Field at night
▽总平面图 Plan
▽平面图 Plan
▽立面剖透视 Elevation section perspective
▽剖面图 Section
项目名称:天府路演艺术中心
建筑事务所:天仝建筑 | TEKTONN ARCHITECTS
公司网站:https://www.tektonn.com/
联络邮箱:media@tektonn.com
公司所在地:成都一品天下大街 172 号 C 区 1 栋 4 楼
项目完成年份:2022
建筑面积:2592 m2
项目地址:成都市双流区湖畔路东段与鹿溪口北路交汇处
主创建筑师:WANG XIANG
主创建筑师邮箱:iksvvv@me.com
摄影师:存在建筑摄影、毫厘摄影工作室
项目参与者
设计团队:
方案设计:倪燕、田文沐、朱文韬
施工图设计:中国建筑西南建筑设计研究院有限公司
委托方:成都天府新区投资集团有限公司
结构设计:i-Structure
景观设计:陈宏宇 中国建筑西南建筑设计研究院有限公司
Project Name: Roadshow art center of Tianfu
Architecture Firm: TEKTONN ARCHITECTS
Website: https://www.tektonn.com/
Contact e-mail: media@tektonn.com
Firm Location:172, street Yipintianxia,610073 Chengdu, China
Completion Year: 2022
Gross Built Area: 2592 m²
Project location: Conjunction of Luxikou North Road and Hupan Road TFNA, CHINA
Lead Architects: Xiang Wang
Lead Architects e-mail: iksvvv@me.com
Photo credits: Arch-Exist、MMCM Studio
Design Team:
Yan Ni, Wenmu Tian, Wentao Zhu ( PD, SD & DDF)、CSWADI (DD & CD)
Clients: Chengdu Tianfu Investments Group
Engineering: i-Structure
Landscape: Chen Hongyu CSWADI
---
" 设计以以独特的寓意和表达将建筑融入环境,打造舒适宜人的滨水空间。"
审稿编辑: Maggie
更多read more about: 天仝建筑设计