本文由 SPORTS 授权mooool发表,欢迎转发,禁止以mooool编辑版本转载。
Thanks SPORTS for authorizing the publication of the project on mooool, Text description provided by SPORTS.
SPORTS:伊利诺伊州森林中的Rounds是2016年Ragdale Ring国际设计建造竞赛的获奖作品,并获得了Adrian Smith奖和《建筑师报》"最佳设计 "奖。Rounds是Ragdale基金会的一个户外临时剧场,位于芝加哥以北30英里的艺术家聚居地——伊利诺伊州森林湖社区。不同于传统的演出大厅和舞台,Rounds建立了一个异想天开和可供休息的演出空间。
SPORTS:(Lake Forest, IL) – Rounds is the winning design for the 2016 Ragdale Ring international design-build competition and the recipient of the Adrian Smith Prize and an Architect's Newspaper "Best of Design" Award.  The project is a temporary outdoor performance pavilion for the Ragdale Foundation, an artist colony 30 miles north of Chicago in the community of Lake Forest, Illinois. Departing from the convention of the bandshell structure and stage most commonly deployed in this setting, Rounds establishes a whimsical and inhabitable performance surface.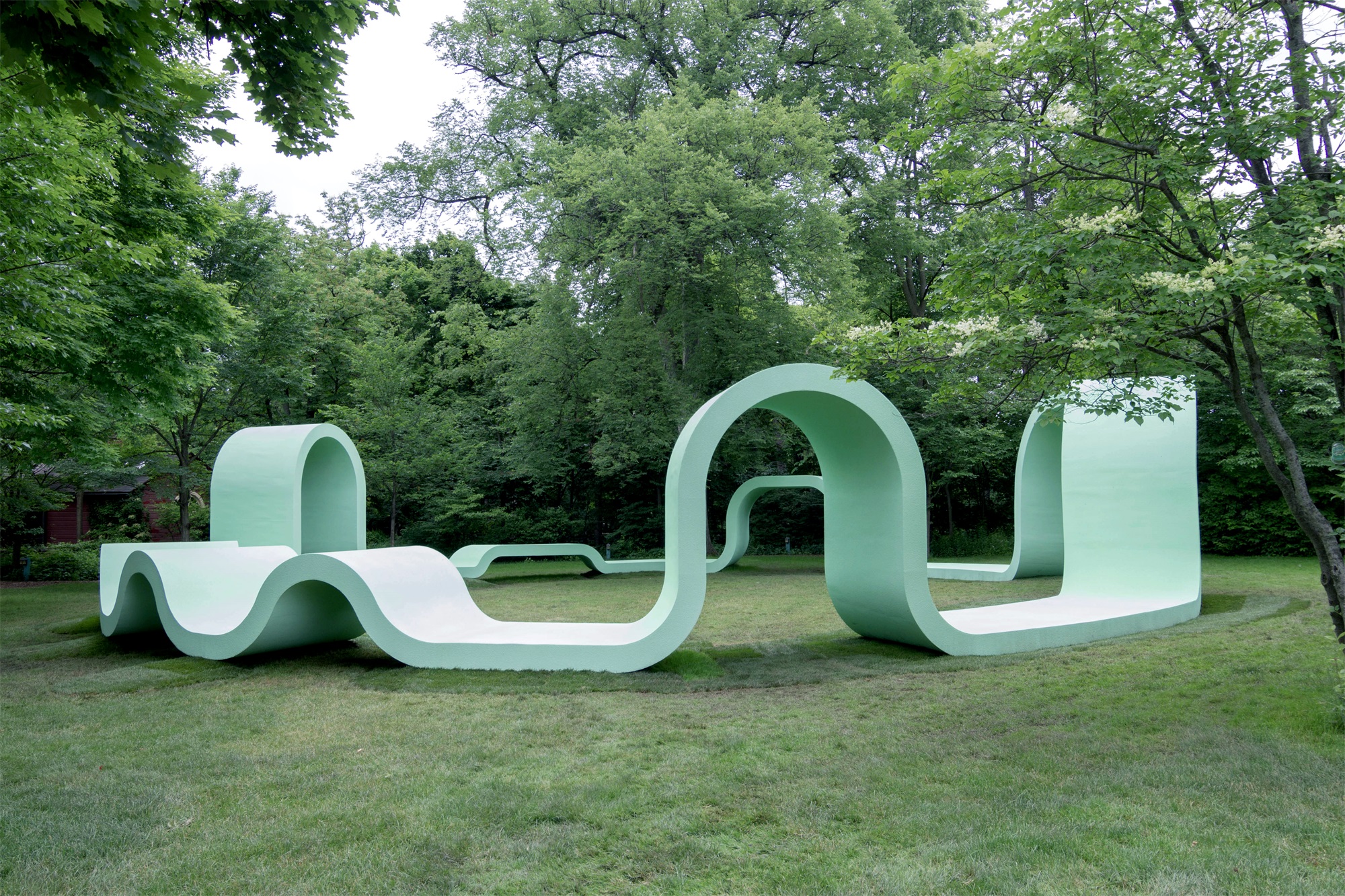 Rounds不同形状和尺寸起伏波动的结构提供了多种表演形式,让表演者与观众、舞台布置和座位选择之间呈现出多种形式,创造了一个多功能的户外场地并提供了全方位的观演体验。
Through its multiplicity of surface undulation types and sizes, Rounds encourages a multiplicity of performance types, performer to audience relationships, stage arrangements, and seating options, generating a versatile outdoor venue and a fully encompassing experience.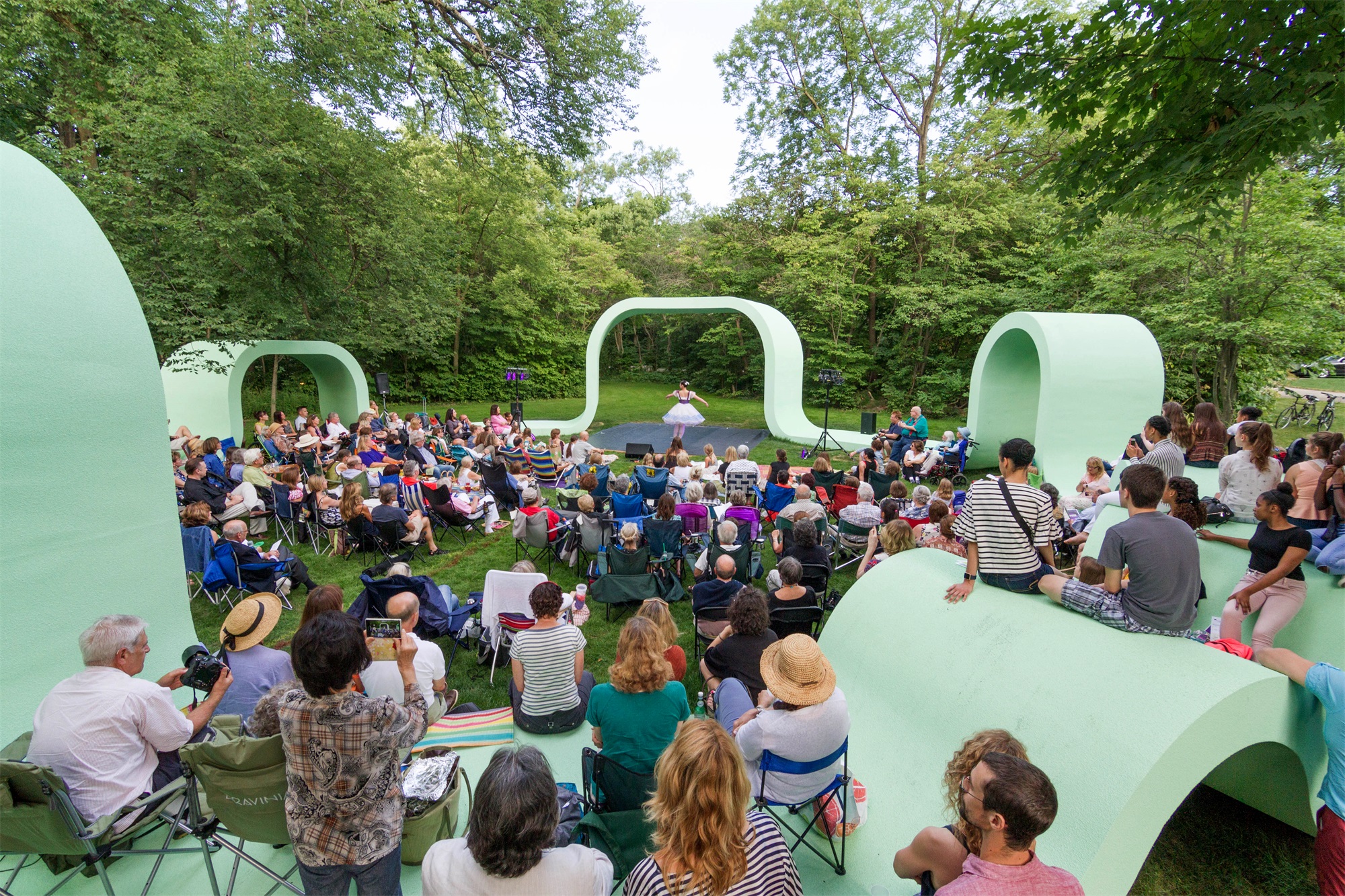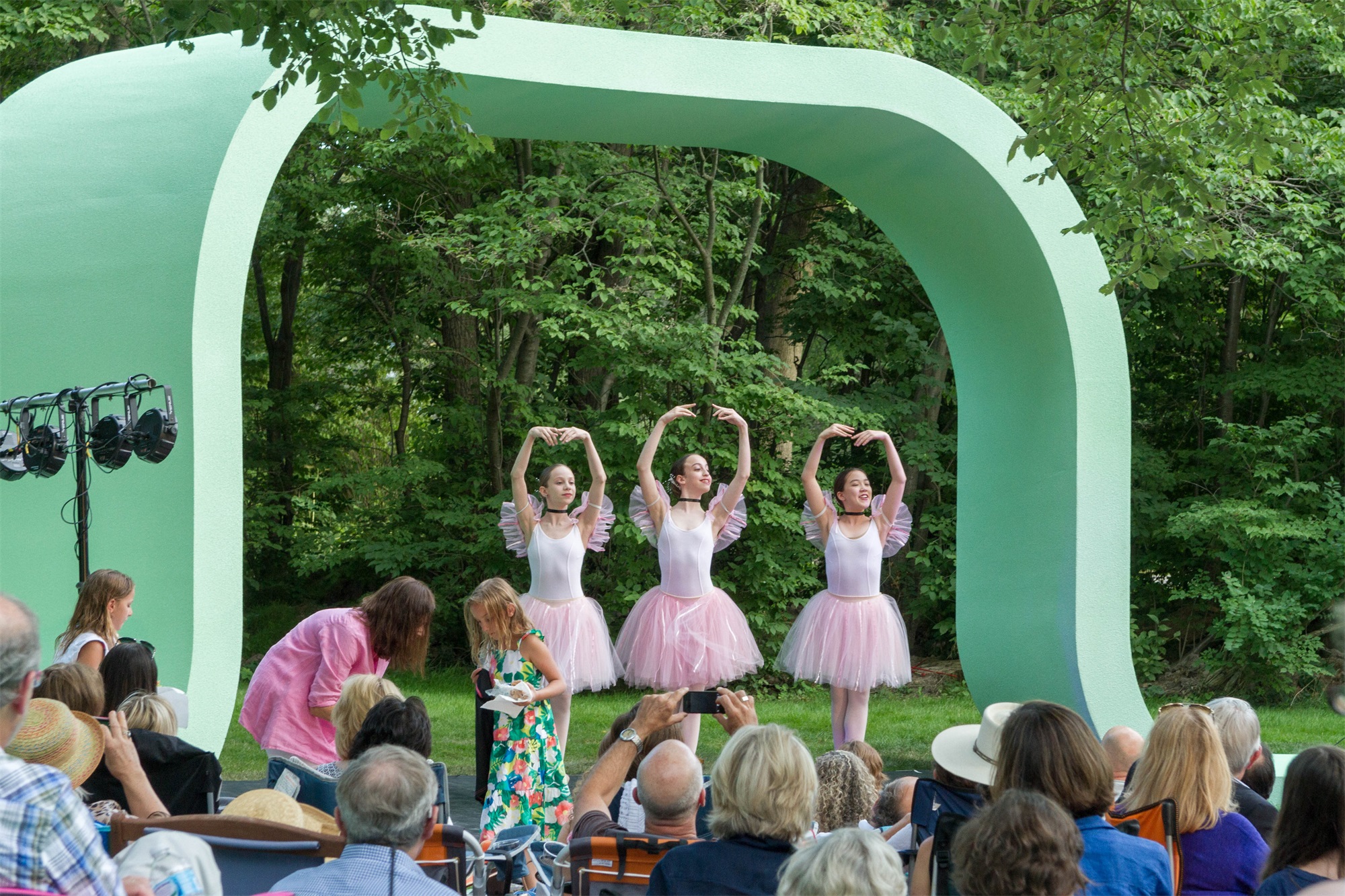 这件具有建筑规模大小的庭院家具与现场的优美景色和自然草地相得益彰,可供游客在特殊场合享受,也可供驻场艺术家在思考和培养他们的创作灵感时定期享受。
Acting as a piece of architecturally-scaled garden furniture, the project compliments the beautiful existing landscape and natural prairie setting and can be enjoyed by both visitors on special occasions as well regularly by artists in the residency program as they reflect and nurture their creative efforts.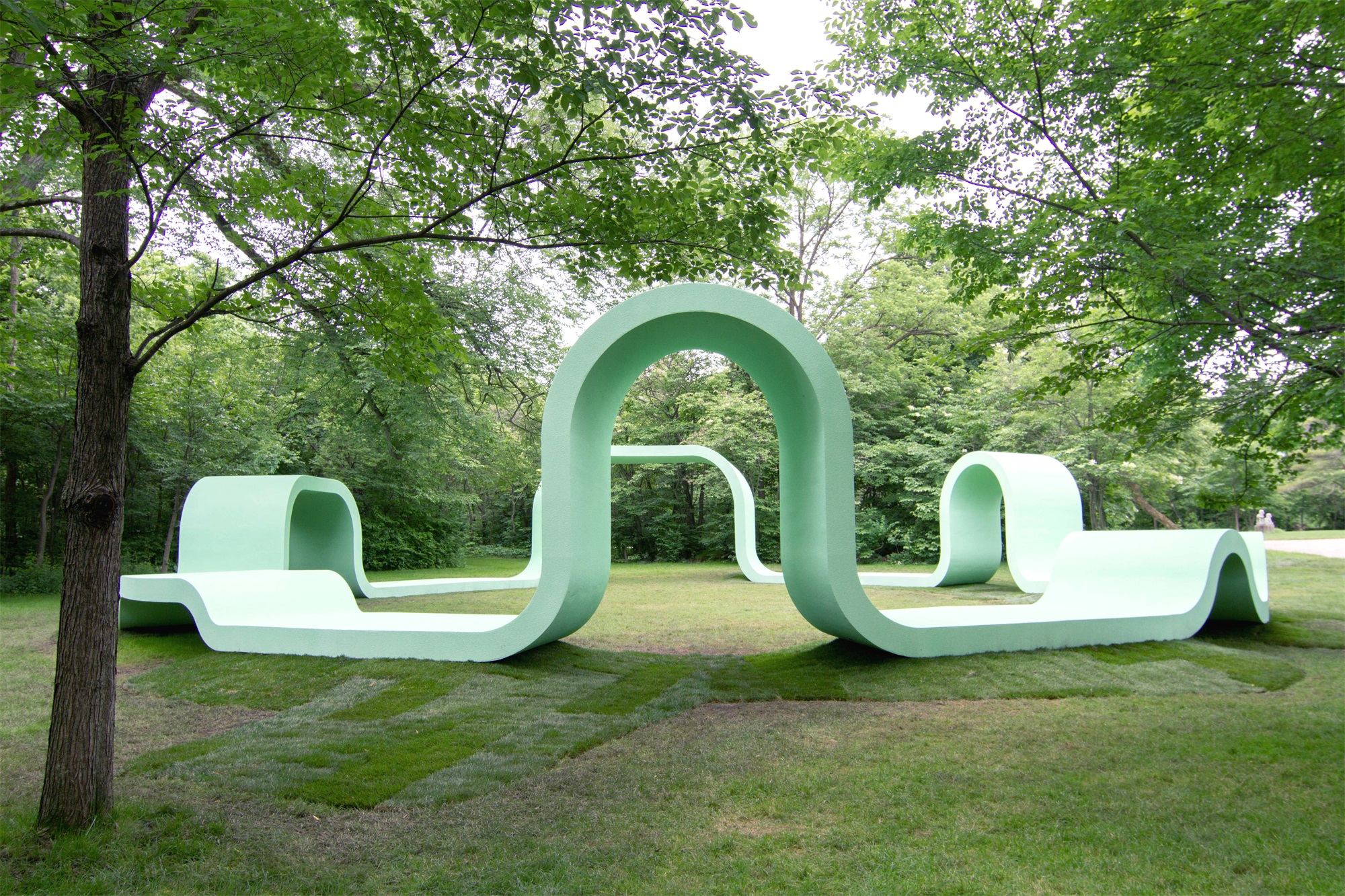 ▼与环境协调的Rounds Coordinate with the environment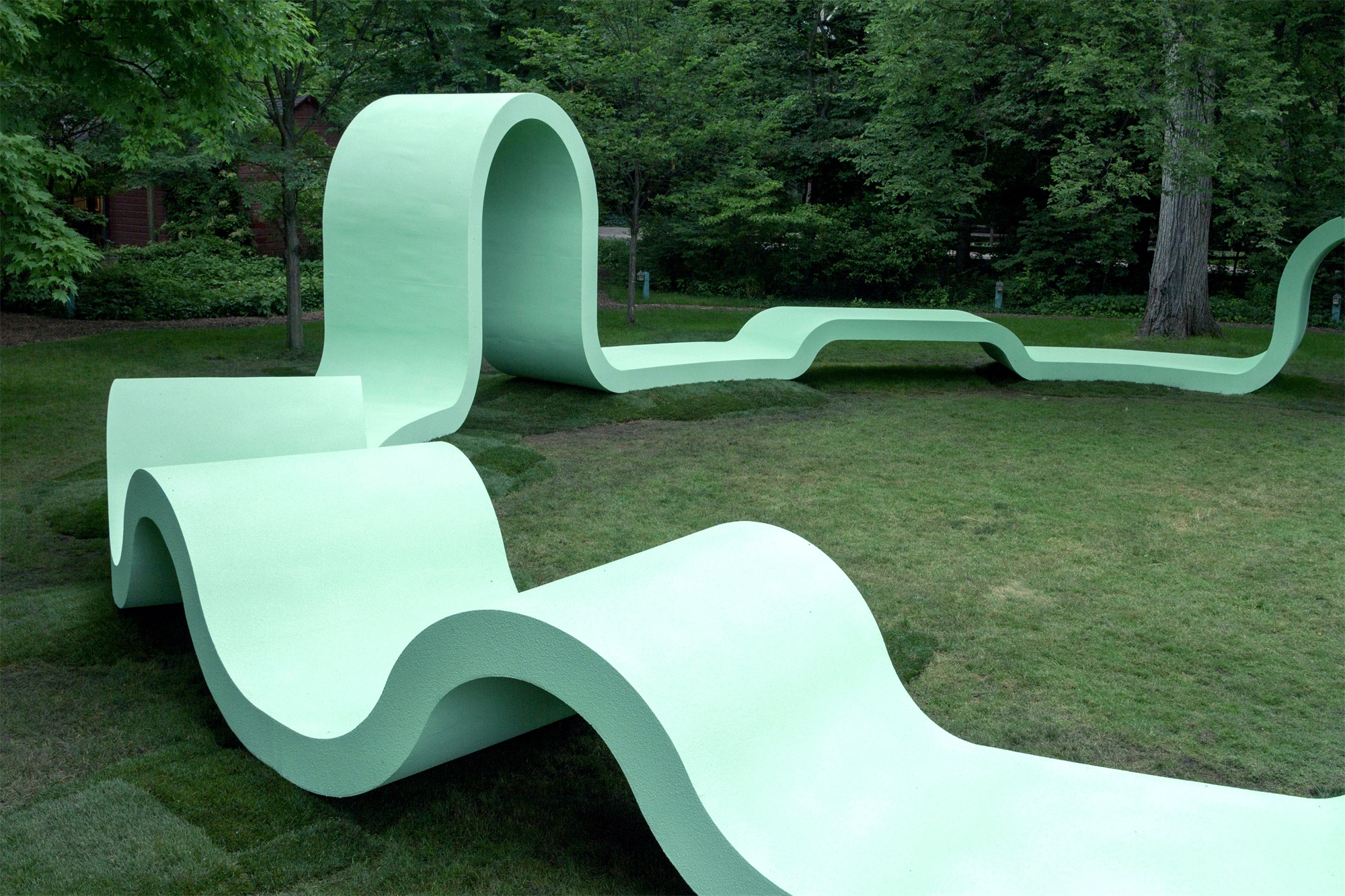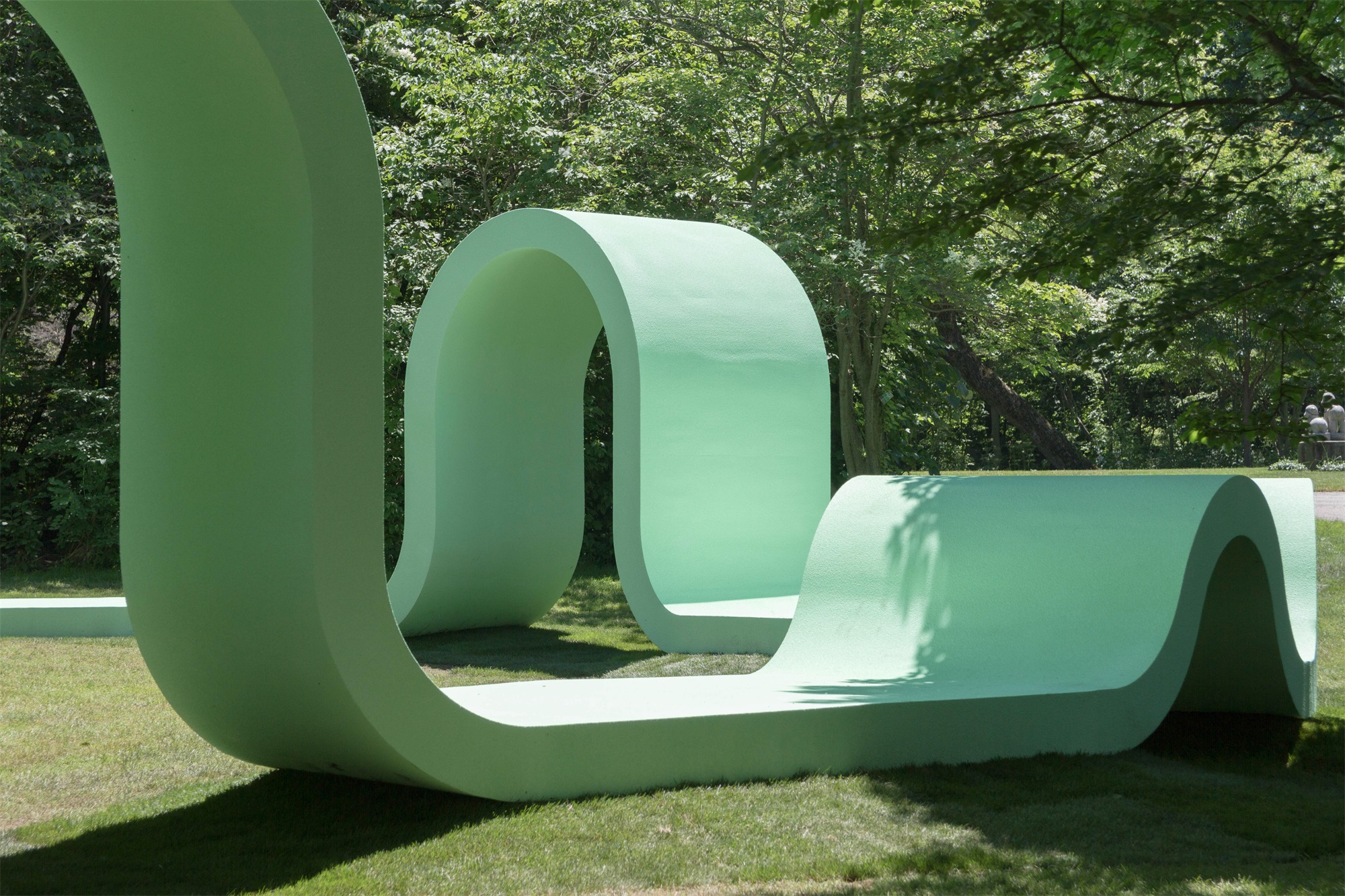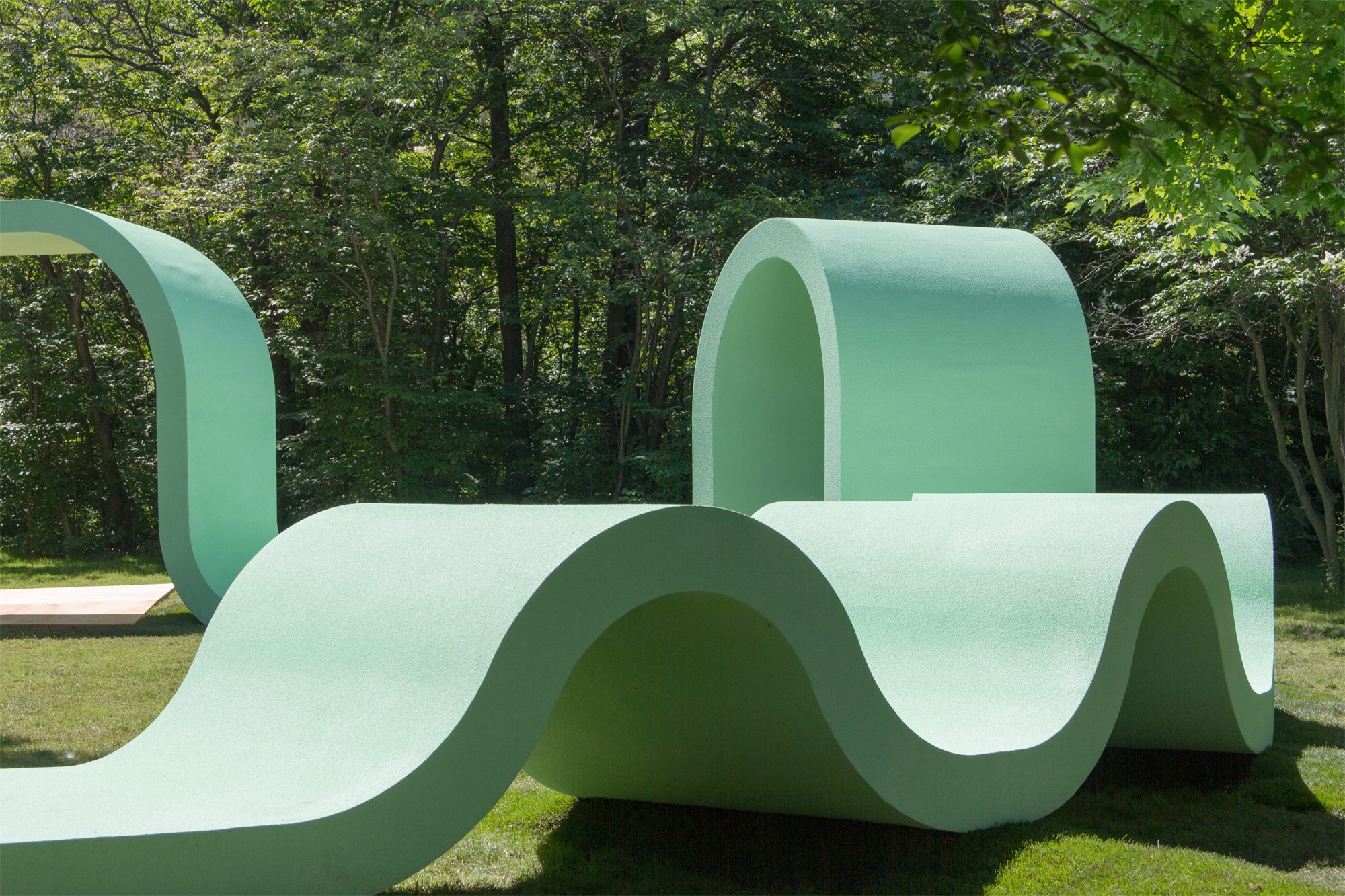 ▼细节 Detail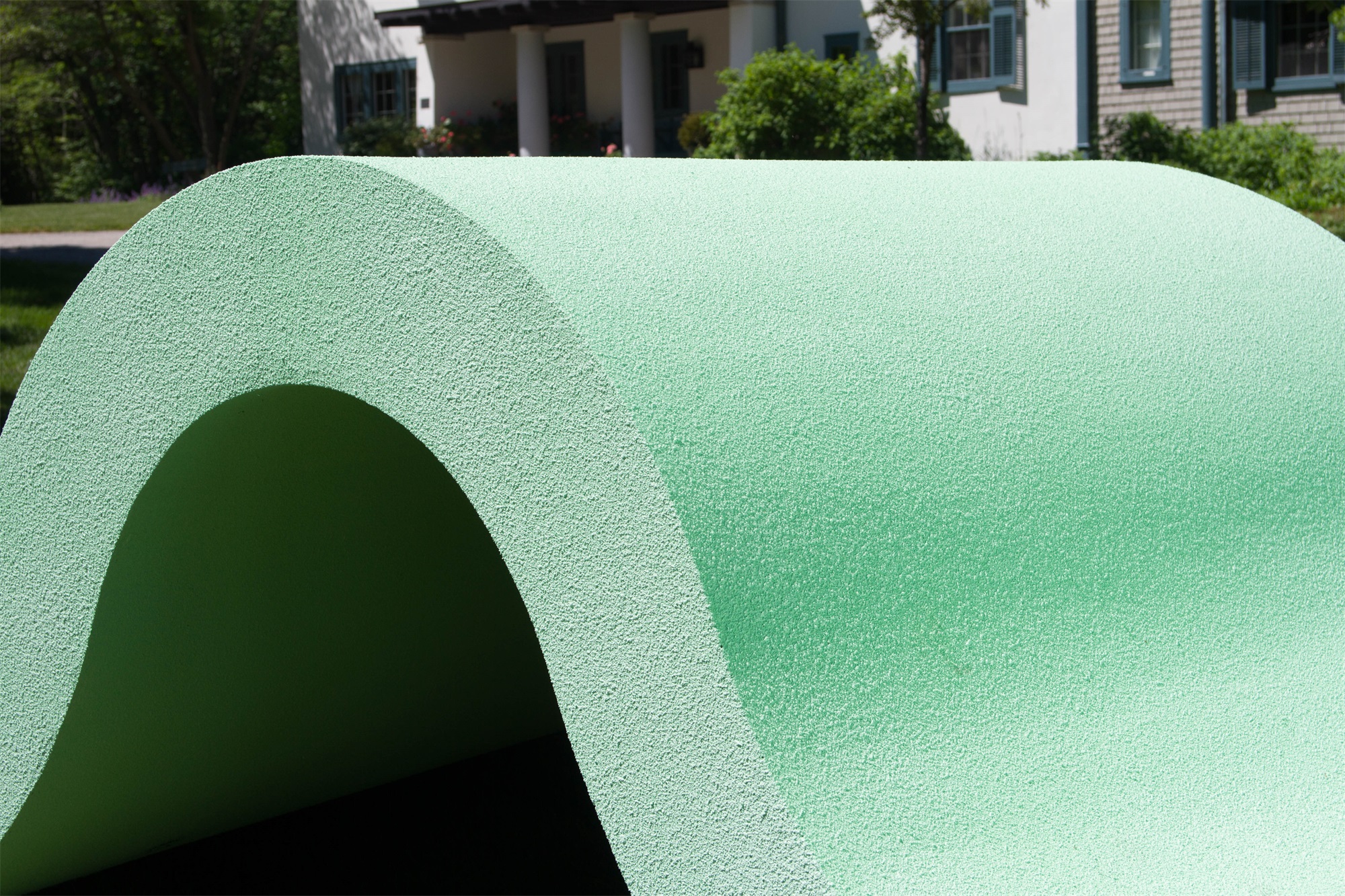 Rounds小幅度波动的表面在表演期间为观众提供了舒适的休息空间,在非演出期间也可作为艺术家思考创作的地方。中等幅度的波动提供了通往环形区内部空间的入口,同时也可作为备选舞台满足相关表演安排。最大幅度的波动形成了主舞台,它可以被分解成更小的部分,配合周围同时进行的其他演出。
Small-scale undulations in the ring surface act as a lounge spaces for viewers during performances, or artists to contemplate their work during non-performance times. Mid-scale undulations in the surface provide entrances to the inner space of the ring, while also providing smaller scale protected stage areas.  The largest undulation is designed for the main stage area, a stage that can be broken down into smaller parts and distributed around the ring for several concurrent performances.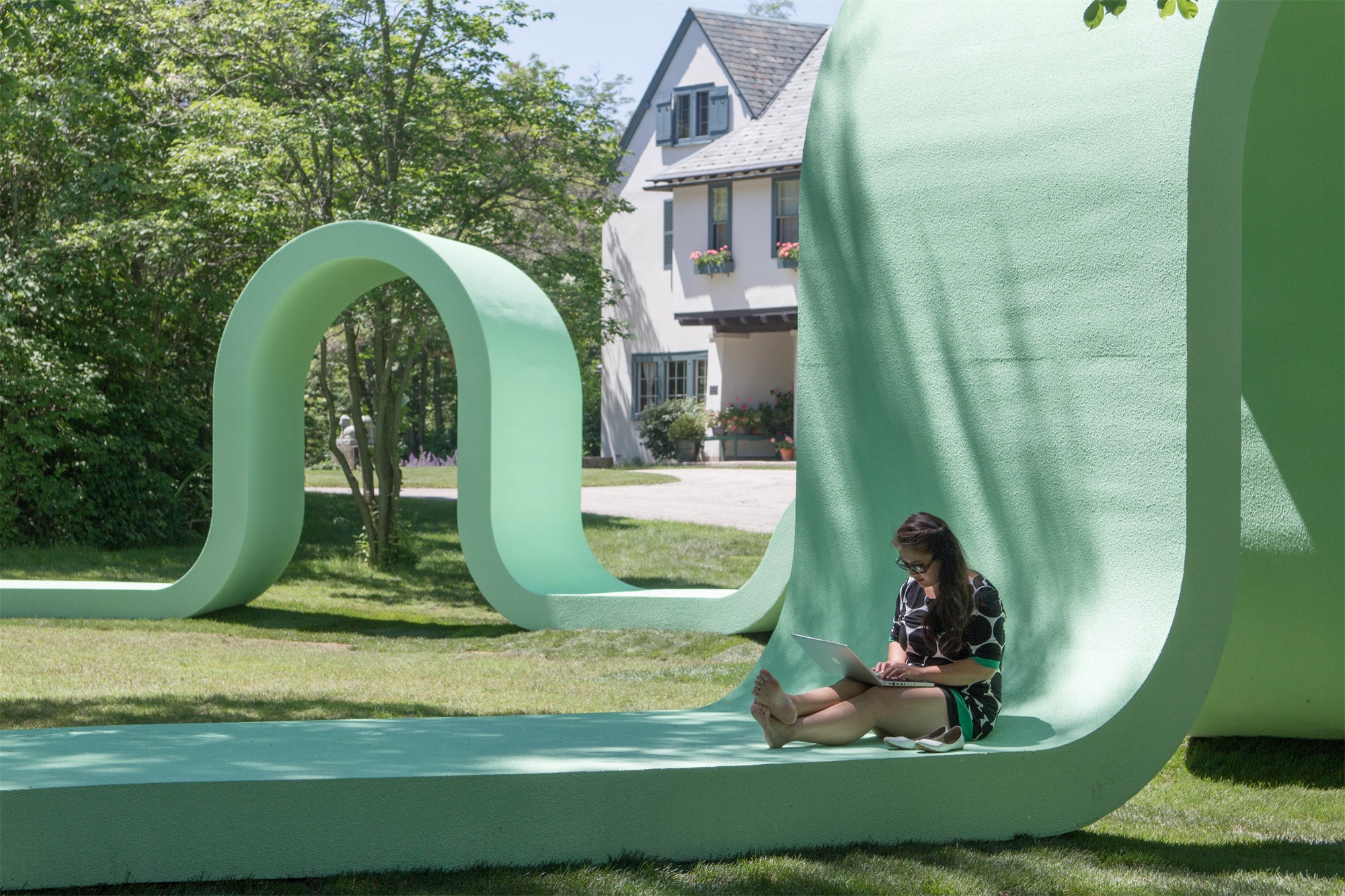 ▼主舞台 Main stage
Rounds 也从圆形剧场的历史中汲取了经验,它将表演者与观众带入同一空间,使舞台与座位、表演者与观众之间的关系更加多变。舞台位置可以根据演出类型和策展人的设想而变动,表演者和观众都可以在该环形剧场内表演、停坐和休息,也可以沿着环形剧场的表面栖息。
Rounds also learns from the history of theaters in the round. Theaters in the round bring the performers into the same space as the audience, allowing for a more dynamic relationship between stage and seating, between performer and viewer. With a variety of possible stage locations depending on performance type and curator vision, performers and viewers alike can perform, sit and lounge within the ring as well as perch themselves all along the ring surface.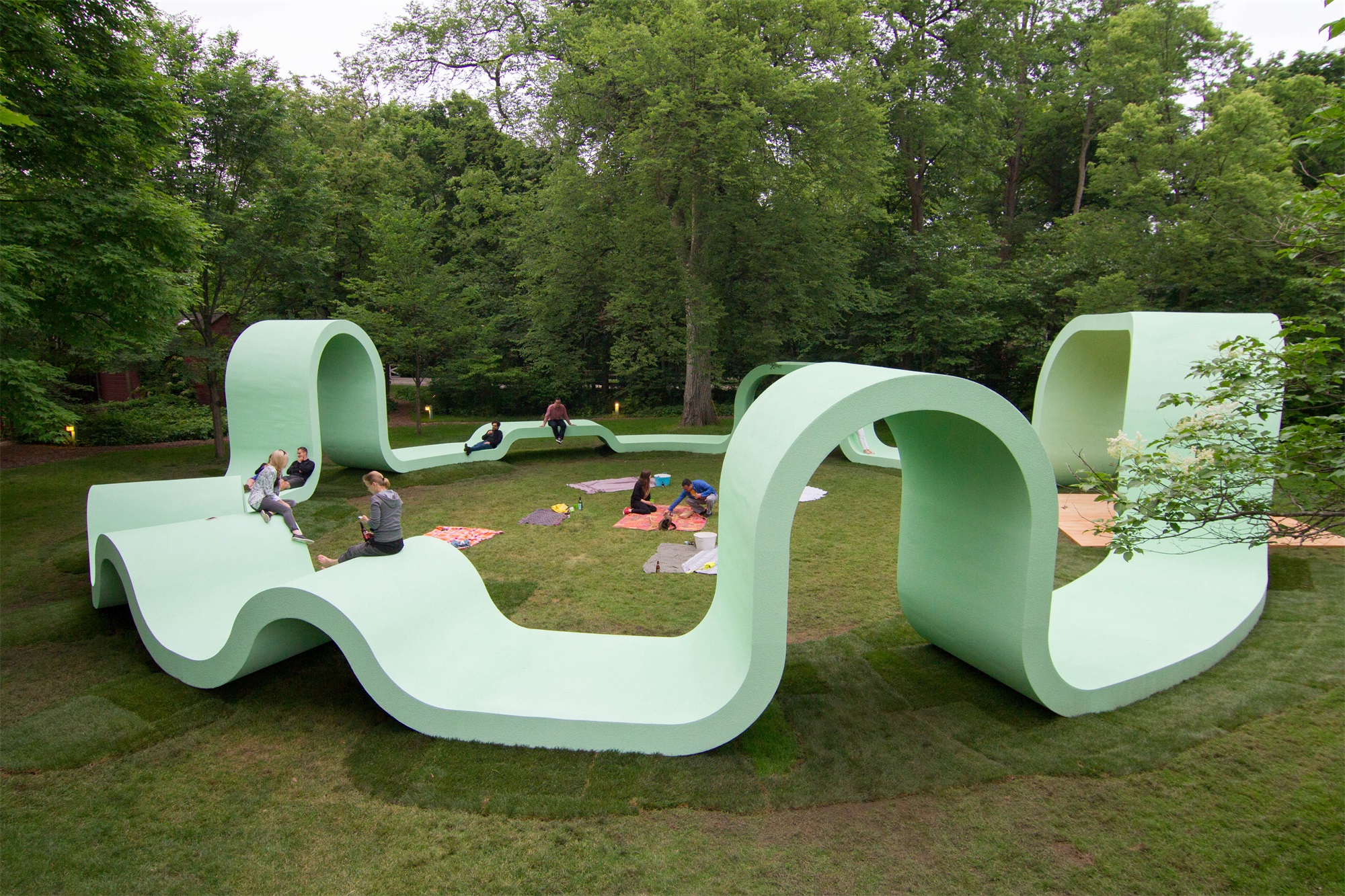 ▼分析图纸 Analytical drawings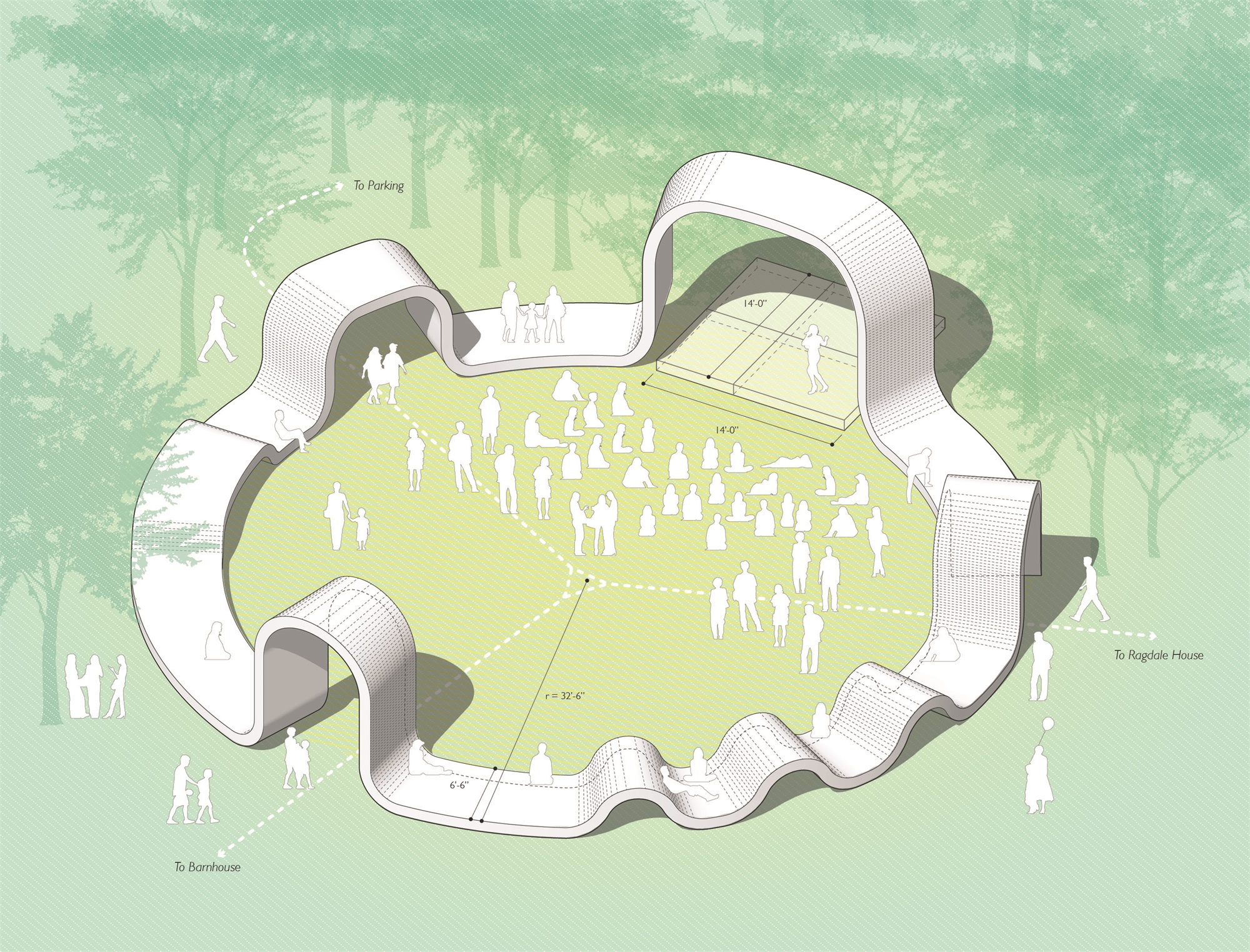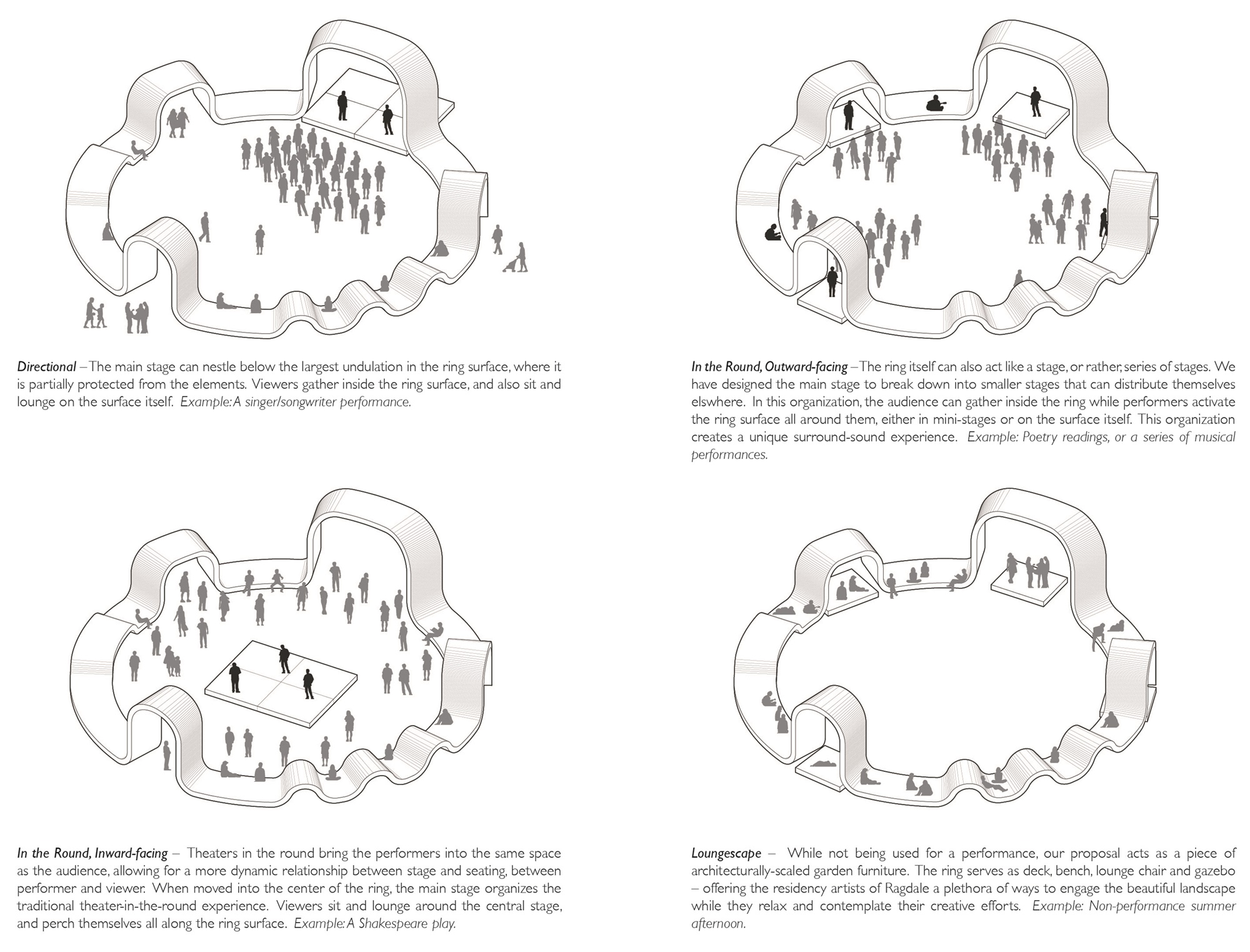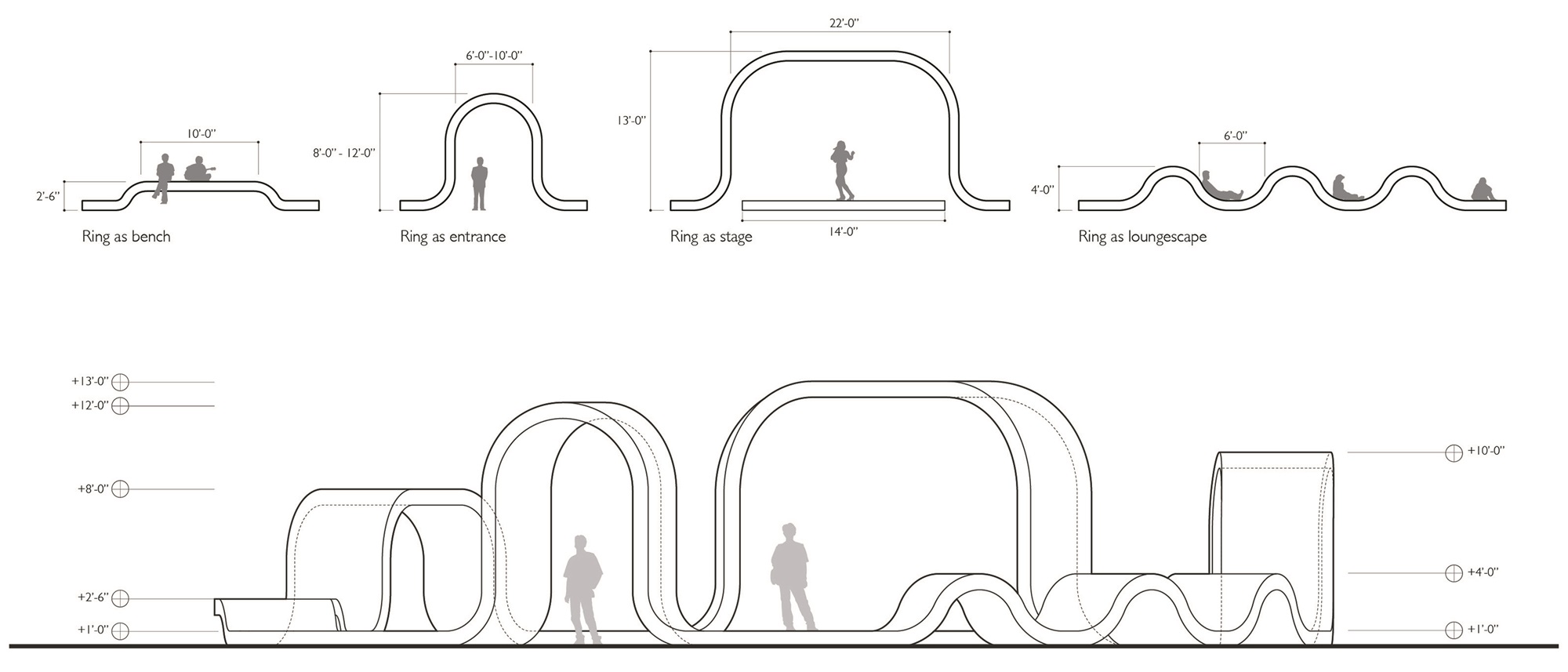 ▼设计师 Greg Corso, Molly Hunker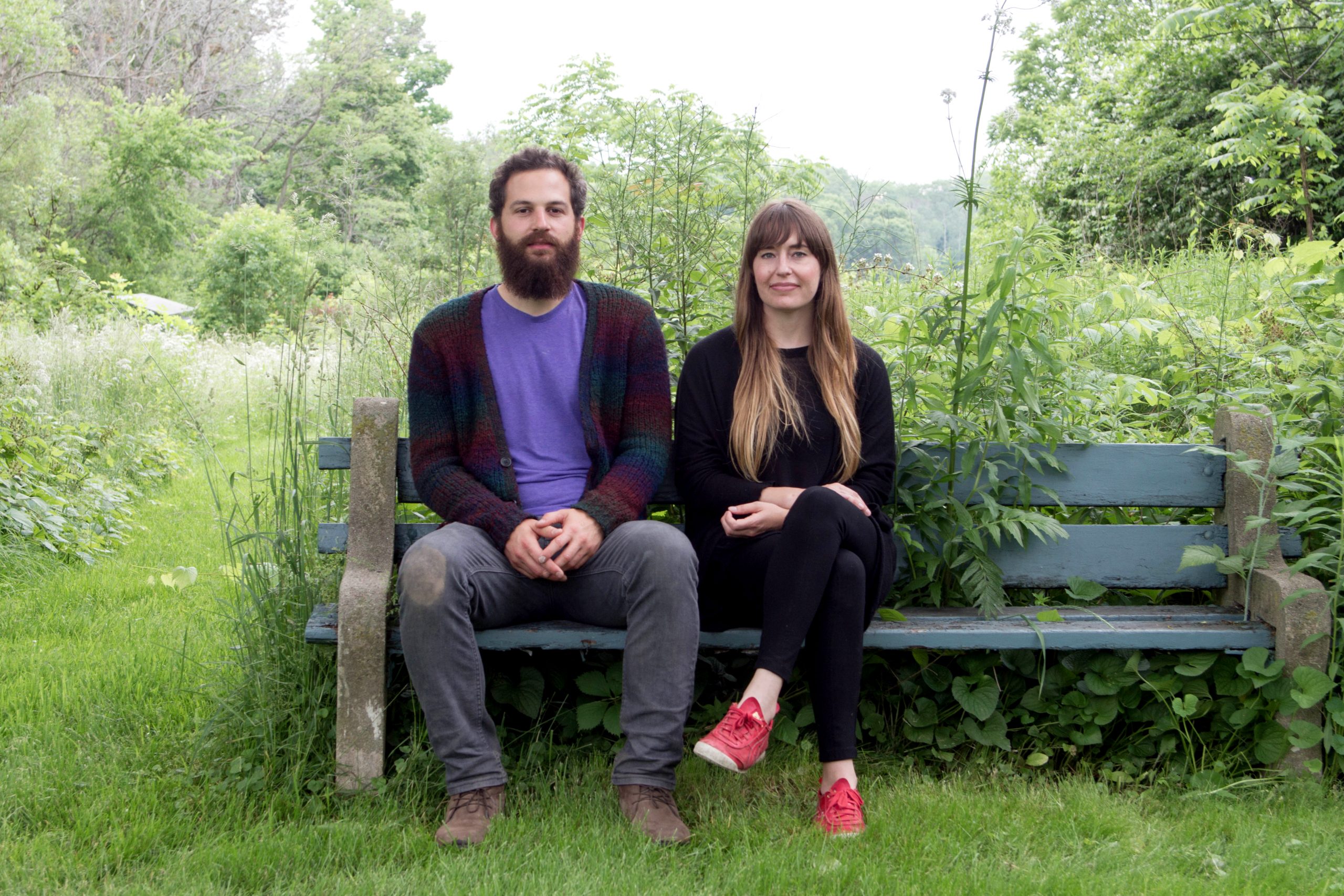 项目名称:Rounds
完成时间:2016年6月
项目地点:拉格代尔基金会,伊利诺伊州森林湖
景观/建筑事务所:SPORTS
建设团队:Greg Corso、Molly Hunker、Jordan Nelson、Nick Zukauskas、Kevin Lenhart、Preston Welker、Sean Morgan、Dabota Wilcox、Jon Anthony、Monika England、Kokeith Perry、Sarah Beadoin
工程师:Arup (www.arup.com)
景观设计师:Rosborough Partners (www.rosboroughpartners.com)
建造顾问:Knowhow Shop (www.knowhowshopla.com)
外部装饰:Stuc-O-Flex (www.stucoflex.com)
图片来源:©Nick Zukauskas
Project name: Rounds
Completion Year: 2016年6月
Project location: Ragdale Foundation, Lake Forest, Illinois
Landscape/Architecture Firm: SPORTS
Build Team: Greg Corso, Molly Hunker, Jordan Nelson, Nick Zukauskas, Kevin Lenhart, Preston Welker, Sean Morgan, Dabota Wilcox, Jon Anthony, Monika England, Kokeith Perry, Sarah Beadoin
Engineer: Arup (www.arup.com)
Landscape Architect: Rosborough Partners (www.rosboroughpartners.com)
Fabrication Consultant: Knowhow Shop (www.knowhowshopla.com)
Exterior Finish: Stuc-O-Flex (www.stucoflex.com)
Photo credits: ©Nick Zukauskas
---
" 起伏波动的结构提供了多种表演形式,创造了一个多功能的户外场地并提供了全方位的观演体验。"
审稿编辑: Simin
更多 Read more about: SPORTS