本文由 Triptyque 授权mooool发表,欢迎转发,禁止以mooool编辑版本转载。
Thanks Triptyque for authorizing the publication of the project on mooool, Text description provided by Triptyque.
Triptyque:该SEB集团创建的概念学校Sacré-Coeur,旨在以创新的教学方法预测教育的未来,专注于创业、合作和可持续发展等领域。它既是圣保罗的标志性建筑,也是好几代人永恒的记忆。近期,Triptyque Architecture受委托拯救这个机构日渐颓靡的社会价值,并赋予它一个可适应当代需求的新形式。
Triptyque:The Concept School, created by the SEB Group, works with innovative teaching methods anticipating what should be the future of education, and focuses in areas such as entrepreneurship, cooperation and sustainability. Sacré-Coeur is an iconic building in São Paulo that has already developed several generations of people. Triptyque Architecture made a commitment to rescue this institution's values and give it a new format suitable to the contemporary world's needs.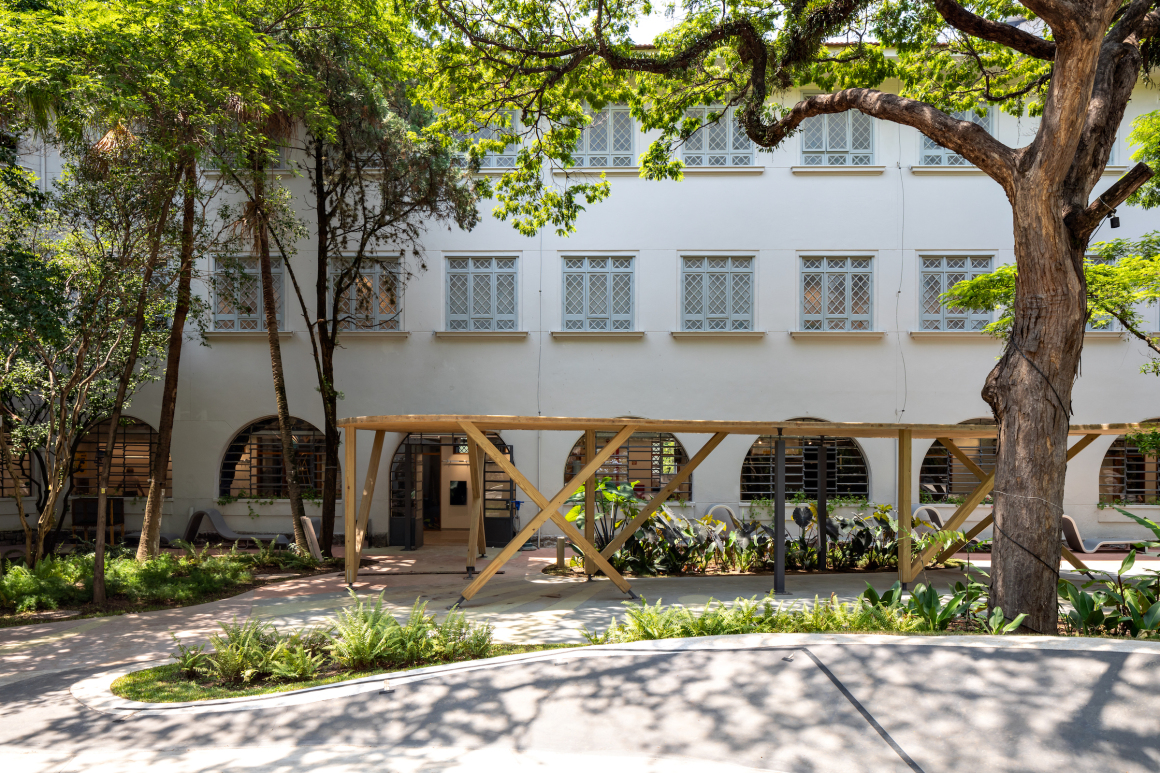 这座历史建筑始建于1930年代,虽然周围社区环境复杂,但其设计精致,建筑主体和立面都曾被列为建筑地标,而且在20世纪40年代到60年代之间又扩建了一座附属建筑。
It is an historical building located in a residential neighborhood and a delicate work to deal with the 1930s construction and the façade listed as architectural landmark. Later came the enlargements: an annex was built between the 1940s and the 1960s.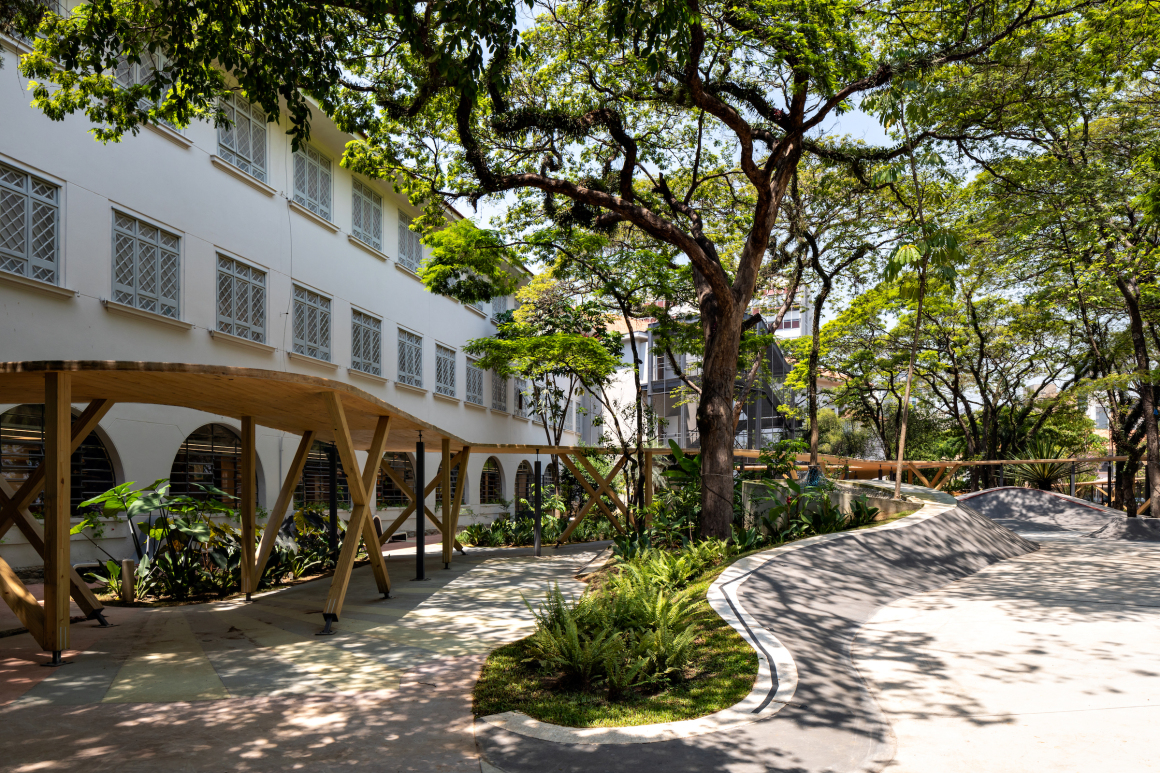 这个项目的重要组成部分——外部区域,被改造成了一个植被繁茂的袖珍公园,宛若微风拂地,惊喜连连,充当了穿过18000平方米的地面和周围街区之间的连接元素。
An important focus is the external area, a large park filled with large trees and exuberant greenery, a breeze, a surprise that acts as a connecting element between the blocks sprayed through the 18.000 square meters ground.
材料 Materials
目前所有的干预措施,都采用了经巴西实验认证的高科技木材——CLT。它在整个项目中体现了勇于探索创新的意识和想法,负责在土木工程领域的历史和当代之间建立新的联系。
All new interventions, starting with the marquees, are made in high technology certified wood – CLT, experiencing experimental phase in Brazil –, what projects a conscious and innovative idea responsible to create the link between history and contemporaneity in civil engineering.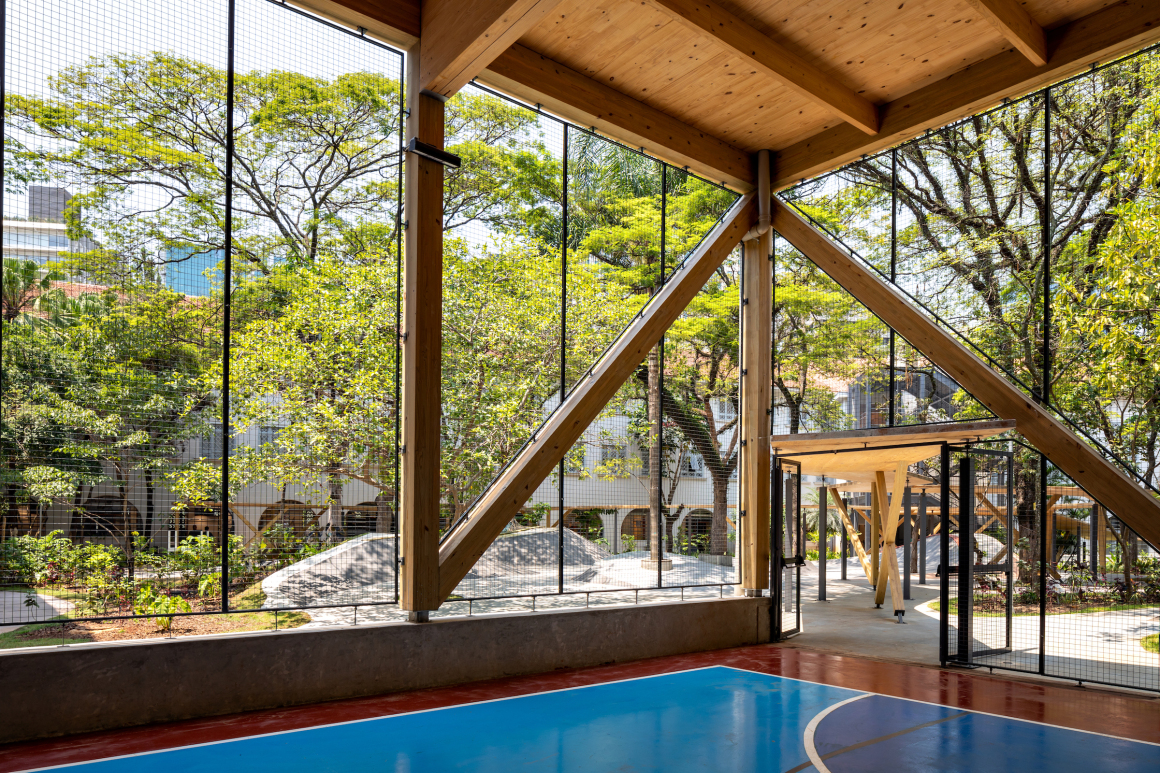 在布局设计上,贯穿整个公园的大帐篷连接了所有街区,也链接起了庭院和游泳池。其有机形状的设计,也旨在不破坏场地,尊重原始植被。
As an architectonic layout, the marquee that runs throughout the park interconnecting all blocks and linking the courts and the pool is designed in an organic shape to respect the existing greenery.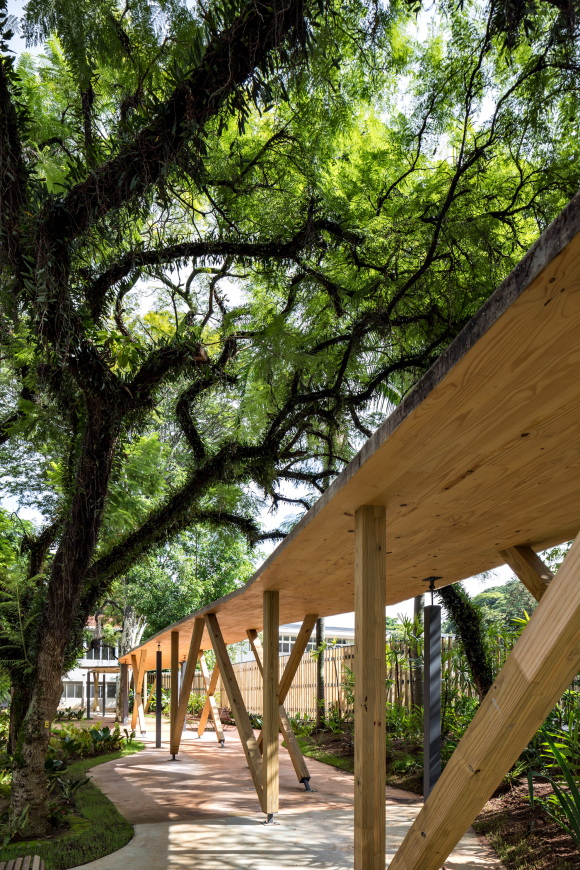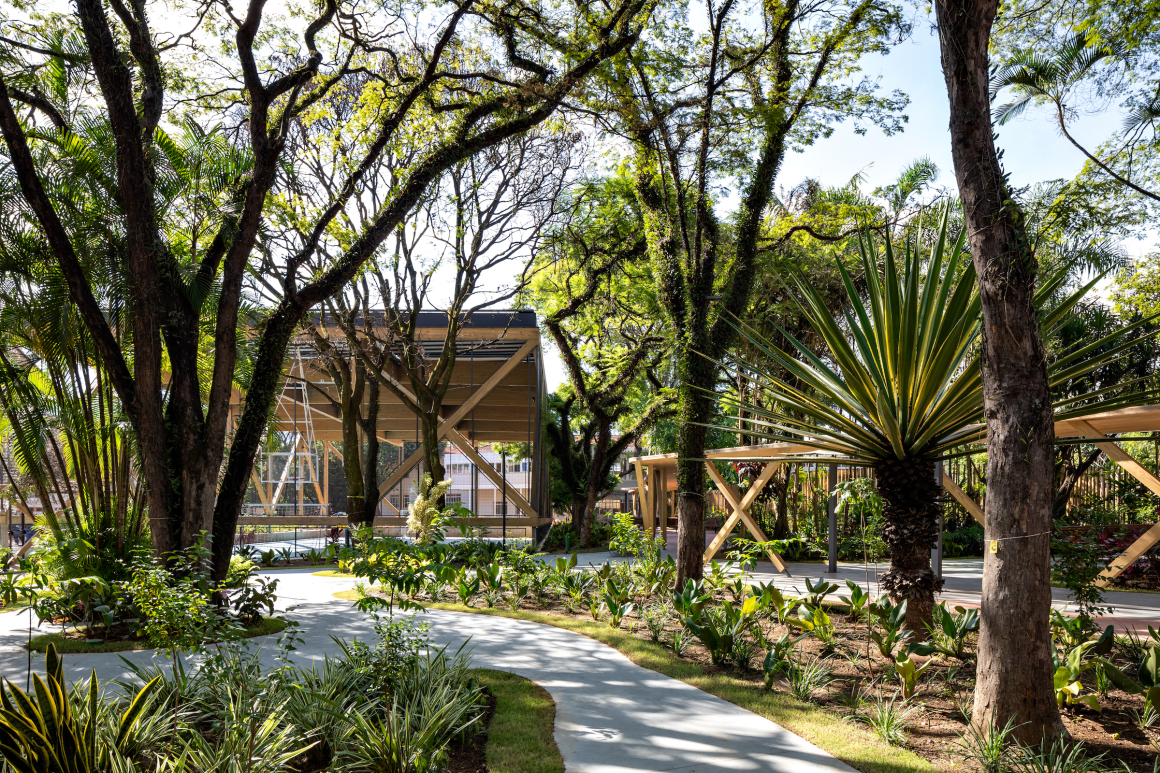 原建筑的木地板得到了恢复、维护和扩建——它们与这种新材料的相互作用带来了许多益处,包括提高注意力、获得平静和更高水平的学习,直接改善了校园环境质量和学习空间。而且,现在模块化的教室布局,也更加符合当今的新教学方法。
The wooden floor in the original building was recovered, maintained and expanded – there were taken into consideration scientific studies over the benefit of the interaction with this material which concern concentration, calm and higher levels of learning. The classrooms are conformed in a modular layout also attuned to the new ways of teaching.
标志性元素 Iconic elements
学校教堂被改造成了礼堂,在一个40米高的塔楼里被完整地保存下来,后续将用作展示平台。
The chapel was converted into an auditorium and in a 40 meters tall tower fully preserved to be used as an expositive platform.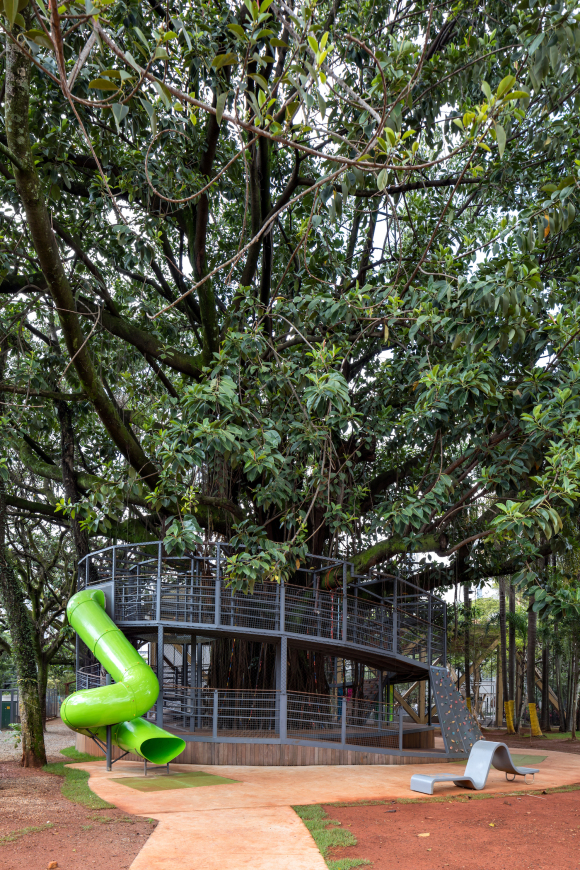 ▼平面图 Site Plan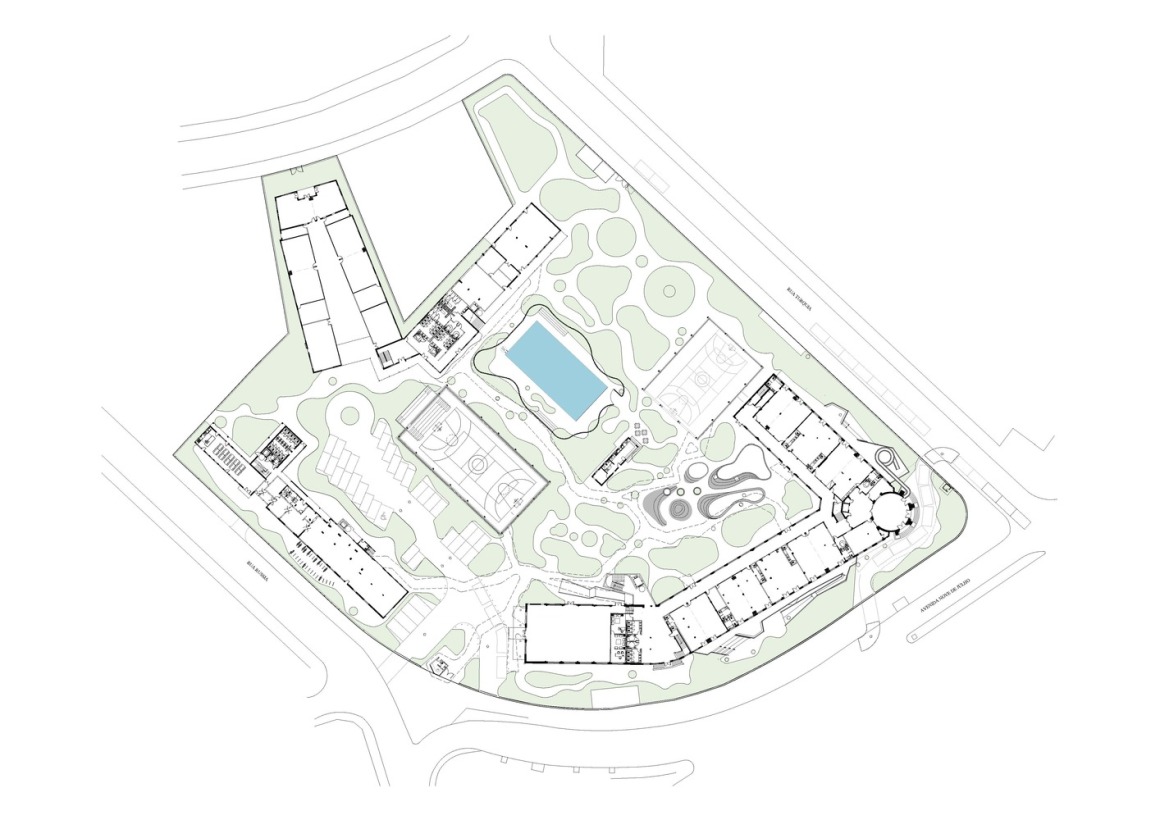 ▼模型轴测图 Axonometric drawing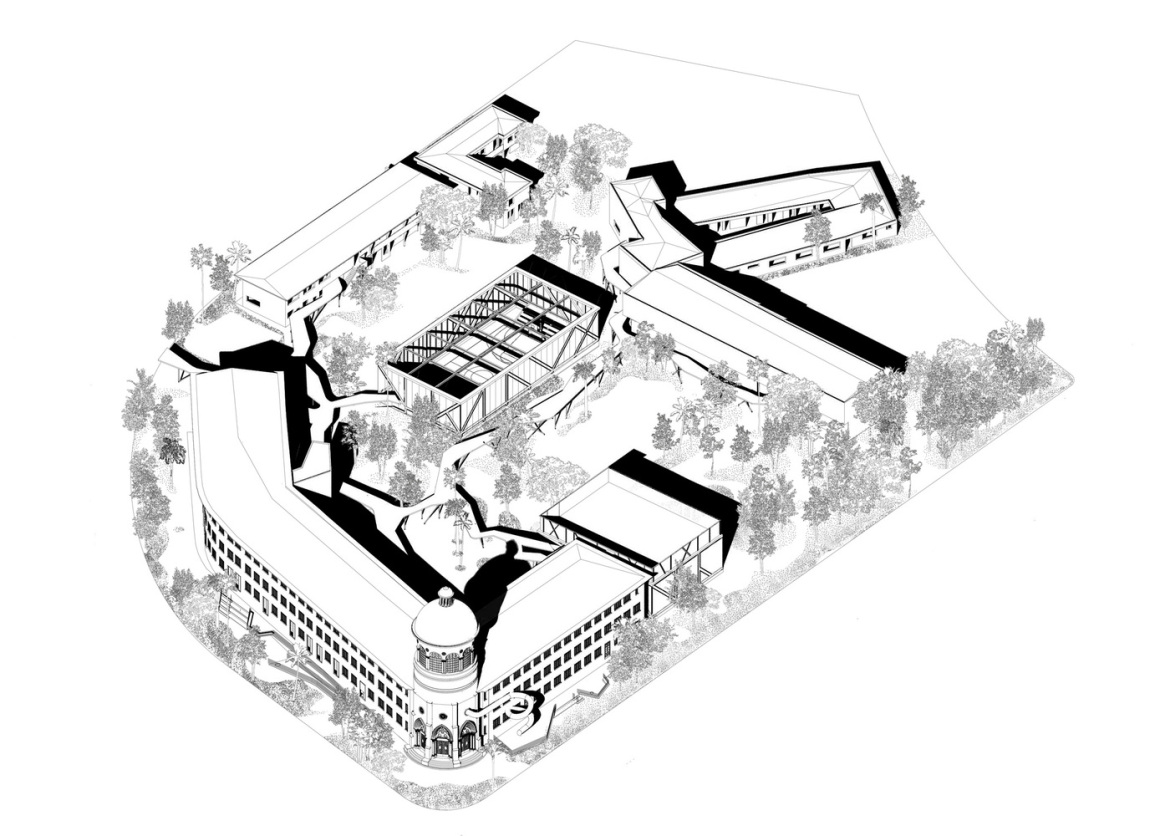 项目:校舍改造
客户:SEB集团
建筑设计:Triptyque
地点:巴西 圣保罗 (Av Nove de Julho, 5520, jarardim Europa)
合作伙伴:Carolina Bueno, Greg Bousquet, Guillaume Sibaud, Olivier Raffaelli
总协调员:Mario Tavares
团队:Ana Castro, Bárbara Campelo, Gabriela dalSecco, Natasha Taylor, Weslley Karpor, William Campos
3D图像:Wax Digital (Fred Meyer)和trityque (Thiago Bicas)
建筑面积:12.853 平方米
建成:2018年8月
摄影:Frâncio de Holanda(现有建筑照片)| Fran Parente(新结构)
补充项目
项目管理:Berton Engenharia
电气、液压安装:GWIC Group
空调:GWIC Group
结构:GWIC Group
环境舒适度:GWIC Group
木质结构:Carpinteria Estruturas de Madeira
照明项目:Estudio Carlos Fortes Luz + Design
景观工程:Studio Matter – Guil Blanche
更新报告:Vanessa Kraml Arquitetura | Restauro
建筑:Grupo Lock Engenharia
技术团队:Daniel Boer
Program: Retrofit – School building
Client: SEB Group
Architecture: Triptyque
Location: São Paulo, Brasil (Av Nove de Julho, 5520, Jardim Europa)
Partners: Carolina Bueno, Greg Bousquet, Guillaume Sibaud, Olivier Raffaelli
General Coordinator: Mario Tavares
Team: Ana Castro, Bárbara Campelo, Gabriela dalSecco, Natasha Taylor, Weslley Karpor, William Campos.
3D Images: Wax Digital (Fred Meyer) and Triptyque (Thiago Bicas)
Constructed area 12.853 m²
Conclusion: August/2018
Photographies: Frâncio de Holanda (pictures of the existing building) | Fran Parente (new structures)
COMPLEMENTARY PROJECTS
Project Management: Berton Engenharia
Electrical and Hydraulic Installations: GWIC Group
Air Conditioning: GWIC Group
Structure: GWIC Group
Environmental Comfort: GWIC Group
Wooding Structures: Carpinteria Estruturas de Madeira
Lightning Project: Estudio Carlos Fortes Luz + Design
Landscaping Project: Studio Matter – Guil Blanche
Restore Report: Vanessa Kraml Arquitetura | Restauro
Construction: Grupo Lock Engenharia
Technical team: Daniel Boer
更多 Read more about: Triptyque