本文由 ООО Megregionstroy 授权mooool发表,欢迎转发,禁止以mooool编辑版本转载。
Thanks ООО Megregionstroy for authorizing the publication of the project on mooool, Text description provided by ООО Megregionstroy.
ООО Megregionstroy:莫斯科施密特码头,原本废弃的河岸焕然一新,变成了一个剧场式的平坦广场,在岸边无尽延伸,点亮了整片水域,一些尖端的绳索游乐场恰如其分点缀其中。
ООО Megregionstroy:A deserted riverbank bearing a sideway has turned into a paved esplanade with an amphitheater, descents to the water and beautiful highlighting. And some cutting-edge rope playgrounds have been installed here too.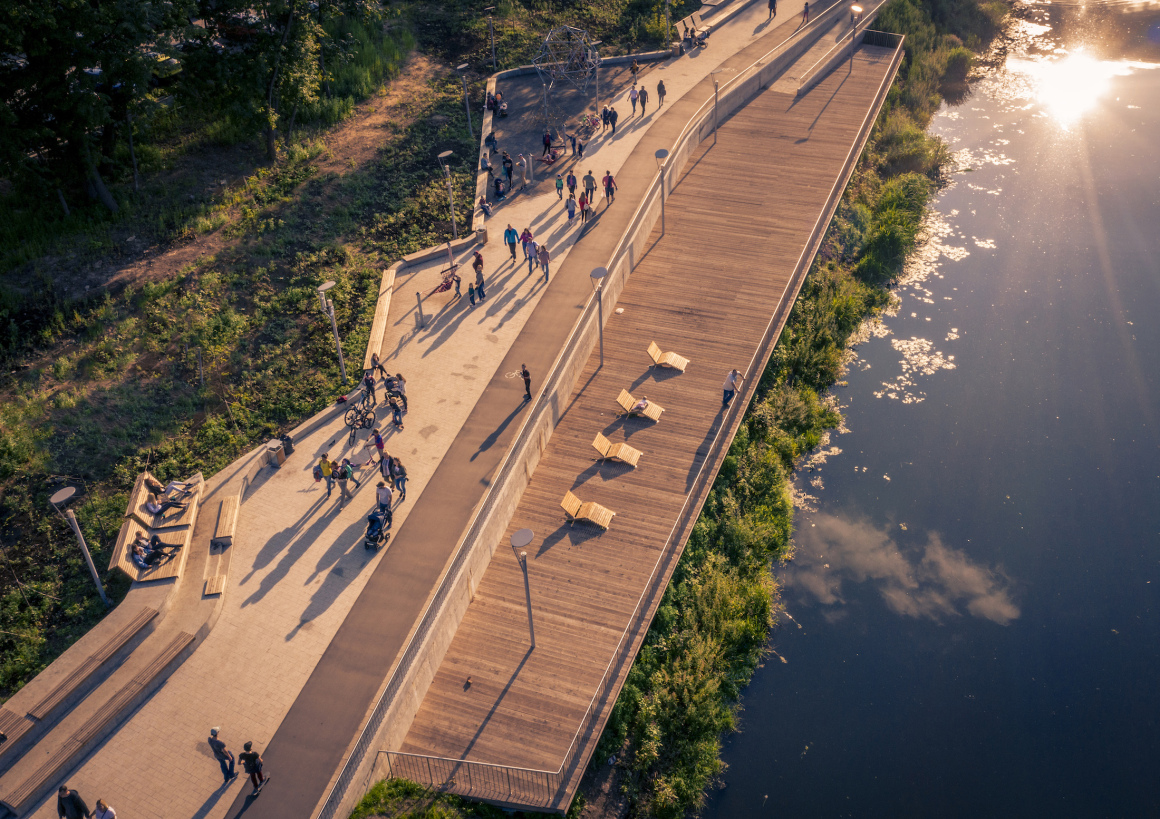 设计师在场地中部布局了三段新楼梯,在河岸广场上创建了一条带双自行车道的硬质步道长廊,还在岸边步道旁顺着公共空间设置了两个木制的下游码头。
The design provides organizing three new staircases in the central part of the territory. On the esplanade itself we created a hard-surfaces promenade with a twin bicycle lane. Also, two wooden lower quays have been included right next to the water, along the public space near the river.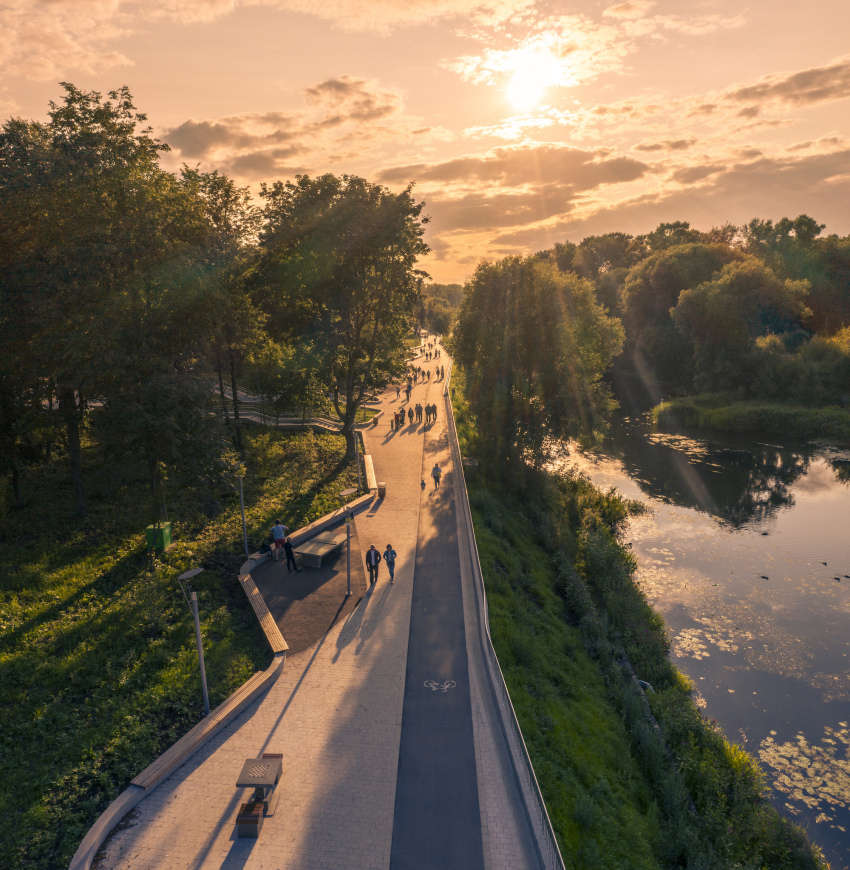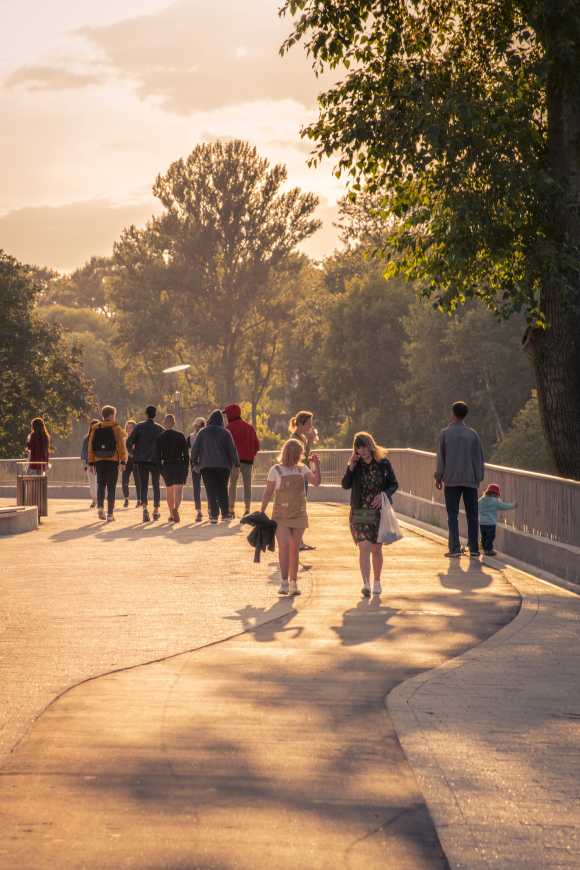 两侧的露天剧场,可供公众活动使用,这里也考虑了残疾人的需求创建了无障碍坡道。
The sides have amphitheaters for public events. The descents for disabled persons have also been created.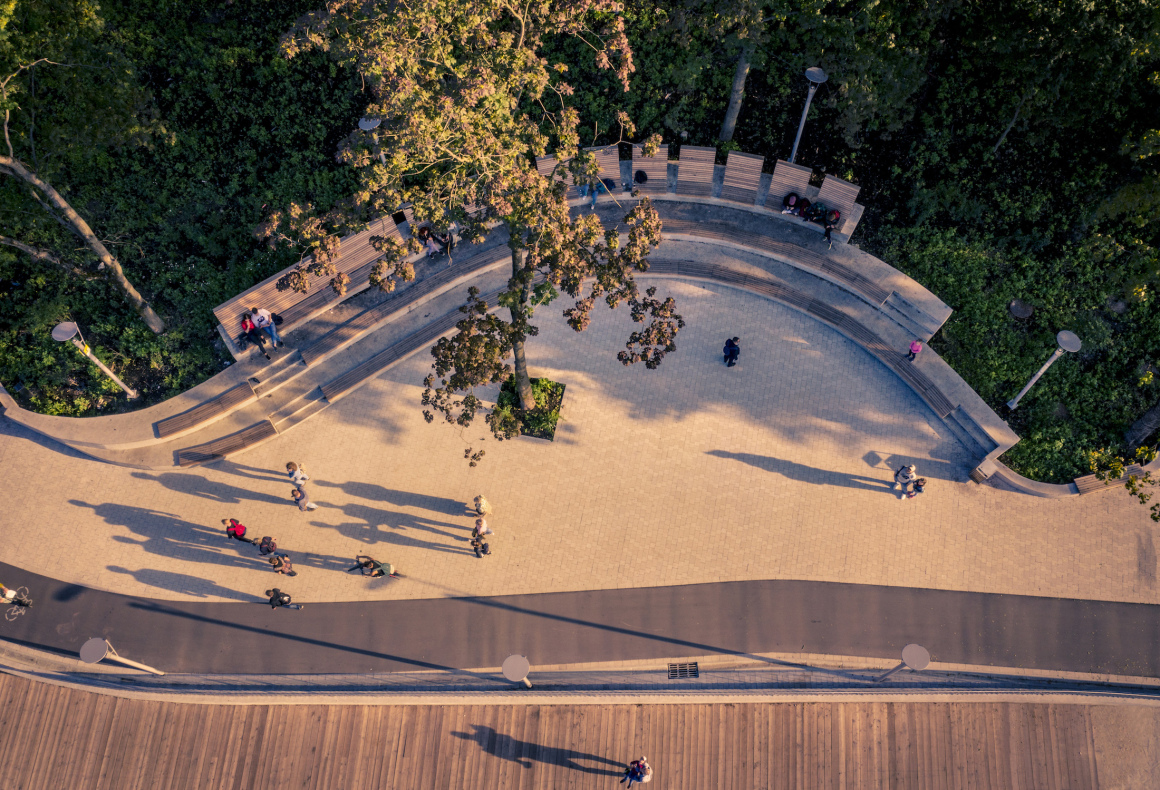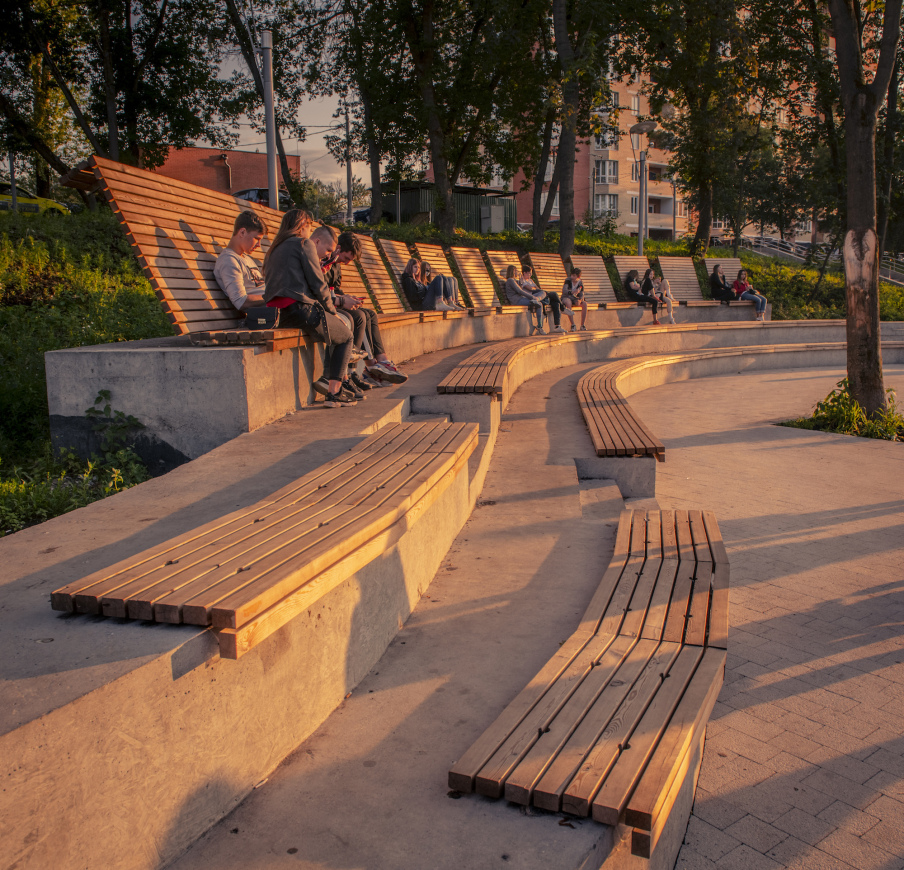 这次的设计对人们1950年种植的树木采取了保护态度,混凝土边缘小心地围绕着树干,形成有机的特色生态形象。
The concept assured an attitude of care for the trees planted in 1950. The concrete sides circle carefully around the tree trunks forming an organic and outstanding image of eco-architecture.
项目整体提升长度约820米,设计改善了人行道、自行车道、操场、景观灯等,新码头重新连接了城市公园和塞拉菲姆·萨洛夫斯基码头。
We have improved walkways, bicycle lanes, playgrounds, landscape lanterns. The new quay has bound the city park and the Serafim Sarovsky quay. Territory length – 820 meters.
项目名称:谢尔科沃的施密特码头
完成:2019年
面积:3,3公顷(长度- 820米)
项目地点:谢尔科沃(莫斯科地区)施密特码头
客户:莫斯科地区景观和公共空间发展部
景观公司:MEGREGIONSTROY
公司网址:http://megregionstroy.ru/
联系邮箱:olga@planthebest.ru
Project name: Schmidt quay in Shelkovo.
Completion Year: 2019
Size: 3,3 ha (length – 820 meters)
Project location: Schmidt quay in Shelkovo (Moscow region)
Clients: The Ministry of landscape and public space development of Moscow region
Landscape Firm: MEGREGIONSTROY
Website: http://megregionstroy.ru/shelkovo_blag_shmidt
Contact e-mail: olga@planthebest.ru
更多 Read more about: ООО Megregionstroy